Kim Kardashian, Ariana Grande and More Stars Send Messages of Support After Beirut Explosion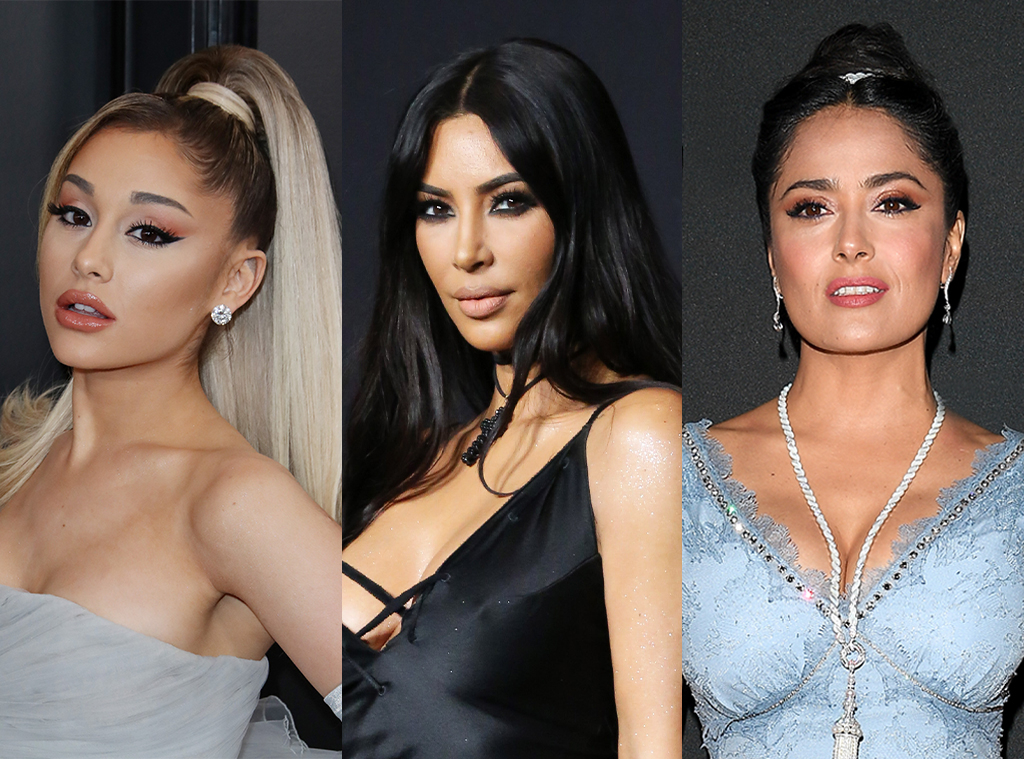 Matt Baron for Shutterstock, Venturelli for Getty Images
Stars are sending their love to Beirut.
A massive explosion occurred in the Lebanese capital on Tuesday, Aug. 4. Local news organization LBCI reported the following day that at least 5,000 people were injured in the blast and that at least 135 were killed. Dozens were also deemed missing.
At this time, the exact cause of the explosion remains unclear. However, President Michel Aoun said an investigation into the blast would reveal the circumstances of what happened as soon as possible and that the results would be publicly shared.
According to CNN, Prime Minister Hassan Diab said an estimated 2,750 tons of ammonium nitrate had been stored in a port warehouse for six years "without preventative measures."
After the news broke, several celebrities shared messages on social media. Janet Jackson posted a message that read "Beirut in our hearts" and captioned it, "My prayers to everyone in Beirut, Lebanon." Kim Kardashian also tweeted, "Pray for Beirut."
"My heart, strength and condolences are with Lebanon and everyone affected by this tragedy," Ariana Grande also tweeted with donation links. "Please support / donate if you're able to, I will be doing so too."
Read more messages of support from stars below.
Adriana Lima: "My heart bleeds with all that has been going on in the world right now, I wish I could have the power to unite and protect every single human being. When does it stop? How far it will go? I will prey [sic] every day for peace, safety, health…. I just know that the whole world has been true so much this year… enough …. My heart goes to all the families….."
Jamie Lee Curtis: The actress re-shared a Washington Post post that featured a picture Pulitzer prize-winning photographer Lorenzo Tugnoli had shared after the explosions.
Hillary Clinton: "My heart goes out to Beirut and the Lebanese people as they grieve and heal after yesterday's devastating explosion. In the aftermath, strangers helped strangers bind wounds, find families, and calm children. I'm wishing you peace and community in the days ahead."
DJ Khaled: The artist shared an Instagram post that read, "Pray for Beirut-Lebanon."
Joe Giudice: "My prayers for Beirut, LEBANON. My Thoughts And Prayers Are With all People And Families In Lebanon..May Allah Bring Ease To All Those Who Are Suffering… #prayforbeirut."
Salma Hayek: "Today two explosions devastated the capital of the already hurting Lebanon. My broken heart goes out to all the people who have lost loved ones and who are in the affected areas of my beloved Beirut."
Naomi Campbell: "My thoughts, prayers and love go out to the people of Lebanon and their families #Beirut #LinkInBio (my memories of downtown of how I will remember it)."
Larsa Pippen: "I'm praying for Lebanon. My mom is from Beirut this just breaks my heart. My family is so devastated #lebanon."
Source : E!News Read More
Netflix is developing a live action 'Assassin's Creed' show
Netflix announced this morning that it's partnering with Ubisoft to adapt the game publisher's "Assassin's Creed" franchise into a live action series.
The franchise jumps around in history, telling the story of a secret society of assassins with "genetic memory" and their centuries-long battle the knights templar. It has sold 155 million games worldwide and was also turned into a nearly incomprehensible 2016 film starring Michael Fassbender and Marion Cotillard, which underperformed at the box office.
The companies say that they're currently looking for a showrunner. Jason Altman and Danielle Kreinik of Ubisoft's film and television division will serve as executive producers. (In addition to working on adaptations of Ubisoft's intellectual property, the publisher is also involved in the Apple TV+ industry comedy "Mythic Quest.")
"We're excited to partner with Ubisoft and bring to life the rich, multilayered storytelling that Assassin's Creed is beloved for," said Netflix's vice president of original series Peter Friedlander in a statement. "From its breathtaking historical worlds and massive global appeal as one of the best selling video game franchises of all time, we are committed to carefully crafting epic and thrilling entertainment based on this distinct IP and provide a deeper dive for fans and our members around the world to enjoy."
It sounds like there could be follow-up shows as well, with the announcement saying that Netflix and Ubisoft will "tap into the iconic video game's trove of dynamic stories with global mass appeal for adaptations of live action, animated, and anime series."
Netflix recently placed an eight-episode order for "Resident Evil," another video game franchise that was previously adapted for the big screen. And it also had a big hit with its adaptation of "The Witcher," which is based on a fantasy book series that was popularized via video games.
Original Content podcast: 'Lovecraft Country' is gloriously bonkers
As we tried to recap the first season of HBO's "Lovecraft Country," one thing became clear: The show is pretty nuts.
The story begins by sending Atticus "Tic" Freeman (Jonathan Majors), his friend Leti Lewis (Jurnee Smolett) and his uncle George (Courtney B. Vance) on a road trip across mid-'50s America in search of Tic's missing father. You might assume that the search will occupy the entire season, or take even longer than that; instead, the initial storyline is wrapped up quickly.
And while there's a story running through the whole season, most of the episodes are relatively self-contained, offering their own versions on various horror and science fiction tropes. There's a haunted house episode, an Indiana Jones episode, a time travel episode and more.
The show isn't perfect — the writing can be clunky, the special effects cheesy and cheap-looking. But at its best, it does an impressive job of mixing increasingly outlandish plots, creepy monsters (with plentiful gore) and a healthy dose of politics.
After all, "Lovecraft Country" (adapted form a book by Matt Ruff) is named after notoriously racist horror writer H.P. Lovecraft, but it focuses almost entirely on Black characters, making the case that old genres can be reinvigorated with diverse casts and a rethinking of political assumptions.
In addition to reviewing the show, the latest episode of the Original Content podcast also includes a discussion of Netflix earnings, the new season of "The Bachelorette" and the end of Quibi.
You can listen in the player below, subscribe using Apple Podcasts or find us in your podcast player of choice. If you like the show, please let us know by leaving a review on Apple. You can also follow us on Twitter or send us feedback directly. (Or suggest shows and movies for us to review!)
And if you'd like to skip ahead, here's how the episode breaks down:
0:00 Intro
0:36 Netflix discussion
3:18 "The Bachelorette"
6:30 Quibi
14:35 "Lovecraft Country" review
31:32 "Lovecraft Country" spoiler discussion
The short, strange life of Quibi
"All that is left now is to offer a profound apology for disappointing you and, ultimately, for letting you down," Jeffrey Katzenberg and Meg Whitman wrote, closing out an open letter posted to Medium. "We cannot thank you enough for being there with us, and for us, every step of the way."
With that, the founding executives confirmed the rumors and put Quibi to bed, a little more than six months after launching the service.
Starting a business is an impossibly difficult task under nearly any conditions, but even in a world that's littered with high-profile failures, the streaming service's swan song was remarkable for both its dramatically brief lifespan and the amount of money the company managed to raise (and spend) during that time.
A month ahead of its commercial launch, Quibi announced that it had raised another $750 million. That second round of funding brought the yet-to-launch streaming service's funding up to $1.75 billion — roughly the same as the gross domestic product of Belize, give or take $100 million.
"We concluded a very successful second raise which will provide Quibi with a strong cash runway," CFO Ambereen Toubassy told the press at the time. "This round of $750 million gives us tremendous flexibility and the financial wherewithal to build content and technology that consumers embrace."
Quibi's second funding round brought the yet-to-launch streaming service's funding up to $1.75 billion — roughly the same as the gross domestic product of Belize, give or take $100 million.
From a financial perspective, Quibi had reason to be hopeful. Its fundraising ambitions were matched only by the aggressiveness with which it planned to spend that money. At the beginning of the year, Whitman touted the company's plans to spend up to $100,000 per minute of programming — $6 million per hour. The executive proudly contrasted the jaw-dropping sum to the estimated $500 to $5,000 an hour spent by YouTube creators.
For Whitman and Katzenberg — best known for their respective reigns at HP and Disney — money was key to success in an already crowded marketplace. $1 billion was a drop in the bucket compared to the $17.3 billion Netflix was expected to spend on original content in 2020, but it was a start.
Following in the footsteps of Apple, who had also recently announced plans to spend $1 billion to launch its own fledgling streaming service, the company was enlisting A-List talent, from Steven Spielberg, Guillermo del Toro and Ridley Scott to Reese Witherspoon, Jennifer Lopez and LeBron James. If your name carried any sort of clout in Hollywood boardrooms, Quibi would happily cut you a check, seemingly regardless of content specifics.
Quibi's strategy primarily defined itself by itself by its constraints. In hopes of attracting younger millennial and Gen Z, the company's content would be not just mobile-first, but mobile-only. There would be no smart TV app, no Chromecast or AirPlay compatibility. Pricing, while low compared to the competition, was similarly off-putting. After a 90-day free trial, $4.99 got you an ad-supported subscription. And boy howdy, were there ads. Ads upon ads. Ads all the way down. Paying another $3 a month would make them go away.
Technological constraints and Terms of Service fine print forbade screen shots — a fundamental understanding of how content goes viral in 2020 (though, to be fair, one shared with other competing streaming services). Amusingly, the inability to share content led to videos like this one of director Sam Raimi's perplexingly earnest "The Golden Arm."
It features a built-on laugh track from viewers as Emmy winner Rachel Brosnahan lies in a hospital bed after refusing to remove a golden prosthetic. It's an allegory, surely, but not one intentionally played for laughs. Many of the videos that did ultimately make the rounds on social media were regarded as a curiosity — strange artifacts from a nascent streaming service that made little sense on paper.
Most notable of all, however, were the "quick bites" that gave the service its confusingly pronounced name. Each program would be served in 5-10 minute chunks. The list included films acquired by the service, sliced up into "chapters." Notably, the service didn't actually purchase the content outright; instead, rights were set to revert to their creators after seven years. Meanwhile, after two years, content partners were able to "reassemble" the chunks back into a movie for distribution.