Johnson & Johnson's clinical trial of its COVID-19 vaccine was paused after a volunteer came down with an unexplained illness. The company did not disclose what the illness was, citing the participant's privacy. The illness is still under investigation.
The pause was triggered by the company based on the internal guidelines for the study. Pauses are common in large trials like this one and typically aren't publicly disclosed. They're different than clinical holds, which are issued by the Food and Drug Administration (FDA) and prompt a more extensive evaluation of the trial. Intense public scrutiny of the COVID-19 vaccine development process means any changes — even relatively routine pauses — tend to leak out, and companies are being more transparent than usual.
Johnson & Johnson's study is the largest COVID-19 vaccine trial, and it aims to enroll 60,000 participants. With a group of that size, unexpected events that lead to a trial pause aren't surprising. "If we do a study of 60,000 people, that is a small village," a source familiar with the study told Stat News, which first reported the pause. "In a small village there are a lot of medical events that happen."
The clinical trial for the AstraZeneca COVID-19 vaccine candidate is also on hold in the United States. A patient in the United Kingdom's trial of that vaccine was hospitalized with severe neurological symptoms. It's not clear if the vaccine caused the complications or if the illness was set off by something else. Health regulators in the UK gave AstraZeneca the go-ahead to resume the trial there, but the FDA is still investigating the incident.
There are four Phase 3 COVID-19 vaccine trials in progress in the US, and the other two — run by Pfizer and Moderna — are still underway. Both Pfizer and Moderna are testing gene-based vaccines, which inject tiny pieces of the coronavirus' genetic material. AstraZeneca and Johnson & Johnson built their vaccines using weakened versions of mild viruses that usually cause symptoms like diarrhea or pink eye.
When we hear that a trial has been stopped because a participant has gotten sick without explanation and the DSMB needs to investigate, that means the clinical trial process is working the way it's supposed to.

This is something to feel relieved, not worried, about. https://t.co/QecMHe1p9J

— Dr. Angela Rasmussen (@angie_rasmussen) October 13, 2020
The trial pauses don't necessarily mean that the vaccine doesn't work or is unsafe. They're normal parts of the process and mean that the companies (and regulators) are closely monitoring for any signs of a problem. "We've got to let the process play out and it's going to take a while," Ashish Jha, the dean of the Brown University School of Public Health, told CNN. "To me it's reassuring that companies are acting responsibly and pausing when they need to."
The Apple Watch Series 6 Is Already $20 Off
Best Tech Deals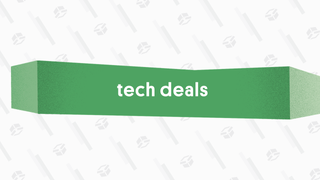 Best Tech Deals
The best tech deals from around the web, updated daily.
Apple Watch Series 6 (44mm) | $415 | Amazon
Apple Watch Series 6 (40mm) | $385 | Amazon
It's only been out a week since launch and we're already seeing discounts on the Apple Watch Series 6. Amazon has some 40mm models down to $375, while the 44mm falls to $415, both about $20 off and shipping anywhere between 1-4 weeks out.
The Apple Watch Series 6 runs laps around the competition as far as technology is confirmed. It features everything you love about the Series 5 watch like an ECG heart rate sensor, and also adds new tricks like a blood oxygen sensor and an always-on altimeter, making it more ideal than ever for fitness buffs.
G/O Media may get a commission
---
Source
Samsung thinks its new 85-inch Interactive Display is the digital whiteboard for the COVID-19 classroom
Samsung would like you to believe its new 85-inch Interactive Display can bridge the gap between students in the classroom and students studying at home, now that blended-learning is the new normal across the country. In reality, it's just a slightly bigger digital whiteboard — but assuming it doesn't cost too much, the tweaked vision does sound intriguing.
Now that COVID-19 has swept the country, some students are huddling around tiny Chromebook screens at home while others stay in class, and Samsung's internet-connected digital whiteboard promises to let students and teachers collaborate with each other, whether they're in that classroom drawing on the board or adding to it in real-time from their laptop at home. The goal here isn't to necessarily connect everyone better – they've had a few months to get a handle on that over Zoom – but rather to let the kind of collaboration that can happen when everyone's together, happen while students are apart.
While the Interactive Display is mostly just a larger version of Samsung's existing Flip 2 digital whiteboards, the 85-inch size means it's as large as an actual school whiteboard (though it weighs far more at 164 pounds). Compared to the previous 55- and 65-inch models, more students could theoretically use the board at once. Samsung imagines the display primarily mounted in a classroom where they can use its 4K touchscreen and support for four pens (it comes with two) to write and draw; it supports up to 20 fingers (and pen tips) simultaneously. Teachers might be able to hook up multiple computers or other video sources to the display, too, with two HDMI 2.0 ports compared to the one on the Flip 2.
But before you petition your school for one, it's worth mentioning that the device has no announced price. The 65-inch Flip 2 comes in at $2,599.00, and Samsung's 85-inch TVs start at $1,799.99, so perhaps the Interactive Display won't cost too much more than those? Still, most schools are even more constrained during the pandemic than they would be normally, and this screen doesn't even come bundled with some of the education software Samsung is advertising. I think it would be great for these to be used in schools, but to me, Samsung's framing for the Interactive Display sounds a little more opportunistic than realistic.
How to enable dark mode on all of your essential apps
Welcome to TNW Basics, a collection of tips, guides, and advice on how to easily get the most out of your gadgets, apps, and other stuff.
Ah, dark mode — the charcoal gray color palette associated with night time and eyeball-saving. It's not without its detractors, not even among my own colleagues. But there are plenty of people, including me, who can't get enough of the dusty-colored theme. Luckily dark mode is available on just about every device and app — so we'll walk you through how to make your digital life just a little bit darker.
Note that we're going to show you how to enable dark mode on several of the most essential apps and services — there isn't enough time or space on our servers to show you how to enable dark mode everywhere, as it's a very omnipresent theme. But these will make a good starting point.
Social media
Most social media apps have added dark mode to make late-night browsing easier. Facebook, of all sites, is one of the latecomers. It only added dark mode with the latest redesign, which you can read about here. The dark mode toggle is in the main drop-down menu of the site. While Instagram doesn't have an in-app dark mode option, it syncs to your phone's dark mode — you can read about how that works here.
Twitter has a similar setting to Instagram, in that you can sync its color palette with the system settings — meaning, if your phone is already in dark mode, it'll go dark automatically. You can also manually set it to dark mode by going to the settings, and looking for the dark mode toggle under "Display and Sound. You can read more about the options here.
Messenger originally only had dark mode via an emoji-based Easter egg, but it has since joined the bandwagon for real. In order to switch on dark mode, you just have to tap your profile picture and the toggle is right there at the top of the options. You can read more about it here.
Workplace apps
It's not just social media that wants to spare your eyes. Several of your favorite workplace apps have also added dark mode settings, so even your work computer can look as sooty as a fireplace. For starters, Slack now has a dark mode available on its iOS and Android apps (which you can read about here) as well as its desktop client (which you can read about here).
WhatsApp has also added dark mode to its web and mobile version, albeit at different times. You can read about how to enable dark mode on the web client here, and on Android here. As with other apps mentioned here, WhatsApp will automatically go into dark mode on iOS when iOS itself is set to dark mode.
Google has also added dark mode to its Docs, Sheets, and Slides on Android, which you can read abut here. Also, it's not a workplace app per se, but Google Play also has dark mode — in order to switch it on, you just need to go to the app settings and look for the Theme menu. You can read about it here.
Operating systems
Just like all of the above, the different operating systems for phones offer dark modes for you to turn on at night to make browsing or working easier on your eyes. Apple added dark mode to iOS 13, and as mentioned, turning it on will kick most apps into dark mode if it's available. You can read about how to turn it on here. Similarly, Android introduced a Dark theme in the Android 10 update, which you can find in the Display settings.
If you want some variety, Windows 10 also has a light mode in addition to dark — you can find both in the personalization settings. You can read more about it here.
And that's it! While this won't necessarily make your whole life an obsidian paradise, it'll at least put dark mode on all of your favorite apps. Good luck!