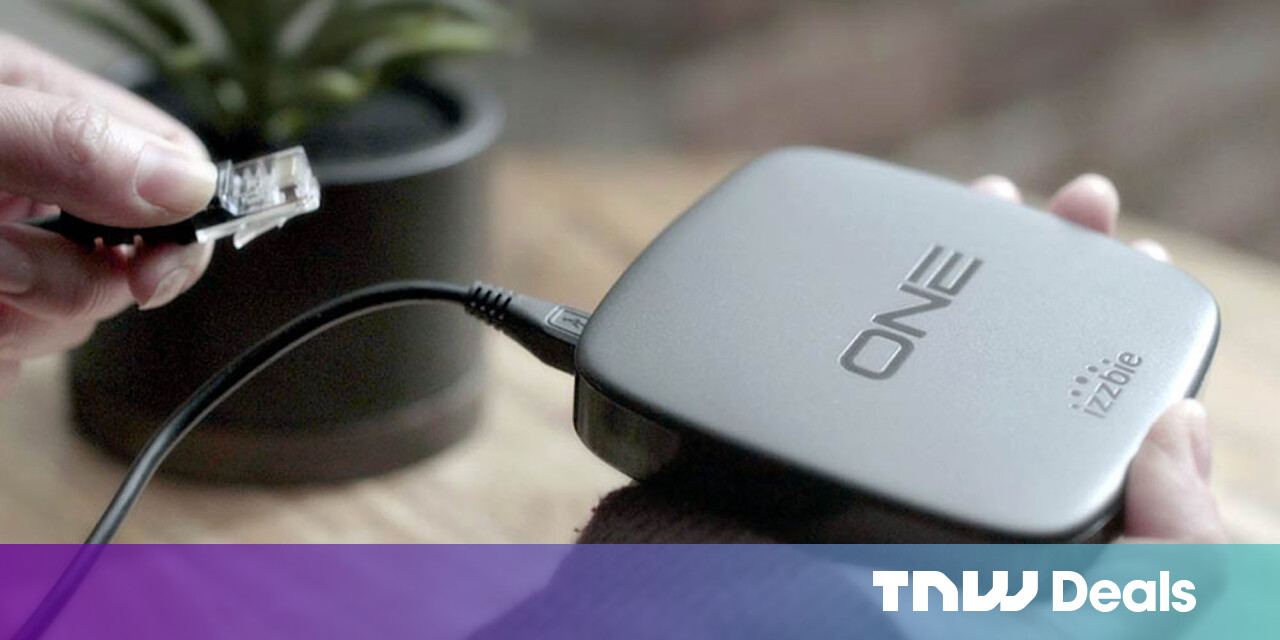 TLDR: IzzBie Smart Private Internet is a safe, fast, secure method to access home or office digital networks from anywhere in the world.
For years, you've been hearing that having a VPN subscription is one of the smartest, most secure ways of protecting yourself and your sensitive information from scammers and cybercrooks online. And that's true. 
Yet like any technology, improvements and new ideas come along to modify and often even replace the old. If IzzBie Smart Private Internet has anything to say about it, they may ultimately make the VPN we know today a thing of the past. 
Right now, the IzzBie web security method, featuring a router and a three-year subscription to their service, is available for almost 75 percent off its regular price, only $79.99 from TNW Deals.
Unlike a VPN, which funnels users through the company's own online web connection, IzzBie essentially creates a private network for just you, granting web access to all your devices through your home or office internet network anywhere you are.
[embedded content]
When the IzzBie router gets connected to your home or office router via an ethernet cable, you're immediately off and running. Users log in to the IzzBie app, enter some configuration settings and in seconds, you have full access to your entire home or business network and everything connected to it through the app or a web browser. In fact, you'll also be able to connect and manage any smart devices also connected to that network.
That essentially turns your home or business web connection into your own personal VPN, a network of one accessing the web through IzzBie on any and all devices with the app. That means if you need to check a document on your office computer from home, even if it's a secured network, you can do it with IzzBie. Or you can access and watch all your home streaming services like Netflix while vacationing, even if you're in a part of the world that restricts your U.S. membership.
As for security, your IzzBee connection has many of the same protections of a VPN, including full military-grade AES 256 bit encryption that makes you and your identity virtually invisible online. But while VPN protection can often slow your web speed, IzzBee doesn't use any incoming router ports and there's no third-party cloud or P2P software. Without those blocks,  pages load faster, data transfers faster, and you enjoy a better web experience while still enjoying full protection.
As businesses search for remote access solutions that maintain security without limiting connections, IzzBie is a simple, cost-effective method to keep any workers connected without compromising security.
You can try IzzBie now at giant savings off its regular $299 price, including the router and 36 months of app access for only $79.99.
Prices‌ ‌are‌ ‌subject‌ ‌to‌ ‌change.‌ ‌
A long-awaited Willow sequel is official, and it's coming to Disney Plus
After years of silence, Disney has confirmed that Lucasfilm's Willow will receive a sequel, in the form of a TV series coming to its Disney Plus streaming subscription service. The pilot will be directed by Crazy Rich Asians' John M. Chu.
Willow has largely remained untouched since its original release in 1988, but this long rumored sequel will join existing novels and a comic book that previously built out the world of the film. The original can already be streamed on Disney Plus, and this new series will join The Mandalorian as Lucasfilm's second television spin-off on the platform.
The 1988 film, directed by Ron Howard, was a cult hit when it first premiered, a fantasy adventure about an aspiring sorcerer named Willow (Warwick Davis) tasked with shepherding infant princess Elora Danan to safety alongside a ragtag group of fairies and warriors played by the likes of Val Kilmer, Joanne Whalley and Kevin Pollak.
Not much is known about the sequel series beyond that it takes place years after the original film, but Ron Howard, now an executive producer, describes it as a "creative lean-forward" rather than a "nostalgic throw-back." Willow himself will return: Warwick Davis, also a beloved Star Wars veteran, is set to reprise his role.
For Lucasfilm, this Willow series comes after five years of focus on Star Wars exclusively. Now that the Skywalker Saga is wrapped, I'm curious to see what other classics the company might bring back if Willow succeeds. I'm particularly interested in an American Graffiti series; there's definitely enough teenage angst for a TV show if Riverdale is any indication. And yes, Indiana Jones and Labyrinth are still in the mix too. A fifth Indiana Jones continues to inch its way to production. And while not affiliated with Disney, a sequel to Labyrinth from Doctor Strange director Scott Derrickson is also in the making.
Disney has made it clear that Disney Plus is the future of the company, and it needs all the new content it can get even with The Mandalorian returning for a second season and WandaVision on the way. A Willow series on Disney Plus, and perhaps other future Lucasfilm spin-offs, might help.
Though there's no announced release date for this new series, the original film is available to stream on Disney Plus and remains as charming as ever. All the better for fans new and old to reacquaint themselves before the next adventure starts.
Quibi apps arrive on Apple TV, Android TV, and Fire TV
Quibi, the troubled streaming service focused on "quick bites" of mobile-first content, has just launched apps for Apple TV, Android TV and Fire TV. The company quietly announced the change in an updated support article.
These apps follow Quibi's ongoing attempts to get more eyes on its content after launching as a mobile-only app. The company first made content more shareable in May, and followed that soon after with AirPlay and Chromecast support.
Unfortunately for Quibi, these changes to the initial mobile-first strategy may have come too late. A new report in The Information claims that co-founder Jeffrey Katzenberg has attempted to sell Quibi's programming to Facebook and NBCUniversal while telling others he may have to shut down the company entirely.
Quibi has struggled to scale since its launch, dealing with a lackluster reaction to its first collection of content and a drop in subscribers after its 90-day trial offered at launch ended. The pandemic has likely played a role in dissuading customers from resubscribing, but really Quibi has never made a great case for itself in the first place.
It's great for Quibi fans that there's multiple more ways to watch the service, but if the company doesn't right itself, soon enough there won't be any way to watch at all.
Disclosure: Vox Media, which owns The Verge, has a deal with Quibi to produce a show, and there were early talks about a Verge show as well.
AOC's debut Twitch stream is one of the biggest ever
Rep. Alexandria Ocasio-Cortez (D-NY) made her Twitch debut tonight to play Among Us and encourage viewers to vote. She also, very quickly, became one of the platform's biggest broadcasters: her stream peaked at 435,000 viewers around the time of her first match, according to Twitch. (The stream is still going as of this writing, but it had dipped to around 350,000 viewers after about two hours of playing.)
That peak viewership puts her broadcast among the 20 biggest streams ever, according to the third-party metrics site TwitchTracker, and much higher if you're only looking at broadcasts from individual streamers. Ninja holds the record for an individual streamer, with more than 600,000 viewers during a Fortnite match with Drake in 2018. TwitchTracker's metrics suggest that AOC's stream could in the top 10 for an individual in terms of peak viewers.
Politicians have increasingly been using tech and games to get out their message. The Biden campaign debuted an Animal Crossing island last week. Last year, Sen. Bernie Sanders (I-VT) joined Twitch to reach a "potentially supportive audience that we may not be hitting other ways."
Ocasio-Cortez's stream came together quickly. She tweeted Monday asking, "Anyone want to play Among Us with me on Twitch to get out the vote?" Major streamers quickly signed up — she ended up being joined by Rep. Ilhan Omar (D-MN), Pokimane, HasanAbi, Disguised Toast, DrLupo, and more. Her stream even had graphics prepared, which Ocasio-Cortez said came from supporters who started making art after she tweeted.
Despite only having minimal Among Us experience — Ocasio-Cortez said Monday that she'd never played before, but seemed to have brushed up before the stream — she did well in her first broadcast. She was chosen as an imposter in the first round and, with a partner, knocked out about half the field before getting caught. Omar later made it to the final three as an imposter before getting voted out by Ocasio-Cortez and Hasan.