Rare occurrence disrupts train services in the city of 20 million.
A grid failure has caused a widespread power outage in India's financial capital, Mumbai, and surrounding areas, authorities said.
"Power cut across the Mumbai Metropolitan Region due to grid failure," the Brihanmumbai Electric Supply and Transport (BEST) agency said on Twitter on Monday.
The rare occurrence disrupted train services in the city of 20 million. Mumbai's intra-city and suburban trains are used by more than seven million commuters on normal days.
Maharashtra: Mumbai suburban train services disrupted due to power outage after grid failure; visuals from Chhatrapati Shivaji Terminus.

A commuter says, "We are stuck here since 10:00 am". pic.twitter.com/K2V1M7DxCY

— ANI (@ANI) October 12, 2020
A senior railway official in Mumbai told local ANI news agency that trains on the city's Harbour Line had resumed while they were trying to restore services on others.
The official added that long-distance trains from Mumbai had been rescheduled.
A government official in Mumbai said other power suppliers such as Adani Power Ltd and Tata Power had also been affected by the outage.
Tata Power said there was "simultaneous substation tripping" at 10:10 am (04:40 GMT), "causing a huge dip in frequency in Mumbai transmission system which led to tripping of power supply".
The local municipal bodies announced helpline numbers for the residents to call in case of emergencies.
Meanwhile, India's two main stock exchanges, the National Stock Exchange and the Bombay Stock Exchange, as well Mumbai's international airport, said they were operating normally.
Trump's new attack: Biden "wants to listen to Fauci"
In the final weeks of his reelection campaign, President Donald Trump is facing harsh polling in key states and a major financial disadvantage, notwithstanding a pandemic that has left over 220,000 Americans dead and millions in dire economic straights. In response, Trump has debuted a new line of attack on former Vice President Joe Biden: "He wants to listen to Dr. Fauci."
At a rally in Phoenix, Arizona, on Monday, Trump told the crowd in disparaging tones that "Biden wants to lock it down," and heed the advice of National Institute of Allergy and Infectious Diseases Director Dr. Anthony Fauci. The day before, at a rally in Carson City, Nevada, Trump mocked Biden by saying "he'll listen to the scientists. If I listened totally to the scientists we would right now have a country that would be in a massive depression."
Biden's subsequent tweet indicates he's likely not worried about this line of attack.
The Washington Post reported that this attack may have less to do with Biden and more to do with Fauci, who gave a critical 60 Minutes interview that reportedly angered the president. During the interview, Fauci said that "the president's conduct made it unsurprising that he caught the coronavirus and that the administration had tried to muzzle him." The next day Trump named him in his attacks on Biden in Arizona.
Trump may have a hard time rallying more supporters by vilifying the 79-year-old public health expert. A Morning Consult poll conducted October 9-11 among 1,986 registered voters shows that "nearly 2 in 3 voters rate Dr. Fauci's coronavirus response as excellent or good." In stark contrast, Trump has "never topped the 42 percent of voters" who gave him a "good or excellent" rating in late April. In early October, this poll indicates that 58 percent of voters believe Trump's handling of the virus has been "poor" or "just fair."
Another poll from the Kaiser Family Foundation conducted August 28 to September 3 among 1,199 American adults has 68 percent of voters with "a great deal" or "a fair amount" of trust in Dr. Fauci to "provide reliable information on coronavirus." The same poll has only 40 percent of voters saying the same of Trump.
Whether personal vendetta or strategic move — this is unlikely to be the game-changer Trump needs to shake up the race.
---
Will you help keep Vox free for all?
The United States is in the middle of one of the most consequential presidential elections of our lifetimes. It's essential that all Americans are able to access clear, concise information on what the outcome of the election could mean for their lives, and the lives of their families and communities. That is our mission at Vox. But our distinctive brand of explanatory journalism takes resources. Even when the economy and the news advertising market recovers, your support will be a critical part of sustaining our resource-intensive work. If you have already contributed, thank you. If you haven't, please consider helping everyone understand this presidential election: Contribute today from as little as $3.
Native American tribes make new bid to shut down Dakota pipeline
Native American tribes have asked a judge to stop the flow of oil while the legal battle over pipeline's future plays out.
Native American tribes opposed to the Dakota Access Pipeline once again have asked a federal judge to stop the flow of oil while the legal battle over the line's future plays out.
The Standing Rock Sioux and other tribes succeeded on their first attempt, only to have an appeals court overturn United States District Judge James Boasberg's shutdown order earlier this year. Now, they are asking the judge to clarify his earlier ruling to satisfy the appellate judges and then to again order the line to cease operations, the Bismarck Tribune reported.
The tribes argue that potential harm to their water supply outweighs any economic impacts of shutting down the line, which has been moving North Dakota oil to Illinois for more than three years.
"The Tribes are irreparably harmed by the ongoing operation of the pipeline, through the exposure to catastrophic risk, through the ongoing trauma of the government's refusal to comply with the law, and through undermining the Tribes' sovereign governmental role to protect their members and respond to potential disasters," lawyers Jan Hasselman and Nicole Ducheneaux wrote in a Friday filing.
Tribes fear a spill into the Missouri River just north of the Standing Rock Reservation would pollute their water supply. Pipeline operator Energy Transfer and the Army Corps of Engineers both maintain the pipeline is safe. Prolonged protests in 2016 and 2017 drew thousands of people to camps near the river crossing and resulted in hundreds of arrests.
US Department of Justice spokeswoman Danielle Nichols declined to comment on Monday on the tribes' filing. The Army Corps and Energy Transfer have until November 20 to file a formal response.
Boasberg, who is overseeing the four-year-old lawsuit filed by the tribes, ordered an extensive environmental study last spring because he felt previous, less-extensive environmental analysis by the Corps left lingering questions.
Boasberg in July revoked the easement that allows for the river crossing and ordered the pipeline shut down until its environmental soundness was proven. A federal appeals court allowed oil to keep flowing, however, ruling that Boasberg had not justified a shutdown. That same appeals court is now determining whether to uphold his decision regarding the study.
Tribes are asking Boasberg to issue an injunction to shut down the pipeline while the legal fight plays out.
Poll Worker Fired For Telling Voters in Black Lives Matter Gear to Change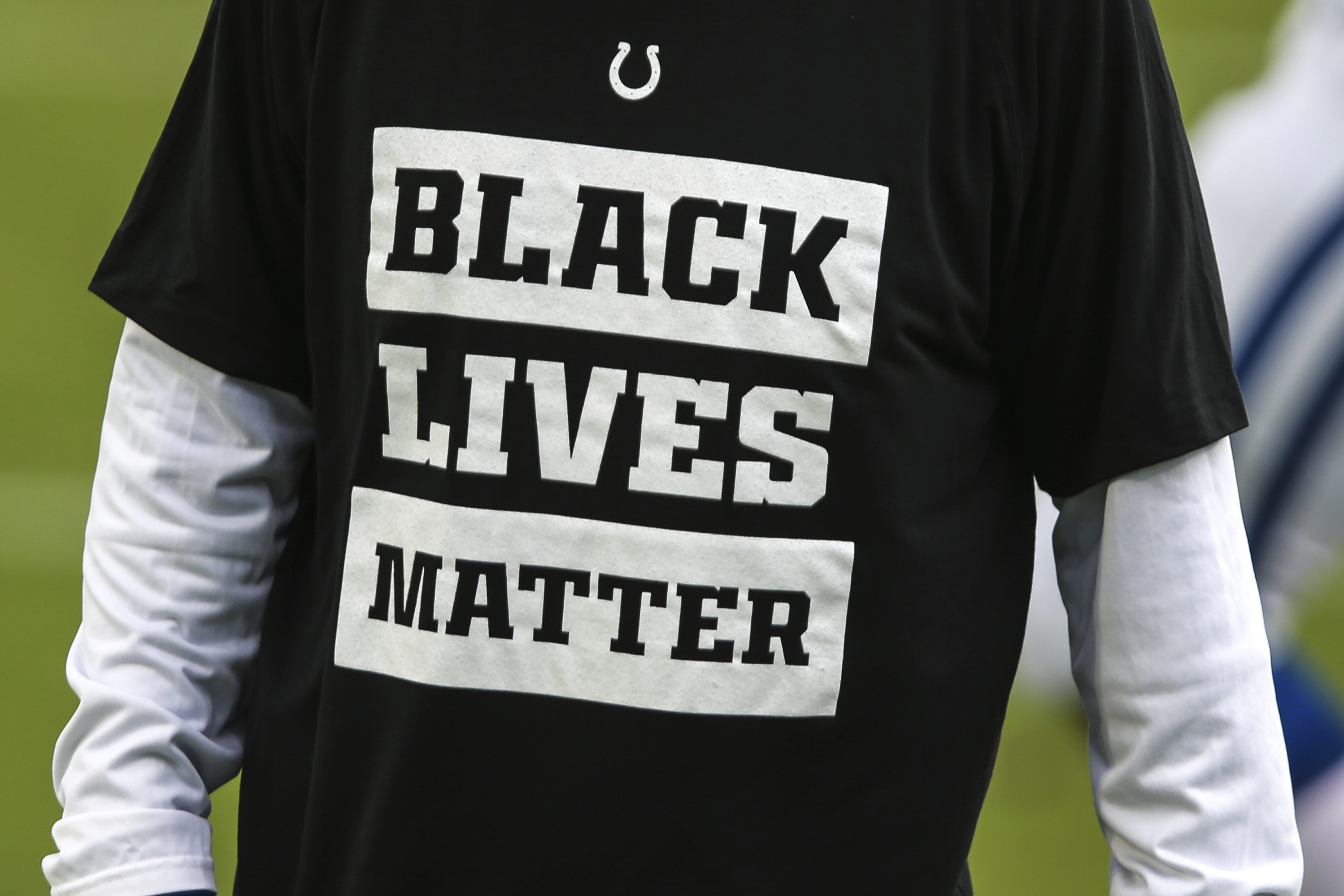 Want the best of VICE News straight to your inbox? Sign up here.
Election officials in Tennessee fired a poll worker last week after he falsely told voters wearing "Black Lives Matter" and "I Can't Breathe" apparel that they had to change before they could cast their ballots. 
The poll worker's demands applied to at least a "handful of people" trying to vote at a Memphis community center while wearing face masks or T-shirts containing the statements, said Suzanne Thompson, a spokesperson for the Shelby County Election Commission. It's unclear whether any of those voters left after they were told to change, cover up, or turn their clothing items inside out, according to Thompson, although it sounded like voters largely complied with the worker's misdirections so they could participate in the election. 
In some states, including Tennessee, people can't wear political garb that displays support for any one candidate or party—otherwise known as "electioneering"—too close to where people cast their ballots. Tennessee law specifically prohibits people from displaying or distributing campaign materials related to any person, party, or "position on a question," within 100 feet of a polling place. 
Shelby County's poll workers have been trained to know that expressing support for Black Lives Matter is acceptable under those rules, according to Thompson. But the fired poll worker was adamant that any such statement was favoring the Democratic Party. 
"We gave them a hand-out that said Black Lives Matter is OK," Thompson said. 
"Here in Memphis, behavior like that is not supposed to be tolerated," she added. "It's not tolerated, especially, at our polling locations." 
It was initially reported that the poll worker had explicitly turned people wearing Black Lives Matter gear away from the polling location, but Thompson said the commission does not think that anyone was asked to leave. 
The poll worker was fired Friday after someone witnessed the behavior and reported it, according to the Associated Press. His name has not been disclosed, but Thompson confirmed the ousted poll worker was a man. The witness did not leave their number, she added, and the election commission is still searching for more details about the incident.
A majority of American adults side with the Black Lives Matter movement, but that support has increasingly been seen as a political statement since nationwide protests erupted over police brutality this summer. 
President Trump, for one, called it a "symbol of hate" when New York City officials said they'd paint "Black Lives Matter" across Fifth Avenue. Police departments in Wisconsin  stopped referring domestic violence victims to a local shelter that put up a sign acknowledging the movement. And, in July, the sheriff for Douglas County, Nevada, said his deputies wouldn't respond to 911 calls at a library that wanted to announce its support for Black Lives Matter. (A county spokesperson later clarified that deputies would continue responding to calls at the library, despite what the sheriff had said.) 
But federal employees, who are otherwise forbidden from partaking in partisan political activities, were recently given the go-ahead to express support for the movement, according to an advisory opinion from the U.S. Office of Special Counsel obtained by USA Today.