Health ministry data showed a rise of almost 75,000 new cases, as experts warn of complacency.
India has now reported more than seven million coronavirus cases as it gets a step closer to overtaking the United States as the world's most-infected country.
Health ministry data showed on Sunday that infections have risen by almost 75,000 to 7.05 million, second only to the US, which has recorded 7.67 million cases.
With the number of new cases dipping in recent weeks, health experts warn of mask and distancing fatigue setting in.
Experts say that the true number of infections may be much higher, as testing rates in the vast country of 1.3 billion people – home to some of the world's most crowded cities – are much lower than in many other countries.
This is borne out by a string of studies measuring antibodies to the virus among the Indian population that have indicated infection rates could be several times higher than officially recorded.
As of the Health Ministry's latest bulletin, India's death toll stands at 108,334, a lower number compared with the US – which has so far recorded more than 214,000 deaths – or other countries in Europe with high caseloads.
"We have been able to keep the curve rise slow, but I do agree that we have not been able to get it to move aggressively down. That's related to our population density, diversity of our country and socioeconomic challenges in our country," health expert Randeep Guleria told The Associated Press, referring to India's burgeoning population of nearly 1.4 billion.
However, some experts argue that India's death toll may not be reliable because of poor reporting and health infrastructure and inadequate testing.
The rise in infections in India comes as the government continues to lift restrictions to boost an economy battered by a severe lockdown imposed in March.
On Thursday, cinemas are set to reopen – albeit at 50 percent capacity – and experts fear the upcoming festival season when large crowds gathering for public celebrations will exacerbate the situation.
Anticipating a fresh surge in cases, the government has issued strict guidelines and capped the number of revellers for the two main Hindu festivals of Dussehra on October 25 and Diwali next month.
'Underlying anxiety'
The virus initially hit major metropolises such as Mumbai and New Delhi but has since spread across the country, including to the remote Andaman and Nicobar islands.
Recently, the daily number of new cases has fallen from a peak of almost 100,000 in mid-September to about 60,000 to 70,000.
But Preeti Kumar of the Delhi-based Public Health Foundation of India said it was too early to assume India has passed the peak.
"What the epidemic has taught us is caution. These declines are real but depend on many factors such as testing, type of testing, intervention efficacy etcetera," Kumar told AFP news agency.
Many Indians are worried too.
Jayprakash Shukla, 66, a retired government official, said he was worried about cases going up "hugely and beyond control".
"When I go out, I see many people without masks," he told AFP. "Maybe they are fed up of wearing masks but if people don't change their ways, it is going to be calamitous for our country."
Limited time: Chase Sapphire earns bonus points on groceries
(CNN) —  
CNN Underscored reviews financial products such as credit cards and bank accounts based on their overall value. We may receive a commission through The Points Guy affiliate network if you apply and are approved for a card, but our reporting is always independent and objective.
Banks continue to enhance their travel credit cards in an effort to keep customers engaged during the pandemic, and on Tuesday, Chase announced a new limited-time bonus category on its trademark Sapphire credit cards.
Starting November 1, Chase Sapphire Reserve card holders will earn 3 points for every dollar spent on grocery store purchases, while Chase Sapphire Preferred card holders will earn 2 points for every dollar spent. The bonus points in this limited-time category will be capped at $1,000 in total purchases per month, and the promotion lasts through April 30, 2021.
The additional bonus category comes on the heels of last month's expansion of the Chase "Pay Yourself Back" tool, which can be used to redeem Ultimate Rewards points earned with either of the Sapphire cards for grocery, dining, home improvement purchases and contributions to select charities. Sapphire Preferred card holders get 25% more in value for their points with the tool from now through April 20, 2021, while those with Sapphire Reserve cards get 50% more.
Related: Chase Sapphire Preferred vs. Chase Sapphire Reserve: Which is best for you?
Also, earlier this year, Chase made gas and grocery store purchases eligible for the Chase Sapphire Reserve's $300 travel credit, along with the usual eligible travel charges. That expansion was originally slated to last through December 31, but the issuer announced on Tuesday that these additional purchases will now continue to automatically qualify for the credit through June 30, 2021.
If you don't already have one of the two popular Chase Sapphire cards, now might be a great time to take a look. That's because the Chase Sapphire Preferred is currently offering new card holders 80,000 bonus points after spending $4,000 in purchases in the first three months after opening the account.
That's the highest public bonus we've ever seen on this card, and unlike its much more expensive sibling, the Sapphire Preferred has only a $95 annual fee.
Related: Read CNN Underscored's review of the Chase Sapphire Preferred.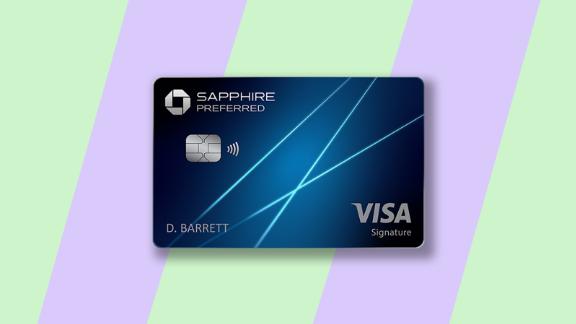 While you may be wisely prioritizing cash back credit cards in your wallet right now, it's not advisable to completely discount the value of travel rewards. Travel may currently be at an ebb, but restrictions are likely to be eased at some point in 2021, and having a stash of points or miles will be extremely useful as airlines try to fill seats and hotels look to increase occupancy rates next year.
So, if you don't already have a Chase Sapphire credit card and you're starting to think about trips for 2021, you may want to consider picking up a new Chase Sapphire Preferred and taking advantage of its higher sign-up bonus, or using either Sapphire card to earn more bonus points whenever you're heading to the grocery store for the next several months.
Learn more about the Chase Sapphire Preferred.
Learn more about the Chase Sapphire Reserve.
Check out CNN Underscored's list of the best Chase credit cards to get for cash back and travel rewards.
The iPad Air is light in build and heavy with features
(CNN) —  
Unlike the 8th Gen iPad that only got some retooling under the hood with the A12 Bionic chip, Apple gave the latest iPad Air a full facelift and rethinking. For starters, the home button is gone and the screen stretches fully to the edges, delivering a 10.9-inch display.
And after five days with it, we're really liking the iPad Air — especially with a starting price of $599.99 for 64GB of storage, it's a great option for anyone looking to go beyond what an entry-level iPad can do. The 10.9-inch screen feels expansive and gives you plenty of room for multitasking. And for movie nights, this display excels at color reproduction. We also found that the A14 Bionic chip lets you breezily accomplish nearly any task.
Sure, the iPad Air might seem like a mish-mash of different features, but it also plants itself as mid-range. There's no Face ID or a remarkable refresh rate with this display like you'd find on an iPad Pro. But select higher-end features have trickled down, and the iPad Air (in this form) feels like the Pro option for the masses.
Not light as air, but still very light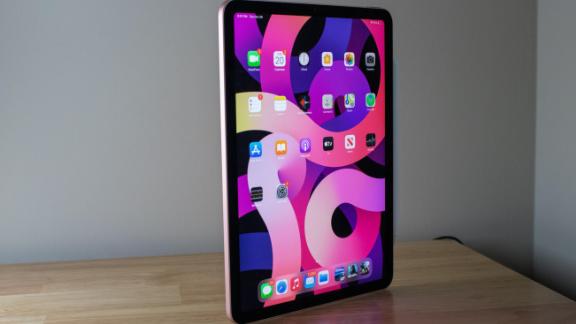 As the name hints, the iPad Air is known for being ultra-portable. It's very comfortable to hold in just one hand even with its nearly 11-inch screen. The 2020 iPad Air measures in at just over a pound, so it's lighter than a bottle of water. And it's thickness ( 6.1-millimeters) is akin to four credit cards stacked atop each other.
The Air's aluminum design really lets the respective colors (Sky Blue, green, silver and Space Gray) shine as light hitting the backside at different angles displays a brighter or darker hue. The Smart Connector is on the back for easy pairing with accessories like the Smart Keyboard. Atop the Air is a spot where you can magnetically attach a second-generation Apple Pencil. Like on the iPad Pro, this not only holds the Apple Pencil in place but will wirelessly charge it. It's nice to see this feature trickle down from the iPad Pro.
There's also no Lightning port on the iPad Air; Apple has swapped in a USB-C port to replace it and we're fully on board with it. To a degree, it's a more Pro port with support for charging, data transfers and even the ability to extend your display.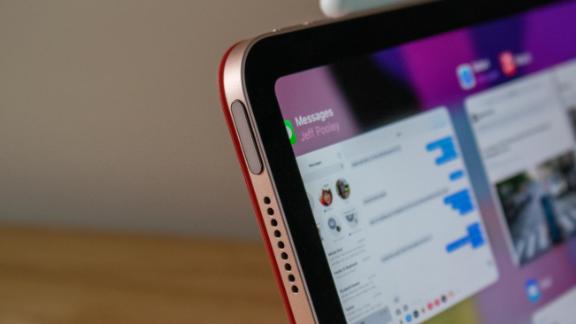 Our favorite part of the design would be that Apple tucked a Touch ID sensor into the power button. It's the first time Apple's featured a fingerprint sensor on an iPad's Home Button. On the engineering side of the house, the power button's outer shell is a glass finish, which contains the smaller fingerprint sensor that Apple has produced.
In our testing, Touch ID was just as fast in this new form as in a Home button. If anything, most of the time it felt about a half-second or so faster. Just more prompt for unlocking, authenticating purchases and auto-filling passwords.
Face ID is a lot easier as you don't really need to do anything except look at the True Depth Sensor at the top of the iPad, but it's also clear that Apple is reserving that tech for its flagship iPads. We imagine that Face ID on the iPad Air would have jacked the price up. All-in-all, though, we're happy with this implementation of Touch ID, and it only took us a day to really get the hang of it.
A closer-to-bezel-less display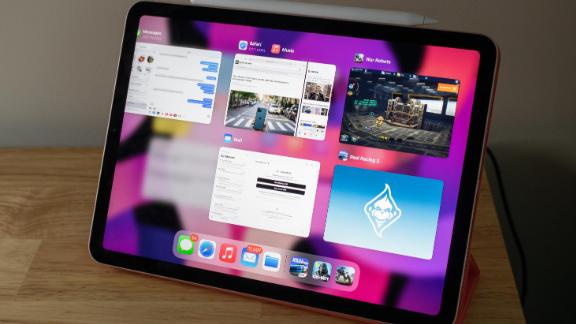 In comparison to the previous generations of iPad Air, Apple is giving you a slightly larger display — a 10.5-inch is swapped for a 10.9-inch. The big difference to get that 0.4-inch increase? Removing the Home Button and slimming down the bezels.
And while 0.4-inch is a relatively small increase, in combination with this refreshed design and slimmer bezels, the iPad Air feels more expansive. You can more comfortably fit two apps side-by-side with a picture-in-picture window for consuming content.
The display is Liquid Retina, which is Apple's name for an LCD screen. Essentially, it's not being lit on a pixel-by-pixel basis like an OLED, but rather has a backlit panel that goes through filters to create an image. Still, it creates a vivid and sharp image at a 2360 X 1640 resolution that delivers 264 pixels per inch. It also supports True Tone and, especially good for creatives, it meets the Wide Color P3 standard.
Apple tries to minimize this finger smudges across the screen with a fingerprint-resistant oleophobic coating, which we found certainly succeeds at hiding a majority of fingerprints. Although potato chips fans are warned — overly greasy fingers will still leave a mark and sometimes residue. The screen also features an anti-reflective coating which aids in helping to block views of smudges, especially under fluorescent lights or outside.
In our testing period, text came through crisp and we didn't notice any pixelation around individual numerals or letters, a problem that often plagues some lower-end screens and even LCDs. Viewing emails and reading text on the iPad Air was comfortable on the eyes thanks to True Tone.
With streaming content, we tried out Springsteen's Letter To You documentary which arrives on Apple TV+ October 23. It's part studio sessions, panning outdoor shots and the E Street Band together all in black and white. The iPad Airreproduced the picture with proper color shading across grays and blacks for a compelling experience. In comparison to watching on an iPad Pro, you'd be hard pressed to really notice a difference in image quality.
And while this doesn't have ProMotion (an adaptive refresh rate that goes up to 120Hz) we didn't notice any milling or issues with production. That same comment also extends to gaming in Real Racing 3, War Robots along with watching superhero movies like Captain Marvel or Guardians of the Galaxy.
We'd also like to call out the stereo speakers that flank the left and right sides when the iPad Air is held horizontally. They pack a punch and deliver a pretty robust sound experience that's only bested by the iPad Pro. We didn't experience any additional noise or tinny audio effects either.
A14 Bionic is a very capable chip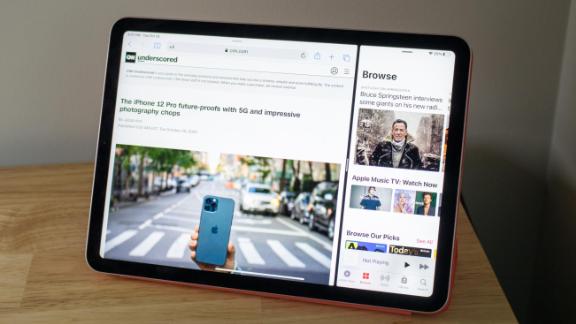 The iPad lineup has a clear entry point with the 8th Gen iPad and a high-point with the iPad Pro. With the A14 Bionic inside, the iPad Air really cements itself as the mid-range option — a next step above the 8th Gen iPad not quite up to scale with the iPad Pro with the A13Z inside.
For instance, you can run through a series of photo edits in Photoshop or Pixelmator (two-leading editing apps) at three or four times the speed as the 8th Gen iPad. And by meeting that mark, the iPad Air falls nearly in line with the iPad Pro — thanks to Apple's latest Silicon processor inside.
The A14 Bionic is also being used in the iPhone 12 Mini, 12, 12 Pro and 12 Pro Max. It's the first 5-nanometer chip made in-house by Apple. Inside it contains a six-core CPU, four-core GPU and a Neural Engine that's made up by 16-cores. Safe to say it's a powerful chip that's also quite efficient and now when's to speed up or put intense tasks on a higher-powered core.
And thanks to this setup the iPad Air outpaces the previous generation device, the 8th Gen iPad and the iPad Mini with nearly any workflow or task. From gaming to writing to communication, the iPad Air just gets the job done faster.
In many cases, we found it to be nearly on par with the iPad Pro for completing those tasks. When we used it for a day of work with Outlook, Mail, video calls, Slack, web browsing and lots of writing, we didn't experience any slowdowns. For instance, with multitasking it was easy-going for running two applications side by side and a third, like messages, floating above.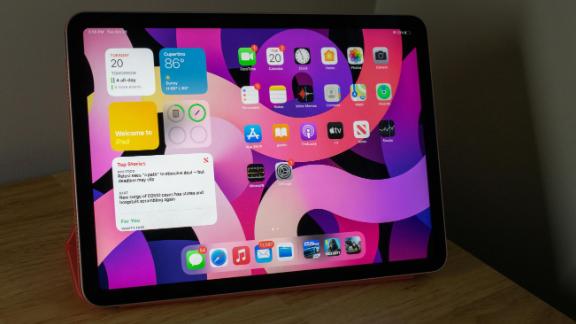 Graphic- and processor-intense games like War Robots, Real Racing 3 and Call of Duty: Mobile performed as expected. There was no noticeable latency occurring either on the device or via the internet. The only qualm we experienced here was at full brightness and volume at max, the power did drop by about 5% during the first match in Call of Duty. It might have been that it was the first time playing, which could have pulled in extra resources. That proved true again when using Shadow, a service that lets you remotely use a high powered PC for games like Microsoft Flight Simulator and Grand Theft Auto V
Rendering and exporting a 4K video in iMovie happened pretty quickly with no noticeable slowdowns. It produced a result much quicker than the 8th Gen iPad by several minutes. We also pushed the iPad Air with Adobe Photoshop and Pixelmator in an effort to engage the Neural Engine for tasks and processes that involve Machine Learning.
The iPad Air also works with the Magic Keyboard. Specifically, the smaller model which originally launched for the 11-inch iPad Pro — it snaps magnetically onto the iPad Air and adds the same function (with the same weight and thickness). If you want a computer-like experience complete with a trackpad, this is the best experience for now on the iPad Air. The keyboard feels just as great as it did when we reviewed the Magic Keyboard a few months back.
The connection between Magic Keyboard and iPad Air is still powered by the Smart Connector on the back. It's extremely simple and doesn't require you to fumble around in settings and manage multiple power cords. The A14 Bionic inside is plenty to handle inputs from your fingers and the Pencil, let alone a keyboard and trackpad as well.
You get a wall plug in the box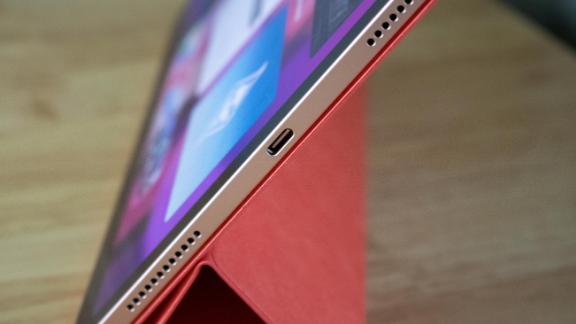 Unlike the iPhone 12 family, the box doesn't just include a USB-C to USB-C cable along with the iPad Air. But there's a 20-watt USB-C wall plug here as well and it's great news. This is the same $19 brick that Apple recommends purchasing for fast charging on the iPhone 12. We're thrilled it comes in the box on the iPad and it gives you the complete package right out of the gate.
And that brings us to the battery on the iPad Air and truthfully it has been great over the past five days. We've encountered long stand by times and the joy of it providing enough power to get through a full day. Even when those days drag on with some videos, FaceTime calls and gaming.
Apple promises around 10 hours of surfing the web on Wi-Fi or when watching a video. And we ran the iPad Air through the CNN Underscored battery test. With this we run a 4K video on a loop with the brightness set to 50%, the volume at 30% and Airplane mode engaged on the device. We monitor the test with two cameras for redundancy. The iPad Air lasted for six hours and 45 minutes. That's behind the 8th Gen iPad, which lasted for nine hours and 45 minutes.
Bottom line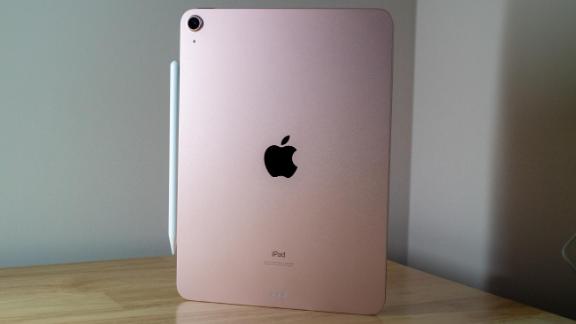 There's a chance you might have been sold on this iPad Air from the start, or maybe when we wrote about the color choices. It's a bold design that feels like it can hang with the flagships, and the hardware inside means it can generally hang and stay for a while with them.
The iPad Air performed up to Pro levels. With the A14 Bionic inside, we were easily able to perform work and play tasks. For those productivity centric tasks, pairing it with the Magic Keyboard gave us the affordance of classic interfaces to work with — namely a keyboard and trackpad. It runs iPadOS 14 well and can speed up for more intensive tasks.
At $599.99 for 64GB of internal storage, you're getting a pretty complete package with plenty of storage for apps and documents as well. Whether you're a student, a remote worker or someone looking to upgrade from an entry-level tablet, the iPad Air deserves a look.
Rwandan genocide suspect Kabuga to be sent to The Hague
Felician Kabuga, 84, is likely spend several months in The Hague and be brought before an international judge.
A United Nations judge on Wednesday ordered that Rwandan genocide suspect Felicien Kabuga, who has been in a French jail since May, be sent to a detention unit in The Hague out of health considerations amid the coronavirus pandemic.
The decision means that Kabuga, 84, is likely to spend at least several months in The Hague and be brought before an international judge there for an initial appearance in his war crimes case, rather than in Arusha, Tanzania as originally planned.
"I hereby amend the arrest warrant and order of transfer," Arusha-based judge Iain Bonomy said, ordering the Mechanism for International Criminal Tribunals "to modify Kabuga's conditions of detention to allow for his detention there".
"I consider that there are exceptional circumstances and that it would be in the interests of justice" to have Kabuga sent to The Hague, Bonomy said in a written decision from Arusha.
Kabuga, a Hutu businessman and once one of Rwanda's wealthiest people, was indicted in 1997 on seven criminal counts including genocide.
UN prosecutors accuse the former tea and coffee tycoon of bankrolling and importing huge numbers of machetes for ethnic Hutu militias who killed hundreds of thousands of Tutsis and moderate Hutus in Rwanda during a 100-day period in 1994.
Kabuga, who has yet to appear before the UN court, dismissed accusations against him as "lies" during French extradition hearings.
It had been uncertain where exactly Kabuga would be sent after France's top civil court ruled on September 30 he could be turned over to the UN custody in Arusha, Tanzania.
Former UN tribunals for war crimes in Rwanda and Yugoslavia have been rolled over into a successor court that has dual offices in The Hague, Netherlands, and Arusha.
Bonomy's order said the court has yet to receive Kabuga's medical files, and that the relatively short distance between Paris and The Hague meant Kabuga's transfer there would pose "far less risk".
He said the date of Kabuga's initial appearance is not certain due in part for a need for him to be quarantined for 10 days after arrival.
The Netherlands is one of Europe's COVID-19 hotspots, while Tanzania's president has said its coronavirus outbreak is over. However, the country has been criticised by the World Health Organization (WHO), accused of not sharing enough data.