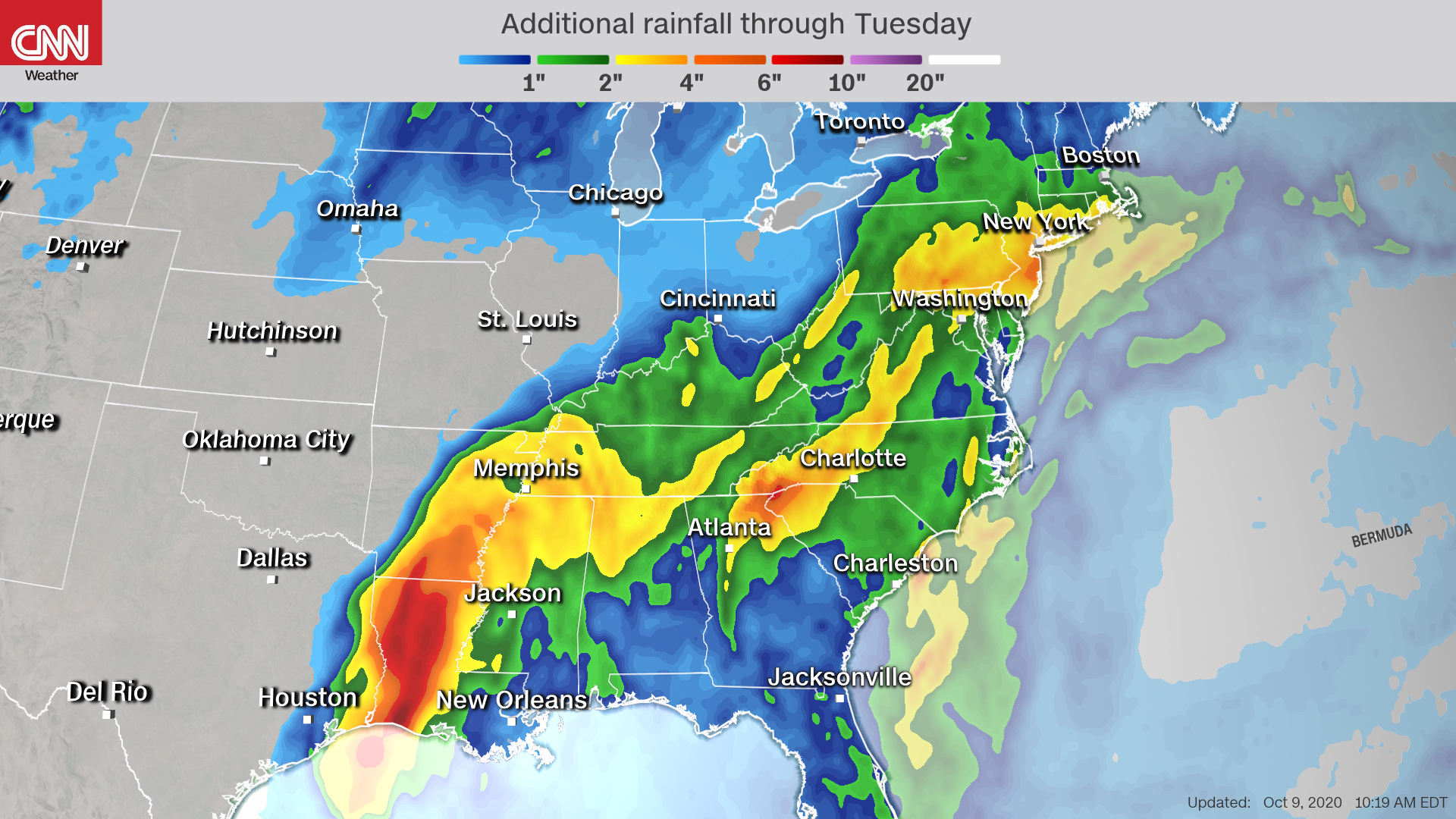 As Hurricane Delta nears landfall in Louisiana, it brings tons of tropical moisture that's ready to be dropped onto land as rain.
Rainfall across Louisiana in the direct path of Hurricane Delta will reach totals of 6 to 10 inches, with locally higher amounts likely.
Five million people are under flash flood watches from Louisiana through southwest Tennessee.
There is a moderate chance of rainfall exceeding flash flood levels across the majority of Louisiana, says the Weather Prediction Center.
The storm has a lower chance of causing widespread flash flooding than Hurricane Laura, which passed through the area in August, due to its relatively fast speed. 
As opposed to remaining stationary and dumping all of its moisture in one spot, the rainfall will be more spread out and less likely to cause flash flooding.
However, widespread flooding is still possible from the storm due to the high rainfall amounts and rates.
After passing northward through Louisiana, Hurricane Delta will move northeast up the eastern coast, bringing up to 6 inches of rain as far north as New Jersey.
A gruesome murder in France rekindles the country's debate on free speech and Islam
The murder last week of a teacher who used images of the Prophet Muhammad in lessons about freedom of expression — by a teenage Muslim refugee — has sparked a solidarity movement in France and reignited the debate over Islam's role in the country.
History and geography teacher Samuel Paty, 47, brought scrutiny this month when he showed his 12- to 14-year-old students two caricatures of Muhammad published by the satirical magazine Charlie Hebdo — the same images that in 2015 inspired jihadists to kill 11 staff members at the magazine and six others in Paris. Parents and teachers at the school, located just 20 miles outside the capital, said Paty gave his Muslim pupils the opportunity to leave the classroom or look away so as not to anger them.
Idolatry is forbidden in Islam, and many devout Muslims believe any depictions of Mohammed, or any revered prophet, to be taboo. But many also found the Charlie Hebdo drawings particularly offensive not just because they depicted the prophet, but because they did so in a way that some critics said perpetuated racist, bigoted stereotypes of Muslims.
A weeks-long uproar ensued. One student's father called for a "mobilization" against Paty — including his firing — and posted the school's address and the teacher's name on social media. An Islamist militant even accompanied upset parents to the school to push for the instructor's ouster.
But the situation turned deadly last Friday when Abdoullakh Abouyezidovitch, an 18-year-old refugee from Chechnya, beheaded Paty with a butcher knife as the teacher made his way home. French authorities said the suspected attacker, who lived about 40 miles away from the school, asked students to identify Paty moments before killing him. The teenager was shot dead after he tried to stab and shoot back at authorities who closed in on him.
Police found a Twitter account suspected of belonging to the attacker since he posted a picture of the severed head along with a message: "I have executed one of the dogs from hell who dared to put Muhammad down."
French President Emmanuel Macron, who on Saturday visited the site of the murder, said the beheading appeared to be an "Islamist terrorist attack" committed because Paty "taught freedom of expression." He added that the terrorist sought to "attack the republic and its values," further noting "this is our battle and it is existential. They [terrorists] will not succeed. … They will not divide us."
On Monday, police raided numerous homes across France as part of its probe into Paty's killing. About 15 people have been taken into custody and 51 Islamic organizations are under investigation, Interior Minister Gérald Darmanin said on Monday. The "enemies of the Republic" won't be given "a minute's respite," he told the Europe 1 radio station.
It's no surprise France is taking the suspected terror attack very seriously. Since the Charlie Hebdo assault in 2015, the last few years have seen high-profile knife attacks, strikes against police on the Champs-Élysées, and a coordinated assault in Paris that killed 130 people and injured hundreds more.
But Friday's killing strikes at the core of two of France's most turbulent debates, which of late have somewhat fused together: whether there should be limits on freedom of speech, and how Muslims should integrate into French society.
And it's a conversation that could continue to roil the nation's politics for years to come.
France and "Islamist separatism"
For over a year, Macron promised to detail his views on the role of Islam in France's secular culture. On October 2, he finally delivered that address.
"What we must attack is Islamist separatism," he told the nation, saying extremists preyed upon desperate Muslims in desolate neighborhoods, basically creating anti-French enclaves by spreading their radical Islamic "ideology" and "project."
"We built our own separatism ourselves," he continued, arguing French authorities made such a situation possible by huddling immigrants together in areas apart from good-paying jobs or French public schools. To solve the problem, he offered some reforms, like within four years forbidding foreign-trained imams (Muslim religious leaders) to preach in France. Instead, all imams must be certified in the country in order to lead a congregation.
It was clear Macron, who has long called for an "Islam of France" that seamlessly integrates Muslims into the country's society, aimed to distinguish between extremists and all Muslims. Still, his speech, and the thinking underlying it, received mixed reviews.
Some said his statements — namely, "Islam is a religion that is in crisis today, all over the world" — were incendiary, not measured. They also accuse Macron, who is up for reelection in 18 months, of trying to garner some right-wing bona fides by taking a tougher stance against Islamic extremism. "The repression of Muslims has been a threat, now it is a promise," tweeted Yasser Louati, a French Muslim activist.
Others, like the Atlantic Council think tank's Benjamin Haddad, said the speech and Macron's views on the issue set the right tone.
"It underlined the urgency to fight separatism," Haddad, who has defended Macron's policies in Washington, DC, since 2017, told me. "It's really more about certain neighborhoods and areas that aren't necessarily violent … but will progressively socialize radical ideology as French republican ideals can't get through anymore." It's more than an ideological fight, he added. "We're talking about losing territory."
"If you go to Paris, everyone will tell you there's a problem. It's one of the deepest societal problems in France today," he concluded.
But what the disagreement over Macron's speech underscores is how France has struggled to accept Muslims as they come. For example, the country has banned headscarves in public schools and for government employees while at work. The government says such measures are meant to help Muslims integrate with France's secular culture, while critics say the focus on Islamic garb stems from bigotry.
This issue burst out into the open after the terrorist attack following the Charlie Hebdo cartoons. Local debate roiled over whether outlets should refrain from producing images of Mohammad, as Islamic teaching forbids, or whether doing so is a celebration of France's history of criticizing all religions. After all, the magazine often lampoons religious leaders like the pope.
Thousands took to France's streets to defend that history. On Sunday, they rallied in major cities like Paris, Lyon, and Marseille in defiance of the attack, in Paty's memory, and to bolster the notion that freedom of expression in France has no limits — even if that leads one to show images of the Islamic prophet.
"We are the result of our history: These values of liberty, secularism and democracy cannot remain just words," a demonstrator in Paris told French media. "We have to keep them alive, and being here helps do that."
Politicians who attended the rallies made similar comments. "I want teachers to know that, after this ignoble act, the whole country is behind them," French Prime Minister Jean Castex said on Sunday. "This tragedy affects each and every one of us because, through this teacher, it is the republic that was attacked."
Importantly, the number of racist attacks in France, including against Muslims, has dropped in recent years. Such statistics offer hope that the potential scapegoating of Muslims in the coming weeks and months may not lead to a rise in hate crimes.
But Macron's policies and the aftermath of the attack indicate that Muslims are once again under a national microscope. That, at the very least, won't help with the assimilation problems the country aims to solve.
---
Millions turn to Vox each month to understand what's happening in the news, from the coronavirus crisis to a racial reckoning to what is, quite possibly, the most consequential presidential election of our lifetimes. Our mission has never been more vital than it is in this moment: to empower you through understanding. But our distinctive brand of explanatory journalism takes resources. Even when the economy and the news advertising market recovers, your support will be a critical part of sustaining our resource-intensive work. If you have already contributed, thank you. If you haven't, please consider helping everyone make sense of an increasingly chaotic world: Contribute today from as little as $3.
NASA's OSIRIS-REx poised to reach out and touch an asteroid
Imagine having to parallel park a 15-passenger van in a narrow parking spot surrounded by two-storey boulders. Then imagine doing it on an asteroid hurtling through outer space at speeds of more than 62,700 miles per hour (101,000 km/h).
On Tuesday, a mission led by US space agency NASA and a team of researchers from the University of Arizona in the United States will do just that, sending commands to a small spacecraft more than 200 million miles (321.9 million kilometres) away, and guiding OSIRIS-REx to vacuum up bits of an asteroid named Bennu and bring them back to Earth. Inside those samples could be clues about the origins of life itself.
Four years ago, the US space agency deployed OSIRIS-REx on a mission to explore Bennu, a primordial piece of space debris that can trace its origins back to the formation of the solar system. Now, OSIRIS-REx is poised to land on Bennu's surface, making for NASA's first-ever asteroid sample return mission, and the biggest delivery of extraterrestrial material since the Apollo era of the 1960s and '70s.
It's a technological feat nearly two decades in the making, and its main goal is to collect a pristine, unaltered sample from the asteroid's surface. To do so, the spacecraft will utilise a special robotic arm with a collection head on the end. On Tuesday afternoon, the plucky little craft is expected to descend to Bennu's surface, extend its arm and blast the asteroid with enough nitrogen gas to push surface material up into the collection head.
Studying Bennu is going to help us better understand the role asteroids might play in delivering these life-forming compounds to Earth.
It will take OSIRIS-REx four hours to traverse the 0.6 miles (one kilometre) distance down to the surface, moving approximately 3.9 inches per second (10 centimetres per second). Once it gets close to the surface, the craft will extend its more than nine-foot-long (three-metre-long) robotic arm, called TAGSAM (or Touch-and-go Sample Acquisition Mechanism), which is topped with a sample collection device resembling a large shower head. It's designed to blow a small burst of nitrogen gas onto Bennu's surface to stir up some dust and rocks.
This material will then be collected in a ring around the head, which can store just about four pounds (1.8kg) of material. OSIRIS-REx's goal is to collect at least 0.13 pounds (60g) of surface material from Bennu, which may not sound like a lot, but is an incredibly tricky manoeuvre to pull off that requires extreme precision – especially on a rocky, uneven surface like Bennu's, where boulders can be the size of football pitches.
One shot
OSIRIS-REx arrived at Bennu in 2018 and meticulously mapped the asteroid's surface across a two-year period to determine the best place to collect the sample. The result? A 66-foot-wide (20-metre-wide) crater near Bennu's north pole that the team calls Nightingale. It was selected primarily because the crater appears to be young, which means that the exposed rock is likely to consist of pristine samples from when the asteroid was formed billions of years ago.
OSIRIS-REx's collection head was designed to work best on a flat, sandy surface, which Bennu does not have. So scientists will have to aim carefully, as it could spell trouble for the mission if the arm touches down on top of rocks that are more than a few centimetres in diameter — severely limiting how much material that could be collected. Also, TAGSAM only has three nitrogen bottles, so the team can't afford to waste them.
The team basically has a single shot to collect as much material as they can from Nightingale crater. That's because once the nitrogen gas is fired, the surface material is disrupted, flying – hopefully – up into the collection head. It's an opportunity literally years in the making.
Mapping the asteroid
OSIRIS-REx has two key tools that will help the spacecraft determine if it's safe to land and start the collection process on Tuesday.
"There are two key products we've built, one of which is a detailed map of the asteroid's surface, complete with potential hazards for the spacecraft," Dante Lauretta, the mission's principal investigator from the University of Arizona, told Al Jazeera. "And the other is a catalogue of features in the crater."
If a sample is collected, it will be weighed and the team will determine if another attempt is necessary. But if all goes as planned and there is enough material in the OSIRIS-REx's collection head, it will be stowed in a special canister that will be jettisoned when the spacecraft swings by Earth in 2023.
If this kind of chemistry is happening in the early solar system, it probably happened in other solar systems as well. It helps us assess the likelihood of the origin of life occurring throughout the galaxy and, ultimately, throughout the universe.
But if OSIRIS-REx's onboard hazard map determines it isn't safe to land in Nightingale, the spacecraft will abort the manoeuvre and the team will have to reassess its plans – and its maps. Both the onboard hazard map and the catalogue of features in the crater "change as a result of us firing the TAGSAM at the surface, so we will need to rebuild our maps," Lauretta explained.
If the team fails to collect at least 0.13 pounds of material from Bennu on Tuesday, there is a second chance as early as December, but it might require relocating to a different crater. That manoeuvre would be a repeat of Tuesday's plans, at another site near Bennu's equator, called Osprey, which is equally enticing. Each dive is incredibly risky, so the team is hoping it will collect enough samples on the first try.
Pay dirt
Asteroid researchers have been waiting for years to get their hands on dirt from Bennu. These types of space rocks are incredibly interesting to scientists because asteroids contain pieces of the earliest materials that formed our solar system, and studying them might allow scientists to answer fundamental questions about the origins of the solar system. That's because moons and planets have changed over time, but most asteroids have not.
"Asteroids are like time capsules floating in space that can provide a fossil record of the birth of our solar system," Lori Glaze, NASA's director of Planetary Science, told Al Jazeera. "They can provide valuable information about how planets, like our own, came to be."
Bennu was selected as a target because scientists believe it is a small fragment of what was once a much larger space rock that broke off during a collision between two asteroids early on in our solar system's history.
The rubble pile seen today is more than 4.5 billion years old, a perfectly preserved cosmic time capsule that could contain clues about the origin of life, Lauretta said.
"Bennu turned out to be exactly the kind of target we hoped it would be," Lauretta said.
Thanks to data collected from orbit, the team has determined two key discoveries: first, that between 5 and 10 percent of Bennu's mass is water, and second, that its surface is littered with carbon-rich molecules. This means that any samples returned to Earth could help scientists better understand what role asteroids played in bringing water to our planet, and seeding it with the prebiotic material that provided the building blocks for life.
Asteroids are like time capsules floating in space that can provide a fossil record of the birth of our solar system. They can provide valuable information about how planets, like our own, came to be.
Earlier this month, researchers on the OSIRIS-REx team made an exciting discovery, one that confirmed something the team suspected all along: Bennu is rich in organic material. The results were published in a series of papers in the journal, Science.
"Organic molecules make up all living things on Earth," Jamie Elsila, a research scientist at NASA Goddard Space Flight Center, told Al Jazeera. "Studying Bennu is going to help us better understand the role asteroids might play in delivering these life-forming compounds to Earth."
Studying that material could also help scientists discover whether life exists elsewhere in the solar system, as well.
"If this kind of chemistry is happening in the early solar system, it probably happened in other solar systems as well," Lauretta said. "It helps us assess the likelihood of the origin of life occurring throughout the galaxy and, ultimately, throughout the universe."
Once the asteroid samples are back on Earth, they will be catalogued by scientists at NASA's Johnson Space Center. The agency will keep the majority of the material, studying some of it immediately and sending some samples to research groups around the world. NASA also plans to store a portion in a secure location in New Mexico for safekeeping.
"The Bennu sample is going to provide important science information now, but also for generations to come," Elsila said.
Down to the wire: Pelosi, Mnuchin talk pre-election stimulus deal
US House Speaker Nancy Pelosi and Treasury Secretary Steve Mnuchin talked for 53 minutes Monday, but it's unclear whether both sides will agree to a stimulus package in time for Election Day.
United States House Speaker Nancy Pelosi and Treasury Secretary Steve Mnuchin "continued to narrow their differences" in a 53-minute telephone conversation on Monday about a fresh coronavirus relief aid package, Pelosi's spokesman wrote on Twitter.
Pelosi hopes that by the end of Tuesday there will be "clarity" on whether a coronavirus stimulus bill can be passed before the November 3 elections, her spokesman, Drew Hammill, wrote. He said Pelosi and Mnuchin agreed to talk again on Tuesday, and staff working on the matter will continue "around the clock".
Pelosi, the top elected US Democrat, said on Sunday that differences remained with President Donald Trump's administration on a wide-ranging coronavirus relief package, but that she was optimistic legislation could be pushed through before Election Day. But, she said, an agreement would have to come through by the end of Tuesday to meet that deadline.
The White House has proposed a $1.8 trillion stimulus plan to help Americans struggling with the economic ravages of the coronavirus pandemic. Pelosi said that offer fell short in a range of areas, including tax credits for poor people, aid to state and local governments, worker protections and rent help. She has stuck to her demand for a $2.2 trillion aid and stimulus package.
Earlier this year, the US Congress passed $3 trillion in coronavirus relief, and many of the Republicans who control the Senate are loath to pass another giant stimulus bill. Senate Majority Leader Mitch McConnell, a Republican, said on Monday the Senate would vote on Wednesday on a $500bn proposal to target specific areas of need.
McConnell said the Senate would also have a separate vote on Tuesday on a new round of funding for the Paycheck Protection Program, a popular programme that was launched earlier in the pandemic with bipartisan support to provide loans to small businesses.
But Senate Democrats have been holding out for a larger overall aid package. Senate Democratic Leader Chuck Schumer called the Republican plan "emaciated", saying it abandons state and local governments in need and has inadequate funding for unemployment benefits. Senate Democrats blocked similar proposals last month.
McConnell, in remarks to the Senate, excoriated Pelosi for what he said had been her "all or nothing" position on approving more coronavirus aid. "The speaker's Marie Antoinette act needs to end," McConnell said.