Hundreds marched in Lebanon's capital to mark the first anniversary of a non-sectarian protest movement that has rocked the political elite but has yet to achieve its goal of sweeping reform.
A whirlwind of hope and despair has gripped the country in the year since protests began, as an economic crisis and a devastating port explosion two months ago pushed Lebanon deeper into decay.
While the turmoil led to the resignation of Prime Minister Saad Hariri, politicians have since failed to form a government capable of addressing the country's challenges.
Two governments have resigned since the movement started but the country's barons, many of them strongmen from the 1975-1990 civil war, remain firmly in power despite international and domestic pressure for change.
On Saturday, hundreds of people brandishing placards and Lebanese flags gathered in Martyrs' Square in the heart of Beirut in a scene reminiscent of last year's rallies.
Protesters marched past the central bank, a target of their anger over a financial crisis that has seen the Lebanese pound lose nearly 80 percent of its value.
They then marched past the parliament building before gathering near the damaged port, observing a minute of silence just short of their destination before holding a candlelit vigil near ground zero at 6:07pm (15:07 GMT).
That was the precise time on August 4 when a huge stockpile of ammonium nitrate fertiliser exploded, killing more than 200 people and devastating swaths of the capital – a disaster widely blamed on the corruption and incompetence of the hereditary elite.
Activists have installed a metallic monument at the site to mark the anniversary of their October 17 "revolution".
"For a year, we have been on the streets … and nothing has changed," said Abed Sabbagh, a protester in his seventies.
"Our demand is the removal of a corrupt political class that continues to compete for posts and seats" despite everything happening in the country, he told the AFP news agency from Beirut's main protest camp.
'Deeply ruined'
The immediate trigger for last year's demonstrations was a government move to tax WhatsApp calls, but they swiftly swelled into a nationwide movement demanding an end to a system of confessional power-sharing that protesters say has tarnished public life.
Lebanon's deepest economic downturn since the civil war has led to growing unemployment, poverty and hunger, pushing many to look for better opportunities abroad.
"Our government along with political parties crushed our hopes," said May, a 25-year-old university student.
"We are tired and deeply ruined, they left us no other choice but to leave."
A spiralling coronavirus outbreak since February prompted a ban on public gatherings but even without protesters on the streets, public resentment has grown.
The explosion at Beirut port prompted protesters to return to the streets in its aftermath, but the movement then shifted most of its energy to relief operations to fill in for what it sees as an absent state.
The political class has since failed to form a new government that can meet the demands of the street and international donors who have refused to release desperately needed funds.
French President Emmanuel Macron, who visited Lebanon twice in the aftermath of the port blast, said the country's ruling class had "betrayed" the people by failing to act swiftly and decisively.
'Another face of the revolution'
President Michel Aoun is due to hold consultations with the main factions in Parliament next week before designating a new prime minister for the third time in less than a year.
Hariri, who bowed out in the face of the first protests last October, is expected to make a comeback in an appointment that activists are likely to reject.
Aoun on Saturday renewed his call for protest leaders to work with the state and existing institutions – an appeal repeatedly rebuffed by activists.
The protest movement has maintained a loose structure that some analysts believe could be an impediment.
"The lack of political programmes and leadership have made the process and progress rather daunting and difficult," said Jamil Mouawad, who teaches political science at the American University of Beirut.
A revolt against the status quo means breaking a sectarian patronage network cultivated by the ruling elite that many in the divided population benefit from.
Even if dissatisfied, some blame other factions for the country's problems or fear change will give another sect power over them – a fear politicians eagerly stoke.
"We don't have one head of state, it's a group of men, they have agreed to divide the spoils of the state at every level. It's a system that you can hardly topple," Carmen Geha, associate professor in public administration and an activist, told The Associated Press news agency.
She compared the dismantling of Lebanon's system with the dismantling of apartheid in South Africa, a long and arduous process.
For all its limitations, the protest movement had successes.
Even after street demonstrations dissipated, grassroots networks quickly mobilised following the Beirut explosion.
The authorities almost completely left the public on its own to deal with the aftermath, with no government clean-up crews in the streets and little outreach to those whose homes or businesses were wrecked.
"You find people more mobilised toward helping each other … that is another face of the revolution," Geha said.
"We need to show people how inept politicians are and provide them with an alternative system, one focused on services."
Harris says she shares 'the American people's outrage' over confirmation process
Even as President Trump seeks to use Amy Coney Barrett's confirmation to the Supreme Court as a political win, the issue hasn't been as prominent during his rallies as some of his advisers had hoped.
On Monday, it took Trump 51 minutes to mention Barrett during his rally in Allentown, Pennsylvania. It was a similar story in Lititz, where Trump didn't mention his third Supreme Court nomination until 54 minutes into his speech.
Trump raised the issue earlier on in his speech in Martinsburg. But generally the Supreme Court nomination has taken a backseat in his campaign speech and his political messaging.
Trump raised the nomination more often when it was in the news, including in September when crowds chanted "fill that seat" at Trump's rallies. 
But since then it's been replaced by issues like Trump's gripes with the media, his attacks on Joe Biden and the litany of grievances against his opponents.
Some of the President's political allies wish he would use the nomination more to galvanize supporters. They see the issue as overwhelmingly positive for Trump and question why it's not being used more on the campaign trail.
When she was nominated, some even suggested Barrett would act in appearances as another running mate for the President.
But on the campaign trail, Trump has made his rallies mostly about himself — leaving little room in the spotlight for anyone else. 
Amy Coney Barrett has officially been confirmed as a Supreme Court justice
In a narrow 52-48 vote, the Senate has officially confirmed Amy Coney Barrett for appointment to the Supreme Court, a huge win for Republicans who worked quickly — and ignored past precedent — to advance her nomination.
Barrett, who will now take the seat of the late Justice Ruth Bader Ginsburg, is a staunch conservative whose vote could be the deciding one on upcoming cases involving the Affordable Care Act, abortion rights, and voting rights. Her confirmation solidifies a 6-3 conservative majority on the high court, and is likely to affect its skew for decades.
Ultimately, every Republican senator except Susan Collins (R-ME) voted in favor of Barrett's confirmation, while no Democrats did. Collins voted against Barrett because she disagreed with the process used for her nomination, something Democrats had objected to as well. Democrats had also expressed concerns about the conservative slant of Barrett's past writings and opinions.
Overall, Barrett's nomination has been controversial for many reasons including its timing: In 2016, Senate Republicans refused for months to consider a Supreme Court nominee until after the general election, because they argued that the American people — through their votes — should have a voice in the decision-making process. This year, however, with less than two months to go until the election, Republicans moved to expedite Barrett's confirmation.
To do so, Republicans made approving Barrett's nomination their absolute priority, even as multiple lawmakers were diagnosed with coronavirus and as stimulus talks remained at an impasse. "Nothing about this is normal," Sen. Cory Booker (D-NJ) emphasized at the start of Barrett's confirmation hearing. "Instead of doing anything to help people who are struggling right now, we are here."
Just eight days before the general election, Barrett now joins the high court. Her rushed confirmation further underscores how determined Republicans are to continue their work remaking the federal judiciary — and opens the door for a comparable Democratic response should they retake the Senate majority.
Amy Coney Barrett's nomination, briefly explained
With her confirmation, Barrett, 48, becomes the Supreme Court's youngest justice and the first justice to be a mother of school-aged children.
Previously a judge on the Seventh Circuit and a longtime Notre Dame law professor, Barrett has also clerked for former Supreme Court Justice Antonin Scalia — and emphasized that her focus on originalism is similar to his. "His judicial philosophy is mine, too," she's said.
Barrett is also a devout Catholic, and she has written in the past about how faith relates to judicial decisions about the death penalty. She will also be among six justices on the court who subscribe to the Catholic faith.
As Vox's Ian Millhiser has written, Barrett has the potential to roll back the Affordable Care Act, undo Roe v. Wade, and expand the interpretation of the Second Amendment as a member of the court. While she's only been a judge for a few years, she's critiqued the Court's decisions to uphold the ACA in the past, and contributed to opinions that signal an openness to limiting abortion access.
Among the first cases that Barrett will consider as a Supreme Court justice is one examining whether the Affordable Care Act should be overturned: Pending any decision to recuse herself, she'll weigh in on whether a change to the individual mandate — the tax Americans had to pay for not getting health insurance — would affect the validity of the entire law.
Much like previous judicial nominees, Barrett did not comment on how she'd rule on particular cases like this one. She has been critical of Justice John Roberts's past opinions preserving the ACA. After the 2012 NFIB v. Sebelius decision, which preserved the ACA, she published an argument noting that Roberts's conclusion "pushed the Affordable Care Act beyond its plausible meaning to save the statute." There is reason to believe that she may view the current case differently, however.
There are outstanding questions about how Barrett would handle a slew of issues — including possible recusal in a case involving the upcoming election outcome, if that comes before the Supreme Court. Multiple Democrats had asked if Barrett would recuse herself from a case like this, since it could pose a conflict of interest given her recent appointment by Trump — who'd likely have a stake in the lawsuit. During her hearing, she declined to say whether she'd recuse herself, but noted that she'd take the steps needed to see if that would be appropriate.
Overall, Barrett — following in the tradition of other judicial nominees — did not offer much indication on how she'd evaluate contentious subjects. But Democrats have expressed frustration at her evasiveness in general. She dodged a number of straightforward questions, included ones asking whether she believed that climate change was real and if she felt a president had the unilateral authority to delay an election.
This nomination process has fired up voters in both parties ahead of the election
Members of both parties have said that they're fired up by the Supreme Court confirmation process, and the energy it has created could have an impact on the upcoming presidential and Senate races.
And for Democrats, the rapid-fire nature of Barrett's confirmation, specifically, stood out as problematic — particularly since McConnell even told the White House to hold off on a badly needed stimulus agreement, in part, out of concern that it would complicate the timing of Barrett's nomination, per the New York Times.
According to an October survey by Data for Progress, 47 percent of Democratic likely voters, 32 percent of independents and 47 percent of Republicans said that Barrett's Supreme Court nomination was a factor they were considering as they headed to the polls. Meanwhile, 75 percent of likely Democratic voters think the entire confirmation process has been rushed, while 38 percent of independents, and 30 percent of Republicans agree.
Certain lawmakers on the Senate Judiciary Committee like Sens. Lindsey Graham (R-SC) and Kamala Harris (D-CA) have also used this opportunity to energize their respective bases as they vie for reelection and the White House, respectively.
In the long term, Democrats have signaled that Republicans' willingness to expedite Barrett's nomination has opened the door to similar actions on their part if they retake power. Progressive groups and lawmakers have urged Senate Democrats to consider modifying how the Court operates — or even expanding the size of the Court — if they end up winning the seats needed to do so, for example.
"Don't think when you have established the rule of 'because we can,' that should the shoe be on the other foot, you will have any credibility to come to us and say: 'Yeah, I know you can do that, but you shouldn't,'" Sen. Sheldon Whitehouse (D-RI) said earlier this month. "Your credibility to make that argument at any time in the future will die in this room and on the Senate floor if you continue."
---
Will you help keep Vox free for all?
The United States is in the middle of one of the most consequential presidential elections of our lifetimes. It's essential that all Americans are able to access clear, concise information on what the outcome of the election could mean for their lives, and the lives of their families and communities. That is our mission at Vox. But our distinctive brand of explanatory journalism takes resources. Even when the economy and the news advertising market recovers, your support will be a critical part of sustaining our resource-intensive work. If you have already contributed, thank you. If you haven't, please consider helping everyone understand this presidential election: Contribute today from as little as $3.
Amy Coney Barrett Was Just Confirmed to the Supreme Court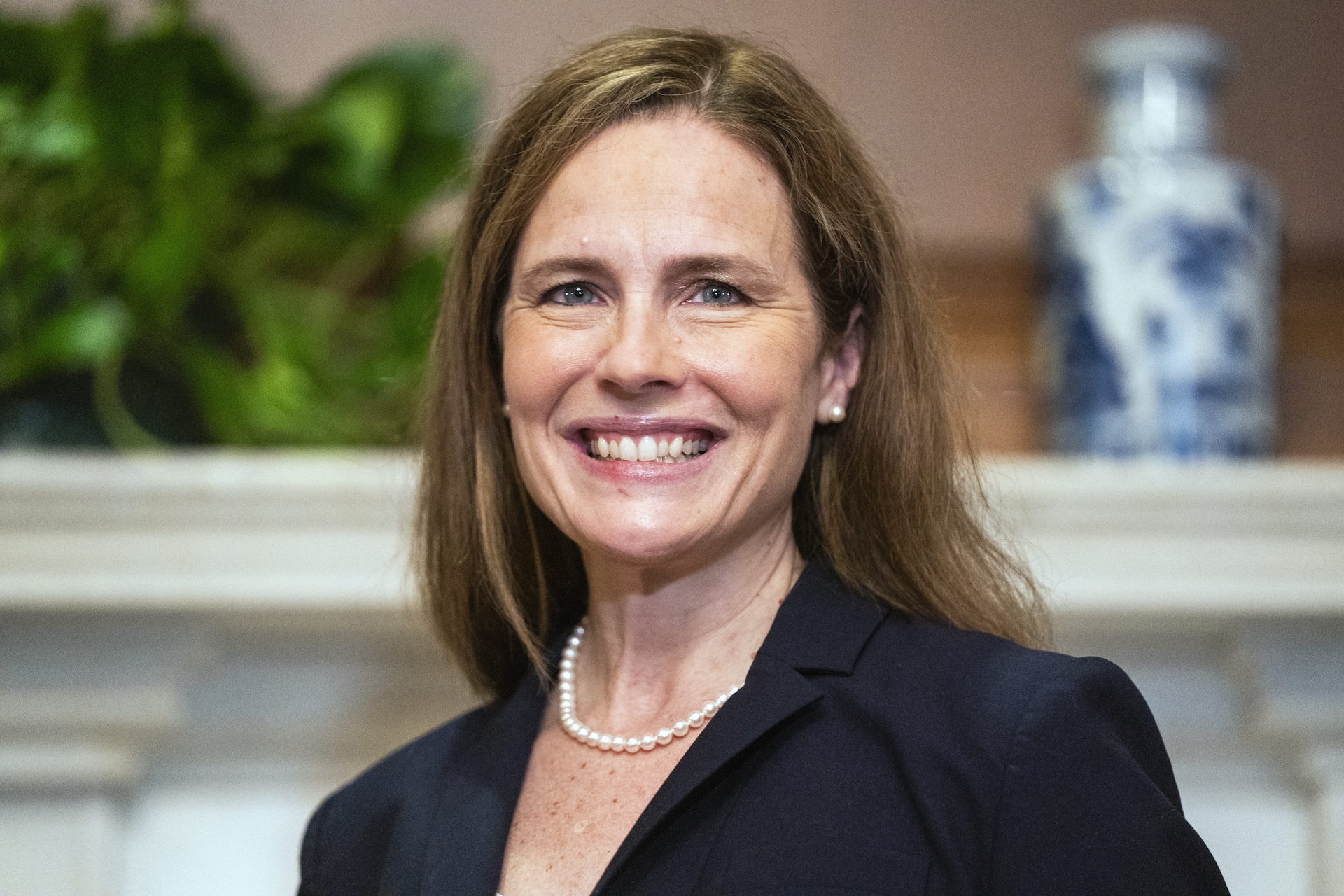 Want the best of VICE News straight to your inbox? Sign up here.
Judge Amy Coney Barrett will be the next associate justice on the U.S. Supreme Court.
The Senate voted 52-48 to confirm Barrett to the nation's highest court on Monday evening, just eight days ahead of the November 3 presidential election. Barrett, a judge on the U.S. Court of Appeals for the 7th Circuit and a conservative darling, will replace the late, liberal Justice Ruth Bader Ginsburg on the Supreme Court and seal a 6-3 conservative majority that will likely last for years.
The vote, as expected, split almost entirely along party lines, with every Democrat voting in opposition to Barrett's confirmation. The only Republican senator to break ranks was Sen. Susan Collins, Republican of Maine, who voted against Barrett.
Senate Democrats had spent the last month fighting in vain against replacing Ginsburg, who died in mid-September after several bouts of cancer, before the election. They've tried to paint the confirmation process as a rushed and hypocritical sham, pointing out that, in 2016, Republicans blocked President Barack Obama's Supreme Court pick Merrick Garland on the grounds that a new Supreme Court justice shouldn't be confirmed in an election year. (The GOP has argued it's fine this time, because the same party—the Republicans—control both the Senate and the White House.)
"Elections have consequences, and what this administration and this Republican senate has done is exercise the power that was given to us by the American people in a matter that is entirely within the rules of the Senate and the Constitution of the United States," said Senate Majority Leader Mitch McConnell, Republican senator of Kentucky, just minutes ahead of the vote.
Democrats have also tried to highlight just how much power Justice Barrett, 48, will have to rewrite American law—and, potentially, shape the course of an election in which nearly 60 million people have already voted. Not only are issues like abortion, LGBTQ rights, and gun control likely to come before the bench in the coming years, but the Supreme Court will hear oral arguments in another lawsuit over the Affordable Care Act on November 10, just days after the election.
During her confirmation hearing in front of the Senate Judiciary Committee two weeks ago, Democratic senators drew parallels to the legendarily conservative Justice Antonin Scalia, who Barrett clerked for. When President Donald Trump introduced Barrett at a Rose Garden ceremony in late September, Barrett told the crowd of Scalia, "His judicial philosophy is mine."
Barrett told the Democrats that she would make her own decisions on cases, rather than mirror Scalia's. But she also largely avoided giving any clues about how she may rule on future cases or how she feels about some of the hottest political and legal issues in the United States right now.
In particular, Barrett evaded answering questions about the limits of presidential power: She declined to say if Trump can pardon himself, if a president can unilaterally move an election, or if presidents should commit to peaceful transfers of power. She has also declined to say whether she believes that systemic racism and climate change are real.
But Senate Republicans didn't try to hide that Barrett, a devout Catholic, is personally opposed to abortion. Supporters of abortion rights fear that Barrett will help overturn Roe v. Wade, the 1973 Supreme Court decision that legalized abortion nationwide.
When the Senate Judiciary Committee met last week to vote on whether to advance Barrett's nomination, Democrats ended up boycotting the vote. South Carolina Sen. Lindsey Graham, the committee chair, waived the committee's rules and held a vote anyway, without any Democrats president, to advance Barrett's nomination to the full Senate.
On Sunday, Democrats tried to filibuster Barrett's nomination, to no avail.
"This Republican senate majority is breaking faith with you, doing the exact opposite of what it promised four years ago, because they wish to cement a majority on the Supreme Court that threatens your fundamental rights," Senate Minority Leader Chuck Schumer, Democrat of New York, told the American people in a speech before the vote. "And I want to be very clear with my Republican colleagues: You may win this vote and Amy Coney Barrett may become the next associate justice of the Supreme Court, but you will never never get your credibility back."
The Trump administration plans to swear Barrett in right after the vote, in a White House ceremony Monday. The Rose Garden ceremony where Trump first introduced Barrett is now suspected to have contributed to a coronavirus outbreak among Senate Republicans and White House staffers; Trump even tested positive for the coronavirus after the ceremony.
Barrett marks Trump's third appointment to the Supreme Court, following Justices Neil Gorsuch and Brett Kavanaugh. Trump has also now appointed more than 200 federal judges and tilted the American federal judiciary towards conservatism for a generation to come.