We all have opinions and beliefs that others may find strange, but sometimes these ideas balloon into dangerous movements like QAnon.
QAnon began in 2017 with a mysterious poster known as "Q" writing in-depth conspiratorial posts on a certain anonymous message board that tends to be the epicenter for all online absurdity. This "Q" claims that Donald Trump is waging a covert holy war against the US government's "deep state," which is lead by a cult of Satan-worshipping democrats, media moguls, Hollywood elites, and silicon valley executives. This cult apparently oversees a vast child sex-trafficking ring and engages in cannibalism, genetic manipulation, and human sacrifice.
Oh, and John F. Kennedy Jr. is apparently alive and is expected to be confirmed as President Trump's running mate (in place of Vice President Mike Pence) any day now. "Q" apparently knows all this because they're a time traveler with the highest level of government security clearance, by the way.
Despite how insane this sounds, the theory quickly spiraled into mainstream social media platforms. The movement has members across the world, and droves of QAnon supporters now regularly appear at Pro-Trump rallies. Many politicians profess a belief in QAnon, and President Trump has spoken positively about the movement and even retweeted QAnon-related content. There's even a QAnon PAC. This isn't just a fringe movement anymore, and it's much weirder (and more dangerous) than your average conspiracy theory.
G/O Media may get a commission
How to spot QAnon online
QAnon actively evolves to hide in plain sight and spread its message, but there are still recognizable signs and slogans associate with the movement.
Followers call themselves "anons," "digital soldiers," and the "Q Army," and their motto is, "Where We Go One, We Go All," often abbreviated as "WWG1WGA." They also use phrases like "The Storm" or "the Great Awakening" to describe the spread of their ideas and Trump's eventual victory over the "deep state."
Then, of course, there's the "Q" logo, which often features an American flag pattern. This shows up on flags, memes, profile photos, bumper stickers, fliers, tattoos—anywhere, really.
These are obvious symbols of the movement, but there are more subtle cues to look out for as well. The group often hides behind hashtags and phrases related to child abuse and sex trafficking. The recent uproar from conservative groups over the Netflix movie Cuties is influenced in part by QAnon's ideas.
They're also fond of circulating COVID-19 misinformation—like drinking bleach or using dangerous drugs as treatments.
Then there are far-right publications like Info Wars and Breitbart who routinely post QAnon-adjacent theories and dog-whistles, even if they don't cite the conspiracy directly.
Should you report QAnon-related content on social media?
No one likes a snitch, but QAnon is not just some kooky conspiracy group; it's a dangerous movement. Members often advocate extremist action, and several real-world shootings and kidnappings were motivated by QAnon and related conspiracies like Pizzagate. The FBI says QAnon is a public threat, and there's even a bipartisan effort to quell QAnon's cultural influence.
Facebook, Instagram, Reddit, Patreon, Twitter, TikTok, LinkedIn, and YouTube actively remove QAnon-related content from their platforms. Facebook and Instagram have the strictest bans in place, but it's still possible for QAnon followers to hide in plain sight, spreading misinformation and inciting violence.
If you notice someone sharing QAnon theories that are getting a bit too extremist for your tastes, feel free to report their post and their accounts. The process is the same for reporting other abusive or harmful content, and we've linked to each platform's support page in case you need a helping hand:
While everyone has the right to say whatever they want—silly as it might be—consider this a digital intervention of sorts that just might very well save your holiday dinner if you have family members that buy into QAnon theories. Otherwise, good luck; let us know if you need backup.
Hide your Kindle SHAME with this case that looks like a REAL book
I love ereaders, but regular books are better.
I'm not saying Kindles and the like aren't worth your time, far from it. They're amazing. Take, for example, my Kindle Paperwhite. It hold thousands of books, so I'm never at a loss for something to read. The backlight means I can devour novels in low-light. It's easy to hold, so I can get comfortable everywhere. What's not to like?
Well, I'll tell you: it doesn't make me look smart.
Books, and let's be honest here, are a PR tool. Like… have you ever actually read a book? Me neither. Instead, I spend around 12 hours every day on public transport holding a copy of Gravity's Rainbow so people really know just how smarter and more interesting and cleverer I am than them.
You can't do that with a Kindle.
Whenever anyone looks at you using an ereader their first though will be "NERD." That's not what I want. Not at all. I need to be seen as a swashbuckling Lord Byron, not a basement-dwelling incel like Elon Musk.
Here we reach the crux of the issue: there are times I need to use a Kindle. Like if I'm going on holiday. Or want to read some ridiculous fantasy novel. Plus, Infinite Jest is playing havoc with my Vitamin D deficient wrist bones.
Thankfully there's a solution, and it's called the BookBook Kindle Paperwhite case from Twelvesouth. Confuddled? Take a look:
You see that? I'll ask one more time: DO YOU SEE THAT? Not only does it look like an actual book, it looks like an old book. And if there's one universal truth about people who read old books it's that they're supremely sophisticated and are brain geniuses because old books are basically written in a different language and are very, very boring.
The BookBook Kindle case: a good case
That sub-head says it all really.
The BookBook Kindle case is made for the latest version of the Paperwhite and fits it perfectly. Be a bit shit if it didn't, right?
It offers decent protection, I've been able to throw it into my bag and leave it there with little to no damage. Obviously, it makes the Kindle a little heavier and harder to use with one hand, but not by much at all. It's still easier to hold than a regular book.
Another cool thing: the case automatically wakes and puts your device to sleep when you open and close it.
Also, it only takes a few moments to slip the Kindle Paperwhite out if you do want to read it like that. Quick note though: if you'll want to be taking the Kindle in and out constantly, maybe look at getting a sleeve rather than a case.
There's a magnet on the back of the Kindle insert section to keep the device there when you're reading laying down, but there's something even cooler hidden in the back: a stand.
Have a look:
This is amazing for reading while you're eating, or in any other situations where you don't want to use your hands like a goddamn animal. I'm a big fan.
There really aren't very many negatives. If I'm being picky, the zip curves into the spine a bit meaning it doesn't always open in a totally smooth way, but I got used to this pretty quickly. Also, I'm not sure I'd trust it holding up if you got it wet (say, in the bath), but you can just take your waterproof Kindle out the case if you plan on doing that.
And the biggest negative? Well, you're not gonna think much of this Kindle case if you believe hiding an ereader in a fake book is pathetic. But hey, you can't please everyone!
The conclusion: yes, the BookBook Kindle case is a Kindle case that looks like a book
If you think that's cool (me), that's great. If you don't (losers), that's also fine.
Basically, the BookBook Kindle case is a simple idea well executed. Plus, it'll help everyone know how astute, educated, and downright brainy you are. And that's what you want, right? For the world to know? At last, for the world to know precisely how fucking great you are? So it can quiver in fear? At your smarts? Make the world grovel at your smart little feet? Grovel, world, mewl and roll in your own dirt for my amusement, for I am Big Brain, look upon my works, ye mighty, and tremble.
Or you may just think it's neat. The BookBook Kindle case costs $50 and you buy it here.
For more gear, gadget, and hardware news and reviews, follow Plugged on Twitter and Flipboard.
Published October 22, 2020 — 09:23 UTC
Uber competitor Ola banned in London over safety concerns
This article was originally published by Christopher Carey on Cities Today, the leading news platform on urban mobility and innovation, reaching an international audience of city leaders. For the latest updates follow Cities Today on Twitter, Facebook, LinkedIn, Instagram, and YouTube, or sign up for Cities Today News.
Transport For London (TfL) has refused to grant Indian ride-hailer Ola a new private hire vehicle (PHV) operator's license for the UK capital due to public safety concerns.
The transit operator said the firm identified a number of failings – including that more than 1,000 trips were made by unlicensed drivers – and then delayed notifying TfL once it became aware.
Helen Chapman, TfL's Director of Licensing, Regulation and Charging, said: "Through our investigations we discovered that flaws in Ola's operating model have led to the use of unlicensed drivers and vehicles in more than 1,000 passenger trips, which may have put passenger safety at risk.
"If they do appeal, Ola can continue to operate and drivers can continue to undertake bookings on behalf of Ola. We will closely scrutinize the company to ensure passengers safety is not compromised."
The ride-hailing firm, which launched in the capital in February, has already indicated it will appeal within the 21-day limit and therefore can operate in the meantime, according to the appeal rules.
Ola claims to have 25,000 drivers registered on its platform in London and serves dozens of other UK cities, including Liverpool, Birmingham, Cardiff, and Coventry.
Response
In a statement, Marc Rozendal, Ola's UK Managing Director, said: "At Ola, our core principle is to work closely, collaboratively and transparently with regulators such as TfL. We have been working with TfL during the review period and have sought to provide assurances and address the issues raised in an open and transparent manner.
"Ola will take the opportunity to appeal this decision and in doing so, our riders and drivers can rest assured that we will continue to operate as normal, providing safe and reliable mobility for London."
The firm formed a partnership with ride-hailer Gett in August, as an extra capacity provider for its services.
Ola's license refusal comes just one week after rival Uber won an appeal against having its license to operate withdrawn in London. A judge found that despite "historical failings", the ride-hailer is now "fit and proper" to hold a PHVoperator's license.
London's taxi/PHV market has seen increased competition from several ride-hailing start-ups in recent years, with Bolt, Free-Now, Gett, ViaVan and Kapten competing alongside the city's iconic black cabs and established private hire taxi and courier firm Addison Lee.
---
SHIFT is brought to you by Polestar. It's time to accelerate the shift to sustainable mobility. That is why Polestar combines electric driving with cutting-edge design and thrilling performance. Find out how.
Published October 22, 2020 — 09:00 UTC
Here's why Inbox Zero will never work for you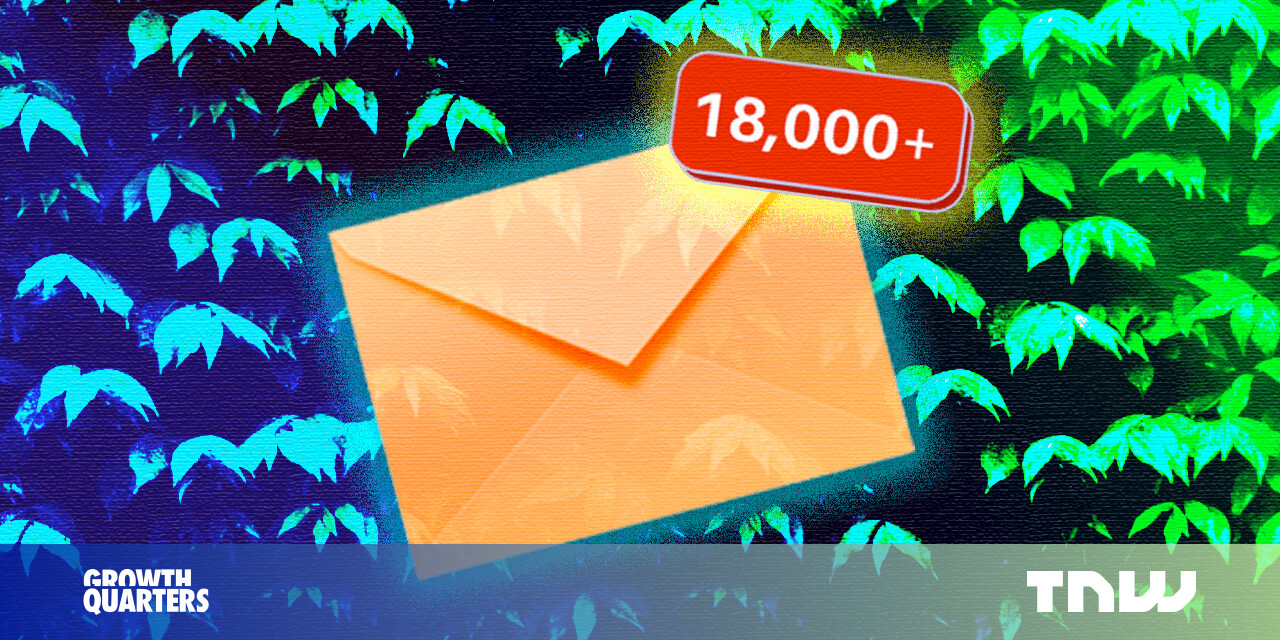 For years, I've marveled at co-workers' inboxes. Some, like me, make a conscious effort to limit the number of unread emails (even if we don't always reply to everyone) while others are perfectly happy to let thousands of messages pile up — and simply ignore them.
Personally, I can't handle the thought of having more than 20 unread messages in my inbox. If my email count surpasses this magic number, I need to take immediate action or else deal with mounting anxiety that prevents me from doing my actual job or enjoying a vacation.
Having a relatively clear inbox is my online equivalent to tidying my desk. Ah, peace.
[Read: What audience intelligence data tells us about the 2020 US presidential election]
Inbox Zero is not always the answer
I've subscribed to the Inbox Zero email managing technique for years — or so I thought.
Developed by productivity expert Merlin Mann, Inbox Zero is a rigorous approach to email management that seeks to allow people to clear their inbox.
It's important to note that Zero doesn't refer to the number of messages that should be left in an inbox, it's in fact the "amount of time an employee's brain is in his or her box."
[Read: 5 easy steps to achieve Inbox Zero]
Mann argues that time and attention are limited and when an inbox is conflated with a "to-do" list, productivity can suffer so he's identified five possible actions to take for each message: delete, delegate, respond, defer, and do.
I'm going to level with you: I do a lot of deleting, delegating, and deferring — mostly because I get MANY irrelevant emails. But I mainly do it for the small endorphin rush that comes with seeing the number of unread emails go down to '0', rather than actually detaching my brain from my inbox.
Now it's clear I wasn't following the true teaching of Inbox Zero, but why is it that we gravitate towards the simple interpretation of 'zero unreads'?
Understanding the psychology of email
I'll never fully understand how people can let their emails pile up but — honestly, I break out in sweat when I see my husband's 50,000 unread emails — but why is it such an issue for people like me?
"When email engines give us unread notifications, they are using a behavioral technique called the Zeigarnik principle," Beatrice Andrew, a behavioral science consultant, tells me.
This principle is based on the notion that humans like to complete incomplete things. Hello, this is me in one sentence!
"We like to get to the end of something or complete a whole task. We get a bit of a kick out of getting to the end of something," Andrew adds.
So, when I feel that slither of anxiety, it's possible that my brain is unconsciously telling me that I want to untick the notifications or read the unread messages — and me being me, well I can't let that go.
Andrew says it's crucial to remember that inboxes are a digital tool we use to assist them. "Rather than being managed by the inbox, we need to find ways of making it work for us in the most effective way," she notes.
The first thing we need to remember is that we all have different priorities and we need to give people the space to use email that works for them.
Some people might need a nudge if they don't reply to an email in a timely manner — and that should be OK. Some roles require you to be completely responsive and clear emails immediately, but that might not be the case across everyone in a business.
Overall, it's important to remember that people with different personalities deal with emails (and other things) very differently. "Humans all think in different ways at different points in time and place," says Andrew.
For example:
A detailed thinker will need a neat and tidy, administered inbox.
A process-driven thinker will administer their inbox manually, on an email by email, and case by case basis.
An abstract visionary thinker will be happy to ignore their inbox and will be unaltered by the mess. (Yikes!).
Managing your inbox — and not the other way round
We create habits when a specific behavior becomes automatic or habitual thanks to regular repetition.
"Email is a habit for many people," Andrew says, adding "Whether email habits are constructive or destructive in the workplace depends on your responsibilities and priorities."
[Read: How to achieve Inbox Zero with these Gmail search queries]
What's really missing is the need to teach appropriate skills that work for different styles and that help you to manage your inbox without getting obsessed.
Andrew recommends you:
Set times where you check your emails
Turn off notifications
Set an 'Out Of Office' if you are not able to answer to prevent any 'email anxiety' forming.
Make people aware you might be slow to reply with an automatic responder can also help put your mind at ease and manage expectations. My editor, Már, swears by this.
We also need to help each other by following basic email etiquette, writing clearly, and stating when a task or comment is directed at a specific person in an email always helps to direct attention.
"See email as your tool, not something that controls you. Use it to your advantage and set clear boundaries around how you use it that works for you. If you do not see value in your email, consider what you could change that could make it a better experience for you," Andrew concludes.
As much as they're annoying, emails are unlikely to go away altogether. So, it's really about how you approach your inbox that matters.
If you're using Inbox Zero and it's not worked so far — or if you've been practicing the 'wrong' Inbox Zero — it might be time to give up and reconsider. Regardless of what method you use, or don't use, don't let it dictate your life. Just remember, an inbox is supposed to work for you not the other way round.
Anyway, I currently have 22 unread emails sitting in my inbox. I've got to go. Good luck!
Published October 22, 2020 — 09:08 UTC