(CNN) —  
Shopping for denim is hard. Going to the store to try on a thousand different styles, sizes, and brands is not only time-consuming, but it can be exhausting. Shopping online for denim can be even harder. But no matter your size, shape or style preference, there is a perfect pair of jeans out there for you – and you can find them without having to leave the comfort of your own home.
Whether you're tall, petite or curvy, whether you prefer your denim fitted or loose, the key to finding the perfect pair is all about knowing which style will flatter you the most. That's where we come in. We've picked out the best-fitting denim for both men and women, by body type and style, to help you look and feel your best in your jeans.
So if you're looking online for your next pair of perfect-fitting jeans, scroll down to check out our top picks for men and women.
Women's Denim:

Best jeans for tall women

Tall women are lucky in many ways when it comes to fashion (no pressure to wear uncomfortably high heels and usually no need to have long dresses hemmed), but when it comes to shopping for denim that's actually the correct length, that can be difficult. Thankfully, tall-length jeans to flatter those who are vertically blessed are available from quite a few brands, such as Madewell, Frame and NYDJ. The key is to always check the inseam measurements, because the last thing a tall woman needs is jeans that look awkwardly short. Some ultra flattering styles for tall women are flared jeans, straight-leg jeans and high-waisted jeans.
J.Crew Tall 8" Toothpick Jeans ($110; jcrew.com)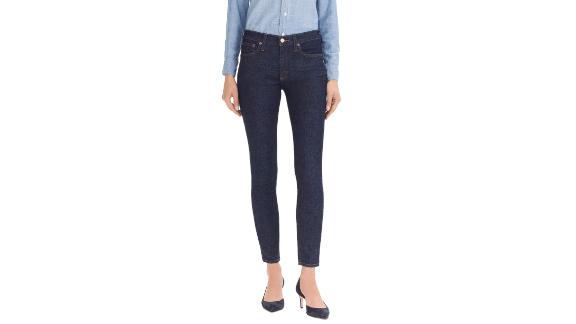 Madewell Tall Classic Straight Jeans in Nearwood Wash ($128; madewell.com)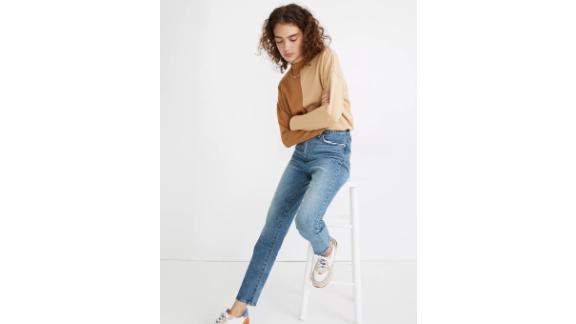 AG 'The New Angel' Bootcut Jeans ($178; nordstrom.com)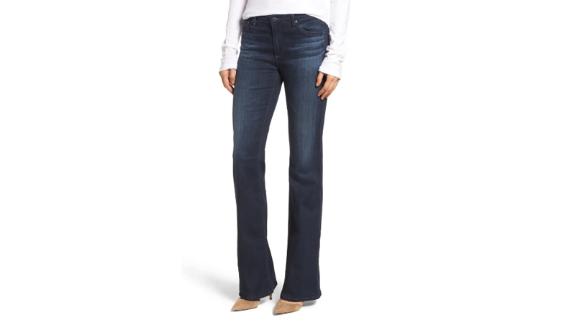 Frame 'Le High Flare' Jeans ($177.65, originally $209; nordstrom.com)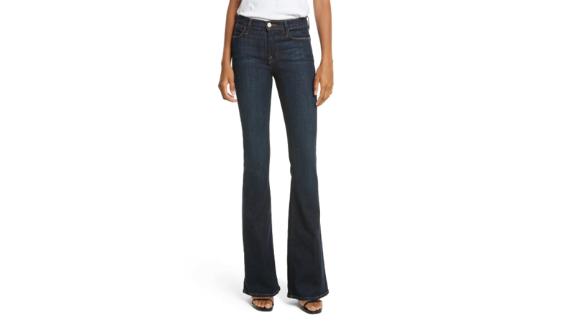 Best jeans for petite women

It's not just tall women who are challenged with finding the correct inseam – petite women can struggle to find the perfect length jeans as well. Of course, there's always the option to have them shortened, but with so many trendy hems happening, sometimes you just want to find the right fit without having to make any alterations. Luckily, there's a handful of denim brands, such as Loft, Everlane and Topshop, catering to petite women.
Topshop Petite Mid Stone Mom Jeans ($75; topshop.com)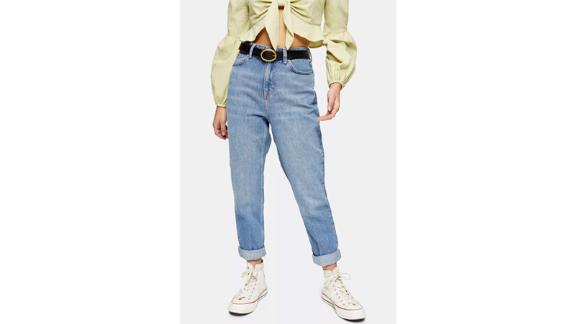 Wit & Wisdom Ab-Solution High Waist Itty Bitty Bootcut Jeans ($78; nordstrom.com)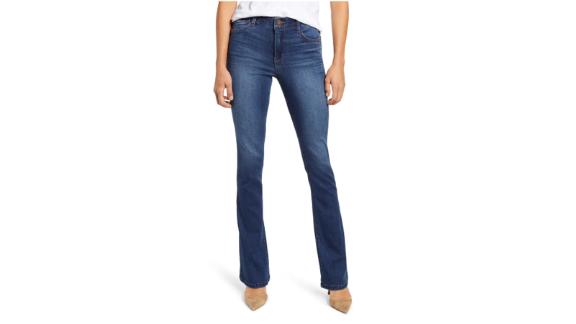 Loft Petite Curvy Skinny Jeans In Classic Dark Indigo Wash ($79.50; loft.com)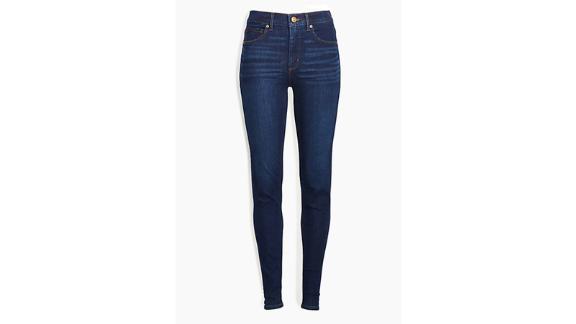 Everlane The Original Cheeky Jean in Ankle Length ($78; everlane.com)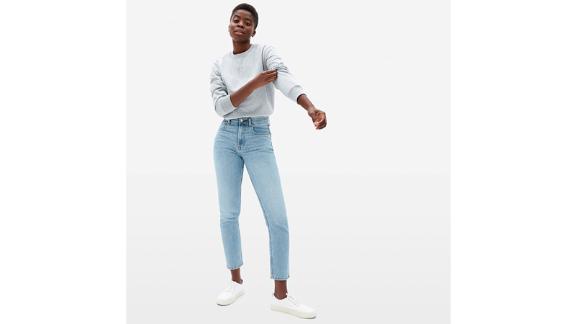 Madewell Curvy High-Rise Skinny Jeans in Hayes Wash ($59.99, originally $128; madewell.com)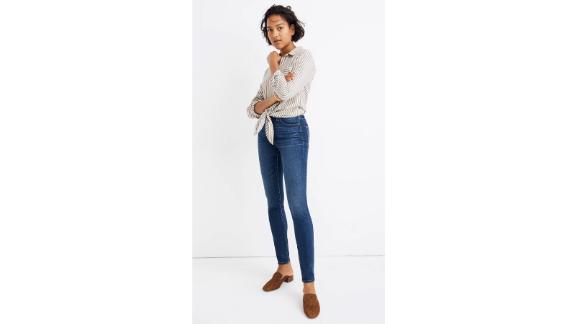 Everlane The High-Rise Skinny Jean in Ankle Length ($68; everlane.com)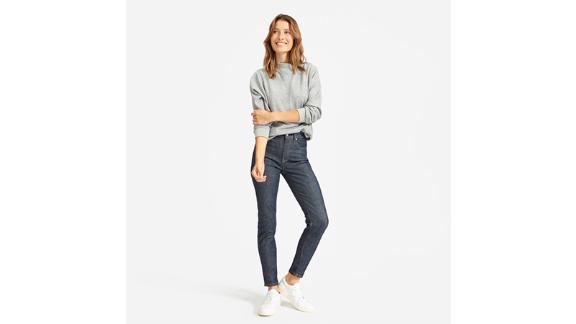 Best jeans for curvy women

If you've got curves, it may seem impossible to find denim that fits both your thighs and booty without a gap at the waist. But don't stress, because you can find plenty of options that will flatter your body without having to size up or sacrifice style. American Eagle and Good American are some of the best denim brands for women with curves. Made with a little extra room in the thighs and hips and contoured waistbands, these jeans are designed to fit in all the right places.
Good American Good Curve Straight Leg Jeans ($179; goodamerican.com)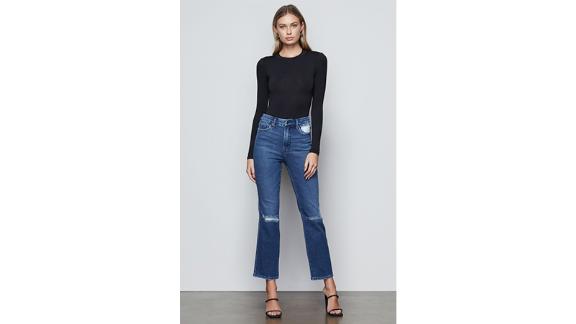 Women's Wrangler Wild West 603 High Rise Straight Jean ($99; wrangler.com)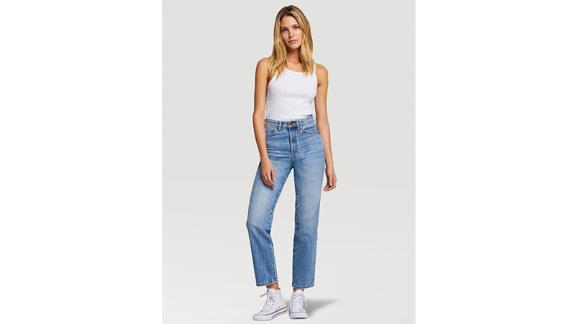 American Eagle Outfitters Stretch Curvy Mom Jean ($37.46, originally $49.95; ae.com)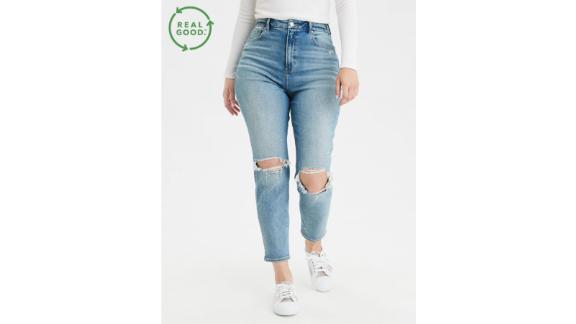 Best athletic and boyish jeans
For more athletic or boyish figures, look for denim that accentuates your waist and enhances your curves. Opt for a pair of culotte-style jeans that cinches your waist and adds curves with a wider leg. Or try a pair of high-waist super skinny jeans which will hug in all the right places, like this pair of DL1961 Instasculpt jeans, which are specifically engineered to elongate your form and enhance curves while lifting your butt. Remember, no matter what style you prefer, be sure to always check that you're ordering the correct inseam.
Urban Outfitters BDG High-Waisted Slim Straight Jean ($64; urbanoutftters.com)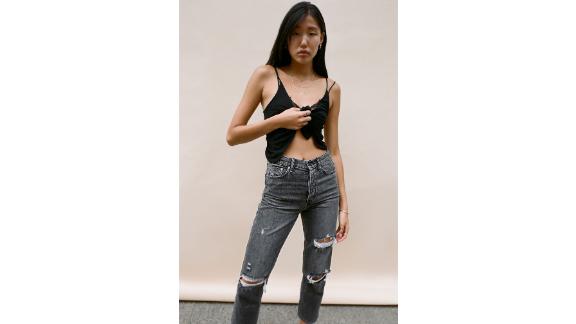 DL1961 Instasculpt Florence Skinny Jeans ($179; nordstrom.com)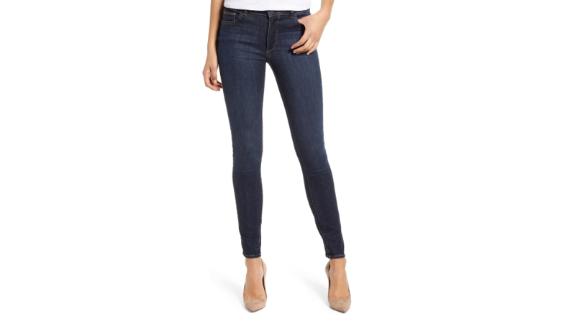 Boyish The Mikey Jeans ($158; shopbop.com)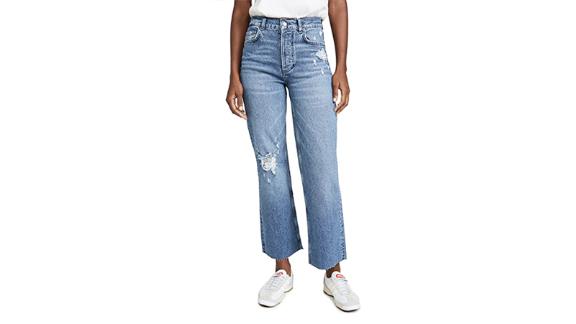 Best plus-size jeans

Shopping for plus-size jeans can be tough due to the lack of plus-friendly options, but luckily the tides are beginning to turn in the denim market. Nowadays, women can find extended sizes in an array of styles, silhouettes and washes from brands such as Good American, American Eagle Outfitters and Torrid, among many others. Some of our favorite styles to look for are high-waist skinny jeans that highlight your waist, flatten your tummy, and accentuate your curves. For taller plus-size women, a boot cut style jean is super flattering.
American Eagle Outfitter The Dream Jean Curvy Super High-Waisted Jegging ($37.46, originally $49.95; ae.com)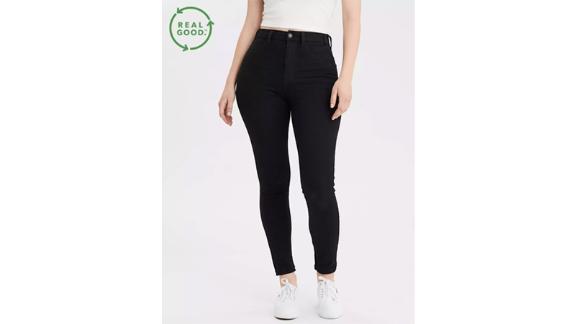 Torrid Sky High Skinny Jeans in Premium Stretch Black ($51.67, originally $79.50; torrid.com)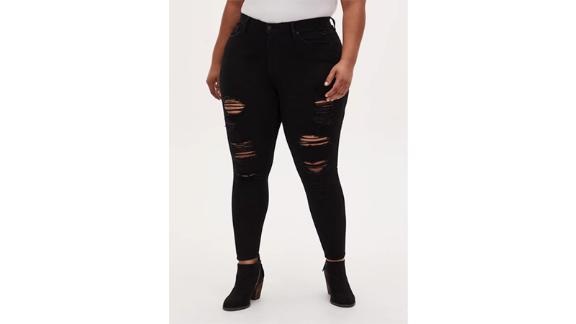 Levi's Women's Wedgie Skinny Jeans (starting at $29.58; amazon.com)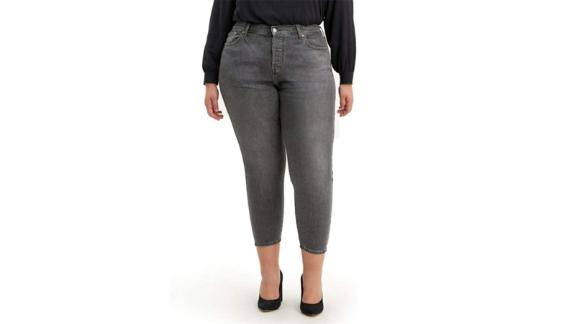 Men's Denim:

Best skinny jeans for men

For guys on the thinner side, jeans with a low rise are most flattering. The cut is roomy without drawing too much attention to a thinner frame. As for silhouette, try to avoid super skinny jeans or super baggy jeans and opt for a slim or straight-leg style with a tapered leg to help balance your proportions and accentuate your frame in the best way.
Levi's 512 Slim Taper Fit Advanced Stretch Men's Jeans (starting at $32.72; amazon.com)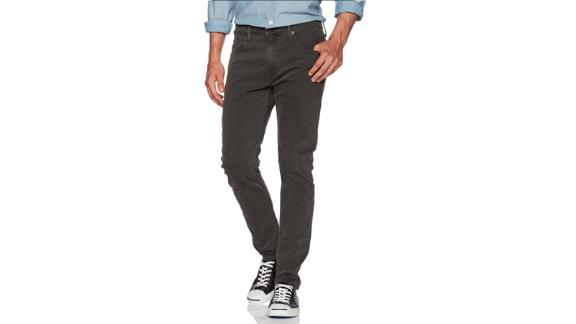 Mango Tapered Fit Soft Wash Jean ($69.99; mango.com)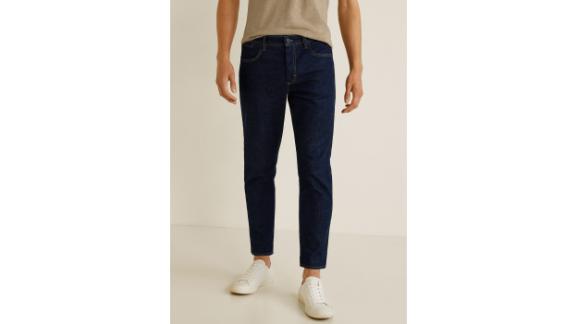 Topman Considered Light Wash Stretch Skinny Jeans ($60; topman.com)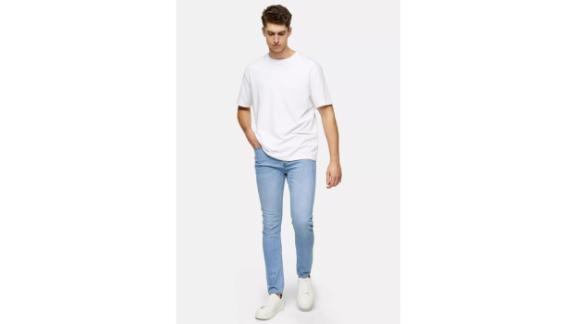 Everlane Uniform The Skinny 4-Way Stretch Organic Jean ($72; everlane.com)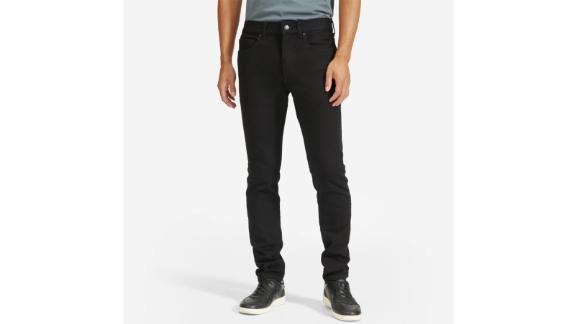 Best bootcut jeans for men
For a more relaxed look, bootcut is probably the way to go. Easily paired with bigger shoes and with plenty of room in the lower half of the leg, these jeans are great for a day out and about. Levi's is well known for its bootcut jeans, as well as other popular brands such as Gap and Lucky Brand.
Gap Boot Jeans ($35, originally $59.95; gap.com)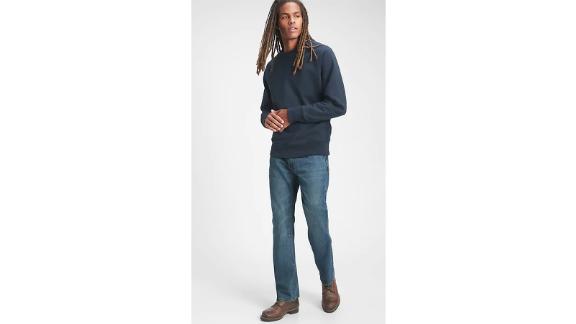 Lucky Brand 367 Vintage Boot 4-Way Stretch Jean ($129; luckybrand.com)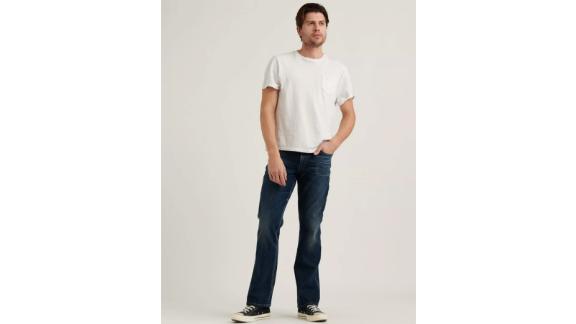 Levi's 527 Slim Boot Cut Men's Jeans ($69.50; levis.com)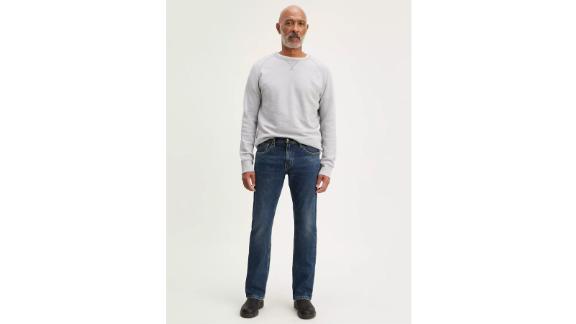 Best jeans for tall men

Usually men who are over 6 feet fall in the category of "tall" when shopping for denim. Like everyone, tall men need to pay attention to inseam measurements, but another important detail to take into consideration is the rise of the jean. A high-waist pair of jeans will only lengthen the appearance of your legs and make you look out of proportion. Instead, opt for a mid- or low-rise style to help provide balance. The most flattering silhouette for tall guys is similar to that for thinner men, above, with straight, slim or tapered denim in a darker wash working best. This style of denim will help to create a narrow silhouette which will flatter your height.
American Eagle Outfitters AE AirFlex+ Slim Jean ($37.46, originally $49.95; ae.com)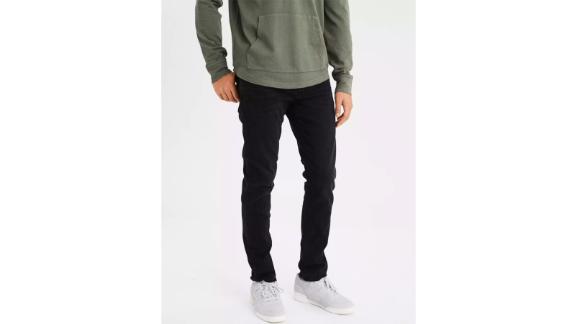 Express Slim Straight Supersoft Medium Wash Hyper Stretch Jeans ($58.80, originally $98; express.com)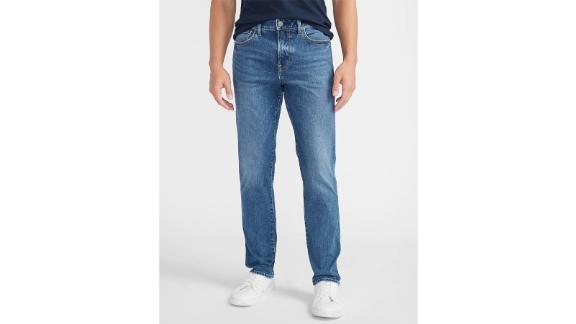 Levi's 514 Straight Fit Men's Jeans (starting at $22.93; amazon.com)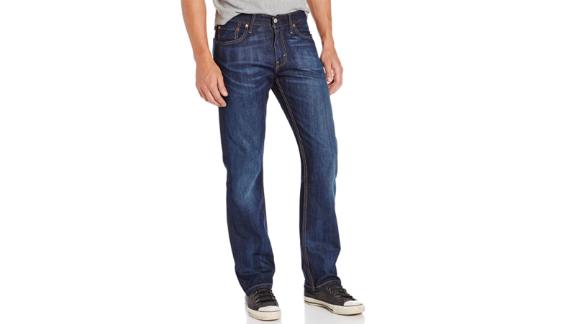 Best jeans for short men

For men who are less than average height, hemming and altering your jeans is a must. While there are certain brands that cater to men who are on the shorter side, ensuring your jeans fit perfectly is sometimes best left to a professional tailor. But besides taking care of the obvious length issue, finding the right fit is key. Try opting for a pair of slim, straight, or even skinny jeans with a mid-rise waist to balance out your top and bottom halves. Avoid low-rise jeans if possible, as this cut will make your legs look shorter than they actually are.
Topman Bright Blue Wash Stretch Skinny Jeans ($60; topman.com)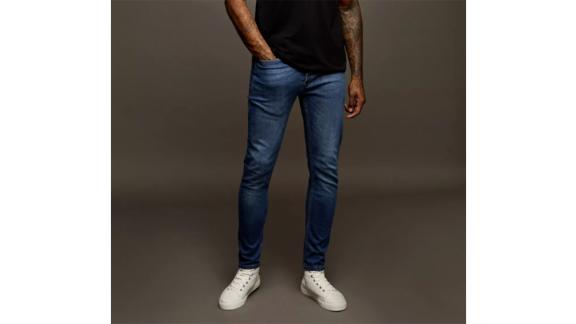 Levi's 502 Taper Fit Flex Men's Jeans ($69.50; levis.com)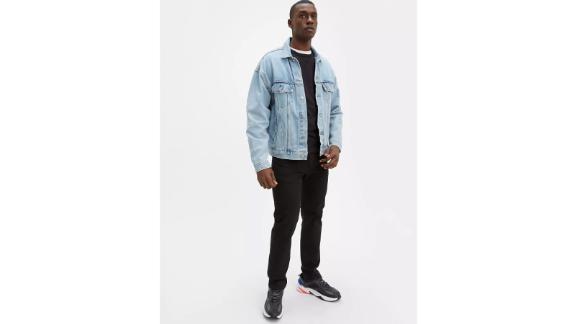 ASOS Design Recycled Slim Jeans in Black ($40; asos.com)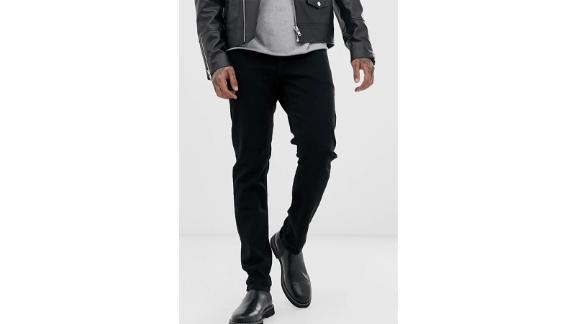 Paige Croft Skinny Jeans in Birch Wash ($195; eastdane.com)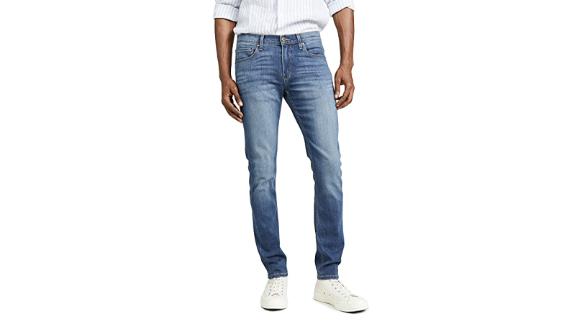 Best athletic jeans

If you're a muscular guy, odds are you have trouble finding jeans that fit your frame, especially in the thighs. To help balance out your body, while still enhancing the muscles you put in all that work to build, try to avoid anything too tight, like super skinny jeans, which can look uncomfortable. The same goes for boot cut or loose-fitting jeans, which can have the opposite effect and make you look like you're swimming in your clothing. Instead, opt for a tapered, straight-leg silhouette that's slightly more forgiving in the thighs while still retaining a narrow and streamlined shape.
Mango Tapered-Fit Soft Lyocell Touch Tom Jeans ($69.99; mango.com)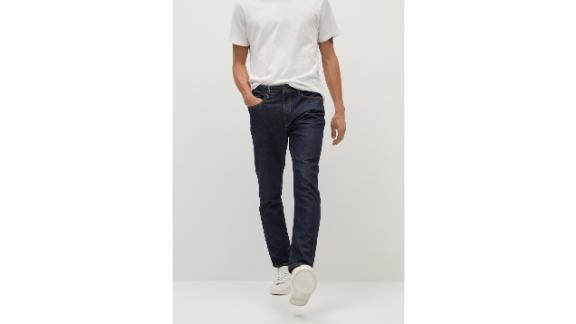 7 For All Mankind Adrien Clean Pocket Denim Jeans ($248; eastdane.com)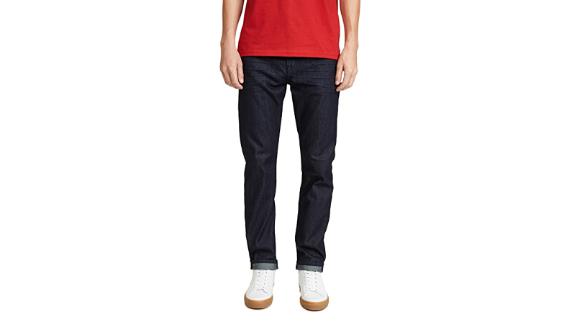 Club Monaco Slim Straight Denim ($129.50; clubmonaco.com)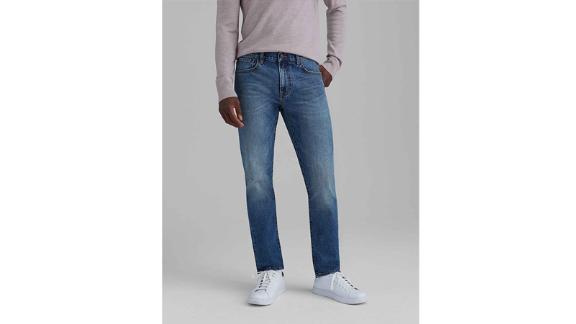 Best larger jeans

Just like men of any shape, larger men need to pay special attention to the silhouette and style of their denim. While skinny and super skinny jeans may be on trend, they're not always the most flattering proportionally. Finding the right balance between your upper and lower body is essential, no matter where you carry your weight. To do this, try a straight leg fit, slightly relaxed fit, or tapered fit with a low-rise waist, which will help to evenly balance out the scale of your build. Always opt for medium to dark washes, which slim and flatter any body type.
Levi's Men's 505 Regular Fit Big & Tall Jeans ($69.50; levis.com)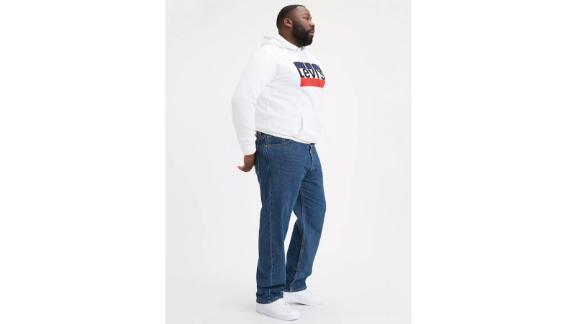 Old Navy Built-In Flex Straight Jeans ($44.99; oldnavy.com)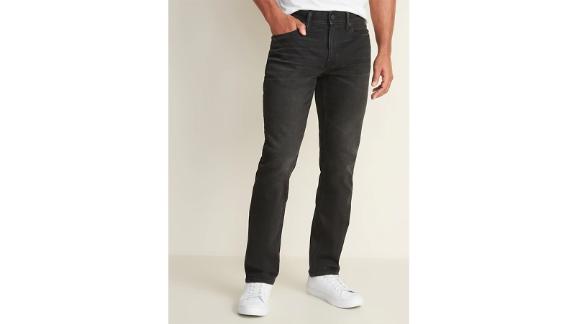 34 Heritage Charisma Relaxed Fit Jeans ($185; nordstrom.com)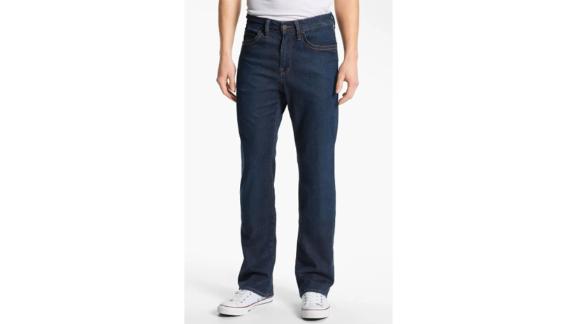 An island built from coral: How Indonesia's Bajau made a home
Bungin Island, Sumbawa, Indonesia – Scattered across many of the islands and coastal communities in Southeast Asia, the Bajau, numbering about one million people, are the world's largest remaining group of sea nomads. But their culture is under threat.
In the Sulu Sea between Borneo and the Philippines, where the Bajau have roamed the ocean for 1,000 years, insurrection by the Abu Sayyaf armed group has led to an increased military presence and curfews restricting movements on both sides of the border.
On the islands of southern Thailand, where the group are known as Moken, they live in stilt shanties that cling like barnacles to coastlines that are rapidly being consumed by buildings built for tourists.
In Indonesia and peninsula Malaysia, many Bajau have given up ocean-based life by marrying people from local communities and seeking jobs in the cities.
But one Bajau community on the Indonesian island of Sumbawa has preserved its unique way of life by building their own islet out of coral, allowing it to evolve separately from the mainland.
With 3,500 residents on just 8.5 hectares (21 acres) of land, Bungin Island also stands out as the most densely populated of Indonesia's 17,000 islands.
No crime
When the first Bajau arrived in Sumbawa from the southern Philippines 200 years ago, Bungin Island was just a sandbank on the north coast. In the Bajo language, Bungin means "a mound of white sand".
They built their spartan stilt houses on the sand, but as their numbers grew, they enlarged the island by harvesting coral to build foundations for houses on low-lying sections of the surrounding reef. With the help of relatives and friends, it typically takes a week to build a 70-square metre (172-square acre) plot and structure.
"We have a good life here and we have enough money because all the time, every day and night, we are looking for fish," said Surat, a Bungin Island elder, who like many Indonesians goes by only one name.
The Bajau are accomplished fishermen and free-divers who can remain underwater for as long as eight minutes on a single breath. Some children have their eardrums pierced to prevent them from bursting from water pressure while diving.
Studies of Bajau who start diving from young have shown their spleens, the organs which store oxygenated red blood cells, are 50 percent bigger than average.
Bungin Island has also developed a strong sense of community. When the heat of the day eases at dusk, people come out onto the tightly packed streets to shop, mingle, eat and pray in the mosque.
Indonesians are renowned for their hospitality but on Bungin Island they really roll out the red carpet, sharing drinks, meals, laughter and conversation with visitors. And apparently, there is no crime on the islet.
"We don't have locks on our doors," said Rizky, Surat's neighbour. "Everyone knows each other so it's not possible to steal anything here."
'The problem with corona'
The nature of the sea gypsies' lifestyle means they have missed out on many basic services.
Bajau communities in Indonesia are lacking "in the areas of health and education … [and] many Bajau are illiterate," found the Joshua Project, a research project focused on Indigenous cultures with Christian minorities.
In the mid-1990s, the Indonesian government embarked on several large infrastructure projects to drag Bungin Island into the 21st century.
It built a wide sand causeway linking the island to the mainland and making it easier for islanders to sell their salted fish at mainland markets.
It also built a large government school on the mainland-end of the causeway and connected the islet to the national power grid. And tackled overcrowding by shipping in thousands of tonnes of sand to reclaim an additional 2.5 hectares (6.1 acres) of land from the seafloor.
The causeway also had an unintended effect – it turned Bungin Island into Sumbawa's leading attraction for domestic tourists who would come to marvel at the paper-eating goats.
As plants cannot grow on the islet, the domesticated goats that roam the streets search instead for paper, cardboard and cloth. For many children, the highlight of visiting the islet was to feed the goats pages from their exercise books. For adults, it was long lazy lunches at Resto Apung, a floating seafood restaurant and fish farm with breathtaking coast and mountain views.
But when Indonesia temporarily banned domestic travel in April to mitigate the spread of COVID-19, tourism came to an end. With Indonesia's coronavirus outbreak still surging, it has yet to recover.
"We had many tourists before the problem with corona," said Surat. "But as we live so close together it is impossible to socially distance. The restaurant and our guesthouse had to close."
Rubbish dump
The causeway has also brought more worrying problems.
Before it was built, islanders ate only seafood, some greens and ric, and used organic materials like coconut shells and palm fronds as bags.
Easy access to the mainland introduced cheap packaged foods, water bottles and plastic bags and no waste management system to deal with it.
The result is that Bungin Island has been turned into a rubbish dump; its shores are carpeted with tonnes of rotting waste – all of which ends up in the delicate marine ecosystem the Bajau depend on to survive.
When asked about the problem, islanders laugh – a typical Indonesian response to awkward questions and social situations.
But a study published by the University of Queensland in July on plastic literacy in remote Indonesian coastal communities found a majority of people in the communities did not see the plastic waste as a threat and believed its only negative effect was to "make the village look dirty".
The study's authors suggested a two-pronged solution: the creation of "rubbish banks" – a term used in Indonesia for a recycling facility where plastic can be sold, sorted, shredded and moved down the value chain; and plastic awareness and environmental education.
Awareness initiatives have already led to changes of some centuries-old traditions.
In the past, customary law dictated that young people who wanted to marry had to harvest coral to build a home of their own. The 21st-century residents of Bungin have different ideas.
"Now, if you get married, you stay with your parents and slowly, you save up money to buy a house on Bungin," said Surat. "Most people do it this way because it's easier than building with coral and doesn't hurt the reef where the fish live so we can keep on fishing."
NIH director says Covid-19 vaccine authorization 'might not happen' this year
France reported a new daily record for coronavirus infections with 42,032 new cases in the past 24 hours, according to numbers released by country's health agency on Friday.
This brings the total number of confirmed cases in France to 1,041,075, according to French government statistics, and marks the first time the government's coronavirus case tally has surpassed 1 million. 
France also recorded 298 additional coronavirus deaths, bringing the death toll to 34,508, according to the French Health Agency. 
According to government data, an additional 976 coronavirus patients have been admitted to the hospital, and a further 122 coronavirus patients entered intensive care in the last 24 hours. 
Speaking at a health center this afternoon, French President Emmanuel Macron said he expects France will have to live with the virus until at least the summer of 2021.
"When I listen to the scientists, and the Scientific Council, we foresee [living with the virus] at best until next summer," Macron said. "It is still too early to say whether we are moving towards wider local re-confinements, we will try each time to reduce the places, the moments when we have identified that the virus was circulating a lot. This is the strategy we will pursue."
Macron added that the government aims to implement new restrictions in the most targeted way possible. 
From midnight on Friday, France's nighttime coronavirus curfew will be extended more widely, with 46 million French people affected, announced French Prime Minister Jean Castex on Thursday. 
To note: According to the latest data from Johns Hopkins University, France has recorded 1,048,924 coronavirus cases and 34,236 deaths. CNN's Paris Bureau is working on clarifying the discrepancy between state statistics and the university's numbers.
US COVID-19 deaths could hit 500,000 by February, researchers say
The death toll from COVID-19 in the United States could exceed 500,000 by February unless nearly all Americans wear face masks, researchers said on Friday, as 14 states set new records for one-day increases in cases.
The latest estimate by the widely cited University of Washington's Institute for Health Metrics and Evaluation (IHME) reflects concern that cold winter weather will drive Americans indoors, where the coronavirus spreads more easily, particularly in confined, poorly-ventilated spaces.
Nationwide, 76,195 new cases were reported on Thursday, according to a Reuters analysis, just shy of the single-day record high of 77,299 reported on July 16. Only India has reported more cases in a single day: 97,894, on September 17.
"We are heading into a very substantial fall/winter surge," said IHME director Chris Murray, who co-led the research.
The number of possible deaths could drop by 130,000 if 95 percent of Americans covered their faces, the IHME said, echoing a recommendation by Dr Anthony Fauci, director of the National Institute of Allergy and Infectious Diseases.
The country's Health Secretary Alex Azar has attributed the increase in cases nationwide to individual behaviour, saying household gatherings have become a "major vector of disease spread."
Asked about President Donald Trump's claim that the US was "rounding the turn" on the pandemic during Thursday night's presidential debate, Azar told CNN that Trump was trying to provide hope to Americans waiting for a vaccine.
Pennsylvania, a swing state that is expected to play a crucial role in the November 3 presidential election, reported its largest single-day increase in cases since the pandemic began. "Daily increases are now comparable with what we saw in April 2020," the Pennsylvania Department of Health said in a statement issued on Friday.
Also reporting record one-day increases were the states of Alaska, Arkansas, Illinois, North Carolina, North Dakota, Ohio, Oregon, Rhode Island, South Dakota, Tennessee, Utah, Wisconsin and Wyoming.
More in hospital
On Thursday, there were 916 reported fatalities in the US, a day after the country recorded over 1,200 new deaths for the first time since August.
Also on Thursday, the number of COVID-19 patients in US hospitals climbed to a two-month high. There are now more than 41,000 people in hospital with coronavirus across the country, up 34 percent since the start of the month, according to a Reuters analysis.
North Dakota, with 887 new cases on both Thursday and Friday, remains the hardest-hit state, based on new cases per capita, followed by South Dakota, Montana and Wisconsin.
Eight states reported record numbers of COVID-19 patients in hospital on Friday: Alaska, Kentucky, New Mexico, North Dakota, Ohio, Oklahoma, West Virginia and Wyoming.
In Tennessee, hospitals in Nashville said they had experienced a 40 percent increase in patients admitted for the coronavirus.
Dr Jeff Pothof, an emergency medicine physician at University of Wisconsin Health in Madison, expressed worry about a lack of compliance with public health measures in the state, where some groups have challenged Democratic Governor Tony Evers' COVID-19 restrictions in court.
"If we don't get that and we have such tremendous prevalence of COVID-19 in our communities, I don't see a great way out of this," Dr Pothof said. "The picture isn't rosy."
Chicago Mayor Lori E Lightfoot announced a curfew on non-essential businesses beginning at 10pm on Friday (03:00 GMT on Saturday). She warned residents to avoid social gatherings of more than six people and end all gatherings by 10pm.
Nearly 2,500 people are in hospital with COVID-19 in Illinois, the state's top public health official, Dr Ngozi Ezike, told a news conference.
The Northeast remains the one region of the county without a significant surge in cases, but infections are trending higher. Boston public schools shifted to online-only learning this week.