Sometimes it's painfully obvious when a relationship has run its course. Other times, a breakup can seem like it came out of nowhere, leaving you feeling blindsided. But in those cases, were things really going that well, or was you just oblivious to the cues that things were headed in the wrong direction?
According to a frequently cited 1998 article in the Journal of Social and Personal Relationships, most relationships come to a close after following the same 16 steps. Understanding that there are existing cultural scripts for different aspects of relationships—including first dates—the researchers set out to identify whether there is a script for breakups, too. Turns out there is. Here's how to identify the telltale signs of an impending breakup, and how each partner can prepare for the inevitable.
The signs of a breakup
Aside from pinpointing 16 common signs of a breakup, the researchers behind the 1998 study also noted that breaking up is cyclical, following a pattern beginning with a lack of interest, then noticing other people, acting distant, and finally, trying to work things out. This pattern can be repeated for weeks, months, or even several years.
"This cyclical pattern suggests just how much indecision goes into the dissolution of a relationship, which causes one or both partners to act in ways which characterize approach and avoidance behaviors—wanting to work things out, then growing distant again," Dr. Mariana Bockarova, a psychology professor at the University of Toronto, wrote of the 1998 study in an article for Psychology Today.
So let's talk about those 16 signs, and what each partner can do to prepare for each step. Our guides through this journey of heartbreak are Destin Pfaff and Rachel Federoff—relationship experts, dating coaches and founders of Love and Matchmaking. They've appeared on multiple seasons of Bravo's show Millionaire Matchmaker and are married (to each other). We'll go through each of the 16 signs of an impending breakup, then provide tips to help you prepare for and navigate each step, courtesy of Pfaff and Federoff.
Before we begin, we should note that both the 1998 article and the tips provided here focus on two-person monogamous relationships. That doesn't necessarily mean that they don't apply to polyamorous relationships—that just wasn't what was addressed in the research that identified these 16 signs. OK, let's go!
1. A partner loses interest in his or her significant other.
Tip for the partner losing interest: Communicate, communicate, communicate! This is the number one, most important component in any relationship. And if you're over yours, don't be passive aggressive—let your partner know.
Examine why you may be feeling these new feelings of fading interest. Have you been putting in the same amount of effort toward acknowledging your partner's presence and needs? Perhaps it's not that you have lost interest, but that you aren't doing anything to spice up your relationship. Before ending things, ask yourself "Have I done my best as a partner to keep the relationship interesting?" If not, put in the work before heading out the door.
Tip for the other partner: Same thing here. If you feel like things are off, talk to your partner and ask questions. Get to the heart of what is going on so either you two can try to resolve it, or can walk away before wasting more time and getting further hurt.
2. The disinterested partner starts to notice attractive, potential alternative dating partners.
Tip for the disinterested partner: If you're contemplating being unfaithful, just do the right thing and end it. It's natural to look at others and find them attractive, but if you're feeling like you're about to cross the line into acting on those desires, just break things off. Cheating is never OK.
Noticing attractive alternative options is natural, especially if you feel like your heart isn't fully in it anymore. Try to assess what your current partner brings to the table. Are you still turned on by things they do? Is there still a spark? Try to ignite a new feeling of adventure, and assess if it's really the new person you are attracted to, or just the feeling of new.
Tip for the other partner: Have you noticed that your significant other has wandering eyes? If so, it's time to get real with them and discuss what is really going on. Unpack what may be at the root of the issue, build a plan to make some changes, and if things don't pan out, ask yourself if you deserve more. If your partner can't be honest with you, walk away. It may be hard and hurt, but it will be worse if you find them cheating on you.
3. The disinterested partner begins to withdraw from the relationship emotionally and/or physically.
Tip for the disinterested partner: Again, the keyword here is communication. Lay it out clearly and civilly. Let your partner know your feelings so you both can try to fix the negative things causing you to withdraw. Maybe it's a simple fix or misunderstanding, or maybe some couples therapy could help. Or maybe it's time to say "We've tried, and it's just not meant to be."
It's all about self-awareness. Do you tend to withdraw once your relationships get to a certain point? Is this a habit you have built to avoid the extra-serious part of a longterm commitment? If so, snap out of it. Go to couples therapy or see a therapist on your own to work toward better self-awareness.
Tip for the other partner: If you notice your partner start to withdraw, let them know. Don't be passive aggressive, or assume, or catastrophize. Ask them questions and let them know how they are making you feel.
If your partner is struggling with their emotions and withdrawing, you need to be open to hearing what the real issue is. Have you talked to them about their mental state? Have you done anything to try to progress the relationship instead of letting it stagnate? Do those things and then discuss how you can move forward.
4. The partners try to work things out.
Tip for both partners: Communicate feelings in a way that allows your partner to really hear you. People tend to listen more than they hear. When speaking to each other, use "me" and "I" statements instead of "you" statements. Pointing fingers and placing blame just make the defensive walls go up. Make your point in small increments so your partner has time to soak it in. Repeat what you've just expressed back to your partner to really show them you are hearing the meaning behind their words.
5. The partners spend less time together.
Tip for both partners: Time apart is always good, but if it's too much, then something is going on. Ask each other questions, express how you feel and try to resolve it. Set aside time for more intimacy—not just physically, but mentally and emotionally. Make real plans to have date nights: Everyone has a calendar on their smartphone—put it in there so there are no excuses.
But also keep in mind that spending less time together isn't necessarily a red flag—it could just be the relationship evolving into a healthy, realistic state. As long as there is effort and energy being put into the time you do spend together, things could and should be fine. Prioritize at least a few days out of the week just for your partner so you both feel loved.
6. A lack of interest resurfaces again.
Tip for the disinterested partner: Again, communicate! (We can't stress it enough.) Let your partner know things have gone backwards. Try to resolve it, or if it's just not there, then do the kind thing and end it.
Tip for the other partner: The same thing applies: communicate. If your partner's lack of interest seems like it could be a habit, seek counseling, as this may be more about the individual than the actual situation. It may be time to end things.
7. One partner, or perhaps this time both of them, considers ending things permanently.
Tip for both partners: Make a list of pros and cons (yes, this was a plot point on a pivotal episode of Friends). It's a simple way to assess what the best next move should be. Obviously, if there are more pros than cons, consider making a plan together on how to make the relationship more fulfilling. If there are more cons, end the relationship as amicably as possible.
8. The partners communicate their feelings with each other.
Tip for both partners: As we've mentioned already, communication is key—but that doesn't mean opening up the emotional firehose on one another. Partners should have a strategy on the best way to communicate with one another. Take turns discussing potential issues or triggers that come up and how they make you feel, and suggest a possible solution without making the other person feel ashamed or blamed. If you both need time to think, walk away from a conversation for 20 minutes to sort out your feelings and come back in a calmer state to resolve it.
9. The partners try to work things out again.
Tip for both partners: Our previous advice applies here as well.
10. Despite still trying to work things out, one or both begin to notice other people.
Tip for both partners: At this point, it's quite obvious that there is something lacking in the relationship that may not be solvable. Listen to your gut while trying to respect your partner's feelings. And never cheat.
11. One or both partners begin to act distant.
Tip for both partners: Again, pay attention to your gut feelings, unless following your gut involves cheating on your partner (don't do that; see above).
12. One or both may go on dates with other people, while still seeing each other.
Tip for both partners: If this is an agreed-upon arrangement, then make sure you set boundaries and rules. Discuss what is allowed and what is not. Decide how much information you'll share with one another about the other dates, and what the end goal is with this arrangement.
Will you continue seeing other people forever? Will you want to eventually close the relationship again? Do as much research as possible to make sure this is the kind of relationship you are comfortable with, and that you are not just doing it to appease your partner.
13. The cycle repeats itself as the partners decide to get back together again and try one last time.
Tip for both partners: Keep things as healthy as possible this time. Do not fall back into old habits. Go into this renewed relationship as if it's with a brand-new person. The past is in the past. Agree to not bring up past fights or disagreements.
14. One or both partners considers breaking up again.
Tip for both partners: End it.
15. One or both seriously distance themselves and gain a feeling of having moved on, while still technically being in the relationship.
Tip for both partners: Seriously, end it. If you have already started grieving a relationship that you are still in, remove yourself from that situation. It's time to move on. Do what's best for you and your partner, and cut ties. The sooner the better.
16. The couple breaks up.
Tip for both partners: OK, so you've broken up. That's OK—the fact that a relationship has ended doesn't mean it has failed. Perhaps it has just run its course. Try to end things as amicably as possible. Once it has ended, remove every aspect of that relationship from each other's life—delete contact info, delete pictures from social network platforms, unfriend and unfollow each other. If you're living together, move out and keep what is yours. If there is something you purchased together, try to find a positive way to sell it or decide who keeps it. It's bound to hurt and be challenging, but in the end it will be better for both people—and then it's on to healing and moving onward and upward.
Will being able to prepare for and spot these signs of a relationship's end take the emotional sting out of a breakup? Probably not. But at least you'll know what to look for and give yourself a chance to process what's going on instead of being blindsided (again).
Pfaff and Federoff's tips have been lightly edited for clarity.
Facebook reportedly bracing for US election chaos with tools designed for "at-risk" countries
Facebook is planning for possible chaos around the November 3rd US presidential election with internal tools it's used before in countries like Sri Lanka and Myanmar, The Wall Street Journal reported.
The plans may include slowing the spread of posts as they begin to go viral, altering the news feed algorithm to change what content users see, and changing the rules for what kind of content is dangerous and warrants removal. They're strategies Facebook has previously used in so-called "at-risk" countries dealing with mass ethnic unrest or political bloodshed.
The tools would only be used in the event of election-related violence or other serious circumstances, according to the WSJ, but some employees at the company said they were concerned that attempting to slow down viral content could unintentionally hide legitimate political discussions.
Facebook's handling of violent hate speech against Rohingya Muslims in Myanmar several years ago was widely criticized. After a 2018 independent assessment of the situation, the social media giant conceded it wasn't "doing enough to help prevent our platform from being used to foment division and incite offline violence. We agree that we can and should do more." It pledged to better prepare for future risks.
Facebook CEO Mark Zuckerberg said in a September blog post that the US presidential election "is not going to be business as usual." He said he was "worried that with our nation so divided and election results potentially taking days or weeks to be finalized, there could be an increased risk of civil unrest across the country."
Platforms are bracing for pre-and post-election uncertainty in the US, after President Trump has repeatedly criticized mail-in voting, which many people are using this election cycle due to the coronavirus pandemic. He's also declined to say whether he would accept the election results if he loses.
Facebook said last month that it would not accept new political ads a week before the US election (but those that had already been approved will continue running). It also added a "voter information center" at the top of Facebook and Instagram feeds, and plans to provide live, official election results when available via a partnership with Reuters. Facebook has said it will label any posts declaring premature victory, and will remove posts with misinformation about COVID-19 and voting. And it plans to ban all US political ads indefinitely after the November 3rd election.
Upgrade Your PC Gaming Setup Today With a New Respawn Desk ($63 Off) And Gigabyte G27F Monitor ($40 Off)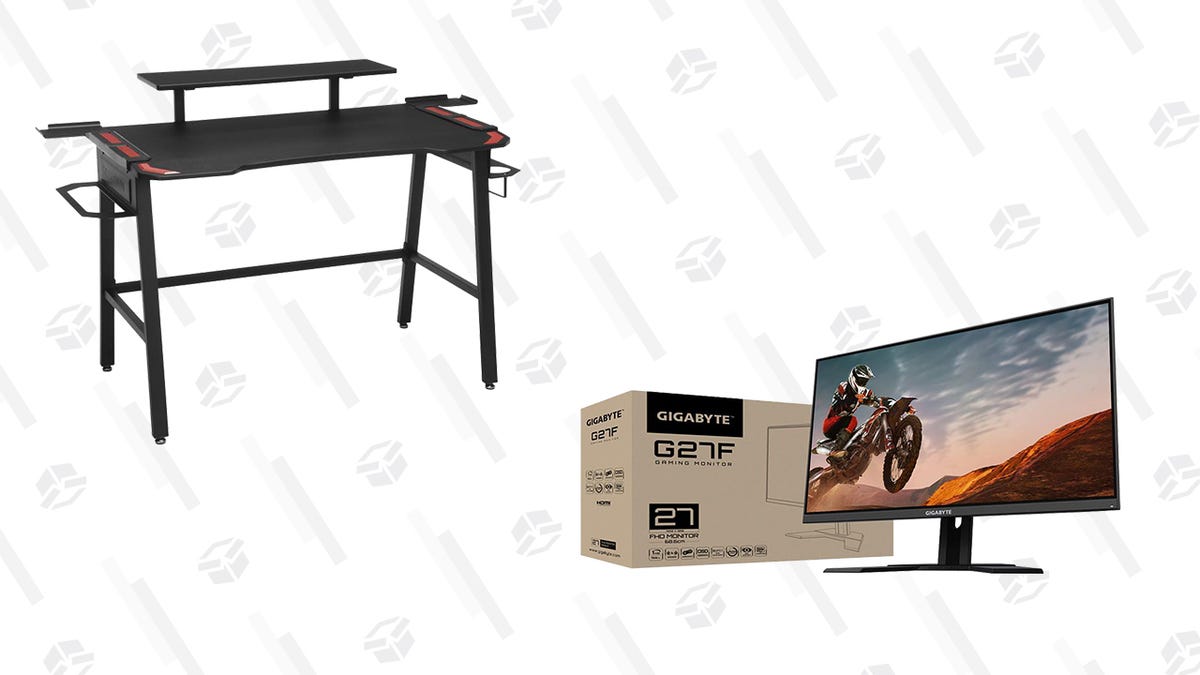 Respawn 1010 Gaming Desk in Red | $150 | Newegg
Gigabyte G27F 27-in. Gaming Monitor | $210 | Newegg | Promo code 93XPW42
This Gigabyte G27F 27-inch gaming monitor has a 144Hz refresh rate and a 1 millisecond response time, as well as a 1920 x 1080 IPS display. You can get it for $40 off, bringing it down to $210, when you apply promo code 93XPW42 at checkout.
Why not grab a new Respawn 1010 gaming desk to put your spanking new monitor on? It's $63 off and can also be found on Newegg. Both of these deals are good for today only, and they also both ship for free.
---
Source
The US now seems to be pinning all of its hopes on COVID-19 therapies and vaccines
Almost eight months after the White House first announced it would move from containment to mitigation efforts to stop the spread of the COVID-19 epidemic, the Administration is now pinning its hopes on vaccines to inoculate the population and therapies to treat the disease.
Months after announcing it would be working with technology giants Apple and Google on a contact tracing app (and nearly two months after Google and Apple rolled out their exposure notification features) and initiating wide spread testing efforts nationwide with the largest national pharmacies (which never received the coordinated support it needed),  the Administration appears to be giving up on a national effort to stop the spread of the COVID-19 epidemic.
In an interview with CNN's Jake Tapper White House Chief of Staff Mark Meadows said that the US is "not going to control the pandemic… We are gonna control the fact that we get vaccines, therapeutics and other mitigation."
The admission is a final nail in the coffin for a federal response that could have involved a return to lockdowns to stop the spread of the virus, or national testing and contact tracing and other mitigation measures. Meadows statement comes as the US experiences a second peak in infection rates. There are now over 8.1 million cases and over 220,000 deaths since the first confirmed infection on US soil on January 20. 
Now, the focus is all on the vaccines, therapies and treatments being developed by large pharma companies and startups alike that are making their way through the approval processes of regulatory agencies around the world.
The vaccines in phase three clinical trials
There are currently 12 vaccines in large scale, late-stage clinical trials around the world, including ones from American companies Novavax, Johnson & Johnson, Moderna Therapeutics, and Pfizer who are recruiting tens of thousands of people in the US and UK to volunteer for testing.
In China, the state run pharmaceutical company Sinopharm has filed its application to China's regulatory commission for the approval of a vaccine and hundreds of thousands of civilians have already been vaccinated under emergency use approvals from the Chinese government, according to a report in the New Yorker. Meanwhile the privately held Chinese pharmaceutical company, Sinovac, is moving forward with phase three trials for its own vaccine in Brazil, Bangladesh and Indonesia. Another private Chinese company, CanSino Biologics developed a vaccine that was already being distributed to members of the Chinese military in late July,
A collaboration in the U.K. between the University of Oxford and European pharmaceutical company AstraZeneca is also recruiting volunteers in Brazil, India, the United Kingdom, the US and South Africa. And, in Australia, the Murdoch Children's Research Institute is trying to see whether a vaccine used to prevent tuberculosis could be used to vaccinate against the coronavirus.
Finally in Russia, the Gamaleya National Center of Epidemiology and Microbiology in partnership with the state-run Russian Direct Investment Fund have claimed to have developed a vaccine that the country has registered as the first one on the market cleared for widespread use. Russia has not published any data from the clinical trials it claims to have conducted to prove the efficacy of the vaccine and the World Health Organization still considers the treatment to be in the first phase of development.
Therapies in phase three clinical trials
If vaccines can prevent against infection, a slew of companies are also working on ways to limit the severity of the disease should someone become infected with Sars-Cov-2, the novel coronavirus that causes COVID-19.
The Milken Institute lists 41 different therapies that have made it through to phase three of their clinical trials (the last phase before approval for widespread delivery).
These therapies come in one of five primary categories: antibody therapies, antivirals, cell-based therapies, RNA-based treatments, and repurposing existing treatments that may be in pharmaceutical purgatory.
Antibody therapies use the body's natural defense systems either taken from the blood of people who have recovered from an infection or manufactured in a lab to neutralize the spread of a virus or bacteria. Antivirals, by contrast, stop a virus from spreading by attacking the viruses' ability to replicate. Cell-based therapies are designed to boost the immune system's ability to fight pathogens like viruses or bacteria. Meanwhile RNA-based treatments are another method to stop the virus from replicating by blocking the construction of viral proteins. Finally, several companies are mining their libraries of old drug compounds to see if any might be candidates for COVID-19 treatments.
So far, only three therapeutics have been approved to treat COVID-19. In the U.K. and Japan dexamethasone has received approvals, while favilavir is being used in China, Italy and Russia; and — famously thanks to its use by the President — remdesivir has been approved in the United States, Japan and Australia.
The US is also using convalescent plasma to treat hospitalized patients under emergency use authorizations. And special cases, like the President's, have had access to other experimental treatments like Regeneron's cell therapy under emergency use authorizations.
And there are several US-based startups developing potential COVID-19 therapies in each of these areas.
Adaptive Biotechnologies, Cytovia Therapeutics, and SAB Biotherapeutics are all developing antibody treatments. Applied Therapeutics is using an understanding of existing compounds to develop treatments for specific conditions associated with COVID-19. Cellularity has a cell-therapy that could reduce a patient's viral load by stimulating so-called natural killer cells to attack infected cells. Humanigen has developed a new drug that could reduce fatalities in high-risk COVID-19 patients with severe pneumonia. Meanwhile Partner Therapeutics is working on a drug that could improve lung function in COVID-19 patients — and potentially boost antibody production against the virus and restore damaged lung cells. Finally, Sarepta Therapeutics has been working with the United States Army Medical Research Institute of Infectious Diseases to find ways for its RNA-based treatment to stop the spread of coronaviruses by attacking the ability for the virus to replicate.
Beyond therapies, startups are finding other ways to play a role in helping the nation address the COVID-19 epidemic.
"At this point the U.S. doesn't have the best public health system, but at the same time we have best-in-class private companies who can sometimes operate a lot more efficiently than governments can," Carbon Health chief executive Eran Bali told the audience at TechCrunch's Disrupt 2020 conference. "We also just recently launched a program to help COVID-positive patients get back to health quickly, a rehabilitation program. Because as you know even if you survive it doesn't mean your body was not affected, there are permanent effects."
Indeed the drive for more effective at-home tests and remote treatments for consumers are arguably more important when the federal government refuses to make the prevention of viral spread a priority, because consumers may voluntarily lock down if the government won't.
"This is an opportunity to take a technology that naturally is all about detecting viruses — that's what CRISPR does in [its native environment] bacteria — and repurposing it to use it as a rapid diagnostic for coronavirus," said the Nobel Prize-winning co-inventor of some foundational CRISPR gene-editing technology, Jennifer Doudna. "We're finding in the laboratory that that means that you can get a signal faster, and you can also get a signal that is more directly correlated to the level of the virus."