There are a lot more iPhones than there used to be these days. Picking a phone used to be simple: Apple would offer just a single new iPhone model, where all you had to do was choose a color and storage size. This year, Apple has launched four new phones: the iPhone 12, 12 mini, 12 Pro, and 12 Pro Max, which join the already available iPhone SE that was released earlier this year for a total of five new phones in 2020.
It's the most iPhone models that Apple has ever released in a single year, bringing new additions like the A14 Bionic processor (Apple's fastest yet), a more durable "Ceramic Shield" glass coating, improved cameras, a new design, and the resurrected MagSafe branding for a new wireless charger and accessory system. That's all in addition to the iPhone 11 and iPhone XR, which Apple will be keeping around as well at new $499 and $599 prices, which means that it's even harder to choose between the various iPhones you can buy brand-new at a store.
Leading the charge is the iPhone 12 — the "standard" iPhone for 2020, if you will, which starts at $799 for a 64GB model. It has the same 6.1-inch display and overall size as the iPhone 11 from last year, but it's upgraded to an OLED panel and adds Apple's new A14 processor (which all four of the new iPhone 12 devices have) as well as support for 5G. Apple seems to have locked in on the 6.1-inch form factor as the default size for its iPhones for now, offering four phones this year in that size. The cameras are also slightly updated from last year's iPhone 11, with a faster f/1.6 wide camera that Apple says lets in 27 percent more light.
There's also the $699 iPhone 12 mini, which is actually the smallest iPhone Apple has released in almost half a decade. That's thanks to the bezel-less design, which allows for the whole 5.4-inch 12 mini to be physically smaller than the 4.7-inch iPhone SE 2020 (because both of those sizes refer to the screen, not the frame). Despite the smaller size, it offers the same high-end specs as the larger iPhone 12, other than the display and, presumably, a slightly smaller battery to accommodate the physically smaller phone, although Apple has yet to confirm. That makes it a good option for anyone looking for a smaller (or cheaper) iPhone.
Things start to get more confusing with the iPhone 12 Pro, which starts at $999 for a 128GB model. While it looks similar to the iPhone 12, there are several key differences between the 12 Pro and the regular model. The 12 Pro has a stainless steel body, compared to aluminum on the regular 12. While both phones have a 6.1-inch display, the iPhone 12 Pro is a brighter panel, with a typical brightness of 800 nits versus 625 nits on the iPhone 12. Both phones offer a maximum of 1200 nits for HDR, however.
The iPhone 12 Pro also has several photography enhancements, including a third camera — a telephoto lens — that offers 2x optical zoom, although the wide and ultrawide cameras, as well as the front-facing camera, are otherwise identical to the iPhone 12. The iPhone 12 Pro also adds a new LIDAR sensor, which allows for better augmented reality and faster autofocus in low-light situations (as well as Night Mode portrait shots). The 12 Pro can also shoot Dolby Vision HDR videos at up to 60fps, instead of 30fps on the iPhone 12.
Lastly, while that $200 price difference may feel significant, you have to consider that the iPhone 12 Pro offers more storage on the entry-level model, with 128GB compared to 64GB on the iPhone 12 (the Pro also offers a larger 512GB option). Compare the 128GB and 256GB models directly, and there's only a $50 price difference between the two. Whether that's worth the aforementioned features is up to you.
There's also the iPhone 12 Pro Max, Apple's biggest (and most expensive) iPhone on the list. Starting at $1,099, it has a massive 6.7-inch panel that also makes it the largest iPhone the company has ever made. And while the triple-camera system looks similar to the iPhone 12 Pro, Apple has taken advantage of the bigger size of the 12 Pro Max to offer far bigger camera improvements over the smaller 12 Pro.
Specifically, Apple is using a new sensor for the primary wide camera on the 12 Pro Max, which is physically larger than the one on the 12 Pro, while also giving it the same new, faster f/1.6 lens. The wide camera is also getting better optical image stabilization, with a new sensor‑shift system that Apple says works similar to DSLR cameras. It moves the sensor itself instead of the entire camera unit, which allows for faster and therefore better stabilization. Apple has also increased the focal length on the 12 Pro Max's telephoto lens, jumping from 50mm to 65mm, for an increased optical zoom of 2.5x instead of 2x.
Apple is still offering the year-old iPhone 11 for a discounted $599, which is $100 off its original price. With a 6.1-inch panel, it's the same size as the iPhone 12 for $200 less, with similar cameras, but the newer model's display is a higher-resolution OLED panel that will look far better than the less detailed LCD display on the iPhone 11. The iPhone 12 also features Apple's faster A14 Bionic processor, if longevity is a concern. But at $599, the iPhone 11 is still a great phone, even if it's eclipsed by the flashier, newer models.
Maybe you'd like to save even more, though. In that case, you'll want the 2020 iPhone SE, which is the least expensive iPhone available at $399. That price tag comes with a few caveats: it's the only iPhone with the older, chunky bezel iPhone 6-style design — which also makes it the only iPhone with Touch ID. It has just a single rear camera that doesn't offer the same low-level light performance as the iPhone 11 (or the newer models) or a U1 chip for Apple's location features. But with the same A13 processor as the iPhone 11, it'll still likely last years before you'll need a replacement.
Lastly, there's the two-year old iPhone XR, which is Apple's oldest phone in the lineup. At $499, it actually costs more than the faster iPhone SE, which offers an A13 chip that outclasses the XR's A12 Bionic. Its cameras don't offer much over the SE, either, making the bezel-less design its sole claim to fame. But at the awkward $499 price, it's hard to recommend. Your $100 will get you a far better camera on the iPhone 11 or save the cash and get the faster iPhone SE.
The table is best viewed in landscape mode on mobile devices.
2020 iPhone spec comparison
| Specification | iPhone 12 Pro Max | iPhone 12 Pro | iPhone 12 | iPhone 12 mini | iPhone 11 | iPhone XR | iPhone SE (2020) |
| --- | --- | --- | --- | --- | --- | --- | --- |
| Specification | iPhone 12 Pro Max | iPhone 12 Pro | iPhone 12 | iPhone 12 mini | iPhone 11 | iPhone XR | iPhone SE (2020) |
| Display | 6.7 inches, OLED | 6.1 inches, OLED | 6.1 inches, OLED | 5.4 inches, OLED | 6.1 inches, LCD | 6.1 inches, LCD | 4.7 inches, LCD |
| Resolution | 2778 x 1284 | 2532 x 1170 | 2532 x 1170 | 2340 x 1080 | 1792 x 828 | 1792 x 828 | 1334 x 750 |
| 5G | mmWave and sub-6GHz | mmWave and sub-6GHz | mmWave and sub-6GHz | mmWave and sub-6GHz | N/A | N/A | N/A |
| Processor | A14 Bionic | A14 Bionic | A14 Bionic | A14 Bionic | A13 Bionic | A12 Bionic | A13 Bionic |
| RAM | TBA | TBA | TBA | TBA | 4GB | 3GB | 3GB |
| Storage | 128GB, 256GB, 512GB | 128GB, 256GB, 512GB | 64GB, 128GB, 256GB | 64GB, 128GB, 256GB | 64GB, 128GB, 256GB | 64GB, 128GB | 64GB, 128GB, 256GB |
| Rear camera | 12MP (ƒ/2.4) ultrawide, 12MP (ƒ/1.6) wide, 12MP (ƒ/2.2) telephoto | 12MP (ƒ/2.4) ultrawide, 12MP (ƒ/1.6) wide, 12MP (ƒ/2.0) telephoto | 12MP (ƒ/2.4) ultrawide, 12MP (ƒ/1.6) wide | 12MP (ƒ/2.4) ultrawide, 12MP (ƒ/1.6) wide | 12MP (ƒ/2.4) ultrawide, 12MP (ƒ/1.8) wide | 12MP (ƒ/1.8) wide | 12MP (ƒ/1.8) wide |
| Front camera | 12MP (ƒ/2.2) | 12MP (ƒ/2.2) | 12MP (ƒ/2.2) | 12MP (ƒ/2.2) | 12MP (ƒ/2.2) | 7MP (ƒ/2.2) | 7MP (ƒ/2.2) |
| Battery | TBA | TBA | TBA | TBA | 3,110mAh | 2,942mAh | 1,821mAh |
| Water protection | IP68 | IP68 | IP68 | IP68 | IP68 | IP67 | IP67 |
| Wireless charging? | Yes | Yes | Yes | Yes | Yes | Yes | Yes |
| Ports | Lightning port | Lightning port | Lightning port | Lightning port | Lightning port | Lightning port | Lightning port |
| Weight (g) | 228g | 189g | 164g | 135g | 194g | 194g | 148g |
| Dimensions (in.) | 6.33 x 3.07 x 0.29 | 5.78 x 2.82 x 0.29 | 5.78 x 2.82 x 0.29 | 5.18 x 2.53 x 0.29 | 5.94 x 2.98 x 0.33 | 5.94 x 2.98 x 0.33 | 5.45 x 2.65 x 0.29 |
| Starting price | $1,099 | $999 | $799 | $699 | $599 | $499 | $399 |
Fortnite on PC is now over 60GB smaller, thanks to Epic optimization
Fortnite on PC has shrunk considerably, down from over 90GB to just under 30GB, thanks to recent optimizations from developer Epic.
The news, detailed yesterday in a Fortnite update note posted to the game's service Twitter account, means the battle royale hit will now take up far less space on your computer's drive. That gives you more room for other games — or some extra breathing room in the event you have the monstrous Call of Duty: Modern Warfare / Warzone installed.
Please note the patch size will be larger than normal on PC (approx. 27 GB). This is to make optimizations on PC resulting in a massively reduced Fortnite file size (over 60 GB smaller), smaller downloads for future patches, and improved loading performance.

— Fortnite Status (@FortniteStatus) October 20, 2020
As the update note stresses, PC players will have to download a larger-than-normal patch before the overall file size reduction takes effect. But after that, the game should take up no more than a third of its prior size. The patch is also setting up the game for improved loading performance and smaller future patches down the line, speeding up the time it takes to update Fortnite and get back to playing.
Mario Kart Live: Home Circuit's multiplayer is expensive and chaotic
In order to enjoy playing Mario Kart Live: Home Circuit with friends, you need to embrace chaos. And I don't mean the typical chaos associated with Mario Kart, like frustratingly timed blue shells or the nightmare of speeding through Rainbow Road. Here, the chaos is more physical — and it can be a lot of fun if you don't mind the mess. Or the cost.
In my review of Home Circuit, my biggest issue was how inaccessible multiplayer can be. It's not something you can enjoy out of the box. The game — which has players controlling RC karts with their Switch, while driving through a real-life obstacle course — is expensive to play with friends. Each player requires not only a physical kart, which cost $99.99 each, but also their own Switch to control it. There's no form of split-screen play or any other kind of more approachable multiplayer solution.
That said, if you can gather up all the necessary hardware, it's a much better experience with friends. Home Circuit multiplayer works the same as the base game. You create a course by setting up four cardboard gates around your house, which form the outline of your track. The game then augments this by adding virtual power-ups, obstacles, and visual effects to turn your living room into something out of the Mushroom Kingdom.
One of the stranger things about playing Home Circuit solo is the lack of physicality. While your kart has to deal with both real and virtual obstacles — you can bang into a coffee table and be hit by a red shell, sometimes simultaneously — your competitors don't have the same challenge. Even when you bang into them, there's not much of an impact; you can't go around knocking computer-controlled characters off the track.
But that changes when there's another real kart in the race. You can bang into each other and push your friends into IRL obstacles. In my experience, this mostly turned into a huge mess. My family built an expansive race track using small, colorful pylons to mark the edge of the road, carefully placing everything just so. After one lap, it was a disaster. Pylons were everywhere, the gates kept getting pushed around, and it wasn't long before our cats got confused and started running through the course.
This only made things more fun. Mario Kart has always been a game about mayhem. Throw together two remote-controlled cars in a pile of plastic and cardboard, and that's amplified even more; I can only imagine how wild things get with three or four karts. (It also makes a great spectator experience, as those not playing can watch the tiny cars zipping around and help repair the track mid-race.)
Having another person playing also helps bring out the toy-like nature of the karts. While racing is obviously the main point of playing Mario Kart, Home Circuit also has a free-roam mode where you can just drive around the house. My kids, aged five and seven, turned this into a game of hide-and-seek, using the karts' built-in cameras to spot each other hiding around the house. They've actually spent far more time seeking than racing so far.
It's not a surprise that Home Circuit is best experienced with other people. That's the case for most games, and it's always been true of Mario Kart. But it does make that inaccessibility stick out even more, because it really feels like you're missing a key part of the experience if you play the game solo. It's a lot to ask of a family to have multiple Switch units and spend $99 per car just for a fun afternoon. I've been having fun with it, but I can't say it's worth the added expense.
Here's What Will Likely Happen on Election Day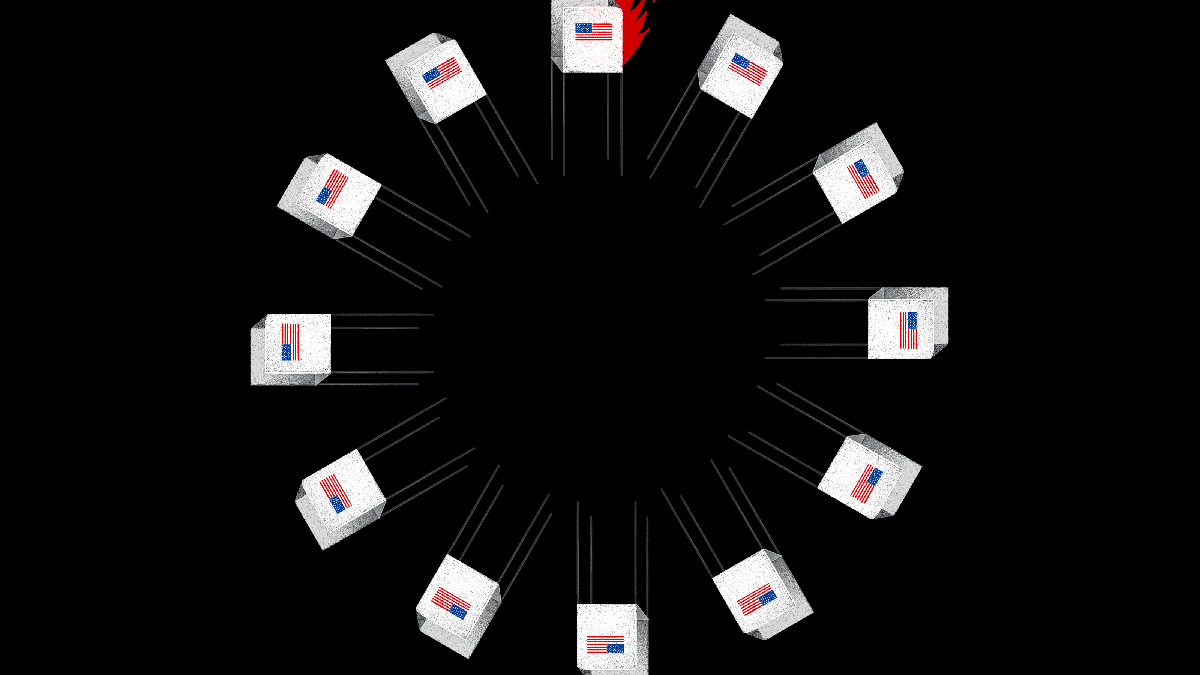 On Tuesday, November 3, 2020, America will choose the next president of the United States.
Maybe.
The 2020 election is fraught with more unknowables than any other election in American history. Not only do we not know whether Donald John Trump or Joseph Robinette Biden Jr. will serve as America's next president, we don't even know when we'll know. We can't even definitively say if the next president will be chosen by voters, the Electoral College, Congress or the Supreme Court.
To assuage some of this uncertainty, The Root has compiled this two-part, best-guess prediction of what Election Day might look like, as well as the days following the first Tuesday in November. This analysis comes from months of research, seminars and interviews with some of the country's top experts in their fields including:
The Aspen Institute: Aspen Digital's "Preparing for a Contested Election" project
Sally Buzbee: senior vice president and executive editor, the Associated Press
Kristen Clarke: executive director for Lawyer's Committee Under Civil Rights
Trey Grayson: former Kentucky secretary of state and past president of National Association of Secretaries of State
Sherrilyn Ifill: president and director-counsel, NAACP Legal Defense and Educational Fund, Inc.
Kamala Harris: California senator and Democratic nominee for vice president of the United States of America
Mary McCord: legal director, Institute for Constitutional Advocacy and Protection, Georgetown Law
Elie Mystal: legal scholar and justice correspondent at The Nation
Malcolm Nance: former counterterrorism and intelligence officer, author of The Plot to Hack America
The National Task Force on Election Crises: A cross-partisan group of more than 50 experts in election law, election administration, national security, cybersecurity, voting rights, civil rights, technology, media, public health, and emergency response
Nate Persily: James B. McClatchy Professor of Law, Stanford Law School
Vivian Schiller: executive director, Aspen Digital
Nov. 3, 8 a.m. ET: Polls open
If you were one of the lucky few Americans who managed to get some sleep last night, you may notice a significantly shorter wait time at the polls this year. However, you shouldn't assume people aren't participating in this important exercise in democracy; there's a very good reason for this year's sparse crowds:
A lot of people have already voted.
According to the Election Project, about 1.4 million Americans had already voted by October 16, 2016. So far, more than 35 million early voters have already cast their ballots for the 2020 election, a pace that will undoubtedly surpass the 47 million early votes cast in 2016. This avalanche of absentee and mail-in ballots will surely affect the lines at your local precinct…
G/O Media may get a commission
Unless you're Black.
Why we think this will happen: Nationwide, early vote totals have already exceeded 25 percent of 2016's total turnout.
Noon: Problems at the polls
Every academically rigorous, peer-reviewed study that exists on voting wait times concluded that people in heavily African-American precincts wait significantly longer to vote.
During the 2012 election, Black voters reported waiting an average of 26 minutes to vote while white voters only waited about 12 minutes. A University of California at Los Angeles study on wait times for the 2016 election used geolocation data from cell phones at 80 percent of America's 110,000. It concluded that the average wait time for voters in Black neighborhoods was 29 percent longer than it was for voters in white neighborhoods. Black voters nationwide were 79 percent more likely than any other demographic to wait for more than 30 minutes before they cast a ballot.
In 2016, Black voters in Florida had their ballots disproportionately tossed . Georgians reported that the decades-old election software somehow switched their votes in the 2018 midterms. This happens because majority-Black precincts are also more likely to have older machines and fewer poll workers, the New York Times reports.
Facilities at Black precincts are lower in quality and voter registrations are also disproportionately purged, according to the Brennan Center, the Bipartisan Policy Center, researchers at MIT and…well, everybody. You should expect to see groups like the NAACP Legal Defense and Educational Fund (LDEF) and the Lawyers Committee for Civil Rights Under Law ask courts for injunctions to protect voters' rights and extend voting hours at overwhelmed precincts.
Sherrilyn Ifill, who leads the LDEF's effort to fight voter suppression, notes that Black voters are more likely to be forced to cast provisional ballots, which, in most states, are not counted on election night.
"In many years, this was not a big deal because the elections are not that close," Ifill explained. "But in a number of states and jurisdictions where the elections may be close, even the provisional ballots will be critically important…And so once again, we'll be pressing to make sure that African-American voters who voted provisionally will have an opportunity to cure those ballots on the back end."
Why we think this will happen: There has never been an election in American history where Black voters have received equal access to the ballot box.
3 p.m. ET: Reports of intimidation and violence at the polls
Every expert we interviewed said we should expect some measure of violence or voter intimidation on Election Day.
President Trump's call for his supporters to show up at the polls and "watch very carefully" has gotten the attention of citizen militia organizations, Trump supporters and white supremacist organizations like the Proud Boys, who the president instructed to "stand down" but still "stand by."
Federal law bans any activity that would "intimidate, threaten, or coerce a person" to interfere with the right to vote, according to the Department of Justice. However, there are no laws to stop individuals or groups from showing up in public places to form what experts refer to as power projection parades—a tactic commonly used to instill fear in regular citizens. Because laws governing the conduct of militia groups vary from state to state, combined with the fact that some states allow open guns at polling places, the Gifford's Law Center and Georgetown Law's Institute for Constitutional Advocacy and Protection both note that the prospect of weapon-toting private paramilitary patrollers on Election Day is very real.
"I think that they could get away with doing a measure of intimidation with power projection parades on Election Day," security and intelligence expert Malcolm Nance told The Root.
Nance says that military intelligence officials have witnessed this strategy used by authoritarian regimes around the globe, including Russia and the Islamic State. Nance also notes that law enforcement officers tend to sympathize with these groups and consider them "friendlies" who are often pro-police.
"But if there is broad or sporadic violence, or if there is a mass shooting, every other cop in the United States is going to take a dim view of these guys," added Nance. "But even if police respond, the fact that it has already happened may prevent people from showing up to the polls."
"We should remember that intimidation is not just about independent militia groups," Sherrilyn Ifill explained. "We also have concerns, frankly, about state actors. Um, you heard the president talk about bringing out sheriffs and so forth. We're also on the lookout for that."
However, Nance noted that Trump's clarion call for sheriffs to show up at the polls had nothing to do with law enforcement. Instead, it was a dog whistle to the growing right-wing "constitutional sheriffs movement," rooted in the belief that self-deputized sheriffs hold the ultimate law enforcement authority—outranking the local cops, state police and even federal law enforcement officials.
"These yahoos really believe they are a legitimate sanctified militia of Donald Trump," said Nance. "You will see them at the polls."
Why we think this will happen: Aside from our experts, only a few institutions have suggested that fringe right-wingers might swarm polling sites:
6 p.m. ET: The counting begins
We probably won't have election results on election night.
"The best way to think about election night this year is it's the beginning of election-counting week or month because it's going to take a long time for jurisdictions, especially those who haven't experienced this volume of vote by mail to count those ballots accurately," said Trey Grayson, former secretary of state for Kentucky. who also served as past president of the National Association of Secretaries of State.
I know I just explained how millions of people voted early this election. I know I said the lines would be shorter this year. However, in an election with a predicted record turnout, only a handful of states allow officials to begin tallying their early votes before Election Day, according to data from the National Council of State Legislatures. Furthermore, many of the states that allow extensive early voting and absentee options—including the states whose outcomes are crucial to the presidential election — aren't allowed to start counting the ballots until after polls close.
"Imagine the chaos that would ensue if 50 percent of the voters all showed up at one precinct at one time," Greyson explained. "Well, that's essentially what's going to happen in county offices or city offices where they count in-house. All those ballots are gonna come in and they're gonna need more people and more equipment. And for a lot of jurisdictions, they've never done this before and they can't capture savings from Election Day voting because they don't know who's going to vote in person. So it's a real challenge."
Why we think this will happen: You have to count the ballots and only 16 states allow officials to begin tallying their early votes before Election Day.
9 p.m. ET: No one knows anything
If you want to know the unofficial results before bedtime, you can just watch the news, right? Or maybe you can check out the exit polls. Plus, the internet knows everything!
Well, not quite.
Because there is no precedent for this amount of early voting, the increase in in-person and how proportional they are to each other, media outlets aren't very likely to call races early because—even with the exit polls and statistics— they can't be sure what it means.
Sally Buzbee oversees the Associated Press' global news operations and news content from journalists based in 250 locations around the world. She cautions that this election will reveal an entirely new world where news outlets will exercise an abundance of caution before giving any definitive indications in political contests. Buzbee is quick to point out that news outlets do not "call" an election; they only project winners.
"We cannot project winners [or] call races until we know for sure that someone has actually mathematically won or that they know they have no mathematical path to victory," Buzbee notes. "One thing that's very important to keep in mind is that in general, most states, not all, but most tend to count mail-in ballots last; sometimes that can be days after Election Day. This has happened routinely over the last few years."
Why does Buzbee feel the need to say this?
Well, Georgia, Pennsylvania, Texas and Wisconsin—which are pivotal but hotly contested states in Biden's and Trump's battle for 270 electoral votes—can't legally start counting their early votes until election morning. Florida and Arizona can start counting early weeks before the election, but will likely be too close to call even when polls close.
Plus, you know…
It's Florida and Arizona.
This could take hours.
Why we think this will happen: The majority of states won't even begin counting until polls close. In crucial states like Pennsylvania, Texas and Nevada will count mail-in ballots received after election day, according to data from the National Council of State Legislatures.
Midnight ET: Things get crazy
The fact that the election results will almost certainly take longer than usual, along with news outlets' hesitancy to project winners, means this could take all night. During the intervening wait for results, you will hear about voting machine malfunctions, intimidation and confrontations at the polls.
How can we be so sure any of these incidents will happen?
Because they always happen. It's mathematically impossible for hundreds of thousands of different voting systems, software and precincts operated by fallible human beings to all work perfectly. Machines fail every Election Day. There's always a miscount, a showdown and a voting machine still running Microsoft Word on Windows 95 that's going to give someone a "404 did not compute" error.
But, because President Trump's rhetoric has injected doubt into the legitimacy of ballot counting, this could lead some people to believe shenanigans are afoot. There is no indication that Trump won't continue to perpetuate this narrative on election night, which could fuel civil unrest.
Why we think this will happen:
Asked about the probability of unrest on election night, Nance explained:
Well, let's look at the facts:

Trump vilified Maxine Waters, Eric Holder and Democrats in Congress. All of a sudden, pipe bombs showed up in their mail. He talked about Portland and the Proud Boys show up. He calls for "law and order" in Wisconsin and Kyle Rittenhouse kills two people. He tweets "liberate Michigan" and people show up with long guns and plan to kidnap the governor. Can you think of a single threat that someone hasn't taken seriously? So, the question isn't why I think Vanilla ISIS—that's what I call them—will show up on election day.

The question is why does anyone think they won't?
Go to sleep.
Tomorrow's gonna be even crazier.
Tomorrow: Part 2 – What Will Happen the Day After the Election