Though there are already record numbers of people voting by mail in the upcoming election, many will still go the traditional route—standing in line at their local polling place and filling out a ballot in person. And with so much attention (rightfully) given to the presidential election, it can be hard to keep track of the local offices and issues you're voting on.
Of course, you should do your research ahead of November 3rd, but it probably wouldn't hurt to have some help in the voting booth, and this interactive tool may be just what you need. Here's what to know.
How to use the interactive voting tool
Crooked Media—the media company behind "Pod Save America"—recently launched their "Build Your Own Ballot" tool. "Electing the president is important, but so is electing governors, senators, representatives, justices and local leaders," a video introducing the site explains. "They make decisions on health care, climate, criminal justice reform and other issues that can have a huge impact on your life. And now, as Election Day rapidly approaches, you should probably learn some of their names."
G/O Media may get a commission
All you have to do is enter your address, and the tool, which is powered by BallotReady, will provide an annotated breakdown of your ballot, including local and national races, as well as confusingly-worded ballot measures. Once you've gone through all the candidates and issues, you'll then have the option of either printing the voting guide so you can bring it with you to the polls, or emailing it to yourself. And we should point out that the interactive tool is also useful for those voting by mail, and something you can use as you're filling out your ballot.
Here's a video breaking down how it works even further:
As long as you have the chance to vote, you might as well make it count.
Nokia and NASA's 4G lunar network will mess up radio astronomy
As you drive down the road leading to Jodrell Bank Observatory, a sign asks visitors to turn off their mobile phones, stating that the Lovell telescope is so powerful it could detect a phone signal on Mars.
Radio telescopes are designed to be incredibly sensitive. To quote the legendary astronomer Carl Sagan, "The total amount of energy from outside the solar system ever received by all the radio telescopes on the planet Earth is less than the energy of a single snowflake striking the ground."
The total energy now is probably a few snowflakes' worth, but nevertheless it is still true that astronomical radio signals are typically magnitudes smaller than artificial ones. If Jodrell Bank could pick up interference from a phone signal on Mars, how would it fare with an entire 4G network on the Moon?
That is the issue that is worrying astronomers like me, now that Nokia of America has been awarded US$14.1m (£10.8m) for the development of the first ever cellular network on the Moon. The LTE/4G network will aim to facilitate long term lunar habitability, providing communications for key aspects such as lunar rovers and navigation.
[Read: ]
Network interference
Radio frequency interference (RFI) is the long-term nemesis of radio astronomers. Jodrell Bank – the earliest radio astronomy observatory in the world still in existence – was created because of RFI. Sir Bernard Lovell, one of the pioneers of radio astronomy, found his work at Manchester hampered by RFI from passing trams in the city, and he persuaded the university's botany department to let him move to their fields in Cheshire for two weeks (he never left).
Since then, radio telescopes have been built more and more remotely in an attempt to avoid RFI, with the upcoming Square Kilometre Array (SKA) telescope being built across remote areas of South Africa and Australia. This helps to cut out many common sources for RFI, including mobile phones and microwave ovens. However, ground-based radio telescopes cannot completely avoid space-based sources of RFI such as satellites – or a future lunar telecommunications network.
RFI can be mitigated at the source with appropriate shielding and precision in the emission of signals. Astronomers are constantly developing strategies to cut RFI from their data. But this increasingly relies on the goodwill of private companies to ensure that at least some radio frequencies are protected for astronomy.
A long-term dream of many radio astronomers would be to have a radio telescope on the far side of the Moon. In addition to being shielded from Earth-based signals, it would also be able to observe at the lowest radio frequencies, which on Earth are particularly affected by a part of the atmosphere called the ionosphere. Observing at low radio frequencies can help answer fundamental questions about the universe, such as what it was like in the first few moments after the big bang.
The science case has already been recognized with the Netherlands-China Low Frequency Explorer, a telescope repurposed from the Queqiao relay satellite sent to the Moon in the Chang'e 4 mission. Nasa has also funded a project on the feasibility of turning a lunar crater into a radio telescope with a lining of wire mesh.
It's not just 4G
Despite its interest in these radio projects, Nasa also has its eye for commercial partnerships. Nokia is just one of 14 American companies Nasa is working with in a new set of partnerships, worth more than US$370m, for the development of its Artemis program, which aims to return astronauts to the Moon by 2024.
The involvement of private companies in space technology is not new. And the rights and wrongs have long been debated. Drawing possibly the most attention has been SpaceX's Starlink satellites, which caused a stir among astronomers after their first major launch in 2019.
Images quickly began to emerge with trails of Starlink satellites cutting across them – often obscuring or outshining the original astronomical targets.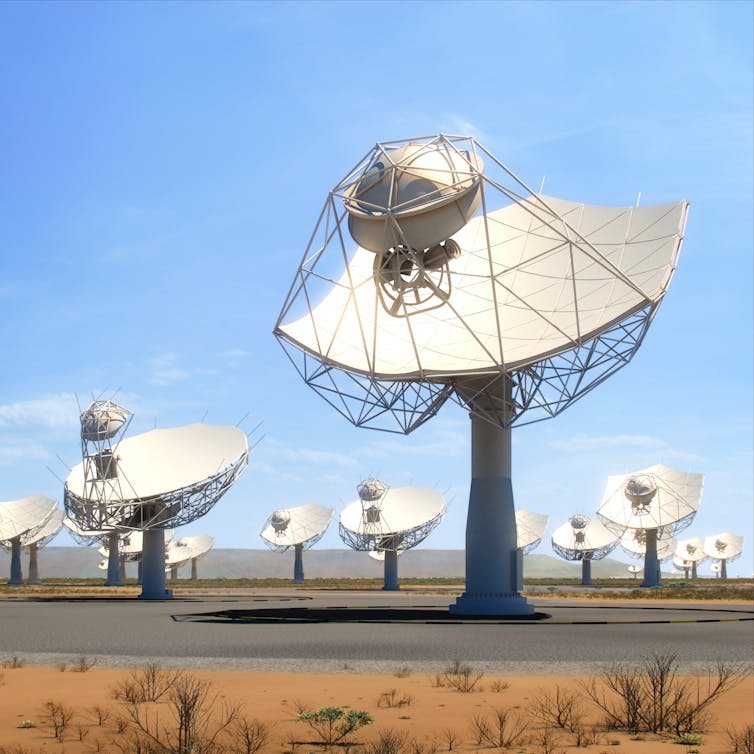 Astronomers have had to deal with satellites for a long time, but Starlink's numbers and brightness are unprecedented and their orbits are difficult to predict. These concerns apply to anyone doing ground-based astronomy, whether they use an optical or a radio telescope.
A recent analysis of satellite impact on radio astronomy was released by the SKA Organisation, which is developing the next generation of radio telescope technology for the Square Kilometre Array. It calculated that the SKA telescopes would be 70% less sensitive in the radio band that Starlink uses for communications, assuming an eventual number of 6,400 Starlink satellites.
As space becomes more and more commercialized, the sky is filling with an increasing volume of technology. That is why it has never been more important to have regulations protecting astronomy. To help ensure that as we take further steps into space, we'll still be able to gaze at it from our home on Earth.

This article is republished from The Conversation by Emma Alexander, PhD Candidate in Astrophysics, University of Manchester under a Creative Commons license. Read the original article.
Samsung heir absent from bribery retrial following father's death
Samsung Electronics vice-chairman Lee Jae-yong was not in attendance for a scheduled court hearing Monday after the death of his father, Samsung chairman Lee Kun-hee, was announced yesterday. Yonhap reports that the conglomorate's de facto leader and presumed heir had asked the Seoul High Court to permit him to attend the funeral.
Samsung has said that the wake will last four days with a family-only funeral taking place on Wednesday, according to The Korea Herald. Lee Kun-hee had been incapacitated by a 2014 heart attack, with his son Lee Jae-yong — known as Jay Y. Lee in the West — widely expected to take over.
The younger Lee, however, is facing the resumption of a bribery case that has dogged him over recent years. He was sentenced to five years in jail in 2017 for his role in the sweeping bribery scandal that brought down former South Korean president Park Geun-hye; he was then freed on appeal the next year with most of the charges dismissed. But the case was sent back to a lower court for retrial to take into account alleged bribes that hadn't previously been ruled on.
The next hearing is planned to take place on November 9th, Yonhap reports.
Norway forced to expand its studded bike tire subsidy as locals go mad for winter cycling
When it comes to incentivizing individuals to make more environmentally conscious travel decisions, government subsidies have proven quite successful in the past.
In a number of European countries, there are subsidies for buying new and used electric cars, installing EV charging points in your home, and even discounted bus tickets for those in low income brackets. Earlier this year in the UK, the government handed out vouchers to help people get their old bikes back on the road in a bid to encourage cycle commuting. In most of these cases, the money set aside to fund the subsidies was used up entirely.
It begs the question, if subsidies prove so popular, how far should they go? As governments across Europe pursue carbon neutrality, should we leave no stone unturned when it comes to financial incentives that make us less reliant on fossil fuels?
[Read: What audience intelligence data tells us about the 2020 US presidential election]
Take Norway, for example.
Its EV subsidies have already proven wildly effective with nearly half of all new cars sold in the country being electric. But it hasn't stopped there.
According to Norway Today, there are calls to extend a recent subsidy on studded bicycle tires after more than 4,000 people applied in the first week.
The scheme, offered to Oslo residents, would pay for half of the costs of switching their bicycles to specialist winter tires to help them continue commuting on two wheels through the winter months. The subsidy also covers workshop fees to fit the tires.
Launched on Monday, October 19, more than 2,700 people applied in the first day. By Friday, the Norwegian Climate Agency had received 4,114 applications.
"Oslo is experiencing a bicycle boom," director Heidi Sørensen at the country's Climate Agency told Norwegian newspaper Dagsavisen. "We want to give cyclists an opportunity to continue with the good trend into the winter."
Indeed, Norway is keen to capitalize on its cycling boom and keep people on two wheels for as long as they can to maintain their habit. Compared to September 2019, there's been a 54% increase in the number of trips taken on two wheels across the same period this year.
Dagsavisen also reports that the scheme is now being expanded to provide support for up to 5,000 cyclists.
"You do not need more than two good tires to ride safely in the winter," Sørensen added. The country's government hopes that people will see that cycling in winter isn't just for the hardiest souls among us.
Other governments around the world should take note. It can be quite grim cycling in winter, but with the right equipment and clothing the experience can be dramatically improved.
As Norway has shown: support the specific needs of individuals to make better environmental choices, and chances are they'll make those choices.
---
SHIFT is brought to you by Polestar. It's time to accelerate the shift to sustainable mobility. That is why Polestar combines electric driving with cutting-edge design and thrilling performance. Find out how.
Published October 26, 2020 — 09:17 UTC