The Los Angeles Lakers took a commanding 3-1 lead in the NBA Finals by leaning on the thing that has defined their greatness all year long: defense. The Lakers not only held the Miami Heat to 96 points, their lowest output of the postseason, but they did so with a key tactical adjustment — putting Anthony Davis on Jimmy Butler — that suffocated the man who torched the Lakers in Game 3.
Let's take a look at how they pulled off this critical win and what it means heading into Game 5 on Friday (9 p.m. ET on ABC and the ESPN App).
The Lakers looked inevitable
Davis was the primary defender on 11 shots against Butler on Tuesday, per ESPN tracking, after defending just four shots from Butler in the first three games of the series. Butler made three of his final 12 attempts, including one of seven with Davis as his primary defender.
It's a testament to the Brow's versatility that head coach Frank Vogel would even consider putting him on Butler. Davis is a 7-footer who almost always defends bigs. But Davis is a phenomenal athlete, and after Butler dominated the Lakers in the paint in Game 3, AD and LeBron James made sure that didn't happen again. Of Butler's 17 shots, 15 were defended by either Davis or James.
These are not the Showtime Lakers. This team has been a defensive juggernaut all year, and they flexed those muscles again in Game 4. Their defensive efficiency in the halfcourt improved to 98.6 points allowed per 100 possessions in Game 4 after giving up 123.9 in Games 2 and 3, according to Second Spectrum.
While Butler started strong and finished poorly, James did the opposite. Following an awkward first quarter that included five turnovers, James ended the game as both its leading scorer and rebounder. A remarkable 20 of his 28 points came in a pivotal second half that brought his team within one win of a title.
If there was one sequence that epitomized this game it happened late in the fourth quarter. With the Lakers up 90-88 and 3:05 remaining, Butler missed an open corner 3, James grabbed the board, pushed the ball up the floor and delivered a crisp transition dime to Kentavious Caldwell-Pope, who drained a corner 3 of his own.
Kentavious Caldwell-Pope knocks down the three then gets a layup putting the Lakers up seven with two minutes left in the fourth.
Caldwell-Pope was a huge X factor for the purple and gold, scoring 15 points and adding five assists. The Lakers are now 12-1 this postseason when he scores at least 10 points, and his 3-point shooting has given this team a huge lift. KCP has made 40 3s this postseason, tied for the second most in a single playoffs in Lakers history. Only Kobe Bryant in 2010 had more.
The Lakers made all the winning plays down the stretch. We shouldn't be surprised. These dudes are now somehow 56-0 when leading after the third quarter.
They know how to finish games. Even when they missed shots down the stretch, they always seemed to get their own rebounds, depriving Miami's ability to get the stops needed to even the score. The Lakers' four fourth-quarter offensive rebounds were absolutely crucial.
What's next
From Miami's perspective, the absence of Goran Dragic loomed large. With Davis and James able to focus on containing Butler, the Heat just didn't have enough firepower elsewhere.
Dragic is not only this team's starting point guard, he was also its leading scorer coming into these Finals. In the conference finals against the Boston Celtics, Dragic ran over 24 pick-and-roll plays per game, per Second Spectrum. With a starting PG on the shelf, Miami's half-court options aren't good enough to overpower one of the best defenses in the league, even with Bam Adebayo back in the fold.
Adebayo played OK in his return to action, but his playmaking was not up to his high standards. Adebayo ended the game with just one assist, his lowest such mark since January.
Unfortunately, injuries are a fact of life in the NBA, and for the second straight year the Finals have been affected by them.
Last season, the Golden State Warriors couldn't hang with the Toronto Raptors after losing both Kevin Durant and Klay Thompson. Even though Adebayo and Dragic may not have the same superstar clout as those fellas, they are two of Miami's three most important players. It's hard to see how the Heat would've made it this far without them. Missing both players at full strength, it's just impressive that Miami has made things this competitive against a LeBron James team firing on all cylinders.
Looking ahead to Game 5, the Miami offense has to be better to extend the series. That's the key.
Butler will have to overcome the Davis matchup and his teammates will have to give him more help. The Heat bench combined to go 4-for-19 from the field for just 13 points, while Heat shooters converted just three of their 14 open 3s, per Second Spectrum. It's a make-or-miss league, and Miami's off-ball players didn't make enough shots to hang.
For an undermanned team to beat LeBron, AD and the Lakers in the Finals, they have to play pretty close to perfectly. Miami did that in Game 3, but failed to do so again. Now the Heat need three straight perfect games to steal a bubble championship.
Is Tua Tagovailoa ready to become Miami's biggest star since Dan Marino?
Editors' note: Rookie quarterback Tua Tagovailoa will take over as the Miami Dolphins' starter beginning Week 8 against the Los Angeles Rams, a source told ESPN's Adam Schefter. This story originally published on May 25, 2020.
Leaps into swimming pools. Emotional moments of jubilation. Tears of joy. Fifteen words delivered by NFL commissioner Roger Goodell — "With the fifth pick in the 2020 NFL draft, the Miami Dolphins select Tua Tagovailoa" — elicited all that plus a belief the moment will change the Dolphins' franchise forever.
Over the past month, there has been an innate buzz burgeoning nationally, but especially in South Florida, that can be summed up as a Tua frenzy. An 11-minute fan-generated YouTube video provides a visual.
"Tua is far by himself — never seen anything like this buzz from a draft pick here. There's no close second," said Dolphins color commentator and radio host Joe Rose, who played for the franchise alongside Pro Football Hall of Fame quarterback Dan Marino from 1983 to 1985. "We have a rock star here in Tua. This team has been in mediocrity for so long. It's lacked the Dan Marino star power, the Ricky Williams star power. Tua's the next guy in that group."
Despite the love, it's too early to crown Tagovailoa. He hasn't even played an NFL game. Tagovailoa's arrival is defined by hope and hype.
Even in his first month as a Dolphins quarterback, it is clear that if Tagovailoa lives up to expectations, he will be the face of South Florida sports for a while.
How will Tagovailoa manage the pressure, the buzz, overwhelming positivity, eventual negativity and everything that comes with being hailed as the next big thing in a city starving for its latest sports superstar?
"The great thing for Tua is Dan Marino retired 20 years ago," Hall of Fame quarterback Warren Moon said. "So it's not like he's following right behind a legend like Aaron Rodgers following Brett Favre or whoever follows Tom Brady. He just has to be himself. He can't be Dan Marino. Just be yourself and rely on the people around you."
'It's going to be Dolphins town'
A Mount Rushmore of athletes who have led South Florida pro teams probably starts with Marino and the Miami Heat's Dwyane Wade, but the initial expectations weren't as high with either legend.
Wade remembers it wasn't until after he led the Heat to their first championship in 2006 that he became the face of South Florida sports. He returned to Miami and hopped in his convertible with a buddy. Fans sighted him and rushed the car. He couldn't drive another block.
"I looked at my friend and said, 'Yo, this is different,'" Wade said. "I enjoyed it. But I knew it would never be normal in this city from that point on. I had to get used to being a celebrity. The perks were great, but the non-privacy was not so great."
"Wade County" was born and didn't slow down. His presence remains large in Miami, but since he retired following the 2018-19 season, there has been an active-superstar void.
Enter Tagovailoa.
"He's a hell of a player. Miami, especially at the QB position, really needs that. They need a leader. They need a player," Wade said. "To come in as a young player and win a game in the second half of a national championship game — that shows some grit, that shows some balls. People have to really believe in you. Miami needs that. The Dolphins need that. Even though I'm a [Chicago] Bears fan, I was rooting for them to get him because Miami needs to get back to where the basketball program is."
Wade's advice to Tagovailoa centers on how to handle fame; the future Hall of Fame guard says he would often deal with anxiety when he left the house. He felt the need to always be on as D-Wade even when he wanted to just be Dwyane. Wade said even though he wasn't expected to "save the franchise," once he became a fan favorite, he had to "figure out how to enjoy what you worked hard for, but keep a level of sanity at the same time."
The last 5th overall pick to Miami did some cool things. Congrts @Tuaamann can't wait to watch your journey.

— DWade (@DwyaneWade) April 24, 2020
Wade is optimistic Tagovailoa will lift the Dolphins to a place they never reached while he was with the Heat.
"If the Dolphins get it going, it's going to be Dolphins town. We did as much to make it a basketball town as possible, and Miami Heat is there to stay. But let's not get it twisted: Florida is football. Once they get their s— together, they are going to be big and bigger," Wade said. "But those Heat guys — Bam [Adebayo], Tyler Herro — are going to battle him for it. He's got to earn it.
"How you put yourself in that conversation is doing something great, something that people have never seen before, and obviously winning."
Marino was a 'rock star'
Tagovailoa passed his first test by eschewing his college No. 13 — Marino's number in Miami. Instead, Tagovailoa is paving his own path by becoming the first Dolphins QB to wear No. 1.
"I understand No. 13 is retired, and it should be. Dan Marino, he's the GOAT. He's like the mayor out there, and I have much respect for him," Tagovailoa said. "I just want to have the opportunity to go out there and compete."
Every quarterback who has arrived in Miami has been met with some mention of Marino, and Miami has started 21 quarterbacks since the Hall of Famer retired in 2000. The Dolphins haven't had a Pro Bowl QB since then, which marks the NFL's longest streak.
So while the expectations might seem unwieldy for a 22-year-old quarterback coming off a serious hip injury, this isn't just any NFL city. He's coming to a franchise that is thirsty for a star QB, and fans have been waiting on Tagovailoa for more than a year.
"When I got down there, the Miami Dolphins were Dan Marino's town and team. It's still that way," former Dolphins great Ricky Williams said. "I was a running back, but no one has even come close to eclipsing the success that Dan had in Miami as a quarterback. Even more so than what I experienced, Tua has the potential to be a big part of what it means to be a Miami Dolphin for a long time."
Williams had a great run as the face of the Dolphins. Jason Taylor, Zach Thomas and Ryan Tannehill did, too. But none of them have the national pull Tagovailoa has now.
Tua Tagovailoa is a star in Miami already. pic.twitter.com/esxrtVo0R7

— Cameron Wolfe (@CameronWolfe) January 31, 2020
Rose says he remembers the buzz around Marino being relatively subdued when he arrived. The Dolphins, coming off a Super Bowl XVII loss, were led by their "Killer B's" defense, and they selected Marino with the No. 27 overall pick when he fell to them in the 1983 draft.
By the end of his record-setting 1984 MVP season, Marino was a superstar.
"When we went to New York, I saw the phone calls we got in our hotel room. I saw what movie stars and celebrities came around. People wanted to be around this guy," Rose said. "We didn't have the media and social media that they do now, so it could be a lot more hidden. He was big stuff. He was a rock star."
Marino is the standard, but Tagovailoa doesn't have to reach that level to be remembered in Dolphins history. As Moon and Wade have stressed, he just has to focus on being himself.
Dwyane Wade expresses his thoughts on the Dolphins drafting Tua Tagovailoa and gives some advice for playing in the city of Miami.
Work, gain respect, then build the brand
Moon knows all about highly anticipated arrivals. After five Grey Cup titles in the Canadian Football League, Moon signed with the Houston Oilers and became the NFL's highest-paid player in 1984.
With stars such as running back Earl Campbell and linebacker Robert Brazile already in Houston, Moon was conscious of veterans believing he was too full of himself. Moon's response was to work hard, including lifting weights with the offensive line.
"When people came in the building, I was already there. When people left, I was still there," Moon said. "Yeah, I had a lot of attention, but they saw my work ethic. When I got on the field, they started to see I could really play. What you're trying to do is gain respect, and I think Tua will get that, too, because of his work ethic."
Showing that work ethic and building camaraderie with teammates could prove to be more challenging for Tagovailoa this offseason with virtual meetings instead of in-person practices. But Tagovailoa has reached out to many of his Dolphins teammates via text messages and phone calls.
The other balance Tagovailoa will have to maintain is his unique marketability with Moon's advice "to go in there with your head down and work."
Tagovailoa, who signed a four-year, $30.3 million contract, has endorsement deals with Adidas, Hulu, Muscle Milk, Verizon, Wingstop, Gillette, Lowe's, Bose and Call of Duty. He recently signed a multiyear, exclusive memorabilia-and-collectibles deal with Fanatics. He also has a documentary in the works detailing his journey to the Dolphins.
Tua Tagovailoa taking photo with young Dolphins fan – Riley – who hopes he lands in Miami. Many other Dolphins fans do too. pic.twitter.com/XFdd3iGcE1

— Cameron Wolfe (@CameronWolfe) January 31, 2020
Agent Ryan Williams and Athletes First have handled Tagovailoa's marketing demands, and he has immediately become one of the NFL's most well-known young players. The people love the former Alabama quarterback, and that has shown up in the numbers. Tagovailoa is the top-selling NFL player in terms of overall merchandise sales since May 1 across the Fanatics network, which includes NFLshop.com and online team stores — above Tampa Bay's Brady and Cincinnati Bengals quarterback Joe Burrow, the No. 1 overall draft pick.
Moon remembered advice he was given by his agent, Leigh Steinberg, who also represents Tagovailoa: to take things slow on building your brand and try to avoid reading the headlines or social media.
"I just want to make sure that he doesn't try to get too far ahead of himself. Football is what butters his bread," Moon said. "If he doesn't do well on the football field, everything else will go away. Knowing a bit about Tua, he'll be fine."
Tagovailoa showed humility throughout his college career. He has a connection to family and a desire to give back.
"I'm honored that the fans think so highly of me. But I haven't done anything, yet," Tagovailoa said. "What I did in college can't translate to the NFL. It's a clean slate. I've got to go out there and earn my respect and earn the trust from my teammates."
Thank you to @MiamiDolphins for making this dream come true for me and my family. It's in my heart to give back to the communities that have raised me. Plans are underway to start charitable outreach efforts in Hawaii, Alabama and Miami. Stay tuned, stay safe. Go fins! Blessed! https://t.co/KGyvGr6xNX

— Tua. T 🇦🇸 (@Tua) May 12, 2020
'The guys in that locker room'
The idea of becoming a star before even taking an NFL snap might be enough to make Dolphins coach Brian Flores' head spin. A champion of competition and team-first mentality, Flores probably doesn't care how many jerseys Tagovailoa sells as long as he produces on the field.
"The world will make you think that you're this superstar. And maybe you are, but it doesn't really matter," Flores said last November regarding any particular player's growing success. "The only thing that matters is the guys in that locker room."
But there is an element of stardom Wade alluded to with which Flores probably will agree, and that's winning. The New England Patriots became an NFL dynasty with a star quarterback because of their winning records and Super Bowl titles. The allure of Tagovailoa's star power will be embraced should the Dolphins become title contenders year in and year out.
Before worrying about the celebrity, the more timely concern revolves around when Tagovailoa will get on the field. Some argue he should be an immediate starter, while others suggest a redshirt 2020 season. The most likely result appears to be somewhere in the middle.
The Dolphins are in Year 2 of a dramatic rebuild, but Flores always wants to win. Quarterback Ryan Fitzpatrick, the veteran incumbent, has the upper hand in securing the starting role for several reasons, thanks to his comfort in offensive coordinator Chan Gailey's scheme, his success guiding the Dolphins in 2019 (to five wins), his leadership in the locker room and a lack of a true offseason.
But Tagovailoa is also eager to learn under Fitzpatrick, saying on draft day in April that he wants "to understand the kind of person he is … nitpick him, ask him how he goes about preparing for a defense … and just being able to question him."
Fitzpatrick vows to be Tagovailoa's "biggest cheerleader," but he won't hand him the starting job in 2020. Tagovailoa probably wouldn't want it any other way, because when football returns, he will get the opportunity to prove his worth.
Once Tagovailoa hits the field, the hope is he gets to become the greatest version of himself instead of being constantly compared to Marino. That weight is too heavy.
But becoming the long-term face of the Dolphins and South Florida sports? That's well within Tagovailoa's grasp.
Raptors' Bjorkgren named Pacers head coach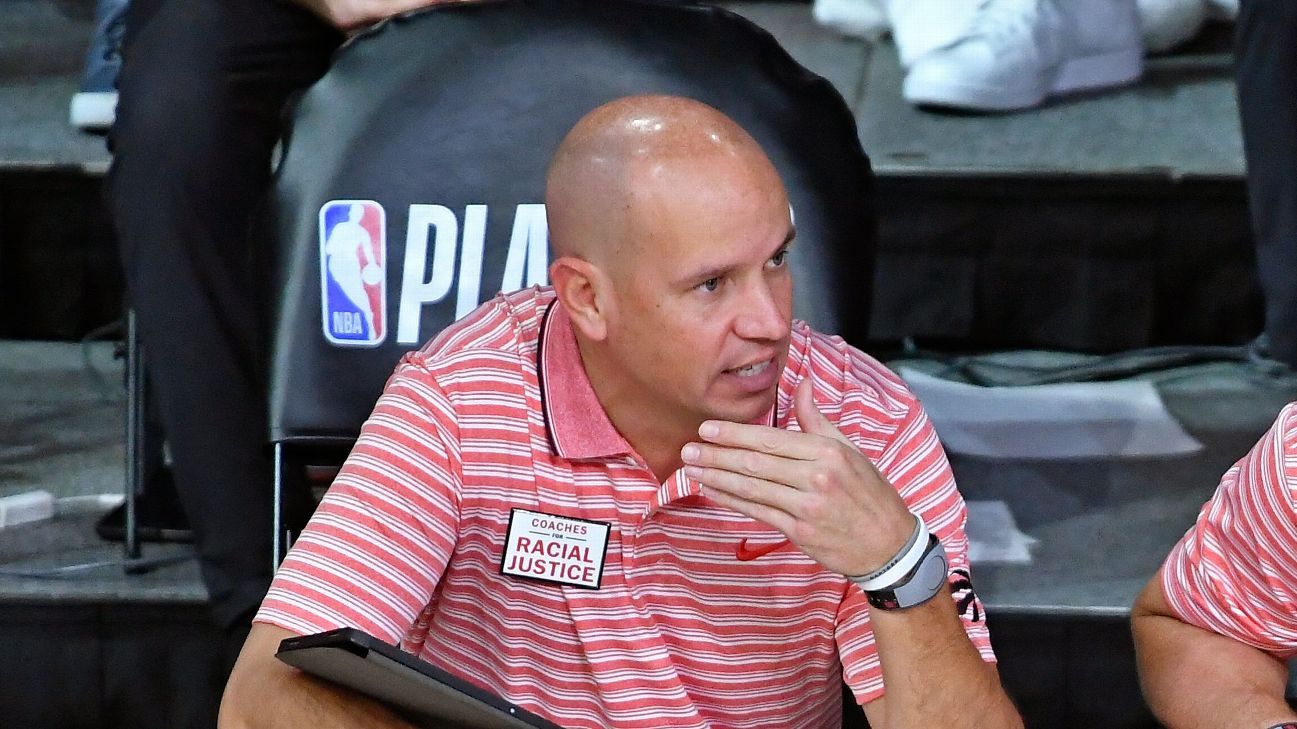 The Indiana Pacers have agreed to a multiyear deal to hire Toronto Raptors assistant Nate Bjorkgren as their head coach, sources told ESPN.
Bjorkgren, a disciple of reigning NBA Coach of the Year Nick Nurse, sold the Pacers on his history of innovation, adaptability and winning in his time as an NBA assistant and G League head coach, according to sources.
Bjorkgren worked with Nurse in two stops in the G League, winning a title with him in 2011 in Iowa. Bjorkgren reached the G League Finals as head coach of Santa Cruz in 2013 before arriving in the NBA in 2015 as an assistant with the Phoenix Suns.
Bjorkgren, 45, reunited with Nurse in Toronto in July 2018 and was a part of his staff in the Raptors' championship season.
The Pacers are replacing Nate McMillan, who was dismissed after four consecutive trips to the playoffs. McMillan had a 183-136 record in Indiana, including 3-16 in the postseason.
The Pacers have made five consecutive postseason appearances but have been swept in the first round each of the past two years.
What To Watch For In One Of The Most Intriguing World Series Ever
After a big comeback in one league's championship series — and an even bigger comeback that wasn't in the other — the World Series is finally set, with the Tampa Bay Rays and Los Angeles Dodgers meeting up for Game 1 tonight in Arlington, Texas. Here are some of the biggest factors that jump out as we look ahead to the Fall Classic:
These are legitimately the two best teams in baseball …
Sorry to burst anyone's bubble, but the World Series doesn't always feature MLB's two best teams. (Scandalous, I know.) In this case, though, it's hard to argue that we aren't seeing the true cream of baseball's crop on the game's biggest stage. During the regular season, Tampa Bay and Los Angeles each had the best records in their respective leagues, which is only the fourth time that has happened in a World Series matchup since the wild-card era began in 1994. (The other series that fit the description came in 2013, 1999 and 1995.) That used to occur every year, of course — by definition — but it's only happened a little over 25 percent of the time since the League Championship Series was introduced in 1969.
According to our team rankings, the Dodgers and Rays also rank first and second in Elo rating, respectively. That makes this only the ninth time that baseball has seen a college-football-esque No. 1-vs.-2 championship matchup in the past 35 years:
No. 1-vs.-2 World Series matchups like this are rare
World Series matchups since 1985 featuring MLB's Nos. 1 and 2 teams in our pre-series Elo ratings
| Year | No. 1 Team | No. 2 Team | Winner (Series Record) |
| --- | --- | --- | --- |
| 2020 | Dodgers | Rays | ??? |
| 2016 | Cubs | Indians | No. 1 (4-3) |
| 2013 | Red Sox | Cardinals | No. 1 (4-2) |
| 2007 | Red Sox | Rockies | No. 1 (4-0) |
| 2004 | Cardinals | Red Sox | No. 2 (4-0) |
| 1999 | Braves | Yankees | No. 2 (4-0) |
| 1995 | Indians | Braves | No. 2 (4-2) |
| 1991 | Braves | Twins | No. 2 (4-3) |
| 1989 | Athletics | Giants | No. 1 (4-0) |
… but the Dodgers are pretty sizable favorites.
In the list above, the No. 1 team actually lost just as often as it won — sometimes in an unexpected sweep, even. Weird things can happen in baseball's postseason … but don't necessarily count on that this time around. With a gap of 45 Elo points separating them from the Rays, the Dodgers are the 15th-biggest favorite in World Series history and are tied for the fifth-biggest since 1969:
The biggest World Series mismatches (on paper)
Biggest gap in pre-series Elo ratings for World Series teams, 1969-2020
Favorite
Underdog
Year
Team
Elo Rating
Team
Elo Rating
Elo Gap
Outcome?
1970
Orioles
1606
Reds
1538
+68
Win (4-1)
1998
Yankees
1602
Padres
1546
+56
Win (4-0)
1975
Reds
1602
Red Sox
1547
+54
Win (4-3)
1990
Athletics
1583
Reds
1529
+54
Loss (0-4)
2020
Dodgers
1609
Rays
1564
+45
???
1984
Tigers
1573
Padres
1527
+45
Win (4-1)
2011
Rangers
1586
Cardinals
1546
+39
Loss (3-4)
1986
Mets
1581
Red Sox
1543
+38
Win (4-3)
1985
Cardinals
1570
Royals
1532
+38
Loss (3-4)
1988
Athletics
1575
Dodgers
1538
+37
Loss (1-4)
2006
Tigers
1555
Cardinals
1518
+37
Loss (1-4)
1971
Orioles
1599
Pirates
1562
+37
Loss (3-4)
1995
Indians
1604
Braves
1570
+34
Loss (2-4)
2016
Cubs
1589
Indians
1556
+33
Win (4-3)
2009
Yankees
1589
Phillies
1557
+33
Win (4-2)
Again, this being baseball, some of the biggest underdogs ended up winning. (Cincinnati's sweep of the 103-win Oakland A's in 1990 has to go down as one of history's most stunning routs, and the Reds were the underdog by just a bit wider Elo margin than the Rays are currently to the Dodgers.) Accordingly, our prediction model gives Los Angeles a 69 percent chance of winning its first title since 1988 — big by baseball standards, but far from a sure thing.
The matchup is a fitting commentary on team-building in 2020.
The Dodgers had baseball's third-largest payroll this season, according to Baseball-Reference.com's salary data, trailing only the Houston Astros and New York Yankees. The Rays, meanwhile, had baseball's third-smallest payroll, ahead of only the Miami Marlins and Pittsburgh Pirates. Going back to 1998 — when MLB expanded to its current 30-team structure — that 25-spot difference in salary ranking between L.A. and Tampa Bay is the biggest for any World Series:
Rich team, poor team
Biggest gap in MLB payroll ranking between two World Series opponents since 1998
Higher-Paid Club
Lower-Paid Club
Year
Team
Payroll Rk
Team
Payroll Rk
Diff.
Rich Club Win?
2020
Dodgers
3
Rays
28
25
???
2003
Yankees
1
Marlins
25
24
2007
Red Sox
2
Rockies
25
23
✓
2010
Giants
9
Rangers
26
17
✓
2008
Phillies
12
Rays
29
17
✓
2014
Giants
5
Royals
21
16
✓
2013
Red Sox
3
Cardinals
15
12
✓
1998
Yankees
2
Padres
14
12
✓
2016
Cubs
8
Indians
18
10
✓
2015
Royals
12
Mets
22
10
✓
2018
Red Sox
1
Dodgers
9
8
✓
2017
Dodgers
4
Astros
12
8
2004
Red Sox
2
Cardinals
10
8
✓
2001
Yankees
1
D-backs
8
7
2009
Yankees
1
Phillies
7
6
✓
1999
Yankees
1
Braves
7
6
✓
2002
Giants
10
Angels
15
5
2019
Nationals
4
Astros
8
4
✓
2006
Cardinals
11
Tigers
14
3
✓
2000
Yankees
1
Mets
4
3
✓
2012
Tigers
7
Giants
9
2
2011
Cardinals
12
Rangers
14
2
✓
2005
Astros
11
White Sox
13
2
Traditionally, these big salary mismatches haven't gone well for the poorer team. Of the 10 most lopsided battles on the list above, nine were won by the club with the more expensive talent — the only exception being the 2003 World Series, in which the then-Florida Marlins outdueled the favored Yankees in six games.
But in a larger sense, the Dodgers and Rays both tell us about where the sport has headed over the past few decades. When Tampa Bay made its big leap into contention in 2008, "Moneyball" (the book) was only 5 years old, and the use of analytics for team-building was still more the province of small-market teams like the Rays than big-market ones like the Dodgers. Tampa's general manager back then? A 31-year-old former financial analyst named Andrew Friedman — who happens to now be the Dodgers' president of baseball operations.
Not coincidentally, the Dodgers typify the way big-market clubs have subsumed the lessons learned by smaller teams scraping for every edge. Where the late-2000s Rays had Ben Zobrist, Los Angeles now has an army of multi-positional fielders; where ex-Rays manager Joe Maddon was hailed for helping reintroduce the defensive shift to baseball, no team in the regular season shifted more in 2020 than the Dodgers. To the credit of Tampa Bay's current brain trust, it still managed to build an exceptional all-around team on a shoestring budget. But the Dodgers built one of those, too — while paying Clayton Kershaw, Mookie Betts, Justin Turner and Kenley Jansen more than the Rays' entire roster combined.
The Rays are relying on slick defense, timely pitching — and the Randy Arozarena Show.
The Rays were not an elite pure hitting team in the regular season, and they've struggled to consistently get on base in the playoffs — among the eight teams that made the division series, Tampa Bay ranks seventh in postseason batting average, on-base percentage, slugging and OPS. Only three regular Rays hitters have an OPS over .780 in the playoffs: Ji-Man Choi (.952), Manny Margot (.967) and — of course — ALCS MVP Randy Arozarena (1.288). Arozarena's seven home runs set a new rookie record and are tied (behind Nelson Cruz in 2011, Carlos Beltran in 2004 and Barry Bonds in 2002) for the second-most ever in a single postseason. But the Rays have arguably relied too much on Arozarena and the long ball; 72 percent of their runs in the playoffs have come via the home run, the largest share ever for a pennant-winner going into a World Series, according to the Elias Sports Bureau.
Tampa Bay could stand to get more from some of its flagging hitters — most notably second baseman Brandon Lowe, who carries a dismal .366 postseason OPS after posting a .916 mark during the regular season. But the Dodgers' pitching won't be easy to overcome. Among division-series contestants, L.A. pitchers easily have the best fielding independent pitching (FIP) this postseason, with the second-best rates of strikeouts and home runs allowed. Though Arozarena also had great numbers (1.023 OPS) in limited playing time during the regular season, he'll probably regress to the mean some in the World Series. Will his teammates pick up the slack?
On the other side of the ball, the Rays have relied on their defense to make plays and get the key out at the right moment. Tampa's pitchers have stranded a playoff-high 85.5 percent of runners on base, and only the Astros had a larger gap than the Rays have had between their ERA (3.36) and FIP (4.65) in the postseason. Both of those stats tend to regress to the mean as well — though we'd also expect the quartet of Blake Snell, Tyler Glasnow, Nick Anderson and Ryan Yarbrough, who combined for a 3.69 regular-season FIP, to do better than their collective 5.75 postseason mark. The real question is how much they can limit the damage from an L.A. lineup that led the majors in regular-season scoring and produced an .850 OPS against the Atlanta Braves in the NLCS, with four regular hitters (Corey Seager, Kiké Hernández, Max Muncy and Joc Pederson) above .970 in the series.
This is another major chapter in Clayton Kershaw's complicated story.
After losing his lone start of the NLCS, it looked like 2020 might be the latest in a long line of postseason disappointments for Clayton Kershaw. But L.A.'s comeback gives him another shot at redemption. And one start shouldn't define his playoffs as a whole, anyway. Over the entire postseason, Kershaw is 2-1 with a 3.32 ERA and 3.14 FIP in 19 innings … pretty solid numbers, all told. (For comparison, he had a 3.31 FIP during the regular season.) That's kind of par for the course, though: Kershaw has not been as bad in the playoffs as we're often led to believe — he has the same career postseason FIP (3.74) as legendary money pitcher Jack Morris, for instance — yet he has also faltered in some pretty high-profile games. His legacy is complicated, without a doubt, and that fact is certain to come into play sooner or later in this World Series.
Perhaps the bigger postseason question for Kershaw is just how many prime chances he'll have left to win a ring after 2020. Though he had his best season in three years according to WAR per 162 games, Kershaw will be 33 next season, an area of the aging curve in which pitchers typically see their strikeouts drop and their FIPs rise. And while the Dodgers should still be plenty good next year, more than a few familiar faces from this current quasi-dynasty1 are set to be free agents after this season, including Pederson, Hernández and Turner. (Kershaw himself has a contract that expires the offseason after next.) It's hard not to think that this is one of the last, best championship opportunities remaining for the Kershaw-era Dodgers.
It should be a very good World Series.
According to ESPN Stats & Info, the Dodgers and Rays' combined .692 winning percentage is the highest for any World Series in history. That's in part due to the fact that league-leading records will be more extreme in a smaller sample — and the 2020 season was baseball's shortest since 1878. But these teams also look good if we look at metrics that are theoretically regressed to account for such a short schedule. If you take the harmonic mean of both teams' Elo ratings in each World Series, this matchup shows up as the 13th-best in history and the third-best since 1953:
This World Series matchup looks good on paper
Best World Series matchups based on the harmonic mean of pre-series Elo ratings, 1903-2020
Favorite
Underdog
Year
Team
Elo Rating
Team
Elo Rating
Harmonic Mean
Winner
1942
Cardinals
1613
Yankees
1605
1608.8
Cardinals
1911
Athletics
1605
Giants
1591
1597.8
Athletics
1906
Cubs
1635
White Sox
1562
1597.5
White Sox
1910
Cubs
1595
Athletics
1589
1591.8
Athletics
1909
Pirates
1611
Tigers
1572
1591.3
Pirates
2018
Red Sox
1600
Dodgers
1582
1591.2
Red Sox
1943
Cardinals
1610
Yankees
1573
1591.1
Yankees
1953
Dodgers
1597
Yankees
1585
1590.9
Yankees
1935
Cubs
1597
Tigers
1578
1587.5
Tigers
1939
Yankees
1622
Reds
1553
1586.9
Yankees
1931
Athletics
1589
Cardinals
1584
1586.6
Cardinals
1995
Indians
1604
Braves
1570
1586.5
Braves
2020
Dodgers
1609
Rays
1564
1586.4
???
1912
Red Sox
1592
Giants
1580
1585.8
Red Sox
2019
Astros
1593
Nationals
1579
1585.6
Nationals
That also squares with the thrills both teams have already provided so far in the postseason. If the twin seven-game league championship series were any indication, we should be in for a treat as the Rays and Dodgers take the field over the next week or so.
Check out our latest MLB predictions.