It's surprising how quickly public opinion can change. Winding the clocks back 12 months, many of us would have looked at a masked individual in public with suspicion.
Now, some countries have enshrined face mask use in law. They've also been made compulsory in Victoria and are recommended in several other states.
One consequence of this is that facial recognition systems in place for security and crime prevention may no longer be able to fulfil their purpose. In Australia, most agencies are silent about the use of facial recognition.
But documents leaked earlier this year revealed Australian Federal Police and state police in Queensland, Victoria and South Australia all use Clearview AI, a commercial facial recognition platform. New South Wales police also admitted using a biometrics tool called PhotoTrac.
What is facial recognition?
Facial recognition involves using computing to identify human faces in images or videos, and then measuring specific facial characteristics. This can include the distance between eyes, and the relative positions of the nose, chin and mouth.
This information is combined to create a facial signature, or profile. When used for individual recognition – such as to unlock your phone – an image from the camera is compared to a recorded profile. This process of facial "verification" is relatively simple.
However, when facial recognition is used to identify faces in a crowd, it requires a significant database of profiles against which to compare the main image.
These profiles can be legally collected by enrolling large numbers of users into systems. But they're sometimes collected through covert means.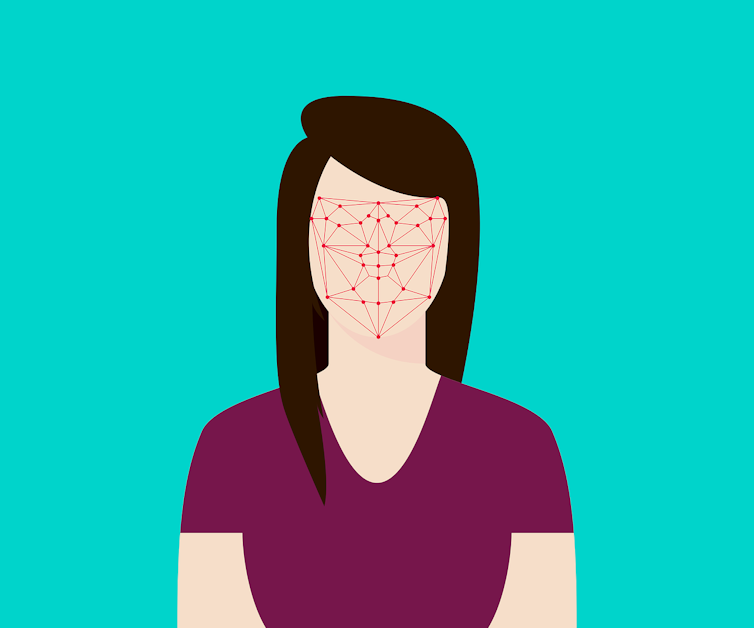 The problem with face masks
As facial signatures are based on mathematical models of the relative positions of facial features, anything that reduced the visibility of key characteristics (such as the nose, mouth and chin) interferes with facial recognition.
There are already many ways to evade or interfere with facial recognition technologies. Some of these evolved from techniques designed to evade number plate recognition systems.
Although the coronavirus pandemic has escalated concerns around the evasion of facial recognition systems, leaked US documents show these discussions taking place back in 2018 and 2019, too.
And while the debate on the use and legality of facial recognition continues, the focus has recently shifted to the challenges presented by mask-wearing in public.
On this front, the US National Institute of Standards and Technology (NIST) coordinated a major research project to evaluate how masks impacted the performance of various facial recognition systems used across the globe.
Its report, published in July, found some algorithms struggled to correctly identify mask-wearing individuals up to 50% of the time. This was a significant error rate compared to when the same algorithms analysed unmasked faces.
Some algorithms even struggled to locate a face when a mask was covering too much of it.
Finding ways around the problem
There are currently no usable photo data sets of mask-wearing people that can be used to train and evaluate facial recognition systems.
The NIST study addressed this problem by superimposing masks (of various colors, sizes and positions) over images of faces, as seen here:
Researchers from NIST found that face masks are causing facial recognition algorithms to fail as frequently as 50% of the time.https://t.co/ukFMc36L2P

— CNET (@CNET) July 27, 2020
While this may not be a realistic portrayal of a person wearing a mask, it's effective enough to study the effects of mask-wearing on facial recognition systems.
It's possible images of real masked people would allow more details to be extracted to improve recognition systems – perhaps by estimating the nose's position based on visible protrusions in the mask.
Many facial recognition technology vendors are already preparing for a future where mask use will continue, or even increase. One US company offers masks with customers' faces printed on them, so they can unlock their smartphones without having to remove it.
Growing incentives for wearing masks
Even before the coronavirus pandemic, masks were a common defense against air pollution and viral infection in countries including China and Japan.
Political activists also wear masks to evade detection on the streets. Both the Hong Kong and Black Lives Matter protests have reinforced protesters' desire to dodge facial recognition by authorities and government agencies.
As experts forecast a future with more pandemics, rising levels of air pollution, persisting authoritarian regimes and a projected increase in bushfires producing dangerous smoke – it's likely mask-wearing will become the norm for at least a proportion of us.
Facial recognition systems will need to adapt. Detection will be based on features that remain visible such as the eyes, eyebrows, hairline and general shape of the face.
Such technologies are already under development. Several suppliers are offering upgrades and solutions that claim to deliver reliable results with mask-wearing subjects.
For those who oppose the use of facial recognition and wish to go undetected, a plain mask may suffice for now. But in the future they might have to consider alternatives, such as a mask printed with a fake computer-generated face.

---
This article is republished from The Conversation by Paul Haskell-Dowland, Associate Dean (Computing and Security), Edith Cowan University under a Creative Commons license. Read the original article.
Published October 11, 2020 — 17:00 UTC
This GPT-3-powered tool generates new ideas for your terrible blog
Even the greatest writers sometimes struggle to come up with new ideas. At least, that's what I've heard. Luckily for them, a new AI Blog Idea Generator could sprinkle some inspiration onto their empty pages.
Just enter some keywords into the search bar and the system will analyze Google's top-performing content on the subject. It then runs the data through OpenAI's vaunted GPT-3 text generator to produce a new idea.
The tool is targeted at content marketers on the hunt for blog posts that will rank highly on Google search. But I tested whether it could also help this humble hack to overcome his writer's block.
[Read: ]
Some of its creations were relevant but clichéd, while others were largely gibberish.
The tool's creator Nikhil Aitharaju acknowledges that not every idea will be a winner:
It can admittedly go off the rails occasionally (as it's an automated system), but the fact that you can generate more ideas in a click means that you're bound to get a clever idea eventually!
Alas, he didn't invent the system solely out of the goodness of his heart. Users only get a limited number of free ideas before they have to upgrade to a paid subscription.
That'll probably put the tool out of reach for many journalists (*sniff*), but content marketers might be more willing to dig into their pockets.
Just don't expect the ideas to be anything too original. But at least you won't have to think them up yourself.
Published October 22, 2020 — 18:05 UTC
How to Customize Your iPhone Home Screen in iOS 14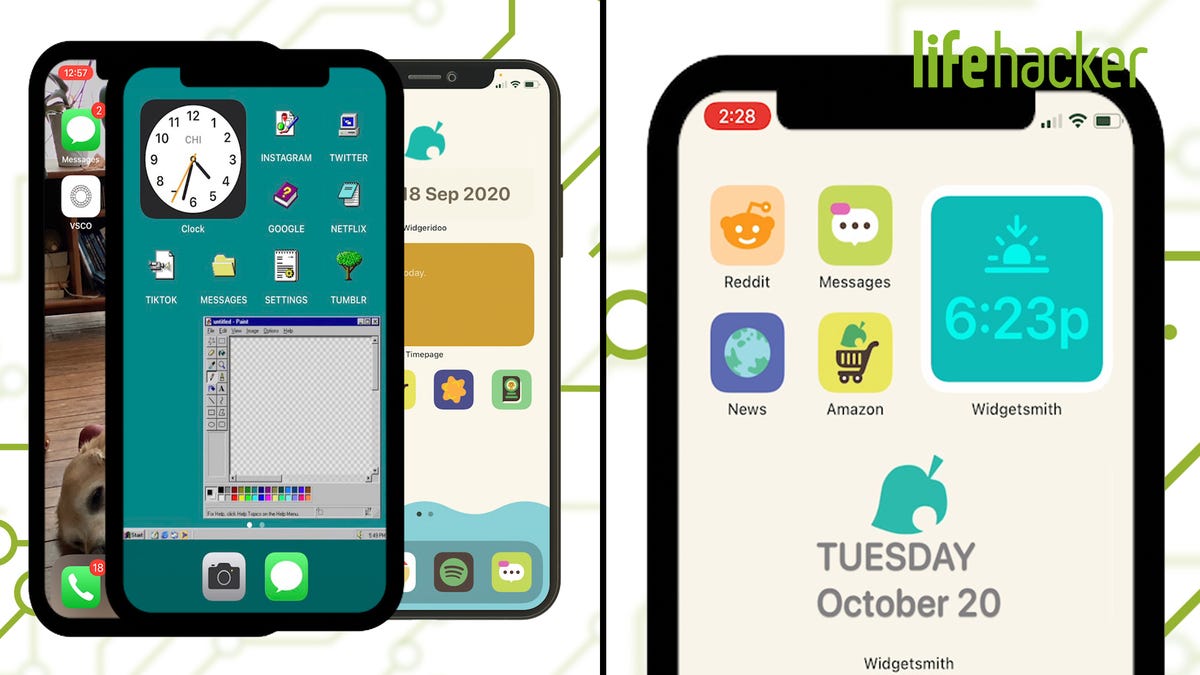 Has this ever happened to you: You unlock your phone and just wish that you could change the app icons and fonts into a matching, cutesy theme? Well there's good news for you in iOS 14!
After you decide on what theme you want to perfectly convey your personality, you'll want to get some icons. You can use a site like icons8.com to pick the perfect matching set, and save these new icons to your camera roll.
Then download the app Widgetsmith, which will let you change the colors and fonts on your home screen, and Shortcuts, which is an Apple app that will let you change the icons themselves.
Now in Shortcuts you'll have to create a path from the icon you downloaded, to the app you want them to open. In Shortcuts, hit the "+" sign to create a new shortcut, then "add action," and "scripting," then the "open app" command. From there, you pick the app you want to open. Then tap the three dots and select "add to home screen." Enter the name of the app and tap the icon photo to the left in order to "choose photo" and replace it with the icon you desire. Repeat this process for every app that you want to replace with a custom icon.
Be aware that doing this process will slow down the time it takes for your apps to load (as they have to go through a new Shortcut path), but everything will look so cute, it may be worth it.
Announcing the Agenda for TC Sessions: Space 2020
TC Sessions: Space is happening this December 16 and 17 – our first ever dedicated space event. This is a live, virtual two-day conference featuring the most important people in the space industry, across public, private and defense.
We're thrilled to be hosting NASA Administrator Jim Bridenstine, Rocket Lab CEO and founder Peter Beck, U.S. Space Force Chief of Space Operations General Jay Raymond, Lockheed Martin VP and head of civil space programs Lisa Callahan and many more. In addition to the firesides and panel discussions of the virtual stage, the event will also include networking, startup presentations, and the chance to connect with attendees from around the world.
Below, you'll find the official agenda for TC Sessions: Space. It's a packed two days already, but we've got some extra surprises in store, so keep an eye on the agenda over the coming weeks for more great speakers and sessions we're adding.
If you want to be a part of this event, you can grab a ticket to get exclusive access to watch these sessions live (with access to video on demand), network with the innovators changing the space industry, discover the hottest early-stage companies, learn how to score grants for your space company, recruit talent or even find a job with an early-bird ticket for just $125. And we have discounts available for groups, students, those active military/government employees and for early stage space startup founders who want to give their startup some extra visibility.
Wednesday, December 16
Asteroid Rocks and Moon Landings with Lisa Callahan (Lockheed Martin Space)
From robots scooping rockets from the surface of galaxy-traveling asteroids, to preparing for the return of humans to the surface of the Moon, we'll cover all aspects of scientific and civil exploration of the solar system.
From Space Rock Returns to Financial Returns – An investor panel with Chris Boshuizen (DCVC), Mike Collett (Promus Ventures), and Tess Hatch (Bessemer Venture Partners).
Some investors spend a lot of their time looking to the stars for the next venture capital opportunity. It's a market unlike any other, but does that change the math on equity-based investment?
Building Up a Business Looking Down at Earth with Payam Banazadeh (Capella Space), Peter Platzer (Spire Global), Rafal Modrzewski (ICEYE)
How Earth observation is one of the real moneymakers in the space category and what's ahead for the industry.
Networking Break
With our virtual platform, attendees can network via video chat, giving folks the chance to make meaningful connections. CrunchMatch, our algorithmic matching product, will be available to ensure you're meeting the right people at the show, as well as random matching for attendees who are feeling more adventurous.
Sourcing Tech for Securing Space with Lt. General John Thompson (United States Spaceforce)
Lt. General Thompson is responsible for fostering an ecosystem of non-traditional space startups and the future of Space Force acquisitions, all to the end goal of protecting the global commons of space. He'll talk about what the U.S. is looking for in startup partnerships and emerging tech, and how it works with these young companies.
Launching a Launch Startup with Tim Ellis (Relativity Space) and Chris Kemp (Astra)
The launch business is booming, but besides SpaceX and Rocket Lab, there isn't anyone far enough along to truly capitalize in terms of new space startups. We'll talk to the founders of companies hoping to be next in line.
Taking Entrepreneurship to the Moon, Mars and Beyond with James Bridenstine (NASA)
NASA is going back to the Moon – this time to stay. The agency has made tremendous progress towards this goal under Administrator Bridenstine, who will join us to talk about how they're taking private partners with them this time around, including a lot of startups.
Thursday, December 17
Public-private Partnerships in the Domain of Space Defense with General Jay Raymond (United States Space Force)
Hear from the head of the U.S. Space Force what it takes to secure an entirely new war-fighting domain, and how the newest branch of the U.S. military will be looking to private industry to make it happen.
The TechCrunch Desk 
Hang with us at the TechCrunch Desk to catch up on what you may have missed from across the show and a preview of what's to come.
From Idea to Orbit with Peter Beck (Rocket Lab)
Rocket Lab has quickly become one of the most sought-after launch providers in the world. Founder and CEO Peter Beck will discuss the company's approach to making space more accessible, from cheaper, faster launches to its new satellite platform.
Bridging Today and Tomorrow's Tech with Meagan Crawford (SpaceFund) and J. Christopher Moran (Lockheed Martin Ventures)
Corporate VC funds are a key source of investment for space startups, in part because they often involve partnerships that help generate revenue as well, and because they understand the timelines involved. We'll talk about how they fit in with more standard venture to power the ecosystem.
How to Get the Air Force to Buy Your Stuff with Will Roper (United States Air Force)
We'll be talking about the best ways to understand what the Air Force needs and how to sell it to them.
Ground Control to Major Tom with John Gedmark (Astranis), Ben Longmeir (Swarm Technologies), and Mina Mitry (Kepler Communications)
Data connectivity and communications are key to commercial space monetization and the strategic plans for further space exploration and development. Hear from the key players about the state of play in the industry.
In Space, No One Can Change Your Oil – Yet with Daniel Faber (Orbit Fab) and Ron Lopez (Astroscale)
Once a spacecraft is in orbit, it's on its own – but what if it could be refueled, repaired, refurbished, and if necessary, retired? OrbitFab founder Daniel Faber and Astroscale U.S President Ron Lopez will discuss how in-space operations could upend today's engineering and business models.
If you're interested in a sponsored speaking opportunity to join the stage with these fantastic speakers, contact us here to speak with someone from our sales team!