Four upper-caste men allegedly gang raped a Dalit teen in a village in northern Indian state of Uttar Pradesh. The victim died in a hospital in New Delhi on September 29, 2020, triggering a wave of protests across the country. Photo courtesy Sajjad Hussain/AFP.
In Hathras district, located in the northern Indian state of Uttar Pradesh (UP), there's an eerie silence in the household of a Thakur family. Last month, four members of the family were arrested within a span of a week for allegedly raping a 19-year-old Dalit woman from their village. More outrage followed after the victim succumbed to injuries two weeks after the assault, and the state police cremated her without the permission of the family. 
Thakurs hold a dominant position in the Hindu caste system. Dalits are at the bottom of the caste hierarchy. 
As national and global media throng the house of the Dalit teen in Hathras, the Thakurs sit in their courtyard, next to the Dalit family's house, in defiant silence. They've been neighbours for several decades. But centuries of social conditioning and imposition of the Hindu caste system means that they're not equals—in celebration, daily lives or even mourning. 
In this case, the Thakurs deny the crimes their sons have been accused of. "They [Dalits] are not well-off as us, and they want government compensation," a member of the Thakur family told VICE News on the condition of anonymity. "Maybe the family itself killed their daughter to get benefits."
The family also layers this allegation with a belief that they've lived with almost all their lives: That they do not share the same caste privilege. 
"And why should they be equal to us?" a woman from the family of one of the accused men, told VICE News at her home in Hathras. "It's been a tradition that they're lower than us. That means it stays this way." 
Over less than a month, the Dalit teenager's death, and the subsequent protests, reopened India's bloody and ongoing chapter of caste violence, especially on lower-caste women. 
In the small Hathras village of around 600 families, Thakurs are a dominant populace. The Dalits, known by their surnames of Valmikis, are just about 15 people.
Even today, untouchability, a product of Hindu caste system's segregation, is practiced openly, mostly abrasively, by the upper-caste people. 
"If one of our family members are getting married, they cannot enter the village from the same route that the Thakurs are using," the aunt of the Dalit woman, who did not wish to be named, told VICE News. "The upper-caste families think we will make that route impure."
Mention caste divide and more stories come out. If the Valmikis go to a shop and give money to buy something, the upper-caste shopkeepers sprinkle water on the cash before accepting it. If the Thakurs have a wedding, the Valmikis are allowed to come so that they can clean up after the celebrations are done. Ask if the Valmikis can break bread with the Thakurs, and the Thakurs will meet that question with an incredulous, "How can they?"
Members of the Thakur family said the Valmikis would occasionally leave pigs on their farms out of spite. The pigs would destroy their crops. When asked how they know if it was the Valmikis, one family member told VICE News, "Only the Valmikis keep pigs. Pigs are filthy animals. Who else will keep them?"
In many parts of India, the caste system continues to allow some social groups more privilege, opportunity and even impunity in case of a crime, than the rest. Thakurs are one of them. These fault lines have led to several cases of violence by the upper-caste people against the Dalits. In many cases, upper-caste perpetrators get away, mostly with the help of local police. 
In the latest case too, there's an active effort to downplay or deny the alleged rape of the Dalit teen by the upper-caste accused. The Thakurs maintain their son's innocence, and yet, when asked if they visited the deceased's family, they said, "We will never step inside their house."
Crimes against Dalits are endemic in India. A recent report titled 'Quest for Justice' by the National Dalit Movement for Justice-National Campaign for Dalit Human Rights found that crimes against Dalits increased by six percent from 2009 to 2018, with over 391,000 atrocities reported. 
"In the last five years, out of total 205,146 registered crimes against scheduled castes, more than 20 percent were related to violence against women," the report said.
India's National Commission for Women had once said that violence against Dalit women shows that the offenders are trying to "establish their authority and humiliate the community by subjecting their women to indecent and inhuman treatment, including sexual assault, parading naked, using filthy language, etc.".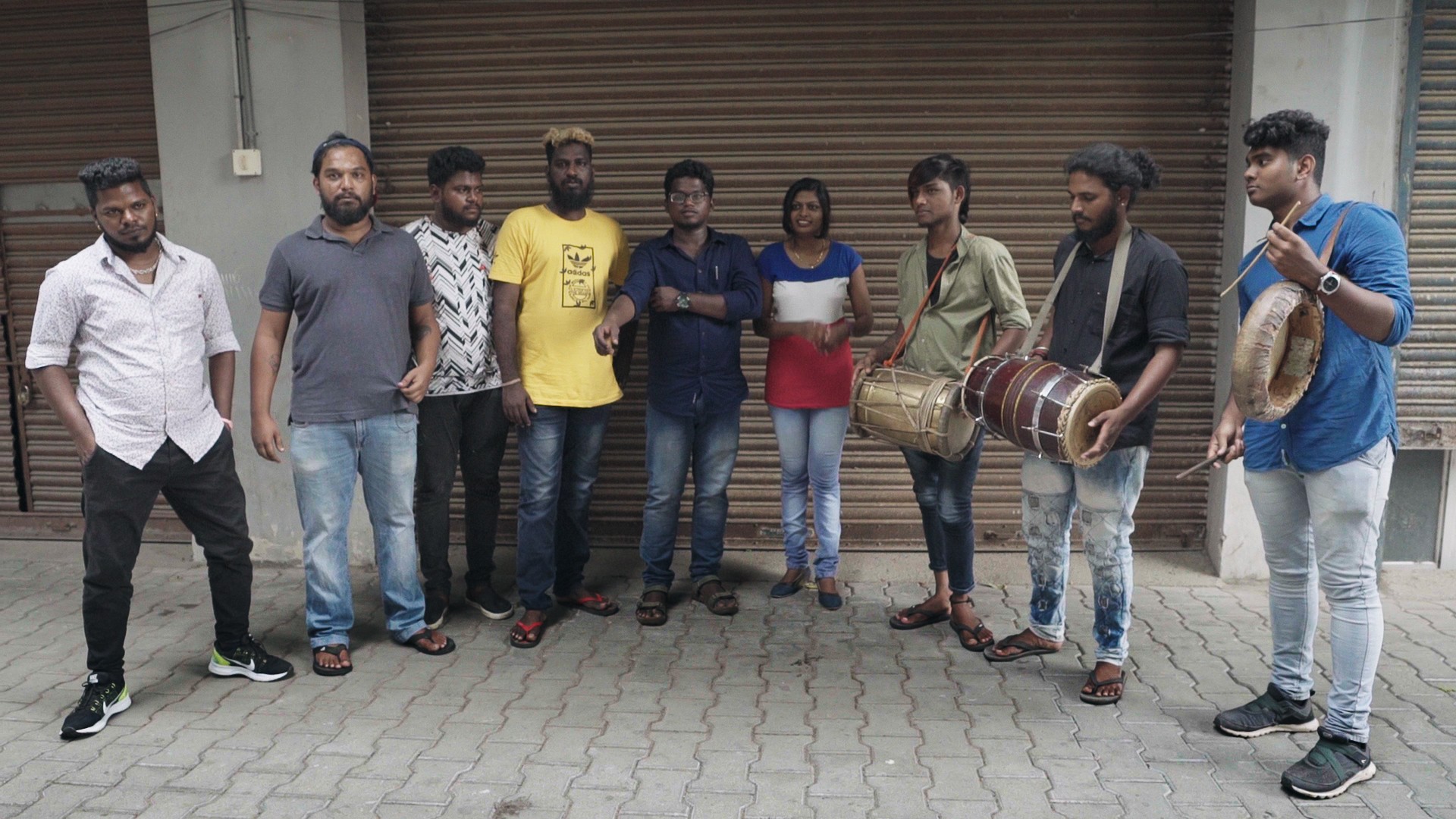 The aunt of the Dalit victim told VICE News that the kids in their families face the same discrimination in schools as well. "Sometimes the teachers would reinforce this segregation into our children's minds," she said. "Most times, it would be the upper-caste children treating them differently."
Pradip Bhandari, director of Safai Karmachari Sangh, a coalition of sanitation workers, primarily consisting of Dalits, told VICE News that while the caste divide is starkly visible in small Indian villages, big cities and towns also experience it. "It will be subtle in comparison to the villages," he said. 
Sanitation workers in Aligarh city, just over 100 kms (62 miles) from Hathras, are mostly from the Valmiki community. They told VICE News that no matter how educated a Valmiki is, they're almost always relegated to the profession of sanitation workers in the city. "If we open a shop to uplift ourselves economically, nobody will enter our shop, let alone buy from us," said a Valmiki woman who did not want to be identified. 
Activists such as Bhandari work for the upliftment of the Valmikis in the city. "Sometimes we get death threats for trying to help out the Dalits. The upper-caste people strongly believe that Dalit voices should not rise," said Bhandari. 
Over the last two days, sanitation workers in some UP cities have been protesting in support of the gang rape victim. They even dumped the cities' garbage on the streets and other facilities such as hospitals, to show how cities can be disrupted if not for the Valmikis managing upper-caste people's waste. 
A member of the Thakur family in Hathras told VICE News that there's nothing wrong with untouchability and the day-to-day caste divide. "If it's been happening for so long, it must be for a good reason," she said. 
A Valmiki from Hathras related to the gang rape victim told VICE News, "All it takes is one surname to make sure we never get the respect or dignity of life, whether we're alive or dead."
The names of the family members of the victim and the accused are not mentioned for privacy reasons. 
Follow Pallavi Pundir on Twitter. 
India's Modi urges coronavirus caution ahead of festival season
In televised speech, Narendra Modi says the government is working rapidly to ensure the supply of COVID-19 vaccines to all citizens once they are available.
Indian Prime Minister Narendra Modi said the government is working rapidly to ensure the supply of COVID-19 vaccines to all citizens once they are available.
In a televised address to the nation on Tuesday, Modi urged Indians to continue wearing masks and uphold physical distancing rules to prevent further spread of the epidemic ahead of the upcoming festival season.
"Whenever the corona vaccine comes, how it reaches to every Indian as soon as possible, the government is also working for that," Modi said in a short speech in Hindi.
Over the last month, India has seen a trend of declining cases on a week-to-week basis even though the country's overall virus caseload has neared 7.6 million, behind only the United States.
On Tuesday, India reported 46,790 infections of the coronavirus in the last 24 hours – the lowest number in three months, as new cases continued to decline from a peak in September. It also reported 587 deaths, taking the total to 115,197.
Experts have warned that infections could rise again when large crowds gather for public celebrations for the Hindu festivals of Durga Puja and Diwali this month and in mid-November, respectively.
"Friends, until the time there is a vaccine for this epidemic, we must not let our guard down," Modi said.
"This is not a time for carelessness … I want everyone to remember that we cannot be complacent in our fight against COVID-19."
The head of India's clinical research body, the Indian Council of Medical Research (ICMR), told reporters on Tuesday that drugs such as the antiviral remdesivir and anti-malaria drug hydroxychloroquine (HCQ), touted as potential weapons against COVID-19, were not working as expected in India.
"Debate and discussion are ongoing and at the national task force and we will take into cognisance the results of these trials and issue advisories accordingly," Balram Bhargava, director general of ICMR, said.
Meanwhile, India's testing rate has remained constant with more than one million tests being carried out daily.
But experts say the true number of infections may be much higher as testing rates in the vast country – home to some of the world's most crowded cities – are much lower than many other nations.
India imposed one of the region's strictest nationwide lockdowns in March, forcing people to stay home and shut businesses, triggering an exodus of millions of migrant workers.
In June, the country started a phased reopening of economic activities.
American Voter: Nile Blass
US President Donald Trump and his Democratic challenger Joe Biden are battling for the presidency in a sharply divided United States.
Trump has been focusing on "law and order"; Biden has been trying to strike a conciliatory note. The Black Lives Matter movement – and whether Trump will release his taxes – are among the many issues Americans will consider when choosing their president.
As the hotly contested election approaches, Al Jazeera has been speaking to voters across the US asking nine questions to understand who they are supporting and why.
Nile Blass
Age: 20
Occupation: Production Assistant for Feral Films 
Residence: Prince George's County, Maryland 
Voted in 2016 for: N/A
Will Vote in 2020 for: Joe Biden
Top Election Issue: Racial Equity 
Will you vote? Why or why not?
"I will be [voting]! I think that there's a lot of conversation about reformation, or really like the deconstruction of the political system right now, and I agree with those things, but I always like to think about the interim. So, if we want to be put in a position wherein we can actually move forward and change the systems, we have to have an administration that's receptive to opinion and perspective into science, and I don't necessarily think that's what we have right now.
"I think the only option is to vote … there's work that needs to be done before and after an election, in terms of social justice and change, and the support of different communities. But right now, the most impactful thing I can do is participate in this national and local election, since judges and sheriffs will be on the ballot as well."
What is your number one issue?
"I would have [to say] racial equity. Only because in every other issue — like if we talk about climate change, for example — that's going to impact everyone. But if we look at the communities that are going to be immediately impacted, who's going to be harmed first is going to be Black and brown communities, impoverished communities who are on coastlines, the states that are going to be flooding first — if oceans levels continue to rise in the next few decades— are black and brown communities. I think that when you're looking at economics and unemployment rates, everything that is a national issue — when looked at on a more microscopic level— [it] becomes very clear who's being harmed at an accelerated rate.
"And also, just because of how we're dealing with race right now. The vice president of the United States said that he does not believe in systematic racism. And when you have the CIA and FBI talking about an imminent threat of white supremacy, that's not a great narrative. So I think that's the issue that I feel is central to what this country needs to deal with. And I feel like dealing with that allows us to deal with a lot of these other issues that stem from it — at least [those] with disproportionate impact."
Who will you vote for?
"I will be voting for Joe Biden."
Is there a main reason you chose your candidate?
"I understand the disappointment in Joe Biden. I'm more set on the left side of politics, so in terms of the candidate that was most progressive, and who would take a more immediate and strong stance on a lot of these issues, I don't necessarily think he was that. I'm a proponent for the Green New Deal — [Joe Biden] is not. He stated as such on several different occasions. But when we're talking about his climate change coalition – of committees of politicians, historians, scientists, who he is bringing together, who he wants to put on this issue and suggestion of policy – the authors of the Green New Deal are there.
"So that communicates to me that there's a level of societal engagement and perspective and opinion that he's willing to be receptive to and understand that I don't necessarily think the other candidate is going to be doing. I don't think he's a perfect option, I don't think that we can go back on autopilot like a lot of people were with Obama and that, 'OK, we elected a competent person, and now we can have our hands off the wheel.' I think we're always going to have to be engaged. But I think that Joe Biden is the opportunity to do better, whereas the opposition is just — I don't know. I don't personally view there being a positive end."
Are you happy with the state of the country?
"No, not at all. But I also think it's important that a lot of people are discussing 'Oh, back in 2015, 2016' — I think the beautiful thing about America, at least on a conceptual level, is that it's not being satisfied with where we are. Because at any given point, if you name a year, it's when a certain group of people are going to be marginalised, disenfranchised or oppressed.
"Like there are people who are like, 'Oh, I [miss] 2015, 2016.' But for Black Americans, that was Ferguson, and for Indigenous people, that was the pipeline. So you're going further back, there's the fact that there was a point in time when we didn't have handicap-accessible buildings or streets.
"And so there's an obsession of nostalgia — that I don't like the state of the country now, but there was a point in time where things were good. And it's, 'Well, things were good for you.' So I don't necessarily believe in ever being satisfied with the state of the nation. I think it's understanding that we make progress, but the point is to continue making progress, because if we stand right here, and we congratulate ourselves on where we are now, it's ignoring how much further we have to go. You're never going to have a perfect union, but the point is to get as close as possible, and that just requires constant movement, and not an obsession with 'I'm happy we're here'."
What would you like to see change?
"Everything. There's so many issues that we have to deal with … I feel like we're in a position where if we can, we address issues in terms of allocating resources, teams of researchers, of legislators, of local government and national government working together. We have to deal with the Black maternity death rate, we need to deal with the federal response to the coronavirus, we need to deal with voter suppression and whether or not we can have federal regulation that mandates 'Hey, if you have a county with a certain amount of population, then for this amount of citizens, you have to have this amount of poll centres'. There's so many different issues that are kind of intersecting that we can deal with.
"But the issue is everything — nothing right now is good. You have to deal with Black unemployment, we have to deal with Indigenous women going missing. There's a lot of things from a legislative standpoint and a cultural standpoint that we need to be dealing with. So everything is a very – a cop-out answer – but it's my legitimate stance that we have a lot of different areas of improvement, and not necessarily a big amount of time to start addressing those issues."
Do you think the election will change anything?
"Not inherently. I think a lot of people who were disconnected during Obama and even during Bush, the thing they say is that 'I trusted this leader to be reliable and consistent with their decision-making. So day to day, or even month to month, I did not feel that I as a citizen needed to be actively participating and paying attention to what they're doing.' I think that's a failure.
"This current administration has shown a lot of people that engagement is before and after the election. So Joe Biden, to me, is an opportunity to make progress. But nothing's promised, because he has a platform and you can argue as to whether or not you think he's going to stick to that platform, or if he can be moved past that point, but if we elect him, and we stand back, then easily nothing can be done. And we can just either have a repeat of the last four years or just no significant progress past the last four years. So that's what I would describe it as — an opportunity. But it's not a promise. Nothing's inherent in politics, unfortunately."
What is your biggest concern for the US?
"My biggest concern is time. I tend to be an optimist. I can't remember the exact wording, but there's this James Baldwin quote, that's essentially that 'I'm an optimist, because I'm alive and being a pessimist makes life an academic matter.' So I have to believe that we can get through this.
"I like to believe that we have the resources and the people available and willing to deal with all these issues. I think that the biggest problem to me is the time. I don't know if we have a lot of time to still be discussing climate change, or to still be discussing white supremacy. I think we're in the realm where we actually have to start doing really tangible things on a federal, local, [and] state level with consistent speed and dedication, and follow through. Because I don't think that we can't deal with these problems, but at some point, it's going to be out of our hands if we don't start. It can't always be a conversation or a judiciary committee where we're asking people to give us information that we already have. I think my biggest problem is time. We've got to start doing things a little bit."
Is there anything we haven't asked about the election that you want to share?
"The really important thing is a lot of people feel dissatisfied with the political system, including myself — I'm much more interested in the abolition of certain systems than I am [in] whether or not these systems can be reformed effectively.
"If you're upset with a political system that puts two people forth, and you have to choose and you feel like neither of these people are my choice, then the work doesn't start 20 days from the election, or even January 1, the work that it takes to reform and abolish systems is years in advance.
"So voting is an important part, but ultimately, a very small part in what can be done to make things better. And it's [not] just waiting until November, to be mad and to express your issues, when you could have actively been doing something about it — in whatever way, because I understand economics and privilege and I'm a college student, so it's very easy for me with like, where I am societally going to Georgetown [University] [to] be like, 'you should do something.' There are people who have to raise several children on minimum wage, and it's like, 'You know what, I'm not in a position to march in the streets.' But I think that what people can do, they should do. And I think that if everyone does that to the capacity that they can do — like across different cultural, racial and economic standpoints — we'll be in a much better place by next year.
"And then our future won't just be on whether or not a Supreme Court justice dies at the right time, which is a weird conversation to have, or if the Russian roulette of our political process ends with two people that we find bearable."
AU, ECOWAS monitors say Guinea election conducted properly
Monitors from the African Union and the West African regional bloc have said Guinea's recent presidential election was conducted properly, amid rising tensions ahead of the release of official results.
Tuesday's announcement came a day after leading opposition challenger Cellou Dalein Diallo said he had won the first round on Sunday after suggesting the poll was rigged, comments that set a showdown with incumbent President Alpha Conde. Diallo's claim was swiftly rejected by the electoral commission, which called it "premature" and "void".
Addressing reporters in the capital, Conakry, Augustin Matata Ponyo, the AU's head of mission in Guinea, said on Tuesday the ballot took place "in transparency".
Jose Maria Neves, the head of the monitoring mission of the Economic Community of West African States (ECOWAS) regional bloc, agreed the voting process was lawful and urged candidates to "use legal channels to settle election disputes".
The government rejected allegations of rigging and said only the official electoral authority can declare the results, which are due within a week.
The commission will announce provisional results within three days of receiving the last polling-station tally. The Constitutional Court will then have eight days to declare a winner. A second round of voting, if needed, is scheduled for November 24.
'Regrettable'
The government said in a statement on Monday that the opposition "clearly intended to create chaos and to call into question the real results".
Meanwhile, the United Nations, AU and the 15-nation ECOWAS called the premature declaration of results "regrettable".
"This state of affairs is not conducive to preserving calm," they said in a joint statement.
Diallo, 68, on Monday had called on "fellow citizens who love peace and justice … to defend this democratic victory".
But joyous celebrations from opposition supporters in Conakry quickly descended into violent clashes with security forces.
Diallo tweeted on Monday night that security forces had shot dead "three boys" and wounded several people. He blamed Conde for the "crimes". Guinea's government did not confirm the deaths. An AFP news agency journalist saw three injured people and heard gunfire in a Conakry suburb on Monday night.
Conde, 82, is seeking a controversial third presidential term, a move that has triggered months of deadly unrest in the country.
In March, the president pushed through a new constitution which he argued would modernise the country – but also allowed him to bypass a two-term limit for presidents.
The revamped constitution was overwhelmingly supported by voters in a referendum, although that vote was boycotted by the opposition.
At least 50 people have been killed over the past year during demonstrations against the new constitution amid a harsh crackdown by security forces, according to Amnesty International.
Rising tensions
After decades as an opposition activist, Conde became Guinea's first democratically elected president in 2010 and was re-elected five years later, but rights groups now accuse him of veering towards authoritarianism.
Diallo was formerly a prime minister under authoritarian leader Lansana Conte. He unsuccessfully challenged Conde in both 2010 and 2015, in elections his party activists are convinced were rigged.
Before vote counting began on Sunday, Diallo's activists said their observers had been obstructed at polling stations and alleged ballot-box stuffing.
Polling day was mostly calm after an acrimonious political campaign that saw Conde and Diallo trade insults, and was marked by violent incidents in some parts of the country.
The rising tensions had also raised the spectre of ethnic strife, with Conde accused of exploiting divisions for electoral ends – a charge he denies.
Guinea's politics are mainly drawn along ethnic lines: the president's base is mostly from the ethnic Malinke community and Diallo's from the Fulani people.
In the run-up to the vote, the UN had urged candidates to curb ethnically charged hate speech, warning the situation is "extremely dangerous" and may lead to violence.