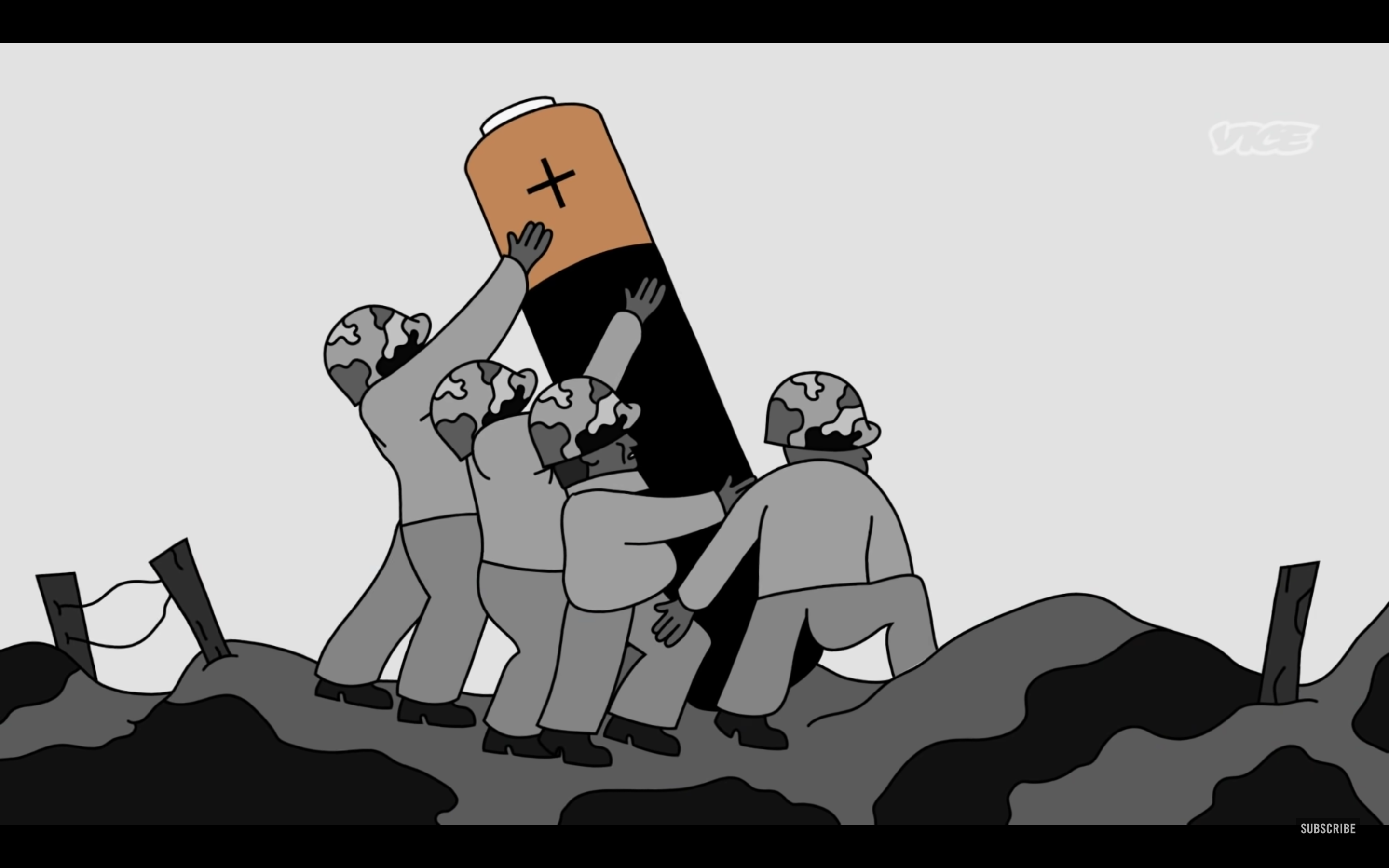 Storing electricity is hard— you can't just toss it in a basket or a fanny pack. That's why Alessandro Volta invented the first battery in 1799, and why, in the age of portable digital devices, batteries have become such a key part of daily life.
Rechargeable lithium-ion batteries power virtually every smartphone and laptop in existence. But lithium-ion batteries can do a lot more than enable your endless doom-scrolling; governments, business, and researchers are betting these batteries will shake up global energy markets and play a key role in helping humanity finally ditch fossil fuels.
Electric passenger vehicles — which already displace demand for more than 1 million barrels of oil per day — are projected to become the single biggest market for lithium-ion batteries over the next 20 years. And enormous, grid-scale batteries could also be a game-changer for renewables like solar and wind, enabling storage at times when it's dark out or there's no breeze. The implications for the energy sector have kicked off something of a global race: countries including the U.S., South Korea, and China are scrambling to create "superbatteries" that can dominate the coming demand.
But behind the shiny, new technology and green potential, there are profound costs that come with the way we currently make batteries. Extracting and disposing of the metals used in batteries, like lithium and cobalt, can be environmentally devastating, using tremendous amounts of water, tainting natural ecosystems, and even poisoning people in mining communities. And then there's the whole "batteries exploding" thing: every once in a while, manufacturing defects cause lithium-ion batteries to overheat and blow up, leading to billion-dollar corporate losses, injury, and even death.
In this episode of Complexify, we charged our way into the world of energy storage, powering through the positives and negatives to bring you a view of the current battery game. Here's what we learned.
Is it safe to vote in person? Experts say yes — with a few conditions.
Everybody should have a plan to vote. And if you've considered leaving your house to go to the polls, you should know: Voting in person is relatively safe even amid the Covid-19 pandemic.
In fact, according to public health experts, it is roughly as risky as going to the grocery store, something Americans still do regularly.
The coronavirus has presented the United States with a daunting logistical challenge as the country attempts to conduct a presidential election in the middle of an infectious disease outbreak. Not only are states having to figure out how to distribute and collect an unprecedented number of mail-in ballots and create safe places for people to vote in person, Americans are facing a stressful question: Is it safe to go vote?
The answer, according to three public health experts I consulted, is yes — with some conditions.
"I think it's relatively low risk, probably around going to a grocery store," Amesh Adalja, a senior scholar at the Johns Hopkins Center for Health Security, told me. "In general, it's an activity that's amenable to social distancing. … In general, I don't think it's a major risk."
Kumi Smith, an epidemiology professor at the University of Minnesota, told me the same thing. "I consider voting to be relatively safe," adding: "but as with all activities, people should be making risk/benefit calculations for themselves."
To Smith's point, this is an individual decision. Some people might prefer to be risk averse and opt for voting by mail. One way to split the difference is to vote early when the crowds are usually smaller.
But the point is, people have options and, if they choose to vote in person for whatever reason, they should be able to do it safely.
"Bottom line? If voting in person is important to you or is your only option, you can do so relatively safely," Jen Kates, director of global health and HIV policy at the Kaiser Family Foundation, said.
Here are a few things to keep in mind.
Take simple precautions to protect yourself and others
Voters might want to start by taking stock of the Covid-19 safety protocols their polling place is following, experts said. That could help them in making a decision about voting early versus voting on Election Day.
"Voting locations should implement rules about masking and social distancing," Smith said. "Even more ideally, they will have other structural measures in place like physical barriers, one-way traffic lanes, or provision of hand sanitizer."
Waiting in line outside would also be ideal, according to Kates, and some polling locations provide updates on wait times that people could use to try to avoid the busiest times of the day.
When people actually go to vote, they should take all the same precautions that they should take anywhere they go: Wear a mask. Keep 6 feet of distance from other people. Wash your hands or use hand sanitizer liberally.
"With these conditions, it is relatively low risk," Kates said. Adalja agreed: "If you go to a polling place, as long as you're wearing a face covering or washing your hands, I think this is a manageable risk."
It's a good idea, though, to be prepared for the unexpected.
"It's also always good to have a plan in place in case the less expected occurs, like finding yourself standing in line next to someone chatty who won't respect your distance," Smith said. "Or longer wait times and possible exposure to the elements."
Voting safely should be doable. We've already done it.
The other good news is we aren't just guessing about whether voting is relatively safe. Elections have been held during the Covid-19 pandemic and there isn't much evidence that they've led to major new clusters of cases.
"I haven't heard of any major outbreaks that have been linked to voting," Adalja said.
The Wisconsin primary election in April was closely watched for possible transmission after the Republican-controlled state supreme court blocked a plan by Democratic Gov. Tony Evers to postpone the election for two months.
Several studies were conducted trying to assess any increased Covid-19 spread after the primary election. Most have found no effect from the election (though there was at least one exception), and the most authoritative study, from researchers at the CDC and the city of Milwaukee's health department, concluded that there was "no clear increase" in coronavirus cases after the primary.
Importantly, that report credited the mitigation strategies taken by polling locations for their apparent success in containing Covid-19.
This is not to say there is no risk at all: There were a few dozen confirmed cases linked to people who voted in Wisconsin or worked at a voting location. But all risk is relative in the time of coronavirus, and voting can be made more safe with some simple harm reduction.
Make your own risk assessment about voting in person
How to vote is a decision for each person to make. Every state has its own election laws, so check out resources like Vote.org to make sure you know the rules in your state and your voting options.
Then, it's worth taking into consideration your own risk tolerance. No matter what, voting can be done safely, but some options are safer than others.
For the people who are more vulnerable to Covid-19 or who are often in contact with more at-risk populations, they might want to minimize their risk of exposure. Other people might have a higher risk tolerance. (As an example: Adalja told me that he himself had a pretty high tolerance for risk and he would have no hesitation about voting in person.)
Voting by mail is probably the safest option, from a public health perspective, and millions of people have already done so this year. But whether it's simply too late for you to vote by mail or you prefer to vote in person to eliminate the possibility of any mistakes in your ballot being processed, you can vote safely in person.
Here is another way to think about risk: Adalja said that he was much more worried about Covid-19 spreading because people are holding gatherings indoors — Halloween parties, for example — than he was worried about transmission when people vote.
The coronavirus doesn't spread from fleeting contact. The rule is you need to be within 6 feet of a person for more than 15 minutes to be considered at risk of exposure.
"Most of that risk can be removed pretty easily, with a little bit of foresight," Adalja said.
As Vox's Ezra Klein wrote this week, "It's the most important election in our lifetime, and it always will be." Covid-19 has been an unexpected and unwelcome wrinkle in the 2020 race. But it shouldn't stop Americans from participating in the democratic process.
Just be smart to stay safe.
This story appears in VoxCare, a newsletter from Vox on the latest twists and turns in America's health care debate. Sign up to get VoxCare in your inbox along with more health care stats and news.
---
Millions turn to Vox each month to understand what's happening in the news, from the coronavirus crisis to a racial reckoning to what is, quite possibly, the most consequential presidential election of our lifetimes. Our mission has never been more vital than it is in this moment: to empower you through understanding. But our distinctive brand of explanatory journalism takes resources. Even when the economy and the news advertising market recovers, your support will be a critical part of sustaining our resource-intensive work. If you have already contributed, thank you. If you haven't, please consider helping everyone make sense of an increasingly chaotic world: Contribute today from as little as $3.
Harris rallies North Carolina Democrats and slams GOP on stimulus bill
President Trump's campaign entered October with just $63.1 million in remaining cash reserves, new filings show, underscoring his financial vulnerabilities as Election Day fast approaches.
His Democratic rival, Joe Biden, had nearly three times that amount — more than $177 million — remaining in his war chest, highlighting how the former vice president's fundraising success in recent months left him with a substantial money advantage as the fall campaign got underway.
Trump's campaign burned through more money than it took in last month, spending more than $91 million on advertising alone, according to a report it filed Tuesday evening with the Federal Election Commission.
But the President's campaign has been outspent on television in recent weeks, as Biden has battered him on the airwaves, particularly in three swing states —Michigan, Pennsylvania and Wisconsin — that helped Trump secure the White House four years ago.
One sign of the President's cash crunch: Over the weekend, he flew to deep-blue California for a high-dollar fundraising event that aides say brought in $11 million for his reelection.
Biden outraised Trump in both August and September and together with the Democratic Party committees started October with $432 million remaining in the bank. In all, Trump's political operation — including his joint fundraising committees with the Republican National Committee — was expected to report $251.4 million in available cash on hand.
But while the President can rely on the larger pool of Republican cash to fund his broader reelection push, including the ground campaign to turn out voters, his main campaign account generally handles advertising. Television stations must offer lower rates to candidates than to other political players, such as super PACs, so candidate money buys more ads.
Trump has trailed Biden in most polling. But Trump campaign officials insist they have sufficient funds to prevail, noting that Democrat Hillary Clinton outraised and outspent Trump in 2016 and still lost the presidency.
Read more here.
Ten killed in Guinea's post-election violence
Deadly clashes between security forces and opposition supporters occur in Conakry after a tense presidential vote.
Eight civilians and two policemen were killed in Guinea's capital Conakry in clashes between security forces and opposition supporters after a tense presidential election with results showing President Alpha Conde in the lead.
Guinea's security ministry announced the death toll on Wednesday following last weekend's vote.
"This strategy of chaos [was] orchestrated to jeopardise the elections of October 18," the ministry said in a statement, adding numerous people were wounded in the unrest, without providing a specific figure.
Opposition supporters burned barricades in the streets on Wednesday after initial results showed Conde ahead in vote-counting.
"At least three people died today [Wednesday] that I saw with my own eyes … and about 10 others were wounded," Mamadou Keganan Doumbouya, a security official, told AFP news agency.
Hadjiratou Barry, a resident of an area where clashes were taking place, also said her brother had been shot dead. A local doctor, who declined to be named, said he received two dead bodies and nine injured people at his clinic.
Conakry barricades
Supporters of Conde's main rival, Cellou Dalein Diallo, set alight piles of old furniture and burned tyres in some opposition neighbourhoods of Conakry. Police dispersed protesters with tear gas.
"Clashes broke out on the Prince's Road. A policeman was killed," Security Minister Damantang Albert Camara told Reuters news agency, referring to a major thoroughfare in the capital that runs through opposition strongholds.
Diallo has claimed victory in the vote based on his campaign's tallies.
The push for a third term for Conde, 82, has sparked repeated protests over the past year, resulting in dozens of deaths. He says a constitutional referendum in March reset his two-term limit; his opponents say he is breaking the law by holding onto power.
In a social media post, Conde on Wednesday appealed for "calm and serenity while awaiting the outcome of the electoral process".