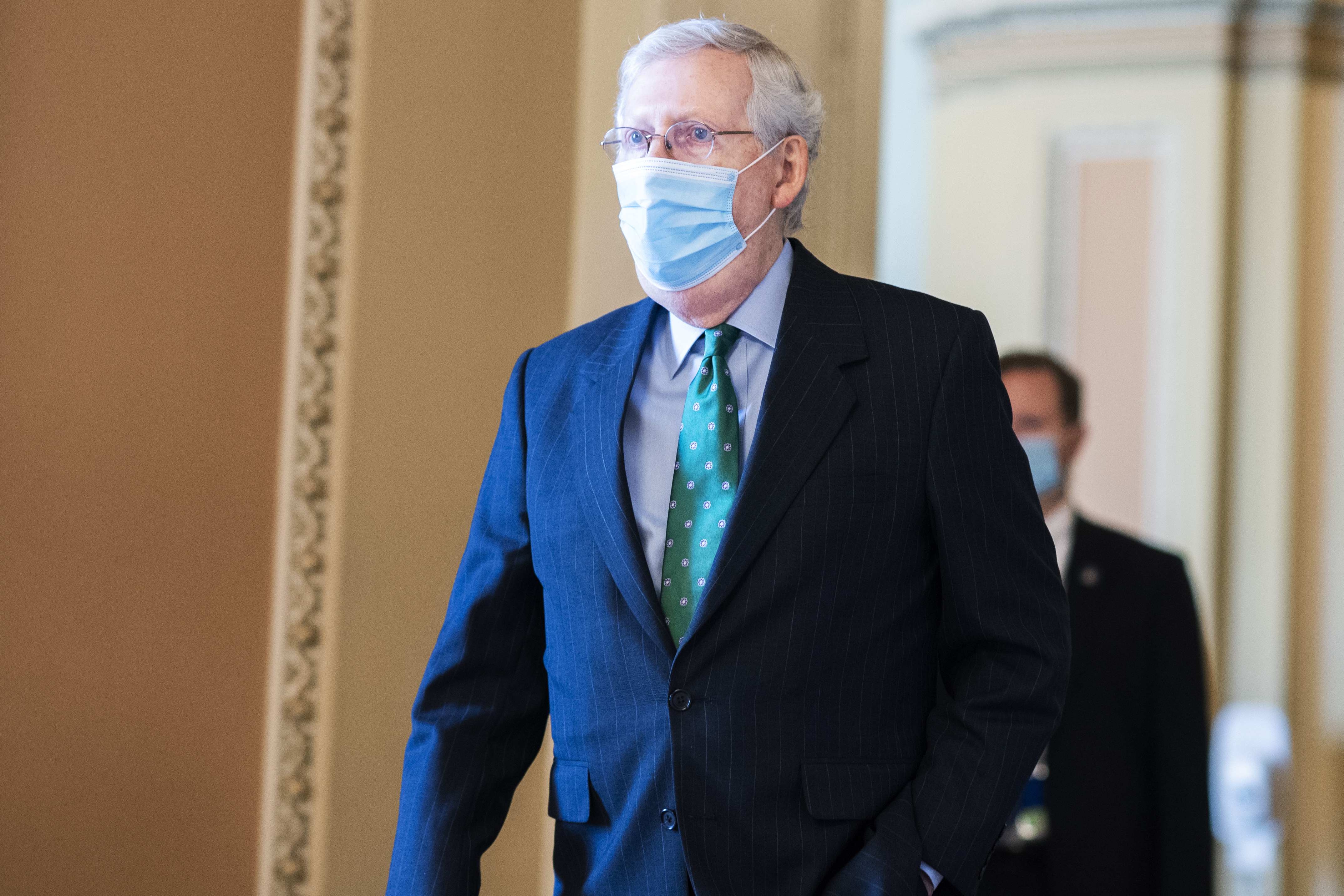 Want the best of VICE News straight to your inbox? Sign up here.
Senate Majority Leader Mitch McConnell hasn't wavered in his determination to put Republicans to work confirming Judge Amy Coney Barrett to the Supreme Court, even though numerous members of his party's upper ranks have now tested positive for the coronavirus. And he just might get his way.
Within hours of Justice Ruth Bader Ginsburg's death in mid-September, McConnell vowed to get President Donald Trump's replacement a vote on the Senate floor. And Sen. Lindsey Graham, a South Carolina Republican and chair of the Judiciary Committee, which is tasked with holding Barrett's confirmation hearing, has also made it clear that he's moving full-steam ahead.
While senators on the committee can participate virtually in the hearing starting on October 12, the chamber's arcane rules won't let the senators to just Zoom their way through the official vote. They have to appear in person for that—just weeks after their colleagues tested positive for a virus that's already killed more than 200,000 Americans and sent the president of the United States to the hospital.
McConnell needs at least 51 senators to even make a vote count. If any Republicans can't show up, they could be putting Barrett's confirmation—and the conservative majority her addition to the Supreme Court would cement—at risk. With a 53-47 majority in the Senate, the GOP can't lose more than three votes if they want to confirm Barrett. Sen. Susan Collins of Maine and Lisa Murkowski of Alaska, both Republicans, have indicated that they will vote against Barrett's nomination.
"I think that what we'll see is an extraordinary effort to get all of the Republican senators into the chamber," said Rich Arenberg, who worked on Capitol Hill for 34 years and wrote the book "Congressional Procedure," a guide to the legislative processes in the Senate and House. If a senator doesn't show up for work, Arenberg pointed out, McConnell even has the power to send the sergeant-at-arms after them.
So far, three GOP senators have so far announced that they've tested positive over the last few days. Utah's Mike Lee, North Carolina's Thom Tillis, and Wisconsin's Ron Johnson are all currently in isolation. 
Lee and Tillis, both members of the Senate Judiciary Committee, attended a packed, largely maskless Rose Garden ceremony last week to introduce Barrett's nomination. Several other Republican senators, including more members of the Senate Judiciary Committee, also showed up to the ceremony, which is now suspected to have sparked the outbreak consuming the White House and Congress. (Barrett, who currently serves as a judge on the U.S. Court of Appeals for the 7th Circuit, has tested negative.) 
Shortly after the news broke of their positive tests, McConnell postponed all floor activity to October 19. But he didn't postpone Barrett's confirmation hearing, which is slated to begin on October 12 and last for four days. Senators will be able to participate virtually. 
For those on the committee who choose to show up in person, there will be stations with personal protective equipment, places to sanitize, and limits on just how many people are allowed into the hearing room, which will also be supersized. 
But while there are ways to mitigate risk, there's no way to eliminate it entirely, according to Albert Ko, department chair of epidemiology of microbial diseases at the Yale School of Public Health.
"Our general rule is that you've got that six-foot rule, but we try to reduce the time that people are in the same room," Ko said. "If someone's yelling or shouting or choir-singing, the six-foot rule breaks down because you can project" the virus. (That may happen: Graham, famously, erupted into a multiple-minute, high-volume tirade during Justice Brett Kavanaugh's contentious confirmation hearing in 2018.)
After the testimony ends in Barrett's confirmation hearing, the members of the Judiciary Committee must vote to bring the issue to a full vote on the Senate floor. The rules do let people vote on the committee vote by proxy, as long as a quorum of senators are "present," according to the committee's rules. Graham would need a majority to the committee to be "actually present" to report a nomination.
A spokesperson for Graham didn't immediately respond to a VICE News inquiry about whether virtual participation counts as being "present," or whether senators will need to vote in person.
But Graham also has pretty broad leeway to reshape the committee's rules.
"But as a matter of committee rules, in practical terms, the chairman can kind of get around things, change the rules," Arenberg said. "In my view, Graham will be able to get the nomination reported to the floor."
It's the full Senate floor vote that may pose more public health quandaries for McConnell. Under Senate rules, at least 51 senators must appear in person for the vote to happen, although they don't all need to be on the chamber floor at once. Senators who oppose Barrett's nomination could theoretically decide not to show up in an effort to prevent a quorum, but Arenberg said doing so would be a "pretty extreme step."
Even if the senators worked out a system where they rotate into the room to vote, they could still face risks. The most common method of transmission likely occurs when someone passes droplets of the virus to another person—hence the need for social distancing—but the virus can be transmitted via surfaces, according to the Centers for Disease Control. On Monday, the CDC also updated its guidance on the coronavirus to acknowledge that people have contracted the respiratory illness through airborne particles that can linger on in the air and travel further than six feet.
"It's basically elementary at this point that people should not be gathering in crowded indoor locations at any rate, but to introduce into a location like that, [where] people who either have known infections or known exposures to people with COVID-19, is such a flagrant foul," said Carolyn Cannuscio, the director of research at the Center for Public Health Initiatives at the University of Pennsylvania.
Johnson, one of the senators who's tested positive for the coronavirus, has already pledged to make it to the Capitol for the vote.
"If we have to go in and vote, I have already told leadership, I'll go in a moon suit," Johnson told a local news outlet in Denver. "We think this is pretty important. People can be fairly confident that Mitch McConnell is dedicated to holding this vote."
Two other Republican senators—Sens. James Lankford of Oklahoma and Ben Sasse of Nebraska—have gone into precautionary self-quarantine in recent days, after having contact with infected senators. Republican Sen. Shelley Caputo, of West Virginia, also went into quarantine in September after she announced that she'd been exposed to someone infected with the coronavirus.
"That's high," said Cannuscio. "And it indicates that there's probably a concerning level of spread that may go beyond these individuals."
At least nine guests and two journalists have tested positive for the coronavirus in the wake of the White House Rose Garden ceremony. The White House has reportedly refused an offer from the CDC to help contact trace the ceremony's attendees, leaving questions about just how many people could be infected—including the numerous staffers who worked the event and may not be bold-faced names.
Then there's the fact that, to get to the vote, senators would likely have to travel from their home states. Travel is now less safe than it was in the spring, because cases are on the rise again, according to Crystal Watson, senior scholar at the Johns Hopkins Center for Health Security.
"I would try to avoid travel that's not kind of yourself in a car, if at all possible," she said. "That goes especially for people who are at higher risk, that are of more advanced age, or have underlying conditions."
The average age of a sitting senator, at the beginning of this congressional term, was 62.9 years, according to a recent Congressional Services Report. California Democratic Sen. Dianne Feinstein, the ranking member of the Senate Judiciary Committee, is the oldest sitting senator at 87.
Eight out 10 reported U.S. deaths linked to COVID-19 have been among adults aged 65 years and older, according to the CDC.
"There's no question in my mind that it would be irresponsible for people in either of those situations to travel on airplanes, trains, whatever in order to advance their political agenda," Cannuscio said. "I think it's a gross abuse of power and it shows such a vain indifference to other Americans and their lives and health."
"Mitch McConnell should just wait."
If the Senate isn't able to vote ahead of the election on November 3, that doesn't mean McConnell is out of luck. Instead, they could try to confirm Barrett in the lame-duck session after the nomination—even if the GOP loses control of the White House and Senate.
"The only cut-off date for the Senate to do business is January 3, when the new Senate takes office," Arenberg said. "It's possible that there could be enough delay created that it slipped into the lame duck. I don't expect that to happen. I think McConnell will be successful in confirming this nomination prior to the election."
US: Remains found in Tulsa search for 1921 race massacre victims
At least 10 bodies found in unmarked grave in search for victims of a 1921 racist massacre in the US state of Oklahoma.
At least 10 bodies have been found in an unmarked mass grave at a Tulsa cemetery where investigators are searching for remains of victims of the 1921 Tulsa Race Massacre, a state official said Wednesday.
"What we were finding was an indication that we were inside a large area … a large hole that had been excavated and into which several individuals had been placed and buried in that location. This constitutes a mass grave," said Oklahoma State Archaeologist Kary Stackelbeck.
There were 10 coffins discovered with what is presumed to be one person in each coffin, Stackelbeck said. She said further examination is needed.
The massacre left an estimated 300 mostly Black Tulsa residents dead and 800 more wounded. The massacre — which happened two years after what is known as the "Red Summer", when hundreds of African Americans died at the hands of white mobs in violence across the US — has been depicted in recent HBO shows "Watchmen" and "Lovecraft County."
Forensic anthropologist Phoebe Stubblefield, a descendant of a survivor of the massacre who is assisting in the search, said it would take considerable time to identify the remains and determine whether they were victims of the massacre.
The search began Monday and is the second this year after an unsuccessful search in another area of the cemetery ended in July.
Quibi was a bad idea, poorly executed. Now it's dead, just six months after it debuted.
Here's a quick timeline of its short life:
It was easy to be skeptical about Quibi before launch because … see above. The real surprise is that it failed so quickly. And even that surprise is a little bit couched. Once news got out that Katzenberg was trying to sell, the only question was whether he'd find a buyer or have to shutter. As I wrote last month, you don't try to sell your startup five months after launch if things aren't going terribly, even though Katzenberg insisted otherwise in sales pitches.
But, that said: I would like to see more Quibis in the future.
Not the concept or the execution (again, see above) but the model: Running a media business the old-fashioned way, where you ask people to make something, pay them for it, and then try to re-sell that work to someone else. Because there's another version of running a media business — what YouTube, Twitter, and Facebook do — and I don't feel great about that one in 2020.
To recap: Katzenberg and Meg Whitman, the CEO he hired away from Hewlett Packard, paid Hollywood studios, TV networks, and digital shops like Vox Media (which owns this site) to make short videos. Then they tried selling subscriptions to those videos to you.
That's one way — the old way — to run a media business.
There are lots of variants, and you can debate the right way to scale those companies and how much money you need to make them work, etc. The model includes everything from your local newspaper (if it still exists) to TV networks to Spotify to Netflix. But they're all using the same basic playbook.
There is also the new — and often much more successful way — to run a media business: Get people to give you stuff for free, get people to consume that stuff for free, and sell their attention to advertisers. You may not want to call yourself a media business — for strategic, valuation, or legal reasons — but you are most definitely in the media business. This has worked really, really well for YouTube, Twitter, and Facebook.
But as we spend a lot of time discussing these days, it's not clear that the model that YouTube, Twitter, and Facebook use — which is dependent on ingesting as much free content as possible, and distributing as widely and quickly as possible, with as little input from the people who run those businesses as possible — is good for the rest of us.
And at the core of all the proposals to fix those businesses is the idea that they should act a lot more like … traditional media businesses. These proposals call for the people who run these platforms to pay attention to what they distribute, and even make judgment calls about whether that stuff should be distributed. And, yes: It also involves paying people who make some of the stuff they distribute.
I don't want to belabor this thought, and I don't want to oversell it. Quibi would have likely struggled using any model because it didn't have stuff people wanted to see, and it didn't have the distribution it needed to get it in front of them, anyway.
And while the Facebooks of the world run on free content, they certainly have to spend money on lots of other stuff. TikTok, for example, spent $1 billion on marketing in a single year in order to get its free videos, uploaded for free by its users, in front of people around the world.
But if you're going to dunk on Quibi for failing so big, so fast, at least give them this: They failed the old-fashioned way. Which still has an upside.
---
Millions turn to Vox each month to understand what's happening in the news, from the coronavirus crisis to a racial reckoning to what is, quite possibly, the most consequential presidential election of our lifetimes. Our mission has never been more vital than it is in this moment: to empower you through understanding. But our distinctive brand of explanatory journalism takes resources. Even when the economy and the news advertising market recovers, your support will be a critical part of sustaining our resource-intensive work. If you have already contributed, thank you. If you haven't, please consider helping everyone make sense of an increasingly chaotic world: Contribute today from as little as $3.
FDA says there is no timeline for a Covid-19 vaccine
US Food and Drug Administration Commissioner Dr. Stephen Hahn said Wednesday that the agency does not have a set timeline to review a Covid-19 vaccine.
The goal, he said, is that everyone could get a vaccine by spring. But it "really depends on a number of factors."
"We want to expedite it," Hahn said at a conference sponsored by the Milken Institute, a nonpartisan think tank founded by ex-banker Michael Milken.
"We've said that we will schedule a vaccine advisory committee to review those data. We have committed for every application to have a vaccine advisory committee," Hahn said.
"We will make that public, as I mentioned. Our scientists will make an initial determination, will ask specific questions about the product from the vaccine advisory committee. And then we will incorporate that in our decision making," Hahn said.
"At the end of the day, only our career scientists in the Center for Biologics Evaluation and Research will be making this decision, and they will be making it solely upon the science and data that come from the clinical trials."
To speed up the process, Hahn said the FDA has been working with manufacturers from day one and have stayed in touch throughout the manufacturing process, rather than reviewing everything at the end of the process. 
"We need to make sure that there's quality and consistency and that every lot has the same ability to provide protection to all of Americans," Hahn said. "We have a lot of confidence in the manufacturing of these developers, and we will be doing our part with respect to working with them to make sure that manufacturing can be ramped up as quickly as possible."