Just shy of one month after their last event, Apple was back today with another one. Everyone had a pretty good feeling this would be the one where they announced this year's new iPhone… instead, Apple announced four new iPhones, plus a new HomePod for good measure.
Didn't have time to follow along live? Here are the highlights:
HomePod Mini
Apple kicked things off by announcing the HomePod Mini — which, as you've probably gathered from the name, is a smaller version of its HomePod speaker.
Apple's focus with the HomePod Mini definitely seems to be getting you to buy a bunch and spread them around your house — they started off by recapping Siri's smart home capabilities, then introduced a new feature called "Intercom" which lets you broadcast a message to all of your HomePods from your iPhone, Apple Watch, CarPlay, or another HomePod. Put two HomePods in the same room, Apple says, and they'll automatically become a stereo pair.
HomePod Mini will cost $99, and, like its bigger counterpart, will come in two colors: white and space grey. Pre-orders will start on November 6th, with the first units shipping "the week of November 16th."
Four new iPhones
Why would Apple announce one new iPhone when they could announce four?
With a lineup that will probably lead to a bit of confusion, Apple today announced the iPhone 12 Mini, iPhone 12, iPhone 12 Pro, and iPhone 12 Pro Max. The devices get a little bigger, a little fancier, and a bit more expensive as you go down the line.
The big focuses here are on improved displays, improved cameras (night mode on the wide and ultra wide cameras!), and the introduction of 5G across the lineup. The form factor borrows some angles from iPhones of yesteryear, with flat sides that'll probably remind you of the iPhone 4 or 5.
The iPhone 12 Mini will start at $699 and come with a 5.4″ display, while the iPhone 12 will start at $799 with a 6.1″ display. The iPhone 12 Pro will start at $999 with a 6.1″ display, but polishes up the spec sheet with stainless steel body (versus Aluminum on the non-pro models) and the addition of a 12MP telephoto lens. The iPhone 12 Pro Max will start at $1099, but packs a massive 6.7″ display. The Pro models also pack LiDAR sensors, allowing them to do things like ultra fast focusing in low light situations, or 3D room scanning.
The displays on all of the new iPhones will feature a new "Ceramic Shield" technology that Apple built in partnership with Corning, which the company says improves the odds of your device surviving a fall by 4x. The iPhone 12 and 12 Mini will come in blue, green, red, white, and black; the 12 Pro and 12 Pro Max, meanwhile, will come in blue, gold, black, and white.
All four phones will run on Apple's A14 Bionic chip — the same one that powers the iPad Air the company just announced last month.
(Apple also noted that it will continue to sell the iPhone 11, dropping the base price by $100 down to $599.)
MagSafe
"MagSafe" is back! Sort of. Well, in name, at least.
Borrowing a name from the charging system of Apple laptops past, the new iPhone's MagSafe system allows it to automatically snap into the optimal place on a wireless charger, while also allowing for snap-on accessories like magnetic cases or credit card holders.
The company also announced the MagSafe Duo Charger (a folding setup meant to allow you to charge both an iPhone and an Apple Watch) and noted that MagSafe-compatible accessories from third parties like Belkin were on the way.
No more power adapter or headphones in the box
It's been rumored for months, but now it's official: Apple will no longer be including headphones or a wall power adapter with the iPhone. The company cites the potential environmental impact as their reasoning, noting that there are already "billions" of compatible chargers out in the world. The new iPhones will ship with a USB-C to Lightning cable — just not the bit that plugs into the wall.
Should You Wear a Mask Outdoors?
Masks protect us from the coronavirus, indoors as well as out. But do you really need a mask outdoors? In some cases, you can go bare-faced, but you should still have a mask in your pocket just in case. Let's talk about the factors you should consider when deciding if a mask makes sense outdoors. (When in doubt, wear one anyway.)
Outdoor air dilutes the virus
One of the problems with indoor environments is that some of the respiratory droplets that can carry the virus are tiny. Indoors, the air containing these droplets has nowhere else to go. That's why outdoor dining makes more sense than eating indoors, for example. The risk isn't zero; there have definitely been super-spreader events at backyard parties and very likely a certain Rose Garden political event.
Many factors contribute to whether an interaction is likely to be a higher or lower COVID risk, and being outdoors generally takes the risk down a notch.
G/O Media may get a commission
Brief encounters are low risk
Next we have to consider what you're doing outdoors. Considering that Rose Garden event for a moment, should you wear a mask if you know you're going to be near other people for hours, shaking hands and hugging? Absolutely. In fact, you probably shouldn't go at all. That goes double if you know the other guests have been disregarding safety measures until now.
But passing somebody when you're out jogging is a different scenario. To understand this more intuitively, it may make more sense to think of someone with bad breath or who has been smoking recently. Would the scent be overwhelming if you're in the same park with a few such people? Or would you just detect a mild whiff as they pass you on the trail?
Very brief encounters, like passing someone as you jog or bike past them, may not be zero risk, but they are very low risk. "Any single brief, passing exposure is low-risk, but such exposures might add up over time," airborne transmission expert Linsey Marr told the South China Morning Post. Wearing a mask makes sense if you'll be encountering many people while you're outside. It's also a reasonable precaution even if you won't.
Decide based on circumstances
It makes sense to think of the different layers of safety, and use a mask as one of them. If you're outdoors, exposures are short, and people are nearly always more than six feet away, the mask doesn't add much protection. If you'll be encountering many people—for example, on a busy city street—a mask is a helpful safety layer to include.
I don't wear a mask for most of my outdoor walks and runs, but that's because I know I'm unlikely to come within six feet—or even ten feet—of anybody else. I go for walks on a quiet neighborhood street where I rarely pass anyone and can cross the street if I do. I go for runs on paths where I'm often the only person there.
But since I prefer to jog without a mask, I've given up my favorite running path, the one where I'd probably pass at least one or two people each minute. (If I did jog there, I'd definitely wear a mask; but since most other people on that trail are maskless, it feels like it's not worth the risk.)
There is no official answer as to whether you should wear a mask outside. The CDC suggests that if you can't stand wearing a mask when exercising, you should consider moving your workout outdoors. The University of Maryland Medical System says that masks aren't needed if you're outdoors alone, but that if you're jogging down the sidewalk you should mask up. If your city or state gives guidelines for when to wear a mask outdoors, follow those. If not, consider the factors above and wear a mask anyway when in doubt.
Now You're Playing With Power: This $168 Portable Solar Generator Can Fuel a Fridge for 6 Hours Straight
Best Home Deals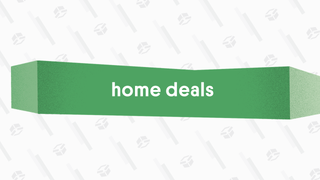 Best Home Deals
The best home, kitchen, smart home, and automotive deals from around the web, updated daily.
Tacklife Portable Solar Generator | $168 | Amazon | Promo Code IGVILO7Z
Whether you're outdoors camping, or your power is out at home, a portable generator comes in handy for recreational activities and emergency situations alike. This one from Kinja Deals reader-favorite brand is solar-powered and boasts a 299 watt-hour battery capacity. Measuring 14.7 x 8.4 x 7.4 inches and weighing 10.28 pounds, the company says it's "palm-sized," though I'd rather compare it to an industry-grade rugged laptop—compact enough to take on a trip, even in the trunk of a small sedan, but don't count on fitting it in your pocket. Still, considering its diminutive dimensions, it packs a real punch, laying claim to powering a smartphone more than 27 times, a 45-watt laptop (or a refrigerator!) for 6 hours, a 30-watt CPAP for 9 hours, and a 110-watt car vac for consecutive hours.
The Tacklife solar generator includes the required three Lithium-ion batteries needed to operate the device, and for a limited time only is discounted 40% using the promo code IGVILO7Z. As winter approaches and the weather grows colder, you might want to jump on this deal before it spikes back up to its full $400 list price. It was marked up as recently as September 3 and the aforementioned coupon only lasts until the end of the day October 23. You've got until Friday to secure a backup plan for any upcoming outdoor expeditions or blizzard-induced power outages bound to arise in the coming months.
---
G/O Media may get a commission
This app lets you do custom iOS icons without the Shortcuts app
iPhone icon customization is booming, thanks to new features in iOS 14, but there's still some big catches. The workaround for a bespoke iPhone homescreen requires routing through Apple's Shortcuts app every time you want to open an app, and the process of customizing all your apps one-by-one is a time-consuming and frustrating task.
But Launch Center Pro — a popular tool for customizing and creating quick shortcuts on iOS — has solved both of those issues with its latest update. With a clever workaround that uses Apple's own Profiles system to install custom "web clip" profiles that directly link out to your selected apps, users can finally make custom icons that work just like regular apps. Plus, they can be installed in a batch, allowing users to easily add custom icons for almost all their favorite apps in one fell swoop.
It's not a perfect system: users will still have to set up each app, one by one (although Launch Center Pro does make getting that set up a little easier), and you'll still have to hide your "real" apps to iOS 14's App Library, given that Launch Center Pro's direct links are still, well, links. Still, it's a far better solution than using Shortcuts, one that makes installing and using custom icons a viable option for day-to-day life. And due to limitations from Apple, the direct linking only works for third-party apps from the App Store — Apple's own apps still have to bounce through either Shortcuts or Launch Center Pro.
The actual process of getting all your apps installed is a little complicated, but Launch Center Pro has helpfully put together a handy video guide that should help you through it. (There's also a TikTok version, which makes sense given that the popularity of custom icon layouts has surged in large part due to videos there.)
Launch Center Pro offers several options for its custom icons. Users can directly import existing photos or images from their phone, in the event that you've already created your own bespoke icons (or bought a pack from an enterprising seller on Etsy.) There's also an icon composer, which lets users easily create their own custom icons out of preset backgrounds and tons of preset glyphs. The company has already hired a new designer to continue to create more icon backgrounds, custom icon packs, and styles for the icon composer, too.
And according to developer David Barnard, the company is already working to add more functionality to make Launch Center Pro's icon system work even better in the future, including the option to save multiple icon sets (so that users can easily swap between setups), the ability to share icon sets to other users, and faster import options to allow pre-made icon sets to be added to Launch Center all at once.
Some of the features here are based on existing options that Launch Center Pro has already offered. But those icons still had to route through Shortcuts — with the new update, they're able to directly link to any app on the iOS App Store. And of course, all of these complex workarounds are needed because Apple refuses to offer any real customization options in the first place, an issue that the company seems unlikely to relent on anytime soon.
Launch Center Pro is a free download, but many of its features — including the option to add custom app icons to the home screen — require either a monthly subscription (for $14.99 per year) or a one-time purchase for lifetime access ($4.99 for home screen app icons, and $24.99 for the icon composer tool.) The company also offers a $74.99 lifetime bundle that permanently unlocks all current and future features.