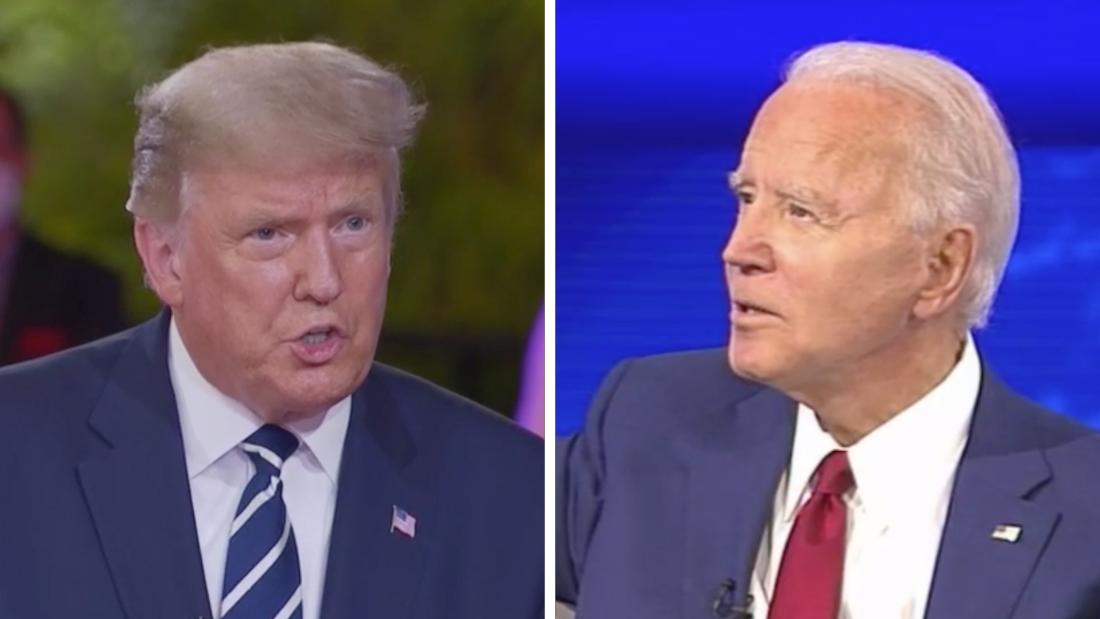 The Commission on Presidential Debates has released the topics for the final presidential debate between President Trump and Democratic presidential nominee Joe Biden that will take place next Thursday in Nashville, Tennessee.
The debate will start at 9:00 p.m. ET and run for 90 minutes without commercial breaks.
The six topics are:
"Fighting COVID-19"
"American Families"
"Race in America"
"Climate Change"
"National Security"
"Leadership"
The format is the same as the first debate: Each segment will last about 15 minutes, and the candidates will have two minutes to respond after the moderator, NBC's Kristen Welker, opens each segment with a question. Welker will then use the rest of the time in the segment to facilitate further discussion on the topic.
In Friday's announcement, the commission did not explain any further rule changes for the final contest, something it said it would do after the first debate between the presidential candidates devolved into a chaotic affair with the President flouting the rules and repeatedly interrupting the former vice president. 
Remember: Trump and Biden were supposed to debate last Thursday, but that debate was canceled after Trump declined to participate in a virtual debate. The commission changed the format to a virtual debate due to the President's positive coronavirus diagnosis earlier this month, which left him hospitalized for three days.
Both candidates instead participated in town halls on the night the debate was originally scheduled to take place. Biden appeared on ABC for an hour and a half town hall, and Trump appeared on NBC for an hour-long town hall.
Air strike in northwest Syria kills more than 50 rebel fighters
Strike targeted military training camp for Failaq al-Sham, one of the largest Turkey-backed opposition groups in Syria.
An air strike on a rebel fighters' training camp in northwest Syria has killed more than 50 and wounded nearly as many, a Syrian opposition spokesman and a war monitor said.
Monday's air attack in the northwestern part of Idlib province, the last rebel enclave in Syria, targeted a military training camp for Failaq al-Sham, one of the largest Turkey-backed opposition groups in Syria, said Youssef Hammoud, a spokesman for the groups.
He added that leaders of the camp were among those killed in an air strike in Jabal al-Dweila.
The Britain-based Syrian Observatory for Human Rights, which monitors the war in Syria, said the strike killed 56 fighters and wounded nearly 50, adding that rescue operations were under way.
The Syrian Observatory said it suspected the air strike was carried out by Russia, which is a close ally of Syrian President Bashar al-Assad in the country's civil war.
Earlier this year, Turkey and Russia brokered a truce in Idlib to halt a government offensive that displaced hundreds of thousands. But that has remained shaky.
Turkey has long supported Syrian rebel forces in Syria. Russia has negotiated with Ankara to deploy observation teams in the rebel enclave to monitor the truce.
The messy politics of Nextdoor
Ray Wang is bothered about what's happening on Nextdoor lately. As a moderator for his neighborhood in Cupertino, California, he has been watching the conversation closely.
"It's descending into a cesspool of bad conversation," Wang told Recode. "A lot of folks are very emotionally charged. They're feeling very vulnerable and anxious at the moment, and it's only amplifying that anxiety."
Though it's best known for wanting to help neighbors locate missing dogs, connect with babysitters, and find fellow hobbyists, that's not what some Nextdoor feeds look like in the days ahead of the 2020 election. Despite the company's efforts to restrict discussions about national politics and keep things civil, some conversations on Nextdoor are becoming riddled with conspiracy theories and tense fights over local politics as well as the presidential race, according to multiple Nextdoor users and moderators.
Despite its efforts to avoid them, the platform is facing the same challenges of polarization and misinformation as other social networks, like Facebook and Twitter.
Nextdoor, which has reportedly signed up more than 10 million users and nearly 220,000 neighborhoods in the US, is mulling a public stock listing and has long tried to set itself apart as a safe space for local discourse. For instance, a feature called a "Kindness Reminder" encourages people to be nice in their comments on the platform. Nextdoor prohibits certain forms of misinformation, such as false information that could interfere with voting and calls to incite violence. The company also doesn't allow political ads, and to discourage tense political debates, it directs discourse about national politics to less prominent areas of the Nextdoor website and app.
But given the highly segmented nature of Nextdoor, it's hard to tell how its communities are processing the election overall, though the company has said that use of the service has surged amid the pandemic. While it's easier for misinformation and other content to go viral on Facebook and Twitter, Nextdoor limits who can see particular feeds based on who lives in a particular area.
"The danger in that is that smaller sub-communities could be forming around highly salient, mini echo chambers of people who strongly buy into this like-minded community," explained Catherine Delcourt, a computer science professor at Wellesley who has studied social media and political polarization.
The restricted nature of Nextdoor communities can make it harder to manage misinformation and other contentious content, which has appeared on the platform this election season. Meanwhile, it's not clear that all the moderators charged with managing these discussions are prepared for — or even interested in — keeping things as neighborly as the platform would like.
Nextdoor wanted to divert people from national politics, but it hasn't succeeded
In anticipation of the upcoming election, Nextdoor announced in August that it would make changes to keep national politics out of users' main feeds and in separate groups. Now, Nextdoor's automated system tries to guess whether a post is about a non-local political topic, and if so, it will invite the poster to start a separate group for the topic. At the same time, the platform instructs moderators to flag posts that move toward national issues.
This was done, Nextdoor CEO Sarah Friar explained in an interview with Yahoo Finance earlier this year, because discussions of national politics could too quickly descend into discourtesy between neighbors. The company has long aspired to be a social network where civility and neighborliness prevail; there's even a guide to being respectful to your neighbors in the Nextdoor help center. Still, users criticize the company for becoming, instead, a platform for all sorts of pettiness, vitriol, and offensive behavior among neighbors.
"Your ability to connect to Nextdoor is really tied into living in that physical place, which creates a very different network and community than what you would see on Twitter and Facebook," Delcourt explained.
The local nature of Nextdoor has factored into some of the company's biggest controversies. The company made changes to its crime reporting feature after criticism that the platform enables racial profiling and an exaggerated fear of crime, and there have been reports of police digitally patrolling Nextdoor neighborhoods and discrimination against Black users.
This election season, rumors about voting issues have sometimes swirled on Nextdoor, according to local reports and discussions on Reddit. Officials in Colorado, for instance, have found themselves responding to claims that originated on Nextdoor, like unsubstantiated reports of voter intimidation at ballot boxes.
In one Georgia Nextdoor community, a user shared a chain message from a "very reliable good friend" that warned of poll workers marking up ballots, falsely claiming that this could invalidate them. Another user eventually pointed out that the rumor was wrong — poll workers can't invalidate ballots by writing on them — and directed others to a Snopes fact-check of the viral message. But several people had already said they shared the same post on their own personal social media, according to Audrey Harrelson, a retiree in the community who spoke with Recode.
There's also evidence that more extreme conspiracy theories aren't always taken down. A search of publicly available content on the platform indicates that, to some extent, the platform has housed QAnon-related content and organizing. Tammy Fiorella, who lives in New Jersey, told Recode that it took weeks and a Twitter call-out for Nextdoor to respond to her reports of a neighbor's posts containing QAnon talking points. A screenshot reviewed by Recode showed this user accusing billionaire George Soros of funding a Democrat-led "deep state" and arguing that the media covers up child abuse and human trafficking.
Part of the challenge of keeping conspiracy theories and misinformation off of Nextdoor stems from the company's approach to moderation, which is typically led by several residents of a neighborhood (Nextdoor staff can sometimes step in). These unpaid moderators are given special privileges on the site, like the ability to vote on what constitutes a violation of Nextdoor's rules.
But the moderation system has led to problems. Earlier this summer, Nextdoor faced criticism when moderators deleted posts in support of Black Lives Matter, which only added to existing concerns about racist moderation practices. In response, the company declared that posts supportive of Black Lives Matter should be allowed on the platform — and could be considered local issues — and said that leads would receive unconscious bias training.
Nextdoor did not respond to several requests for comment on political discussion on its platform. Vote.org, a nonprofit working with the company on voter turnout initiatives, declined to comment.
Despite Nextdoor's policies discouraging conversations about national politics, discussions of neighborhood topics can quickly derail into debates about exactly that, according to Will Payne, a geographic information science professor at Rutgers, who has researched Nextdoor. Posts about topics like yard waste pickup, he says, can quickly descend into discussions about "antifa" and "the wall."
"I think they saw that as an issue and created this other place to say, 'Look, you can talk about Trump, Biden, or whatever, you just can't do it in the main area. We're going to create special groups for you to go talk about that,'" Payne told Recode about Nextdoor's attempt to move national politics discussions to groups, noting that Yelp has a similar strategy of sequestering certain discussions to other parts of its platform.
But many issues with moderation remain. Kiersten Dirkes, who works in the film industry in the greater Los Angeles area, told Recode that when she posted a link to warn people about California GOP officials setting up unauthorized ballot boxes, her post was removed. Another Nextdoor user from a suburb of Daytona Beach, who calls herself "very socially aware," says the conservative-leaning moderators of her community make no attempt at fairness, and routinely remove her posts from the general feed while leaving pro-Trump posts up.
Some users say the platform has devolved markedly in the past few months.
"It went from 'All Lives Matter' to Covid, and then as things really started ramping up for the election, things kind of went off the rails," says Fiorella in New Jersey, who says she's not in any politics-focused groups on Nextdoor. "I rarely see a post that's really about a neighborhood thing. Like once in a blue moon, I'll see something about a lost dog or cat or something."
Robert, another user based in Daytona Beach, Florida, who asked to be identified only by his first name, told Recode that his Nextdoor community has evolved from backlash against Covid-19 safety measures, like wearing masks, into conspiracy theories and misinformation about the election, which seems inspired by Trump's rhetoric.
"Nextdoor was a tool that was created to be helpful for people and their neighbors," Robert said. "But it's now spawned into this offshoot thing that's like the worst of Facebook and Twitter combined — but at a hyperlocal level."
A common flashpoint, several users told Recode, is stolen political yard signs. Sometimes, these fights can get people booted from the platform. Ian Shea-Cahir, who works in social media in Kansas City, says he posted on Nextdoor that the theft of his Biden-Harris and Black Lives Matter lawn signs constituted a crime. Then a neighbor joined the thread, threatened Shea-Cahir, and called him a "communist." Shea-Cahir responded by reporting the comment to the Nextdoor moderators and forwarding screenshots to the police. When the insults continued, Shea-Cahir donated to Black Lives Matter in the neighbor's name. Nextdoor then blocked Shea-Cahir from posting on the platform, claiming he had been bullying.
Even local discussions have become polarized on the platform
Compared to national politics, Nextdoor is more welcoming of discussions of local and state politics, which can have a more measurable influence on a locality's policies. This appears to be a way that Nextdoor can set itself apart from other social networks, which could soon be more direct competition. Facebook is currently testing a feature called Neighborhoods that looks an awful lot like Nextdoor. This invites users to create verified, localized profiles that connect with others nearby, a move that comes as Facebook continues to emphasize private group interactions.
"We think local politics actually has a really big place on Nextdoor," Friar told Wired earlier this fall. "It's an interesting nuance of: how do we ensure national moves off into a group but local can really stay in the main newsfeed because, for many people, there's no local news anymore, no newspaper to go to. So it can be the way they're finding out about what's going on with, say, the local mayor."
The platform also provides local public agencies like city governments as well as fire and police departments a direct channel to "easily broadcast information" to several Nextdoor communities at once.
But even in local updates, multiple users told Recode that misinformation, politically motivated moderation, and general distrust of discussions about local political topics remain problematic on Nextdoor. Officials in one town in Michigan even sued Nextdoor this summer, arguing that misinformation about a local ballot initiative spread on the platform and led to its failure to pass.
Beyond misinformation, some neighborhood feeds seem influenced by politicized moderators and a black-box algorithm. Wang, the moderator from Cupertino who described Nextdoor as a "cesspool of bad conversation," says the platform's moves to discourage national political discussions have made discourse around local politics even more heated.
"I honestly don't think they want to be in the political business or in the business of censorship," Wang said. "They just want to be a happy community that's hyperlocal."
Stephen Floor, a professor at the University of California San Francisco, noted that there's no mechanism for users to report and remove false information about local initiatives, adding that his Nextdoor contains misinformation about several California propositions on the ballot this year.
"I understand that there's going to be differences of opinion," he told Recode. "But when somebody misrepresents the text of a proposition that is worth billions of dollars, that seems to be something that should be regulated."
But understanding just how much of Nextdoor has been subsumed by the election is difficult. Each community, segmented from public view, comes with its own tensions and problems. And each neighborhood can end up in its own echo chamber, with moderators and community creating their own political reality.
"I looked around here and I couldn't find any election misinformation in my small neighborhood and its neighbors in Central New Jersey," said Payne, the Rutgers professor. "But that tells me very little about what's going on elsewhere."
Open Sourced is made possible by Omidyar Network. All Open Sourced content is editorially independent and produced by our journalists.
---
Will you help keep Vox free for all?
The United States is in the middle of one of the most consequential presidential elections of our lifetimes. It's essential that all Americans are able to access clear, concise information on what the outcome of the election could mean for their lives, and the lives of their families and communities. That is our mission at Vox. But our distinctive brand of explanatory journalism takes resources. Even when the economy and the news advertising market recovers, your support will be a critical part of sustaining our resource-intensive work. If you have already contributed, thank you. If you haven't, please consider helping everyone understand this presidential election: Contribute today from as little as $3.
The Italian town auctioning off abandoned homes for €1
(CNN) — The Covid-19 pandemic may have irreversibly changed the world as we know it, but it seems there are some things that can still be counted on.
And struggling Italian towns selling off abandoned homes at bargain prices in a bid to reverse a trend of depopulation is undoubtedly one of them.
The picturesque town of Salemi in Sicily is the latest to offer up dilapidated properties for less than the cost of an espresso.
Over the next month, a few dozen crumbling dwellings will go up for auction with a starting price of €1, or little over a dollar.
The town's mayor, Domenico Venuti, hopes the scheme will breathe new life into Salemi, which saw its population shrink considerably when at least 4,000 residents fled following the terrible earthquake of 1968 that rocked Sicily's Belice Valley.
"All buildings belong to the city council, which speeds up the sale and reduces red tape," Venuti tells CNN Travel.
"Before launching the scheme we first had to recover the old parts of Salemi where the houses are located, upgrading infrastructures and services from roads to electric grids and sewage pipes.
"Now the town is ready for the next step."
Revitalization hopes
While it might seem like Salemi is rather late to the one-euro-home party, officials here were among the first to suggest selling off dilapidated homes for next to nothing on the condition that buyers renovate the properties.
However, officials couldn't get the Salemi project signed off at the time due to various bureaucratic issues, and it was deemed necessary for the town to receive an external makeover first.
"It was a long process," explains Venuti. "Not only did we carry out thorough maintenance works to secure the risky crumbly areas, we also had to recover many properties to residential use.
"We've been ready for a while but wanted to wait and see how the Covid-19 emergency evolved."
Italy was hit particularly hard by Covid-19 relatively early on, although Sicily has so far been one of the European nation's least impacted regions.
While Venuti admits the virus remains a concern for residents of the town, which currently has around 30 reported cases, he believes now is the right time to move forward with the scheme, stressing that case numbers are decreasing by the day.
The selected houses will go up for auction with a €1 starting price, replicating the method adopted by the Sicilian town of Sambuca, where dwellings were sold to the highest bidder and at least one buyer purchased a house sight unseen.
Urban impact
Dating back to the 1600s, the homes lie in the heart of the historical center, enclosed by the ancient town walls.
While some may be in need of substantial repairs due to the damage caused by the earthquake, many are in reasonably good shape, with minimal work required.
Covering an area of at least 85 square meters, they're made with a yellowish-pink solid sandstone extracted from nearby caves which is called "campanedda," or "bell' in local dialect — its name comes from the sound the stone makes when hit with a hammer.
All have very similar features, such as multiple floors and thick walls, while a few have panoramic balconies, but those on Belvedere Street are arguably the most attractive, as they overlook a rich green valley.
Although restyled several times over the centuries, the homes, which stretch across two to three floors, were once microcosms of rural life in the town.
When they were first constructed, families would sleep on the upper floors, while their animals were kept in stables on the ground level.
According to Venuti, potential buyers aren't required to visit Salemi to inspect the homes before making an offer, but they will need to send a detailed restyle plan to demonstrate their commitment to the project.
Those interested can view photographs of available properties, along with maps identifying their whereabouts, and download application forms on the city council's institutional website once the project goes live.
The renovation projects will also be evaluated according to the urban impact.
Those planning to convert one of the properties into a B&B or another type of business establishment with economic activity will receive extra points and tax credits.
A single buyer can purchase more than one house, but all buyers must pay a deposit guarantee of €3,000, which is to be returned if the restyle is completed within three years.
Venuti says there are at least another 100 dwellings in the town that could potentially be sold after this first lot.
But many are former storehouses, stables or shops, so they'll need to be converted to residential use before being placed on the market.
Golden dreams
Salemi has a unique sparkle thanks to the golden warm hue of the campanedda stone adorning the facades of its churches, castle, palazzos and homes, which makes them shine in the sunlight.
Located close to Trapani's airport and the departure harbor for the tropical-like Egadi islands, it's ideally positioned for exploring Sicily's wild areas and stunning beaches.
Surrounded by fields of grazing herds, Salemi sits at the feet of Roses Mountain and is encircled by two pristine rivers, which contribute to its fresh, oxygen-rich air.
While Sicilian summers are notoriously hot, the town is located at an altitude of 450 meters above sea level, a position that generates a refreshing cool breeze.
Visitors can take on various scenic "archeo-trekking" routes through the countryside with ruins of fortresses and a necropolis dotted along the way.
The natural reserve of Scopello, popular for its breathtaking sea stacks and open-air tuna factory, is just a 20-minute car journey away, while gold-colored temples of Selinunte and Segesta are just a stone's throw away.
Founded on the ashes of a primitive settlement and later conquered by the Saracens, its name is thought to stem from the Arab word "Salam," which translates to "healthy and safe" — or "Salem," which means "peaceful."
A stratification of medieval and Baroque architectures, Salemi slowly unwinds below a majestic Norman castle, when aristocratic mansions give way to simple stone dwellings that previously belonged to farmers and artisans.
The town's main piazza is a crumbled church, while the ruins of its stone apse are still standing near the go-to spot for leisurely sunset strolls.
Its residential layers are connected to the abandoned areas the homes are located in by a maze of narrow alleys.
These forsaken districts form a patchwork of tiny ghost neighborhoods and are a sharp contrast to the town's more lively spots.
Jazz, beer and bread
While Salemi may be in need of more residents, the town definitely isn't lacking when it comes to food and activity.
A jazz festival is held here annually to commemorate American musician Tony Scott, who is buried in Salemi — Scott's parents were both Sicilian.
A quirky "little Oktoberfest" event, where young beer-makers offer a taste of their ales made with local cereal grains, usually takes place in October.
On St. Joseph's Day, Father's Day in Italy, a culinary feast is held during which 101 gourmet dishes are prepared over the course of a week to honor the adoptive father of Jesus.
The event is something of an eating pilgrimage that unravels through the town's districts, where food altars covered in laurels and decorated with artistic bread sculptures and other delicacies are set up, while church altars are adorned with dough masterpieces.
Three children from disadvantaged families are invited inside the church to sit at a banquet and indulge in a series of gourmand plates.
The banquet's "spiritual menu" features signature dishes made with local, seasonal products such as polpette meatballs with fennel and broccoli, and omelets with aromatic herbs, alongside Vastedda sheep cheese.
There's also a great deal of impressive bread-making artistry on display.
This tradition hails back to pagan times, when harvest festivities, Sicilian-style Thanksgiving parties, were held to honor Ceres, goddess of abundance, and close out the yearly grain cycle.
You'll find living crèches made of biscuits and breads to symbolize the holy family, with the baby Jesus as a round-shaped bagel and the Madonna as a palm-shaped loaf.
Another standout town celebration is the Festival of the Busiata, where attendees are treated to steaming plates of handmade pasta made from twisting the durum wheat around knitting needles to create an elongated helix shape.