Google contractors who recently unionized say their jobs are being slowly shipped to Poland. On Thursday, the National Labor Relations Board (NLRB) filed a complaint laying out the allegations against HCL America, an engineering and IT contractor that works with Google in Pittsburgh.
Obtained by Motherboard, the complaint argues the jobs are being outsourced in retaliation for legitimate union activity. In particular, the NLRB says the conduct took place "because employees formed, joined and assisted the Union and engaged in concerted activities, and to discourage employees from engaging in these activities."
None of the affected workers are legal employees of Google, but they specialize in engineering and IT tasks for HCL. The contractors voted to unionize in 2019, organizing under the United Steelworkers union. According to the complaint, the company has failed to bargain with the newly formed unit and has transferred work previously undertaken by the team to offshore workers in Kraków, Poland.
Google did not respond to a request for comment.
Contract workers have been a significant aspect of employee activism at Google, including a public memo sent in March by full-time employees in March demanding better treatment for the contract workforce.
Temporary, vendor, and contract employees outnumber full-time Google employees, and typically face lower wages and less job security. In May, Google abruptly rescinded more than 2000 incoming contracts, citing cost-cutting measures spurred by the global pandemic. Because the workers were not yet under contract, the measures were not legally considered to be layoffs and the workers were ineligible for unemployment insurance as a result.
The ewaste crisis could be avoided if we made batteries cheaper and easier to recycle
As concern mounts over the impacts of climate change, many experts are calling for greater use of electricity as a substitute for fossil fuels. Powered by advancements in battery technology, the number of plug-in hybrid and electric vehicles on U.S. roads is increasing. And utilities are generating a growing share of their power from renewable fuels, supported by large-scale battery storage systems.
These trends, coupled with a growing volume of battery-powered phones, watches, laptops, wearable devices and other consumer technologies, leave us wondering: What will happen to all these batteries once they wear out?
Despite overwhelming enthusiasm for cheaper, more powerful and energy-dense batteries, manufacturers have paid comparatively little attention to making these essential devices more sustainable. In the U.S. only about 5% of lithium-ion batteries – the technology of choice for electric vehicles and many high-tech products – are actually recycled. As sales of electric vehicles and tech gadgets continue to grow, it is unclear who should handle hazardous battery ewaste or how to do it.
[Read: What audience intelligence data tells us about the 2020 US presidential election]
As engineers who work on designing advanced materials, including batteries, we believe it is important to think about these issues now. Creating pathways for battery manufacturers to build sustainable production-to-recycling manufacturing processes that meet both consumer and environmental standards can reduce the likelihood of a battery waste crisis in the coming decade.
Hazardous contents
Batteries pose more complex recycling and disposal challenges than metals, plastics and paper products because they contain many chemical components that are both toxic and difficult to separate.
Some types of widely used batteries – notably, lead-acid batteries in gasoline-powered cars – have relatively simple chemistries and designs that make them straightforward to recycle. The common non-rechargeable alkaline or water-based batteries that power devices like flashlights and smoke alarms can be disposed directly in landfills.
However, today's lithium-ion batteries are highly sophisticated and not designed for recyclability. They contain hazardous chemicals, such as toxic lithium salts and transition metals, that can damage the environment and leach into water sources. Used lithium batteries also contain embedded electrochemical energy – a small amount of charge left over after they can no longer power devices – which can cause fires or explosions, or harm people that handle them.
Moreover, manufacturers have little economic incentive to modify existing protocols to incorporate recycling-friendly designs. Today it costs more to recycle a lithium-ion battery than the recoverable materials inside it are worth.
As a result, responsibility for handling battery waste frequently falls to third-party recyclers – companies that make money from collecting and processing recyclables. Often it is cheaper for them to store batteries than to treat and recycle them.
Recycling technologies that can break down batteries, such as pyrometallurgy, or burning, and hydrometallurgy, or acid leaching, are becoming more efficient and economical. But the lack of proper battery recycling infrastructure creates roadblocks along the entire supply chain.
For example, transporting used batteries over long distances to recycling centers would typically be done by truck. Lithium batteries must be packaged and shipped according to the U.S. Department of Transportation's Class 9 hazardous material regulations. Using a model developed by Argonne National Laboratory, we estimate that this requirement increases transport costs to more than 50 times that of regular cargo.
Safer and simpler
While it will be challenging to bake recyclability into the existing manufacturing of conventional lithium-ion batteries, it is vital to develop sustainable practices for solid-state batteries, which are a next-generation technology expected to enter the market within this decade.
A solid-state battery replaces the flammable organic liquid electrolyte in lithium-ion batteries with a nonflammable inorganic solid electrolyte. This allows the battery to operate over a much wider temperature range and dramatically reduces the risk of fires or explosions. Our team of nanoengineers is working to incorporate ease of recyclability into next-generation solid-state battery development before these batteries enter the market.
Conceptually, recycling-friendly batteries must be safe to handle and transport, simple to dismantle, cost-effective to manufacture and minimally harmful to the environment. After analyzing the options, we've chosen a combination of specific chemistries in next-generation all-solid-state batteries that meets these requirements.
Our design strategy reduces the number of steps required to dismantle the battery, and avoids using combustion or harmful chemicals such as acids or toxic organic solvents. Instead, it employs only safe, low-cost materials such as alcohol and water-based recycling techniques. This approach is scalable and environmentally friendly. It dramatically simplifies conventional battery recycling processes and makes it safe to disassemble and handle the materials.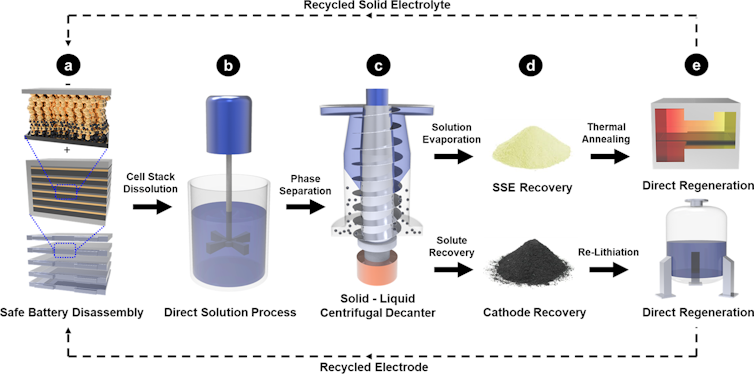 Compared to recycling lithium-ion batteries, recycling solid-state batteries is intrinsically safer since they're made entirely of nonflammable components. Moreover, in our proposed design the entire battery can be recycled directly without separating it into individual components. This feature dramatically reduces the complexity and cost of recycling them.
Our design is a proof-of-concept technology developed at the laboratory scale. It is ultimately up to private companies and public institutions, such as national laboratories or state-run waste facilities, to apply these recycling principles on an industrial scale.
Rules for battery recycling
Developing an easy-to-recycle battery is just one step. Many challenges associated with battery recycling stem from the complex logistics of handling them. Creating facilities, regulations and practices for collecting batteries is just as important as developing better recycling technologies. China, South Korea and the European Union are already developing battery recycling systems and mandates.
One useful step would be for governments to require that batteries carry universal tags, similar to the internationally recognized standard labels used for plastics and metals recycling. These could help to educate consumers and waste collectors about how to handle different types of used batteries.
Markings could take the form of an electronic tag printed on battery labels with embedded information, such as chemistry type, age and manufacturer. Making this data readily available would facilitate automated sorting of large volumes of batteries at waste facilities.
It is also vital to improve international enforcement of recycling policies. Most battery waste is not generated where the batteries were originally produced, which makes it hard to hold manufacturers responsible for handling it.
Such an undertaking would require manufacturers and regulatory agencies to work together on newer recycling-friendly designs and better collection infrastructure. By confronting these challenges now, we believe it is possible to avoid or reduce the harmful effects of battery waste in the future.

This article is republished from The Conversation by Zheng Chen, Assistant Professor of Engineering, University of California San Diego and Darren H. S. Tan, PhD Candidate in Chemical Engineering, University of California San Diego under a Creative Commons license. Read the original article.
For more gear, gadget, and hardware news and reviews, follow Plugged on Twitter and Flipboard.
Published October 25, 2020 — 18:00 UTC
Chrome OS may finally be getting a dark mode
Chrome OS may finally be getting a dark mode, but so far it's only been spotted in its experimental Canary channel, Android Central reported.
Before you go tinkering with Canary just be advised: Canary is Google's "bleeding edge" Chrome OS path, which receives daily updates of features before they've been widely tested. It can only be accessed from Chromebooks switched into a special developer mode (not to be confused with the Chrome OS Developer channel). Google warns that Canary can be "unstable."
But at the moment, to activate dark mode on your Chromebook, you need to have the Canary channel installed. Once you've done that, Android Central says you just open Chrome and type in chrome://flags/#enable-force-dark and chrome://flags/#enable-webui-dark-mode into the URL bar. I should note I tried this on my older Chromebook and wasn't able to get it to work. But here's the view Android Police captured:
Android Central says the dark mode has some bugs, but notes it seems to apply across the UI, not just as darker backgrounds.
Google has rolled out dark mode versions for its Gmail, Google Calendar, Google Fit, and its mobile app over the last several months. Both iOS and Android both began supporting dark mode at the system level last year.
We reached out to Google to see if there are plans to roll out dark mode in Chrome OS to all users, and will update if we hear back.
The science of why lockdown barely affected global temperatures
Countries across the world took unprecedented action in the first few months of 2020 to control the spread of COVID-19. At its peak, one-third of the world's population was in lockdown. Around the world, car travel fell by 50%, the number of flights plummeted by 75% and industrial activity fell by around 35%.
With so many cars parked, aeroplanes grounded and factories closed, global carbon dioxide (CO₂) emissions fell by around 17% compared with the same period in 2019. But greenhouse gases such as CO₂ weren't the only emissions to fall, and not all pollution heats the planet. Some of the industrial activities that shut down – particularly heavy industry, including steel and cement making – also produced aerosols, which are tiny particles that linger in the atmosphere for weeks and reflect heat from the Sun.
Previous studies have suggested that if a lot of these industrial processes were to suddenly shut down, it would lead to short-term warming because the atmosphere would lose the reflective effect of aerosols. But as the lockdown cleared skies, temperatures didn't rocket.
[Read: What audience intelligence data tells us about the 2020 US presidential election]
In new research, we show that lockdown had a negligible effect on global temperatures. So what really happened?
Climate and chemistry
Sulphur dioxide (SO₂) gas is mainly produced in industrial processes that burn coal. In the atmosphere, it reacts to form white sulphate aerosols. These particles offset some of the heating caused by greenhouse gases such as CO₂ by reflecting sunlight back into space, in a process known as global dimming. If SO₂ were the only pollutant whose emissions fell, we would expect Earth's temperature to increase.
Soot, otherwise known as black carbon, is also made when burning dirty fuels, and emitted in large quantities from older cars. Since soot is black, it absorbs sunlight and heats the atmosphere. Cars and aeroplanes also emit lots of nitrogen oxides (NOₓ), gases that make ozone in the lower atmosphere where it acts as a greenhouse gas that warms the planet. Satellite images in March and April showed huge reductions in NOₓ over Europe as national lockdowns came into force.
The different gases and aerosols we emit either contribute to global heating or global dimming. So determining how lockdown affected global temperatures is a matter of finding out which effect dominated.
We ran a series of computer model simulations of the atmosphere during lockdown, versus what we would have expected if the pandemic had never happened. We fed into the model the best estimates of how much emissions of SO₂, black carbon and NOₓ fell from industry, transport and aircraft for the period between mid-February and mid-June.
Our model simulations showed that reductions of these different pollutants only had a small and temporary influence on the climate, overall, in part due to their opposing effects. This may sound like a dull conclusion, but it has important lessons.
Which sectors were affected most was hugely important. The largest emissions reductions were in transport, where NOₓ and black carbon emissions are particularly high. This largely offset any heating that would otherwise have occurred from the drop in SO₂ caused by the slowdown in heavy industry.
The global average temperature saw little change, but there were regional variations. For example, the Middle East was cooler since less black carbon in the air meant the highly reflective desert sand could send more solar energy back out to space. Other regions, such as eastern China, saw more heating overall, as they had some of the largest reductions in industrial SO₂ emissions. These differences in heating patterns could affect weather systems, such as monsoon cycles.
What we've described here are model simulations – they're not perfect, but they're our best method for investigating global atmospheric changes. Simulating the effects of all these different pollutants is difficult. In fact, the struggle to simulate how aerosols affect the climate is one reason we cannot predict exactly how hot the climate will get.
The lockdown offered an invaluable test for our theories about how pollutants affect the climate. From this, we'll be able to improve our models and make better predictions. We'll also know better how to plan a strategy that reduces emissions from different sectors without inviting a sudden and sharp increase in global heating.
The post-pandemic climate
The long-term effects of the pandemic on our climate will be determined more by what happens to long-lived greenhouse gases, such as CO₂ and methane. These remain in the atmosphere for centuries and decades respectively, compared to a few days to weeks for NOₓ, SO₂ and black carbon. CO₂ emissions dropped during lockdown, but not enough to stop levels in the atmosphere growing. Global heating won't stop until emissions reach zero.
It may seem daunting that the near shutdown of society didn't cause a big enough reduction in emissions to stop climate change. But this just shows the limits of doing less of the stuff we normally do, instead of changing how our economies and infrastructure are powered. While lockdown measures have brought temporary reductions in emissions, there are better ways of doing this that cause less harm to society and people.
Only a decisive shift from fossil fuels will stabilize global temperatures. That's why the decisions governments take to revive economic growth after COVID-19 will be pivotal. The 2008 financial crisis caused a similar slowdown, but emissions soon rebounded as a direct result of economic rescue packages which invested heavily in fossil fuels. We cannot afford to make the same mistake again.

This article is republished from The Conversation by Scott Archer-Nicholls, Postdoctoral Research Associate in Atmospheric Science, University of Cambridge and James Weber, PhD Candidate in Atmospheric Chemistry, Pembroke College, University of Cambridge under a Creative Commons license. Read the original article.