Officials in the US state of Wisconsin told major electronics manufacturer Foxconn it won't qualify for billions in tax credits unless it submits a new plan for its downsized factory.
A Foxconn manufacturing plant US President Donald Trump hailed as the "eighth wonder of the world" may not get the billions of dollars in tax credits it was expecting from the state of Wisconsin.
Wisconsin officials told Foxconn Technology Group, the world's largest electronics manufacturer, that it won't qualify for state tax credits unless it strikes a new deal that reflects its scaled-back factory complex.
Trump had heralded the original deal as a sign of a revitalised American manufacturing economy, calling the proposed plant "transformational". But state officials have told Foxconn since last year that it would not qualify for the tax credits without revisions to its 2017 contract because the scope of the envisioned factory has been reduced.
Foxconn signed a contract with Wisconsin under then-Governor Scott Walker in 2017 to earn nearly $4bn in state and local tax incentives for a $10bn display screen manufacturing campus and plant that would employ up to 13,000 people. Trump announced the Foxconn deal at a White House ceremony and travelled to Wisconsin in 2018 for the groundbreaking.
But after the deal was signed, Foxconn said it was downsizing the factory to what is known as a Generation 6 plant rather than a Generation 10.5 plant. The facility envisioned now would make smaller, thin-film transistor liquid crystal display screens for mobile phones and other devices, rather than the larger screens that were first proposed.
The letter sent Monday from Wisconsin Economic Development Corp Secretary Melissa Hughes confirmed that from the state's perspective, Foxconn's new factory can't get state tax credits unless the original contract is changed.
Foxconn spokeswoman Myranda Tanck had no immediate comment.
Hughes said in the letter to Jay Lee, the vice chairman of Taiwan-based Foxconn, that "Foxconn's activities and investments in Wisconsin to date are not eligible for credit."
"As we have discussed numerous times, markets, opportunities and business plans can and often need to change," Hughes said in the letter. "I have expressed to you my commitment to help negotiate fair terms to support Foxconn's new and substantially changed vision for the project."
The state, in a separate communication, told Foxconn that because the company is not building the factory envisioned in the contract, the state cannot calculate job creation or capital investment tax credits.
"Once Foxconn is able to provide more accurate details of the proposed project, such as its size, scope, anticipated capital investment, and job creation, WEDC would be able to offer support for the project with tax incentives as it does for many large and small Wisconsin businesses," Hughes wrote.
Wisconsin State Representative Gordon Hintz, the Democratic minority leader and a longtime critic of the project, said the announcement "cements Foxconn's legacy in Wisconsin as one of broken promises, a lack of transparency, and a complete failure to create the jobs and infrastructure the company touted in 2017."
Why some voters still have not received their mail-in ballots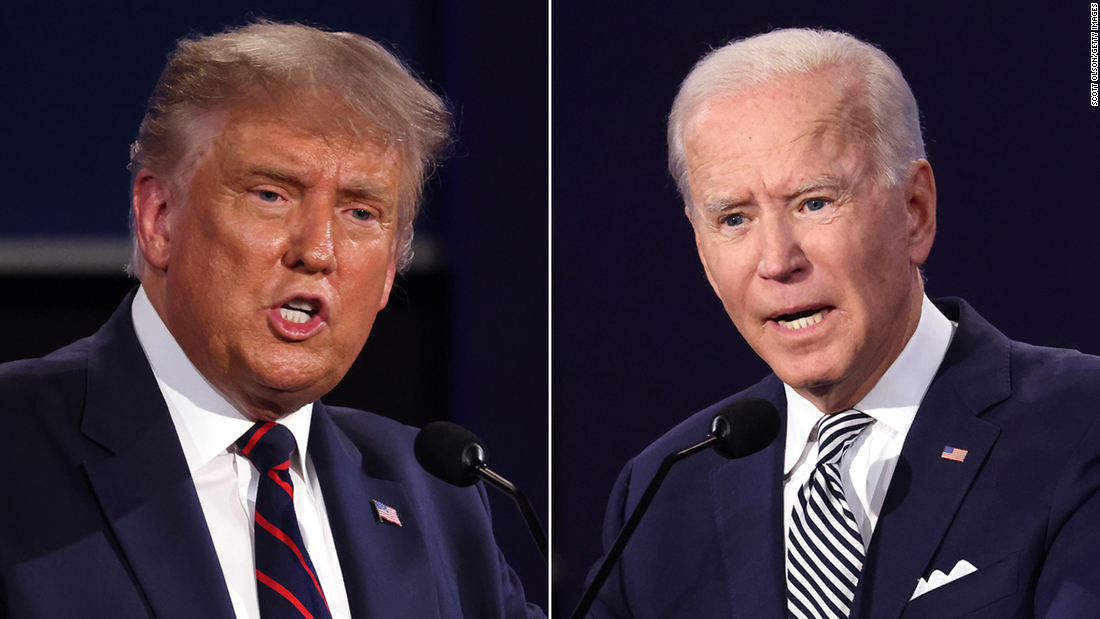 With less than two weeks to go before Election Day, many voters around the country have still not received their mail-in ballots.
Printing errors, mail delivery delays and the sheer volume of requests have left many states across the country scrambling to get ballots into the hands of voters ahead of the fast approaching deadline.
Voters in Ohio have seen delays thanks to a ballot printing backup. In Michigan, a state that has already seen 3 million absentee ballot requests, 20,000 absentee ballots have yet to be sent out. In addition to printing and mail delivery delays, some counties had to reprint and re-send ballots, including Pennsylvania's Allegheny County — further squeezing the window for voters to get their ballots returned in time.
Voters who say they requested their absentee ballots in a timely fashion are frustrated and confused to find themselves still waiting, just a week before the recommended US Postal Service deadline for getting ballots back in the mail.
Lee Zacharias, 75, from Greensboro, North Carolina, never received her absentee ballot. She wanted to vote via absentee because of her compromised immune system, but ended up risking her health, and voting in-person because she felt that it was getting too close to the deadline.
According to BallotTrax, a new tool North Carolina voters can use to keep up with their ballot status, Zacharias' initial ballot was outbound on September 11. When that one didn't show up, she called the Guilford County Board of Elections on September 28. Zacharias said she was told BallotTrax isn't always accurate, but to be safe the county would cancel her original ballot and send her a new one. When that ballot didn't arrive, Zacharias decided to cast her vote in person because she was nervous that it would never show up.
"The fact that I know that mine is not the only case. That there are a number of other people that have not received absentee ballots they applied for, who had ballots that disappeared, like mine did and have been voided and have not receive replacement ballots makes me angry," Zacharias said.
Read the full story here and visit CNN's Voter Guide to see deadlines in your state.
Protesters gather in Bangkok after PM snubs call to resign
Demonstrators seeking to keep up pressure on the government ahead of Monday's special parliament session.
Protesters have gathered in Bangkok, seeking to keep up pressure on the government one day ahead of a special session of Parliament called to try to ease political tensions.
The rally took place on Sunday at the busy Rajprasong intersection, in the heart of the capital's shopping district, an area that usually draws large weekend crowds.
The rallies were called on Saturday night after Prime Minister Prayuth Chan-ocha ignored the protesters' deadline to step down.
The protesters' core demands include a more democratic constitution and reforms to the monarchy.
Public criticism of the monarchy is unprecedented in a country where the royal institution has been considered sacrosanct.
The protesters charge that Prayuth, who led a coup in 2014 as the army chief, was returned to power unfairly in last year's general election because laws had been changed to favour a pro-military party.
The protesters also say that the constitution, written and enacted under military rule, is undemocratic.
Prayuth's government called parliament into a session – expected to start Monday and last two days – in an effort to defuse weeks of almost daily protests.
"The only way to a lasting solution … is to discuss and resolve these differences through the parliamentary process," he said last week.
Prayuth also lifted a state of emergency on Thursday that he had imposed a week earlier that made the protest rallies illegal.
The protesters were not impressed by his efforts to appease them, declaring them insincere.
Several have noted on social media that the points of discussion submitted by the government for debate were not intended to deal with protesters' concerns but were thinly disguised criticisms of the protests themselves.
Al Jazeera's Tony Cheng, reporting from Bangkok, said the protesters are in full voice and reiterating their demands.
"There are thousands of protesters on the streets. The mood is more relaxed than we have seen in recent weeks. There are police here but they are standing back and directing traffic where they can. Authorities haven't closed down the transport system, which they have done previously," Cheng said.
Protest organisers have called for a march on Monday afternoon that will take them to the German Embassy in central Bangkok, far from the parliament complex which is on the outskirts of the city.
The march is apparently to draw attention to the protesters' contention that King Maha Vajiralongkorn spends too much of his time in Germany.
Nagorno-Karabakh: Fighting continues, Baku issues Russia warning
Armenia, Azerbaijan blame each other for continuation of the conflict as Aliyev warns Moscow not to get involved.
Fighting has continued on Sunday between Azerbaijan and ethnic Armenian forces over the mountainous enclave of Nagorno-Karabakh with both sides blaming each other for blocking a peaceful settlement to the conflict.
Armenia accused Azerbaijani forces of shelling civilian settlements on Sunday, a claim that Baku denied.
Azerbaijan said it was ready to implement a ceasefire provided Armenia withdrew its forces.
The clashes yesterday and today in and around Nagorno-Karabakh, a part of Azerbaijan populated and controlled by ethnic Armenians, came after US Secretary of State Mike Pompeo hosted foreign ministers of both countries in a new peace push on Friday.
The collapse of two Russia-brokered truces had already dimmed the prospect of a quick end to fighting that broke out on September 27 over Nagorno-Karabakh.
Blame game
Officials in Nagorno-Karabakh said Azerbaijani forces fired artillery on settlements in Askeran and Martuni in the night, while
Azerbaijan said its positions had been attacked with small arms, mortars, tanks, and howitzers.
"I am absolutely confident in the effectiveness of the peace negotiations but this also depends on the will of the Armenian side to take part in them," said Azerbaijan President Ilham Aliyev.
"Why can Azerbaijani and Armenian people live together in Georgia, Russia, Ukraine, and other countries but not in Nagorno Karabakh?" he added in a Fox News interview reprinted by the Azertag News Agency.
Armenian President Armen Sarkissian accused Baku of being "aggressively stubborn and destructive".
On Sunday, the defence ministry of the Nagorno-Karabakh region said it had recorded another 11 casualties among its forces, pushing the military death toll to 974 since fighting with Azeri forces erupted.
World powers want to prevent a wider war that draws in Turkey, which has voiced strong support for Azerbaijan, and Russia, which has a defence pact with Armenia.
Differences over the conflict have further strained relations between Ankara and its NATO allies, with Pompeo accusing Turkey of fuelling the conflict by arming the Azerbaijani side. Ankara denies it has inflamed the conflict.
Armenian call for Russian involvement
Sarkissian, in comments reprinted by the Armenpress news agency, called on "global players" to step in immediately to help negotiate a ceasefire.
"In the context of the Nagorno-Karabakh conflict, Russia is a trusted and pro-active mediator between the conflicting sides. Russia plays a crucial role here," he said.
Azerbaijan's Aliyev said it was "very hazardous" for Armenia to want Russian military support in the conflict and that third parties should not get involved militarily.
Russian President Vladimir Putin has said he hoped that the US would help Moscow broker a solution to the conflict.
Azerbaijan says 65 Azerbaijani civilians have been killed and 298 wounded but has not disclosed its military casualties.
About 30,000 people were killed in a 1991-1994 war over Nagorno-Karabakh.
Armenians regard the enclave as part of their historic homeland; Azeris consider it illegally occupied land that must be returned to their control.