Former Apple engineer and autocorrect creator builds his first app, a word game called Up Spell
Former Apple software engineer and designer Ken Kocienda, whose work included the original iPhone and the development of touchscreen autocorrect, has created his first iOS app, Up Spell. The fast-paced, fun word game challenges users to spell all the words you can in two minutes and uses a lexicon of words Kocienda built to allow for the inclusion of proper names. A portion of app revenues are also being donated to a local food bank, so you can help give back while relieving stress through gaming.
Kocienda says he had never before made a standalone iOS app.
When he worked at Apple, all the code he wrote was integrated into a bigger iOS release. So when Kocienda got the idea to develop a game, he looked to obvious sources of inspiration: his past experiences with typing, keyboards, and autocorrect.
[embedded content]
The game's lexicon was built first with the New General Service List to serve as its foundation. This was followed by weeks of writing small programs to generate lists of candidate words — like, by adding an "S" to existing words to pluralize them, for example. And hours more were spent scanning lists to choose the words to include.
Kocienda says he also wanted the game to fun, and personally found it frustrating that other word games wouldn't allow proper names.
"Many games accept words like PHARAOH and PYRAMID, but not NILE or EGYPT. This doesn't make sense to me. These are all words!," he says.
So he built his own list that includes thousands of proper names, then added to it more slang and contractions to expand it even further. That means you can spell a word like S'MORES, which involves an apostrophe, for example.
While support for a variety of words, including proper names, is the key way the gameplay differentiates from rivals, the app's business model is also one that's becoming less common these days: it's a one-time paid download.
The app is a $1.99 download that lets you pay once to play forever. Today, many games in this same space use a freemium model where the app download itself is free, but you're then nagged with in-app hooks to buy coins or tokens to advance gameplay or unlock certain features.
Kocienda's decision to forgo this model was intentional, he explains.
"I made Up Spell a two-minute game without much in the way of gameplay gimmicks," says Kocienda. "You just spell words. 2020 has been a rough year for everyone, and sometimes taking out two minutes to think about nothing but spelling a few words is just the kind of right kind of stress reliever," he adds. "I hope Up Spell brings people a little unexpected happiness to their 2020."
Also of note, 25 cents per download is being donated to the San Francisco-Marin Food Bank, which works to get food to vulnerable people in Kocienda's area.
If all goes well, Up Spell may be followed by other games with a similar model, like a sounds or color-matching games, for instance.
The new game is a one-time paid download on the App Store.
Should You Wear a Mask Outdoors?
Masks protect us from the coronavirus, indoors as well as out. But do you really need a mask outdoors? In some cases, you can go bare-faced, but you should still have a mask in your pocket just in case. Let's talk about the factors you should consider when deciding if a mask makes sense outdoors. (When in doubt, wear one anyway.)
Outdoor air dilutes the virus
One of the problems with indoor environments is that some of the respiratory droplets that can carry the virus are tiny. Indoors, the air containing these droplets has nowhere else to go. That's why outdoor dining makes more sense than eating indoors, for example. The risk isn't zero; there have definitely been super-spreader events at backyard parties and very likely a certain Rose Garden political event.
Many factors contribute to whether an interaction is likely to be a higher or lower COVID risk, and being outdoors generally takes the risk down a notch.
G/O Media may get a commission
Brief encounters are low risk
Next we have to consider what you're doing outdoors. Considering that Rose Garden event for a moment, should you wear a mask if you know you're going to be near other people for hours, shaking hands and hugging? Absolutely. In fact, you probably shouldn't go at all. That goes double if you know the other guests have been disregarding safety measures until now.
But passing somebody when you're out jogging is a different scenario. To understand this more intuitively, it may make more sense to think of someone with bad breath or who has been smoking recently. Would the scent be overwhelming if you're in the same park with a few such people? Or would you just detect a mild whiff as they pass you on the trail?
Very brief encounters, like passing someone as you jog or bike past them, may not be zero risk, but they are very low risk. "Any single brief, passing exposure is low-risk, but such exposures might add up over time," airborne transmission expert Linsey Marr told the South China Morning Post. Wearing a mask makes sense if you'll be encountering many people while you're outside. It's also a reasonable precaution even if you won't.
Decide based on circumstances
It makes sense to think of the different layers of safety, and use a mask as one of them. If you're outdoors, exposures are short, and people are nearly always more than six feet away, the mask doesn't add much protection. If you'll be encountering many people—for example, on a busy city street—a mask is a helpful safety layer to include.
I don't wear a mask for most of my outdoor walks and runs, but that's because I know I'm unlikely to come within six feet—or even ten feet—of anybody else. I go for walks on a quiet neighborhood street where I rarely pass anyone and can cross the street if I do. I go for runs on paths where I'm often the only person there.
But since I prefer to jog without a mask, I've given up my favorite running path, the one where I'd probably pass at least one or two people each minute. (If I did jog there, I'd definitely wear a mask; but since most other people on that trail are maskless, it feels like it's not worth the risk.)
There is no official answer as to whether you should wear a mask outside. The CDC suggests that if you can't stand wearing a mask when exercising, you should consider moving your workout outdoors. The University of Maryland Medical System says that masks aren't needed if you're outdoors alone, but that if you're jogging down the sidewalk you should mask up. If your city or state gives guidelines for when to wear a mask outdoors, follow those. If not, consider the factors above and wear a mask anyway when in doubt.
Now You're Playing With Power: This $168 Portable Solar Generator Can Fuel a Fridge for 6 Hours Straight
Best Home Deals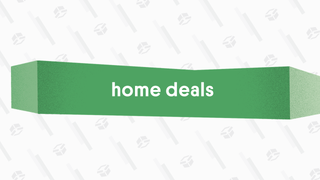 Best Home Deals
The best home, kitchen, smart home, and automotive deals from around the web, updated daily.
Tacklife Portable Solar Generator | $168 | Amazon | Promo Code IGVILO7Z
Whether you're outdoors camping, or your power is out at home, a portable generator comes in handy for recreational activities and emergency situations alike. This one from Kinja Deals reader-favorite brand is solar-powered and boasts a 299 watt-hour battery capacity. Measuring 14.7 x 8.4 x 7.4 inches and weighing 10.28 pounds, the company says it's "palm-sized," though I'd rather compare it to an industry-grade rugged laptop—compact enough to take on a trip, even in the trunk of a small sedan, but don't count on fitting it in your pocket. Still, considering its diminutive dimensions, it packs a real punch, laying claim to powering a smartphone more than 27 times, a 45-watt laptop (or a refrigerator!) for 6 hours, a 30-watt CPAP for 9 hours, and a 110-watt car vac for consecutive hours.
The Tacklife solar generator includes the required three Lithium-ion batteries needed to operate the device, and for a limited time only is discounted 40% using the promo code IGVILO7Z. As winter approaches and the weather grows colder, you might want to jump on this deal before it spikes back up to its full $400 list price. It was marked up as recently as September 3 and the aforementioned coupon only lasts until the end of the day October 23. You've got until Friday to secure a backup plan for any upcoming outdoor expeditions or blizzard-induced power outages bound to arise in the coming months.
---
G/O Media may get a commission
This app lets you do custom iOS icons without the Shortcuts app
iPhone icon customization is booming, thanks to new features in iOS 14, but there's still some big catches. The workaround for a bespoke iPhone homescreen requires routing through Apple's Shortcuts app every time you want to open an app, and the process of customizing all your apps one-by-one is a time-consuming and frustrating task.
But Launch Center Pro — a popular tool for customizing and creating quick shortcuts on iOS — has solved both of those issues with its latest update. With a clever workaround that uses Apple's own Profiles system to install custom "web clip" profiles that directly link out to your selected apps, users can finally make custom icons that work just like regular apps. Plus, they can be installed in a batch, allowing users to easily add custom icons for almost all their favorite apps in one fell swoop.
It's not a perfect system: users will still have to set up each app, one by one (although Launch Center Pro does make getting that set up a little easier), and you'll still have to hide your "real" apps to iOS 14's App Library, given that Launch Center Pro's direct links are still, well, links. Still, it's a far better solution than using Shortcuts, one that makes installing and using custom icons a viable option for day-to-day life. And due to limitations from Apple, the direct linking only works for third-party apps from the App Store — Apple's own apps still have to bounce through either Shortcuts or Launch Center Pro.
The actual process of getting all your apps installed is a little complicated, but Launch Center Pro has helpfully put together a handy video guide that should help you through it. (There's also a TikTok version, which makes sense given that the popularity of custom icon layouts has surged in large part due to videos there.)
Launch Center Pro offers several options for its custom icons. Users can directly import existing photos or images from their phone, in the event that you've already created your own bespoke icons (or bought a pack from an enterprising seller on Etsy.) There's also an icon composer, which lets users easily create their own custom icons out of preset backgrounds and tons of preset glyphs. The company has already hired a new designer to continue to create more icon backgrounds, custom icon packs, and styles for the icon composer, too.
And according to developer David Barnard, the company is already working to add more functionality to make Launch Center Pro's icon system work even better in the future, including the option to save multiple icon sets (so that users can easily swap between setups), the ability to share icon sets to other users, and faster import options to allow pre-made icon sets to be added to Launch Center all at once.
Some of the features here are based on existing options that Launch Center Pro has already offered. But those icons still had to route through Shortcuts — with the new update, they're able to directly link to any app on the iOS App Store. And of course, all of these complex workarounds are needed because Apple refuses to offer any real customization options in the first place, an issue that the company seems unlikely to relent on anytime soon.
Launch Center Pro is a free download, but many of its features — including the option to add custom app icons to the home screen — require either a monthly subscription (for $14.99 per year) or a one-time purchase for lifetime access ($4.99 for home screen app icons, and $24.99 for the icon composer tool.) The company also offers a $74.99 lifetime bundle that permanently unlocks all current and future features.