Manchester United striker to receive Member of the Order of the British Empire in Queen Elizabeth's birthday honours.
Footballer Marcus Rashford has been honoured by Queen Elizabeth II in recognition of his campaign to feed vulnerable children, alongside hundreds of key workers who helped in the fight against the coronavirus.
The 22-year-old Manchester United and England forward is one of the highest-profile figures on the monarch's birthday honours list, which was postponed from June in order to include front-line health workers and others in the COVID-19 effort.
Rashford forced a government U-turn over its free school meals policy, ensuring children in need would receive meal vouchers throughout the summer months, and has formed a child food poverty task force.
Rashford, who has been made a Member of the Order of the British Empire (MBE), said he was "honoured and humbled" to receive the award.
"Let's stand together in saying that no children in the UK should be going to bed hungry," he said. "As I have said many times before, no matter your feeling or opinion, not having access to food is never the child's fault."
MBE 🇬🇧 pic.twitter.com/BYkeKY2chP

— Marcus Rashford MBE (@MarcusRashford) October 9, 2020
Body Coach's Joe Wicks and Derrick Evans, better known as Mr Motivator, also received the MBEs for their live workouts to encourage people to stay physically fit during the lockdown.
Rapper Lady Leshurr has been awarded the British Empire Medal for her coronavirus-related song that reminds people to wash their hands. "I can't believe that the queen of England has noticed and commended the queen of grime," she said.
Of those who have been honoured, nearly three-quarters have worked for their local communities, reflecting the huge voluntary effort in response to the coronavirus pandemic.
"This year's honours recipients are a testament to the sort of country we are – caring, compassionate and resolute in the face of a global pandemic," Prime Minister Boris Johnson said.
"The hard work and dedication of these local, often unsung heroes has helped carry us through. I congratulate them all."
More than 42,000 people have died in the outbreak in the United Kingdom – the worst toll in Europe – and concern is mounting over the rising infection numbers.
Palm oil peril: Is your peanut butter putting primates at risk?
It is tricky to know what we as individuals can do to best help in beleaguered environmental times. We might switch off the lights more often or consider our fashion sources, but it can feel like a meagre and perhaps pointless contribution, wrong though that may be.
Food brings it home. If you sit at the dining table and think of the direct link between that bit of toast slathered in peanut butter, and an endangered species pushed to the brink by deforestation, all becomes a little clearer. This is no anti-spread diatribe but a call to arms to carefully consider what we eat.
The connection is palm oil and it ain't a pretty picture. Palm oil is in a whole load of products from Oreos to shampoo, lipstick to ice cream, cookies to – yes – peanut butter.
We cook in it, bathe in it, and even brush our teeth in it. Experts say it is found in 50 percent of products on our grocery shelves.
The lone ape
But palm oil production has destroyed huge swaths of virgin rainforest, especially in Indonesia. Meanwhile, species, like the orangutan, are pushed to the brink of extinction.
There was a sobering sequence in the latest film by the British naturalist David Attenborough where a lone orangutan is seen clinging to a single branchless trunk amid an endless battlefield of fallen trees. The trees were felled for palm oil production.
Acrobats of the jungle
Of course, it is not just flagship species like the orangutan under threat. Here is a shout out for the singing, swinging ape, the brilliant acrobat of the trees, the animal we think of when we picture primates swinging gracefully through the canopy – the good old gibbon.
When gibbons walk, either on branches or on the ground, they often do so on two feet. Being the most bipedal of all non-human primates, they are regularly studied for clues about the process of evolution that led to us walking.
And yes, they sing with extraordinary vocal tones apparently ranging, as one anthropologist put it, from haunting Japanese flute to blaring police siren.
But gibbons are in deep trouble. They are among the most threatened primates on Earth. And like the orangutan and myriad other rainforest species in Southeast Asia, this is primarily because of palm oil.
According to the Gibbon Conservation Alliance, the endangered Silvery gibbon, which is only found on the island of Java in Indonesia, has lost 98 percent of its habitat.
In Borneo, habitat loss has been dramatic too: Huge swaths of trees burned to the ground to make way for palm oil plantations.
"The fires which ravaged Borneo in 2015 resulted in significant loss of forest," said Dr Susan Cheyne of the Borneo Nature Foundation (BNF). "We estimate around 15 percent was lost and bear in mind only 50 percent of the whole island of Borneo remains forested."
BNF works to reforest degraded areas damaged by fire to help restore habitats for gibbons and other animals. It is also an advocate of deforestation-free palm oil – sustainable palm oil which is grown without causing more deforestation.
Dr Cheyne said the market for palm oil is vast. "Consumers need to be more aware about what they are buying but food companies need to work to provide clear information to consumers about what is in their products."
'There's a Rang-Tan in my bedroom'
This video below, that went viral in 2018, puts it better than any words can. It is an emotive advertisement from a Greenpeace campaign featuring a homeless orangutan.
Watch and consider the peanut butter options.
[embedded content]
Your environment round-up
1. Delayed Arctic freezing: Scientists are concerned that for the first time in recorded history, the Laptev Sea has yet to start freezing by this stage in late October. The delay – partly caused by unusually warm temperatures this year – could have knock-on effects for the region.
2. Cooling paint: A new kind of white paint that reflects 95.5 percent of sunlight could help cool buildings, decreasing the reliance on air conditioning which adds to global CO2 emissions.
3. Watch: Climate concerned?: From extreme winds to floods, drought and fire, the US has witnessed extreme weather events this year. Now, public opinion towards the climate crisis may finally be changing.
4. Listen: Acoustic ecology: Scientists have found signs of climate change in nature's symphonies, and they are racing to record the soundscapes before they disappear.
The final word
A nation that destroys its soil, destroys itself. Forests are the lungs of our land, purifying the air and giving fresh strength to our people.
PrettyLittleThing features its first model to wear a hijab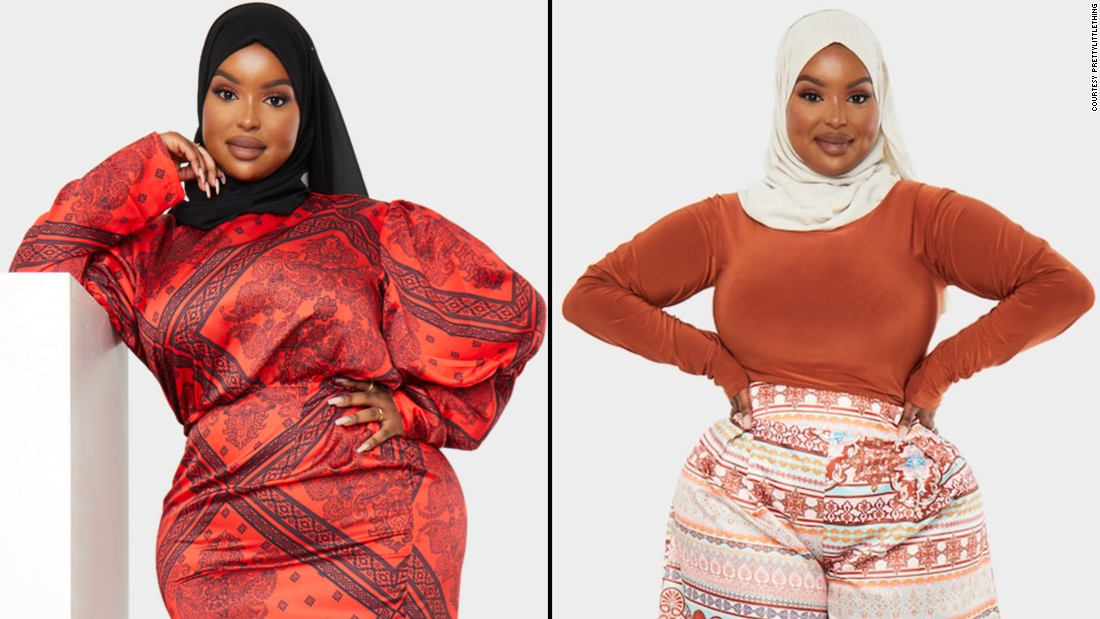 Want more inspiring, positive news? Sign up for
The Good Stuff,
a newsletter for the good in life. It will brighten your inbox every Saturday morning
A Black, Muslim plus-size model is breaking barriers in the fashion industry after being chosen by PrettyLittleThing to model its new line of modest clothing.
Billy Marsal, 21, is a London-based influencer who regularly posts photos of herself wearing trendy and modest outfits on
Instagram
. The online retail giant scouted her on social media shortly after entering the
Middle East market
.
Marsal's work with PrettyLittleThing marks the first time the brand has featured a model wearing a hijab or headscarf, the UK-based company confirmed.
"I didn't realize how big of a deal it was until I started getting replies and messages from people who were so excited about it, then I realized, wow, this is amazing," Marsal told CNN.
"It's an insane feeling, Yes, I am Black, I am Muslim, I am plus size, but I never thought it would be me to make people feel like this."
Marsal is new to the world of professional modeling, but is excited to represent young Muslim women and help them find fashionable clothes that uphold their religious values.
"As girls who wear the hijab, we grew up buying clothes and having to alter things to make them modest so for them now to tell Muslim girls, 'Guys, we're catering to you, too' is a very big deal," she said.
Marsal announced her work with PrettyLittleThing in a
tweet
on Monday that has since garnered more than 500,000 likes and 60,000 retweets. "Soooo… that's me. THE FIRST HIJABI ON PLT!!! Still so wild to me," she said.
PrettyLittleThing, which has collaborated with celebrities like Kylie Jenner and Hailey Baldwin, sells fashion "inspired from the catwalk and the coolest muses of the moment" at affordable prices.
The retailer aims to "inspire confidence" in customers with a message of equality and body positivity, according to its
website
.
"Following our successful launch into the Middle East we are delighted to be launching our 'Modest clothing' collection on site," PrettyLittleThing said in a news release. "Our ethos of 'EveryBODYinPLT is extremely important to us, so it's been amazing seeing such positive customer feedback and working with models who represent all of our customer base."
Marsal said she's happy to see the industry change to include more Muslim women, and looks forward to the day when it's no longer surprising to see a model wearing a hijab.
"I think what's going to happen is this will one day be so normal it's not surprising anymore, because competitors are noticing what brands like PrettyLittleThing are doing and it's going to become the norm," she said.
At least 22 killed in Ghana church collapse
Officials say 11 women, 10 men and a baby died after an under-construction three-storey building collapsed.
At least 22 people, including a baby, were killed when an unfinished three-storey building collapsed in eastern Ghana, emergency officials said on Friday.
The accident happened on Tuesday while a church community held a service in the building, which was still under construction, in the town of Akyem Batabi in the Eastern Region, National Disaster Management Organisation (NADMO) official Richard Amo-Yartey said.
Among the dead are 11 women, a baby and 10 men, Amo-Yartey said.
A rescue team comprising emergency workers, police, soldiers and firefighters were searching for survivors trapped inside the building.
The number of those missing remained unclear on Friday, while eight injured people had been taken to hospital, according to Amo-Yartey.
Local media reported that more than 60 people were present at the site when the accident took place.
Work on the building had started in 1994.