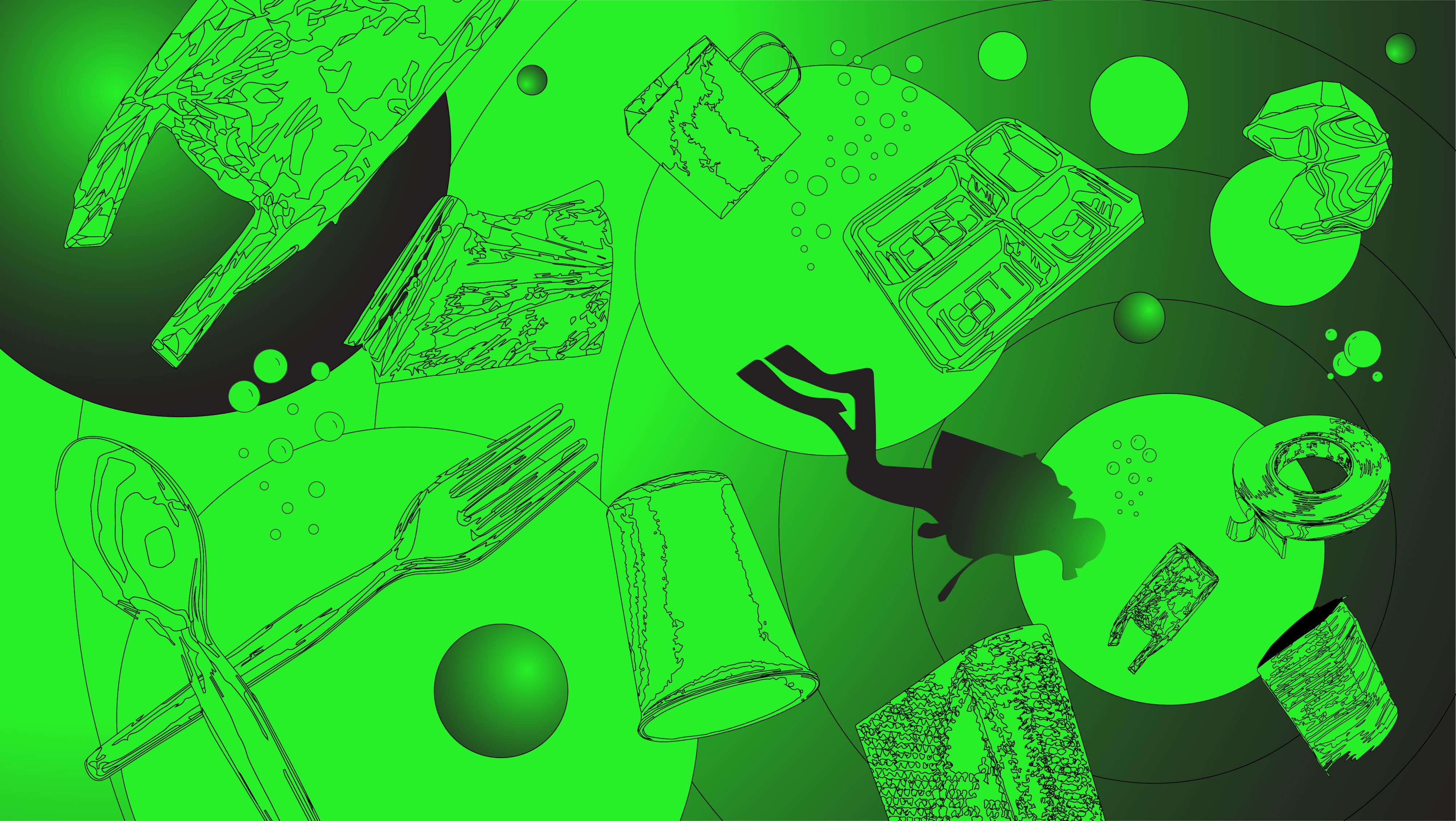 It's time to wake up. On Global Climate Day of Action, VICE Media Group is solely telling stories about our current climate crisis. Click here to meet young climate leaders from around the globe and learn how you can take action.
In 2020, single-use plastic has become a double-edged sword. Face masks, PPE suits, and gloves are essential to protect healthcare workers on the frontlines, but the increase in disposable materials is disrupting already overwhelmed waste management systems. The problem doesn't just come from hospitals, but homes too. People continue to avoid public spaces, turning to online shopping and food deliveries that arrive in plastic containers. These unsustainable practices have long been seen as problematic, with the largest amount of plastic waste coming from the packaging industry. But it is only getting worse.
In July, a public opinion research conducted by YouGov and sponsored by international conservation non-profit Oceana found that Amazon users in the United States have been shopping online more since the beginning of the pandemic. This, even though over 40 percent of the 1,286 respondents acknowledged that they were "bothered" by the extra plastic packaging they were receiving.
In the Asia-Pacific region, 58 percent of consumers increased their online shopping frequency during the pandemic, according to a survey by software company Adobe. Another by U.S.-based management consulting firm McKinsey & Co found that Asian countries showed a 16 to 70 percent increase in online spending on food.
Global watchdogs such as the World Economic Forum (WEF) flagged this surge of dependency on plastic, both in the medical industry and shopping, in May. The increase in single-use plastic is bound to trigger "new public health crises," said the WEF report, especially in developing nations, where mismanaged waste either collect in town centers or leak into rivers and oceans. This is especially worrying, given that the world was already disposing of 29 million metric tons of plastics into the oceans every year, even before the coronavirus outbreak.
The average online shopping package looks like this:
The average food delivery package looks like this:
More often than not, these packages contain single-use materials like bubble wrap, foam meal trays, or disposable cutlery. When not disposed of properly, these eventually devolve into microplastics that end up in the oceans, the soil, sea animals, and eventually, our bodies.
Recent studies have shown that an average human adult eats and breathes at least 50,000 particles of microplastic a year. In fact, they're accumulating inside human bodies at an alarming level.
Some studies found that Asia produces over 50 percent of the world's plastic, while Southeast Asian countries are known to be major contributors to land-based plastic leaking into oceans. These are brought on by various factors like poor waste sorting mechanisms and disposal systems, along with population growth and increasing demand for consumer goods that come with plastic packaging. But it's far from a regional problem. Many of the plastic packaging used in Asia come from multinational companies based in western countries. Environmental organizations have also pointed out how Asian countries have become a "dumping ground" for waste from rich western countries.
Countries in Asia have responded to the problem in various ways, some more effective than others.
Around 27.8 million metric tons of solid waste is generated in Thailand — a country of approximately 69 million people — every year. Of that, plastic waste accounts for 12-13 percent.
Waste management experts have warned that Thailand is becoming "the garbage bin of the world" because of the huge amounts of plastic waste they imported from countries like Japan, Hong Kong, and the U.S. Today, it is counted among the top five countries for throwing plastic waste into the oceans.
In 2017, the country pledged to reduce its plastic waste by 2030. Early this year, they even banned single-use plastic bags in major stores, and are contemplating banning plastic waste imports entirely by 2021. However, since the pandemic started, the government admitted that the fight against plastic waste has "gone back to square one" because of increased food orders. Delivery services such as Line Man and Grab reported 300 to 400 percent growth in order numbers during the beginning of lockdown.
To tackle plastic, the Thai government vociferously favour waste-to-energy plants, but some experts believe this would only encourage plastic use and more imports of waste. There is a plastic bag ban, too, along with an unusual decision to censor plastic bags on television.
Singapore is one of the cleanest countries in the world. Yet, the Singapore Environment Council (SEC) found that Singaporeans use 467 million PET bottles and 473 million single-use plastic items every year, including disposable cutlery and containers found in restaurant takeaways. A small survey conducted between April and May, during the country's lockdown, found that Singapore's 5.7 million residents discarded an additional 1,334 metric tons of plastic waste from takeout packaging and food delivery, equivalent to the weight of 92 double-decker buses.
According to the SEC report, only 4 percent of all plastics used in 2018 were recycled. It also found that the average household produces 1.56 metric tons of waste annually — a third of which is single-use plastics and food packaging, which is equivalent to 10 Olympic-size swimming pools. In 2019, Singapore sent 3 million metric tons of waste to Semakau Landfill, the country's only remaining site, out of which 30 percent was plastic.
Thin shopping bags made of polythene make up the largest part of single-use plastic in Bangladesh during the pandemic. Studies from before the outbreak found that the capital city of Dhaka alone uses 14 million pieces of these bags every day. Many of them end up in the rivers and the ocean. This, despite a ban on polythene bags established in 2002.
According to a study by the Environment and Social Development Organization in Bangladesh, the country generated around 14,500 metric tons of hazardous plastic waste from single-use surgical face masks, hand gloves, and polythene bags from healthcare facilities during the pandemic. This plastic waste emerged in just the first month of COVID-19 lockdown.
Another report shows that the country was already generating around 3,000 metric tons of plastic waste daily, before the pandemic. The pandemic reportedly increased the use of polythene bags "at an unprecedented rate."
A 2019 study by the government's Department of Environment and NGO Waste Concern found that  Bangladesh recycles 36 percent of its plastic waste in the informal sector, dumps 39 percent of it in landfills and leaks 25 percent of it to the environment, which finds its way to the Bay of Bengal.
The Philippines has been tagged as the world's third-biggest polluter of plastic in the ocean. According to a 2015 report by environmental advocacy group Ocean Conservancy, the country generates 2.7 million metric tons of plastic garbage every year. In 2019, a trash audit by the Global Alliance for Incinerator Alternatives (GAIA) found that Filipinos were throwing away 48 million plastic shopping bags, 45 million thin-film bags, and 163 million plastic sachets every day.
While the COVID-19 lockdown has led to increased concerns and awareness about the amount of plastic generated in Filipino homes, social distancing policies have also made some cities scale back their fight against plastic. The city of Paranaque, which lines the Manila Bay, delayed its full implementation of a single-use plastic ban from June 2020 to January 2021 after businesses said they could not follow this considering the lockdown's impact on the economy. Quezon City, the largest city in Metro Manila that's home to about 3 million people, also relaxed its policy against single-use plastics.
NIH director says Covid-19 vaccine authorization 'might not happen' this year
France reported a new daily record for coronavirus infections with 42,032 new cases in the past 24 hours, according to numbers released by country's health agency on Friday.
This brings the total number of confirmed cases in France to 1,041,075, according to French government statistics, and marks the first time the government's coronavirus case tally has surpassed 1 million. 
France also recorded 298 additional coronavirus deaths, bringing the death toll to 34,508, according to the French Health Agency. 
According to government data, an additional 976 coronavirus patients have been admitted to the hospital, and a further 122 coronavirus patients entered intensive care in the last 24 hours. 
Speaking at a health center this afternoon, French President Emmanuel Macron said he expects France will have to live with the virus until at least the summer of 2021.
"When I listen to the scientists, and the Scientific Council, we foresee [living with the virus] at best until next summer," Macron said. "It is still too early to say whether we are moving towards wider local re-confinements, we will try each time to reduce the places, the moments when we have identified that the virus was circulating a lot. This is the strategy we will pursue."
Macron added that the government aims to implement new restrictions in the most targeted way possible. 
From midnight on Friday, France's nighttime coronavirus curfew will be extended more widely, with 46 million French people affected, announced French Prime Minister Jean Castex on Thursday. 
To note: According to the latest data from Johns Hopkins University, France has recorded 1,048,924 coronavirus cases and 34,236 deaths. CNN's Paris Bureau is working on clarifying the discrepancy between state statistics and the university's numbers.
US COVID-19 deaths could hit 500,000 by February, researchers say
The death toll from COVID-19 in the United States could exceed 500,000 by February unless nearly all Americans wear face masks, researchers said on Friday, as 14 states set new records for one-day increases in cases.
The latest estimate by the widely cited University of Washington's Institute for Health Metrics and Evaluation (IHME) reflects concern that cold winter weather will drive Americans indoors, where the coronavirus spreads more easily, particularly in confined, poorly-ventilated spaces.
Nationwide, 76,195 new cases were reported on Thursday, according to a Reuters analysis, just shy of the single-day record high of 77,299 reported on July 16. Only India has reported more cases in a single day: 97,894, on September 17.
"We are heading into a very substantial fall/winter surge," said IHME director Chris Murray, who co-led the research.
The number of possible deaths could drop by 130,000 if 95 percent of Americans covered their faces, the IHME said, echoing a recommendation by Dr Anthony Fauci, director of the National Institute of Allergy and Infectious Diseases.
The country's Health Secretary Alex Azar has attributed the increase in cases nationwide to individual behaviour, saying household gatherings have become a "major vector of disease spread."
Asked about President Donald Trump's claim that the US was "rounding the turn" on the pandemic during Thursday night's presidential debate, Azar told CNN that Trump was trying to provide hope to Americans waiting for a vaccine.
Pennsylvania, a swing state that is expected to play a crucial role in the November 3 presidential election, reported its largest single-day increase in cases since the pandemic began. "Daily increases are now comparable with what we saw in April 2020," the Pennsylvania Department of Health said in a statement issued on Friday.
Also reporting record one-day increases were the states of Alaska, Arkansas, Illinois, North Carolina, North Dakota, Ohio, Oregon, Rhode Island, South Dakota, Tennessee, Utah, Wisconsin and Wyoming.
More in hospital
On Thursday, there were 916 reported fatalities in the US, a day after the country recorded over 1,200 new deaths for the first time since August.
Also on Thursday, the number of COVID-19 patients in US hospitals climbed to a two-month high. There are now more than 41,000 people in hospital with coronavirus across the country, up 34 percent since the start of the month, according to a Reuters analysis.
North Dakota, with 887 new cases on both Thursday and Friday, remains the hardest-hit state, based on new cases per capita, followed by South Dakota, Montana and Wisconsin.
Eight states reported record numbers of COVID-19 patients in hospital on Friday: Alaska, Kentucky, New Mexico, North Dakota, Ohio, Oklahoma, West Virginia and Wyoming.
In Tennessee, hospitals in Nashville said they had experienced a 40 percent increase in patients admitted for the coronavirus.
Dr Jeff Pothof, an emergency medicine physician at University of Wisconsin Health in Madison, expressed worry about a lack of compliance with public health measures in the state, where some groups have challenged Democratic Governor Tony Evers' COVID-19 restrictions in court.
"If we don't get that and we have such tremendous prevalence of COVID-19 in our communities, I don't see a great way out of this," Dr Pothof said. "The picture isn't rosy."
Chicago Mayor Lori E Lightfoot announced a curfew on non-essential businesses beginning at 10pm on Friday (03:00 GMT on Saturday). She warned residents to avoid social gatherings of more than six people and end all gatherings by 10pm.
Nearly 2,500 people are in hospital with COVID-19 in Illinois, the state's top public health official, Dr Ngozi Ezike, told a news conference.
The Northeast remains the one region of the county without a significant surge in cases, but infections are trending higher. Boston public schools shifted to online-only learning this week.
Texas court blocks limits on mail-in ballot drop boxes
Texas governor previously ordered each county have one drop-off location, drawing concerns over voter suppression.
An appeals court in the US state of Texas ruled Friday that Governor Greg Abbott cannot limit drop-off sites for mail-in ballots to one per county, in what could be a setback for United States President Donald Trump.
Upholding a lower court decision, the Texas Third Court of Appeals ruled that limiting the number of drop boxes would increase the risk that voters could be infected with COVID-19 and would infringe on their right to vote.
Trump has repeatedly criticised mail-in ballots, claiming without evidence that they would lead to widespread voter fraud ahead of the November 3 contest that pits the Republican president against former Vice President Joe Biden.
Trump won Texas by nine percentage points in 2016.
Though a Democratic presidential candidate has not won the state in more than four decades, opinion polls suggest that victory may be in reach for Biden, partly due to voters' dissatisfaction over Trump's handling of the COVID-19 pandemic.
The Governor of Texas tried to make it hard for people to vote, with one ballot drop-off per county – even for counties with millions of residents.

As of today, 5.3 million Texans have already voted – which is a whopping 60% of the total number of 2016 voters in Texas. Amazing.

— Brian Klaas (@brianklaas) October 21, 2020
Abbott on October 1 issued an order limiting mail-in ballot drop boxes to one per county, regardless of size or population.
The order raised concerns and criticism that it would put a strain on voters in larger counties like Harris, which encompasses the city of Houston and is home to a racially diverse population of over four million people.
Harris County often elects Democratic candidates, such as Houston Mayor Sylvester Turner.
In its unanimous ruling on Friday, the three-member Texas Third Court of Appeals expressed concerns that limiting drop boxes would increase wait times and create long lines, endangering the health of voters.
Attorney General Ken Paxton said his office would "immediately appeal" to the Texas Supreme Court in a statement released after the ruling.
The court's decision in Texas is the latest blow to efforts to limit drop-off locations for ballots across the US.
On October 10, a federal judge rejected the Trump re-election campaign's attempts to limit how mail-in ballots are collected in the battleground state of Pennsylvania.