Brian Awadis, better known as Faze Rug, loves to be scared. He watches horror movies, visits haunted attractions at Halloween, and frequently films himself getting spooked on his YouTube channel. "I get scared super easy, but I think that's what makes it more fun to watch," he says. "I want to get scared. I just love the thrill of it." So, around a year ago, when he was given the chance to star in a horror movie — his first ever acting role — he jumped at the chance. "That's a no-brainer," says Rug.
For the uninitiated, Faze Clan is a new kind of entertainment company that's part esports organization, part influencer supergroup, and part merchandise brand. It counts some of the biggest YouTube and Twitch stars in the world among its members, including Rug, along with more traditional celebrities like rapper Offset and NBA star Ben Simmons. More recently, though, the company has started to spread into more mainstream pop culture, and the new movie is just the beginning of a planned cinematic universe based around Faze talent.
The movie is called Crimson, and it's a clown-themed horror film directed by Gregory Plotkin, who previously served as editor on Get Out and director on a Paranormal Activity sequel. It's slated to debut just before Halloween on October 29th. (It'll be available exclusively on a new platform called Inviz.) You can get a taste in the first trailer below:
Rug is no stranger to being on camera — he has more than 16 million subscribers on YouTube — but he says he had no acting experience prior to working on Crimson. "Nope. Nothing," he tells me. Because of this, he was nervous prior to filming, particularly with the idea of memorizing a 150-page script. But it turned out that he didn't really have to play a character at all; he was mostly meant to be himself, and there was plenty of room for improvisation with the dialogue. In fact, his nervousness mostly evaporated after the first day on set.
"Since it was my first time making a movie, on the first day they went easy on us," he says. "The one thing I remember, the very first scene we did, me and my cousin were in the scene and we were so nervous. And then it only took two takes to get a good take; they said it usually takes six or seven. That helped my mindset through the rest of the movie." He adds that "I'm really proud of my performance. It was more me being myself, and I think I do that the best, of course."
The shoot was complicated somewhat by COVID safety protocols; Rug says that he and the rest of the crew were tested daily, and the set had dedicated areas where masks and distancing were required. One of the biggest challenges, though — especially for a new actor — was ensuring the scares felt authentic. But the solution was actually pretty simple.
"The fun part about this was Greg, the director, scared me a lot without my knowledge to get those scary reactions," says Rug. "I'll be walking down the hallway in a scary scene and he would creep up behind me and bang on the wall next to me, so I could get that scary reaction. I was actually pretty scared, I'm not going to lie. Until the scene is over and everyone comes out and starts setting up for the next scene, it's pretty scary."
He also ran into another problem very specific to a social media star: keeping quiet. "I wanted to post so much about the movie, and I would kind of get in trouble," he says. "I posted [an Instagram story] once and they all rushed to me like 'Take that down! You're spoiling it!'"
It was also a much more grueling schedule than he was used to. Rug says that he typically shoots YouTube videos every other day, and those shoots last around five or six hours. Work on Crimson, meanwhile, involved three weeks of 12-hour-long days. And to make things even more intense, he didn't actually stop shooting YouTube videos while working on the movie. Instead, whenever he had an off day, he would film something for his channel, including behind-the-scenes features about Crimson. "I didn't have one day off," Rug explains. "Since it was just a three-week span, I just told myself 'Okay, for these three weeks, you're going to be super stressed.' I know it's very unhealthy but definitely now is when I get to chill and relax and not have to worry about a 12-hour day."
That said, working on the movie also turned out to be motivational. Rug says that being able to watch a crew of professionals work behind the scenes helped inspire him to make his YouTube channel more professional — which meant spending quite a bit of money on new gear. "After a few days on set, I went to the camera store and spent like $7,000 on equipment, because I'm like 'They did this!' or 'They did that!' I actually was inspired by the way they shot the movie, and I wanted to apply it to my YouTube channel," he says.
Crimson will be out very soon in order to hit that all-important Halloween window, so you might be surprised to learn that its star has yet to see the story play out from beginning to end. Part of that has to do with the way it was filmed — scenes were shot out of order — but it's also because of a rapid development pace that means the movie is currently still in post-production. "I haven't even seen it," says Rug. "It's kind of crazy how it's not done and it's out in two weeks, but I have full trust in everyone working on it."
How to Take the Classy Portraits Your Pet Deserves
Judging by the amount of pet photos on social media, you'd assume taking a good one would be pretty straightforward. But if you've ever attempted to take a picture of a cat, dog, rabbit, hamster or other creature, you know that it's actually kind of tricky. In motion, your pet probably looks cute most, if not all, of the time. But when you're scrolling through the camera roll on your phone, you may notice that not all the photos truly capture your precious pet's essence.
It's not that you need expensive equipment: you can absolutely take decent pet portraits using your smartphone. In an article in the New York Times, J.D. Biersdorfer breaks it down for us. Here's what to know.
1. Pick a time and a place
You're going to want your pet to be calm, so pick a place they're used to. Also, Biersdorfer notes that some pets are most relaxed right after they've eaten, or right before a nap, so these might be the best times for a photoshoot. If you're going to attempt to recreate the magic of a Sears Portrait Studio, put up a sheet or some fabric, or take the photo in front of an uncluttered wall. For action shots, head to the park or your backyard. Regardless of location, prepare to spend some time snapping many different options in the hopes that one will turn out.
G/O Media may get a commission
2. Turn off the flash
Not only can the flash startle your pet, but it can also give your furry friend some creepy red or bright green eyes. Though natural light is best, if you're indoors and need a boost, try adding some clip-on lights or lamps.
3. Adjust the settings
At this point, most newer smartphones have some version of a "portrait mode," where the focus is on an object or person (or pet, in this case). If you're going for the indoor still shot, this is a good option. Another option Biersdorfer calls out is a "burst mode," which takes many pictures in rapid succession when you hold down the shutter button. Though it doesn't guarantee a perfect shot, it does increase your chances of getting one.
4. Set up the shot
Similar to taking pictures of babies and other small children, having someone else there to distract your pet or get them to focus with toys and/or treats can help. If there's no one else around, use the self-timer and do the distracting yourself. Biersdorfer also suggests playing with different angles—including getting on your pet's eye level—and using a tripod if that would make things easier.
5. Edit
No, you don't have to find and then learn Photoshop—just use the editing software that comes with your phone. You'll be able to make adjustments to the light, background and color, use a filter, or crop and straighten the image. Ideally, you'll end up with something you're proud to post to your main grid.
Facebook reportedly bracing for US election chaos with tools designed for "at-risk" countries
Facebook is planning for possible chaos around the November 3rd US presidential election with internal tools it's used before in countries like Sri Lanka and Myanmar, The Wall Street Journal reported.
The plans may include slowing the spread of posts as they begin to go viral, altering the news feed algorithm to change what content users see, and changing the rules for what kind of content is dangerous and warrants removal. They're strategies Facebook has previously used in so-called "at-risk" countries dealing with mass ethnic unrest or political bloodshed.
The tools would only be used in the event of election-related violence or other serious circumstances, according to the WSJ, but some employees at the company said they were concerned that attempting to slow down viral content could unintentionally hide legitimate political discussions.
Facebook's handling of violent hate speech against Rohingya Muslims in Myanmar several years ago was widely criticized. After a 2018 independent assessment of the situation, the social media giant conceded it wasn't "doing enough to help prevent our platform from being used to foment division and incite offline violence. We agree that we can and should do more." It pledged to better prepare for future risks.
Facebook CEO Mark Zuckerberg said in a September blog post that the US presidential election "is not going to be business as usual." He said he was "worried that with our nation so divided and election results potentially taking days or weeks to be finalized, there could be an increased risk of civil unrest across the country."
Platforms are bracing for pre-and post-election uncertainty in the US, after President Trump has repeatedly criticized mail-in voting, which many people are using this election cycle due to the coronavirus pandemic. He's also declined to say whether he would accept the election results if he loses.
Facebook said last month that it would not accept new political ads a week before the US election (but those that had already been approved will continue running). It also added a "voter information center" at the top of Facebook and Instagram feeds, and plans to provide live, official election results when available via a partnership with Reuters. Facebook has said it will label any posts declaring premature victory, and will remove posts with misinformation about COVID-19 and voting. And it plans to ban all US political ads indefinitely after the November 3rd election.
Upgrade Your PC Gaming Setup Today With a New Respawn Desk ($63 Off) And Gigabyte G27F Monitor ($40 Off)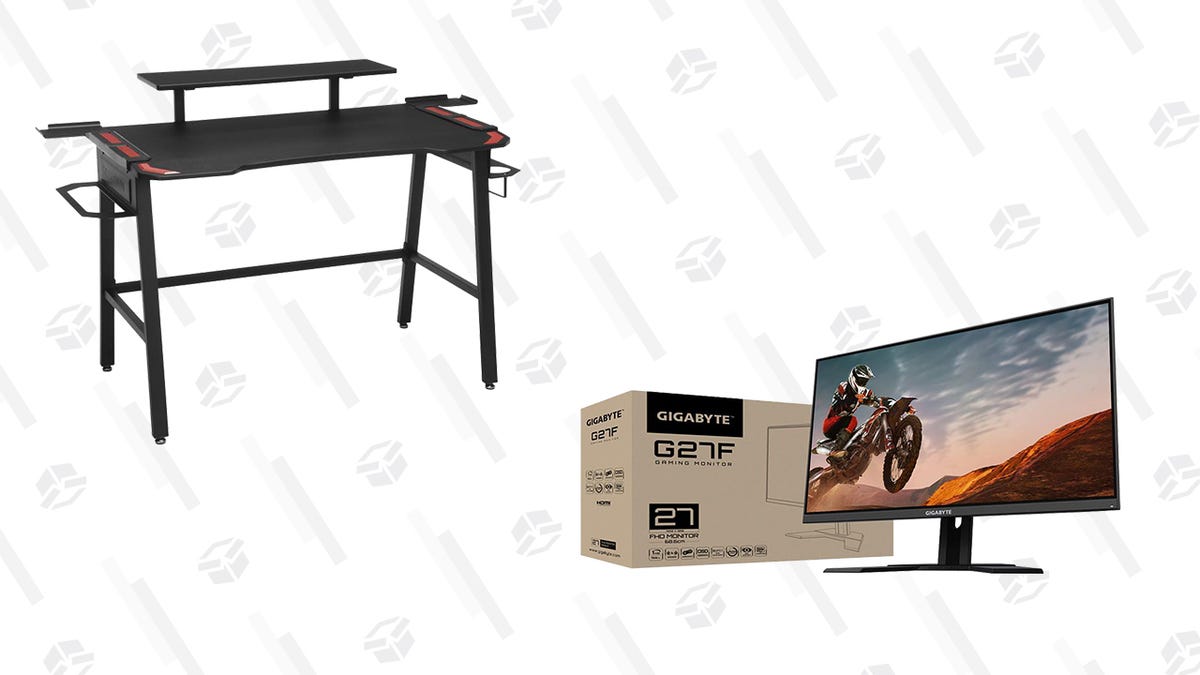 Respawn 1010 Gaming Desk in Red | $150 | Newegg
Gigabyte G27F 27-in. Gaming Monitor | $210 | Newegg | Promo code 93XPW42
This Gigabyte G27F 27-inch gaming monitor has a 144Hz refresh rate and a 1 millisecond response time, as well as a 1920 x 1080 IPS display. You can get it for $40 off, bringing it down to $210, when you apply promo code 93XPW42 at checkout.
Why not grab a new Respawn 1010 gaming desk to put your spanking new monitor on? It's $63 off and can also be found on Newegg. Both of these deals are good for today only, and they also both ship for free.
---
Source