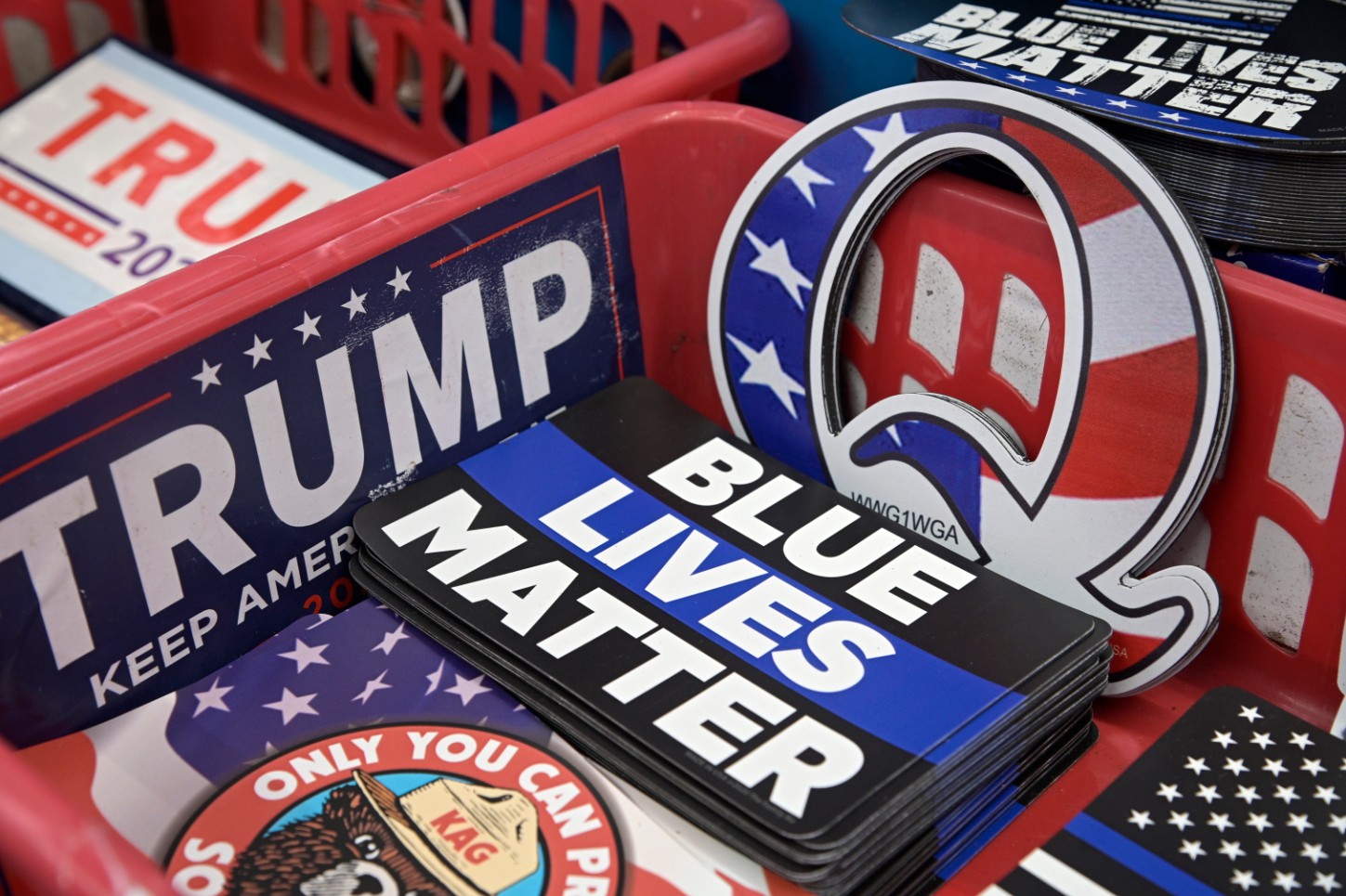 Within hours of Facebook announcing it was going to ban QAnon from all its platforms, researchers who track these conspiracy movements were reporting that hundreds of groups, with hundreds of thousands of followers, had been wiped out almost instantly.
"Holy hell. Just had a look at my list of QAnon groups and pages on Facebook and it's bloodbath out there," Shayan Sardarizadeh, a disinformation researcher for BBC Monitoring, tweeted. 
Those sentiments were echoed by researchers across the globe who had been warning the social network about the threat of QAnon for years.
While disinformation experts welcomed Facebook's action, they also warned that the move to eradicate the movement from its platforms may have come too late: QAnon is no longer a single entity, but has mutated into a group with multiple strands, ranging from the extreme belief that liberal elites are child-eating pedophiles to the softer #SavetheChildren campaigns, which make no reference to Q. Eradicating it from Facebook's platforms won't be as simple as banning groups that refer explicitly to QAnon.
After months of warnings from researchers and journalists, Facebook finally took action against QAnon on August 19, announcing that it would remove QAnon related pages, groups, and accounts if they were found to be engaged in discussions about potential violence.
Facebook removed 1,500 QAnon groups and pages under this rule, but it was not enough.
So on Tuesday, it announced a much more severe ban, designating QAnon as a "militarized social movement."
"Starting today, we will remove any Facebook Pages, Groups, and Instagram accounts representing QAnon, even if they contain no violent content," the company said on its website.
Rather than relying on users' reports to find these accounts and groups, Facebook will rely on its Dangerous Organizations Operations team, a specialist group within the company that tracks movements like QAnon and how they evolve to avoid detection.
But that's not going to be easy.
"The Q ecosystem is built around coded, seemingly innocuous language, cross-platform shares of materials, and image-based memes and content like screenshots of tweets with no caption — so FB's action will need to account for this behavior and the likely reaction/attempts by Q communities to return to the platform using these methods," Ciarán O'Connor, an analyst who tracks QAnon at ISD told VICE News.
Research published Tuesday, hours before Facebook's announcement, backed up the theory that QAnon is merging with other conspiracies such as anti-mask, anti-5G, anti-vaxx, and anti-globalist communities. 
The research from Brian Schaffner, a political scientist at Tufts University, found while they may not have ever heard of QAnon 20% of Americans recognized and believed in at least one of four conspiracy theories that originated from QAnon.
Still, Facebook's actions have had an instant impact. 
Researchers who are tracking QAnon on Facebook have uniformly reported that the majority of the accounts and groups they follow have vanished.
The biggest single impact of this will be to dramatically stop the ability of QAnon followers to recruit new members who may have unwittingly become entangled in the conspiracy theory through one of the less extreme versions.
While the initial takedown has been swift and widespread, Facebook and Instagram have so many users that it's going to take time to find and eradicate all the content. 
Unsurprisingly, people are still finding instances where the company's ban has not been properly implemented.
"There are still plenty of Save The Children groups active, which formed as a direct result of QAnon trying to push the movement to a wider audience using diluted QAnon content," Gallagher said.
Experts are now calling on Facebook to follow through on its new policy, something the company has been criticized for failing to do in the past. 
"I hope to see Facebook fulfill this new policy and stay abreast of the dog whistles and rebranding the QAnon community has become extraordinarily skilled at," Nina Jankowicz, Disinformation Fellow at the Wilson Center, told VICE News.
Within hours of Facebook's ban, other platforms were promoting themselves as new homes for Facebook's lost QAnon believers.
One of those was Gab, a social network that positions itself as one of the only platforms that allows for truly free speech. It has become a haven for Nazis, the far-right, and most notoriously, it was the place where a man posted a violent manifesto before shooting 11 people at the Tree of Life Synagogue in Pittsburgh in October 2018.
"Gab is happy to announce that we will be welcoming all QAnon accounts across our social network, news, and encrypted chat platform," the company's CEO Andrew Torba wrote in an email sent to all users.
Gab and Parler do not have the reach or scale to replace Facebook and Instagram as recruitment platforms to grow the movement, but if QAnon followers are into more extreme sites, they could be radicalized even further.
"It's safe to say that a lot of moderate QAnon followers may not migrate to lesser-known platforms like Parler and Gab, which are certainly not as user friendly [but] because those platforms do not regulate hate speech and disinformation, people that do migrate to those platforms may be exposed to even more extremist material than what was being shared on Facebook," Gallagher said.
Facebook's former head of security Alex Stamos also drew a parallel between how ISIS operated online and how QAnon may now operate, suggesting that the most extreme members may migrate to a smaller home online, but continue to use Facebook as a recruiting tool.
But the most strident QAnon supporters are taking the Facebook ban in their stride, pointing out that this was all part of the plan.
Last month, the eponymous Q posted a message telling followers to "deploy camouflage" and avoid making any reference to QAnon on mainstream sites like Facebook and Twitter to avoid just such a ban.
Now the ban is in place, QAnon supporters are using it as evidence that Q was right all along.
The QAnon accounts and groups who have survived on Facebook have flushed their pages of references to Q and are setting up back-up accounts in case they too are purged.
QAnon followers on Twitter, rather than worrying that Twitter would follow Facebook's lead and ban them, appeared to be too excited about the news that the Department of Justice and the FBI are holding a press conference Wednesday morning, to worry about anything else.
Cover: QAnon and Blue Lives Matter magnets are viewed for sale at a Trump Store, which sells numerous things relating to President Donald Trump, during a new coronavirus pandemic, Monday, Oct. 5, 2020, in Orlando, Fla. (Phelan M. Ebenhack via AP)
Obama says Trump treats presidency 'like a reality show he can use to get attention'
Businessman Andrew Yang will join Young Americans for Biden and youth-focused organizations Student Debt Crisis and Rise, as well as the student loan start-up Savi, for a town hall and phone bank Wednesday.
Yang, a former Democratic presidential candidate and CNN contributor, ran on a platform that emphasized Universal Basic Income and student debt relief for young Americans.
During the virtual event with Yang, Student Debt Crisis, Rise and Savi will announce the launch of a new joint initiative between the groups, which includes a student loan education tool and hotline for student loan borrowers.
"With 45 million student loan borrowers, it's a massive bloc of voters who could easily tip the election and Rise's work with Student Debt Crisis is the first concerted effort to define 'student loan voter' as a category with political power," Rise CEO Maxwell Lubin told CNN.
In September, Rise and Student Debt Crisis teamed up to endorse the Biden-Harris ticket. Wednesday's virtual event with Yang marks the first time the student-focused groups will partner with Savi.
Rise, a student-led advocacy group with chapters on college campuses across the country, has mobilized more than 80,000 students in battle ground states with a get out the vote campaign since the summer, Lubin said. 
Student Debt Crisis is a national organization dedicated to teaching young people how to manage their student loans. They regularly hold clinics to help young people understand their loans and work nationally to reform student debt and higher education policies. 
Pins and needles: US stocks close lower as stimulus talks drag
Investors are increasingly worried that Democratic legislators and the White House may not reach a deal on a vital stimulus package before Election Day.
Wall Street's three major averages closed lower on Wednesday after a volatile trading session, as investors worried whether difficult negotiations in Washington, DC would produce a deal for a fresh United States coronavirus stimulus package.
The Dow Jones Industrial Average closed down 97.97 points, or 0.35 percent, at 28,210.82.
The S&P 500 – a gauge for the health of US retirement and college savings reports – lost 0.22 percent, while the tech-heavy Nasdaq Composite Index shed 0.28 percent.
White House Chief of Staff Mark Meadows said that while there are a number of differences between the White House and Congressional Democrats, Republican President Donald Trump was "willing to lean into" working on an agreement.
Before starting afternoon talks with Treasury Secretary Steven Mnuchin, US House Speaker Nancy Pelosi said there was still a chance for a deal despite resistance from Senate Republicans, though she acknowledged it might not pass until after the November 3 Election Day.
"As long as she keeps dangling the carrot out there that there's still a chance that something could get done, investors continue to remain optimistic," said Michael James, managing director of equity trading at Wedbush Securities in Los Angeles, California.
"You would rather have more long exposure than have too much cash if an agreement is reached. That's a big if," James added.
James said investors were holding out hope a deal could be reached on Thursday.
"Everybody's going to be sitting on pins and needles waiting for the next headline between now and the end of tomorrow's trading day," he explained.
After the closing bell, Pelosi spokesman Drew Hammill said the day's session "brings us closer to being able to put pen to paper to write legislation".
Instead of ploughing money into the market broadly, Michael O'Rourke, chief market strategist at JonesTrading in Stamford, Connecticut said investors picked stocks as they looked at third-quarter financial results.
Of the 11 major industry sectors, nine closed lower, with energy leading the percentage decliners. Communications services was the biggest gainer.
Shares in Snapchat messaging app owner Snap Inc finished up 28 percent after it beat user growth and revenue forecasts, as more people signed up to chat with friends and family during the COVID-19 pandemic.
The news helped boost other social media companies with Facebook Inc up 4 percent and Twitter Inc climbing 8 percent in the communications services index. Smaller social media firm Pinterest Inc also gained close to 9 percent.
Dampening the mood, however, was Netflix Inc, which tumbled almost 7 percent after it kicked off earnings for the market's high-flyers club. The video-streaming service missed expectations for subscriber growth as competition increased and live sports returned to television.
Shares in electric-car maker Tesla Inc rose 4 percent after the closing bell after it reported quarterly earnings. Tesla beat analysts' estimates for third-quarter revenue as it made record vehicle deliveries, overcoming disruptions caused by the COVID-19 pandemic.
Of the 84 S&P 500 firms that have reported third-quarter results, 85.7 percent have topped expectations for earnings, according to IBES Refinitiv data.
Investors also have their eyes on the upcoming elections. Trump and Democratic challenger Joe Biden will face off in their second and final debate on Thursday night.
Will voting in a non-battleground state make a difference?
How does my vote matter if I don't live in a presidential battleground state?
There are still plenty of other races where your vote makes a difference. In fact, voters in almost every state will have a chance to influence both national and local decisions through down-ballot races.
Voters in two-thirds of the states will be electing a US senator. Each one of those races matters for control of the chamber, because Republicans currently hold only a slim majority of 53 of the 100 seats.
The importance of controlling the Senate is evident in the confirmation hearings for President Donald Trump's nominee to the US Supreme Court, Amy Coney Barrett. Because they control the Senate, Republicans are pressing to quickly confirm the conservative jurist. She would replace the late liberal icon, Ruth Bader Ginsberg, and Democrats are virtually powerless to stop it.
Voters in 11 states also will be electing governors, who will shape the state's response to the coronavirus pandemic and other contentious issues, including abortion, crime, climate change and racial inequalities.
And voters in almost all states will be electing state legislators who will determine spending for such things as public schools and colleges, infrastructure and healthcare for low-income residents.
This year's legislative elections are even more important than usual. That is because they are the last before new round of redistricting based on the results of the 2020 census. There are more than 5,000 legislative races in 35 states where the winners will have a role in redrawing US House and state legislative districts for the next decade. How they draw those voting districts could determine which party has an advantage in future elections, and thus which policies are pursued.