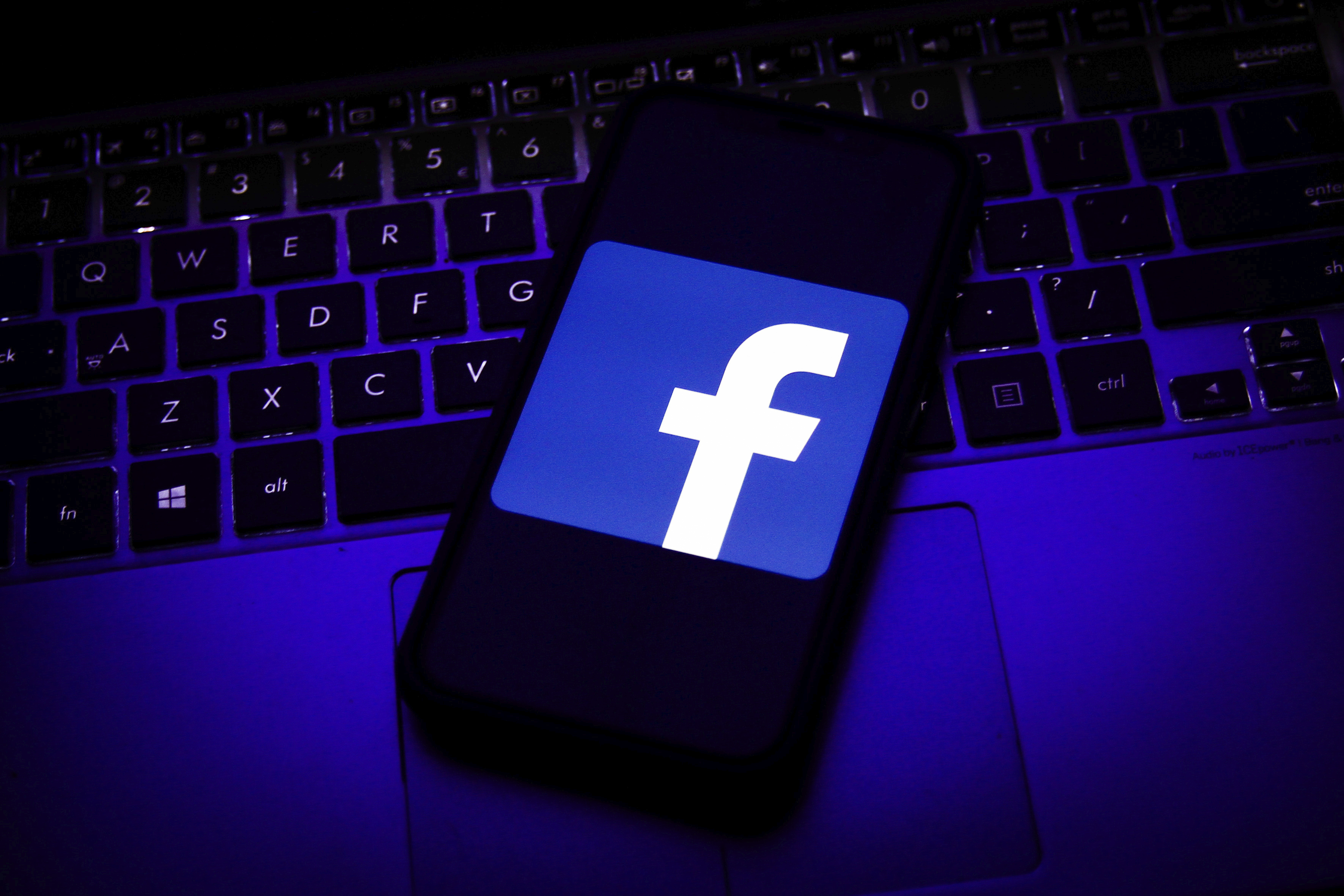 Facebook is using its vast legal muscle to silence one of its most prominent critics.
The Real Facebook Oversight Board, a group established last month in response to the tech giant's failure to get its actual Oversight Board up and running before the presidential election, was forced offline on Wednesday night after Facebook wrote to the internet service provider demanding the group's website — realfacebookoversight.org — be taken offline.
The group is made up of dozens of prominent academics, activists, lawyers, and journalists whose goal is to hold Facebook accountable in the run-up to the election next month. Facebook's own Oversight Board, which was announced 13 months ago, will not meet for the first time until later this month, and won't consider any issues related to the election.  
In a letter sent to one of the founders of the RFOB, journalist Carole Cadwalladr, the ISP SupportNation said the website was being taken offline after Facebook complained that the site was involved in "phishing."
Phishing is when cybercriminals try and trick unsuspecting individuals into clicking on malicious links or disclosing personal information for the purpose of profiting from those actions. It's unclear what evidence Facebook presented to support its claim that RFOB was operating a phishing website.
In SupportNation's letter, the ISP says "the domain name has been registered to impersonate the American social media conglomerate corporation 'Facebook Inc.'"
Typically, ISPs have a dispute resolution process in place that allows the website operator to challenge the allegations. This process can normally take months and ultimately result in a court order being obtained to take a site offline. In this case, there was no warning given.
SupportNation is owned by Endurance International, a large U.S. company that owns multiple ISPs. Neither SupportNation nor Endurance International responded to requests for comment.
Facebook had previously forced another website the group set up — realfacebookoversight.com — offline over alleged copyright infringement.
Neither Facebook nor its Oversight Board immediately responded to a request for comment on the issue. However, on Wednesday night, Facebook spokesperson Andy Stone responded to Cadwalladr's post, saying: "Your fake thing that accuses us of fake things was caught in our thing to prevent fake things." 
Stone did not immediately respond to requests for comment to clarify what he meant by "fake things" in these instances.
"The most extraordinary thing about this whole affair is how it's exposed the total Trumpification of Facebook's corporate comms," Cadwalladr told VICE News. "There is a brazen shamelessness at work here. It's not just that a company that has used 'free speech' as a protective cloak would go after our ISP and drive us off the internet but that its official spokesman responds to such criticism by attacking and trolling journalists." 
Cadwalladr, a journalist who had helped expose the Cambridge Analytica scandal, called the decision "madness" and said that she had written to Facebook's chief legal officer for an explanation.
She said that the takedown showed "a pattern of behavior" by Facebook to undermine the group. 
Last month, after the group announced its formation, Facebook's director of governance and global affairs Brent Harris contacted three people involved in funding RFOB, to tell them that they were undermining the company's own effort and playing into the hands of conservative critics of its planned board.
Cover: Logo of Facebook displayed on a smartphone screen and keyboard are seen in this illustration photo taken in Krakow, Poland on August 11, 2020. (Photo Illustration by Jakub Porzycki/NurPhoto via AP)
Halloween face masks that keep you safe — and still spooky
(CNN) —  
Halloween is typically a time for safety concerns — flammable costumes, tripping, tampered-with candy — but this year, there's something new to worry about: Covid-19. Given the times we're in, the Centers for Disease Control and Prevention has discouraged door-to-door trick-or-treating, parties and even wearing regular Halloween masks rather than ones that can prevent the disease's spread.
"A costume mask (such as for Halloween) is not a substitute for a cloth mask," the CDC says. "A costume mask should not be used unless it is made of two or more layers of breathable fabric that covers the mouth and nose and doesn't leave gaps."
So this year you can wear a disposable or reusable cloth mask under a traditional Halloween costume mask, or you could pick from one of these Halloween-themed face masks below, even if you're choosing to stay home for a virtual party or attend an outdoor scavenger hunt, which is among the CDC's low-risk Halloween ideas. These masks will help to keep you safe without spoiling your costume — and they may even be part of it or inspire this year's theme.
NicholesWickedTops Beetlejuice Face Mask ($12.59, originally $13.99; etsy.com)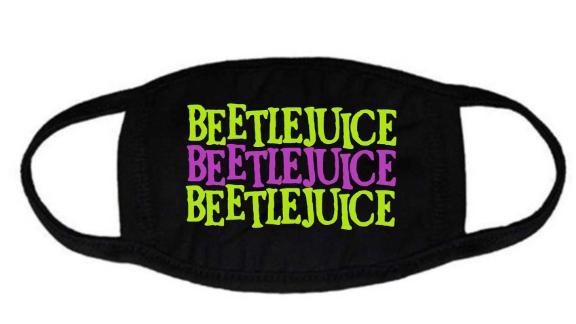 Take one striped suit ($59.99; spirithalloween.com) and one fright wig ($16.59; amazon.com), add this Beetlejuice face mask and you have a costume that no one will realize has a built-in safety feature.
Assmasks Incredible Hulk Face Mask (starting at $9.99; etsy.com)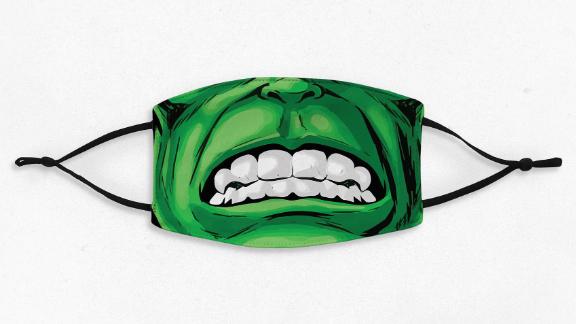 You could also build an inexpensive costume around an Incredible Hulk mask by donning a green T-shirt and a pair of cutoff shorts.
RisebySamyouwell Cat Mask ($16; etsy.com)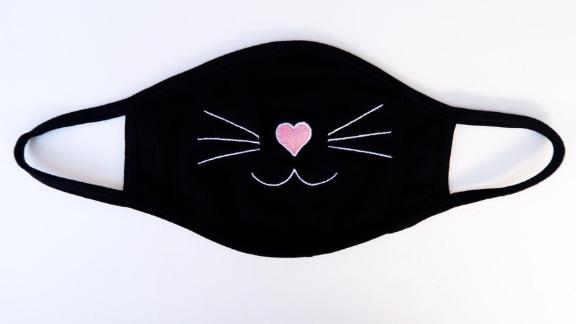 There are lots of other mask options to build a costume around, especially if you like animal costumes. Forget messy face paint whiskers — this year, elevate your animal costume with a mask with its own whiskers and cute heart nose.
SeesanGeneralGoods Animal Face Masks, Red Panda ($10.95; etsy.com)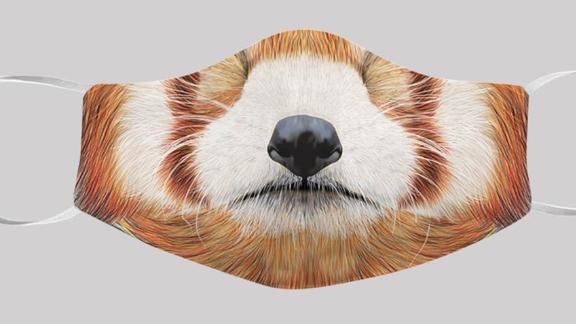 These face masks come in lots of different realistic-looking species, from tigers to domestic cats, so you can even dress as something more unexpected, like a red panda or even a pug.
CaseRocket Scary Clown Face Mask ($12.85, originally $14.27; etsy.com)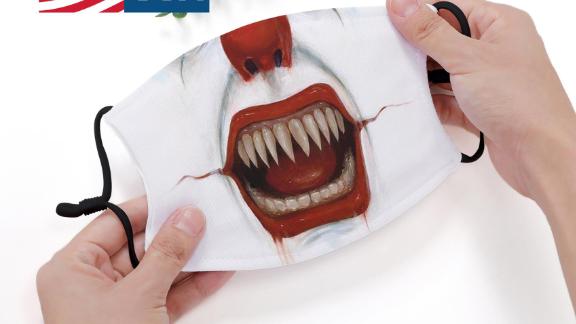 Other traditional Halloween costumes and motifs have also made their way onto masks. Scary clowns are a classic.
JonnyCustomShop Winifred Sanderson Mask ($4.90, originally $7; etsy.com)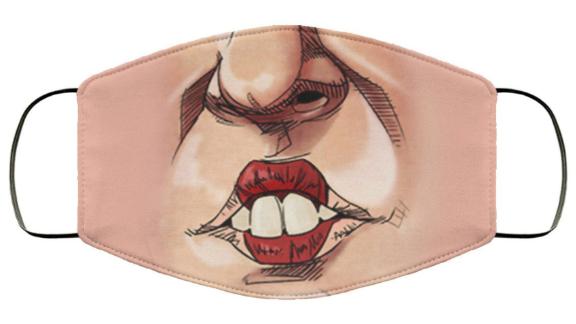 You can never go wrong with a "Hocus Pocus" homage on Halloween. This mask will instantly transform you into Bette Midler's iconic character Winifred Sanderson.
WithLoveJeanette Jack-o'-Lantern Mask ($9; etsy.com)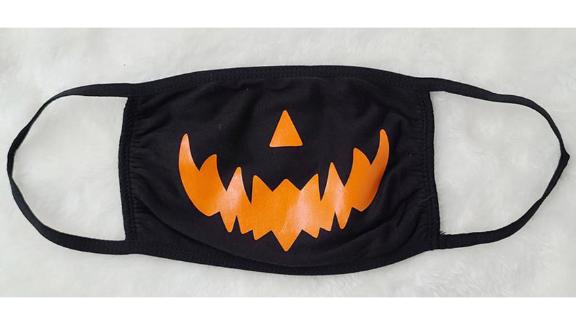 Grinning jack-o'-lanterns offer a new — and friendlier! — take on the smiling face mask.
Gift2yo LED Light-Up Face Mask ($21.79; amazon.com)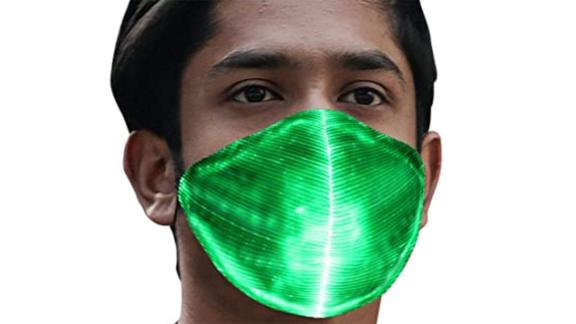 A newcomer in the face mask world is the light-up mask, which uses LED lights to create an eye-catching neon effect. This version can change color, allowing you to pick from seven different hues, and it can be recharged using a USB cable.
Costume Agent Glow-in-the-Dark Skeleton Mask ($13.90; amazon.com)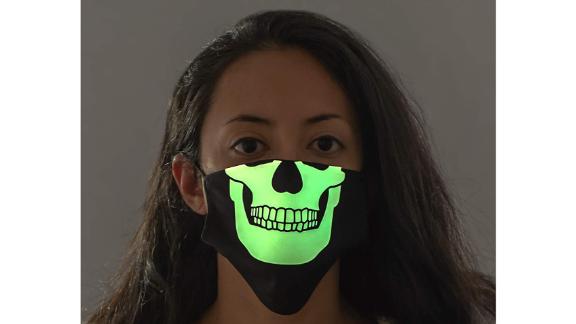 This smiling skeleton mask offers a slightly different take on the glow-in-the-dark styles.
HTownApparel Boo Halloween Face Mask ($11.24, originally $14.99; etsy.com)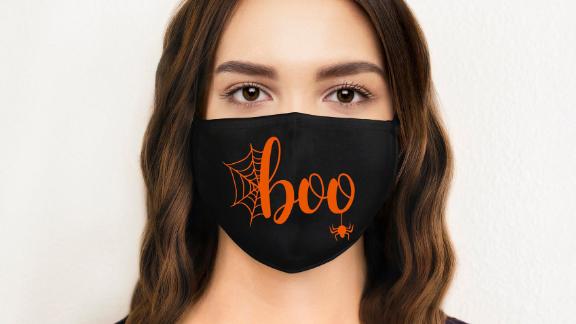 For the jump-out-and-get-you set, this mask that says "Boo!" is just for you.
FoxyRoxyCo Resting Witch Face Cloth Face Mask ($9.98; etsy.com)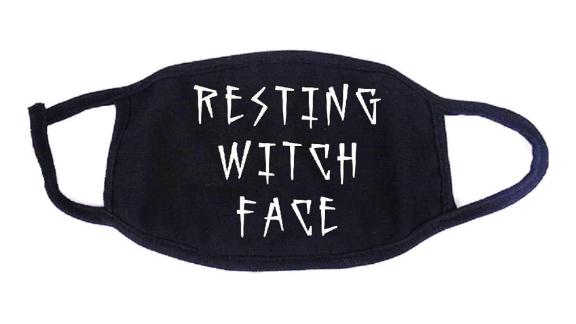 And, if you have a bit of a cheeky bent, this "Resting Witch Face" mask will let people know what your personal protective equipment is hiding.
ProCraftyCreations Candy Corn Face Mask ($8.50, originally $10; etsy.com)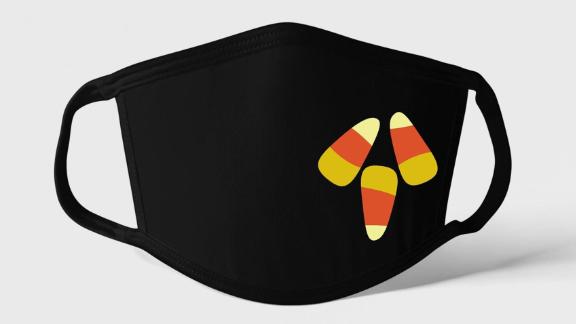 Identify yourself as the designated candy hander-outer of the house with a candy-themed mask.
Studioxtc Gothic Lace Mask ($17.99; etsy.com)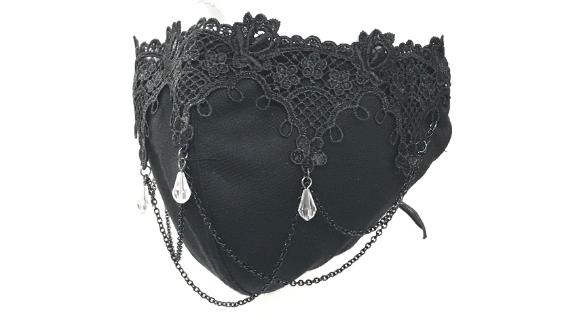 For people looking for a more sophisticated look, a gothic-inspired mask is a lovely addition to formalwear.
This Is My Halloween Costume Mask ($5.99; spirithalloween.com)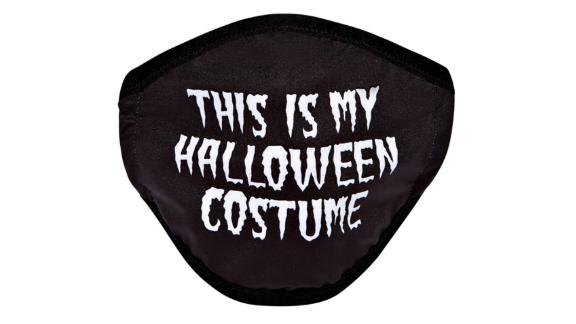 For those who have the opposite of the Halloween spirit, there's a mask just for you: "This Is My Halloween Costume" mask.
Sooqoo Disposable Face Masks, 100-Pack ($25.97 for 100; amazon.com)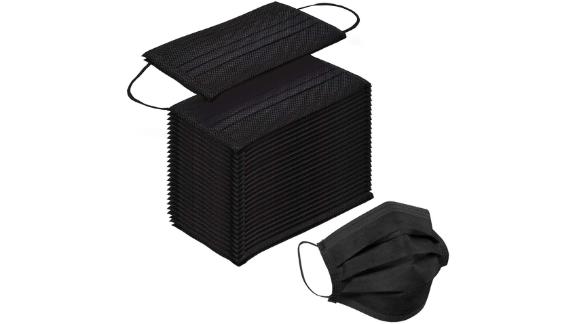 Disposable masks are also convenient, and plain black ones are thematically appropriate for the darkest of holidays.
One Good Thing: This animated miniseries perfectly captures the loneliness of autumn
One Good Thing is Vox's recommendations series. In each edition, we'll tell you about something from the world of culture that we think you should check out.
I grew up on a hog farm in rural South Dakota. It wasn't quite the middle of nowhere — it was situated along a major highway — but it was close. The sounds of semis barreling by in the middle of the night had a ghostly quality, passing us by between other lands.
The worst times were when my family would get home late from some function or another, and I would have to wander out into the dark, flashlight in hand, to make sure the pigs' water containers were working properly. (Pigs, with their muddy noses, often clogged up the pipes with that mud, so the containers had to have the mud scraped out of them twice daily to keep them working their best.)
On fall evenings, with a chill settling in, the handful of trees between the hog lots and my house stood like roadmaps to some other world, lit up by the moon. I would conjure things that might live among the trees, ghosts or Sasquatch or other monsters that could haunt my farm and my childhood. But the trees didn't hide monsters in their shadows. They just hid the house I grew up in.
Few artworks have captured the feeling of those chilly autumn evenings in the dark so well as Over the Garden Wall, a 10-episode Cartoon Network miniseries from 2014 about two brothers lost in a foreboding wood, trying to stay one step ahead of a fearsome beast. (It's now available on HBO Max and Hulu.) Widely acclaimed at the time of its release and the winner of two Emmy Awards, Over the Garden Wall has become a cult classic and an annual favorite for the many fans who watch it each and every October.
Since each episode is 11 minutes long, you can watch the whole series in under two hours, and there are few better times to watch it than right now — now, during this specific October. From jack-o'-lanterns to dying leaves trapped by the wind on a fence to a musical score full of wistful melancholy, Over the Garden Wall captures something intrinsic about the dying embers of fall before winter spreads its chill across the sky. (Here, I will note that the series is appropriate for older children but might be a little too much for younger ones. If your kid is into monsters and other creepy things, however, you might as well give it a shot.)
That autumnal feeling stems from creator Patrick McHale's use of Americana that has slipped out of common usage. In particular, many of the series' images are taken from vintage postcards from the late 19th and early 20th centuries, which were exchanged by friends and family on occasions such as Halloween and Christmas. Thus, the series looks like a dream you maybe had once because it captures not images you've seen a million times before, but the much older images that inspired the more familiar ones. It's like seeing the original after enjoying several generations of copies.
The series' storytelling accomplishes the same. It has the feeling of a fairy tale or folktale, with numerous nods to stories you've maybe heard before. People are turned into animals or trees, Brothers Grimm-style, and the Beast, who is only seen in shadow, is a man with antlers sprouting from his head, similar to mythological figures like Herne the Hunter.
Becoming lost in the woods is a primeval story in almost all cultures but particularly in the United States, where the earliest European colonizers who landed on these shores saw enormous, deep, dark woods and were intimidated by their shadows. (Nathaniel Hawthorne's famous short story "Young Goodman Brown," in which a young man enters the woods to perhaps meet Satan himself captures that creeping terror well.) There is something more unsettling about emptiness than a more overtly scary creature. While Over the Garden Wall only rarely offers actually scary creatures, its core story is unnerving in a way that will hang with you.
The story is mostly a string to hang beautifully designed vignettes upon. Brothers Wirt and Greg are lost in the woods and need to get home. Along the way, they meet a frog and a talking bluebird named Beatrice. In each episode, the two meet more people who live out there, in the woods (or as the series would have it, "in the Unknown"), and they have to be clever to avoid the various fairy tale traps awaiting them in the woods.
If you find yourself wondering along the way whether these woods aren't a real place and if something tragic befell Wirt and Greg to send them into the Unknown, well, that's a logical assumption. The series clears everything up in the end, tying up its surprisingly large number of storylines in a fashion that proves satisfying but not overly neat. The reasons behind the brothers' travels are revealed, and the woods themselves give up their secrets.
I haven't been back to the place I grew up in several years, and the hog lots where I used to scrape mud out of watering containers are long since gone, after my family got out of hog farming in the late 1990s. I do not know when I will return, and I like to think that now, walking along in the dark, I would not be so unsettled by the thought of what might lie lurking in the trees.
But old habits die hard. October returns each and every year, not as spooky as it was in my youth but still with an echo of an echo of what once scared me. Wirt and Greg might reach their final destination, but the Unknown is still out there, waiting to pull the unsuspecting into a great, cavernous mouth lined with trees.
Over the Garden Wall is streaming on Hulu and HBO Max. The first episode of the miniseries and the short film that inspired it, "Tome of the Unknown," are available on YouTube.
---
Millions turn to Vox each month to understand what's happening in the news, from the coronavirus crisis to a racial reckoning to what is, quite possibly, the most consequential presidential election of our lifetimes. Our mission has never been more vital than it is in this moment: to empower you through understanding. But our distinctive brand of explanatory journalism takes resources. Even when the economy and the news advertising market recovers, your support will be a critical part of sustaining our resource-intensive work. If you have already contributed, thank you. If you haven't, please consider helping everyone make sense of an increasingly chaotic world: Contribute today from as little as $3.
Who Measures the Height of Mount Everest and How?
Nepal was supposed to announce the new height of Everest on May 29, but the announcement has been pushed back amid the COVID-19 pandemic. Photo courtesy of Jewel Samad/AFP.
Khim Lal Gautam and Rabin Karki from the Survey Department of Nepal, and Tshiring Jangbu Sherpa, their guide, reached the top of Mt. Everest on 22 May, 2019. The three person team was carrying over 40 kilograms of equipment, including a GNSS receiver and a snow depth ground penetrating radar. They had left Kathmandu on 11 April, and over a month into the trek, in the bitter cold, Gautam, the lead surveyor, had lost a toe to frostbite. The surveyors made it to 8000 meters on the mountain when, on 21 May, they were stuck in a "traffic jam" of climbers trying to make it to the summit. When they reached the top a day later, data from the GNSS receiver was collected for an hour and 16 minutes in minus 109 Fahrenheit, after which the  surveyors began their descent, concluding the most difficult phase of Nepal's first official mission to measure the height of the tallest mountain in the world.
Mount Everest's current accepted height, 8848 meters, is a figure that was obtained by the Survey of India in 1955. Since then, other Indian, American, European, and Chinese surveyors have remeasured the mountain, and produced figures ranging between 8844 meters and 8850 meters. Due to the cost and technical expertise required for the project, Nepal government had not launched its own measurement effort till 2017.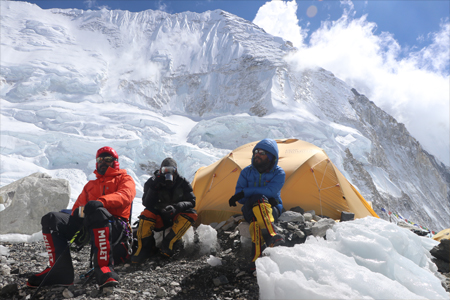 "The earthquake in 2015 caused changes in the positions of the mountains," former deputy director general of the Survey Department, Niraj Manandhar told VICE News. "Remeasuring was extremely difficult, but had to be done in the aftermath of the earthquake."
Dr. Christopher Pearson from the School of Surveying at the University of Otago, New Zealand, an advisor to Nepal's Survey Department, told VICE News that there are three reasons why the remeasurement of the mountain was necessary. One, tectonic activities are such that the height of Mt. Everest is expected to increase between earthquakes and decrease in the aftermath of an earthquake, which means that there may have been a notable change after the shocks of 2015. Two, with improvements in satellite technology, the precision of measurements has gotten markedly better, meaning that new figures on the height of the mountain are likely to be extremely accurate. Three, the top of Everest is covered in ice, and the melting of ice also means that the height may have fluctuated.
In addition to the project's scientific relevance, measuring Mount Everest has also been a matter of national pride for the Nepal government. The Survey Department has spent US $ 1.3 million on the endeavour, working alongside six international firms since 2017. 
 "We are using traditional methods as well as cutting edge modern techniques for the first time, it is a very important project for Nepal," the current Deputy Director General of the Survey Department, Susheel Dongol, told VICE News.
The traditional and modern methods for measuring Mount Everest are the trigonometric method and the satellite method respectively. The trigonometric method, through which the height of the mountain was first determined in 1955, measures the angle from horizontal points away from the mountain in order to make calculations on the height. The satellite method requires surveyors to place a satellite device on top of a mountain, which determines the peak's exact location in a given coordinate system, and a series of calculations from the data thus obtained determine height with a margin of error of a few centimeters.
According to Dr Pearson, a problem with the trigonometric method is that light rays bent by the atmosphere can make a mountain look bigger or smaller, while the challenge with the satellite method is that it measures an ellipsoidal height (the height above a smoothed geometric model of the earth)instead of the height over sea level. Both methods used concurrently, therefore, lead to the most accurate figure.
The Survey Department measured the position and angle of the summit from 12 observation points for trigonometric levelling. A gravimeter— an instrument which measures the force of gravity at any given location— was taken to 298 spots. The ground penetrating radar measured the thickness of the ice-cap at the top of the mountain. The massive data collection effort included over 80 staff members from the Survey Department and took place over two years between 2018-2019 with geodetic equipment contributed by various countries. Most of the analysis of the data was conducted in late 2019.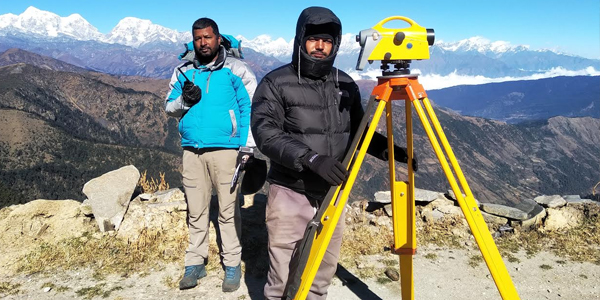 If it wasn't for the pandemic, the new height of Everest may already have been made public, but COVID-19 and tensions with China have delayed the announcement of the height. The "ownership" of the mountain, which lies on the border between the two countries, has long been a point of contention,  and although the relationship between Nepal and China has been quickly advancing in recent years, state communication about matters relating to the mountain is a diplomatic tightrope. In October 2019, after Chinese President Xi Jinping's state visit to Kathmandu, a statement by the Nepali and Chinese government said that they would "jointly announce the height of Mount Sagarmatha/Zhumulangma" (Everest). A year after Gautam and Karki reached the top of the mountain, on May 28, members of the Chinese government's survey team also reached the summit to collect data. Although the measurement efforts have been separate, the promise of a joint announcement means that Nepal's "pride project" is no longer its own.
A senior member of the Survey Department who did not want to be named said that China's involvement was a "blindside," and there is "no clarity" about when the public announcement of the new height will take place.
This is not the first time that the height of Everest has been a source of tension between Nepal and China. In May 2005, when Chinese researchers concluded that the height of the peak was 3.7 meters less than the estimates made in 1955 (they excluded the height of the ice cap at the top of the mountain in their calculation), then Director General of the Survey Department, Raja Ram Chhatkuli had said, "Both are correct heights. No measurement is absolute. This is a problem of scientific research."
 In 2010, the countries agreed to settle their differences, with the Chinese side accepting Nepal's claim that the snow height of Mount Everest is 8,848 meters, and the Nepali side recognised the Chinese claim that the rock height of the mountain is 8,844.43 meters.
The joint announcement decision appears to have taken place without the Survey Department's knowledge. In October 2019, the Survey Department told The Kathmandu Post that ten days after the public announcement, it had not received official communication from the Prime Minister's Office regarding China's involvement in the process, suggesting that those involved with the science of the measurement and those in charge of state messaging were not on the same page. 
A year after the announcement that the height of the mountain would be jointly announced by Nepal and China, the Survey Department has been circumspect on the timeline of the declaration. "It was a long and difficult process, and the reveal will come in due time," Damodhar Dhakal, information officer of the Survey Department told VICE News. 
Follow Abha Lal on Twitter