Tigray held unsanctioned elections for its regional parliament on September 9, with the TPLF securing 189 of 190 seats.
Ethiopian lawmakers have ruled that federal officials should cut off contact with leaders of the northern Tigray region, which defied Prime Minister Abiy Ahmed last month by holding elections his government deemed "illegal".
The decision, announced late on Tuesday by the House of Federation, the upper house of parliament, furthers the breakdown in relations between Abiy and the Tigray People's Liberation Front (TPLF), which dominated Ethiopian politics before Abiy came to power in 2018 and is still in command in Tigray.
The House of Federation "decided the federal government should sever any kind of relationship with the Tigray regional state assembly and the region's highest executive body", according to a statement aired by the state-run Ethiopian Broadcasting Corporation.
The statement noted that the federal government would continue to work with local institutions in Tigray to provide "basic services" to the region, meaning the decision did not amount to a complete rupture.
The TPLF led the armed struggle to topple the brutal Derg regime in 1991 and controlled the ruling coalition that took over.
But since Abiy took office, Tigrayan leaders have complained of being unfairly targeted in corruption prosecutions, removed from top positions and broadly scapegoated for the country's woes.
Ethiopia was due to hold national elections in August, but the country's poll body ruled in March that all voting would need to be postponed because of the coronavirus pandemic.
Tigray went ahead with its own unsanctioned elections for its regional parliament on September 9, with the TPLF securing 189 of 190 seats.
While dismissing the Tigray vote as a "shanty election", Abiy ruled out dramatic retaliatory measures like a military intervention or cutting off Tigray's funding.
Tigrayan leaders have rejected the extension of political mandates – which before the pandemic were due to expire this week – contending Abiy is no longer a legitimate ruler.
They have vowed to recall representatives at the federal level and said any decisions taken by Abiy's government going forward "will not be applicable" in Tigray.
Native American tribes make new bid to shut down Dakota pipeline
Native American tribes have asked a judge to stop the flow of oil while the legal battle over pipeline's future plays out.
Native American tribes opposed to the Dakota Access Pipeline once again have asked a federal judge to stop the flow of oil while the legal battle over the line's future plays out.
The Standing Rock Sioux and other tribes succeeded on their first attempt, only to have an appeals court overturn United States District Judge James Boasberg's shutdown order earlier this year. Now, they are asking the judge to clarify his earlier ruling to satisfy the appellate judges and then to again order the line to cease operations, the Bismarck Tribune reported.
The tribes argue that potential harm to their water supply outweighs any economic impacts of shutting down the line, which has been moving North Dakota oil to Illinois for more than three years.
"The Tribes are irreparably harmed by the ongoing operation of the pipeline, through the exposure to catastrophic risk, through the ongoing trauma of the government's refusal to comply with the law, and through undermining the Tribes' sovereign governmental role to protect their members and respond to potential disasters," lawyers Jan Hasselman and Nicole Ducheneaux wrote in a Friday filing.
Tribes fear a spill into the Missouri River just north of the Standing Rock Reservation would pollute their water supply. Pipeline operator Energy Transfer and the Army Corps of Engineers both maintain the pipeline is safe. Prolonged protests in 2016 and 2017 drew thousands of people to camps near the river crossing and resulted in hundreds of arrests.
US Department of Justice spokeswoman Danielle Nichols declined to comment on Monday on the tribes' filing. The Army Corps and Energy Transfer have until November 20 to file a formal response.
Boasberg, who is overseeing the four-year-old lawsuit filed by the tribes, ordered an extensive environmental study last spring because he felt previous, less-extensive environmental analysis by the Corps left lingering questions.
Boasberg in July revoked the easement that allows for the river crossing and ordered the pipeline shut down until its environmental soundness was proven. A federal appeals court allowed oil to keep flowing, however, ruling that Boasberg had not justified a shutdown. That same appeals court is now determining whether to uphold his decision regarding the study.
Tribes are asking Boasberg to issue an injunction to shut down the pipeline while the legal fight plays out.
Poll Worker Fired For Telling Voters in Black Lives Matter Gear to Change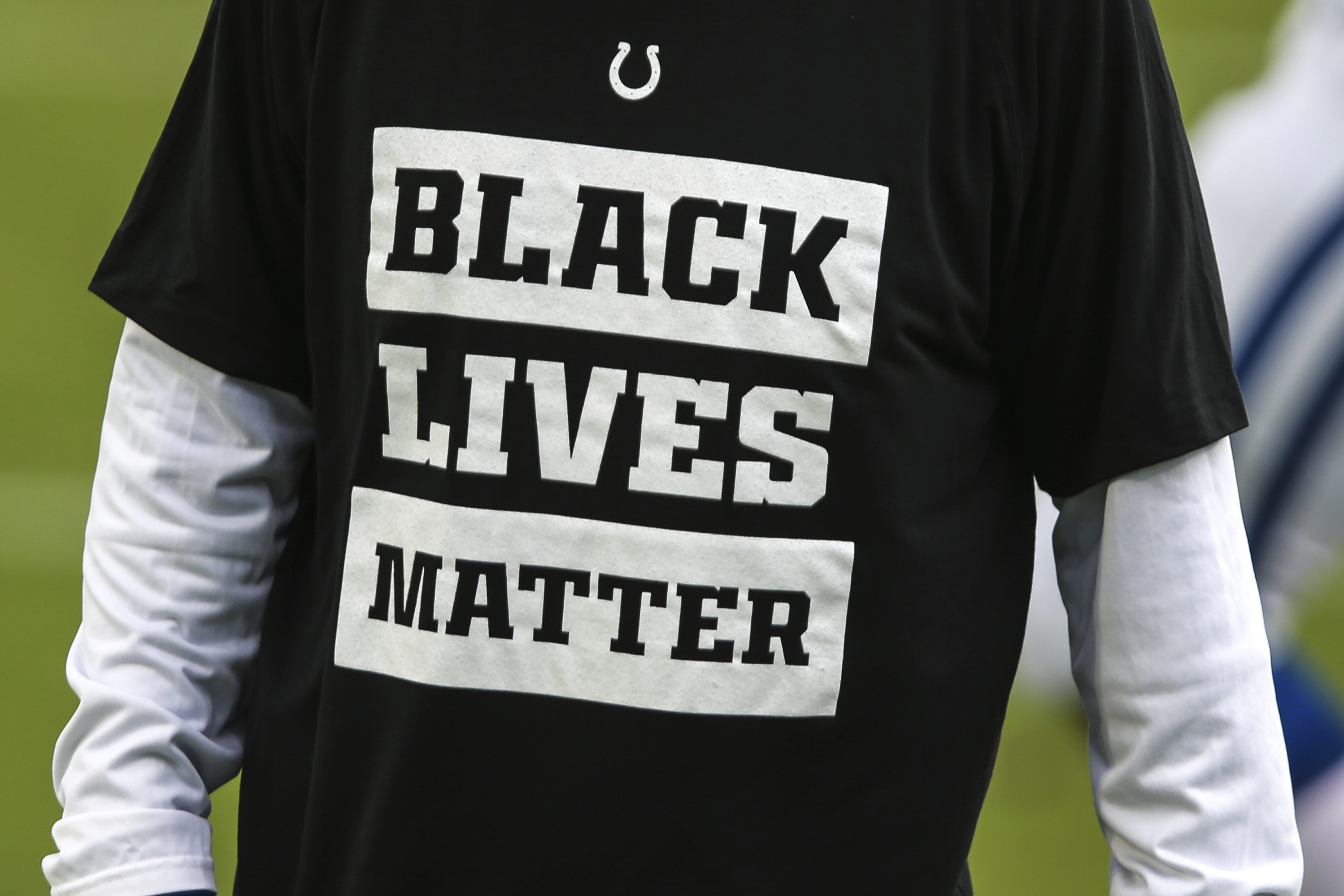 Want the best of VICE News straight to your inbox? Sign up here.
Election officials in Tennessee fired a poll worker last week after he falsely told voters wearing "Black Lives Matter" and "I Can't Breathe" apparel that they had to change before they could cast their ballots. 
The poll worker's demands applied to at least a "handful of people" trying to vote at a Memphis community center while wearing face masks or T-shirts containing the statements, said Suzanne Thompson, a spokesperson for the Shelby County Election Commission. It's unclear whether any of those voters left after they were told to change, cover up, or turn their clothing items inside out, according to Thompson, although it sounded like voters largely complied with the worker's misdirections so they could participate in the election. 
In some states, including Tennessee, people can't wear political garb that displays support for any one candidate or party—otherwise known as "electioneering"—too close to where people cast their ballots. Tennessee law specifically prohibits people from displaying or distributing campaign materials related to any person, party, or "position on a question," within 100 feet of a polling place. 
Shelby County's poll workers have been trained to know that expressing support for Black Lives Matter is acceptable under those rules, according to Thompson. But the fired poll worker was adamant that any such statement was favoring the Democratic Party. 
"We gave them a hand-out that said Black Lives Matter is OK," Thompson said. 
"Here in Memphis, behavior like that is not supposed to be tolerated," she added. "It's not tolerated, especially, at our polling locations." 
It was initially reported that the poll worker had explicitly turned people wearing Black Lives Matter gear away from the polling location, but Thompson said the commission does not think that anyone was asked to leave. 
The poll worker was fired Friday after someone witnessed the behavior and reported it, according to the Associated Press. His name has not been disclosed, but Thompson confirmed the ousted poll worker was a man. The witness did not leave their number, she added, and the election commission is still searching for more details about the incident.
A majority of American adults side with the Black Lives Matter movement, but that support has increasingly been seen as a political statement since nationwide protests erupted over police brutality this summer. 
President Trump, for one, called it a "symbol of hate" when New York City officials said they'd paint "Black Lives Matter" across Fifth Avenue. Police departments in Wisconsin  stopped referring domestic violence victims to a local shelter that put up a sign acknowledging the movement. And, in July, the sheriff for Douglas County, Nevada, said his deputies wouldn't respond to 911 calls at a library that wanted to announce its support for Black Lives Matter. (A county spokesperson later clarified that deputies would continue responding to calls at the library, despite what the sheriff had said.) 
But federal employees, who are otherwise forbidden from partaking in partisan political activities, were recently given the go-ahead to express support for the movement, according to an advisory opinion from the U.S. Office of Special Counsel obtained by USA Today.
UK plans to infect healthy volunteers in COVID-19 research trials
Researchers in the United Kingdom are preparing to infect healthy young volunteers with the coronavirus that causes COVID-19, becoming the first scientists to use the controversial technique to study the disease and potentially speed up the development of a vaccine that could help end the pandemic.
The UK government said on Tuesday that it will invest 33.6 million British pounds ($43.5m) in the Human Challenge Programme in partnership with Imperial College London, laboratory and trial services company hVIVO, and the Royal Free London NHS Foundation Trust.
If approved by regulators and an ethics committee, the studies will start in January with results expected by May 2021, the government said.
Using controlled doses of the virus, the aim of the research team will initially be to discover the smallest amount of virus it takes to cause COVID-19 infection in small groups of healthy young people, aged between 18 and 30, who are at the lowest risk of harm, the scientists leading the studies said in a statement.
Up to 90 volunteers could be involved at the initial stages, they said, and the virus to be used will be manufactured in labs at London's Great Ormond Street Hospital.
"Deliberately infecting volunteers with a known human pathogen is never undertaken lightly,″ said Peter Openshaw, co-investigator of the research.
"However, such studies are enormously informative about a disease, even one so well studied as COVID-19."
⚡We debunk some of the most common COVID-19 myths 🦠️ https://t.co/UHU14AnrPp

— Al Jazeera English (@AJEnglish) October 19, 2020
Tens of thousands of volunteers around the world have already signed up to participate in more traditional trials of COVID-19 vaccines. Critics of human challenge studies question the need to expose healthy people to the virus when the disease remains widespread and vaccine development is moving quickly.
A spokeswoman for the World Health Organization (WHO) said there are "very important ethical considerations" when approaching human challenge trials.
"What is critical is that if people are considering this, it must be overseen by an ethics committee and the volunteers must have full consent. And they must select the volunteers in order to minimise their risk, because you will be challenging people with a virus that we do not have a treatment for," the WHO spokeswoman told reporters in Geneva.
Human challenge studies are typically used to test vaccines against mild infections to avoid exposing volunteers to a serious illness if the vaccine does not work.
Such trials have been previously used to develop vaccines for diseases including typhoid, cholera and malaria.
Governments around the world are funding efforts to develop vaccines in hopes of ending the coronavirus pandemic that has pummelled the international economy, shutting businesses and putting millions of people out of work.
Globally, 1.12 million people have died from the virus and more than 40.5 million have been infected.
Forty-six potential vaccines are already in human testing, with 11 of them in late-stage trials — and several expected to report results later this year or in early 2021.
Chris Chiu, an Imperial College scientist involved in the challenge trial, said his team's "number one priority is the safety of the volunteers".
"No study is completely risk-free, but [we] will be working hard to ensure we make the risks as low as we possibly can," he said.
But Jonathan Ball, professor of molecular virology at the University of Nottingham, warned safety concerns may limit what researchers can learn from the study.
"Any studies involving the novel coronavirus will focus on those most likely to experience a mild infection – young healthy volunteers," he said in a statement from the Science Media Centre.
"Yet the people we need to protect against serious disease are more vulnerable elderly people, so what we learn from challenge studies might have limited wider relevance."
The UK's hVIVO, a unit of pharmaceutical services company Open Orphan, said last week it was carrying out preliminary work for the trials.