Einride, the Swedish autonomous trucking startup, unveiled a new vehicle type that the company hopes to have on the road delivering freight starting in 2021. The vehicles, dubbed Autonomous Electric Transport (AET), came in four different variations. And much like Einride's previous prototypes, they come without steering wheels, pedals, windshields, and, in general, no cab at all.
Einride has been in the business of releasing interesting, eye-catching prototype vehicles since it was founded in 2016. There was the cab-less T-Pod, released in 2017, four of which are operating on public roads hauling freight for Oatly, the Swedish food producer. A year later, the company unveiled the T-Log, built to be more powerful than its predecessor for the job of (you guessed it) hauling tons of giant tree logs. Now it has a next-generation vehicle that it hopes it can put into production.
Einride's also been engaged with the less glamorous part of the job, which is testing, validating, and seeking regulatory approval for its vehicles, all of which are electric and can be controlled remotely by a human operator, in addition to operating autonomously without human intervention. The company has yet to reveal its plans for production and manufacturing.
Design-wise, the AET vehicles look almost identical to Einride's Pod (previously T-Pod) prototype: sleek, white, cab-less pods with smooth lines and an otherworldly feel. Einride CEO Robert Falck said the AET is more aerodynamic than previous iterations, which will help when the company starts to scale up its manufacturing. "When you nail a design the first time, why reinvent the wheel?" Falck said.
The new AET vehicles come in four levels. The first two — AET 1 and AET 2 — have top speeds of 30 km/h (18 mph), weigh 26 tons, have payloads of 16 tons, and a battery range of 130-180 km (80-110 miles). AET 3 and AET 4 have similar weight and payload capacity, with top speeds of 45 km/h and 85 km/h, respectively.
The main difference between the four variants is their operational domain, or conditions under which the car can drive autonomously. The AET 1 is designed to operate within a geofence, or a defined geographic area, while AET 2 is permitted to travel outside a geofence using teleoperation. AET 3 is designed for rural settings, and AET 4 for highway driving. Or as Falck puts it:
The next generation Pod is a singular vehicle, but operates in up to four different operational domains (AET levels). So for example if a customer orders a Pod with AET 3 capability, it is able to operate in closed facilities (AET 1 – Fenced), on nearby delivery routes (AET 2 – Nearby), and on back roads between destinations at speeds up to 45 km/h (AET 3 – Rural). Every Pod, regardless of AET level, is capable of SAE level 4 autonomous drive and able to be remotely operated when necessary.

In terms of tech features, each Pod will be nearly identical, with some different hardware and software configurations depending both on unique customer needs and operational domain demands. That means an electric drivetrain, proprietary telematics hardware that interfaces with the freight mobility platform, and autonomous drive hardware such as LIDAR, cameras, and sensors on each Pod.
Einride claims its new vehicles will "reduce transport costs by up to 60 percent and CO2 emissions by a staggering 90 percent" — a bold but impossible to fact-check claim, given the company doesn't have a fully scaled business yet.
Einride's vision for cab-less freight haulers has helped it raise a modest amount of money: $25 million in 2019 and another $10 million earlier this month from existing investors. The company recently demonstrated how one operator, essentially working as a traffic controller, can control multiple pods at once.
The company says it is using Nvidia's self-driving software to achieve Level 4 (meaning completely driverless under certain conditions) driving. The trucks can also be controlled by a remote operator who is located hundreds of miles away using Phantom Auto's teleoperation technology. The use of this technology may help Einride overcome the hurdles presented by off-road driving.
Most experts believe that the first industry to be affected by autonomous driving will be the trucking sector. What better use case for driverless technology than long-haul trucking where most of the driving is confined to the highway? But Einride has a bolder vision that includes off-roading and heavy-duty cargo.
No doubt the image of a cab-less truck will further stoke fears that autonomous technology will lead to enormous displacement in the workforce — or just fears about the safety of a tractor-trailer sized vehicle without a human driver. (Remember the movie Logan?) In the US, 4.4 million jobs are related to driving; of those, trucking jobs comprise about 2.5 million. A recent study found that automated trucks could reduce the demand for drivers by as much as 50 to 70 percent in the US and Europe by 2030, with 4.4 million of the 6.4 million professional drivers on both continents rendered obsolete.
How Riot used tech from The Mandalorian to build Worlds' astonishing mixed reality stage
After a hard-fought win over Korean team Gen.G, all five members of Europe's G2 Esports stood at the edge of a pool of clear, glistening water to take a bow and celebrate their victory. Two members then picked up their star teammate, Rasmus "Caps" Borregaard Winther, and held him over the water, as if to throw him overboard. It's a good thing they didn't — despite how real the water may have looked to viewers, it was nothing but pixels.
The annual League of Legends World Championship is currently underway in Shanghai, and like most major events, it has had to be re-envisioned in order to be possible in our new pandemic-dominated reality. Typically, the early stages of the tournament are something of a traveling road show, with different rounds taking place in different cities. In 2020, things had to change.
With travel restrictions in place, and fans no longer able to attend matches, the team at League developer Riot tried something different. They built out a set made up of massive LED screens in a technology setup similar to what Disney used to create The Mandalorian's sci-fi landscapes. It has been used to startling effect. Matches have looked like they've taken place in a cloudy, cyberpunk Shanghai skyline or amid a flooded landscape. What could have been a drab competition in the absence of fans has turned into perhaps the most impressive Worlds in recent memory.
"There are any number of days where we come to the set and say 'Wait, I don't think this has ever been done before.' You just kind of get used to it after a while," says Michael Figge, creative director at Possible Productions, which partnered with Riot on the event.
The feat is all the more impressive when you consider the compressed schedule. Typically, producers from Riot and Possible spend well over a year planning for Worlds, but that simply wasn't possible this year. It wasn't until May that the decision was made to utilize this tech in a studio without fans.
The setup is a powerhouse, and Riot says that the LED screens — there are more than 900 LED tiles in total — display visuals at 32K resolution and at 60 frames per second. Those visuals were made using a modified version of the Unreal Engine, and in total, the team is made up of 40 artists and technicians. Nick Troop, executive producer for Worlds 2020 at Riot, describes it as "a creative tool that gives us effectively infinite power to manifest whatever our collective imaginations bring to the fore." And he says one of the most important elements of the whole setup is the way things are shot, powered by four specialized cross-reality cameras.
"Rather than having a single projected camera perspective, we actually have two running simultaneously, effectively all of the time," he explains. This allows the broadcast team to work in a more traditional way; they can swap between the two simulated perspectives at will, using four cameras to shoot the action on set. "It means that the broadcast team can do what feels to them what feels like a 'normal television show,' but in this curated, and beautiful series of environments," says Troop.
For viewers watching on Twitch or YouTube, the LED soundstage is transformed into a sprawling fantasy world, with AR technology used to make the images expand beyond just the screens. You still see players sitting at desks and playing, but their surroundings are quite elaborate. In a nod to the current state of League of Legends, where four elemental dragons are of pivotal importance in a game, each of the four preliminary rounds of Worlds was styled with a different element.
Initially, there were lots of crumbling rocks and mountains to represent the earth dragon; this was followed by the cloudy Shanghai skyline for the air dragons; later, the set appeared to be flooded with water that stretched on forever. This weekend, during the two semi-finals games, things will shift to fire.
While this technology has been used before, most notably on The Mandalorian, this is the first time it's been done live. "Pretty much every [cross-reality] expression that has been broadcast to this point has not been live," explains Possible's Figge, whose company has worked on everything from Super Bowl halftime shows to Justin Bieber concerts. "It's been pre-shot, similar to a lot of AR stuff for awards shows in North America. It's risky to do live. We're doing up to 10 hours a day of live television on this stage. There's no second chance at it."
One of the challenges was balancing the desire to make things look cool without interfering with the players. Everyone onstage — teams, coaches, and support staff — has a somewhat different visual experience than viewers at home, since the AR elements only appear for viewers at home. This turned into something of an advantage for the broadcast team.
"When we do these games, it's really important for the competitive integrity of the sport for the players not to be able to see the game on the Jumbotron or anything like that. It's a really difficult design problem," says Figge. "With this stage, everything that's above a certain level of height on the stage is completely virtual. It's augmented reality. So we have the game playing in the background and the players can't see it."
That said, while players don't get the full experience viewers do, it was still important that being onstage felt special. This is the World Championship, after all, something teams from across the globe have been striving for all year long. Without the roar of a crowd to hype up players, the spectacle of a vibrant fantasy backdrop is a solid second option. Those onstage can't see the AR elements, but they can see the graphics on the screens around them. "It helps ground the player," says Troop. "They can still have a sense of the [game] world reacting, in a way that I think helps with their Worlds experience. There is a certain mindset that comes from being on stage, and we wanted to preserve that."
In most years, the technical showcase of Worlds is reserved for the opening ceremonies at the finals. In the past, that's included an AR K-pop concert and a holographic hip-hop performance. It's still not clear what this year's big show will look like (though it will likely involve K-pop again), but you could argue that the early rounds have already stolen the show thanks to this new technology. Each round even opened with its own mini ceremony, featuring choreographed dances set in the fantasy realm; performers jumped across crumbling stone bridges and twirled around with magical spells. Despite the circumstances, Riot turned what could have been a low-key edition of Worlds into a surprisingly memorable one.
"It's been more educational than frustrating," says Troop of the experience so far.
The Apple Watch Series 6 Is Already $20 Off
Best Tech Deals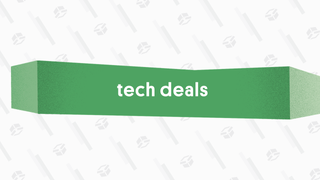 Best Tech Deals
The best tech deals from around the web, updated daily.
Apple Watch Series 6 (44mm) | $415 | Amazon
Apple Watch Series 6 (40mm) | $385 | Amazon
It's only been out a week since launch and we're already seeing discounts on the Apple Watch Series 6. Amazon has some 40mm models down to $375, while the 44mm falls to $415, both about $20 off and shipping anywhere between 1-4 weeks out.
The Apple Watch Series 6 runs laps around the competition as far as technology is confirmed. It features everything you love about the Series 5 watch like an ECG heart rate sensor, and also adds new tricks like a blood oxygen sensor and an always-on altimeter, making it more ideal than ever for fitness buffs.
G/O Media may get a commission
---
Source
Samsung thinks its new 85-inch Interactive Display is the digital whiteboard for the COVID-19 classroom
Samsung would like you to believe its new 85-inch Interactive Display can bridge the gap between students in the classroom and students studying at home, now that blended-learning is the new normal across the country. In reality, it's just a slightly bigger digital whiteboard — but assuming it doesn't cost too much, the tweaked vision does sound intriguing.
Now that COVID-19 has swept the country, some students are huddling around tiny Chromebook screens at home while others stay in class, and Samsung's internet-connected digital whiteboard promises to let students and teachers collaborate with each other, whether they're in that classroom drawing on the board or adding to it in real-time from their laptop at home. The goal here isn't to necessarily connect everyone better – they've had a few months to get a handle on that over Zoom – but rather to let the kind of collaboration that can happen when everyone's together, happen while students are apart.
While the Interactive Display is mostly just a larger version of Samsung's existing Flip 2 digital whiteboards, the 85-inch size means it's as large as an actual school whiteboard (though it weighs far more at 164 pounds). Compared to the previous 55- and 65-inch models, more students could theoretically use the board at once. Samsung imagines the display primarily mounted in a classroom where they can use its 4K touchscreen and support for four pens (it comes with two) to write and draw; it supports up to 20 fingers (and pen tips) simultaneously. Teachers might be able to hook up multiple computers or other video sources to the display, too, with two HDMI 2.0 ports compared to the one on the Flip 2.
But before you petition your school for one, it's worth mentioning that the device has no announced price. The 65-inch Flip 2 comes in at $2,599.00, and Samsung's 85-inch TVs start at $1,799.99, so perhaps the Interactive Display won't cost too much more than those? Still, most schools are even more constrained during the pandemic than they would be normally, and this screen doesn't even come bundled with some of the education software Samsung is advertising. I think it would be great for these to be used in schools, but to me, Samsung's framing for the Interactive Display sounds a little more opportunistic than realistic.