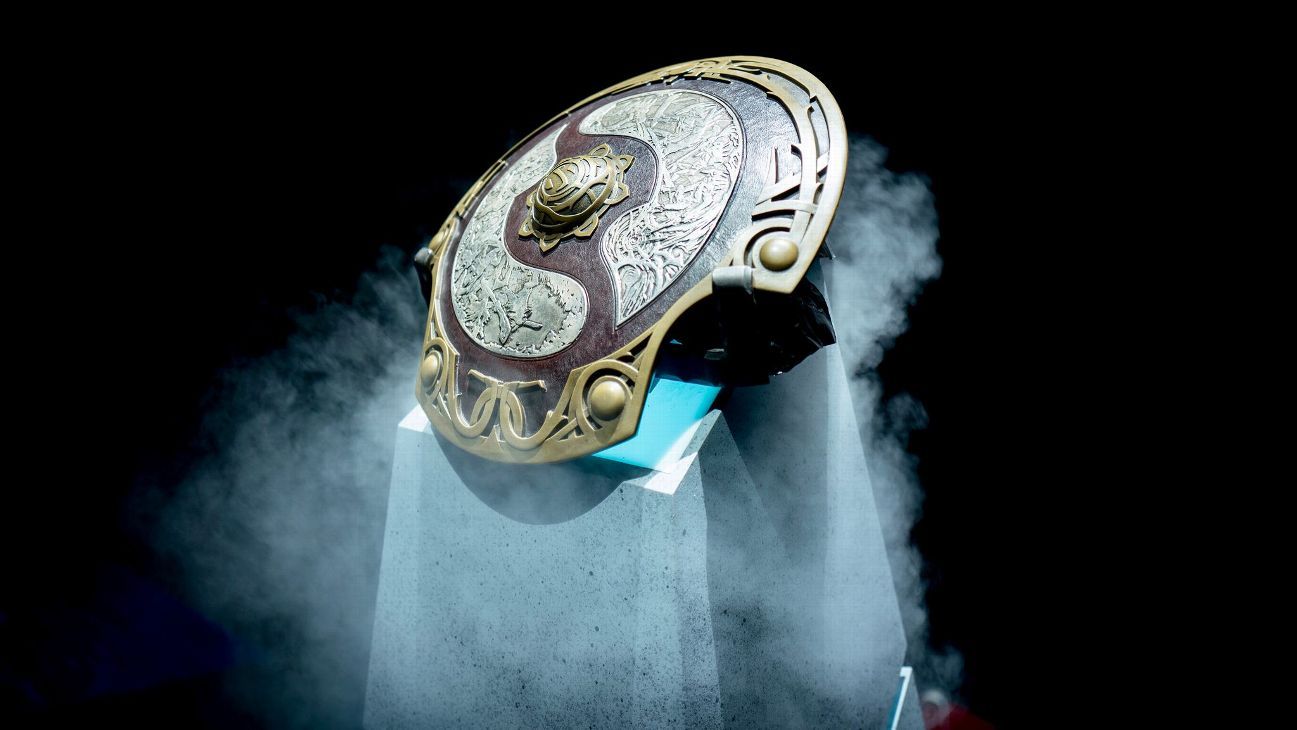 The 10th edition of The International, Dota 2's largest yearly tournament, has surpassed the $40 million dollar prize pool mark for the first time ever.
The milestone was crossed on Friday, Oct. 9, the final day where tournament contributions were accepted. This year's International was delayed due to the COVID-19 pandemic, leading to a total of 136 days where the community could contribute. Last year's TI closed contributions at the 110 day mark. There is no confirmed date for The International 10, but Valve hopes to hold it in Stockholm, Sweden in August of 2021.
This year's International had already broken the record for largest prize pool by hitting $36.6 million, eclipsing last year's $34.3 million, back in August. This year the community contributed over $38.4 million, adding to Valve's annual $1.6 million base.
Valve has been putting up its $1.6 million since 2011, but since 2013, fans have been able to contribute to the pot through purchases of the Dota 2 battle pass, where 25% of the cost is sent directly to the TI prize pool.
The top five prize pools in esports history remain the 2015-2019 TI events in descending order, with 2020 set to take the #1 spot.
Dodgers' Buehler pins 10 K's on Rays in MLB first
ARLINGTON, Texas — Every start he makes, every time he dominates, Walker Buehler burnishes a resume that's beginning to resemble those of the best postseason pitchers ever. All he did in Game 3 of the World Series on Friday was bolster his case.
Buehler became the first pitcher in World Series history to record double-digit strikeouts in six innings pitched, and his Los Angeles Dodgers teammates used big bats and small ball to overwhelm Tampa Bay Rays pitchers in a 6-2 victory that left the Dodgers two wins shy of their first championship since 1988.
The postseason bonafides of Buehler, a 26-year-old right-hander, were already impressive. His six-inning, three-hit, one-run, one-walk, 10-strikeout performance ranked among his most dominant yet.
The last pitcher as young as Buehler to strike out 10 in a World Series game? Josh Beckett in 2003.
The only other Dodgers to punch out 10 and allow three or fewer hits in a World Series game? Sandy Koufax and Clayton Kershaw.
Relying heavily on a four-seam fastball that sat at 97 mph, Buehler attacked all four quadrants of the strike zone with his typical equanimity: the slow, deliberate build of his windup into an explosive pitch that generated 12 swings and misses. His curveball, slider and cutter were on point, too, the first time all four pitches have worked this postseason after blisters hindered him in earlier rounds.
Before the game, Rays manager Kevin Cash compared Buehler's fastball to that of New York Yankees ace Gerrit Cole — about as high a compliment as one can give for a four-seamer. With Tampa Bay swinging through five of them to strike out, Cash's words were prescient, and Rays starter Charlie Morton couldn't match him zero for zero.
In the fourth, with the Dodgers already ahead 3-0 after a first-inning Justin Turner home run and a pair of two-out runs in the third, the Dodgers went back to their Game 1 ethos and small-balled the Rays into submission. Two singles put runners on the corners, and up stepped catcher Austin Barnes, the No. 9 hitter. He laid down a run-scoring safety squeeze bunt, the first RBI sacrifice in a dozen World Series. Mookie Betts followed with an RBI single and stole second base, and the Dodgers' lead grew to 5-0.
Buehler allowed a pair of doubles in the bottom of the fifth to Manuel Margot and Willy Adames, yielding his one run on the night, though Barnes answered with a two-out, two-strike home run in the sixth. He became the first player in a World Series game since the New York Yankees' Hector Lopez in 1961 to record a sacrifice bunt and homer. Prior to the home run, Barnes had gone hitless in his previous 22 World Series at-bats.
The Dodgers scored five runs with two outs and two strikes, tied for the most in a World Series game this century, and reinforced the difference between their offense and a Rays group whose one-dimensionality this postseason served them well but hasn't been effective in the World Series.
Buehler cruised in his final inning, striking out Mike Zunino, Brandon Lowe and Randy Arozarena swinging to leap into double digits — the first 10-strikeout game of his postseason career. It extended his record streak of six-plus-strikeout games in the playoffs to 11. He had broken the record, which he shared with Randy Johnson, in his last start when he threw six shutout innings in a season-saving Game 6 victory against Atlanta in the National League Championship Series.
Dodgers manager Dave Roberts pulled Buehler after 93 pitches, handing the game over to relievers Blake Treinen and Brusdar Graterol, who threw scoreless innings. Closer Kenley Jansen, who was throwing harder than he has all postseason, allowed a ninth-inning solo home run to Arozarena, his eighth of the playoffs, which tied the previous record set by Barry Bonds, Carlos Beltran and Nelson Cruz.
Small-ball for the win! How Dodgers' surprise scoring backed Buehler in Game 3
ARLINGTON, Texas — Charlie Morton entered Game 3 of the World Series with a 0.70 ERA in the 25 ⅔ innings of his postseason career with the Tampa Bay Rays, but the Los Angeles Dodgers ' offense — appreciably better at manufacturing runs than in postseasons past — went off against him and forced his exit before the end of the fifth inning on Friday night.
Justin Turner homered to left, Max Muncy laced a two-run single to right-center and Mookie Betts lined an RBI single to center — all with two outs. But the highlight was catcher Austin Barnes, in the lineup because of his elite pitch framing and his rapport with Walker Buehler, who drove in a run with a safety squeeze in the fourth and tacked on another with a solo homer in the sixth. The latter was the fifth run the Dodgers scored with two outs and two strikes, tied for the most in a World Series game since 2000.
That was more than enough for Buehler, who had no-hit stuff and ultimately pitched six innings of one-run ball, striking out 10 batters and allowing only four baserunners. With a 1.28 ERA over his last nine postseason starts, Buehler lines up to start again in a potential Game 7. But suddenly it looks like we might not get there. Julio Urias and Clayton Kershaw, who have combined for a 1.90 ERA this postseason, line up for Games 4 and 5, respectively. The Rays will probably have to stage the equivalent of a bullpen game in Game 4.
Saban: Offense, not defense, now wins games
KNOXVILLE, Tenn. — Alabama coach Nick Saban has finally relented, albeit reluctantly. He said college football has officially become an offensive game.
"It used to be that good defense beats good offense. Good defense doesn't beat good offense anymore," Saban told ESPN on Friday. "It's just like last week. Georgia has as good a defense as we do an offense, and we scored 41 points on them [in a 41-24 Alabama win]. That's not the way it used to be. It used to be if you had a good defense, other people weren't going to score. You were always going to be in the game.
"I'm telling you. It ain't that way anymore."
And how's that sit with Saban, one of the foremost defensive minds in the game and the architect of some of the more dominant defenses in college football over the last two decades?
"I don't like it," he said with a wry smile. "But we just have to make sure we have an offense that's that way and that explosive, which we have."
The No. 2-ranked Crimson Tide, who face Tennessee on Saturday in Neyland Stadium, have scored 35 or more points in each of their last 17 games going back to the start of the 2019 season. They've scored more than 40 points in 13 of those 17 games. Saban noted that the teams winning last week in the SEC averaged 33.2 points per game.
"It's hard to coach defense now, because there are so many run-pass concepts in what everybody does," Saban said. "I mean, it's really, really hard to coach the secondary … because you get so many mismatches back there."
While Alabama ranks second nationally in scoring offense (48.5 points per game) and fifth in total defense (561.3 yards per game), the Tide are 37th in scoring defense (28.8 points per game) and tied for 61st in total defense (458.3 yards per game).
"We're not very good on defense, average at best, but I think we will get better," said Saban, adding that to be elite on defense requires being especially good in the secondary.
"We're going to get there, but this group [in the secondary] doesn't have enough experience. You've got to go through growing pains with these guys because they see so much stuff now in college football. We see something different every week."
Saban said part of the difficulty in developing elite defensive backs and having them ready early in their career is that most of the best athletes and skill players are all playing offense now in high school and that very few play on defense. In fact, Saban said he worked senior receiver DeVonta Smith some at cornerback in preseason camp to have him ready in an emergency situation.
"None of these skill guys grow up playing defense, from junior high, high school or whatever," Saban said. "So all of the best athletes end up playing offense. One of the best corners on our team is [Smith]. This year in camp, I trained him at corner. He can cover anybody, and he never played defense in his life because he was on the offensive side. You don't think Jaylen Waddle would be a good defensive back?"
Saban, who turns 69 later this month, said the false positive scare last week when he initially tested positive for COVID-19 only reinforced how much he enjoys coaching and being out there on the field with the players.
But anybody thinking he might have gotten a taste of retirement when he was isolating at home for those three days might want to think again.
"I did exactly everything I would have if I were in the office every day," Saban said. "I was in meetings with the players on Zoom, zoomed in on the special teams meeting just like I was in my regular seat. I was in the defensive backs meeting, the defensive meeting and on the phone with coaches during practice. And when practice was over, we'd watch the tape on defense, offense and special teams."
Saban joked that his wife Terry asked, "Is this what you do every day for 14 hours?"
Then later on that evening, she asked Saban if he wanted to go take a walk to the lake.
"I said, 'No, I've got a meeting in 15 minutes,'" Saban quipped.
Saban said the hardest part was waiting for the test results to come back prior to the Georgia game. He needed three consecutive negative PCR tests, per SEC guidelines, to deem the first test a false positive, which Saban said Friday was an antigen rapid test.
"I was just praying I would be able to get there," Saban said. "I would have felt horrible if the team didn't play well or if we had lost the game because I wasn't there, not that we would have lost because I wasn't there, but I would have felt that way. The players and the coaches did an outstanding job of not letting it affect them during the week."
Saban had already warned the players that this season was going to be filled with disruptions and to be braced for them. He just never envisioned that he would be one of those disruptions.
"I told them, 'This is going to be the norm, that every week something's going to happen. Somebody's going to test positive,' " Saban recounted. "So when we had the team meeting on Wednesday after I initially tested positive, I said, 'You guys know there's got to be something damn sure up for me not to be there.' But I said, 'This is one of those disruptions that I was talking about, and just because it's me, we're still going to manage it.'
"Everybody in the building did a great job."