MIAMI GARDENS, Fla. — The Miami Dolphins crowd rose to its feet making more noise than it had at any point during a 24-0 victory over the New York Jets as rookie quarterback Tua Tagovailoa jogged onto the field for his first NFL action.
Ryan Fitzpatrick waved his arms up and down in hopes of pumping up the crowd even louder. Other teammates clapped and hugged the sideline in anticipation.
Nearly a year since Tagovailoa suffered a scary potentially career-ending hip injury at Alabama on Nov. 16, 2019, it was Tua Time.
In the final minutes of the game, Dolphins coach Brian Flores told Tagovailoa to warm up and with a little over two minutes left, Tagovailoa entered the game, throwing his first two NFL passes, both completions.
Chants of "Tua" rang out as he ran onto the field.
"I know there was some excitement when he went in. I'm happy for Tua," Flores said.
Fitzpatrick added: "That was just a cool moment for him, just the reception from the crowd that was here and us on the sideline."
Tua Tagovailoa went back to the field and he's sitting around the 15-yard-line in full uniform. It looks like he's soaking this moment in.

On November 16, 2019, Tua suffered a potentially career-ending injury. On October 18, 2020, he threw his first NFL passes. pic.twitter.com/q5OHSNQe2c

— Cameron Wolfe (@CameronWolfe) October 18, 2020
Tagovailoa also became the first left-handed quarterback to complete a pass since Kellen Moore for the Dallas Cowboys in Week 17 of the 2015 season.
"Yeah, I definitely could hear it. There's nothing else playing in the stadium, so I could hear that," Tagovailoa said. "And that was awesome. But to just be out there with my teammates being my first time and getting the support and love from them, I think that was super awesome. And then you have a 16-year vet like Fitz, who has animosity toward it as well, who's just been supportive that entire time. Good drive, bad drive, he comes to the sideline and just talks through his process with why he did some things. I'm very fortunate to have a mentor like him who is just very encouraging on the field and then this guy is like he's just very personable off the field as well."
After the game, Tagovailoa returned to the field, sitting down at the middle of the 15-yard-line alone in full uniform for about 10 minutes soaking in the moment.
He tried to find the spot where his Dolphins drive ended and then FaceTimed his parents, who couldn't be there to see him play. They watch almost every game and he wanted to share the moment with him. He said the conversation was emotional particularly because of everything it took for him to get back on that field.
Tua Tagovailoa went back to the field and he's sitting around the 15-yard-line in full uniform. It looks like he's soaking this moment in.

On November 16, 2019, Tua suffered a potentially career-ending injury. On October 18, 2020, he threw his first NFL passes. pic.twitter.com/q5OHSNQe2c

— Cameron Wolfe (@CameronWolfe) October 18, 2020
"The biggest thing that really stands out to me is just being able to make my parents proud," Tagovailoa said. "Whether that's Tua as a football player, Tua as a person, Tua as a son, I think that's what brings me the most joy is seeing how happy my parents get and then seeing how happy my family gets as well with who I am and also what I do."
On Tagovailoa's first pass came on a naked bootleg in his own end zone, he throw a short pass over two Jets defenders to running back Patrick Laird for a 2-yard completion. His second pass was also impressive, a 7-yard completion to receiver Jakeem Grant for the team's only third-down conversion of the game.
"The naked in your own end zone isn't the easiest of plays and he went in and completed that one and then completed the third-down so I think that was a cool moment for him," Fitzpatrick said. "Just the reception, too, of the fans that were here. And everybody on the sideline. We're all excited to him get out there."
Tagovailoa declared himself healthy, and he proved he could make the mobile plays that made him special at Alabama.
"It was just a glimpse of what's going to be to come," said Dolphins defensive tackle Christian Wilkins, who gave Tagovailoa a bear hug after the game.
Man United, Arsenal, Juventus, Real, Bayern get Adidas kit makeover via Pharrell
Adidas have produced a very special array of custom hand-painted jerseys for a selection of the world's top football clubs.
In collaboration with singer, songwriter, record producer, fashion designer, and entrepreneur Pharrell Williams and his Humanrace creative label, each shirt is inspired by the club in question and significant moments from their respective histories.
Adidas x Pharrell Williams "Humanrace" line of kits have been designed for Arsenal, Bayern Munich, Juventus, Manchester United, and Real Madrid — as well as London-based grassroots club Romance FC.
The aforementioned moments and memories have been reverse engineered and reworked in a raw and expressive manner to reflect contemporary football culture, as interpreted by Pharrell and the Humanrace design team.
"History is what shapes the future, and sometimes in order to look forwards, first we need to look back," said Pharrell of the collection.
Legacies redesigned. @adidasfootball @humanrace pic.twitter.com/ozldTzevfb

— Pharrell Williams (@Pharrell) October 23, 2020
"The most important part of the process with this collection was to learn of each club's legacies and how each defining moment of their histories were captured and preserved from a design perspective.
"Each of the new jerseys are symbols of the five club's legacies and a true celebration of the universality of sport."
Arsenal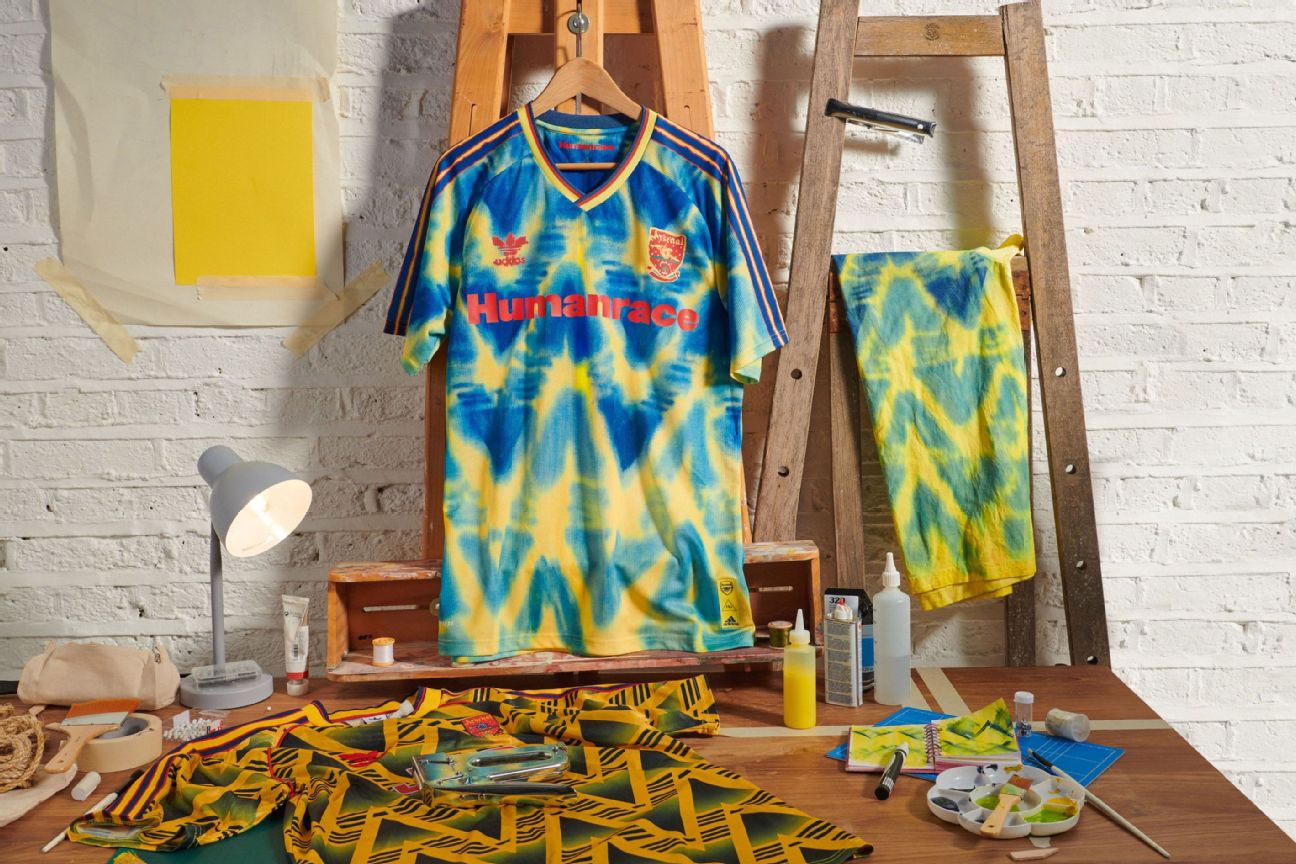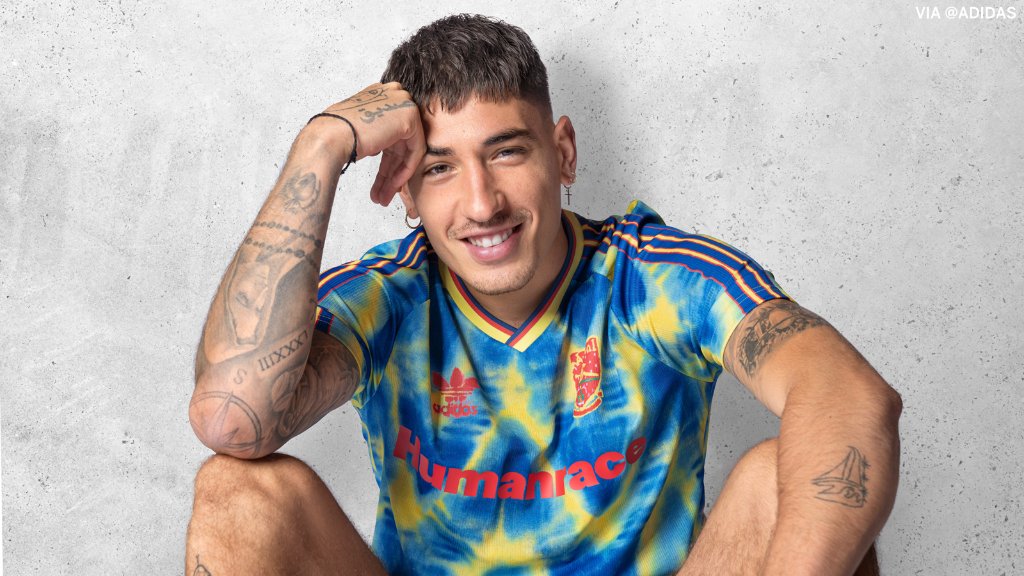 It all started with Pharrell trawling back through the Adidas archives and plucking the cult classic "bruised banana" Arsenal away shirt of the early 1990s as his starting point.
The iconic zigzag design was then reworked with a loose "paint bleed" effect (using spray paint and stencils) to give the jersey a washed-out and watery look, with the badges and club crest hand-stencilled on the chest.
Manchester United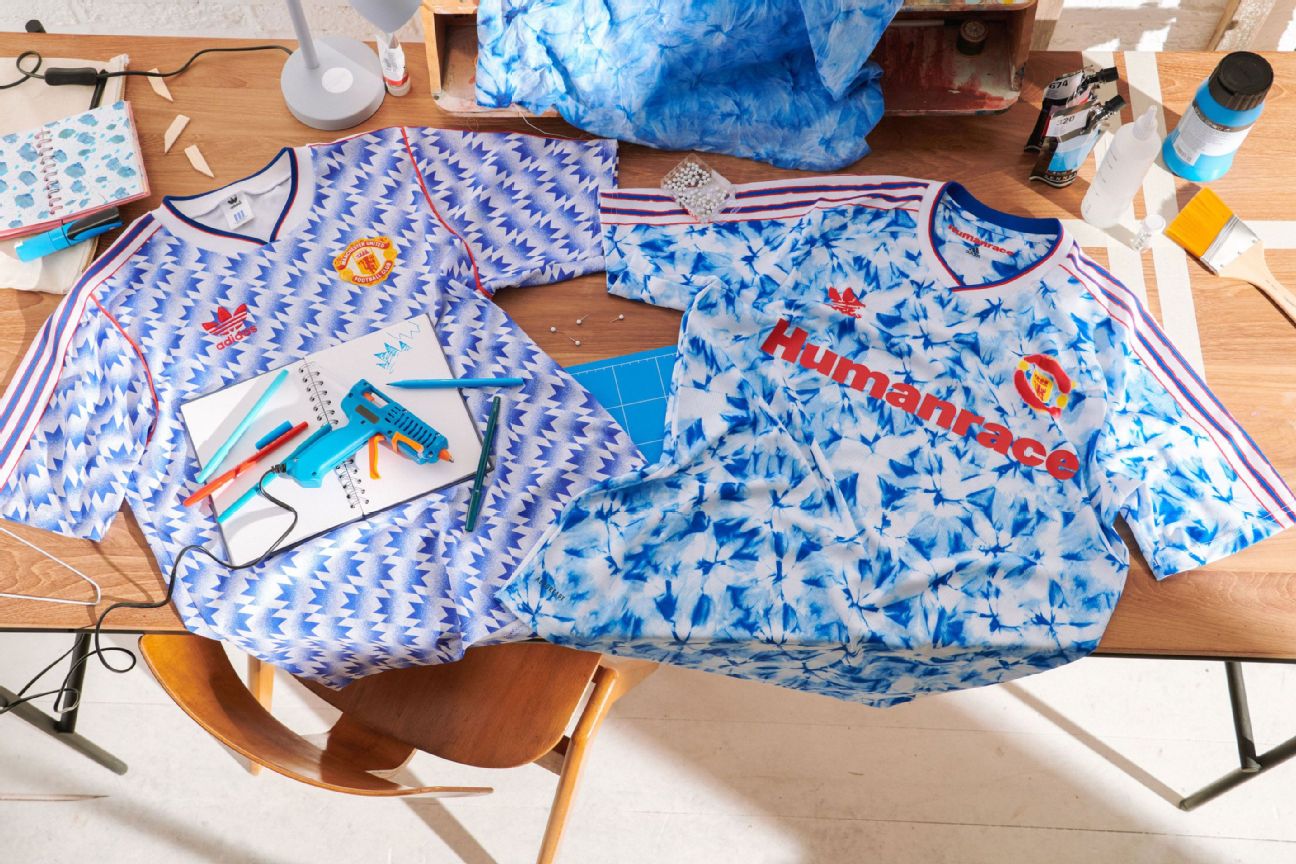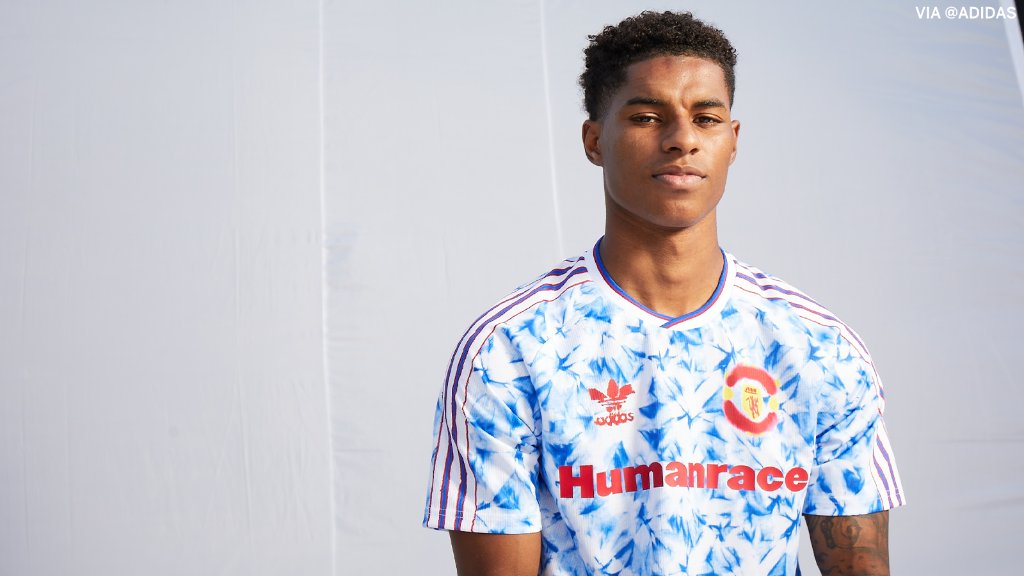 Another classic Premier League away kit was dredged up for United's offering, with Pharrell selecting the popular white and blue "snowflake" shirt from 1990-92 to remix.
Still a favourite among United fans to this day, the design was originally born of the "Madchester" house music scene that swept the city in the late 1980s and has now been updated using a mottled tie-dye effect.
Bayern Munich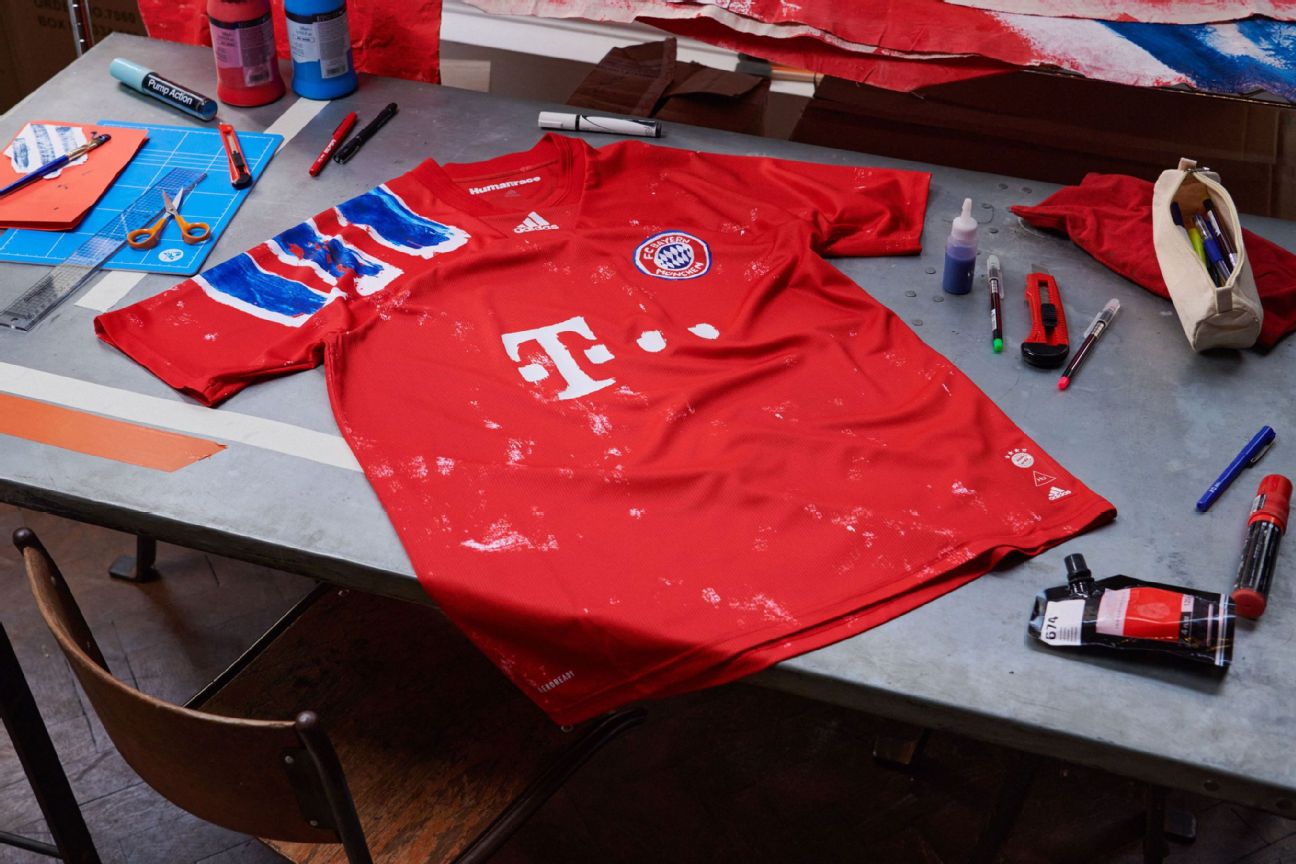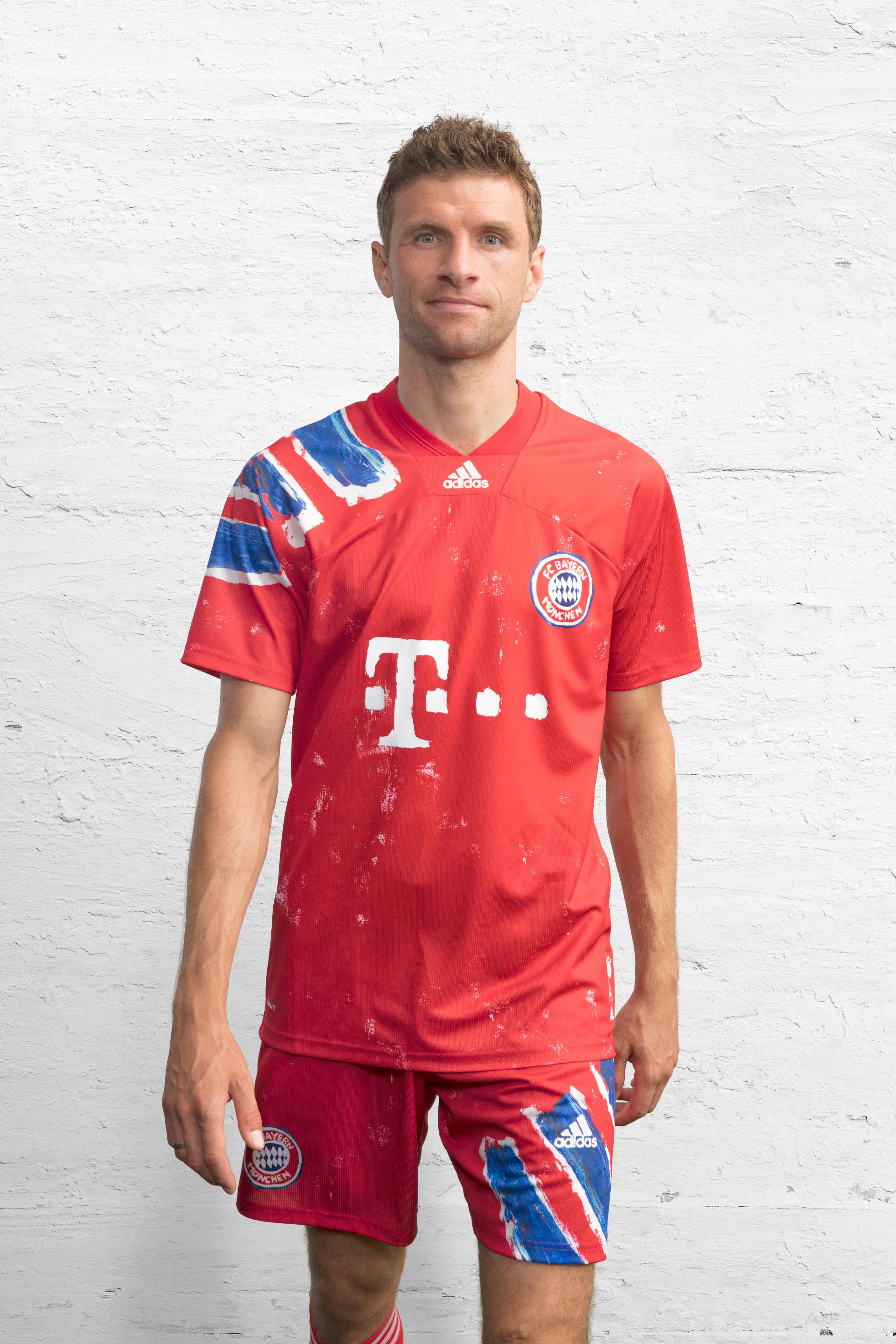 Bayern saw their 1991-93 home shirt selected from their back catalogue to undergo the Humanrace treatment, with the bold and blocky design reimagined using daubs of thick acrylic paint.
Juventus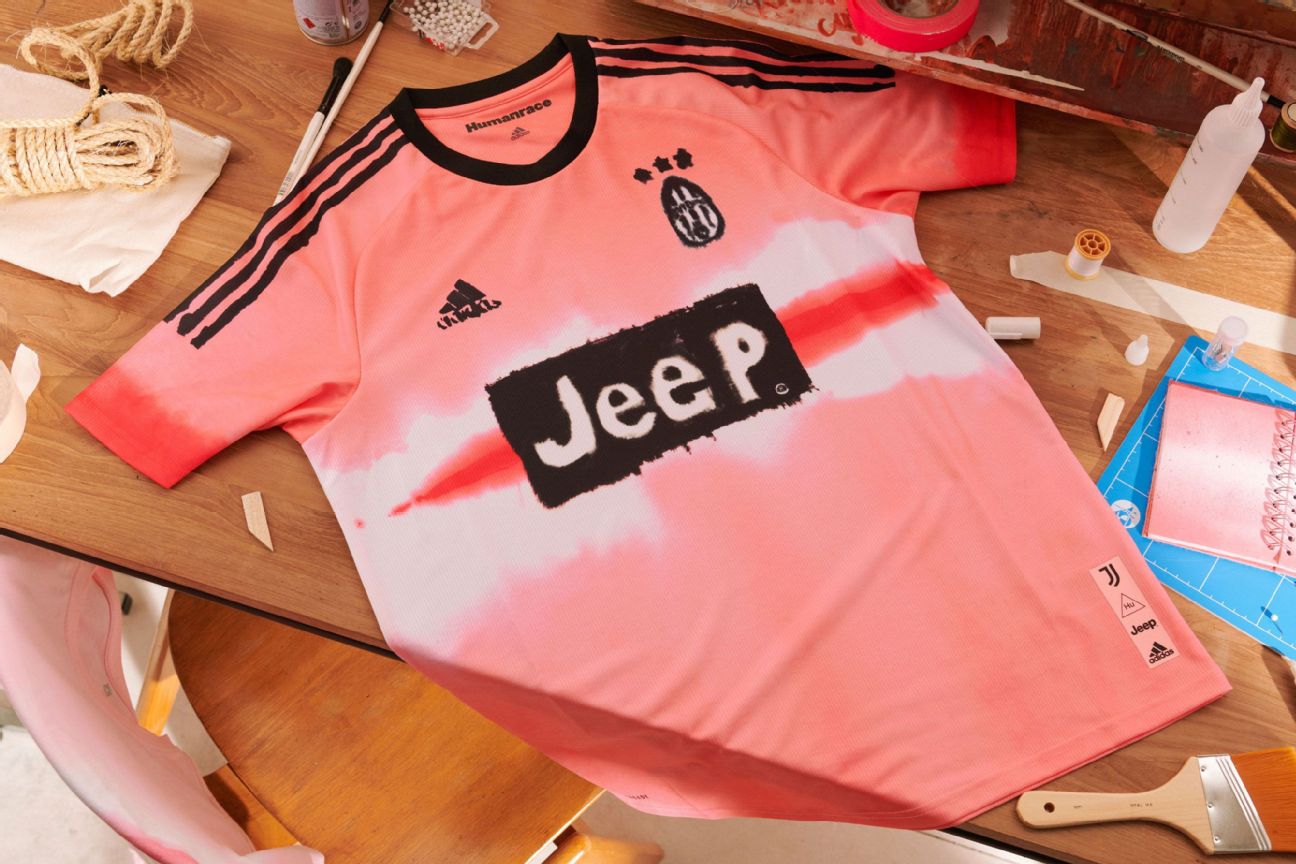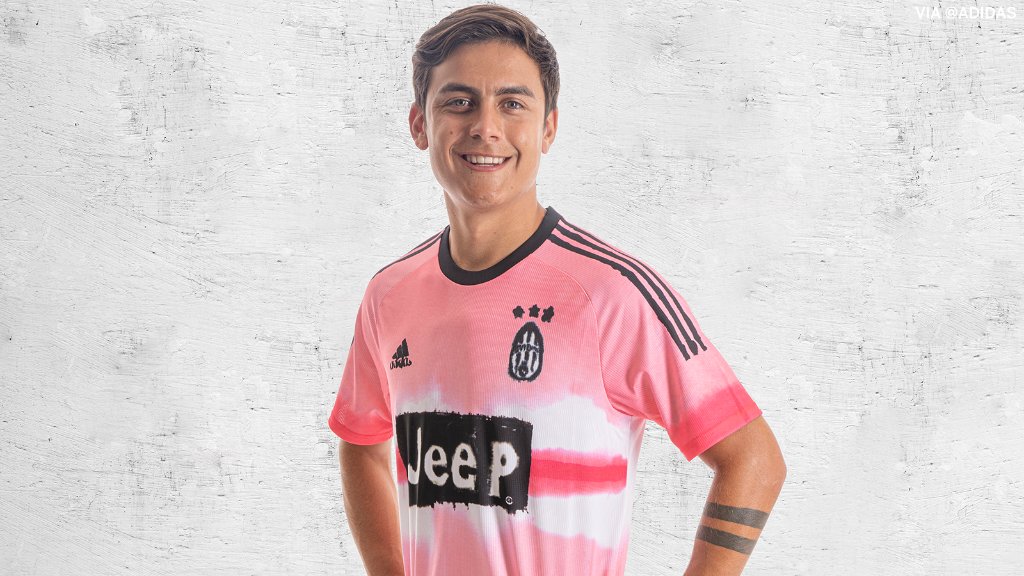 Rather than their famous black and white stripes, Juventus saw their gaudy pink away shirt from 2015-16 given an blotchy artistic overhaul — quite possibly as it marks a treble-winning season and also the first year of the Italian club's kit partnership with Adidas.
Real Madrid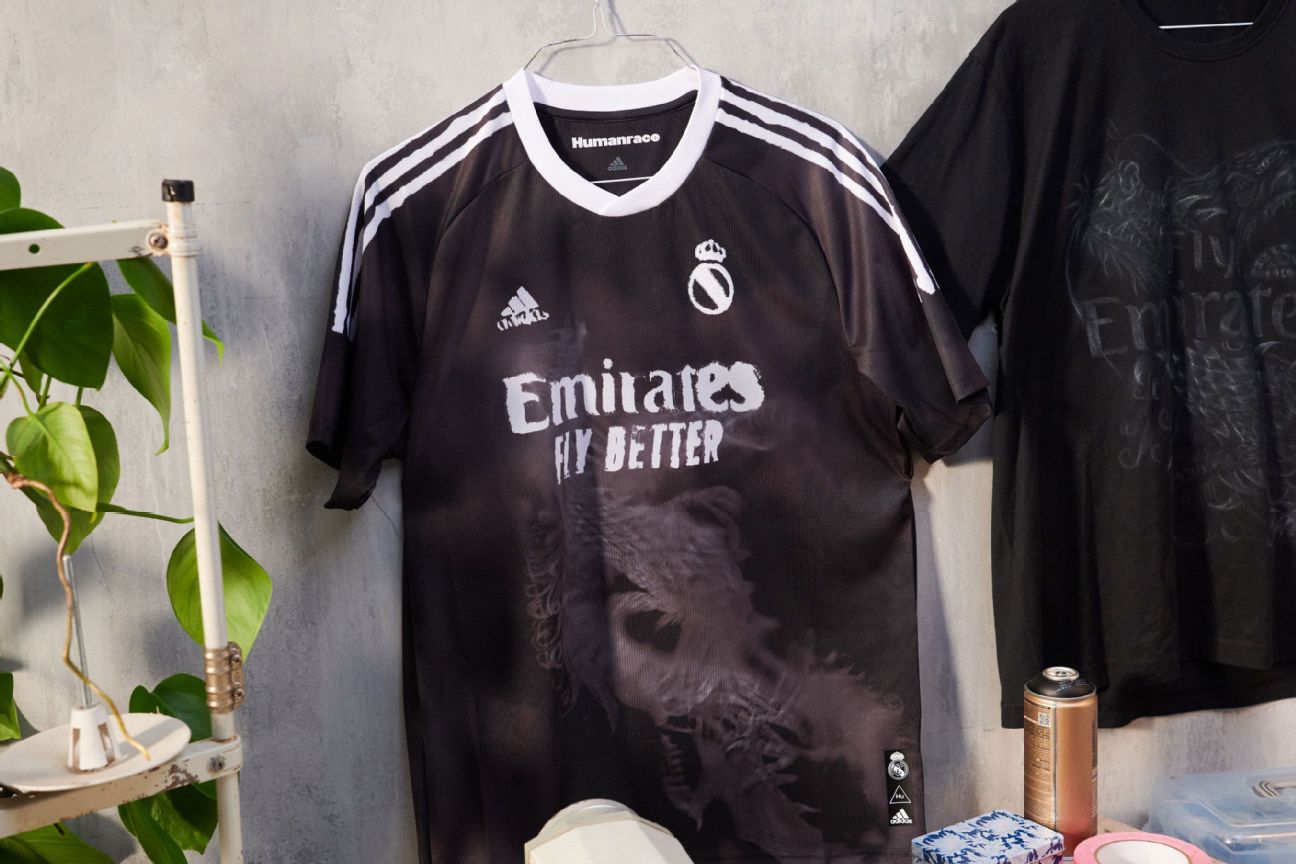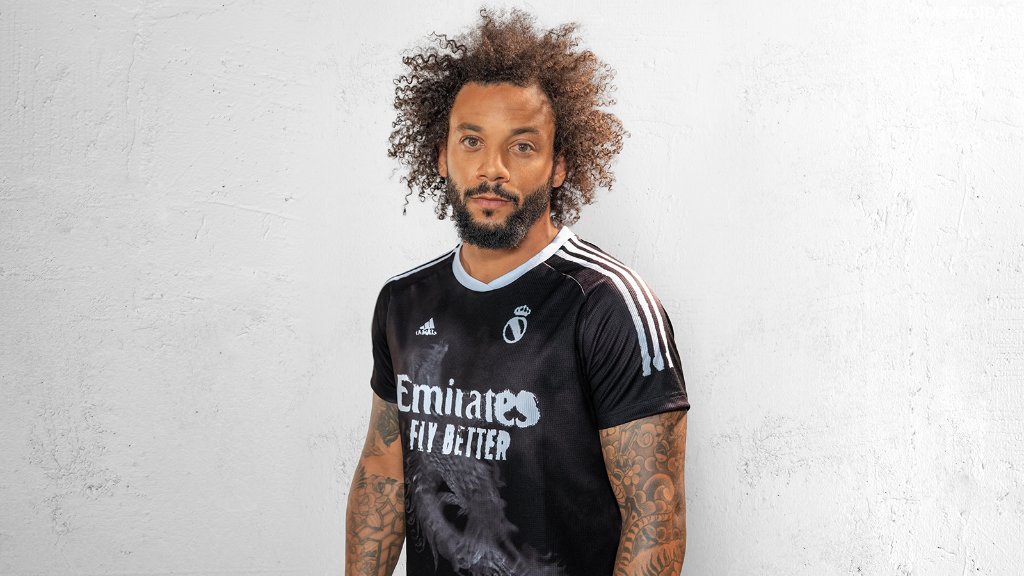 Rounding off the main collection, Pharrell decided to use a Madrid shirt which was itself originally created by his friend and past collaborator, Japanese fashion designer Yohji Yamamoto.
An instant hit at the time, Los Blancos' 2014-15 away kit featured a mystical graphic drawn by Yamamoto, with two dragons entwined around each other on a field of black — a symbol of glory, honour and power.
Pharrell and Humanrace have adapted the illustration using a water technique to smudge the intricate drawing to the point of being almost unrecognisable.
Romance FC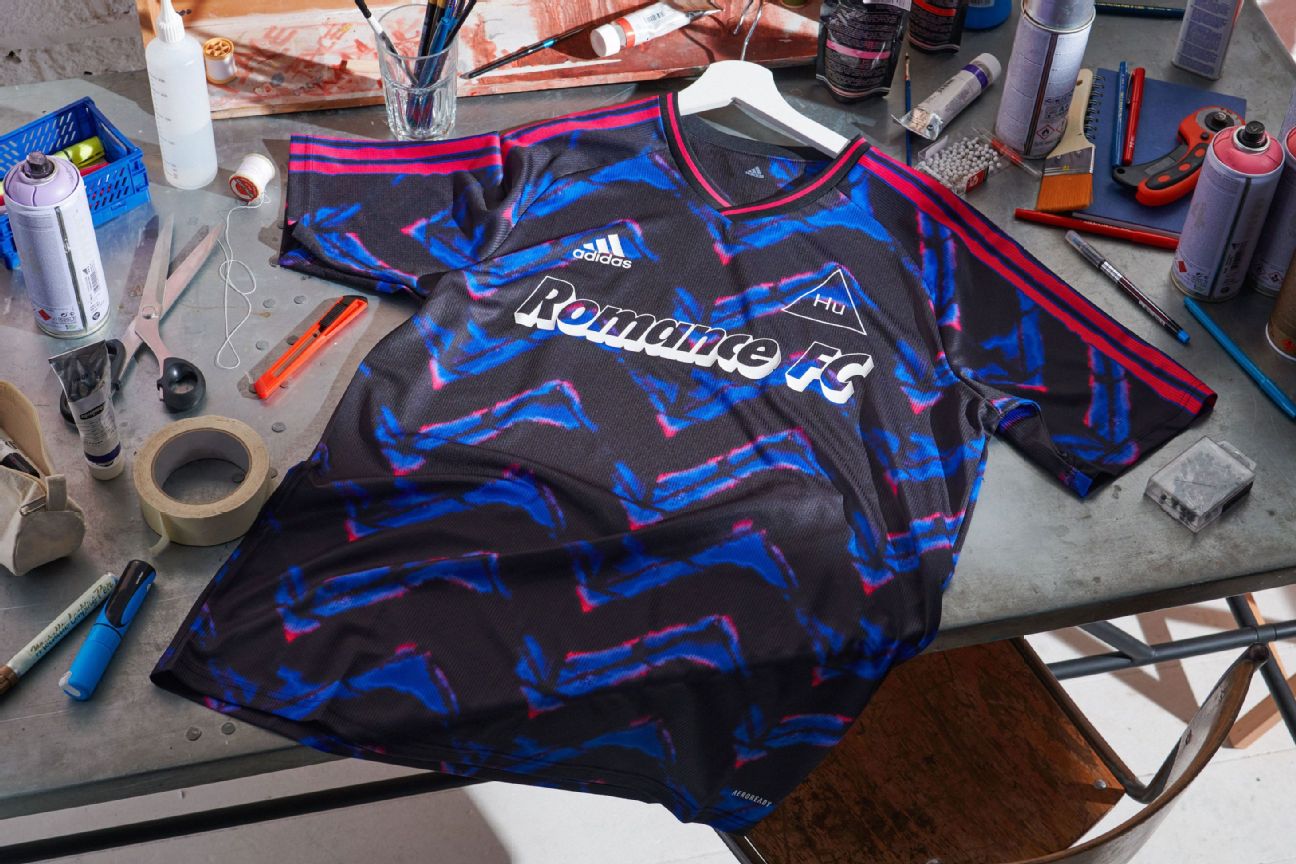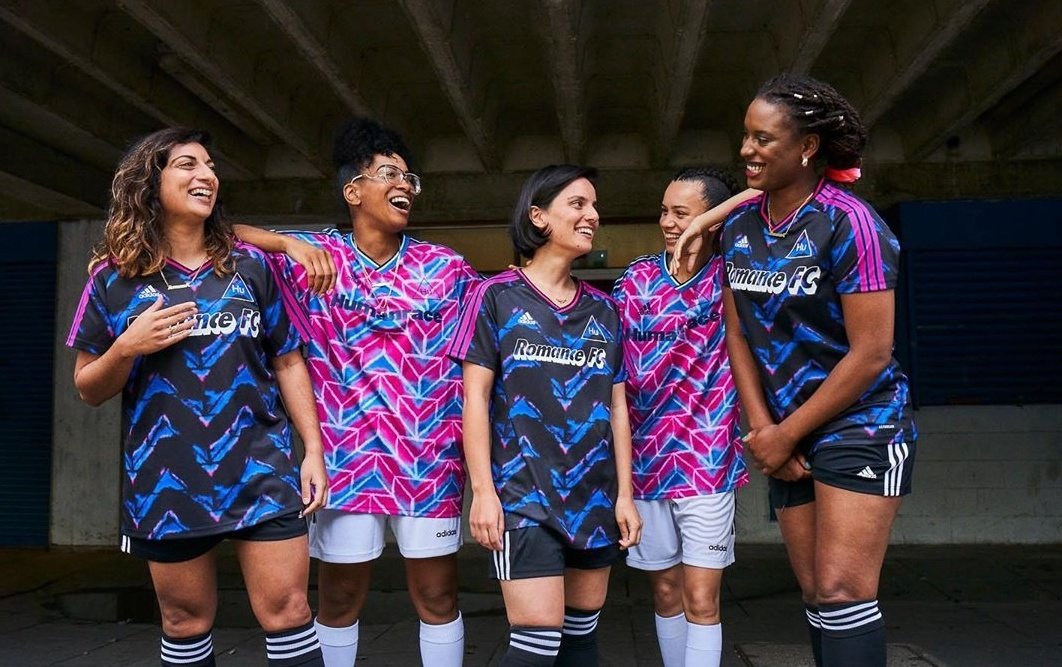 London grassroots team Romance FC also had a bespoke shirt created for them to play in this season, which will make just about every single opponent massively jealous as they are in such illustrious company.
Indeed, the Adidas x Pharrell Williams "Humanrace" jerseys will function as exclusive pre-match apparel for Arsenal and Manchester United before their Premier League games on Oct. 24.
Meanwhile, Real Madrid and Juventus will wear their designs in-match on Oct. 25 and Bayern Munich will sport theirs in their next domestic cup game.
World Series Daily: Will Julio Urias, Dodgers push Rays to brink in Game 4?
After all the oddities of the MLB regular season and postseason, the 2020 World Series pits baseball's top two teams against each other, which doesn't happen every year. And while we've grown accustomed to seeing the Dodgers playing for the championship, this is the first Fall Classic for the Rays since 2008 and only the second in franchise history.
Here's what you need to know for Game 4 on Saturday night, including a look at the pitching matchup, predictions, odds, other key numbers and more.
Key links: Viewers guide | Schedule | Playoff Baseball Classic
What's on tap

World Series Game 4: Tampa Bay Rays (Ryan Yarbrough) vs. Los Angeles Dodgers (Julio Urias), 8:08 p.m. ET in Arlington, Texas
Heading into the series, I thought Game 4 looked like the game that might be the most important, the game most likely to be the tipping point on who ultimately wins. Before Game 1, it looked like a potential bullpen game for both teams, but since the Dodgers did not have to use Julio Urias in their bullpen effort in Game 2, he's now ready and rested for a conventional start. The Rays, meanwhile, will hope Yarbrough can keep the first three batters (Mookie Betts–Corey Seager–Justin Turner) under control well enough to help him get through the first three or four innings.
The pitching advantage on paper in the first half of the game goes to the Dodgers. Urias has been outstanding in the postseason, allowing two runs (one earned) over 16 innings, culminating with his nine up, nine down effort to close out Game 7 of the National League Championship Series. Long a heralded prospect, Urias debuted for the Dodgers in 2016 at 19 years old, battled some shoulder injuries and has been nursed along slowly the past couple of seasons. He is still just 24 but has already made 16 postseason appearances, so the moment shouldn't be too big for him. He works off a 94 mph fastball, with an excellent curveball and a changeup he throws to right-handers. Both the fastball and curveball come with a high spin rate, helping Urias induce a lot of soft contact even though his swing-and-miss rate is below average (although it's been higher in the postseason).
Yarbrough is a soft-tossing lefty who needs his cutter working to get in on the hands of righties. It was a great pitch for him in 2019 (.200/.230/.338 against RHB), but hasn't been as effective in 2020 (.317/.376/.510). Given the state of the series, Rays skipper Kevin Cash will have to play all his cards in this game, which could mean a quick hook for Yarbrough if he gets into trouble. Cash can't let the game get out of hand early without getting his top relievers into the game. That shouldn't be an issue since Friday's blowout meant Nick Anderson, Pete Fairbanks and Diego Castillo didn't pitch.
Two wild cards to watch for: First, the Dodgers are playing a little small ball, with Betts stealing bases and the Austin Barnes sacrifice squeeze bunt in Game 3; and we still don't know who the Dodgers closer will be in a close game. — David Schoenfield
---
Running World Series odds
Dodgers 81.7%; Rays 18.3%
---
Game 4 predictions
Schoenfield: The Tampa Bay offense is still struggling, barely hitting over .200 in the postseason. The Dodgers, meanwhile, continue to do a lot of their damage with two strikes — all five of their runs off Charlie Morton in Game 3 came with two strikes (and two outs). I like the way Urias has been pitching and the Rays' lineup against lefties has featured Hunter Renfroe and his .156 average hitting cleanup. Maybe he runs into something. I'll bet against it. We are due for a close game, however. Dodgers 3, Rays 2.
Alden Gonzalez: The Dodgers' offense looks dialed in — almost as much as their Game 4 starter, Julio Urias, who has allowed one earned run over 16 innings this postseason. The Rays will counter with what amounts to a bullpen game, giving the Dodgers a premium opportunity to take control of this series. They know it, too. Dodgers 9, Rays 3.
Dan Mullen: I'm starting to have serious doubts that we'll have baseball to watch after this weekend now that the Dodgers have a 2-1 series lead as the pitching just does not set up well for the Rays the next two nights. Having Urias head to the mound in Game 4 isn't quite like having Clayton Kershaw or Walker Buehler, but it is a clear advantage over the bullpen game the Rays are going to deploy. There's a very good chance that means we see Kershaw on the mound with a chance to clinch in Game 5. Dodgers 6, Rays 3.
---
Stat of the day
With his ninth-inning home run in Game 3, Randy Arozarena of the Rays set a new MLB record for total bases in the postseason (52) with his 23rd hit of the postseason — a single-season record for postseason hits for a rookie, but now he's also just three hits shy of Pablo Sandoval's all-time mark for any player in any single postseason at 26, set with the Giants in their 2014 title season.
---
Social media post of the day
Andy Griffith made it to the World Series! pic.twitter.com/1FSXHs09GY

— Chris Stiles (@cstiles24) October 24, 2020
---
Best moment of the MLB playoffs to date
Cody Bellinger managed to one-up … Cody Bellinger. The Dodgers outfielder had held this crown since he robbed Fernando Tatis Jr. of a home run in a thrilling Dodgers-San Diego Padres NL Division Series Game 2; but his NLCS-deciding Game 7 home run to put Los Angeles in the 2020 World Series was just enough to take over the top spot.
CODY BELLINGER GIVES THE DODGERS THE LEAD 💥

(via @MLB)pic.twitter.com/AaQwfdgoPM

— SportsCenter (@SportsCenter) October 19, 2020
---
The running MLB playoffs MVP
Randy Arozarena has gone from an unknown outfielder to this October's breakout star. Going into the playoffs, you might have been asking, "Who is this guy?" But the Rays' trade for him has been a huge factor in their postseason run. His MLB-high eight long balls have made a big impression — tying him with Barry Bonds, Nelson Cruz and Carlos Beltran for the record for most home runs in a postseason. Arozarena also leads all hitters in the postseason with a new MLB record for total bases with 52, and is leading in hits while second overall in runs scored. Also, he has been flashing some leather in the outfield and some sweet celebration dance moves on the field.
The Rays are down only 2-1 in this World Series. Here's why it feels a whole lot worse
ARLINGTON, Texas — For the moment, the Tampa Bay Rays have answered a question that lingered even after Wednesday's six-run output in their World Series Game 2 win over the Los Angeles Dodgers. It went something like this: Was the Rays' anemic postseason offense waking up, or did they just get a one-day reprieve because the Dodgers pitched a bullpen game that night?
Games 1 and 3 gave us the answers we need, as the Rays put up little fight in the batter's box in either contest and now find themselves down 2-1 in the series with their own version of a bullpen game looming.
"We need to find a way to win, that's for sure," manager Kevin Cash simply stated after the latest loss.
It doesn't help that the Dodgers have dynamic lefties Julio Urias and Clayton Kershaw lined up for the next two nights. The Rays are just 11-11 this season when a lefty starts against them. In other words, the path to a championship got a whole lot harder for the American League representative. Catcher Mike Zunino is taking the proverbial glass-half-full approach.
"Guys have been hitting the ball hard lately," he said. "The luck hasn't been there but that's all part of it. We have to stay consistent and put our work in. Eventually we'll get some bounces."
But are they running out of time?
If the Dodgers were planning several more bullpen games, it wouldn't be fair to eliminate Game 2 from the Rays' offensive statistics. But they're not, so it's appropriate to look at it this way. Minus that game, the Rays are 10-for-62 (.161) with 23 strikeouts in their two World Series losses. For the entire postseason, minus Game 2 of this series, they're hitting just .203.
Again, unless the Dodgers are throwing more of their "B" relievers, these are the numbers that matter. And what about all that talk of a Brandon Lowe breakout after his two-home run performance on Wednesday? His three-strikeout night in Game 3 is a nice microcosm of the Rays right now: Their production has been spotty at best this postseason.
"We see it quite a bit when our pitching is on and we go against good offenses," Cash stated. "That's what we saw on the flip side [in Game 3]. Just dominant, dominant stuff."
The scary part for the Rays is Game 3 winner Walker Buehler had a "lofty" ERA of 1.89 coming into the night when compared to Game 4 starter Urias, whose 0.56 mark leads all starting pitchers this postseason. As do his four wins.
The Rays' best shot is to scratch a run or two across the board as early as possible. They're a major-league-best 31-7 when scoring first this season.
"We seem to be a much better club when we get early leads," Cash said. "Whatever we can do to get some runs early."
Easier said than done for the Rays right now with their 2-1 series hole feeling a lot deeper than just a one-game deficit.