The Los Angeles Dodgers completed a division-series sweep of NL West rival San Diego with a 12-3 victory Thursday night, setting up an NLCS showdown against the only other unbeaten team this postseason, the Atlanta Braves.
The two best teams in the National League will square off in a seven-game series starting Monday. The ALCS, featuring Houston and the winner of New York and Tampa Bay's ALDS Game 5, will begin Sunday.
The Dodgers remain the clear favorites to win the World Series, and after seeing how they blunted the Padres over three games, it's easy to see why.
Every game, the Dodgers exhibited championship-caliber characteristics. Their pitching shut down the Padres' dangerous lineup in Game 1. Their home run-robbing defense preserved a close win in Game 2. And in Game 3, they Dodgers' offense, relatively dormant in these playoffs, awoke with fury, led by Will Smith, who became the first catcher and ninth player ever to record five hits in a postseason game.
Smith capped his outburst with a bases-loaded double in the ninth inning and finished 5 for 6 with three RBIs. Los Angeles' four runs in the ninth inning were a nice bookend to the third inning, when the Dodgers put the game out of reach.
Trailing 2-1, Los Angeles plated five runs, three of them coming with two outs and after a curious intentional walk. Rather than face Cody Bellinger, the Padres allowed A.J. Pollock to lace a run-scoring single to left field before Joc Pederson following with a two-run single to extend the lead to 6-2.
From there, the Dodgers set cruise control and returned to the NLCS for the fourth time in five years. In 2016, they lost to the Chicago Cubs. In 2017 and 2018, they won the pennant only to fall to the Houston Astros and Boston Red Sox, both of whom later were disciplined by the commissioner's office for illicit sign stealing. Last year, they were ousted in spectacular fashion during the division series by the eventual champion, Washington.
This season, the Dodgers ensured they would suffer no such fate. Their 43-17 regular-season record secured them the No. 1 overall seed in the postseason, and Los Angeles quickly took care of Milwaukee in the wild-card round. The Padres, their NL West rivals, were a greater threat but a hobbled one. Their best starter this season, Dinelson Lamet, did not pitch in the postseason because of an arm injury, and Mike Clevinger, the starter they acquired at the deadline, left in the second inning of Game 1 because of arm troubles.
The Dodgers have spent the season relatively healthy, and it allowed them to weather the barrage of looks San Diego threw at them in Game 3. The Padres used a playoff-record 11 pitchers and 24 players in the game. The volume couldn't match the Dodgers' excellence.
They move to the NLCS with one pertinent question — will longtime closer Kenley Jansen keep his job after a troubling downtick in velocity? — and a few smaller ones that tend to answer themselves. The overarching questions are all answered.
Do the Dodgers have the talent to win their first World Series since 1988? Certainly.
Will the Braves, with their devastating lineup and crack bullpen, pose their most difficult challenge yet? Absolutely. Is this NLCS going to be memorable? Whether it ends with the Dodgers returning to the World Series or Atlanta going to its first since 1999, for sure.
JuJu Smith-Schuster relishes role as Steelers' No. 1 hype man
PITTSBURGH — Still holding the football after he scored for the second time this season, Pittsburgh Steelers wide receiver James Washington skipped over to JuJu Smith-Schuster — who was waiting for him in the end zone.
Smith-Schuster stooped and hoisted the 5-foot-11, 213-pound receiver across his shoulders, holding on to his right leg with one hand and his right hand with the other as he twirled Washington around. Tight end Eric Ebron grabbed the ball in Washington's outstretched left hand and jumped in a circle around the pair as he held the ball in the air.
It should come as no surprise the celebration was Smith-Schuster's brainchild.
"We actually didn't practice that," Washington said. "That was just JuJu just thinking. So we were kind of thinking like 'The Fresh Prince of Bel-Air,' where they kind of picked [Will Smith] up and spun him on the court."
Washington, of course, is describing a moment in the intro to the popular 1990s sitcom, which aired its finale six months before the 23-year-old Smith-Schuster was born. Even still, it's relevant in today's pop culture — especially for a kid from Los Angeles.
"Something we all grew up with and I would say we all watched is 'Fresh Prince of Bel-Air,'" Smith-Schuster said. "It's very funny that we can relate to that. So I pick up James, spun him around. The boys around me, we're just enjoying our time. A lot of our celebrations either may come the night before, the week before or even the series before we go out there. If you score multiple touchdowns with multiple wide receivers, when we run out of celebrations, we make them up as we go."
Through five games, Smith-Schuster looks less like Pittsburgh's No. 1 receiver and more like its No. 1 hype man — and that's not a knock.
It's a byproduct of the balanced passing attack, one that's given Smith-Schuster plenty of opportunities to get creative with TD celebrations and energize his teammates.
"He is the fun leader in the group," quarterback Ben Roethlisberger said. "He brings a lot of energy and excitement to the team. That's what we are excited about. When I said last week that he was excited for other guys, what you see on Sunday is what you get with JuJu. He is that guy. That's truly who he is; he's not putting on a show. He loves playing the game and he loves the teammates, and I think that is a great combination."
Entering a contract year tabbed as the No. 1 wide receiver, it would be easy for Smith-Schuster to get upset about having modest totals for targets (28), yards (194), touchdowns (3) and receptions (23). But that's not his attitude. Praised by Roethlisberger a week ago for his selflessness during Chase Claypool's big day, Smith-Schuster echoed that attitude on Wednesday, after his lowest receiving yard total since his rookie debut: two receptions for six yards.
"People were talking about 'He only got me two points this week for fantasy.' I was like, 'Well, I mean, I'd rather have two points and be 5-0 than to be 1-4 and to have 25 fantasy points," Smith-Schuster said. "So for me, I like it for myself, so I'm always having fun regardless."
Entering Sunday's game against the unbeaten Tennessee Titans (1 p.m. ET, CBS), Roethlisberger has thrown 11 touchdowns to five different pass catchers, including one to Ebron, the tight end.
Titans reporter Turron Davenport and Steelers reporter Brooke Pryor preview the quarterback matchup between Ryan Tannehill and Ben Roethlisberger.
"I just feel like we have so many weapons, you just never know who's gonna have a day," Washington said. "With as many mouths to feed on offense as we have, you can't just keep one guy or two guys, because I feel like everyone's capable of having a big game."
Roethlisberger, who entered the year somewhat concerned about building chemistry with his newer receivers in an abbreviated offseason, is confidently spreading the ball around. And each week, a hot target emerges.
Recently it's been the rookie Claypool and Washington, but Smith-Schuster had two touchdown catches in the season opener against the New York Giants. To celebrate his first, he did the "Who's Next?" dance, popularized on TikTok, and Ebron and Diontae Johnson joined in.
"TikTok is popular right now," Smith-Schuster told teammate Bud Dupree on Dupree's web series. "So we grab the fans from TikTok and get them to tune in and get my teammates involved. The more people you have, the better it is. Everyone's like, 'Oh my god, no he did not just do that.'"
After the second touchdown, he ran to the goal line and lay on his stomach in front of the pylon camera, cradled his face in his hands and kicked his feet back and forth behind him. He initially planned to pick up the pylon camera for a selfie, he told Dupree, but when he had checked with a referee ahead of time, he was told that wasn't allowed.
Smith-Schuster doesn't just celebrate when he gets into the end zone. He also helps his teammates come up with choreography.
He got Claypool on TikTok and taught him some of the viral dances, something that came in pretty handy in Claypool's four-touchdown day against the Philadelphia Eagles.
In one of Claypool's celebrations, he mimed that the football was glued to his hand. Then Smith-Schuster and Washington ran over and pretended to pull the ball really hard. All three of them fell over as the ball came "unstuck" from Claypool's glove. On another TD, running back James Conner pretended to box Claypool in the corner. The next time, Claypool ran back to the end zone, pretending to help Washington reel in a fish, played by Smith-Schuster. Then Washington and Claypool posed with the horizontal Smith-Schuster on the field.
"I'm having fun all the time, whether I get the ball or not, whether I get two catches for 10 yards or I get six catches for 60 yards," Smith-Schuster said. "For me, it's more so about the team, the atmosphere. If our defense is having fun and they're doing their job, offense is having fun, my teammates are having fun, I come in with the celebrations."
What if Jon Gruden had never been traded by the Raiders to the Buccaneers?
HENDERSON, Nev. — The rumors had been percolating all year. So much so that Jon Gruden took the time to address them in team meetings throughout the 2001 season.
"I'm not going anywhere," Gruden would insist to his Raiders team. "I know what you're hearing about Notre Dame. I like it here. I'm not going anywhere. I want to be here."
Gruden was in his fourth season as the then-whiz kid coach of the then-Oakland Raiders, and his team had quickly become a power, having already played host to an AFC Championship Game. But contract negotiations on an extension had stalled midseason, and Gruden was linked to jobs ranging from Notre Dame to Ohio State in college to, yes, Tampa Bay in the NFL.
And when the Raiders dropped four of their last six games, including the final three, to close out the regular season and finish 10-6, there was a thought that the rumors had become a real distraction. That Gruden might have lost the team.
Losing to the New York Jets in the regular-season finale not only dropped the Raiders out of a first-round bye and into a wild-card round playoff game, it set in motion a course of events the franchise has tried for nearly two decades to course correct. And with the Tampa Bay Buccaneers set to play the now-Las Vegas Raiders on Sunday in this, Gruden's third season back with the team, it picks at a certain scab.
What if Gruden had never been traded from the Raiders to the Buccaneers on Feb. 18, 2002?
'Dude, what are we going to do?'
Charles Woodson, Gruden's first draft pick, stood to ask a question of the coach in his standing-room-only return media conference on Jan. 9, 2018.
"Is there a no-trade clause in your deal?" Woodson asked, before those assembled roared in laughter, and Gruden, smiling widely, answered affirmatively.
Nearly 16 years earlier, there was no laughing. No grinning. No guffaws. Just shock and awe. Yes, even with a half-season of rumors flooding the streets of Silver and Blackdom.
Because even as Lincoln Kennedy landed in Honolulu for the Pro Bowl the first week of February 2002, it seemed a done deal that Gruden would be gone. So Kennedy gathered with fellow Pro Bowlers Rich Gannon and Tim Brown to talk about a likely future.
"I was like, 'Dude, what are we going to do?'" said Kennedy, then the Raiders right tackle and now the team's radio analyst. "What the f— are we going to do? We've got to hire from within."
But the trade to the Buccaneers, who had moved on from Tony Dungy and were flirting with Bill Parcells, did not become official until nine days after the Pro Bowl.
That's when Kennedy spoke with Al Davis.
"He told me, his words were, 'I never liked it when teams would interfere with coaches under contract,'" Kennedy recalled Davis saying. "He told me, 'Tampa Bay came to me and they said they wanted Gruden' and [Davis] said, 'I felt that I put the price tag so high that they wouldn't agree to it. And they did. Gruden is no longer our coach.' So, I hung up after I talked to him."
The king's ransom for Gruden that Davis thought Tampa Bay would never pay? Two first-round draft picks. Two second-round draft picks. And $8 million to boot.
"After the trade went down, we all met with Mr. D," Kennedy said. "I put in my two cents and said I thought [the new coach] should be [Bill] Callahan. He knows the system, we can keep everything the same. [Marc] Trestman? He was the quarterbacks coach, but Callahan had the run game and Trestman was developing the pass game, but I think Rich had said he wanted Callahan and not Trestman … and Callahan was the offensive coordinator anyway."
That string of events mentioned earlier?
Follow this road map: the Raiders, perhaps distracted by constant reports of Gruden's departure, fall out of a playoff bye and into a road game at the New England Patriots, where Tom Brady and the Tuck Rule awaited. Yes, it's Gruden's final game of his first tenure. Callahan replaces Gruden and the offense gets more explosive as Gannon becomes the 2002 NFL MVP and the Raiders glide into Super Bowl XXXVII. Except …
Guess who is waiting?
"With the way we were rolling, the only person who could beat us was the guy who knew us better than we knew ourselves," Kennedy said. "We just had that way about us."
A 48-21 blowout loss to Gruden's Buccaneers later, the Raiders have had only one winning season since. Gruden lasted until 2008 in Tampa Bay and was, fittingly enough, put out to pasture by the Raiders and, yes, JaMarcus Russell. Nine seasons in ESPN's Monday Night Football booth ensued before Mark Davis was able to bring Gruden back to the Raiders.
In his first tenure, the Raiders were on the verge. But as the late Al Davis said in 2009, "The Tuck Game was the undoing of a lot of things."
Said Kennedy: "Here's the thing — if we had won the Super Bowl [in Gruden's last year], I think we would have become a powerhouse because we were returning everybody the following year."
Except …
"If we weren't playing against him," Kennedy said of Gruden, "we would have won the Super Bowl."
'Can't look back at what if's'
Of course, there was always the prevailing thought that Al Davis had become annoyed with Gruden's conservative playcalling — where was the vaunted vertical game? — as well as "Chucky" becoming the face of the franchise sans Lombardi trophies and was, well, simply done. At least, the conventional wisdom went, Ken Stabler and Marcus Allen led the Raiders to titles before their respective public feuds with the iconoclast owner led to their ousters.
Gruden, though, was always beloved by Raiders alumni. Yes, even the old-school guys who never played for him. Guys like Jim Otto, Jack Tatum, Phil Villapiano, Cliff Branch, Willie Brown, Tom Flores, George Atkinson and Raymond Chester — all of whom showed up for a private party in Gruden's honor at Raiders sports bar "Ricky's" in San Leandro, California, in 2009, when Gruden rocked a Raiders visor and a white Bo Jackson throwback jersey. The restaurant was asked to take down photos of the gathering from its website, for fear of Davis seeing who was in attendance and interpreting it as disloyalty.
But it was Mark Davis who brokered peace with Gruden, bringing him back to light the Al Davis Torch in memory of his father on Nov. 18, 2012.
And it was a "six- or seven-year dance" the younger Davis did with Gruden before finally convincing him to return to the Raiders.
"There was no question I wanted to have him as the head coach of this organization," said Davis, who assumed role of managing general partner upon his father's death on Oct. 8, 2011.
But Davis would not touch the question: What if Gruden had never been traded?
"I can't look back at what if's?" Davis told ESPN.com this week. "Are you kidding me? What if Franco Harris didn't catch that ball? What if Rob Lytle did fumble the ball? What if Tom Brady fumbled? What if this? What if that? You could do that every day.
"What if? If. If. If."
Told "if" is the biggest word in the English language, Davis howled.
"Most irrelevant, too," he said.
And Gruden, besieged with news of COVID-19 and potentially being without his starting offensive line this weekend, was in no mood to reminisce, either.
"That's a loaded question," said Gruden, who has said he never wanted to leave the Raiders in the first place and acknowledged his being inducted into Tampa Bay's Ring of Honor in 2017 served as a springboard to get him back into coaching.
"I'm just concentrating on this game, honestly. It's a great opportunity for both teams to try to get another win. I try not to get too deep, too philosophical. I had a great time in Tampa. A lot of my best friends are still there and live there. So, I'm looking forward to competing."
Yes, against his old team in the Buccaneers, and an old foil in "Tuck Rule" Tom Brady.
Man United, Arsenal, Juventus, Real, Bayern get Adidas kit makeover via Pharrell
Adidas have produced a very special array of custom hand-painted jerseys for a selection of the world's top football clubs.
In collaboration with singer, songwriter, record producer, fashion designer, and entrepreneur Pharrell Williams and his Humanrace creative label, each shirt is inspired by the club in question and significant moments from their respective histories.
Adidas x Pharrell Williams "Humanrace" line of kits have been designed for Arsenal, Bayern Munich, Juventus, Manchester United, and Real Madrid — as well as London-based grassroots club Romance FC.
The aforementioned moments and memories have been reverse engineered and reworked in a raw and expressive manner to reflect contemporary football culture, as interpreted by Pharrell and the Humanrace design team.
"History is what shapes the future, and sometimes in order to look forwards, first we need to look back," said Pharrell of the collection.
Legacies redesigned. @adidasfootball @humanrace pic.twitter.com/ozldTzevfb

— Pharrell Williams (@Pharrell) October 23, 2020
"The most important part of the process with this collection was to learn of each club's legacies and how each defining moment of their histories were captured and preserved from a design perspective.
"Each of the new jerseys are symbols of the five club's legacies and a true celebration of the universality of sport."
Arsenal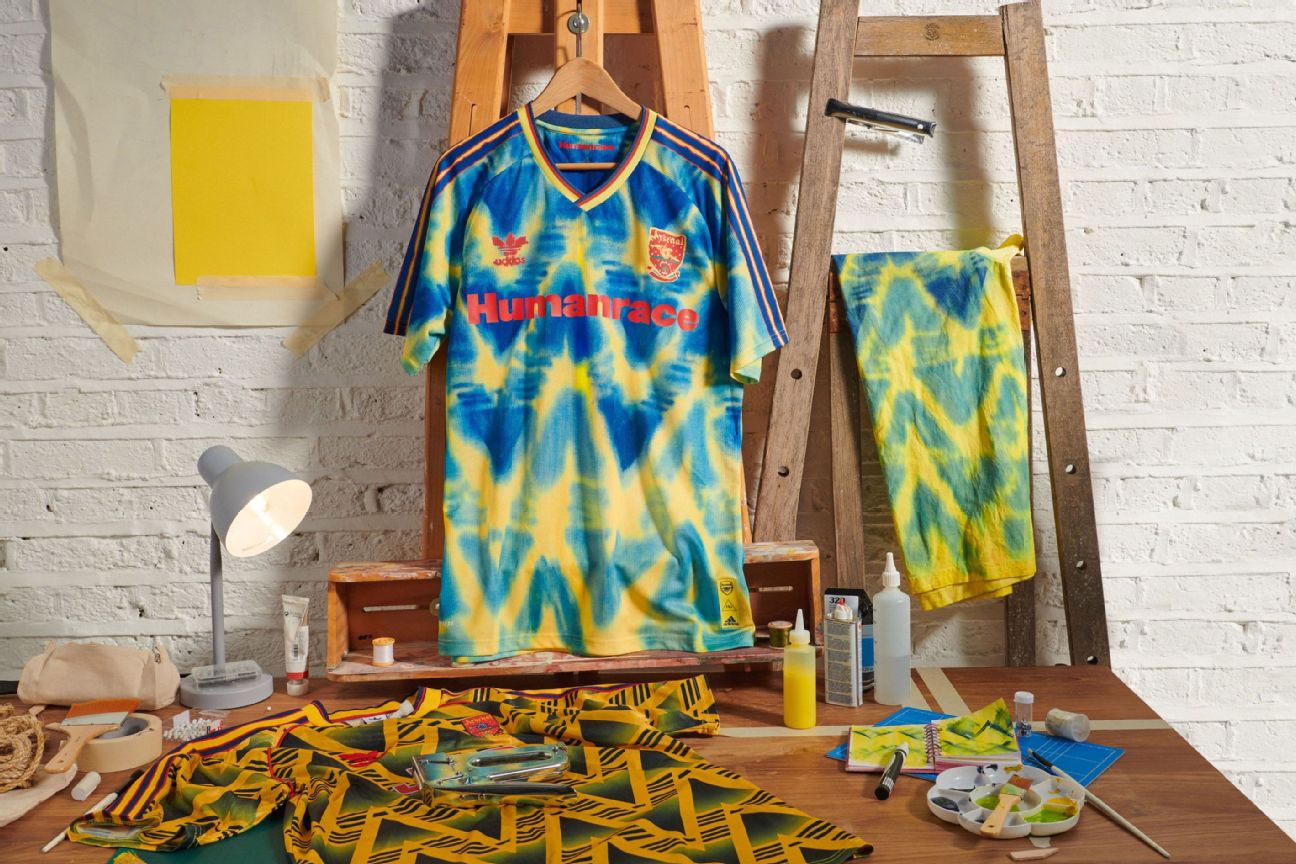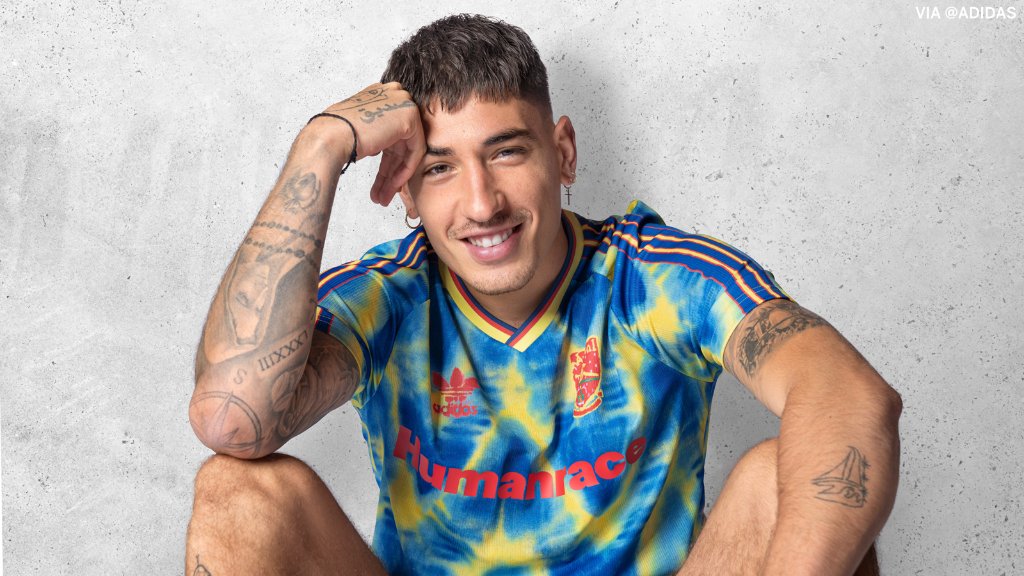 It all started with Pharrell trawling back through the Adidas archives and plucking the cult classic "bruised banana" Arsenal away shirt of the early 1990s as his starting point.
The iconic zigzag design was then reworked with a loose "paint bleed" effect (using spray paint and stencils) to give the jersey a washed-out and watery look, with the badges and club crest hand-stencilled on the chest.
Manchester United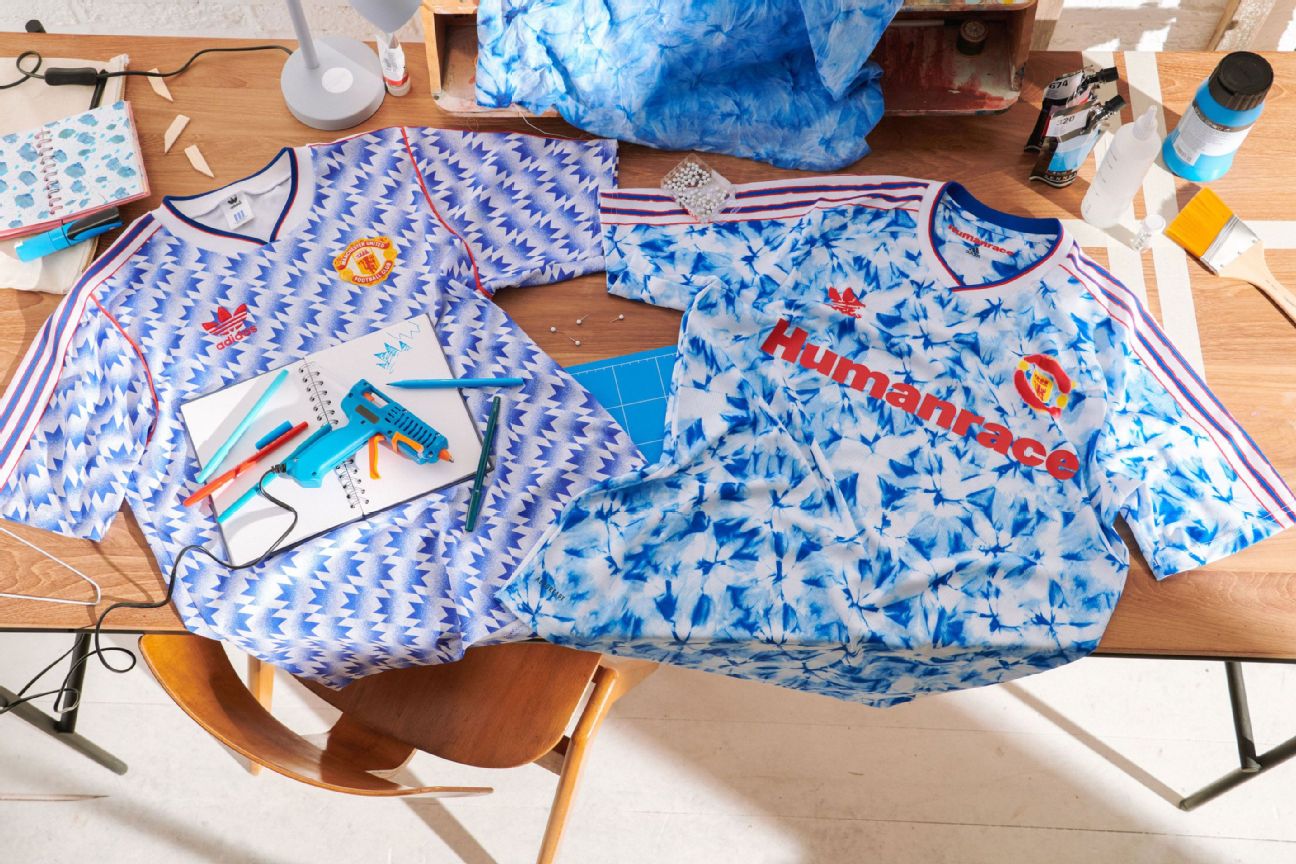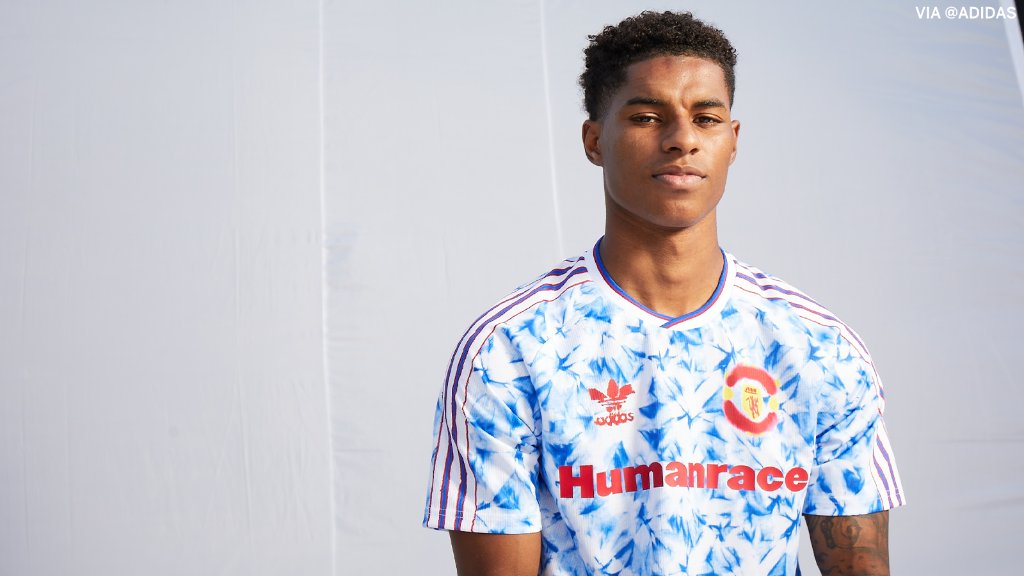 Another classic Premier League away kit was dredged up for United's offering, with Pharrell selecting the popular white and blue "snowflake" shirt from 1990-92 to remix.
Still a favourite among United fans to this day, the design was originally born of the "Madchester" house music scene that swept the city in the late 1980s and has now been updated using a mottled tie-dye effect.
Bayern Munich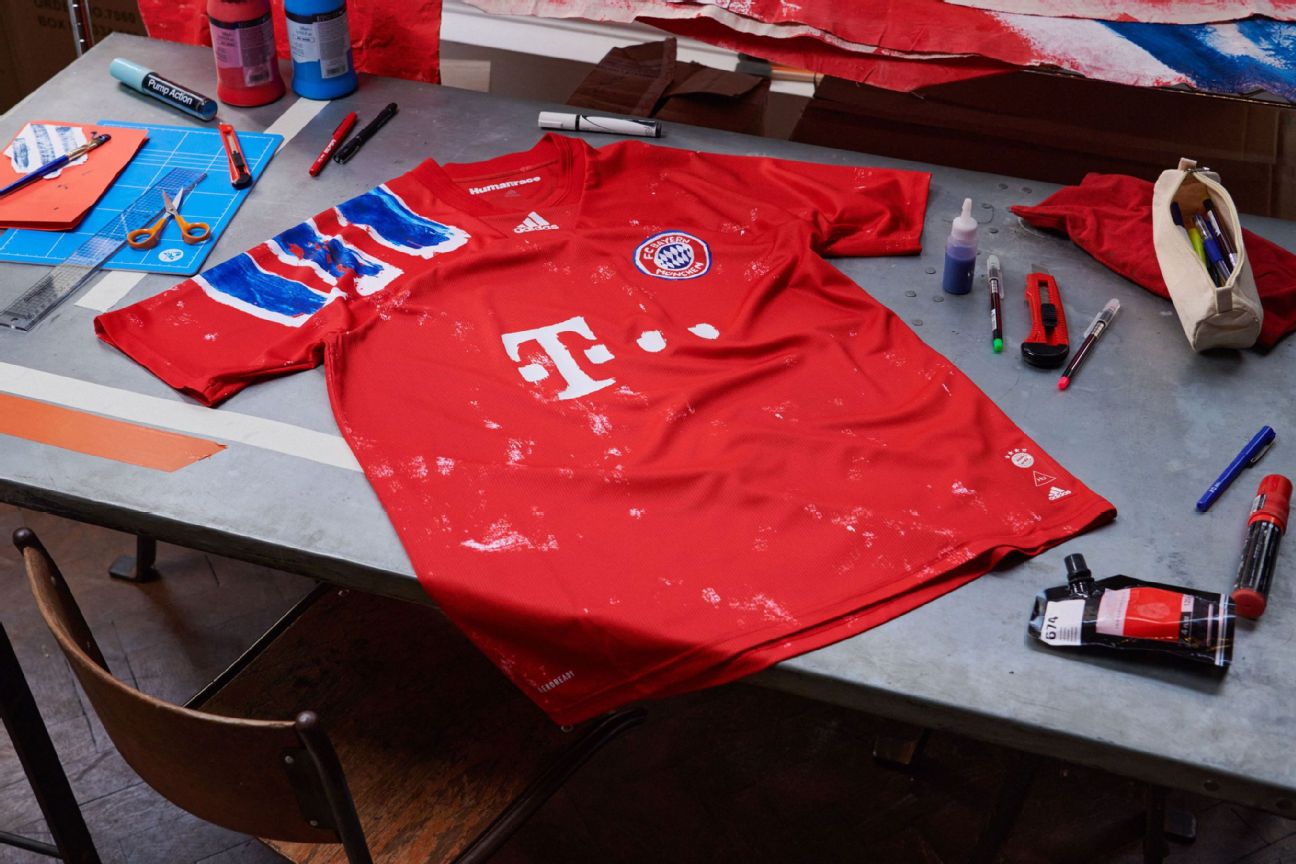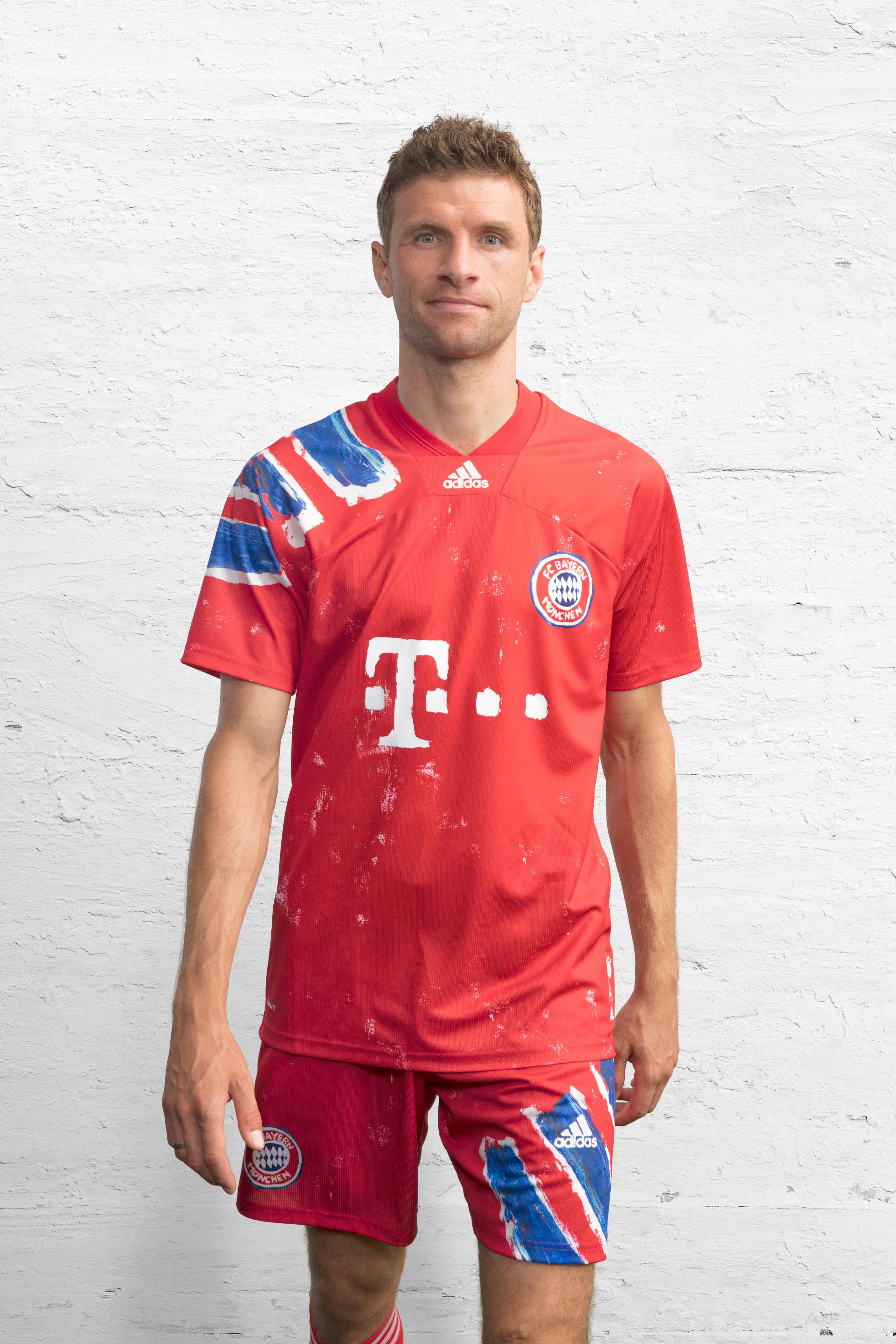 Bayern saw their 1991-93 home shirt selected from their back catalogue to undergo the Humanrace treatment, with the bold and blocky design reimagined using daubs of thick acrylic paint.
Juventus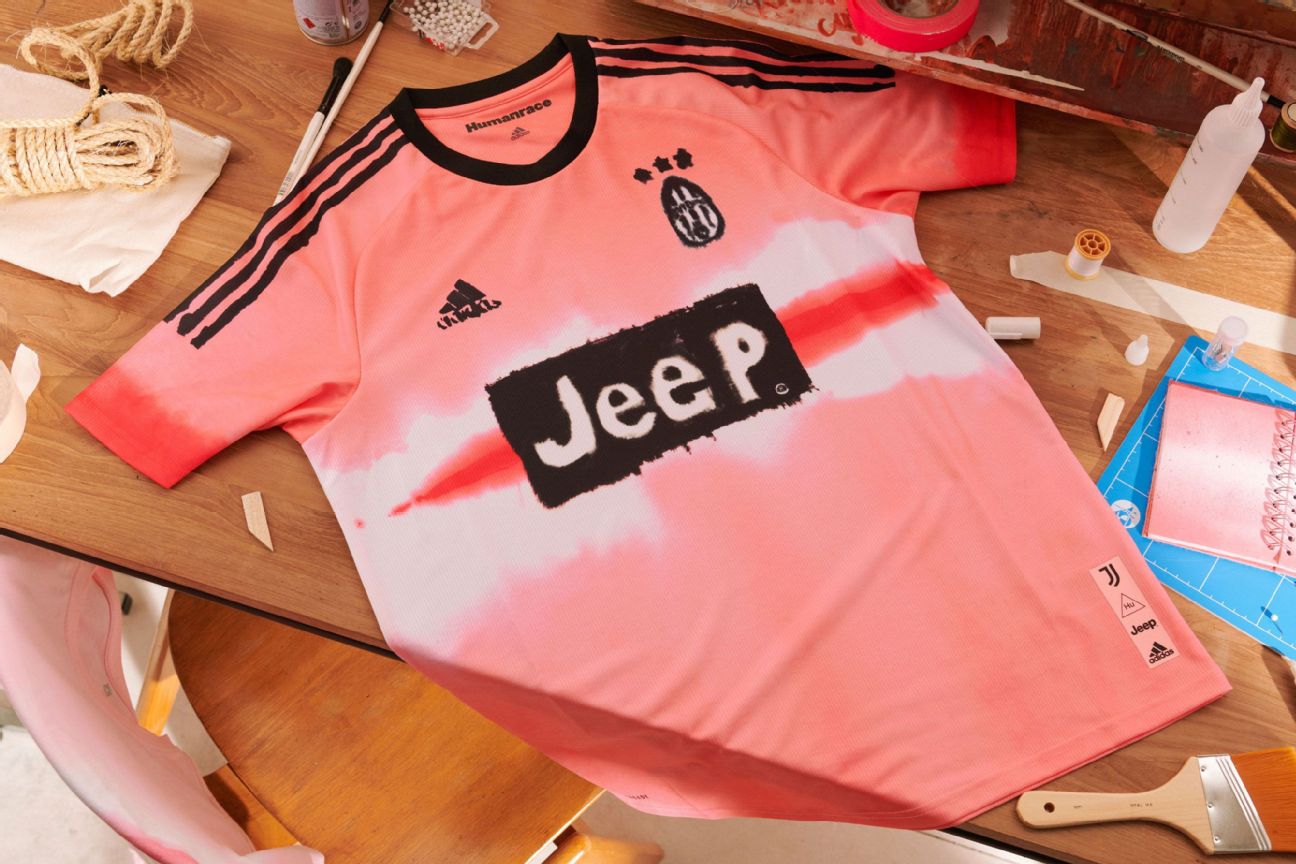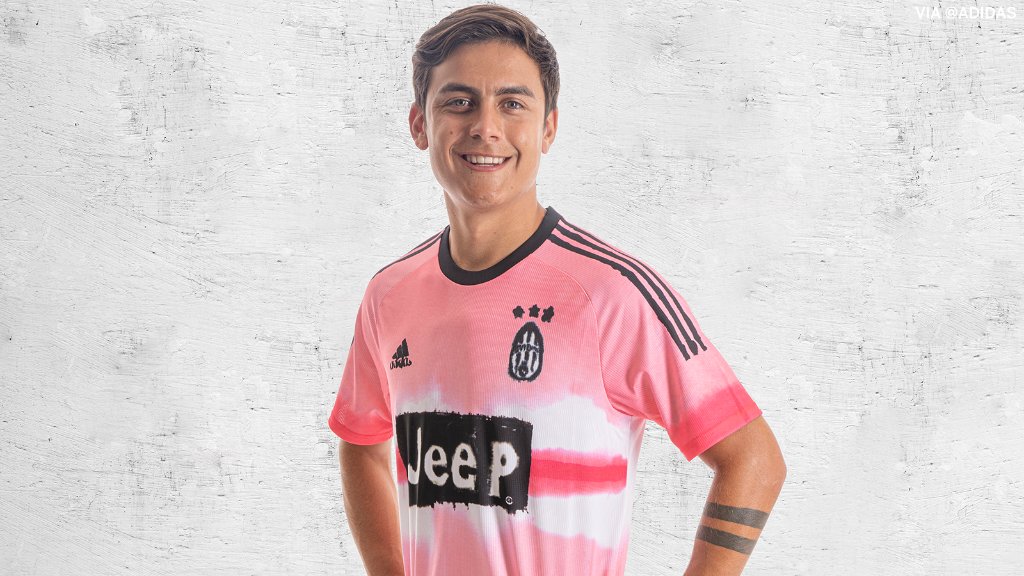 Rather than their famous black and white stripes, Juventus saw their gaudy pink away shirt from 2015-16 given an blotchy artistic overhaul — quite possibly as it marks a treble-winning season and also the first year of the Italian club's kit partnership with Adidas.
Real Madrid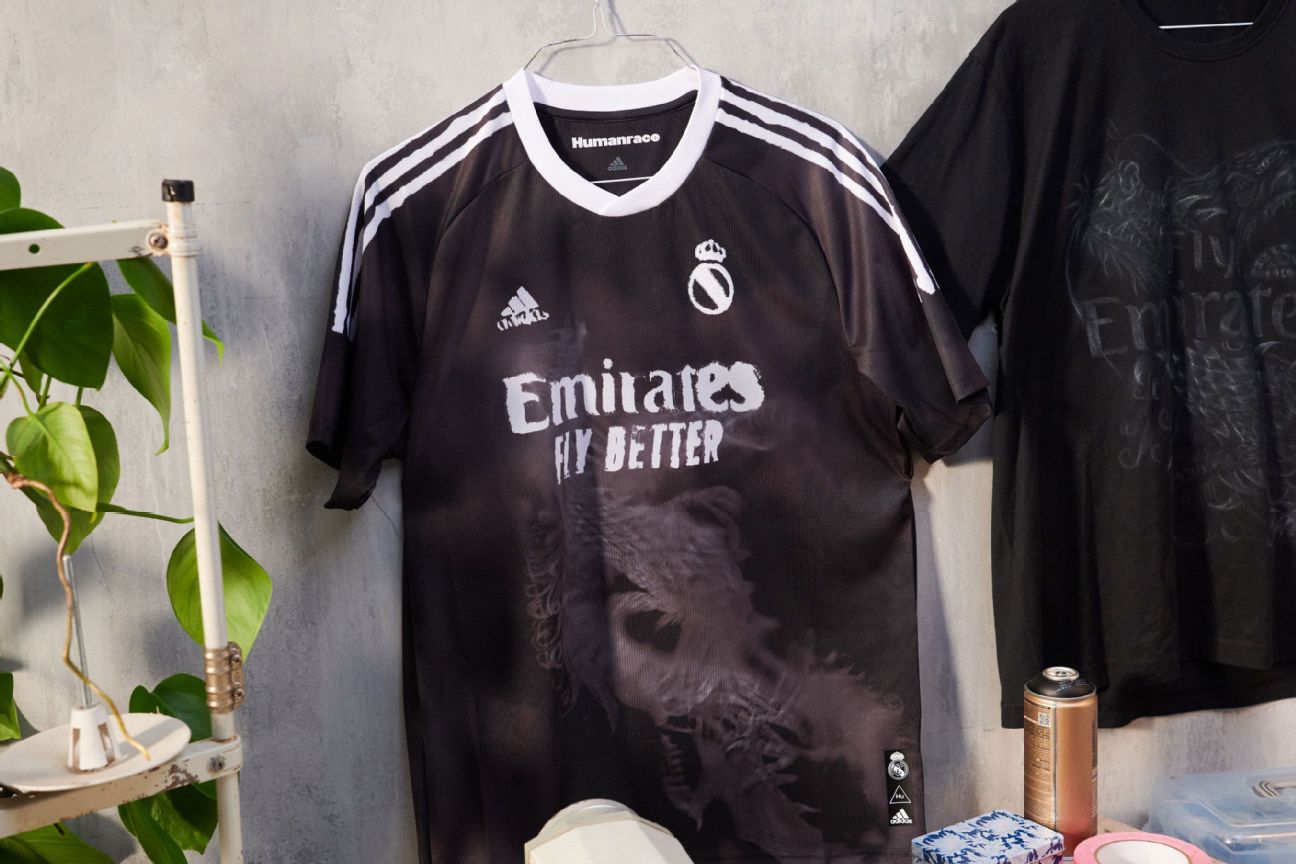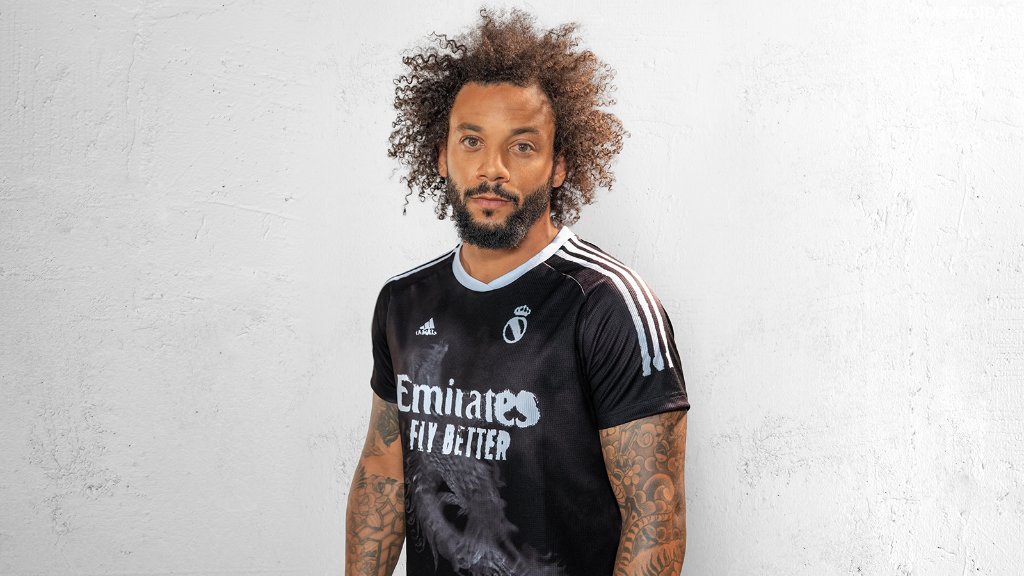 Rounding off the main collection, Pharrell decided to use a Madrid shirt which was itself originally created by his friend and past collaborator, Japanese fashion designer Yohji Yamamoto.
An instant hit at the time, Los Blancos' 2014-15 away kit featured a mystical graphic drawn by Yamamoto, with two dragons entwined around each other on a field of black — a symbol of glory, honour and power.
Pharrell and Humanrace have adapted the illustration using a water technique to smudge the intricate drawing to the point of being almost unrecognisable.
Romance FC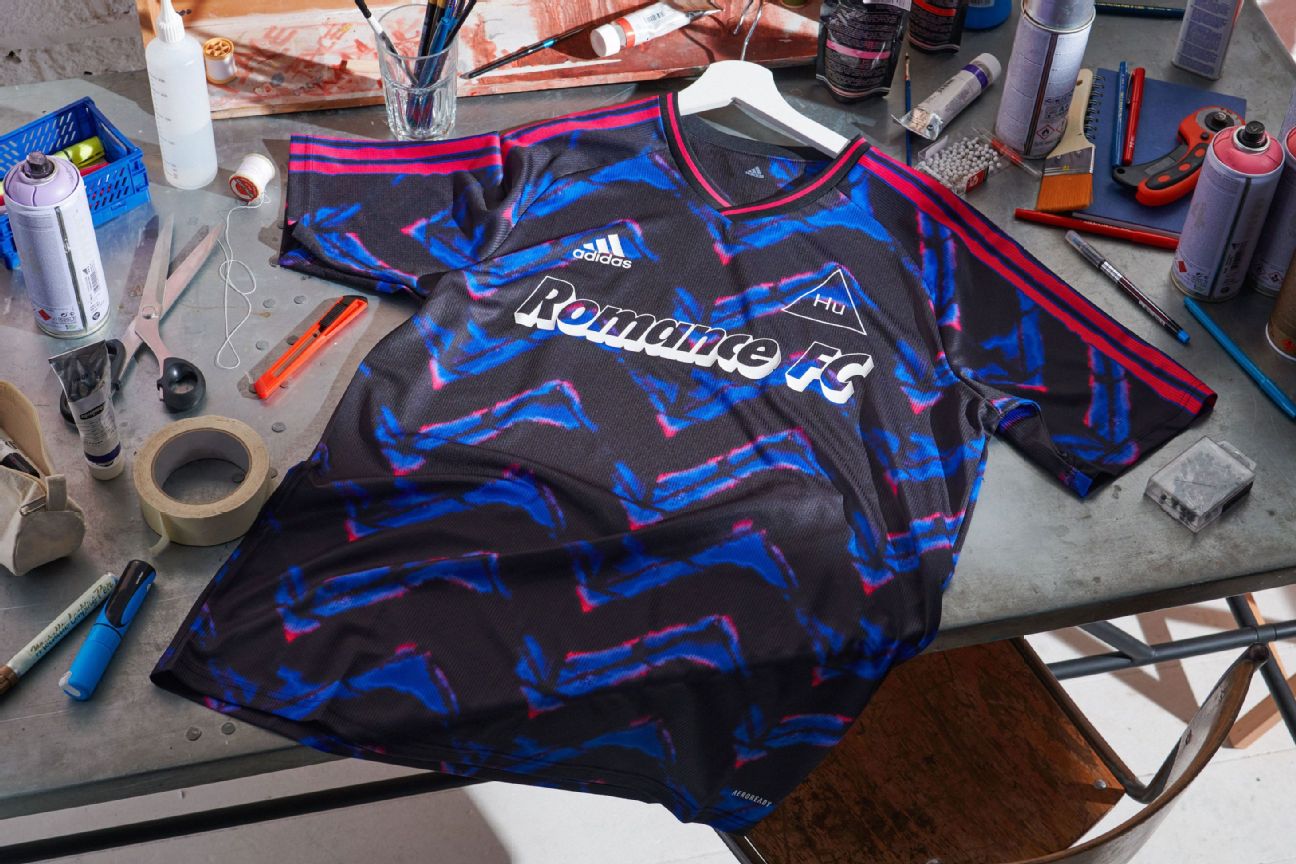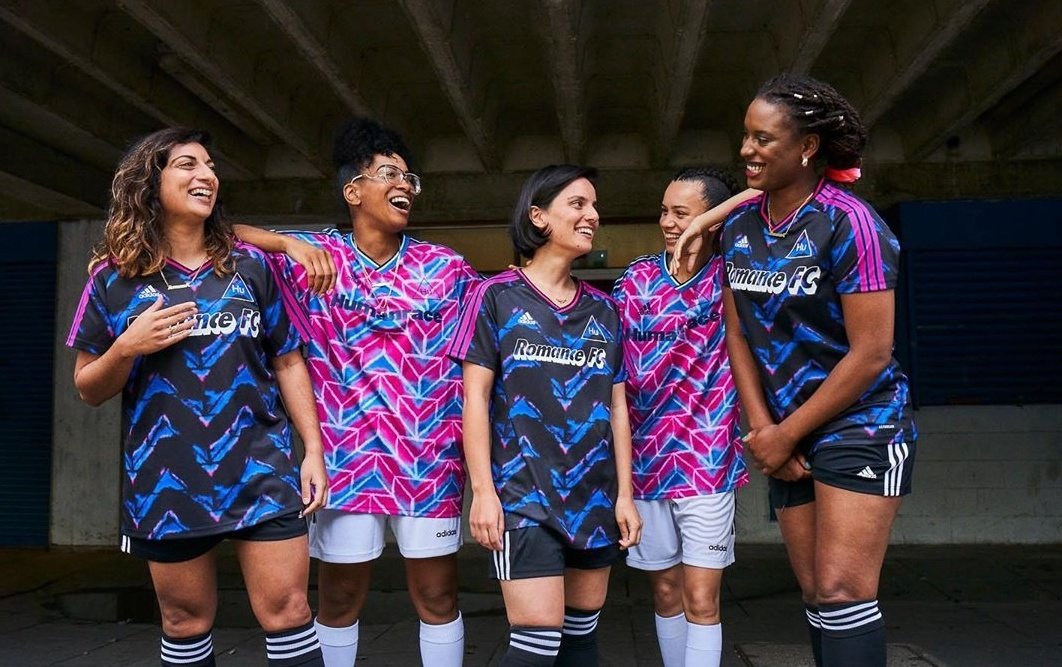 London grassroots team Romance FC also had a bespoke shirt created for them to play in this season, which will make just about every single opponent massively jealous as they are in such illustrious company.
Indeed, the Adidas x Pharrell Williams "Humanrace" jerseys will function as exclusive pre-match apparel for Arsenal and Manchester United before their Premier League games on Oct. 24.
Meanwhile, Real Madrid and Juventus will wear their designs in-match on Oct. 25 and Bayern Munich will sport theirs in their next domestic cup game.