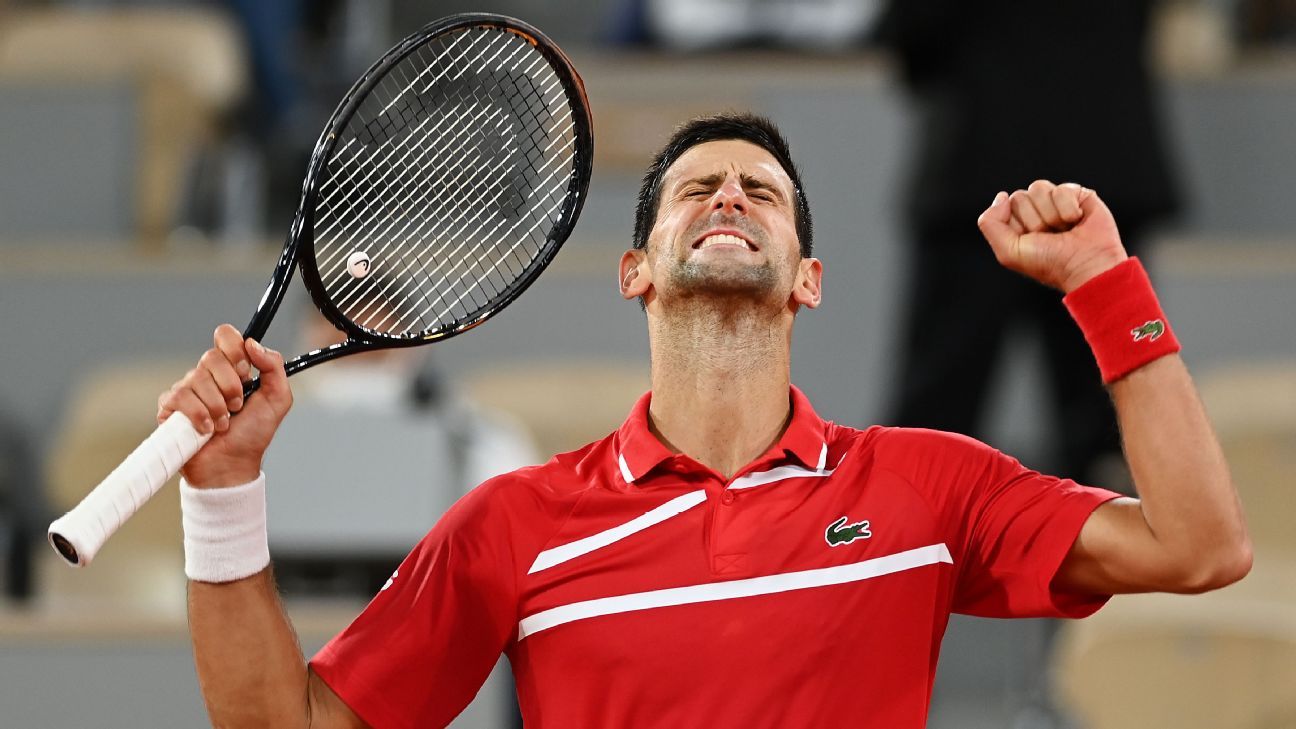 Novak Djokovic reached the French Open quarterfinals for the 11th consecutive year on Monday, extending his Open-era record at the tournament.
The top-seeded Djokovic faced his toughest challenge this year at Roland Garros but still won rather easily against No. 15 seed Karen Khachanov 6-4, 6-3, 6-3 at Court Philippe Chatrier, taking the last four games.
The stadium's new $55 million retractable roof was shut because of a heavy downpour.
Djokovic has won all 12 sets he's played in Paris this year and dropped a total of only 25 games. He lost five games in each of his first three matches.
The victory puts Djokovic in his 47th Grand Slam quarterfinal, second only to Roger Federer's 57.
Djokovic is seeking a second French Open championship and 18th major trophy overall. Among men, only Federer, with 20, and Rafael Nadal, with 19, have more.
Djokovic will face No. 17 seed Pablo Carreno Busta next. Carreno Busta got to his fourth Slam quarterfinal, and second at Roland Garros, by beating 186th-ranked qualifier Daniel Altmaier 6-2, 7-5, 6-2.
Carreno Busta was visited by a doctor after the second set but continued to play well en route to battling past Altmaier at Court Philippe Chatrier. It wasn't immediately clear what was wrong with Carreno Busta.
During his match, Djokovic once again hit a line judge, this time with a big serve from Khachanov that glanced off the frame of Djokovic's racket.
"My gosh, it was very awkward déjà vu. I'm actually trying to find the lines person and see if he's OK because I saw he had a little bit of a bruise, like redness, in that place in the head where the ball hit him," Djokovic said after the match.
Earlier, No. 5-seeded Stefanos Tsitsipas and No. 13-seeded Andrey Rublev reached the last eight at Roland Garros for the first time.
Tsitsipas won against No. 18-seeded Grigor Dimitrov 6-3, 7-6 (9), 6-2, and Rublev beat unseeded Marton Fucsovics 6-7 (4), 7-5, 6-4, 7-6 (3).
Tsitsipas, who had treatment for an irritation to his eye at the start of the second set, saved two set points in the tiebreaker.
"I feel irritation in my eye, and it happened in my previous matches as well. It's still a bit irritated; I think it's red," Tsitsipas said. "The tiebreak was very tense; the tiebreak was where all the money was. I showed lots of discipline."
Rublev saved three set points serving at 5-4 down and 0-40 in the fourth set, then won on his second match point when Fucsovics put a forehand into the net.
Serving at 3-2 up and deuce in the first set, Fucsovics was unhappy with a line call against him. He insisted the chair umpire look from a different angle.
"Come here and check from here, please," Fucsovics said. "It's your mistake, man. It's your mistake, OK?"
The umpire checked, and still upheld the line call.
Two games later, Rublev was unhappy with his racket.
"Don't understand how they can string so bad like this," he muttered.
Rublev is a two-time US Open quarterfinalist.
He next faces Tsitsipas, having beaten him on clay in the Hamburg Open final last month.
Information from The Associated Press was used in this report.
DAMWON get revenge on G2 en route to worlds final
DAMWON Gaming became the first South Korean team to make the League of Legends World Championship final since 2017 and took down the G2 Esports team that eliminated DAMWON last year with a 3-1 win on Saturday in Shanghai.
The win came with the fastest game in League of Legends World Championship history, with DAMWON shutting the door on G2 around the 19-minute mark in a decisive Game 4. The South Koreans will face the winner of Top Esports vs. Suning in the final on Oct. 31 at Pudong Stadium.
Coverage of previous matches is available on our 2020 League of Legends World Championship groups and play-ins page.
DAMWON Gaming 3, G2 Esports 1
When G2 Esports met DAMWON Gaming in 2019, G2 were a few series away from completing the Royal Road: winning every major event that they participated in domestically and internationally. DAMWON were an upstart LoL Champions Korea team that provided a beacon of hope for the LCK after South Korean teams had struggled internationally following their 2018 worlds collapse. Like Griffin before them, DAMWON came to 2019 worlds with the hope that a younger, aggressive team was more suitable to the current meta.
Although G2 did not complete their Royal Road, they did overwhelm DAMWON in the quarterfinals with a similar 3-1 scoreline to what we saw Friday. DAMWON didn't have answers for Luka "Perkz" Perković and Rasmus "Caps" Winther's champion flexibility. In particular, then-starting bot laner Sin "Nuclear" Jeong-hyeon was completely outclassed by Perkz.
Fast-forward to this year, where DAMWON players like mid laner Heo "ShowMaker" Su have talked about how much they want this rematch with G2 Esports to prove how much they've grown in a year. Bot laner Jang "Ghost" Yong-jun was a much more stable fit for the team in 2020 and took on a shot-calling role, while support Cho "BeryL" Geon-hee evolved into an aggressive innovator. ShowMaker himself improved significantly and, most importantly, DAMWON's jungle-focused playstyle around Kim "Canyon" Geon-bu suited DAMWON much better than the efforts G2 made to play around Marcin "Jankos" Jankowski.
DAMWON put together a highlight reel during this series, but the best one is definitely the fervor with which they attack G2's Nexus with the Rift Herald in Game 4 to firmly shut the door on G2 in under 19 minutes. This was a team that desperately wanted to prove that they were now better than G2, that they had shed their mental hangups of 2019, and they proved themselves convincingly.
A fond farewell to: G2 Esports
Despite winning both LEC splits again this year, it's not been the best season for G2 Esports.
Europe's No. 1 seed looked remarkably shaky in both of their regular seasons, with the initial swap of Caps to the bot lane and Perkz back to the mid lane not working nearly as well as Perkz in the AD carry role. The LEC was also full of rising teams like MAD Lions and Rogue who were starting to look like threats to LEC stalwarts G2 and Fnatic. All of this was forgotten and erased with G2's LEC summer final performance and arrival at worlds. This was G2. Of course they would be a title contender.
In groups, G2 were one tiebreaker away from coming out as the top seed. Yet their matchup against Suning pointed out the different trajectories that both teams were taking at this worlds. G2 looked less comfortable with how to play around their jungler than Suning, who have the perfect unit of five to excel in this meta, especially jungler Lê "SofM" Quang Duy. Jankos and G2 seemed to have solved this to some extent in their 3-0 quarterfinal drubbing of Gen.G Esports, but looking back on that series now, it's difficult to consider Gen.G as a particularly formidable opponent.
G2 are still one of the strongest teams in the world. Their mid-game cross-map play continues to be the best of any team in the world. Yet on Saturday, they were outclassed by a DAMWON Gaming team that, again, suits the current meta a lot more with the way that they play around Canyon.
With a finals appearance in 2018 and three consecutive semifinal appearances, this five-man unit of G2 is something very special, and I hope this isn't the last time we see them together on an international stage.
Quotable
After the series ended, G2 weighed in on what happened against DAMWON and how DAMWON had improved from the previous year. Here's what Perkz had to say.
"I think this year the meta favors them much more than it did last year. I think that this year they, and the Asian teams in general, they've been playing ever since summer split started these farm junglers and junglers that power-farm, and teams play around them and around objectives more than other teams. They were just very, very good at what they were doing for a few months already, whereas we did not start playing it until worlds bootcamp. We were a few months behind other teams."
Every game in a sentence
DAMWON Gaming 1, G2 Esports 0: A few early mistakes put G2's more early-game-focused composition behind, and DAMWON takes over in the mid game.

G2 Esports 1, DAMWON Gaming 1: DAMWON pick Fiora for a split-push composition but enter disadvantageous fights and skirmishes mid-game without optimizing their split-push pressure.

DAMWON Gaming 2, G2 Esports 1: Ghost's Ashe gets two kills early after a G2 dive, and DAMWON snowball the game from there with Lulu shields and a Mountain soul.

DAMWON Gaming 3, G2 Esports 1: This game is all DAMWON from the get-go with Showmaker's 1v1 kill onto Caps and a 19-minute victory that nearly ends with a Rift Herald on G2's Nexus.
---
G2 Esports 3, Gen.G 0
After two exciting quarterfinal matchups in JD Gaming vs. Suning and Top Esports vs. Fnatic, the League of Legends World Championship returned to a quick 3-0 stomp, with G2 Esports defeating Gen.G in a match reminiscent of DAMWON Gaming's utter destruction of DRX in the first quarterfinals series.
G2 advanced to face South Korean squad DAMWON Gaming at 6 a.m. ET on Oct. 24 in a rematch of the 2019 worlds quarterfinal, while China's LoL Pro League contenders, Top Esports and Suning, will square off at 6 a.m. ET on Oct. 25 in the second semifinal.
The end result of this series was always going to be an interesting semifinals narrative. Either we would receive the LoL Champions Korea summer finals we thought we would have between DAMWON Gaming and Gen.G, or there would be a rematch of last year's quarterfinals between G2 Esports and DAMWON. Since DAMWON players have been pretty vocal about G2 living somewhat rent-free in their heads despite their domestic success, it's great to see that we will end up getting this semifinals match in a week.
As for the games themselves, G2 looked much more prepared for the current metagame and brought their superior understanding of cross-map trading and mid-game wave management, skirmishing and lane assignments. Interestingly enough, G2 tend to make more mistakes early but overcome them almost immediately with a remarkably strong and intelligent mid game.
In this series, G2 were off to an excellent start from the first match where their pick composition was designed around Twisted Fate, Pantheon and Jhin. Gen.G were relegated to having to throw Taric in with their Kalista ultimate just to try to get a good 5v5 engage that their composition desperately needed. The series didn't improve for Gen.G after that, although they did show a few signs of life in Game 3, where bot laner Park "Ruler" Jae-hyuk was visibly trying as hard as he could on Ezreal to at least drag his team to a fourth game.
The obvious player of the game was Rasmus "Caps" Winther, who amassed a 56 Kills + Assists in the series, the most of any player at worlds since 2015 KOO Tigers mid laner Lee "Kuro" Seo-haeng. His overall KDA for all three games was 14.
A fond farewell to: Gen.G
It's sad to see Gen.G go out like this, especially with South Korea's third seed in DRX leaving in a similar 3-0 fashion. One of the questions surrounding the three LCK teams at this year's world championship was whether the LCK had improved as a whole, or whether it was just DWG rising to become one of the world's best teams.
We now have that answer — although it's somewhat skewed by the fact that DWG knocked out their LCK brethren in DRX — and it's DWG who appear significantly ahead of the rest of their region.
Neither Gen.G nor G2 seemed particularly well-suited to the current meta going into this series — certainly not as much as other teams like DWG, Fnatic and Suning. However, Gen.G didn't really seem to adjust their more standard, bot-lane-focused approach and play around jungler Kim "Clid" Tae-min in a similar way that Suning or Fnatic have played around Lê "SofM" Quang Duy and Oskar "Selfmade" Boderek respectively. They were also unable to pivot to the facilitator role that Top Esports' Hung "Karsa" Hao-Hsuan took on in TES' reverse sweep of Fnatic on Saturday.
Quotable
Despite G2's struggles this year, bot laner Luka "Perkz" Perković asserted that this G2 team is even stronger than last year's and 2018. He, like DAMWON, has been waiting for their rematch. Here's what he had to say in the post-game press conference.
"I'm not entirely sure how to tell them but I saw some interview with ShowMaker where he was talking a bit about how much he wants to beat G2 and how he wishes that we won against Gen.G so he doesn't care if there is one LCK team in the finals for sure he wants to beat us really badly. But I feel sorry for LCK that they will not have one LCK team in the finals."
Every game in a sentence
G2 Esports 1, Gen.G 0: Gen.G lock in a 5v5 composition but lack engage while G2 are able to play around that easily with globals to avoid fights.

G2 Esports 2, Gen.G 0: Gen.G try to pick a composition more like G2's, but G2 have a significantly stronger mid game and better skirmishing.

G2 Esports 3, Gen.G 0: Ruler tries his hardest to drag Gen.G to a fourth game, but this game is also almost entirely G2.
---
Top Esports 3, Fnatic 2
Top Esports' nail-biting 3-2 victory over Fnatic on Saturday in Shanghai became the first-ever reverse sweep in League of Legends World Championship history.
Here's how it happened, a look back at Fnatic's performance throughout worlds and a quick breakdown of each match of the historic series.
Although Top Esports were, and still are, a favorite to win the world championship as China's No. 1 seed, there should be a small shadow of doubt after this series as TES looked more disorganized than in the single-game group stage. Fnatic, meanwhile were visibly ramping up after a rocky start and slight meta misread. Once they became comfortable in the current meta, they looked unstoppable with strong Level 1's and focused drafts around jungler Oskar "Selfmade" Boderek as one of the team's primary carries.
In their first two games against TES, Fnatic had full control of the bot side of the map, continuously making plays after their first reset and ensuring that Martin "Rekkles" Larsson and Zdravets "Hylissang" Iliev Galabov were ahead of Yu "JackeyLove" Wen-Bo and Liang "Yuyanjia" Jia-Yuan. Once TES' bot lane collapsed, even with any advantages they may have been able to get in mid or top, TES struggled in teamfights and frequently took them without thought to setup.
TES started turning the series around when they put jungler Hung "Karsa" Hao-Hsuan on Lee Sin and Nidalee to make more plays in the early game. Even when their bot lane fell behind early, Karsa was able to make an impact elsewhere on the map to get other lanes, particularly Zhuo "Knight" Ding's mid lane, ahead. Once TES were making more proactive plays early, even with a scaling draft like they had in Game 5, they were able to take teamfights much better and adjust to how Fnatic wanted to play around Rekkles and Selfmade.
Perhaps the most impressive part of TES' victory is how they kept their cool, even after two disappointing losses to start the series.
A fond farewell to: Fnatic
Prior to this series, I had said that Fnatic was more well-suited to this meta because of the way they play around jungle and that they matched up well with TES because of how strong Hylissang is, while rookie Yuyanjia is in still developing as a support.
In their first two games Saturday, the Fnatic bot lane proved the latter point and showcased just how strong they were. Fnatic also had a strong understanding of when to make plays after resetting early to get themselves ahead, earning nearly all of the First Bloods in every single one of their matches. This Fnatic team grew significantly stronger as they learned how to better play around Selfmade this summer, and they should hold their heads high even in the face of this loss.
Quotable
After some tremendous bot lane performances with Hylissang, Rekkles was asked to reflect on his performances against TES and at this world championship. Here's what he had to say.
"I'm really happy how we were able to show, yet again, our strength as a duo on the international stage and I think it's something we've managed previous years too, but it's nice to see that we've still got it year after year so that part I'm happy about. But I think still, no one will really remember how we played today. I don't think it will be OK, in a way, to lose because of this. A loss is a loss, and a win is a win, so in a week from now or a month from now, I don't know when I'll be looking back at this, but I still think I'll feel very disappointed with what I managed to do today."
Every map in a sentence
Fnatic 1, Top Esports 0: Everyone will be talk about Bwipo's Singed, but it's Hylissang that makes the massive difference for Fnatic, both in the 2v2 and outside of lane.

Fnatic 2, Top Esports 0: Another game where Fnatic play significantly better around their bottom lane and Hylissang is stronger than Yuyanjia.

Top Esports 1, Fnatic 2: With Karsa taking over with Lee Sin and TES' bot lane doing better, TES are able to snowball their early lead despite greedy mid-game mistakes.

Top Esports 2, Fnatic 2: Although Fnatic continue their bot lane dominance, Karsa's Nidalee takes over the game, Knight accrues a significant advantage on Jayce, and 369 soaks up all of Fnatic's damage in teamfights.

Top Esports 3, Fnatic 2: Once again, Karsa's Lee Sin makes moves early, and Yuyanjia redeems himself for his earlier performances as TES' composition snowballs to a reverse-sweep victory.
---
Suning 3, JD Gaming 1
Another regional rivalry took center stage in the 2020 League of Legends World Championship quarterfinals on Friday. Following the repeat of the 2020 LoL Champions Korea summer finals on Thursday, Chinese squads JD Gaming and Suning faced off in an all-LoL Pro League showdown.
The results did not necessarily go as expected, with Suning not only besting JD Gaming 3-1 but doing so convincingly through strong teamfighting and skirmishes.
Unlike DAMWON Gaming's series against DRX, where the two teams had played each other recently and DAMWON quickly stomped their opponent 3-0, Suning had not met JD Gaming since the second week of the LPL summer split.
Back then, it was a JDG 2-0 that Suning arguably should have won, but Suning were still in the beginning stages of building the team that is currently on the worlds stage; JDG also had a good understanding of how to stop Suning with vision control and flanks from top laner Zhang "Zoom" Xing-Ran or mid laner Zeng "Yagao" Qi.
That approach was what was expected from this series as well. Despite the fact that Suning had arguably looked better in groups — something that could also be attributed to not having DAMWON in their group — and were well-suited to the current metagame, JDG presumably had the upper hand in this series.
They didn't.
Instead, we had the rare, shining moment where a much-lauded rookie player steps into the international spotlight and exceeds expectations in the best way. Most fans already knew of Suning bot laner Tang "huanfeng" Huan-Feng's incredible journey to get to worlds thanks to an interview by the LPL broadcast team, but on Friday, he fully embraced his role as the LPL's best up-and-coming bot laner.
Huanfeng's Jhin in particular was remarkable, and he cemented his place as a king among Jhin enthusiasts with an ultimate from inside JDG's base during Game 2 that went viral on multiple social media platforms.
We have a reverse-sweep for the first time in worlds history! @TOP_Esports_ come out on top and will move on to face @suning_gaming in the #Worlds2020 semifinals. pic.twitter.com/n6cohLdlbK

— ESPN Esports (@ESPN_Esports) October 17, 2020
Suning's win was also a testament to jungler Lê "SofM" Quang Duy and support Hu "SwordArt" Shuo-Chieh's veteran leadership on the team, something that rookie top laner Chen "Bin" Ze-Bin has cited as the reason why Suning are such a strong squad right now.
A fond farewell to: JD Gaming
For the majority of the year, JDG were one of, if not the LPL's best teams. They were smart, well-coordinated, drafted around their players' obvious strengths and weaknesses, and supplemented this with remarkable 5v5 teamfighting.
Even in their quarterfinals loss to Suning, there were several times where JDG's group engages were clearly better, and if they had a lead (especially in Game 3, which was pretty much over for JDG once Bin's Gangplank got a Level 1 double-kill and took a Sheen to the top lane) at those times, they would have won those fights.
Although they won't be moving on at worlds this year, 2020 JDG were a special team to watch and should still be remembered as one of the LPL's best.
Quotable
Although huanfeng was the star of Suning on Friday, SwordArt's efforts in helping lead this team and his direct involvement in huanfeng's improvement should never be overlooked, especially since this is the furthest he has gone at worlds in his own career. The support had this to say about huanfeng's growth.
"Huanfeng is a very hard-working player, and I think he made a lot of improvements in communications and also in terms of our synergy. Now he really immerses himself in the whole team. I don't think we are able to provide that much help, but he can always carry the game. I think maybe not now, but later in some moment, I believe that huanfeng will become a really good player that will be memorable for all."
Every game in a sentence
JD Gaming 1, Suning 0: Although Suning have a scaling advantage, Yagao's Zoe and Zoom's Renekton take over the mid-game.

Suning 1, JD Gaming 1: Suning's scaling works out well here while Yagao is unable to have an impact on Galio, and huanfeng's Jhin steps into the spotlight.

Suning 2, JD Gaming 1: This game is over from Level 1, when Bin's Gangplank gets a double kill and Sheen to start the laning phase.

Suning 3, JD Gaming 1: JDG take an early lead, but stronger dragon setups and huanfeng's Jhin once again lead Suning to victory.
---
DAMWON Gaming 3, DRX 0
Quarterfinals got underway at the 2020 League of Legends World Championship on Thursday. The first series was a rematch of the 2020 LoL Champions Korea final between DAMWON Gaming and DRX that went in the exact same way that first matchup did: a 3-0 sweep for DAMWON.
The moment DRX were drawn against DAMWON Gaming, they were already considered out of the tournament.
We had already seen what DRX could do against DAMWON in their summer finals best-of-five ,and it wasn't much. DAMWON were not only able to best DRX individually, but more importantly had much stronger objective setups and trading across the map. DRX had, however, looked a bit more cohesive in the group stage, particularly in their games against LoL Pro League No. 1 seed Top Esports.
Although Top Esports won both of those games due to stronger teamfighting, there was hope for DRX. Despite the team's reliance on mid laner Jeong "Chovy" Ji-hoon and a back injury hindering bot laner Kim "Deft" Hyuk-kyu, the team seemed like it might have improved enough to give DAMWON more trouble than they were able to in that quick summer final sweep.
More: Suning evolve into League of Legends World Championship dark horse | Is the gap closing between minor and major regions in League of Legends? | Ten years of worlds: A League of Legends World Championship oral history
I had hoped to say that this series wouldn't play out as expected — that DRX would be able to take at least a game off of DAMWON. They could not. The series ended in similar 100-minute fashion, with DAMWON too strong to allow DRX even one game. DRX came closest in Game 2, but a clutch engage from DWG top laner Jang "Nuguri" Ha-gwon on Ornn flipped the game back into DAMWON's favor, and they didn't give DRX any advantages afterwards.
DAMWON will now go on to the semifinals to face either the team that knocked them out of worlds in 2019, G2 Esports, or another fellow South Korean squad in Gen.G. DAMWON should be favored in both matchups with how strong they've looked at this tournament.
A fond farewell to: DRX
For most of the 2020 LCK season, DRX were a fun team to watch and always near the top of the standings. They had interesting drafts (which sometimes hurt them more than they helped), and the continued evolution of Chovy was one of the highlights of the season. In 2020, the mid laner grew from a 1v1 outplay king who somewhat relied on favorable matchups from his team to a legitimate team player with much stronger teamfighting skill and engage sense, making DRX a legitimate threat against any team not named DAMWON.
DRX have two standout young players that people watch going into 2021, too, despite some rough performances Thursday. Jungler Hong "Pyosik" Chang-hyeon and, in particular, rookie support Ryu "Keria" Min-seok have a lot of potential going forward in future LCK seasons.
The saddest part of DRX's exit: The revelation about Deft's back injury. The bot laner's been one of the best in the world and competed professionally since 2013. He hasn't mentioned retiring, but given the physical setback and length of his pro career, we'll hope that this isn't the last time we see Deft in an international showdown.
Quotable
DRX coach Kim "cvMax" Dae-ho reflected on the season after Thursday's sweep, giving credit to both Chovy and Deft for helping coach the team.
"Thanks to Chovy and Deft, the core players, Keria, Pyosik, and Doran were able to soak in all of the game knowledge and experience," cvMax said via a translator. "Also, Chovy and Deft were even coaching better than the real coaches. Maybe they were the realistic coaches of our team leading the team so well. I also learned so much by watching them doing feedback for the players. Compared to myself in Griffin and this year, I think I've become better at coaching, and it's all from Deft."
Every game in a sentence
DAMWON Gaming 1, DRX 0: DRX are unable to get their Caitlyn ahead early and DWG have stronger objective setups overall, even when it looked for a short moment like DRX would be able to poke them down in the mid game.

DAMWON Gaming 2, DRX 0: A big teamfight in mid where Nuguri controls the entire fight with Ornn makes the difference for DWG.

DAMWON Gaming 3, DRX 0: Another limited-to-no-engage composition harms DRX as DAMWON are easily able to jump on them and, despite Doran's Vladimir doing relatively well early in top lane, beat DRX in the mid game.
JuJu Smith-Schuster relishes role as Steelers' No. 1 hype man
PITTSBURGH — Still holding the football after he scored for the second time this season, Pittsburgh Steelers wide receiver James Washington skipped over to JuJu Smith-Schuster — who was waiting for him in the end zone.
Smith-Schuster stooped and hoisted the 5-foot-11, 213-pound receiver across his shoulders, holding on to his right leg with one hand and his right hand with the other as he twirled Washington around. Tight end Eric Ebron grabbed the ball in Washington's outstretched left hand and jumped in a circle around the pair as he held the ball in the air.
It should come as no surprise the celebration was Smith-Schuster's brainchild.
"We actually didn't practice that," Washington said. "That was just JuJu just thinking. So we were kind of thinking like 'The Fresh Prince of Bel-Air,' where they kind of picked [Will Smith] up and spun him on the court."
Washington, of course, is describing a moment in the intro to the popular 1990s sitcom, which aired its finale six months before the 23-year-old Smith-Schuster was born. Even still, it's relevant in today's pop culture — especially for a kid from Los Angeles.
"Something we all grew up with and I would say we all watched is 'Fresh Prince of Bel-Air,'" Smith-Schuster said. "It's very funny that we can relate to that. So I pick up James, spun him around. The boys around me, we're just enjoying our time. A lot of our celebrations either may come the night before, the week before or even the series before we go out there. If you score multiple touchdowns with multiple wide receivers, when we run out of celebrations, we make them up as we go."
Through five games, Smith-Schuster looks less like Pittsburgh's No. 1 receiver and more like its No. 1 hype man — and that's not a knock.
It's a byproduct of the balanced passing attack, one that's given Smith-Schuster plenty of opportunities to get creative with TD celebrations and energize his teammates.
"He is the fun leader in the group," quarterback Ben Roethlisberger said. "He brings a lot of energy and excitement to the team. That's what we are excited about. When I said last week that he was excited for other guys, what you see on Sunday is what you get with JuJu. He is that guy. That's truly who he is; he's not putting on a show. He loves playing the game and he loves the teammates, and I think that is a great combination."
Entering a contract year tabbed as the No. 1 wide receiver, it would be easy for Smith-Schuster to get upset about having modest totals for targets (28), yards (194), touchdowns (3) and receptions (23). But that's not his attitude. Praised by Roethlisberger a week ago for his selflessness during Chase Claypool's big day, Smith-Schuster echoed that attitude on Wednesday, after his lowest receiving yard total since his rookie debut: two receptions for six yards.
"People were talking about 'He only got me two points this week for fantasy.' I was like, 'Well, I mean, I'd rather have two points and be 5-0 than to be 1-4 and to have 25 fantasy points," Smith-Schuster said. "So for me, I like it for myself, so I'm always having fun regardless."
Entering Sunday's game against the unbeaten Tennessee Titans (1 p.m. ET, CBS), Roethlisberger has thrown 11 touchdowns to five different pass catchers, including one to Ebron, the tight end.
Titans reporter Turron Davenport and Steelers reporter Brooke Pryor preview the quarterback matchup between Ryan Tannehill and Ben Roethlisberger.
"I just feel like we have so many weapons, you just never know who's gonna have a day," Washington said. "With as many mouths to feed on offense as we have, you can't just keep one guy or two guys, because I feel like everyone's capable of having a big game."
Roethlisberger, who entered the year somewhat concerned about building chemistry with his newer receivers in an abbreviated offseason, is confidently spreading the ball around. And each week, a hot target emerges.
Recently it's been the rookie Claypool and Washington, but Smith-Schuster had two touchdown catches in the season opener against the New York Giants. To celebrate his first, he did the "Who's Next?" dance, popularized on TikTok, and Ebron and Diontae Johnson joined in.
"TikTok is popular right now," Smith-Schuster told teammate Bud Dupree on Dupree's web series. "So we grab the fans from TikTok and get them to tune in and get my teammates involved. The more people you have, the better it is. Everyone's like, 'Oh my god, no he did not just do that.'"
After the second touchdown, he ran to the goal line and lay on his stomach in front of the pylon camera, cradled his face in his hands and kicked his feet back and forth behind him. He initially planned to pick up the pylon camera for a selfie, he told Dupree, but when he had checked with a referee ahead of time, he was told that wasn't allowed.
Smith-Schuster doesn't just celebrate when he gets into the end zone. He also helps his teammates come up with choreography.
He got Claypool on TikTok and taught him some of the viral dances, something that came in pretty handy in Claypool's four-touchdown day against the Philadelphia Eagles.
In one of Claypool's celebrations, he mimed that the football was glued to his hand. Then Smith-Schuster and Washington ran over and pretended to pull the ball really hard. All three of them fell over as the ball came "unstuck" from Claypool's glove. On another TD, running back James Conner pretended to box Claypool in the corner. The next time, Claypool ran back to the end zone, pretending to help Washington reel in a fish, played by Smith-Schuster. Then Washington and Claypool posed with the horizontal Smith-Schuster on the field.
"I'm having fun all the time, whether I get the ball or not, whether I get two catches for 10 yards or I get six catches for 60 yards," Smith-Schuster said. "For me, it's more so about the team, the atmosphere. If our defense is having fun and they're doing their job, offense is having fun, my teammates are having fun, I come in with the celebrations."
What if Jon Gruden had never been traded by the Raiders to the Buccaneers?
HENDERSON, Nev. — The rumors had been percolating all year. So much so that Jon Gruden took the time to address them in team meetings throughout the 2001 season.
"I'm not going anywhere," Gruden would insist to his Raiders team. "I know what you're hearing about Notre Dame. I like it here. I'm not going anywhere. I want to be here."
Gruden was in his fourth season as the then-whiz kid coach of the then-Oakland Raiders, and his team had quickly become a power, having already played host to an AFC Championship Game. But contract negotiations on an extension had stalled midseason, and Gruden was linked to jobs ranging from Notre Dame to Ohio State in college to, yes, Tampa Bay in the NFL.
And when the Raiders dropped four of their last six games, including the final three, to close out the regular season and finish 10-6, there was a thought that the rumors had become a real distraction. That Gruden might have lost the team.
Losing to the New York Jets in the regular-season finale not only dropped the Raiders out of a first-round bye and into a wild-card round playoff game, it set in motion a course of events the franchise has tried for nearly two decades to course correct. And with the Tampa Bay Buccaneers set to play the now-Las Vegas Raiders on Sunday in this, Gruden's third season back with the team, it picks at a certain scab.
What if Gruden had never been traded from the Raiders to the Buccaneers on Feb. 18, 2002?
'Dude, what are we going to do?'
Charles Woodson, Gruden's first draft pick, stood to ask a question of the coach in his standing-room-only return media conference on Jan. 9, 2018.
"Is there a no-trade clause in your deal?" Woodson asked, before those assembled roared in laughter, and Gruden, smiling widely, answered affirmatively.
Nearly 16 years earlier, there was no laughing. No grinning. No guffaws. Just shock and awe. Yes, even with a half-season of rumors flooding the streets of Silver and Blackdom.
Because even as Lincoln Kennedy landed in Honolulu for the Pro Bowl the first week of February 2002, it seemed a done deal that Gruden would be gone. So Kennedy gathered with fellow Pro Bowlers Rich Gannon and Tim Brown to talk about a likely future.
"I was like, 'Dude, what are we going to do?'" said Kennedy, then the Raiders right tackle and now the team's radio analyst. "What the f— are we going to do? We've got to hire from within."
But the trade to the Buccaneers, who had moved on from Tony Dungy and were flirting with Bill Parcells, did not become official until nine days after the Pro Bowl.
That's when Kennedy spoke with Al Davis.
"He told me, his words were, 'I never liked it when teams would interfere with coaches under contract,'" Kennedy recalled Davis saying. "He told me, 'Tampa Bay came to me and they said they wanted Gruden' and [Davis] said, 'I felt that I put the price tag so high that they wouldn't agree to it. And they did. Gruden is no longer our coach.' So, I hung up after I talked to him."
The king's ransom for Gruden that Davis thought Tampa Bay would never pay? Two first-round draft picks. Two second-round draft picks. And $8 million to boot.
"After the trade went down, we all met with Mr. D," Kennedy said. "I put in my two cents and said I thought [the new coach] should be [Bill] Callahan. He knows the system, we can keep everything the same. [Marc] Trestman? He was the quarterbacks coach, but Callahan had the run game and Trestman was developing the pass game, but I think Rich had said he wanted Callahan and not Trestman … and Callahan was the offensive coordinator anyway."
That string of events mentioned earlier?
Follow this road map: the Raiders, perhaps distracted by constant reports of Gruden's departure, fall out of a playoff bye and into a road game at the New England Patriots, where Tom Brady and the Tuck Rule awaited. Yes, it's Gruden's final game of his first tenure. Callahan replaces Gruden and the offense gets more explosive as Gannon becomes the 2002 NFL MVP and the Raiders glide into Super Bowl XXXVII. Except …
Guess who is waiting?
"With the way we were rolling, the only person who could beat us was the guy who knew us better than we knew ourselves," Kennedy said. "We just had that way about us."
A 48-21 blowout loss to Gruden's Buccaneers later, the Raiders have had only one winning season since. Gruden lasted until 2008 in Tampa Bay and was, fittingly enough, put out to pasture by the Raiders and, yes, JaMarcus Russell. Nine seasons in ESPN's Monday Night Football booth ensued before Mark Davis was able to bring Gruden back to the Raiders.
In his first tenure, the Raiders were on the verge. But as the late Al Davis said in 2009, "The Tuck Game was the undoing of a lot of things."
Said Kennedy: "Here's the thing — if we had won the Super Bowl [in Gruden's last year], I think we would have become a powerhouse because we were returning everybody the following year."
Except …
"If we weren't playing against him," Kennedy said of Gruden, "we would have won the Super Bowl."
'Can't look back at what if's'
Of course, there was always the prevailing thought that Al Davis had become annoyed with Gruden's conservative playcalling — where was the vaunted vertical game? — as well as "Chucky" becoming the face of the franchise sans Lombardi trophies and was, well, simply done. At least, the conventional wisdom went, Ken Stabler and Marcus Allen led the Raiders to titles before their respective public feuds with the iconoclast owner led to their ousters.
Gruden, though, was always beloved by Raiders alumni. Yes, even the old-school guys who never played for him. Guys like Jim Otto, Jack Tatum, Phil Villapiano, Cliff Branch, Willie Brown, Tom Flores, George Atkinson and Raymond Chester — all of whom showed up for a private party in Gruden's honor at Raiders sports bar "Ricky's" in San Leandro, California, in 2009, when Gruden rocked a Raiders visor and a white Bo Jackson throwback jersey. The restaurant was asked to take down photos of the gathering from its website, for fear of Davis seeing who was in attendance and interpreting it as disloyalty.
But it was Mark Davis who brokered peace with Gruden, bringing him back to light the Al Davis Torch in memory of his father on Nov. 18, 2012.
And it was a "six- or seven-year dance" the younger Davis did with Gruden before finally convincing him to return to the Raiders.
"There was no question I wanted to have him as the head coach of this organization," said Davis, who assumed role of managing general partner upon his father's death on Oct. 8, 2011.
But Davis would not touch the question: What if Gruden had never been traded?
"I can't look back at what if's?" Davis told ESPN.com this week. "Are you kidding me? What if Franco Harris didn't catch that ball? What if Rob Lytle did fumble the ball? What if Tom Brady fumbled? What if this? What if that? You could do that every day.
"What if? If. If. If."
Told "if" is the biggest word in the English language, Davis howled.
"Most irrelevant, too," he said.
And Gruden, besieged with news of COVID-19 and potentially being without his starting offensive line this weekend, was in no mood to reminisce, either.
"That's a loaded question," said Gruden, who has said he never wanted to leave the Raiders in the first place and acknowledged his being inducted into Tampa Bay's Ring of Honor in 2017 served as a springboard to get him back into coaching.
"I'm just concentrating on this game, honestly. It's a great opportunity for both teams to try to get another win. I try not to get too deep, too philosophical. I had a great time in Tampa. A lot of my best friends are still there and live there. So, I'm looking forward to competing."
Yes, against his old team in the Buccaneers, and an old foil in "Tuck Rule" Tom Brady.