Joe Biden supporter Cindy Kalogeropoulos took no chances when her absentee ballot arrived on September 29. The Michigan retiree filled it out, drove seven miles (11km) to the nearest drop box and hung around to make sure election officials picked it up – all within 48 hours of receiving it.
In neighbouring Ohio, Biden backers Eric Bjornard, 42, and his wife Abigail moved quickly, too. The couple hand-delivered their mail ballots to their local elections office last month, five weeks ahead of the November 3 election.
Democratic leaders have been urging Biden supporters to show up in huge numbers and vote early amid concerns that nothing short of a decisive victory will prevent Republican President Donald Trump from contesting the results, potentially opening the way for state legislatures, the courts or Congress to decide the outcome.
Telling voters to have faith in the democratic process while simultaneously acknowledging that a landslide may be the only way to overthrow a defiant incumbent is proving to be a delicate balancing act, more than a dozen Democratic Party officials and Biden campaign advisers told Reuters.
Trump has repeatedly and without evidence declared mail voting to be riddled with fraud and the election "rigged" in favour of Democrats, all the while refusing to commit to ceding power peacefully if he loses. The Democratic operatives said they are concerned that amplifying Trump's claims could backfire and suppress turnout by making Biden voters believe their ballots will not count.
What has emerged is an approach that aims to emphasise the power voters hold to send Trump packing if they act early. In Ohio, for example, David Pepper, head of the state Democratic Party, said his team is using Trump's attacks on voting to motivate Biden supporters to return their mail ballots immediately or to vote early in person.
"We are telling people: 'You hear what he is saying, so go and vote, you can stop him'," Pepper said. "We are flipping the narrative."
Ohio election officials were overwhelmed with vote-by-mail requests for the state's April presidential nomination contest, when in-person voting was sharply curtailed there due to the coronavirus pandemic. Ballots for some voters arrived too late.
Election officials say they are better prepared this time. Still, Democratic phone banks, text messages, mailings, social media and TV and radio advertisements are exhorting Ohio voters to act now to "Make It Count". Polls show the race tied in a state that Trump won by eight points four years ago.
In Ohio, more than 2.4 million mail-in ballots have been requested, double the 1.2 million requested at the same time in 2016, according to the Ohio Secretary of State.
Nationally, 17.1 million people have already cast ballots by mail or through in-person voting, which is more than 10 times the number of votes at the same point four years ago, according to the United States Elections Project, a site run by University of Florida political scientist Michael McDonald that compiles early voting data.
Democrats appear to be driving much of that surge. In states that report party affiliation data, nearly twice as many registered Democrats have requested ballots than Republicans have, the data show. For example, more than 960,000 registered Democrats in battleground Florida have already mailed back their ballots, compared with 564,000 Republicans.
Preparing for a disputed election
While early turnout is encouraging for Democrats, the Biden camp is preparing for the worst.
Democrats say their turnout campaign is especially critical this year as Republicans seek to restrict mail-in voting despite the pandemic, and both parties fight over how votes are tallied in key states. Dozens of lawsuits have been filed in multiple states, many focused on mail-in voting.
The Biden campaign said it has built the largest election protection program in the Democratic Party's history, including thousands of lawyers and volunteers around the country.
The Trump campaign has also assembled a large legal team to prepare for a contested result and to monitor the voting process.
Then there are the post-election preparations. Biden's national legal team is examining a series of scenarios, including those in which Trump casts doubt on the integrity of a close contest, campaign advisers said. Among them is the possibility that a lengthy or disputed count of mail ballots could result in Republican-controlled legislatures in key states intervening to award their Electoral College vote to Trump. The US presidency is clinched by winning a majority of the 538 votes apportioned to the 50 states and Washington DC in the Electoral College.
Typically, governors certify the results in their respective states and share the information with Congress. But it is possible for "duelling" slates of electors to emerge, in which the governor and the legislature in a closely contested state could submit two different election results.
The risk of this happening is heightened in states where the legislature is controlled by a different party than the governor. Several battleground states, including Michigan, Pennsylvania and Wisconsin, have Democratic governors and Republican-controlled legislatures.
According to legal experts, it is unclear in this scenario whether Congress should accept the governor's electoral slate or not count the state's electoral votes at all.
The law governing Congress's role in such a dispute – the Electoral Count Act of 1887 – is unclear and "untested," said Lawrence Douglas, a legal and elections scholar at Amherst College. "We'd be in unchartered territory," he said.
Those scenarios are far less likely, the Democratic advisers said, if enough Americans make sure to vote early in November's election.
Jennifer Holdsworth, a lawyer and Democratic strategist, said if Democrats run up the score with the vote count, "our legal job becomes easier".
"If it's a tight election, that goes to Trump's favour," she said. "For Democrats to avoid a potential stolen election … we need to make sure the vote is as overwhelming as possible."
Biden and his running mate, US Senator Kamala Harris, have repeatedly urged people to vote early. During their recent debates with Trump and Vice President Mike Pence, respectively, both steered clear of talking about Trump's unfounded claims of a rigged election.
"Vote, vote, vote!," Biden told Americans during his September 29 debate with Trump, when the moderator asked the candidates to reassure Americans about the integrity of the election. "If we get the votes, it's going to be all over. He's going to go. He can't stay in power."
Do not trust the polls
Several national opinion polls show Biden has opened up a double-digit lead since the chaotic September debate in which Trump repeatedly interrupted his rival, then was hospitalised with COVID-19 a few days later. Most Americans reject Trump's handling of the pandemic that has killed more than 216,000 people in the country.
In an October 9-13 Reuters/Ipsos poll, 53 percent of American adults said they disapprove of Trump's virus response, while 41 percent approve of his handling of the pandemic.
But the race remains competitive in key states such as Florida, Arizona and North Carolina that are crucial to winning the Electoral College. Hillary Clinton, the 2016 Democratic nominee, won the national popular vote by nearly three million votes but lost the Electoral College, and thus the presidency.
Judy Daubenmier, chair of the Livingston County Democratic Party in Michigan – another state that Trump won by less than a percentage point – said she is telling voters not to believe Biden's encouraging poll numbers.
"People are scarred from 2016," Daubenmier said. "Nobody assumes Biden is going to win. We are working like we are two points behind. Anything can happen."
Earn 60,000 bonus points with this American Express Gold card
(CNN) —  
CNN Underscored reviews financial products such as credit cards and bank accounts based on their overall value. We may receive a commission through The Points Guy affiliate network if you apply and are approved for a card, but our reporting is always independent and objective.
If you're in the market for a credit card that earns a ton of rewards at both restaurants and grocery stores, this new card offer is sure to whet your appetite.
The American Express® Gold Card is currently offering 60,000 bonus points after you spend $4,000 on the card within the first six months of card membership. This is the highest welcome bonus offer we've ever seen publicly available on this card, and it's nearly double the usual 35,000-point bonus.
Based on the valuations of CNN Underscored's partner The Points Guy, American Express Membership Rewards points are worth about 2 cents apiece, which makes these 60,000 points equal to about $1,200 of travel value. Compared to many other popular travel rewards credit cards on the market today, that's one of the top bonus offers available right now.
Now, you may be thinking that the $250 annual fee on the Amex Gold is too high to stomach, but the statement credits you earn annually with this card practically cover the cost every year. First, you'll get up to $100 in airline credits each year, which can be used to cover incidental airline fees such as checked baggage or in-cabin pet fees.
Then you'll also get up to $120 in dining credits, provided in $10 monthly increments over the course of the year. The credits can be used for a number of popular dining options, such as Grubhub, Seamless, The Cheesecake Factory, Ruth's Chris Steak House, Boxed and participating Shake Shack locations.
If you can take full advantage of both the airline and dining credits throughout the year, your out-of-pocket cost for the Amex Gold is effectively a mere $30 annually, which makes it a steal given the number of bonus points you can earn with it.
Click here for the bonus offer on the American Express Gold card.
Earning American Express Membership Rewards points

With the Amex Gold card, you'll earn an impressive 4 points for every dollar you spend at restaurants worldwide, and at US supermarkets on up to $25,000 in purchases annually (then 1x thereafter). Plus, you'll earn 3 points per dollar spent on flights booked directly with airlines and at amextravel.com, which will be useful when travel restrictions ease. You'll also earn 1 point per dollar on all your other purchases.
Those earning rates make the Amex Gold one of the best credit cards for your restaurant and US supermarket purchases. Since The Points Guy values these points at 2 cents each, at 4 points per dollar spent, you're earning an 8% return in these two categories. And for your eligible airline purchases, you're getting a promising 6% return.
Better yet, most food delivery services will code as restaurants on the Amex Gold, so if you order from Grubhub, Seamless, Uber Eats or DoorDash, you'll still earn the same 4 points per dollar as if you had gone to the restaurant itself.
Related: Are you using the best credit card when ordering food for delivery?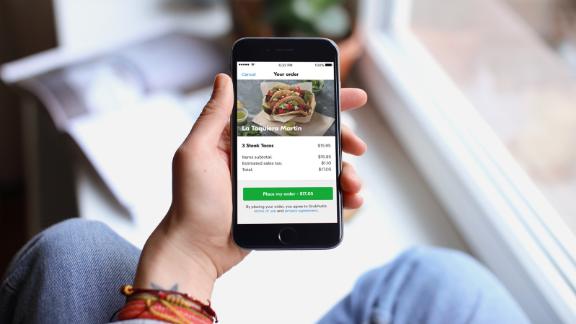 Outside of the bonus categories, you're earning only 1 point per dollar spent on everything else, which is a 2% return based on The Points Guy's valuations. While this is similar to what you'd earn with CNN Underscored's benchmark credit card, the Citi® Double Cash Card, you'll be earning points for a future trip with the Amex Gold card versus cash in your pocket now. So you'll want to decide what your priority is when it comes to credit card rewards — travel points or cash back.
Start earning bonus rewards at restaurants and US supermarkets with the American Express Gold card.
Redeeming American Express Membership Rewards points

Since the Amex Gold card earns highly useful Membership Rewards points, there are many options when it comes to redeeming your points. You can use your points for a statement credit or to purchase gift cards, but these options won't get you maximum value for your points (though on occasion, Amazon runs promotions that offer discounts for using Amex points to pay at checkout).
Related: Get up to $50 off at Amazon with targeted American Express cards.
But the best way to maximize the points you'll earn with the Amex Gold is to use them for booking travel through American Express' own Amex Travel booking site, or by transferring them to one of Amex's 21 airline and hotel partner programs.
Redeeming points through Amex Travel
One of the easiest and most flexible ways to redeem your Amex Gold points is to book travel directly through American Express by using Amex Travel, which allows you to book flights at 1 cent per point, and other travel options at a lower value.
Even if you don't have enough points to cover the entire cost of a trip, you can cover just a portion of the flight and pay for the rest with your Amex card. The only caveat is you must redeem at least 5,000 points for a reservation.
You'll also sometimes see Membership Rewards Insider Fares listed at the Amex Travel website. These opportunities offer around a 10% discount on the price of a flight, which lowers the number of points required for it. That makes your points worth more, although with this option, you must pay for your entire flight with points — a partial option is not available.
Redeeming points by transferring to partners
But if you're looking for the most bang for your buck by getting 2 cents per point in value — or possibly even more — when redeeming your Amex Gold points, you'll want to consider transferring your points to the issuer's airline and hotel partner programs.
American Express has partnerships with 21 different airlines and hotels, including Delta, JetBlue, Singapore Airlines, Cathay Pacific, British Airways, Marriott, Hilton and many others. While you'll need to do some research and homework to learn how to take advantage of these individual programs, you'll find that it's possible to get outstanding value for your points this way, especially if you're looking to fly in a premium first or business class cabin.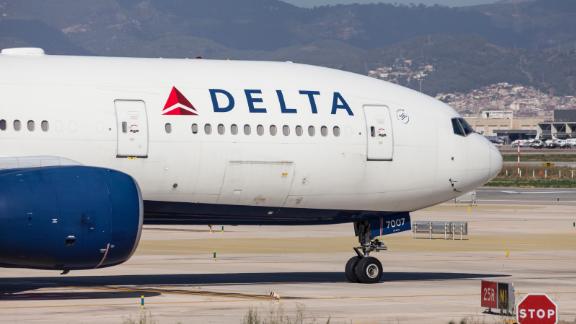 Of course, you're probably not doing a lot of traveling at the moment. But it's likely that travel restrictions will begin to lift at some point in 2021, which makes now an ideal time to be accumulating travel points so that you have them ready to use when planes return to the skies and hotels reopen their doors.
Related: Read CNN Underscored's complete American Express Gold credit card review.
Is the American Express Gold card right for you?

With a strong welcome offer, bonus points on popular food categories and annual statement credits, the Amex Gold is a card that should be in every foodie's wallet. While travel points may not be useful right at the moment, they're likely to become much more valuable as travel resumes in the months ahead, so socking away some points today can serve you extremely well tomorrow.
So if you're spending a good portion on your monthly household budget on picking up groceries, dining out or ordering food for delivery, you may want to take this opportunity to pick up a haul of 60,000 bonus points while you can by grabbing an American Express Gold card, and start scoring bonus points on your food purchases today.
Learn more about the American Express Gold Card.
Check out CNN Underscored's list of the best credit cards of 2020.
Iraqi woman arrested after drowning children in the Tigris River
Security camera footage shows the woman throwing her young kids off a bridge in an act of revenge against her husband.
An Iraqi woman was arrested after throwing her two children off a bridge into the Tigris River to punish her husband.
The woman's three-year-old son and two-year-old daughter were presumed drowned as their bodies have yet to be found, news reports said on Monday.
Security camera footage of the incident on Saturday was widely shared on social media and caused outrage among Iraqis.
Family members say the mother killed her children in an act of revenge after the father divorced her in late September.
Abu Tahsin Deraji, the children's paternal grandparent, was quoted as saying the woman planned killings after the couple separated several months ago.
The incident occurred on Al-Aimmah Bridge north of the capital, Baghdad. Video of the father crying uncontrollably at the scene was also circulating on social media.
Insufficient funds: COVID-19 leaves more US families unbanked
Economic havoc wrought by the pandemic could push more struggling Americans out of the banking system, watchdog group warns.
After years of increasing access to banking, many poorer Americans will struggle to keep a foothold in the system due to the economic fallout from the coronavirus pandemic, a United States banking regulator warned Monday.
A new report from the Federal Deposit Insurance Corporation (FDIC) found that in 2019, just 5.4 percent of Americans lacked a chequing or savings account, the lowest level recorded in the decade-old survey.
But the watchdog group warned that economic havoc wrought by the pandemic could push many struggling Americans, who were already hovering at the fringes, out of the traditional banking system altogether.
"The COVID-19 pandemic is likely to contribute to a rise in the rate of unbanked households," the FDIC said in its report, noting that banking access usually tracks the broader health of the economy.
The 2019 record low came after years of steady economic gains, and the previous high for unbanked households was in 2011, amid the previous recession. The most frequently cited reason for not having a bank account is insufficient funds to meet account minimums.
The regulator said it could not predict how many people would lose access to bank accounts or be otherwise financially harmed as a result of the pandemic, but flagged some concerning vulnerabilities. In 2019, 35.8 percent of households reported not saving for unexpected expenses or emergencies. Among unbanked populations, that number was significantly higher, with 74 percent reporting they were not able to build up emergency savings.
Complaints to the Consumer Financial Protection Bureau between March and July suggest many Americans are already being pushed to the edge of the financial system by the pandemic.
Between March and April, reports flagging problems such as impaired credit, foreclosure threats and aggressive debt collection tactics jumped 50 percent from the same period a year ago, according to an analysis by the Frontier Group and the United States Public Interest Research Group (US PIRG).
Furthermore, the FDIC found banking activities more commonly relied upon by rural populations and by people with volatile incomes, such as cash transactions and branch visits, had been hindered by lockdowns and vendors limiting the use of bills.
Having a bank account is a critical foothold to building wealth. Those without accounts pay significantly more for basic services, such as cashing cheques and making payments – a problem far more likely to affect communities of colour. Around 14 percent of Black households and 12 percent of Hispanic ones were unbanked, compared with three percent for whites.
"Millions of Americans – and families of colour in particular – remain outside the mainstream banking system and are missing the economic opportunities that come from having a bank account," said Rob Nichols, CEO of the American Bankers Association, which on Monday launched an initiative to boost the provision of simple low-cost bank accounts.
The 2019 survey found, however, that rapid adoption of new technology is expanding access to financial services. Mobile banking more than doubled as the primary means of accessing a bank account from 2017, and 31 percent of households reported using a person-to-person payment service like PayPal or Venmo.