A Thai pro-democracy protesters holds up a sign at a recent protest in Bangkok. Photo: Choltanutkun Tun-atiruj 
When Thai web designer Nottajorn updated her Tinder profile with a protest photo from Bangkok's democracy monument, she intended to send a message.
"I want people to know that I am interested in politics – so much that I'd go to a protest," the 28-year-old told VICE News. "This is to filter out those who aren't. They can swipe left on me."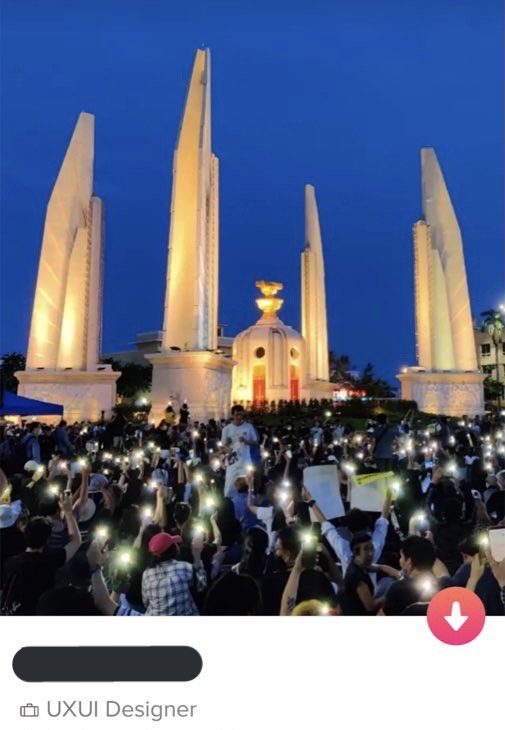 Decades of coups, street protests and gaping inequality have left Thais divided over how their country should be run. But young supporters of a new pro-democracy movement are now advertising where they stand on dating apps and other online platforms, making clear this is an area where differences can't be overlooked. 
On Tinder, for instance, users may post photos of themselves at protests or declare no interest in dating anyone who does not believe in democracy. They have added "no salim" or "not a salim" to their profile. "Salim" – the name of a multicolored Thai dessert of sweet noodles and coconut milk – is slang for backers of the military-aligned government led by Prime Minister Prayut Chan-O-cha. 
A former army chief, Prayut led the 2014 coup that overthrew a democratically elected government and cemented his grip on power after elections in 2019 that were marred by irregularities. He and other generals are also closely linked to the monarchy, which has become a focal point of growing calls for democratic reforms.
"Politics is not like liking different styles of music. Your political views say something about what your values in life are," Nottajorn said, adding that supporting Prayut sends a signal that you do not care about justice, human rights, or freedom of speech.
"For people my age who are in the midst of building our future, it seems like we have no future, so we have to do something to build a better future for ourselves. Therefore, it's important to date someone who values these things," she said.
Cho, a 26-year-old software developer and DJ, who like several others interviewed for this article asked to be identified by their first name only for privacy reasons, agreed.
"People who love Prayut would normally say things like 'the poor people are poor because they are lazy,'" Cho told VICE News. "And that is a reflection on their personality – that they lack compassion and have low empathy."
Despite the surging popularity of dating apps in Thailand, not everyone is open about their political leanings online, and disputes can appear after a relationship just gets going. That happened to retail store manager Aridhat Kheosopa. "I recently had an experience dating someone who I later found out supported Prayut, I ended up ghosting him. Thank you, next," he said, quoting an Ariana Grande song.
But in other cases, having similar views can help bring like-minded singles together. One 34-year-old veterinarian who asked to remain anonymous said on her Tinder profile that she is even looking for people interested in going to protests with her. 
"I want to be upfront about my political views so we don't end up wasting each other's time," she told VICE News. "Things will not work out if you support the dictatorship."
The internet has become the latest battleground in Thailand's turbulent politics as young organizers break with tradition and debate taboo topics with unprecedented boldness. Social media companies have found themselves caught in the middle of demands for free expression and Thailand's attempt to control dissent online.
Thailand's digital economy minister has filed legal complaints against Facebook and Twitter for not taking down posts deemed offensive to either the government or the monarchy, which is normally shielded from criticism by royal defamation laws. Facebook has also said it would challenge an order to restrict access to a popular page critical of the monarchy.
Tinder has reportedly been drawn into the dispute, as some users claimed their accounts were suspended after sharing pro-democracy content, according to researchers writing in Foreign Policy. Tinder did not immediately respond to requests for comment from VICE News.
While social media platforms have been mainly leveraged by pro-democracy protest figures, Twitter said last week that it removed nearly 1,000 accounts linked to the Royal Thai Army for information operations, which a spokesperson later denied.
Some young Thais said they would be open to dating someone from another political party that they didn't vote for, but too close a connection with the military's Phalang Pracharat party was a non-starter.
"I don't think I'm right about everything. It would be nice to date someone who can challenge me," said 22-year-old French language tutor Surachai Rukniwed.
Still, he left the option open for a more casual encounter, maybe even a fling where he'd have to weigh the benefits of a brief romantic encounter against his moral and political beliefs.
"It depends," he said, laughing.
Choltanutkun Tun-atiruj is a Thai journalist and co-founder of the digital media website Thisrupt.
UK to start rapid COVID-19 tests at Heathrow on Tuesday: Report
Airlines argue pre-departure virus tests crucial to get people travelling safely again.
Passengers travelling to Hong Kong and Italy from Britain's Heathrow Airport will undergo a one-hour coronavirus test before flying out of the United Kingdom under plans to open up international travel, The Times newspaper reported on Tuesday.
Rapid tests will be introduced from Tuesday at Heathrow Airport in London to allow travellers to enter countries where a negative COVID-19 test result is needed to avoid a lengthy quarantine, the newspaper said.
Passengers are required to book a test in advance at a cost of 80 British pounds ($103), the report added.
Aviation services firms Collinson and Swissport have set up rapid-testing facilities for outbound passengers at Heathrow, the newspaper said.
The testing facilities will initially be open for four weeks and could be extended if there is sufficient demand from passengers, the report added.
Heathrow, Collinson and Swissport did not immediately respond to the Reuters news agency's requests for comment early on Tuesday.
Airlines including British Airways, Virgin Atlantic and Cathay Pacific are among the first to be offering the facility to passengers using Heathrow's Terminals 2 and 5.
More than 40 million people around the world have now been diagnosed with the coronavirus and there has been a wave of new cases in Europe. Countries like Hong Kong have kept the virus in check with strict border controls and quarantines.
Child labour rising in Ghana and Ivory Coast's cocoa farms: Study
Children doing hazardous work has gone up in the world's top coca producers, a US government study found.
The use of child labour has risen in cocoa farms in Ghana and Ivory Coast during the past decade despite industry promises to reduce it, academics said on Monday, largely supporting earlier findings that were questioned by both states.
The prevalence of children doing hazardous work, including using sharp tools, has also gone up in the world's top two cocoa producers, according to the study funded by the United States government.
The levels were higher than in 2010 when companies including Mars, Hershey, Nestle and Cargill agreed to reduce the worst forms of child labour in Ghana and Ivory Coast's cocoa sectors by 70 percent by 2020.
The two West African countries – which together produce about two-thirds of the world's cocoa – had both questioned the methodology used in an earlier version of the report prepared by researchers from the University of Chicago and seen by Reuters News Agency in April.
Ghana again questioned the data in the new report, released on Monday after the US Department of Labor appointed a group of independent experts to conduct a review.
Mars said in a statement that it had committed $1bn to a responsible sourcing strategy and called for legislation to address the root causes of child labour on West African cocoa farms.
Hershey and Nestle referred Reuters to the World Cocoa Foundation (WCF) industry group. Cargill did not respond to a request for comment.
Monday's report cut the estimate of the number of children currently working in cocoa production in the two countries to 1.56 million, from more than two million in the April study, saying it had changed the ways it weighted its data. It did not give comparative totals from 10 years earlier.
'Complexity and scale'
But it said the proportion of children from agricultural households in cocoa-growing areas that are engaged in child labour in the cocoa sector across Ivory Coast and Ghana had increased to 45 percent in 2018/19 from 31 percent in 2008/09.
The corresponding levels for hazardous work had risen to 43 percent from 30 percent, it added.
"Despite the efforts made by the governments, industry and other key stakeholders in combating child labour and hazardous child labour during the past 10 years, the child labour and hazardous child labour prevalence rates did not go down," the report said.
It added that rates of child labour had stabilised since the last survey in 2013/14 and school attendance in cocoa-growing areas had risen even as cocoa production surged.
WCF president Richard Scobey said the report showed child labour remains a persistent challenge but that government and company programmes to reduce it were making a difference.
"Targets to reduce child labour were set without fully understanding the complexity and scale of a challenge heavily associated with poverty in rural Africa and did not anticipate the significant increase in cocoa production over the past decade," he added in a statement.
The International Cocoa Initiative (ICI), a foundation backed by industry and civil society, said what it called past sampling errors made it difficult to draw accurate comparisons over time.
Ghana's government was quoted in Monday's report questioning the reliability of the figures that showed a reduction in the number of child labourers from the April estimate, while maintaining a similar prevalence rate.
"This raises eyebrows about the reliability of the findings for any meaningful policy formulation and implementation," Ghana's ministry of employment and labour relations said.
Ivory Coast welcomed the revised results and both countries reiterated their commitment to eradicating child labour in cocoa farming.
US legislators have criticised the industry and US customs authorities asked cocoa traders earlier this year to report where and when they encounter child labour in their supply chains.
Eyeing China, Australia joins 'Quad' drill with US, Japan, India
Military exercises set to take place in Bay of Bengal and Arabian Sea are likely to upset China.
Australia will take part in large-scale military exercises off the coast of India next month that will bring together a quartet of countries concerned by rising Chinese influence.
India, Japan, the United States and – for the first time since 2007 – Australia will take part in this November's Malabar naval exercise, a move that is likely to lead to protests from China.
Australian Defence Minister Linda Reynolds said late on Monday that the drills were about  "demonstrating our collective resolve to support an open and prosperous Indo-Pacific" – a allusion to countering China's power.
India's Ministry of Defence said the naval drill would take place in the Arabian Sea and the Bay of Bengal, which has been a hotspot for Indo-Chinese strategic competition.
Over the last few decades, China has tried to significantly increase influence in Myanmar, Sri Lanka, Pakistan and Bangladesh, prompting acute concern in New Delhi.
The drill comes at a time of diplomatic tensions between China and Australia, economic tensions between China and the US and military tensions between China and India.
India and China have poured tens of thousands of troops into a remote Himalayan border zone since fighting a pitched battle in June in which 20 Indian troops and an unknown number of Chinese soldiers were killed.
The so-called "Quad" has been touted as a means of countering Chinese influence – including a decades-long investment in modernising its army.
But the grouping has often faltered amid disagreements about how much to confront, contain or engage Beijing.
A renewed push to develop the Quad into a formal counterbalance to China included talks between foreign ministers in Tokyo earlier this month.
At that meeting, US Secretary of State Mike Pompeo called on Asian allies to unite against China's "exploitation, corruption and coercion" in the region.