Australian researchers findings on SARS-CoV-2 virus reinforce need for handwashing and effective cleaning.
The virus that causes COVID-19 can survive on banknotes, glass and stainless steel for up to 28 days, much longer than the flu virus, Australian researchers said on Monday, highlighting the need for effective cleaning and hand washing to help combat the disease.
Findings from the study done by Australia's national science agency, CSIRO, appear to show that in a tightly controlled environment the virus remained infectious for longer than other studies have found.
CSIRO researchers said that at 20 degrees Celsius (68 degrees Fahrenheit) the SARS-COV-2 virus was "extremely robust" and remained infectious for 28 days on smooth surfaces such as plastic banknotes and glass found on mobile phone screens. The study was published in Virology Journal.
By comparison, Influenza A virus has been found to survive on surfaces for only 17 days.
"It really reinforces the importance of washing hands and sanitising where possible and certainly wiping down surfaces that may be in contact with the virus," said the study's lead researcher Shane Riddell.
The study involved drying virus in an artificial mucus on a range of surfaces at concentrations similar to samples from COVID-19 patients and then recovering the virus over a month.
Experiments done at 20, 30 and 40 degrees Celsius showed the virus survived longer at cooler temperatures, smooth surfaces, and on paper banknotes rather than plastic ones.
Temperature
The researchers said that on cloth at 20 degrees they were unable to detect any viable virus beyond 14 days. At 30 degrees, the virus' viability fell to just three days on cotton, compared with seven days for steel and smoother surfaces. Viability dropped further at 40 degrees Celsius.
All the experiments were done in the dark to remove the impact of ultraviolet light, as research has shown direct sunlight can kill the virus.
"So in the real world results would likely be shorter than what we were able to show," Riddell told Reuters news agency.
Julie Leask, a professor in the Susan Wakil School of Nursing and Midwifery at the Faculty of Medicine and Health, University of Sydney said the findings were useful but needed to be put in perspective.
"The study usefully confirms that surfaces may be a way to pass on coronavirus, but we should look to the epidemiology for how it actually moves between people in everyday life," Leask wrote on Twitter. "That data shows it's still close contact with an infected person that is risky and not from touching their mobile phone 5 days later."
The infectious dose of SARS-CoV-2 is not yet known, but based on related viruses is thought to be about 300 particles. Researchers said if the virus was placed on smooth surfaces at the standard mucus concentration of an infected person "enough virus would easily survive for two weeks to be able to infect another person."
CSIRO noted that infection would depend on a number of factors including the makeup of the virus itself, the type of surface, and whether the virus is liquid or dried.
The study might also help explain the apparent persistence and spread of the virus in cool environments like meat-packing facilities, it said.
UK festival not returning to Au Dhabi over sexual assault claims
Tolerance Minister Sheikh Nahyan bin Mubarak Al Nahyan is accused of sexual assault by one of the event's curators.
Britain's Hay Festival will not return to Abu Dhabi until the United Arab Emirates' tolerance minister will remain in his post following allegations of sexual assault by one of the literary event's curators.
Hay Festival chief Caroline Michel released a statement on Sunday after Caitlin McNamara alleged she was attacked in February by Sheikh Nahyan bin Mubarak Al Nahyan, 69, a member of Abu Dhabi's ruling family, the Sunday Times reported.
The Times said McNamara, 32, who had travelled to the UAE to work on the launch of the literary festival there, claimed she was assaulted by the sheikh when they met at a remote island villa on Valentine's day.
British lawyers for Sheikh Nahyan denied McNamara's account, saying he was "surprised and saddened by this allegation."
Michel stressed that her colleagues are committed to supporting McNamara in seeking legal action and said the festival will not return to Abu Dhabi while the sheikh remains in his post.
"What happened to our friend and colleague Caitlin McNamara in Abu Dhabi last February was an appalling violation and a hideous abuse of trust and position," Michel said in a statement.
A statement from Caroline Michel, chair of Hay Festival. pic.twitter.com/2WhMH8xggf

— Hay Festival (@hayfestival) October 18, 2020
"Sheikh Nahyan bin Mubarak Al Nahyan made a mockery of his ministerial responsibilities and tragically undermined his government's attempt to work with the Hay Festival to promote free speech and female empowerment," she said, adding that the festival "will not be returning to Abu Dhabi while he remains in position.
The Foreign Ministry of the UAE, a federation of seven sheikhdoms on the Arabian Peninsula that is also home to Dubai, said it does not comment on personal matters.
When asked about the case, the United Kingdom's Metropolitan Police confirmed that a woman contacted the force on July 3 to report an allegation of rape, and said an initial statement has been taken from her.
McNamara agreed to be identified by The Sunday Times, which ran her picture on the front page.
The sheikh's ministry paid for the four-day festival in Abu Dhabi, which took place in late February and featured several famous authors.
Sheikh Nahyan has received international attention as the Emirates hosted Pope Francis and moves toward normalising ties with Israel while welcoming Jews to this Muslim-ruled nation.
Pakistani politician released as opposition to continue protests
Opposition leader Muhammad Safdar has been released on bail ahead of a major anti-government demonstration.
Islamabad, Pakistan – Pakistani opposition political leader Muhammad Safdar has been released on bail, hours after being arrested by authorities on charges related to a speech at a mausoleum ahead of a major anti-government rally on Sunday.
Safdar was arrested at his hotel room in the southern Pakistani city of Karachi early on Monday, his wife Maryam Nawaz, the daughter and political heir to former three-time Pakistani Prime Minister Nawaz Sharif, said.
Later on Monday, Nawaz confirmed at a news conference that Safdar had been released on bail.
"We will both be leaving Karachi together because I have just received a message … that he has been granted bail," Nawaz said.
Safdar was taken into custody in connection with charges against him for raising political slogans at the mausoleum of Muhammad Ali Jinnah, Pakistan's founder, on Sunday.
That incident came hours ahead of a political rally of tens of thousands in Karachi that is part of the Pakistan Democratic Movement's (PDM) countrywide drive to attempt to overthrow Prime Minister Imran Khan's government.
Formed last month, the PDM is an alliance of 11 opposition political parties, including the Pakistan Muslim League's Nawaz faction (PML-N), the Pakistan People's Party, the Jamiat Ulema Islam's Fazl faction (JUI-F) and others.
The PDM alleges Khan's victory in the 2018 general election was rigged by the country's military, which has directly ruled the country for roughly half of its 73-year history.
Khan and the military have routinely denied the accusation, with the prime minister accusing the opposition of attempting to deflect or discredit his government's anti-corruption campaign, which has seen several top political opponents jailed or investigated for alleged corruption.
The military has taken an increasingly overt role in governance under Khan, with serving and retired military officials taking key positions in his administration, including in the areas of health, telecommunications, economic affairs and the $60bn China Pakistan Economic Corridor (CPEC) project.
Dwindling economy
At the rally in Karachi on Sunday, PDM leaders repeated their accusations against Khan and criticised him for his handling of the country's economy.
It was the second major protest by the group, which launched its anti-government campaign with a protest by thousands in the central city of Gujranwala on Friday.
At that demonstration, PML-N chief Nawaz Sharif, addressing the gathering by video link from London, took blunt aim at the military, accusing army chief General Qamar Javed Bajwa of rigging the 2018 elections and engineering his removal as prime minister in 2017.
Sharif left for London on medical bail last year, as appeals against his conviction and sentencing to 10 years in prison on corruption charges continue.
Last month, an Islamabad court issued arrest warrants for him, demanding he returns to the country and appears in person for hearings.
Sharif is also facing sedition charges for criticising the military's alleged role in politics.
The opposition's movement to overthrow Khan comes as Pakistan's economy – already struggling before the pandemic – is grappling with double-digit food inflation and negative economic growth.
Khan's government says it will be taking on the issue of food inflation in the coming weeks, and blames the economic slowdown on the coronavirus pandemic and the state of the economy it inherited from Sharif's PML-N in 2018.
The PDM will continue its countrywide protest movement with further anti-government demonstrations in the coming days, PDM leaders said on Monday.
Asad Hashim is Al Jazeera's digital correspondent in Pakistan. He tweets @AsadHashim
Halloween face masks that keep you safe — and still spooky
(CNN) —  
Halloween is typically a time for safety concerns — flammable costumes, tripping, tampered-with candy — but this year, there's something new to worry about: Covid-19. Given the times we're in, the Centers for Disease Control and Prevention has discouraged door-to-door trick-or-treating, parties and even wearing regular Halloween masks rather than ones that can prevent the disease's spread.
"A costume mask (such as for Halloween) is not a substitute for a cloth mask," the CDC says. "A costume mask should not be used unless it is made of two or more layers of breathable fabric that covers the mouth and nose and doesn't leave gaps."
So this year you can wear a disposable or reusable cloth mask under a traditional Halloween costume mask, or you could pick from one of these Halloween-themed face masks below, even if you're choosing to stay home for a virtual party or attend an outdoor scavenger hunt, which is among the CDC's low-risk Halloween ideas. These masks will help to keep you safe without spoiling your costume — and they may even be part of it or inspire this year's theme.
NicholesWickedTops Beetlejuice Face Mask ($12.59, originally $13.99; etsy.com)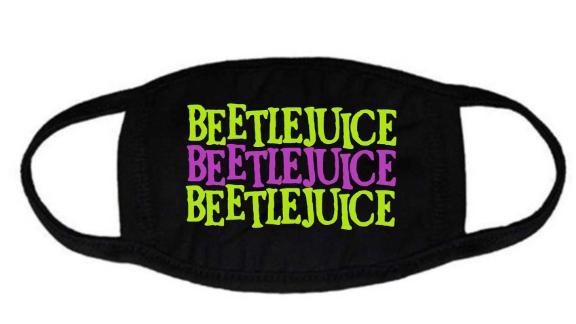 Take one striped suit ($59.99; spirithalloween.com) and one fright wig ($16.59; amazon.com), add this Beetlejuice face mask and you have a costume that no one will realize has a built-in safety feature.
Assmasks Incredible Hulk Face Mask (starting at $9.99; etsy.com)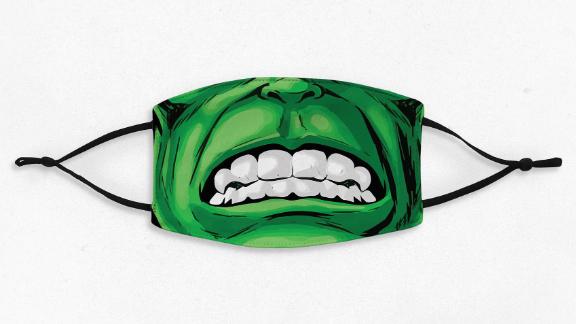 You could also build an inexpensive costume around an Incredible Hulk mask by donning a green T-shirt and a pair of cutoff shorts.
RisebySamyouwell Cat Mask ($16; etsy.com)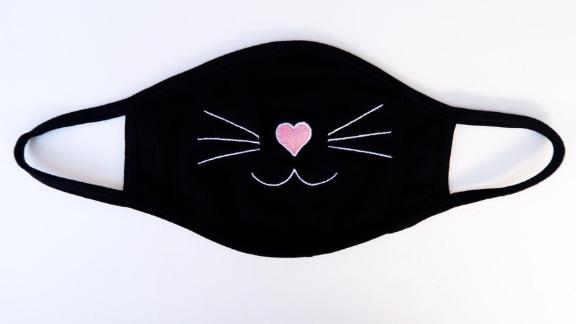 There are lots of other mask options to build a costume around, especially if you like animal costumes. Forget messy face paint whiskers — this year, elevate your animal costume with a mask with its own whiskers and cute heart nose.
SeesanGeneralGoods Animal Face Masks, Red Panda ($10.95; etsy.com)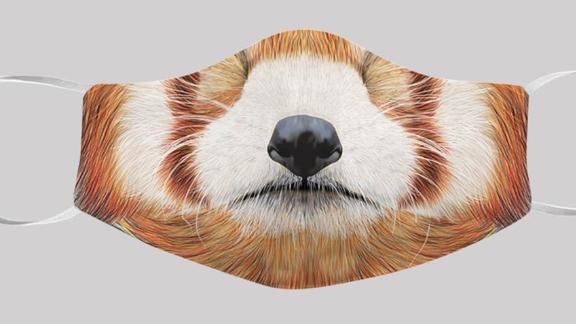 These face masks come in lots of different realistic-looking species, from tigers to domestic cats, so you can even dress as something more unexpected, like a red panda or even a pug.
CaseRocket Scary Clown Face Mask ($12.85, originally $14.27; etsy.com)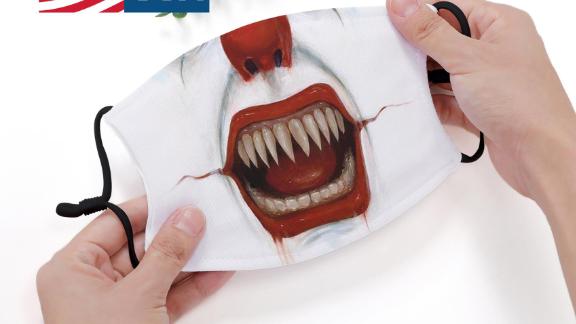 Other traditional Halloween costumes and motifs have also made their way onto masks. Scary clowns are a classic.
JonnyCustomShop Winifred Sanderson Mask ($4.90, originally $7; etsy.com)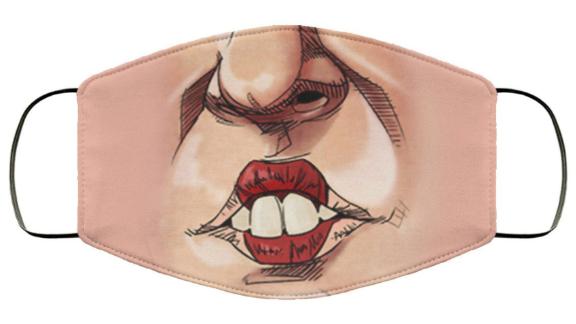 You can never go wrong with a "Hocus Pocus" homage on Halloween. This mask will instantly transform you into Bette Midler's iconic character Winifred Sanderson.
WithLoveJeanette Jack-o'-Lantern Mask ($9; etsy.com)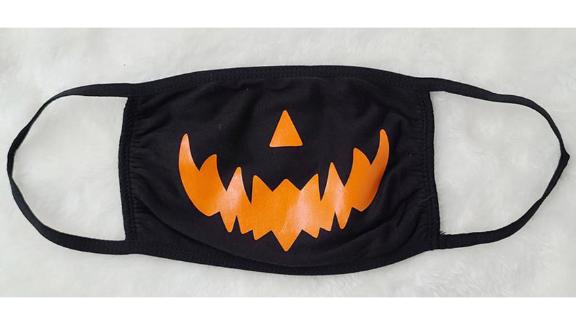 Grinning jack-o'-lanterns offer a new — and friendlier! — take on the smiling face mask.
Gift2yo LED Light-Up Face Mask ($21.79; amazon.com)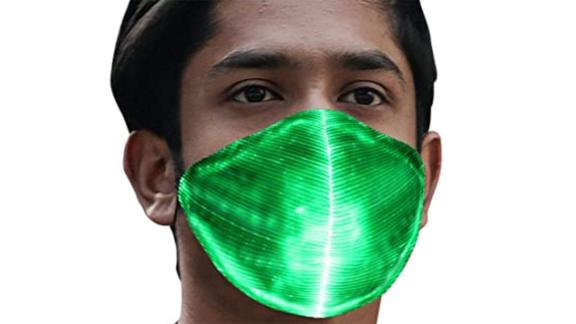 A newcomer in the face mask world is the light-up mask, which uses LED lights to create an eye-catching neon effect. This version can change color, allowing you to pick from seven different hues, and it can be recharged using a USB cable.
Costume Agent Glow-in-the-Dark Skeleton Mask ($13.90; amazon.com)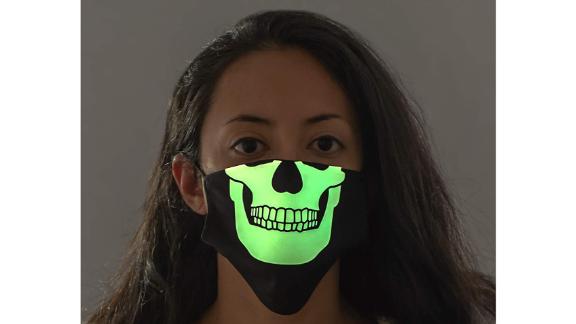 This smiling skeleton mask offers a slightly different take on the glow-in-the-dark styles.
HTownApparel Boo Halloween Face Mask ($11.24, originally $14.99; etsy.com)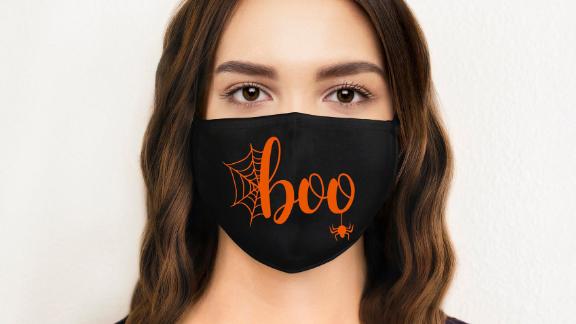 For the jump-out-and-get-you set, this mask that says "Boo!" is just for you.
FoxyRoxyCo Resting Witch Face Cloth Face Mask ($9.98; etsy.com)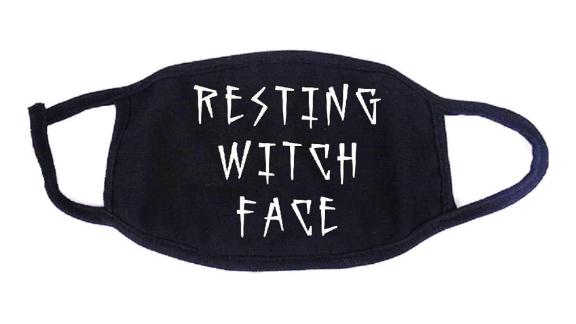 And, if you have a bit of a cheeky bent, this "Resting Witch Face" mask will let people know what your personal protective equipment is hiding.
ProCraftyCreations Candy Corn Face Mask ($8.50, originally $10; etsy.com)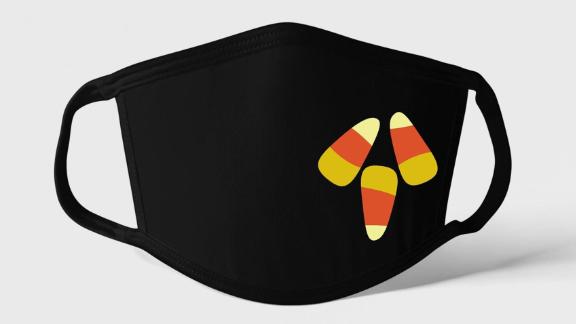 Identify yourself as the designated candy hander-outer of the house with a candy-themed mask.
Studioxtc Gothic Lace Mask ($17.99; etsy.com)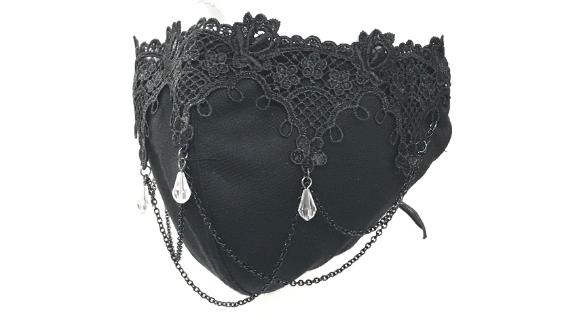 For people looking for a more sophisticated look, a gothic-inspired mask is a lovely addition to formalwear.
This Is My Halloween Costume Mask ($5.99; spirithalloween.com)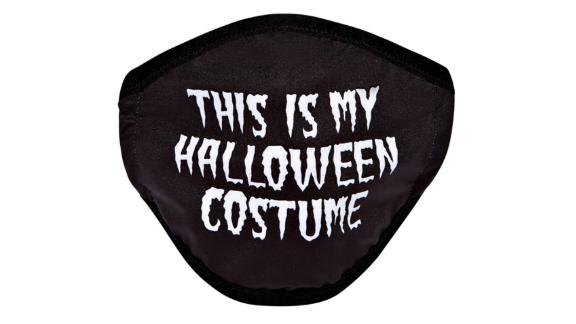 For those who have the opposite of the Halloween spirit, there's a mask just for you: "This Is My Halloween Costume" mask.
Sooqoo Disposable Face Masks, 100-Pack ($25.97 for 100; amazon.com)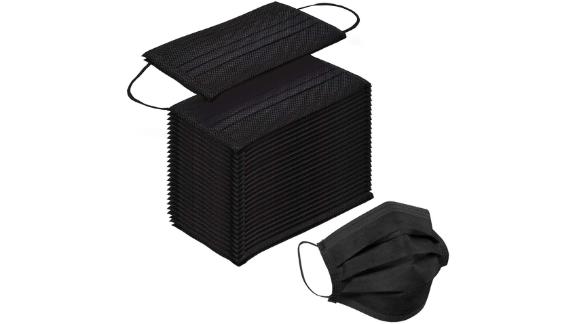 Disposable masks are also convenient, and plain black ones are thematically appropriate for the darkest of holidays.