The United States on Thursday imposed new sanctions that effectively shut Iran out of the global financial system – a move that is raising serious concerns about the human toll it could take on the Iranian people as they struggle with an already crippled economy and the worst COVID-19 crisis in the Middle East.
On Thursday, the US Treasury blacklisted 18 Iranian banks, effectively severing Iran's financial sector from the rest of the global economy by exposing foreign banks, firms, and individuals that do business with them to possible punitive measures by Washington.
In a statement detailing Thursday's financial sector blacklistings,  the US Treasury repeated its claim that Iran funds "malign" activities, and said sanctions "will continue until Iran stops its support of terrorist activities and ends its nuclear programs".
Despite calls from United Nations officials and other global leaders to suspend sanctions while Iran is battling the coronavirus pandemic, Washington has not relented in its "maximum pressure" campaign against Tehran as the November 3 US election draws near.
While the Trump administration insists that sanctions do not interfere with the flow of humanitarian goods, critics both in Iran and outside of it are pushing back on Washington's narrative, saying the new sanctions will further hobble Iran's ability to purchase vital food and medicines.
All countries see these US moves are completely against international rules
Push back
President Donald Trump's administration has long maintained that humanitarian trade is exempt from sanctions.
"The U.S. government recognizes and understands the necessity for both commercial humanitarian exports and humanitarian transactions to access Iran's banking system, and this action does not interfere with that ability," said the US Treasury on Thursday.
But Iranian officials are blasting that claim.
In a statement released on Friday, President Hassan Rouhani called Washington's latest round of sanctions "inhumane" and appealed to human rights advocates around the globe to condemn it.
"All countries see these US moves are completely against international rules," said Rouhani.
On Thursday, Iranian Foreign Minister Mohammad Javad Zarif took to Twitter to slam the US for trying to "blow up our remaining channels to pay for food and medicine" amid the pandemic.
"Iranians WILL survive this latest of cruelties," he wrote. "But conspiring to starve a population is a crime against humanity. Culprits and enablers – who block our money – WILL face justice."
Amid Covid19 pandemic, U.S. regime wants to blow up our remaining channels to pay for food & medicine.

Iranians WILL survive this latest of cruelties.

But conspiring to starve a population is a crime against humanity. Culprits & enablers—who block our money—WILL face justice. pic.twitter.com/n0fnXPNik8

— Javad Zarif (@JZarif) October 8, 2020
Iran's Ambassador to the United Nations, Majid Takht-Ravanchi, also weighed in on Friday.
In comments during a UN General Assembly meeting, Takht-Ravanchi said the US campaign of "maximum pressure" on Iran is an example of "state terrorism" aimed at bringing about regime change.
"The Islamic republic condemns terrorism in all shapes and forms, including state, economic and medical terrorism imposed through unilateral moves," he added.
Trump's administration began unleashing a torrent of sanctions aimed at choking off sources of revenue for the Iranian government since unilaterally withdrawing from the Iran nuclear deal with world powers in 2018.
The deal offered sanctions relief to Iran in exchange for curbs on its nuclear programme.
Chilling effect
The Central Bank of Iran was already sanctioned by Washington under a "terrorist" designation in September 2019 for allegedly financing the Islamic Revolutionary Guard Corps (IRGC), which itself was designated as a "Foreign Terrorist Organization" by the US in a highly controversial move in April 2019.
In October 2018, the US sanctioned Parsian Bank, which facilitated the bulk of Iranian humanitarian trade, in a shock move.
Reacting to Thursday's blacklisting of Iran's entire financial sector, Iran's central bank governor Abdolnaser Hemmati confirmed a number of them are key facilitators of humanitarian trade.
"Even though we have been in a very tough spot in providing medicine and food for the people due to maximum pressure in recent months, we have not allowed any shortages through certain paths and methods," he said, adding the central bank will continue to work with the private sector to provide essential goods.
Humanitarian trade is technically exempt from sanctions under international law.
The US issued a general licence with the new sanctions that states conducting or facilitating transactions for the provision of "agricultural commodities, food, medicine, or medical devices to Iran" is exempt.
Nevertheless, sanctions have had a chilling effect on Iran's ability to purchase humanitarian goods because most foreign financial institutions were already wary of conducting any business with Iran for fear of falling afoul of US sanctions.
The political calculus
In October 2018, the International Court of Justice ordered the US to lift sanctions that affect humanitarian trade with Iran.
In response, the US withdrew from the 1955 Treaty of Amity with Iran that had opened the door for the ruling.
But the advent of the coronavirus pandemic has renewed calls for Washington to put the Iranian people before political agendas.
According to Ellie Geranmayeh, a senior policy fellow at the European Council on Foreign Relations (ECFR), it is "unconscionable" to further sanction a country at a new peak of COVID-19 infections.
"US officials have been on the record saying Iranian leaders must give in to US demands 'if they want their people to eat'," she told Al Jazeera.
"Some hawks in Washington hope that if they put Iranians in a pressure cooker, there will be more protests in Iran like the ones in November and this could destabilise the state."
Some hawks in Washington hope that if they put Iranians in a pressure cooker, there will be more protests in Iran
After the government of Iranian President Hassan Rouhani cut petrol subsidies overnight in mid-November 2019,  mass protests sparked across Iran that authorities quelled through various means including an internet blackout and violent crackdowns on demonstrators.
The sanctions on Iran's financial sector were championed by Israel and Iran hawks in the US including the hardline think-tank Foundation for Defense of Democracies (FDD), and a group of US lawmakers including Senators Ted Cruz and Tom Cotton.
In a Wall Street Journal op-ed in late August, FDD chief executive Mark Dubowitz argued that cutting off  "Tehran's financial oxygen", would play to Trump's advantage in the 2020 presidential election.
That naked political calculus is not lost on critics of the Trump administration.
"This is a last-ditch attempt prior to US elections to ratchet up 'maximum pressure' on Iran," ECFR's Geranmayeh said.
Tyler Cullis, a lawyer at Ferrari & Associates, a Washington-based firm that specialises in OFAC sanctions, also sees the latest move as a political hedge should Trump lose his bid for re-election.
"My instinct is that Trump has engaged in such bad faith with respect to Iran – imposing sanctions not only to inflict harm on Iran, but also to prevent a Biden administration from reorienting American policy," Cullis told Al Jazeera.
Europe and other signatories continue to support the nuclear deal, and rejected a unilateral attempt by Washington in late September to reinstate all UN sanctions on Iran.
'Weaponising sanctions'
European nations have been looking for ways to enable humanitarian trade with Iran.
The Instrument in Support for Trade Exchanges (INSTEX) is a special-purpose vehicle devised by Europe for just that purpose, but it has so far failed to play a significant role in facilitating trade between Iran and the EU in the face of US sanctions.
The government of Switzerland has also been working on the Swiss Humanitarian Trade Arrangement (SHTA) for more than two years, but the channel has only conducted a single deal so far.
Meanwhile, proponents of the US sanctions on Iran's major banks claim that so-called "comfort letters" – assurances from the US Treasury that financial transactions can be processed in accordance with US law – should ameliorate concerns by foreign banks facilitating humanitarian trade with Iran.
This is a last-ditch attempt prior to US elections to ratchet up 'maximum pressure'
Esfandyar Batmanghelidj, founder of Bourse & Bazaar, a think-tank focused on Iran's economy, told Al Jazeera that foreign banks were not taking advantage of comfort letters even before the latest sanctions struck.
"Most global banks were hesitant to conduct humanitarian trade with the Iranian banks that have now been designated, even when it was explicitly permitted," he said.
"The Trump administration is no longer just negligent regarding the humanitarian impacts of its sanctions," Batmanghelidj added. "It is seeking to weaponise the humanitarian impacts."
Batmanghelidj is hopeful Iranian firms will eventually find a way to conduct business without running transactions through domestic banks, but says this will be a complex and time-consuming process, which could lead to significant delays in the imports of food and medicine.
Former Iranian central bank chief Mahmoud Bahmani told Mehr news there is a way to bypass Iran's domestic financial sector.
"Iran's money transactions don't go only through the banking system, other parallel systems can be used," said Bahmani, who was at the head of the bank when Iran was facing both US and UN Security Council sanctions under former president Mahmoud Ahmadinejad.
Iran must now turn to a "capillary network of money exchanges" inside and outside the country to facilitate trade, he said.
But in the meantime, Bourse & Bazaar's Batmanghelidj says delays in imports and a liquidity crisis resulting from the freezing of assets belonging to newly sanctioned banks will lead to further currency devaluation in Iran and higher prices for consumers.
"These kinds of disruptions have been a key contributor to inflation in the cost of food and healthcare," he said.
The Iranian rial hit an all-time low of 300,000 for $1 on October 1. It is still hovering around that rate.
Earn 60,000 bonus points with this American Express Gold card
(CNN) —  
CNN Underscored reviews financial products such as credit cards and bank accounts based on their overall value. We may receive a commission through The Points Guy affiliate network if you apply and are approved for a card, but our reporting is always independent and objective.
If you're in the market for a credit card that earns a ton of rewards at both restaurants and grocery stores, this new card offer is sure to whet your appetite.
The American Express® Gold Card is currently offering 60,000 bonus points after you spend $4,000 on the card within the first six months of card membership. This is the highest welcome bonus offer we've ever seen publicly available on this card, and it's nearly double the usual 35,000-point bonus.
Based on the valuations of CNN Underscored's partner The Points Guy, American Express Membership Rewards points are worth about 2 cents apiece, which makes these 60,000 points equal to about $1,200 of travel value. Compared to many other popular travel rewards credit cards on the market today, that's one of the top bonus offers available right now.
Now, you may be thinking that the $250 annual fee on the Amex Gold is too high to stomach, but the statement credits you earn annually with this card practically cover the cost every year. First, you'll get up to $100 in airline credits each year, which can be used to cover incidental airline fees such as checked baggage or in-cabin pet fees.
Then you'll also get up to $120 in dining credits, provided in $10 monthly increments over the course of the year. The credits can be used for a number of popular dining options, such as Grubhub, Seamless, The Cheesecake Factory, Ruth's Chris Steak House, Boxed and participating Shake Shack locations.
If you can take full advantage of both the airline and dining credits throughout the year, your out-of-pocket cost for the Amex Gold is effectively a mere $30 annually, which makes it a steal given the number of bonus points you can earn with it.
Click here for the bonus offer on the American Express Gold card.
Earning American Express Membership Rewards points

With the Amex Gold card, you'll earn an impressive 4 points for every dollar you spend at restaurants worldwide, and at US supermarkets on up to $25,000 in purchases annually (then 1x thereafter). Plus, you'll earn 3 points per dollar spent on flights booked directly with airlines and at amextravel.com, which will be useful when travel restrictions ease. You'll also earn 1 point per dollar on all your other purchases.
Those earning rates make the Amex Gold one of the best credit cards for your restaurant and US supermarket purchases. Since The Points Guy values these points at 2 cents each, at 4 points per dollar spent, you're earning an 8% return in these two categories. And for your eligible airline purchases, you're getting a promising 6% return.
Better yet, most food delivery services will code as restaurants on the Amex Gold, so if you order from Grubhub, Seamless, Uber Eats or DoorDash, you'll still earn the same 4 points per dollar as if you had gone to the restaurant itself.
Related: Are you using the best credit card when ordering food for delivery?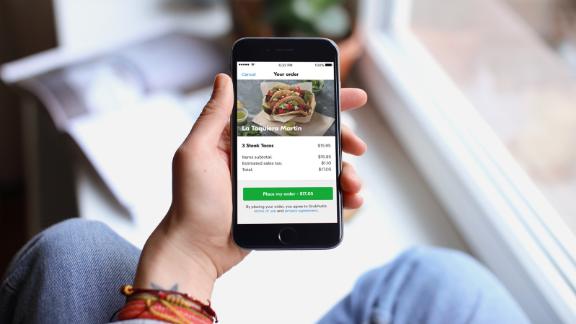 Outside of the bonus categories, you're earning only 1 point per dollar spent on everything else, which is a 2% return based on The Points Guy's valuations. While this is similar to what you'd earn with CNN Underscored's benchmark credit card, the Citi® Double Cash Card, you'll be earning points for a future trip with the Amex Gold card versus cash in your pocket now. So you'll want to decide what your priority is when it comes to credit card rewards — travel points or cash back.
Start earning bonus rewards at restaurants and US supermarkets with the American Express Gold card.
Redeeming American Express Membership Rewards points

Since the Amex Gold card earns highly useful Membership Rewards points, there are many options when it comes to redeeming your points. You can use your points for a statement credit or to purchase gift cards, but these options won't get you maximum value for your points (though on occasion, Amazon runs promotions that offer discounts for using Amex points to pay at checkout).
Related: Get up to $50 off at Amazon with targeted American Express cards.
But the best way to maximize the points you'll earn with the Amex Gold is to use them for booking travel through American Express' own Amex Travel booking site, or by transferring them to one of Amex's 21 airline and hotel partner programs.
Redeeming points through Amex Travel
One of the easiest and most flexible ways to redeem your Amex Gold points is to book travel directly through American Express by using Amex Travel, which allows you to book flights at 1 cent per point, and other travel options at a lower value.
Even if you don't have enough points to cover the entire cost of a trip, you can cover just a portion of the flight and pay for the rest with your Amex card. The only caveat is you must redeem at least 5,000 points for a reservation.
You'll also sometimes see Membership Rewards Insider Fares listed at the Amex Travel website. These opportunities offer around a 10% discount on the price of a flight, which lowers the number of points required for it. That makes your points worth more, although with this option, you must pay for your entire flight with points — a partial option is not available.
Redeeming points by transferring to partners
But if you're looking for the most bang for your buck by getting 2 cents per point in value — or possibly even more — when redeeming your Amex Gold points, you'll want to consider transferring your points to the issuer's airline and hotel partner programs.
American Express has partnerships with 21 different airlines and hotels, including Delta, JetBlue, Singapore Airlines, Cathay Pacific, British Airways, Marriott, Hilton and many others. While you'll need to do some research and homework to learn how to take advantage of these individual programs, you'll find that it's possible to get outstanding value for your points this way, especially if you're looking to fly in a premium first or business class cabin.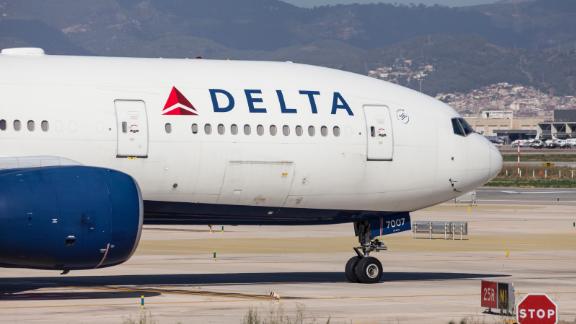 Of course, you're probably not doing a lot of traveling at the moment. But it's likely that travel restrictions will begin to lift at some point in 2021, which makes now an ideal time to be accumulating travel points so that you have them ready to use when planes return to the skies and hotels reopen their doors.
Related: Read CNN Underscored's complete American Express Gold credit card review.
Is the American Express Gold card right for you?

With a strong welcome offer, bonus points on popular food categories and annual statement credits, the Amex Gold is a card that should be in every foodie's wallet. While travel points may not be useful right at the moment, they're likely to become much more valuable as travel resumes in the months ahead, so socking away some points today can serve you extremely well tomorrow.
So if you're spending a good portion on your monthly household budget on picking up groceries, dining out or ordering food for delivery, you may want to take this opportunity to pick up a haul of 60,000 bonus points while you can by grabbing an American Express Gold card, and start scoring bonus points on your food purchases today.
Learn more about the American Express Gold Card.
Check out CNN Underscored's list of the best credit cards of 2020.
Iraqi woman arrested after drowning children in the Tigris River
Security camera footage shows the woman throwing her young kids off a bridge in an act of revenge against her husband.
An Iraqi woman was arrested after throwing her two children off a bridge into the Tigris River to punish her husband.
The woman's three-year-old son and two-year-old daughter were presumed drowned as their bodies have yet to be found, news reports said on Monday.
Security camera footage of the incident on Saturday was widely shared on social media and caused outrage among Iraqis.
Family members say the mother killed her children in an act of revenge after the father divorced her in late September.
Abu Tahsin Deraji, the children's paternal grandparent, was quoted as saying the woman planned killings after the couple separated several months ago.
The incident occurred on Al-Aimmah Bridge north of the capital, Baghdad. Video of the father crying uncontrollably at the scene was also circulating on social media.
Insufficient funds: COVID-19 leaves more US families unbanked
Economic havoc wrought by the pandemic could push more struggling Americans out of the banking system, watchdog group warns.
After years of increasing access to banking, many poorer Americans will struggle to keep a foothold in the system due to the economic fallout from the coronavirus pandemic, a United States banking regulator warned Monday.
A new report from the Federal Deposit Insurance Corporation (FDIC) found that in 2019, just 5.4 percent of Americans lacked a chequing or savings account, the lowest level recorded in the decade-old survey.
But the watchdog group warned that economic havoc wrought by the pandemic could push many struggling Americans, who were already hovering at the fringes, out of the traditional banking system altogether.
"The COVID-19 pandemic is likely to contribute to a rise in the rate of unbanked households," the FDIC said in its report, noting that banking access usually tracks the broader health of the economy.
The 2019 record low came after years of steady economic gains, and the previous high for unbanked households was in 2011, amid the previous recession. The most frequently cited reason for not having a bank account is insufficient funds to meet account minimums.
The regulator said it could not predict how many people would lose access to bank accounts or be otherwise financially harmed as a result of the pandemic, but flagged some concerning vulnerabilities. In 2019, 35.8 percent of households reported not saving for unexpected expenses or emergencies. Among unbanked populations, that number was significantly higher, with 74 percent reporting they were not able to build up emergency savings.
Complaints to the Consumer Financial Protection Bureau between March and July suggest many Americans are already being pushed to the edge of the financial system by the pandemic.
Between March and April, reports flagging problems such as impaired credit, foreclosure threats and aggressive debt collection tactics jumped 50 percent from the same period a year ago, according to an analysis by the Frontier Group and the United States Public Interest Research Group (US PIRG).
Furthermore, the FDIC found banking activities more commonly relied upon by rural populations and by people with volatile incomes, such as cash transactions and branch visits, had been hindered by lockdowns and vendors limiting the use of bills.
Having a bank account is a critical foothold to building wealth. Those without accounts pay significantly more for basic services, such as cashing cheques and making payments – a problem far more likely to affect communities of colour. Around 14 percent of Black households and 12 percent of Hispanic ones were unbanked, compared with three percent for whites.
"Millions of Americans – and families of colour in particular – remain outside the mainstream banking system and are missing the economic opportunities that come from having a bank account," said Rob Nichols, CEO of the American Bankers Association, which on Monday launched an initiative to boost the provision of simple low-cost bank accounts.
The 2019 survey found, however, that rapid adoption of new technology is expanding access to financial services. Mobile banking more than doubled as the primary means of accessing a bank account from 2017, and 31 percent of households reported using a person-to-person payment service like PayPal or Venmo.