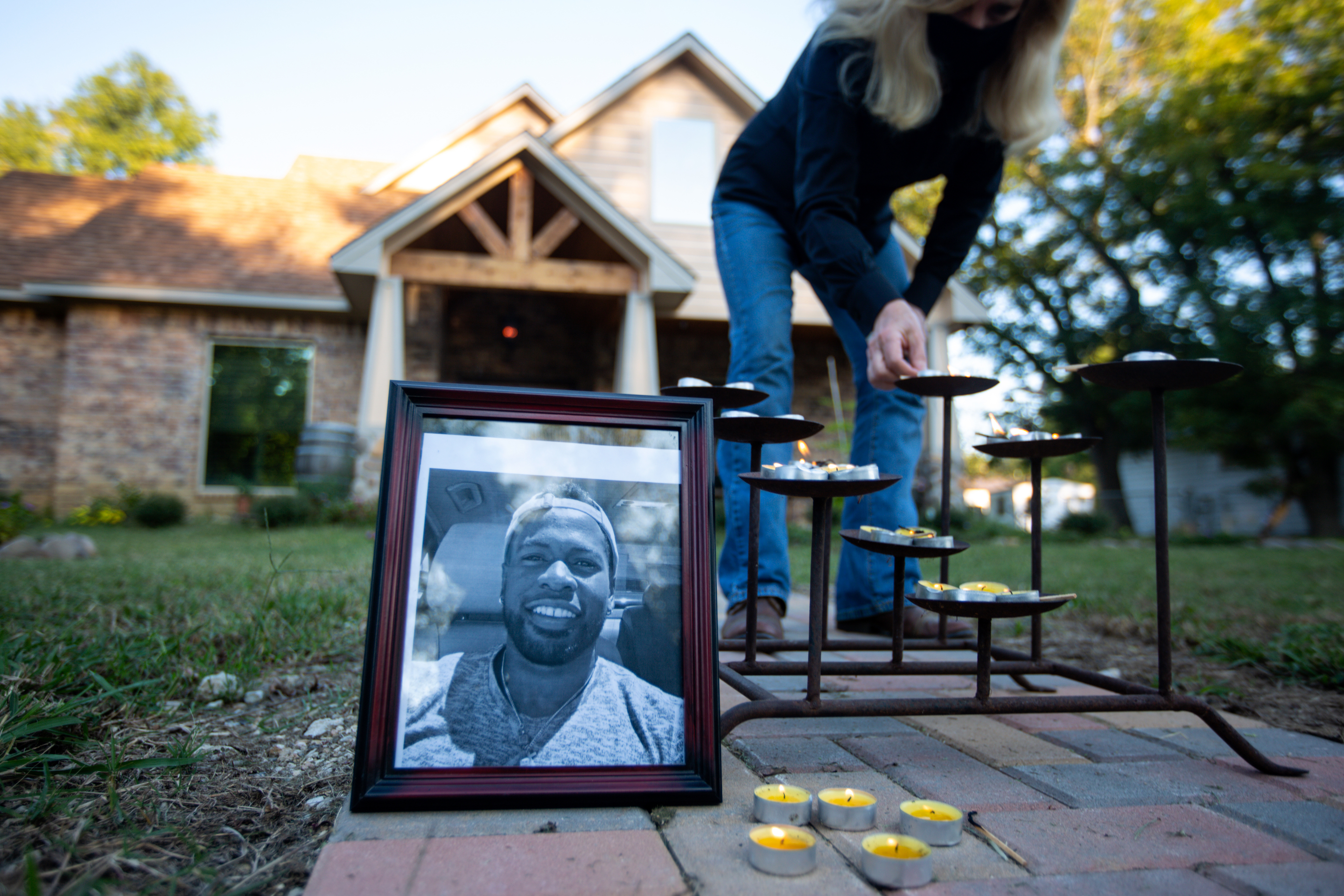 In the moments before Jonathan Price was gunned down by a small-town police officer outside a Texas gas station, he extended his arm for a handshake, according to court records. He asked the cop if he was "doing good." He apologized for the broken glass around him.
Once Lucas arrived at the scene, Price, 31, approached to ask how the officer was doing, according to the affidavit, which relied on body-camera footage, physical evidence, and eyewitness testimony of the incident.
"Price came very close to Officer Lucas asking 'you doing good' multiple times while extending his hand in a handshake gesture," the probable cause affidavit said. "Price apologized for broken glass on the ground and stated someone had 'tried to wrap me up.'"
Lucas said he believed Price, a city employee and fitness trainer, was intoxicated, and he moved to detain him.
Lucas, who is white, unsuccessfully grabbed Price's arm and used "verbal commands" in an attempt to stop him. He told Price to comply, threatening to use his Taser. Then, once he deployed the weapon, it wasn't fully effective, according to the affidavit. Price "continued to walk toward" the officer.
"I can't be detained," Price said, according to the affidavit. 
Lucas, who is white, grabbed Price's arm and used "verbal commands" in an unsuccessful attempt to stop him. He told Price to comply, threatening to use his Taser. Price began to walk away. Then, once Lucas deployed the weapon, it wasn't fully effective, according to the affidavit. Price "continued to walk toward" the officer while being tased.
What happened next left the Texas town about 70 miles outside of Dallas grieving for a man who's since been described as a "hometown hero" and "pillar of the community." 
"Price appeared to reach out and grab the end of Officer Lucas' Taser," the affidavit, written by Texas Rangers Laura Simmons, said. "Officer Lucas deployed his firearm four times striking Price in the upper torso."
Price was pronounced dead at a local hospital. His mother, Marcella Louis, told WFAA she wasn't allowed to rush to him as he lay dying from his wounds at the gas station.
"I just wanted to hold his hand and they wouldn't let me do that," Louis told the news station. "I just wanted to crawl over there to him."
An attorney for the family, Lee Merritt, has said Price was unarmed during the incident. He's called for video of the incident to be released.
"The family is still waiting for an update from the law enforcement and/or prosecutorial community," Merritt said in a statement on Twitter Tuesday. "No one has told them anything directly."
The Texas Rangers, who are investigating the incident, arrested Lucas for Price's death on Monday. Lucas, who only joined the Wolfe City Police Department this past April, is currently jailed in Collin County, Texas, according to inmate records. His bail has been set at $1 million. Lucas' stepfather told WFAA this week that the rookie cop always wanted to work in law enforcement, and isn't a racist.
Lucas has retained Robert Rogers as his defense attorney. Rogers, who previously represented Amber Guyger, the ex-Dallas police officer that killed Botham Jean in his own apartment and is currently serving a 10-year prison sentence, did not immediately respond to a VICE News request for comment. He told KDFW, a Fox affiliate in Dallas, that Price was aggressive.
"After Mr. Price refused repeated instructions and physically resisted, Officer Lucas deployed his Taser and continued to give Mr. Price instructions. Mr. Price resisted the effects of the Taser and attempted to take it away from Officer Lucas," Rogers told the news station in a statement. "Officer Lucas only discharged his weapon in accordance with Texas law when he was confronted with an aggressive assailant who was attempting to take his Taser."
Samsung shares rise on restructuring hopes after chairman's death
Shares in Samsung Electronics Co Ltd and its affiliates rose on Monday after the death a day earlier of Chairman Lee Kun-hee raised investor hopes of a restructuring and stake sales, analysts said.
Investors were betting that such measures would be needed for his heirs to pay a hefty inheritance tax, estimated at about 10 trillion won ($8.9bn) for stock holdings alone, although analysts were divided on which moves the group would make.
Shares in Samsung C&T – a sprawling conglomerate involved in businesses ranging from construction to trading and holiday resorts – and Samsung Life Insurance rose as much as 21.2 percent and 15.7 percent respectively, while Samsung BioLogics, Samsung SDS – a global software solutions and IT services company – and Samsung Engineering also rose.
"The inheritance tax is outrageous, so family members might have no choice but to sell stakes in some non-core firms" such as Samsung Life, said NH Investment Securities analyst Kim Dong-yang.
Lee died on Sunday with his family by his side, the company said in a statement, without mentioning the cause of death. His family will hold a private funeral. He had been hospitalised since a heart attack in 2014 and was treated for lung cancer in the late 1990s.
Samsung shake-up
Investors have long anticipated a shake-up in the event of Lee's death, hoping for gains from any restructuring to strengthen de facto holding company Samsung C&T's control of crown jewel Samsung Electronics. Analysts say one such move could involve Samsung C&T buying an affiliate's stake in the tech giant.
Son and heir apparent Jay Y Lee has a 17.3-percent stake in Samsung C&T, which owns a 5.01-percent stake in Samsung Electronics, the global leader in smartphones and memory chips. Samsung C&T also has a 19.3-percent stake in Samsung Life, the number 2 shareholder of Samsung Electronics.
The younger Lee is undergoing two separate trials over suspected accounting fraud and stock price manipulation connected to a 2015 merger and concerning his role in a bribery scandal that triggered the impeachment of former South Korean President Park Geun-hye. He has repeatedly denied any wrongdoing.
"At this point, it is difficult to expect when Samsung Group will kick off with a restructuring process as Jay Y Lee is still facing trials, making it difficult for the group's management to begin organisational changes," KB Securities analyst Jeong Dong-ik said.
The late chairman was the wealthiest stock owner in South Korea. His holdings included 4.18 percent of Samsung Electronics common shares and 0.08 percent of its preferred shares – which carry no board voting rights but whose holders would be paid out before common shareholders in the event of a liquidation. Together, the stakes are worth about 15 trillion won ($13.3bn).
He also held a 20.76-percent stake in Samsung Life worth about 2.6 trillion won ($2.3bn), and a 2.88 percent stake in Samsung C&T worth about 564 billion won ($500m) as of Friday's market closing.
The Frankfurt Declaration
Samsung, the maker of the Galaxy line of smartphones, has been riding a COVID-era boom in online activity despite the legal clashes. The company also supplies semiconductors for Google's data centres and Apple Inc's iPhone, and is the world's most advanced maker of displays for TVs, computers and mobile devices.
Lee Kun-hee built the company into the electronics powerhouse of today, becoming synonymous with the rise of South Korea on a global economic stage.
Named one of the world's 100 most influential people by Time magazine in 2005, Lee began overhauling Samsung Electronics after he saw the company's products gathering dust in a Los Angeles electronics store, according to The Lee Kun Hee Story, a 2010 biography by Lee Kyung-sik. The Suwon, South Korea-based company had become known for cheap, low-quality electronics gear and was in the "second phase of cancer", sending out 6,000 people to fix products made by 30,000 employees, Lee said in 1993, according to the biography.
The company's makeover started that year when Lee gathered top executives in Germany and laid out a plan, known as the Frankfurt Declaration, to transform Samsung from a second-tier television maker into an industry leader. The company's new mission: create high-quality products, even if it meant lower sales.
Samsung Electronics became the world's top maker of computer memory chips in 1992, the same year it became the first to develop 64-megabyte DRAM chips, according to the company.
After the Frankfurt Declaration, Lee required employees to arrive at work at 7am instead of their usual 8:30am start, so they could "soak up reform in their slumber", according to the biography.
In 1995, he assembled 2,000 workers to watch him make a bonfire out of 150,000 mobile phones, fax machines and other company products that failed to meet his quality standards.
Lee's cultural change eventually produced results. Samsung Electronics surpassed Tokyo-based Sony to become the top seller of flat-screen TVs in 2006, the same year its market value exceeded $100bn.
In 2010, Samsung introduced the Galaxy-branded smartphone running Alphabet Inc's Android software, which helped it pass Apple as the world's biggest smartphone maker in 2011 in terms of units sold. By introducing the Galaxy Note in 2011, Samsung created a new product niche known as the phablet, a smartphone-tablet hybrid.
Australia's Victoria logs zero COVID-19 cases, a first since July
For first time in four months, Victoria state reports no new cases, raising hopes lockdown in city of Melbourne may be eased.
Australia's Victoria state reported no new coronavirus cases or deaths on Monday, raising hopes that a stringent lockdown in the city of Melbourne will be eased.
It was the first 24-hour period without any new reported COVID-19 infections since the five million residents of Melbourne were locked down following an outbreak at quarantine hotels in July.
Victoria Premier Daniel Andrews on Sunday delayed the reopening of Australia's second-biggest city amid an outbreak in Melbourne's north.
Officials said they had tested about 15,000 people in the area and all had come back negative.
"This is one of the best outcomes we could hope to see," said Jeroen Weimar, commander of testing and community engagement for Victoria.
Andrews is under intense pressure to lift Melbourne's second round of stay-at-home restrictions, imposed when the state saw some 190 new cases a day in July, a figure that rose to 700 in August.
Some measures were lifted last week, allowing haircuts and golf games to return, but several rules remain in place, including limiting restaurant service to takeaways and deliveries, while non-essential shops have to remain closed and there is a ban on travel outside the greater Melbourne area or more than 25 kilometres (16 miles) from home.
Businesses and the federal government argue the continued curbs will delay Australia's economic rebound.
Australia's economy shrank 7 percent in the three months to the end of June, the biggest quarterly shrinkage since records began in 1959. The unemployment rate hit a 22-year high of 7.5 percent in July as businesses and borders closed to deal with the coronavirus.
Prime Minister Scott Morrison has highlighted the fact that neighbouring New South Wales state has much looser restrictions despite regularly reporting higher daily case numbers.
While the measures have taken a significant toll on the country's economy, Australia has so far recorded just over 27,500 COVID-19 infections, far fewer than many other developed countries.
Separately, a paper published by the Actuaries Institute on Monday said physical distancing and lockdowns not only slowed the spread of COVID-19, they also saved the lives of about 400 people who would have been expected to die in June from respiratory illnesses such as pneumonia.
Examining Australia's most recent official fatality data, the Actuaries Institute said there were fewer verified deaths than expected during the mid-winter month, which it concluded was due to a decline in respiratory illnesses.
"It is clear that lockdowns and other COVID-19 control measures have created great hardship for many in Australia. There will surely be medium and long-term consequences for physical and mental health and the economy," said Jennifer Lang, convener of the Actuaries Institute's COVID-19 Working Group.
"These measures have not only saved very many Australians from COVID-19 disease and death, they have also reduced deaths from a number of other causes."
Covid cases surge across the US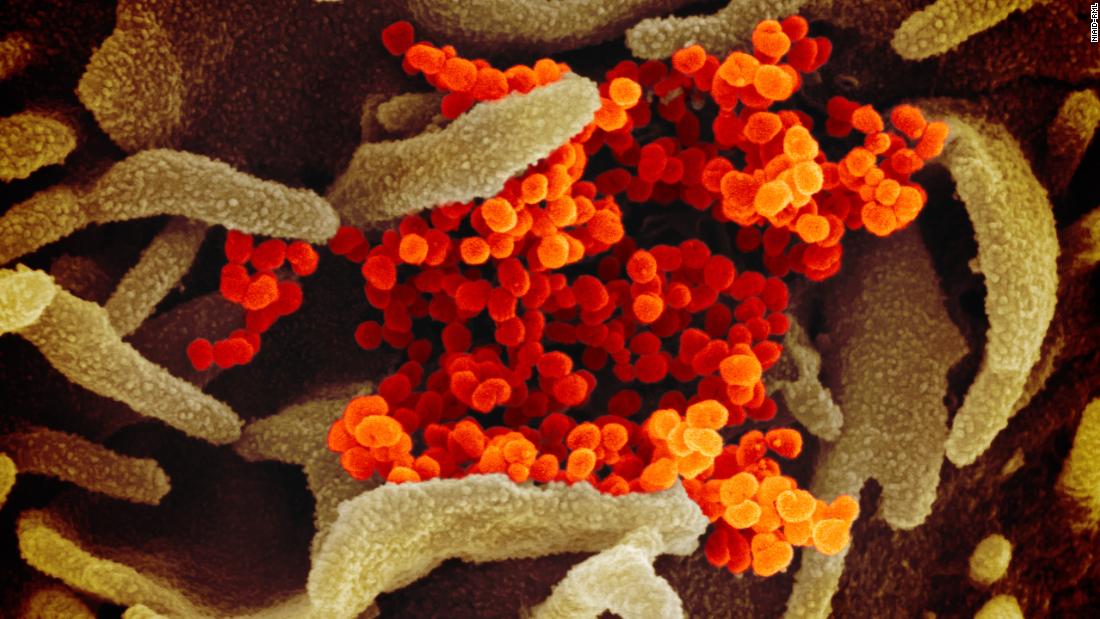 Coronavirus cases in Italy rose by 21,273 on Sunday, according to Health Ministry figures, a new daily high for the country since the start of the pandemic.
A total of more than 525,000 cases have now been confirmed in the country.
On Sunday, a further 128 people died from the virus, bringing Italy's total death toll to 37,338.
There are now 1,208 people with Covid-19 in Italy's intensive care units.
The new figures come as Italy's Prime Minister Giuseppe Conte acknowledged during a news conference announcing new restrictions that the "epidemic curve is rapidly increasing" in Italy.
But Conte said he wanted to avoid a nationwide lockdown like the one he imposed in March, because "the country could not afford it."
Italy imposes new measures: New coronavirus restrictions are set to come into force in Italy on Monday.
Unlike the country's national lockdown in March, not all economic and production activities are obliged to close under the new decree.
The main restrictions concern bars and restaurants and other food services. They must close at 6 p.m. local time and have no more than four customers per table. Gyms, swimming pools, theaters, cinemas, concert halls, bingo halls, casinos and beauty centers all must close.
Kindergartens and primary schools will stay open but to avoid overcrowded public transport, high schools must hold 75% of lessons remotely.
"We believe that during the next month (November) we will suffer a bit, but gritting our teeth and facing these restrictions, in December we will breathe again" Conte said.