A biomedical engineering laboratory in the US has developed a way to potentially neutralize airborne viruses using food coloring sprays.
Grow Your Business,

Not Your Inbox

Stay informed and join our daily newsletter now!
October 13, 2020 4 min read
This article was translated from our
Spanish edition
using AI technologies. Errors may exist due to this process.
This story originally appeared on The Conversation

Editor's Note: This research report is a brief overview of interesting academic work.
By Young Kim , Purdue University ; Hee-Jae Jeon , Purdue University ; Jung Woo Leem , Purdue University , and Yuhyun Ji , Purdue University
The big idea
Our Biomedical Engineering laboratory has developed a way to potentially neutralize airborne viruses using food coloring sprays approved by the FDA, the US health agency. Aerosols are small pieces of solid or liquid matter suspended in the air.
Our idea was inspired by photodynamic therapy , which is a medical treatment, even for certain types of cancer. Photodynamic therapy uses a photosensitizer, a chemical that reacts with oxygen in the presence of light to produce free oxygen radicals . These radicals are highly reactive, meaning that they trigger other chemical reactions, including those that kill harmful pathogens.
Instead of using expensive medical photosensitizers, we have identified several FDA-approved food dyes that can be used to generate free radicals in visible light. We use ultrasound to generate tiny sprays that contain the food coloring so the dyes can float and stay in the air. Sprays are barely visible and their small size and short shelf life mean they don't stain surfaces.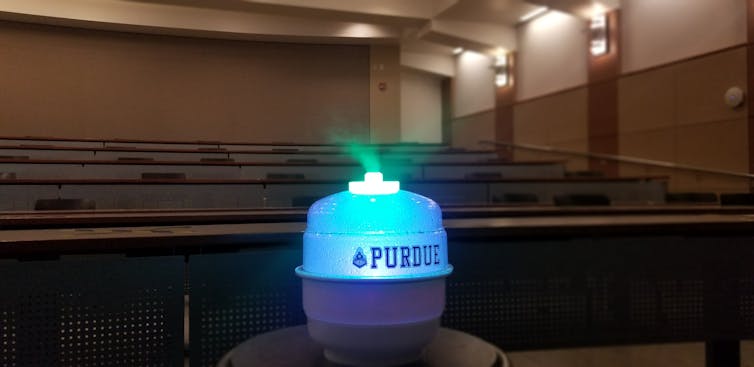 We use this technique to produce a device, Photodynamic Airborne Cleaner, that disinfects airborne pathogens. To the best of our knowledge and belief, this is the first photodynamic therapy aerosol generator for airborne disinfection.
Why does it matter?
Viruses and bacteria are often transmitted through the air. A person infected with SARS-CoV-2, the virus that causes COVID-19, who coughs or sneezes produces contaminated droplets and aerosols that float in the air and can trigger the disease .
Due to this risk, all types of indoor meetings are now limited. Being able to disinfect large volumes of indoor air where there are many people is essential to reduce the chances of transmission.
What other research is being done in this field?
Photodynamic therapy was first demonstrated as a means of fighting bacterial infections . Oxygen free radicals, specifically singlet oxygen , can also inactivate viruses by damaging the nucleic acids, proteins, and lipids that make them up. In particular, singlet oxygen is effective in breaking down the lipid envelopes that form protective layers around many viruses. Most viruses that are harmful to humans, including SARS-CoV-2, have these envelopes.
Various other disinfection techniques are available, for example hydrogen peroxide spray, hydrogen peroxide vapor, ozone, steam, and UV-C or 'deep UV' lighting. However, these are more appropriate for disinfecting surfaces than for disabling airborne pathogens. Additionally, they can be dangerous to humans. For example, deep ultraviolet rays are commonly used as a disinfectant, but they are carcinogenic.
Whats Next?
We are preparing to collaborate with a federal research team to evaluate the effectiveness of our airborne photodynamic cleaner against airborne transmission of SARS-CoV-2.
FDA approved food coloring sprays and their singlet oxygen generation do not last long. These dye sprays degrade in light and singlet oxygen is not generated without light. However, although the food coloring is approved by the FDA for consumption, it is necessary to test the safety of possible inhalation and oral intake.
This article was translated by El Financiero .

This article is republished from The Conversation under a Creative Commons license. Read the original article .
The Problems With Passive Income for Entrepreneurs
October 20, 2020 5 min read
Opinions expressed by Entrepreneur contributors are their own.
"Passive income" is a phrase uttered by most modern entrepreneurs, as they seek to achieve the greatest amount of profit for the least amount of effort. It's such a popular concept that it's become a veritable buzzword, losing meaning each time it's included in the title of an article or the foundation of a business plan.
And don't get me wrong; passive income can be a path to building meaningful wealth. However, there are some serious problems with passive income, both in theory and in practice, that you'll need to reconcile before moving forward with any plan.
Passive income in a nutshell
Passive income is any kind of income that you generate without the need for ongoing work. If you get paid a salary in exchange for full-time work, this is active, not passive. If you get paid hourly, you're earning money in return for your efforts, so it's active, not passive. Passive income hypothetically requires no time expenditure to make money. For example, if you invest in a dividend-paying stock, you'll often earn a quarterly dividend based on the number of shares of stock you own. If you own 1,000 shares of a stock that pays $0.30 per share as a dividend, you'll earn $300 in quarterly income by owning that stock, with no further effort required.
There are dozens, if not hundreds of strategies that purportedly allow you to generate passive income, and all of them have their merits. However, there are several problems with passive income that need to be addressed.
Related: 5 Ways to Generate Passive Income and Keep Your Job
Passive income streams don't start out passive
First, there are some income streams that require little-to-no effort from you on an ongoing basis, but even these require at least some effort to start. Take our dividend-paying stock as an example: Before you can start generating passive dividend-paying income, you'll need to carefully research different dividend stocks, do your due diligence and purchase your shares.
The same is true of many other supposedly passive income streams. For example, if you're hoping to generate rental income from a property, you'll need to spend time finding the right property, fixing it up and attracting the right tenants. If you want to make money from advertising on a blog, you'll need to spend time writing content and attracting an initial audience before you can build that momentum.
Many passive income streams still require upkeep
Some income streams fall into the "set it and forget it" category, but the majority of passive income streams still require ongoing upkeep. Within that set, some income streams can be downright disruptive in your life. For example, if you're making money via advertising on a blog, you'll need to create new posts on a regular basis and maintain your website. If you rely heavily on organic search traffic and you're penalized by Google, you'll have to quickly adapt your strategy if you want to survive.
The same dilemma applies if you own a rental property. Ideally, you'll generate income via rent paid by tenants, but what happens if you have a tenant who refuses to pay rent, or one who destroys your property? You'll need to manage an eviction, which can be both expensive and time consuming. In other words, it compromises both the "passive" and the "income" part of "passive income."
Capital is a massive gatekeeper
You'll also find that capital is a massive gatekeeper for many passive income strategies. Anyone can start a blog, more or less for free, and anyone can try to start a business selling stock photography. But if you want to make substantial income with strategies like managing rental property, collecting dividends from stocks or loaning money to peers, you'll need tens of thousands of dollars in the bank.
If you've already got your finances together and you're making a strong stream of revenue from an active source, this may not be a big deal for you. However, it compromises the accessibility of some otherwise universal strategies.
Related: 17 Passive Income Ideas for Increasing Your Cash Flow
There's no surefire formula
Even with a good plan and significant business experience, there's no guarantee that you'll be able to make money passively. Most approaches require you to put together a comprehensive strategy and be prepared to fend of competition, economic challenges and other threats. Too many people venture into the world of passive income believing they can follow a step-by-step approach and end up making money with little to no effort. They face a rude awakening when they encounter the first challenge that requires them to pivot their approach.
Passive income sounds fantastic on paper, because it offers entrepreneurs a chance to generate income with a minimal number of hours spent. However, there are many misconceptions surrounding passive income that lead people to overestimate its value and approachability. In many cases, passive income requires substantial upfront effort, initial capital and modest ongoing efforts; even then, there's no guarantee of success.
Still, if you're interested in diversifying your revenue streams or if you just want more opportunities to build wealth, passive income development could be right for you. Just be sure you treat it as a business strategy and not a get-rich-quick scheme. Source
The number of hospitalizations grows and Mexico City could return to a red light
For now, the job will be to increase the number of tests and isolate positive cases as well as continue to insist on preventive measures.
Grow Your Business,

Not Your Inbox

Stay informed and join our daily newsletter now!
October 20, 2020 2 min read
This article was translated from our
Spanish edition
using AI technologies. Errors may exist due to this process.
The availability of beds to care for COVID-19 patients is 58.2%.
Did the regrowth start? Claudia Sheinbaum , head of Government of Mexico City, declared that there was an increase in the number of hospitalized by COVID-19 in the last 10 days in the capital city.
He also commented that there is still time to avoid the application of restrictive measures or the return to the red traffic light and that for the moment he would not call it a regrowth, but a slight change in trend where hospitalizations are growing.
The head of government said that this week would be crucial to know if the traffic light was changed or not. For now, the job will be to increase the number of tests and isolate positive cases as well as continue to insist on preventive measures.
All this before moving to the closure of some economic activities, times or schedules in areas with high contagion danger. According to Sheinbaum, the availability of beds to care for COVID-19 patients is 58.2%, so there is still a great availability of beds, however, he emphasized continuing to comply with health regulations.
[embedded content]
50 Cent Doubles Down on Rejection of Biden's Tax Plan
The rapper and businessman continues his social media tirade; bad fiduciary puns ensue.
Free Book Preview

Tax and Legal Playbook

Get game-changing solutions to your small business questions.
October 20, 2020 2 min read
There's a reason 50 Cent named his 2003 debut LP Get Rich or Die Tryin'. As the pandemic rages and partisan tensions flare leading up to Election Day, the rapper/actor/businessman put his hat in the ring for President Trump. In an Instagram post yesterday afternoon, the artist otherwise known as Curtis Jackson shared a screen grab from CNBC's Power Lunch showing speculative tax rates for wealthy individuals in certain states — as determined by the Washington, D.C.-based, business-friendly think tank the Tax Foundation. His accompanying caption read (among other verbiage, including a diatribe about the Knicks): "I don't care Trump doesn't like black people 62% are you out of ya fucking mind." 
Naturally, conservative pundits took to social media with an armament of monetary punchlines. Fox News, in turn, picked up on both 50 Cent's tacit presidential endorsement and the subsequent preponderance of Twitter puns. One on-air host even adopted a crude urban patois while articulating Trump campaign advisor Katrina Pierson's pithy, pinned tweet about percentages.
Undeterred by backlash to his initial remarks, 50 tipped his hat right back to Fox News, sharing the clip and reiterating, "Yeah, i don't want to be 20cent. 62% is a very, very,bad idea. i don't like it ! #abcforlife nov 18 #starzgettheapp." Though at least this time, he was sure to plug the Starz app, ensuring a captive audience might enrich him further by paying for the network's streaming service so they can access the popular dramatic series Power and Power Book II: Ghost, both of which he co-executive produces. 
Related: How Joe Biden's Tax Plan Could Affect Small-Business Owners
It's tempting to draw a parallel between 50's outburst and the ado surrounding Ice Cube's efforts to coordinate with the Trump administration on aspects of his plan to elevate Black businesses. But far more compelling and curious is the disconnect between 50's rich-man's lament and the purported ethos of the charity he co-founded, G-Unity Foundation, which advocated for investment in low-income communities. That said, the URL for G-Unity now redirects you to a clearinghouse for 50's infinite universe of for-profit branded merchandise. 
For more information on Biden's tax plan, we recommend visiting his campaign's official website.