When I worked in the software industry in my previous life, all the 'laptops' we got were bulky and boxy machines that were hard to lug around.
Asus is trying to change that with its new line of commercial laptops under the Expertbook moniker in India. The company claims that these laptops not only lightweight, but also powerful and secure.
I got to use the new Asus Experbook B9 for a couple of weeks and I'm frankly impressed — it's sleek, it packs a lot of features, and it's got excellent battery life.
Before we talk more about the device, let's take a look at its specifications. Keep in mind that, some of the specs are customizable, so you might have a different configuration than the one I tried. You can check out all the possible options here. The model below costs ₹167,771 ($2,285).
Specifications
Screen: 14-inch full HD LED screen (

1920 x 1080 resolution)

Processor: Intel Core i7-10510U 1.8GHz quad-core processor
RAM: 16GB LDDR3
Internal Storage: 512GB Dual M.2 NVMe SSD
Size (L x W x H): 20.3 cm x 32 cm x 1.49 cm
Weight: 0.995 kg
Battery: 66kWh
Power adapter: 65W USB-C adapter
Front camera: 720p camera with IR camera for Windows Hello
Mic:  Array microphone with 4-meter range and noise cancellation
Ports: 2 x Thunderbolt 3 USB-C, 1 x USB 3.1 gen-2 type-A, 1 x HDMI, 1 x 

RJ45 LAN via micro HDMI port, 1 x 3.5 mm audio jack, 1 x Kensington lock

Connectivity: WiFi 6, Bluetooth 5.0
Operating system: Windows 10 Pro
Design and features
The Expertbook B9 is designed for enterprise, so it still follows boxy design principles, but it doesn't look outdated. The body's made out of magnesium-lithium and magnesium-aluminum alloys and it'll supposedly hold up against minor falls and bumps. However, it might not last drops more than a few centimeters.
"Holy shit! It's light," is the first thing that'll go through your mind when you pick up the device. The Asus laptop weighs under a kilogram and it's amazing how the company has managed to fit in a 66 kWh battery in this machine.
Asus ships a 65W charger with the machine, and the good thing is that you can charge the laptop with either of the USB-C ports on the left side. There are plenty of small-sized chargers and power banks available now that can juice up a laptop through a USB-C port in case you don't have the official charger around.
The laptop also has a quirky number pad that's embedded right into the touchpad — and spreadsheet users might be delighted. You can enable it through by tapping the top right-hand corner. While the touchpad recognized the difference between clicks and keying in numbers, it might take a while for you to get used to it.
The Expertbook B9 packs nifty security features that would be useful in and out of the office. There's an IR-camera on the top bezel that allows you to use Windows Hello for login. There's also a hardware killswitch for the camera.
The device also has a fingerprint scanner next to the keyboard for authentication. And there's Kensington lock port so you can lock it up on your desk. Because Windows 10 and Microsoft Edge is FIDO2 compliant. You can also use your security keys with it to login to applications.
Performance and observations
The 14-inch screen is nice and bright, but as Windows 10 defaults to 150% zoom, everything seems big and grainy. You might want to shift to 125% zoom as fonts at 100% might be too small to read.
I also wish that the aspect ratio of the screen wasn't 16:9. It's nice for watching movies. But this is laptop is not meant for entertainment. I'd be more comfortable with 3:2 or even 16:10 so as to I can concentrate on the content in front of me in an easier manner.
The Intel Core i7-10510U — comet lake processor meant for power-efficient mobile usage — with 16GB RAM is sufficient for running multiple applications given they're not graphics heavy. This was never meant to be a gaming device, so don't count on taking advantage of your Steam library after work — even non-resource intensive games are sluggish on it.
The hinge placement nicely hides the bottom bezel, but if you're using the device literally on your lap, it digs into your skin and might feel a tad bit uncomfortable.
You can achieve 180-degree flex with the screen and lay the laptop flat. The only time I'd use that is when I'm lying on my bed with my knees bent and I want to keep the device on my legs. While it doesn't have tablet-like use of 360-degree flexible laptops when you might want to try out a tablet format, it's good to have flexibility so as to not break the screen at awkward angles.
The Expertbook B9 has excellent battery life, and that's important for traveling executives. While I didn't get the advertised 24 hours of real-life juice out of the device,I could easily last throughout a day of writing, watching movies, playing music and taking calls on a single charge.
The company claims that the laptop's speakers were designed by Harmon Kardon. But they're not loud enough. I couldn't listen to anything at full volume if I had a fan or air conditioner running in my room. I've never had this problem with my old MacBook Air. The 4-mic array is good enough for Zoom calls but to hear other participants, you might need to use earphones anyway.
Who's it for?
The laptop is ideal for any executive doing a lot of traveling in the post-COVID world. It's super lightweight and compact enough to fit into any of your office bags. Plus, its excellent battery life ensures that you won't have to run around the airport to find a charging point.
Asus has managed to make the Expertbook B9 into a lightweight laptop that providers security and portability instead of power. If you're someone who has to do a lot of number crunching and graphics-intenstive work through applications, you should rather keep a desktop system in your office, and use this as your on-the-go device.
The Expertbook B9 starts in India from ₹102,228 ($1,391) and it's available for purchase on Amazon, Flipkart, and Croma.
For more gear, gadget, and hardware news and reviews, follow Plugged on Twitter and Flipboard.
Published October 15, 2020 — 11:51 UTC
Adobe's new AI experiment syncs your dance moves perfectly to the beat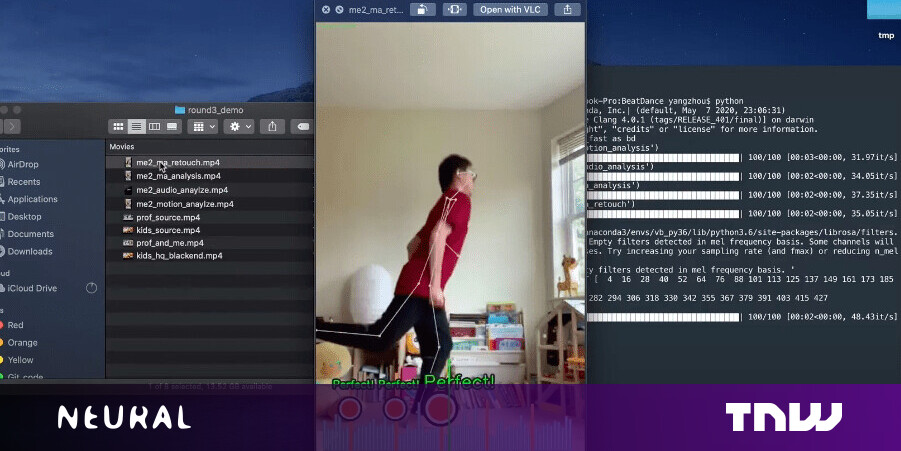 TikTok has made on-beat dances and movements mainstream. But what if you went offbeat or the video you recorded had some lag to your perfect dance moves. Adobe can fix that for you.
The company showed off an AI-powered experiment at its Adobe Max conference that syncs your off-beat movement to the beat of the music. Researchers used computer vision to follow the body movement of the person in the video. As shown below, the algorithm also analyzes dance moves through popping orange circles to determine the time of movements.
[Read: How Photoshop's new Neural Filters harness AI to generate new pixels]
The researchers also mark beats of the music track with orange lines and plot them against the orange dots to determine if dance moves are in sync with the music.
[embedded content]
Adobe uses this analysis to match beats of the song with corresponding movements to make a perfectly synced video. The company said that the algorithm can take random videos of people dancing and sync them with a track, making it look like they're dancing to the same song.
While this is just an experiment, it could be handy for creators to video editors. I wouldn't be surprised if we see such functionality making it to TikTok or Instagram Reels in a few years.
Published October 22, 2020 — 07:04 UTC
Health insurance startup Alan lets you chat with a doctor
French startup Alan is building health insurance products. And 100,000 people are now covered through Alan . I caught up with the company's co-founder and CEO Jean-Charles Samuelian-Werve so that he could give us an update on the product.
Alan has obtained its own health insurance license and is a proper insurance company. It doesn't partner with existing insurance companies. The company primarily sells its insurance product to other companies.
In France, employees are covered by both the national health care system and private insurance companies. So Alan convinces other companies to use its product for all employees.
Over the years, Alan has diversified its offering with high-end coverage, partnerships with CNP Assurances, Livi and Petit Bambou, a focus on new verticals, such as companies in the hospitality industry or retired individuals.
"We've kept shipping, and I even think that our pace has increased. We've released some exciting stuff in recent months, for our members, for companies and for us internally," Samuelian-Werve told me.
The biggest change isn't visible to the end user. The company has built a service that lets them generate a new insurance package on demand. It uses historical data to figure out pricing on the fly. And it opens up some market opportunities as big companies want a custom insurance product depending on their needs.
The biggest Alan customer is a company with 1,000 to 1,500 employees. But the startup is currently selling its product to bigger companies. The idea is that companies above 100 employees can get a custom insurance package.
For the customer, pricing remains transparent as Alan shows you how much it costs to cover your medical needs depending on what you're asking for. Alan adds a membership fee on top of that to access the platform and related services.
Alan is also introducing a new messaging feature. You can start a text discussion with a doctor whenever you have a question about your health — it's included in your insurance package. Alan doesn't want to replace your general practitioner. But having a doctor that you can text is always helpful when you're not sure what to do next.
On the other side of the screen, there are actual doctors answering your questions. "We've hired a full-time doctor and we're working with a bit under 10 doctors on a part-time basis," Samuelian-Werve told me.
Alan's app has been redesigned with a bigger emphasis on your health instead of your insurance. The company shows you all your interactions with health professionals. You can add documents and notes to consolidate information in the same place.
It sounds a bit like France's DMP, which acts as a personal repository for all your health-related documents. And Alan doesn't want to replace the public initiative. The startup would like to take advantage of the service to upload and download data at some point down the road.
If you give your consent, Alan can also proactively nudge you about your health. For instance, given your child's age, Alan can notify you when they're supposed to get vaccinated. Or if you haven't been to the dentist in a year, Alan can tell you that it's time to get a routine checkup.
Finally, the company has improved efficiency when it comes to reimbursements. "74% of reimbursements are issued within an hour. And we're using instant transfers to send money to your bank account," Samuelian-Werve told me.
As you can see, Alan is releasing incremental updates. They slowly add up and change the product. In the coming years, the company plans to offer its product in multiple European countries.
Acapela, from the founder of Dubsmash, hopes 'asynchronous meetings' can end Zoom fatigue
Acapela, a new startup co-founded by Dubsmash founder Roland Grenke, is breaking cover today in a bid to re-imagine online meetings for remote teams.
Hoping to put an end to video meeting fatigue, the product is described as an "asynchronous meeting platform," which Grenke and Acapela's other co-founder, ex-Googler Heiki Riesenkampf (who has a deep learning computer science background), believe could be the key to unlock better and more efficient collaboration. In some ways the product can be thought of as the antithesis to Zoom and Slack's real-time and attention-hogging downsides.
To launch, the Berlin-based and "remote friendly" company has raised €2.5 million in funding. The round is led by Visionaries Club with participation from various angel investors, including Christian Reber (founder of Pitch and Wunderlist) and Taavet Hinrikus (founder of TransferWise). I also understand Entrepreneur First is a backer and has assigned EF venture partner Benedict Evans to work on the problem. If you've seen the ex-Andreessen Horowitz analyst writing about a post-Zoom world lately, now you know why.
Specifically, Acapela says it will use the injection of cash to expand the core team, focusing on product, design and engineering as it continues to build out its offering.
"Our mission is to make remote teams work together more effectively by having fewer but better meetings," Grenke tells me. "With Acapela, we aim to define a new category of team collaboration that provides more structure and personality than written messages (Slack or email) and more flexibility than video conferencing (Zoom or Google Meet)".
Grenke believes some form of asynchronous meetings is the answer, where participants don't have to interact in real-time but the meeting still has an agenda, goals, a deadline and — if successfully run — actionable outcomes.
"Instead of sitting through hours of video calls on a daily basis, users can connect their calendars and select meetings they would like to discuss asynchronously," he says. "So, as an alternative to everyone being in the same call at the same time, team members contribute to conversations more flexibly over time. Like communication apps in the consumer space, Acapela allows rich media formats to be used to express your opinion with voice or video messages while integrating deeply with existing productivity tools (like GSuite, Atlassian, Asana, Trello, Notion, etc.)".
In addition, Acapela will utilise what Grenke says is the latest machine learning techniques to help automate repetitive meeting tasks as well as to summarise the contents of a meeting and any decisions taken. If made to work, that in itself could be significant.
"Initially, we are targeting high-growth tech companies which have a high willingness to try out new tools while having an increasing need for better processes as their teams grow," adds the Acapela founder. "In addition to that, they tend to have a technical global workforce across multiple time zones which makes synchronous communication much more costly. In the long run we see a great potential tapping into the space of SMEs and larger enterprises, since COVID has been a significant driver of the decentralization of work also in the more traditional industrial sectors. Those companies make up more than 90% of our European market and many of them have not switched to new communication tools yet".