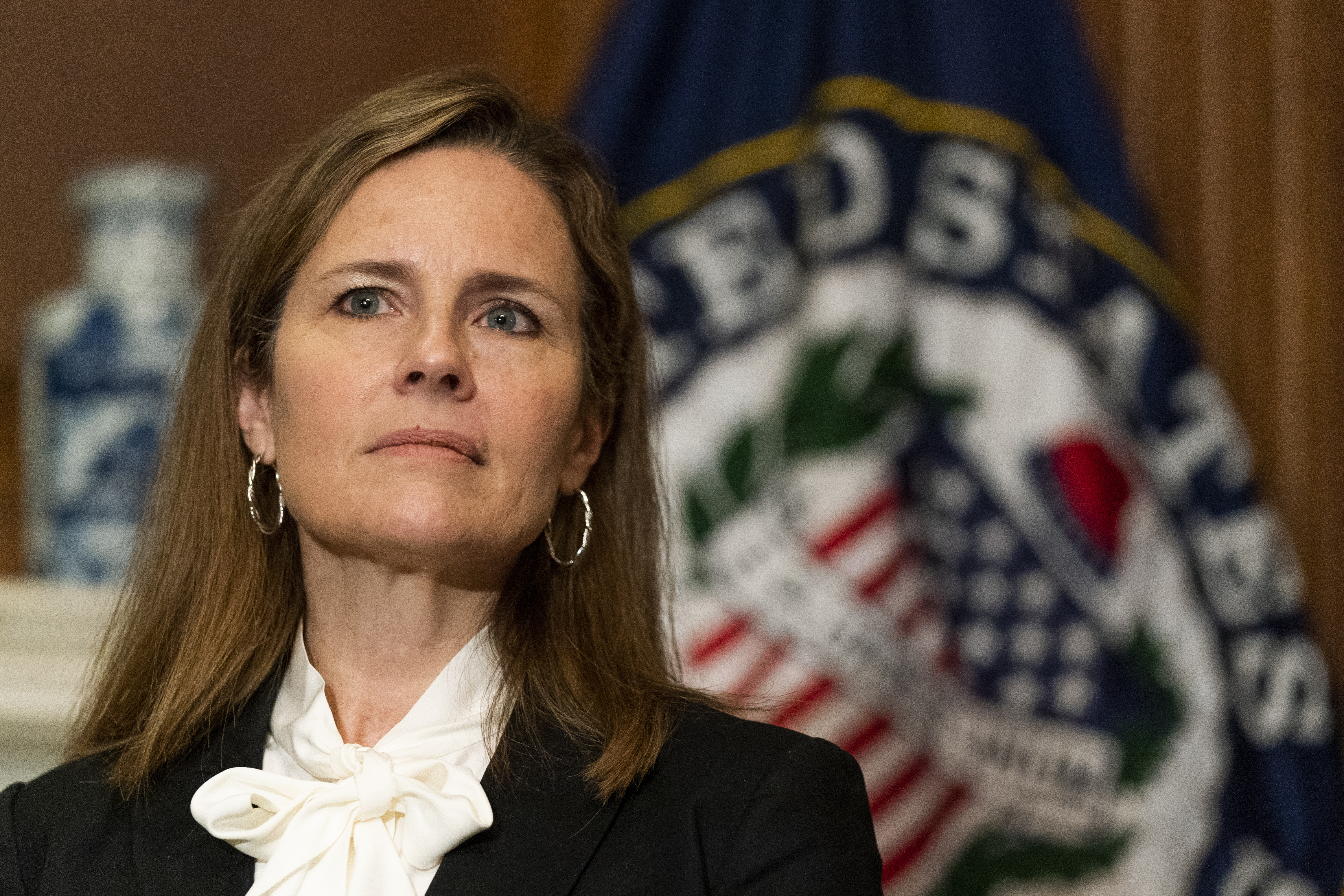 Want the best of VICE News straight to your inbox? Sign up here.
Judge Amy Coney Barrett, President Donald Trump's pick to replace Justice Ruth Bader Ginsburg on the Supreme Court, has so far avoided speaking publicly about her involvement in People of Praise, a Christian community that's faced criticism for espousing deeply traditional values about women's roles. 
Evidence continues to mount, however, that Barrett not only has belonged to the group but has strong ties to its founders and even served as a leader within it—drawing questions about how the group's beliefs could impact her rulings on the Supreme Court.  
Barrett had served as a "handmaid," a leadership position for women in the group, the Washington Post reported Tuesday. During law school, she also once lived in the home of one of People of Praise's founders, the Guardian reported just hours earlier that same day.
People of Praise, which started in the 1970s and is based in South Bend, Indiana, is technically an ecumenical group. The organization draws some of its worship practices from the Pentecostal faith, such as speaking in tongues and faith healing, but the vast majority of its members are Catholic. 
Members of the group make what are known as lifelong "covenants," a kind of vow to other members of the community and to God. They pledge to tithe at least 5% of their gross income to the group, according to the Associated Press. Members also receive an advisor who helps them navigate life decisions, including romantic and financial questions.
If Barrett—a 48-year-old mother of seven and openly Catholic—is confirmed to the Supreme Court, she will cement a 6-3 conservative majority on the bench that will likely last for years. Abortion rights supporters are particularly worried that she would help overturn Roe v. Wade, the 1973 Supreme Court decision that legalized abortion nationwide.
Barrett has repeatedly indicated that she personally opposes abortion. But she has said that judges "must apply the law as written."
"Judges are not policy makers, and they must be resolute in setting aside any policy views they might hold," she said at a September ceremony where Trump introduced her nomination.
In People of Praise, men can become "heads" while women can become "women leaders." These women were previously known as "handmaids," but People of Praise changed that in 2017, after Margaret Atwood's book "The Handmaid's Tale"—which is about a dystopian, theofascist society that subjugates women—was adapted into a TV show.
The Post obtained a copy of a 2010 directory that listed Barrett as one of three handmaids in the northwest South Bend area.
Former People of Praise members told the Post that these "women leaders" are not granted the same authority as male "heads." One person who'd been raised in People of Praise told the Washington Post that she was told to never better men in conversation, because that would "emasculate" them.
"I was made aware of the difference from a young age," the person, who spoke anonymously to avoid retaliation for loved ones, told the Post. "I was aware that it would have been better if I had been born a boy."
Ex-members also told the Associated Press last month that the group expects wives to be submissive to their husbands. One 2015 issue of People of Praise's magazine included an article based on a talk given to women in the 1980s by Jeane DeCelles, the wife of a co-founder, according to the Washington Post.
DeCelles told the women to "make it a joy for him to head you," the Post reported.
"It is important for you to verbalize your commitment to submission," she continued, adding, "Tell him what you think about things, make your input, but let him make the decisions and support them once they are made."
Sean Connolly, a People of Praise spokesperson, told the Post that the group values independent thinking and "recognizes that men and women share a fundamental equality as bearers of God's image and sons and daughters of God."
Barrett previously lived in a nine-bedroom South Bend residence owned by Kevin Ranaghan, who co-founded People of Praise, the Guardian reported. Her current husband, Jesse, a federal prosecutor who's now entered private practice, also lived in the residence at some point; Barrett has previously said that she met Jesse while she was in law school.
Dorothy Ranaghan, Kevin Ranaghan's wife, confirmed to the Guardian that Barrett had lived in the couple's home. Dorothy was also the author of a 1991 essay that emphasized the "basic differences between men and women," such as wives' roles as homemakers and criticized a Girl Scouts magazine for "overly aggressive idealization of girls and women," according to the Post. (The essay also said that a wife should be considered "a full and free human person.")
People of Praise has not confirmed that Barrett is or was a member of the group. Since 2017, when Barrett was confirmed to the U.S. Court of Appeals for the 7th Circuit, the community has repeatedly scrubbed mentions of Barrett and her family from its website records, the Associated Press reported last week. 
"Recent changes to our website were made in consultation with members and nonmembers from around the country who raised concerns about their and their families' privacy due to heightened media attention," Connolly told the Associated Press.
When the Post reached out to the White House for comment, a spokesperson called its questions offensive. The White House declined to comment to the Guardian.
Barrett has recently faced questions for once supporting a group that wants to criminalize abortion providers. She also signed onto a 2015 letter that highlighted "the significance of sexual difference and the complementarity of men and women."
Although several top members of the White House and Senate have now tested positive for the coronavirus, Senate Majority Leader Mitch McConnell has vowed to get her a vote on the Senate floor.
Nagorno-Karabakh fighting continues as second truce fails to hold
Clashes between Armenia and Azerbaijan spill into fourth week, with dozens of civilians and hundreds of soldiers killed.
Azerbaijan and Armenia engaged in heavy fighting over the disputed Nagorno-Karabakh region on Monday, with both countries ignoring a renewed truce that was meant to come into effect at the weekend.
The truce was agreed on Saturday after a similar deal brokered by Russia a week earlier failed to halt the worst fighting in the South Caucasus since the 1990s.
In both instances, Armenia and Azerbaijan accused one another of breaking the truce within hours of agreed deadlines.
On Monday, ethnic Armenian officials in Nagorno-Karabakh said Azeri forces were shelling their positions in northern and southern areas of the line of contact that divides them.
They recorded another 19 casualties among their troops, pushing the military death toll to 729 since fighting with Azeri forces erupted on September 27; 36 ethnic Armenian civilians have died.
Azerbaijan does not disclose its military casualties, but on Saturday claimed 60 Azeri civilians had so far died.
The Azeri defence ministry said Armenian forces had shelled its positions in the Garanboy, Terter and Aghdam regions of Azerbaijan overnight and said the Agjebedin region was being shelled on Monday morning.
The reports could not immediately be verified.
Azerbaijani President Ilham Aliyev accused Armenian forces of violating the truce, and said in a Twitter post there were "dead and wounded due to these heinous actions".
More than 1,000 people have been killed since fighting began on September 27, including hundreds of soldiers and dozens of civilians.
Nagorno-Karabakh is inside Azerbaijan but has been controlled by Armenia-backed troops for more than 25 years.
The failure to halt renewed fighting has raised fears of all-out war and humanitarian crisis, while the conflict puts fresh strain on ties between Turkey, which strongly backs Azerbaijan, and its Western allies in NATO.
While Turkey has called for a ceasefire, countries such as France and Germany have criticised Ankara for its fervent and vocal support of Baku in the fight.
Russia, which has a defence pact with Armenia and sells weapons to both rival countries, could also be at risk of being embroiled into a regional war.
During the night, the Armenian armed forces had subjected the #Goranboy, #Terter, and #Aghdam regions to mortar and artillery fire.
Since this morning, #Aghjabedi region has been under fire.#StopArmenianOccupation #StopArmenianTerror#ArmenianTerrorism #KarabakhisAzerbaijan

— Azerbaijan MOD (@wwwmodgovaz) October 19, 2020
The first truce brokered in Moscow earlier this month was aimed at letting the sides swap detainees and bodies of those killed in the clashes, but it had little effect on the fighting around the enclave.
The latest truce was announced after Russian Foreign Minister Sergey Lavrov talked to his Armenian and Azeri counterparts by telephone and called on sides to observe the truce that he mediated a week ago.
On morning of Oct 18, Azerbaijani armed forces launched large-scale attack on southern front. This is second ceasefire agreement that #Azerbaijan does not want or is unable to implement, at the same time manipulating intl community & first & foremost @OSCE MGCC countries. pic.twitter.com/2a7EuwhSoL

— MFA of Armenia🇦🇲 (@MFAofArmenia) October 19, 2020
Russia, France and the United States jointly chair a body called the Minsk Group, which has attempted to help resolve the conflict under the umbrella of the Organization for Security and Co-operation in Europe (OSCE).
UN chief Antonio Guterres on Sunday called on Armenia and Azerbaijan to "fully abide" by the new truce, his spokesman said.
Hybrid school might be the worst of both worlds
Hybrid learning was supposed to be an improvement.
When school buildings closed in the spring due to the pandemic, students, teachers, and families all struggled with remote classes. But come fall, the virus was still raging across much of America. So many districts — including the nation's largest, New York City — struck a compromise.
They would bring kids into buildings, but only for part of the day or week. That way, they'd reduce the number of students in schools at any one time, limiting viral spread, while still giving students crucial in-person time with their teachers and peers.
That was the idea, anyway. In practice, however, hybrid models could turn out to be the worst of both worlds, as David Zweig predicted at Wired in July.
To begin with, hybrid schedules don't really solve one of the pandemic's biggest problems for parents: the lack of child care. While having kids in school a few days a week or a few hours a day might give parents a bit more flexibility to do their jobs, "the benefits of being able to work a little less part-time and a little less erratically are not going to be anything like what you'd be getting from full-time school," Michael Madowitz, an economist at the Center for American Progress who studies the impact of child care, told Vox.
And while some parents may be able to stay home with their kids on the days they're out of school, others will need outside child care. That means kids will spend part of the week in child care centers, camps, pods, or other group arrangements — all of which increase their potential exposure to the virus, which they can then bring into their schools. "I do wonder if we are actually creating more problems through the hybrid model because now we are allowing more time for more exposures to occur," Jennifer Nuzzo, an epidemiologist at Johns Hopkins, told Vox.
Hybrid models appear to do one thing they're supposed to do: They give kids a little bit of the in-person interaction they missed out on in the spring. But some say there are better ways of achieving that goal, from outdoor classrooms to prioritizing in-person school for younger students, who often struggle the most with remote learning.
Education during the pandemic is an incredibly difficult problem — "people are trying really, really hard to solve this," Madowitz noted. But it may be a case where the compromise solution is far from the best one.
Hybrid models are supposed to limit the spread of Covid-19. Experts worry they might do the opposite.
American schools began weighing the idea of hybrid instruction in the late spring and early summer, when it became clear that Covid-19 would be far from gone at the start of the fall semester. Ultimately, about 12 percent of districts around the country were planning on a hybrid start as of late August, according to a survey by the Center on Reinventing Public Education. That percentage amounts to thousands of schools nationwide — New York City alone has over 1,800, serving more than 1.1 million students.
Hybrid models vary in their execution — some have students coming in only a few days per week, while others split students into morning and afternoon groups. But however they work, the idea is roughly the same: A hybrid schedule reduces the number of kids in each classroom at once to better allow for social distancing. It may also reduce the number of people each student interacts with in-person, since students often stay with cohorts that are smaller than their normal classes. And many districts are setting aside time in their hybrid schedules to deep-clean schools, although some have begun to raise questions about how much surface cleaning really matters when it comes to reducing viral spread, Nuzzo noted.
Beyond questions about the efficacy of cleaning, there are a couple of potential problems with hybrid schedules. For one thing, hybrid education doesn't necessarily reduce the number of students each teacher has contact with, since they may teach multiple cohorts. That's concerning because adults are at much greater risk of serious illness or death from the virus than children are. "Really, who we're concerned about most in terms of reducing risk in a school environment is the teacher," Nuzzo said.
Then there's the question of what happens during the days or hours when students are remote. While some parents are caring for children at home during that time, others are enrolling kids in camps or child care centers — some of which are adapting to care for more school-aged kids. Still other families are bringing kids together in informal groups sometimes called "pods" to share child care responsibilities. Finally, older children may be getting together with friends without adult supervision.
Overall, if kids "are in some other care environment where they are now exposed to another group of people, then we may have effectively increased the number of people all having contact with each other over the course of a week," Nuzzo said.
That, in turn, increases the likelihood that a student could bring Covid into school and infect others. A number of epidemiologists have raised this concern in recent months. For example, William Hanage, a professor of epidemiology at the Harvard T.H. Chan School of Public Health, wrote in an August op-ed in the Washington Post that "hybrid school plans make it easier for the virus to transmit into schools, simply by producing more links between schools and families along which the virus can travel."
So far, there's little comprehensive data on Covid-19 and schools in the US, let alone on hybrid models, but some data does show troubling hints. For example, the Covid-19 Schools Response Dashboard, which pulls together case counts and other data from a selection of schools around the country, found that, as of September 22, staff infection rates were actually higher at schools using hybrid learning than at schools with fully in-person instruction. There could be reasons for this beyond the model itself — for example, dashboard co-creator Emily Oster told Vox that schools might be more likely to use a hybrid schedule if Covid-19 transmission rates in the area are already high.
Still, there's little evidence in the data so far that hybrid schedules make schools safer, and according to experts, there's a lot of cause for concern.
With kids home for much of the week, parents still face child care struggles
The other, related problem of hybrid models is one of child care. In the spring, the closure of schools and day care centers caused a crisis for working parents around the country. The problem was most severe for women, who still shoulder the majority of caregiving responsibilities.
Women also lost a majority of the millions of jobs shed by the American economy early in the pandemic, and many economists feared that without a solution to the child care problem, even more women would be pushed out of the workforce. Mothers, especially those who are primary breadwinners, faced the prospect of "having to choose between making a living and taking care of their families," Nicole Mason, president of the Institute for Women's Policy Research, told Vox this summer.
Some economists — and families — looked to fall as a possible respite, when a resumption of school would allow moms to get back to work. That didn't happen. Instead, many districts started the fall either in hybrid mode or fully remote.
Hybrid models may have provided some parents with a bit of a break — as Madowitz put it, "for a lot of parents, anything is better than nothing." But for many others, a few days of child care and supervision isn't that much better than no child care at all.
That may be especially true for parents in low-wage service jobs who don't have a lot of control over their schedules. Hybrid models may also pose a particular problem for families that rely on grandparents or other older relatives for child care, Madowitz said, since the virus exposure of a partial week at school could put those relatives at risk. Indeed, more than half of New York City families have chosen all-remote rather than hybrid learning this fall, with some citing older family members as the reason.
With millions of kids still at home for at least part of the week, then, millions of parents — a majority of them moms — haven't been able to return to their normal working hours. Instead of rebounding with the return of school, women's employment plummeted this fall, with 865,000 women dropping out of the labor force in September, compared with just 216,000 men.
And while hybrid learning may be helping some parents get a bit more work in, "when you look at what's been going on with jobs, its really hard to believe you're gonna get this huge pop" in women's employment from hybrid schooling alone, Madowitz said.
Not to mention, any child care break that parents get from hybrid schooling may be short-lived if schools have to return to remote instruction due to rising Covid-19 cases in the area. That's already happened at more than 100 schools in New York City, which closed earlier this month due to growing clusters of the virus in Brooklyn and Queens. And New York City Mayor Bill de Blasio has said that the entire school system will close if the city reaches 3 percent test positivity over a seven-day period. That means any parents who have been banking on school to facilitate their work schedules will have to scramble for another solution — or quit.
When it comes to women's employment in particular, "I'm just deeply scared," Madowitz said.
Hybrid models may benefit students, but there may be more creative solutions that would work better
The biggest benefits of hybrid models are likely educational. "At least in the hybrid education models, the students are getting some real-time, in-person instruction," as well as interaction with peers, which is important for social and emotional development, Emiliana Vegas, co-director of the Center for Universal Education at the Brookings Institution, told Vox.
"We know that students really thrive when they learn to collaborate," she explained. "That's really much harder to do in a remote setting, particularly for the younger children."
While there's little data so far on the effectiveness of hybrid models, there is data showing significant learning losses during all-remote school this spring, concentrated among low-income and Black and Latinx students. Experts hope that having at least some in-person time will mitigate these losses, Vegas said.
And some families have seen the benefits for their kids. Amy, a New Jersey mom who asked that her last name not be used, told Vox that remote school in the spring for her two sons, then 8 and 3, was "like a nightmare." But with both boys in school on a hybrid model now, "this fall has been a lot better."
Amy's younger son, who has an autism spectrum diagnosis, "really needs the in-person guidance" and is getting occupational therapy and speech therapy during his four days at school. With him out of the house, it's also a bit easier for his older brother to focus on remote school. He's at home three days a week and in school for two, and though he was recently diagnosed with a visual processing disorder that can make Zoom lessons challenging, overall "things are pretty good if you're looking at pandemic parameters," Amy said.
While families like Amy's are benefiting from hybrid schedules, in some districts the model doesn't actually guarantee much in-person instruction. For example, Nuzzo said that one plan floated by her child's district would have students come into classrooms for online lessons. "I'm not sure that that's worth the hassle of leaving the house," she said. "I don't want him to be on a screen anymore if he's going to be in a school building."
And some fear that the educational benefits of a hybrid model could be negated by the sheer logistical challenges of bringing students into schools in the midst of a pandemic. New York City, for example, has been forced to put all its energy into health and safety, leaving little time to help teachers with the challenges of hybrid education, Tom Liam Lynch, editor-in-chief of the website InsideSchools, and a parent of a New York City sixth grader, told Vox.
Starting in the summer, parent concerns about actual pedagogy have gone unheard, Lynch said: "Parents are asking for the plan for high-quality instruction, and the city's saying we have sanitizer." Now it's October, and there's still "no leadership in terms of what constitutes high-quality learning and teaching," he said.
Given these and other concerns, some are pushing for different solutions to the problems of pandemic education. For example, a lot of districts chose hybrid models because it was the only way to allow for social distancing within their school buildings, Nuzzo said. But districts could use outdoor space or temporary structures to make room for more kids. Alternatively, younger children could be brought back first, freeing up larger high-school buildings to host elementary-school classes.
Overall, there's been a lack of creativity around physical space when it comes to schools, Nuzzo argues: "Think about places that were able to create hospitals and have tents and things like that, and yet we haven't applied that level of thinking with respect to schools."
There's also the potential for rethinking what school buildings are for. In New York City, a lot of the conversation around reopening schools (and closing them in the first place) has been around the crucial social services schools provide, from child care to meals for food-insecure students. Instead of trying to reopen schools on a hybrid model, the district could have focused on delivering those face-to-face services while keeping instruction remote, Lynch said.
Such a solution "would have freed up building principals to be able to very creatively use millions of square footage of New York City school building space for tons of non-academic services," Lynch said. "You could have child care at your local school in some form; you could have access to guidance, to meals, to a nurse; you could have even informal clubs and other kinds of activities that students could come in for."
But so far, such a solution isn't on the table in New York City. And overall, in a time when policymakers are faced with many competing priorities, schools can often feel like an afterthought.
"I am very frustrated about governments that have made faster decisions to reopen restaurants and bars and movie theaters and public gatherings well in advance of opening schools," Nuzzo said. "It just feels like very short-term thinking."
---
Will you help keep Vox free for all?
The United States is in the middle of one of the most consequential presidential elections of our lifetimes. It's essential that all Americans are able to access clear, concise information on what the outcome of the election could mean for their lives, and the lives of their families and communities. That is our mission at Vox. But our distinctive brand of explanatory journalism takes resources. Even when the economy and the news advertising market recovers, your support will be a critical part of sustaining our resource-intensive work. If you have already contributed, thank you. If you haven't, please consider helping everyone understand this presidential election: Contribute today from as little as $3.
Pakistan lifts ban on TikTok after app vows to moderate content
Regulatory body PTA says video-sharing app provided assurances it will block accounts spreading obscenity and immorality.
Authorities in Pakistan have announced the lifting of a ban on TikTok, saying they received assurances from the video-sharing app that it would "moderate" content in accordance with local laws.
"TikTok is being unlocked after assurance from management that they will block all accounts repeatedly involved in spreading obscenity
and immorality," the Pakistan Telecommunication Authority (PTA) said in a statement on Monday.
TikTok is being unlocked after assurance from management that they will block all accounts repeatedly involved in spreading obscenity and immorality.
TikTok will moderate the account in accordance with local laws.

— PTA (@PTAofficialpk) October 19, 2020
Earlier this month, the regulatory body said it had blocked the popular app after receiving complaints of vulgarity from members of the public.
In a statement published on Saturday, TikTok said it was "disappointed" that users in Pakistan were unable to access its service.
"Over the past year, we've made concerted efforts to address questions from the Government of Pakistan around our content moderation process, including significantly increasing the capacity of our local language content moderation team," TikTok said in a statement.
The company said that even after the ban, it continued to "engage with the PTA to demonstrate our commitment to comply with local laws".
"Though the PTA acknowledged and appreciated these efforts, our services remain blocked in the country and we have received no communication from PTA," the statement added.
History of censorship
The move against TikTok came months after livestreaming app Bigo Live was banned for the same reasons, while dating app Tinder has also been blocked in recent months.
In August, authorities warned YouTube to block "vulgarity and hate speech". The online video platform introduced a localised version in Pakistan after a ban that lasted for several months in 2012 following protests against a movie deemed insulting to Prophet Muhammad.
In 2016, Pakistan's parliament passed the Prevention of Electronic Crimes Act to regulate, among other things, online content.
It gave the PTA broad powers to block content considered to be against "the glory of Islam or the integrity, security or defence of Pakistan or … public order, decency or morality".
Rights groups said PTA had blocked more than 800,000 websites and platforms from being accessed within the country.
The list of blocked websites includes pornographic platforms but has also included news outlets considered critical of the country's security and foreign policies, some social media and some websites of political parties.