Amy Coney Barrett 'Not Aware' the Group She Spoke For 5 Times Tried to Criminalize Homosexuality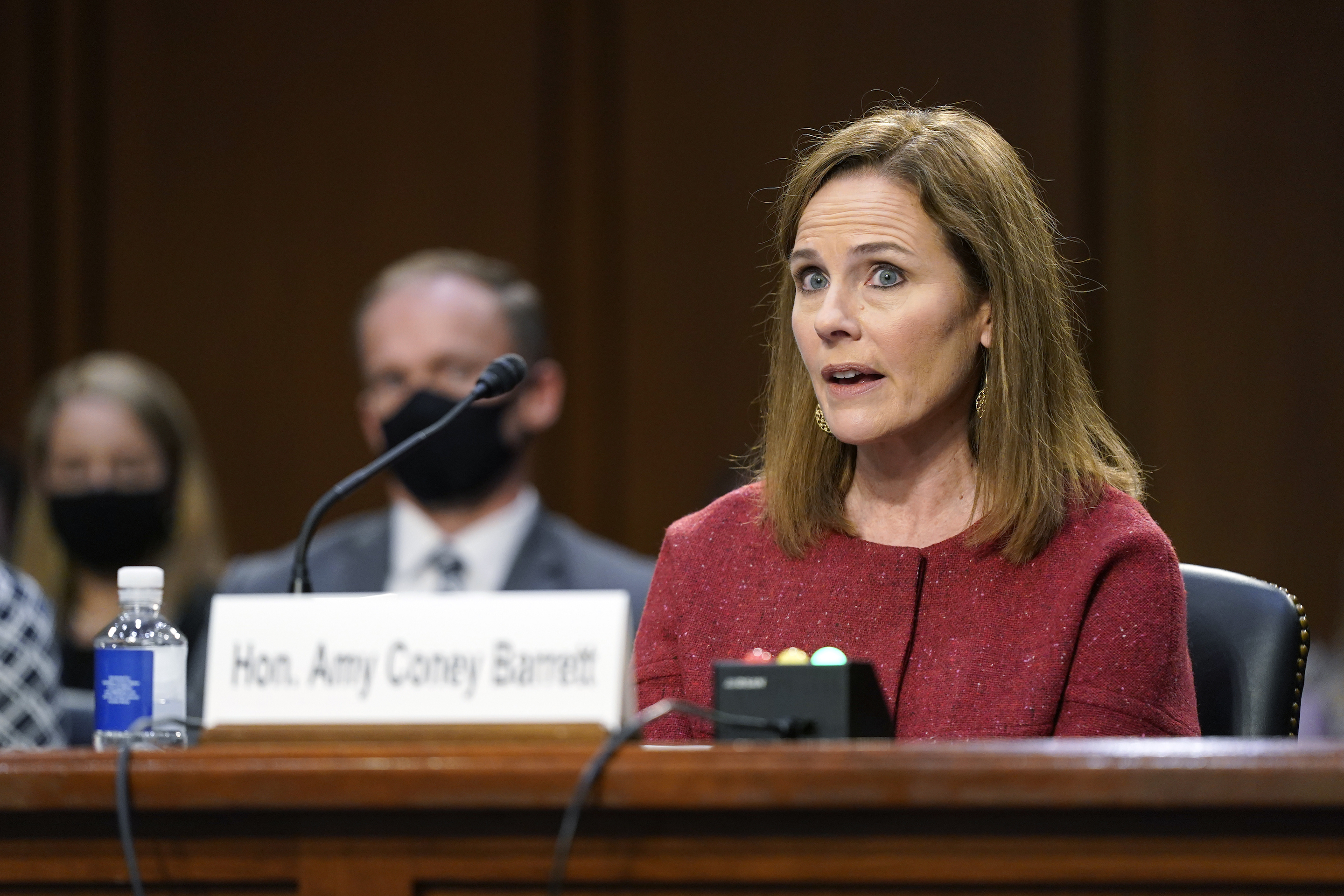 Amy Coney Barrett said during her confirmation hearing Tuesday that she wasn't aware that the Alliance Defending Freedom, a conservative Christian group that runs a program where she's repeatedly lectured, is vehemently opposed to LGTBQ people.
"Were you aware of the ADF's decades-long efforts to recriminalize homosexuality?" Vermont Sen. Patrick Leahy asked Barrett, President Donald Trump's Supreme Court pick, during questioning in the Senate Judiciary Committee.
"I am not aware of those efforts, no," Barrett replied.
The Southern Poverty Law Center (SPLC) defines Alliance Defending Freedom (ADF), one of the most powerful conservative legal advocacy groups in the United States, as an anti-LGTBQ hate group. In 2003, the ADF filed a brief in the Supreme Court case Lawrence v. Texas that supported keeping sodomy criminalized. Over the years, the group has also defended the state-sanctioned sterilization of trans people in other countries, called "the homosexual legal agenda" a threat to religious freedom and an attack on mortality, according to the SPLC. Its associated officials have linked homosexuality to pedophilia, the SPLC reported.
The ADF's former president also once compared a media campaign by LGTBQ activists to "a war of propaganda, just as Hitler did so masterfully in Nazi Germany," as the SPLC quoted him.
Since 2011, Barrett has spoken five times to students at ADF's Blackstone Legal Fellowship Program, according to disclosure forms that Barrett filed to the Senate Judiciary Committee. She spoke to the program most recently in 2016, before she was confirmed to the U.S. Court of Appeals for the 7th Circuit in 2017.
"Whether you believe that being gay is right or wrong is irrelevant to me, but my concern is when you work with an organization working to criminalize people for loving a person that they are in love with, so that's what worried me," Leahy said.
"My experience with the Blackstone program at which I spoke was a wonderful one," Barrett replied. "It gathers the best and brightest Christian law students from around the country, and as you said, I gave a one-hour lecture on originalism. I didn't read all of the material that the students were given to read."
"Nothing about any of my interactions with anyone involved in the Blackstone program were ever indicative of any kind of discrimination on the basis of anything," she added.
Later on in the day, during questioning from Missouri Republican Sen. Josh Hawley, Barrett said, "I certainly didn't think there was anything wrong with going to speak with a group of Christian law students about my expertise."
When Leahy asked Barrett if she supported same-sex marriage, she demurred, pointing out that prospective justices frequently try to avoid commenting on future cases that could come before them.
"It's precedent of the Supreme Court that gives same-sex couples the right to marry," she said.
Earlier in the day, California Democratic Sen. Dianne Feinstein asked Barrett, "Do you agree with this particular point of Justice Scalia's view that the U.S. Constitution does not afford gay people the fundamental right to marry?"
Although Barrett has said that she shares the late Justice Antonin Scalia's judicial philosophy of originalism, she stressed that she would not simply regurgitate his views. But she didn't give a specific answer.
"I'm sorry to not be able to embrace or disavow Justice Scalia's position, but I really can't do that on any point of law," Barrett said. She then added that she has never discriminated on the basis of "sexual preference."
That phrase set off alarm bells among LGTBQ rights supporters, who said that that language—unlike the more commonly used term "sexual orientation"—implies that someone's sexuality is a preference that can change.
Barrett has previously been questioned about her ties to ADF, during her 2017 confirmation hearing for her 7th Circuit seat. At the time, Barrett also pleaded ignorance about the ADF's opposition to LGTBQ rights.
"I'm invited to give a lot of talks as a law professor, and it is not—I don't know what all of ADF's policy positions are," Barrett told then-Minnesota Democratic Sen. Al Franken. "It has never been my practice to investigate all of the policy positions of a group that invites me to speak."
How should we talk about suicide?
It has been three years since I got the call about my brother; my 49-year-old, funny, sentimental, handsome, troubled younger brother.
It is a call no one can prepare for and one that is accompanied by a tsunami of confusion, anger, disbelief and unimaginable despair.
My brother's suicide was a tragedy on many levels and, like most people who have endured this kind of loss, I was overwhelmed by contradictory emotions when I was told he was gone. How could he do this to our parents, to his kids, to our family, to me? Then, mixed up with my fury, came the guilt. Why didn't I answer the phone when he rang that day? Why didn't I tell him I loved him?
My brother grew up in a loving middle-class family with summers at the lake and friends all around. He was a talented athlete and a professional ice hockey player. He had lived in Canada and Europe, run a successful golf business, had a beautiful wife and two wonderful children.
Despite all this, he struggled with demons none of us who loved him could understand. He slipped into drug and alcohol abuse, lost his family and landed in a toxic relationship he knew was destructive.
Ultimately, ending the life he found unbearable became a more powerful option than learning how to fight for the life he deserved.
When my brother died I was thrown into a cycle familiar to many people who have lost someone in this way. I was tortured by ruminative thoughts; conversations with myself that went around and around in my head. If only I could go back, change that one thing, unsay those words, make it different. If only I could reverse time. But I can't. Time only goes forward and no matter how many circular scenarios plague my imagination, I can't change what happened; I can't reverse time and that is hard to accept.
'We can't ask people to see the world through our eyes'
One of the strangest ironies of the situation I found myself in three years ago was the fact that when my brother died I was making a documentary about suicide. As a filmmaker I had often worked on projects that were close to my heart but never before had my life and my art so tangibly collided. Oddly, despite a brief moment when I considered walking away from the project, this bizarre twist of fate came to be a blessing. While working on the film I was exposed to people who knew what I was going through and could help me survive the emotional rollercoaster I was riding.
From them, I learned that while my initial reaction to my brother's death was to judge him as selfish, it is likely that in his mind the opposite was true. It is possible that for a brief, misguided moment, he believed his fatal decision would release our family from the strain of supporting him – that he was a burden and that, by exiting from our lives, he would be doing us a favour.
He was wrong of course, but when people are as distressed as my brother was they do not see the world the way we do, and this too is a lesson. We cannot apply the logic of our lives to the chaos in theirs. My brother was in pain; his suffering was impossible for me to understand because I haven't experienced suffering like it. His pain was his own and asking him to think or feel the way I did was a mistake because my life experience had little in common with his. So, when I tried to reassure him that everything would be fine if he "just" did X or "just" said Y, I wasn't acknowledging his reality – things weren't fine and my saying they would be didn't change that for him. We can't ask people to see the world through our eyes, we can only try to help them see past the darkness blocking their view.
'I couldn't fix my brother'
I don't want to imply that my brother bore no responsibility for the circumstances he found himself in. He made numerous bad choices, wasted many opportunities and often didn't take advantage of the help that was offered to him. Both my parents exhausted themselves emotionally and financially trying to "sort him out". There were endless discussions about tough love, enabling, interventions and what he "really" needed. None of us had an answer and I now feel that too many of these conversations were had without him in the room.
Added to this is the compassion fatigue I and others faced when dealing with my brother and his "issues". He tended to reach out when he was in crisis and there were many late-night, early morning or simply ill-timed phone calls that went on for hours. Drunken, stoned, sometimes desperate calls I had to steel myself for; calls that exasperated and exhausted me – calls I came to avoid, including the one I didn't answer the day he died.
Would answering my phone have helped? I will never know for sure and there-in lies one of the internal circular dialogues I still navigate. But what I now understand is I couldn't have saved him, because we can't save people – we can only be there to help them save themselves. This might sound trite, but it is a truism that is difficult for someone like me. I like to fix things and I couldn't fix my brother.
Unlike many people who take their own lives, my brother had never attempted suicide before. He left no note to help us understand his state of mind nor did he leave me a message that day. He had been struggling with addiction issues and depression for a significant period of time and while he had been in and out of rehab in the months leading up to his death, I thought he was doing ok. I did know, however, that his connection to hope was tenuous and, in a pattern I had become accustomed to, his slide into despair was rapid; in this case too rapid for me to respond.
The debate about what should and shouldn't be said about suicide goes on. There is reticence when talking about it as we fear triggering the vulnerable. Although I accept there is risk in everything we do, I would argue the silence that shrouds this topic makes it more difficult for those of us left behind. And there are so very many of us left behind. It seems that any time I mention my brother's death, the person I am talking to has a story of their own. The parent they lost, the sibling, the child, the friend, the lover. It is ubiquitous and the often-whispered tones that relate melancholy stories illustrate to me the shame that taints the subject of suicide and those of us touched by it. We are admitting failure; my love wasn't enough to keep my brother alive.
I felt this failing most keenly when I finished my documentary. I had buried my grief beneath its making, convincing myself that there was a reason I was doing this thing at this time, and there was. But when it was done and my brother's name appeared in honorarium as the final credits rolled – I fell apart. I had made a film that addressed the issues that had, in part, led to my brother's death, it was meant to mean something – but he was still dead.
'I will always wonder'
For my parents, the weight of losing my brother was to prove overwhelming. My 78-year-old father's health collapsed almost immediately and he died six weeks later, I believe, from a broken heart. My mother, who had been a young 75, not long retired and physically formidable, aged exponentially and has subsequently struggled to recover. The only glimmer of light in what was a dark time was the way this long-divorced couple came together in their grief.
I wish I could say that in the three years since my brother's passing I have had an epiphany of some kind or that I have deep effectual insights to share with others who inhabit a similar space; but I haven't and I don't. There are still days when I'm consumed by sadness and I find it difficult to explain the hollowness I feel inside to those close to me. I am fundamentally an optimistic person, but at times it is hard to maintain that outlook and we do the truth a disservice by pretending it is not. Helping people deal with mental illness is crucial if we want to stem the rising numbers of those choosing to take their own lives. We also need to ensure when the outcome is not what we would have wanted that the grief-stricken find the understanding and support they need, too. Once suicide has permeated our psyche it is with us forever. I have found a way to live with the hole in my heart but the hole will always be there. I will never stop loving my brother and I will always wonder what he rang to say that terrible day.
The one thing I feel certain about is that we are failing to find a way to discuss suicide in a manner that protects those at risk while freeing those impacted. I am not sure what the answer to this problem is but we need to keep looking for it or we condemn millions of families, lovers and friends to lonely bewilderment and endless anguish. For now, all I can do is remind myself that my brother's life wasn't just about his ending and there are wonderful memories to be cherished alongside the ones I need to let go.
Turkey extends exploration in disputed East Med again
Ankara announces extension of survey work in the region until November 4, in a move likely to create uproar in Greece.
Turkey says it is extending seismic exploration by its vessels in a disputed area of the Eastern Mediterranean until November 4, a step that is set to fuel tensions in the region.
NATO members Turkey and Greece have been locked in a dispute over the extent of their continental shelves and conflicting claims to hydrocarbon resources in the East Med.
The dispute erupted in August when Turkey first sent the ship Oruc Reis into waters also claimed by Greece and Cyprus.
Along with two other ships, the Ataman and Cengiz Han, Oruc Reis will continue work in an area south of the Greek island of Rhodes until November 4, a Turkish naval maritime notice said late on Saturday.
A previous notice scheduled survey work in the area until October 27.
EU states slam Turkey
Ankara withdrew Oruc Reis last month to allow for diplomacy before an October 2 European Union summit where Cyprus sought sanctions against Turkey.
After the summit, the bloc said it would punish Turkey if it continued its operations in the region, a move Ankara said further strained Turkey-EU ties.
Turkey sent the vessel out again on October 12, prompting an angry response from Greece, France and Germany. Turkey has extended the duration of the vessels' exploration multiple times since then.
Athens says Ankara is breaking international law by prospecting in Greek waters and has been urging the EU to reconsider its customs union with Turkey in response to Ankara's exploration in the Mediterranean, deploring what it termed Turkey's "imperial fantasies".
Concerns remain high around a potential military conflict between Greece and Turkey. Both have been carrying out manoeuvres in the region with frigates and fighter jets.
Turkey insists it is within its rights in the energy-rich Mediterranean region, saying not all Greeks islands are large enough to count when it comes to delineating the extent of Greek sovereignty.
Palestinian teen dies after being beaten by Israeli soldiers
Director of medical centre says Snobar died of neck injuries sustained while being beaten by Israeli forces.
A Palestinian teenager has died of his injuries after being beaten by Israeli forces near the town of Turmus-Ayya northeast of Ramallah, according to several Palestinian news outlets.
Ahmed al-Bitawi, director of the Palestine Medical Complex, confirmed to Palestinian news outlets on Sunday morning that Amer Abedalrahim Snobar died as a result of injuries sustained from an attack by Israeli forces.
"There were visible signs of beatings on Snobar's neck," Bitawi said.
The medical centre reported that the injuries to Snobar's neck were consistent with being beaten with the butts of Israeli soldiers' rifles.
Snobar hailed from the village of Yatma, south of the occupied West Bank city of Nablus.
Breaking | A Palestinian teenager was killed early today morning after he was severely beaten by Israeli occupation soldiers near the village of Turmus-Ayya, to the northeast of Ramallah in the occupied West Bank. He was identified as Amer Abdulrahman Snobar, 18. pic.twitter.com/7sIj7qxdUj

— Quds News Network (@Qudsn_en) October 25, 2020
It has been reported that the Israeli soldiers chased the car Snobar was driving before beating him severely.
Members of a medical NGO team told local Palestinian news outlets they tried to perform cardiac resuscitation on Snobar before transferring him to the medical centre.
Israel's army said troops responded to an incident north of Ramallah after rocks were hurled at an army vehicle.
Troops "in the area were dispatched to the scene and searched the area for assailants" the army statement said.
"Initial details suggest that upon the arrival of the troops… the two suspects tried to escape by foot," it said. "While fleeing, one of the suspects apparently lost consciousness, collapsed and hit his head. The suspect was not beaten by IDF troops."
In a statement, the leftist Popular Front for the Liberation of Palestine (PFLP) said Snobar's murder will be a "curse that will continue to haunt Arab traitors" – in reference to the recent normalisation deals by the United Arab Emirates, Bahrain, and Sudan.
"The response to this heinous crime is to withdraw the recognition of the Zionist entity and all agreements that resulted from it, and the formation of a unified national leadership capable of leading popular resistance against the Zionist occupation," the statement said.