Authorities have clamped down on the rights to freedom of expression and peaceful assembly, according to Amnesty.
Tanzanian President John Magufuli's government has built up a formidable arsenal of laws to stifle all forms of dissent ahead of this month's elections, rights group Amnesty International said in a new report on Monday.
Authorities have effectively clamped down on the rights to freedom of expression and peaceful assembly, according to the report.
Security forces have arrested opposition candidates on bogus charges, stripping them of their right to freedom of assembly, association and movement in recent months, amnesty claimed.
"Tanzania has weaponised the law to the point that no one really knows when they are on the right or wrong side of it," Deprose Muchena, Amnesty International's director for East and Southern Africa, said.
"Politicians have been arrested for holding or attending meetings, media houses suspended and banned, online activism criminalised, and NGOs stifled with endless regulations," Muchena added.
The East African country is heading to the polls on October 28. President Magufuli is seeking a second five-year term and is being challenged by 14 other candidates.
Earlier this month, authorities suspended the election campaign of leading opposition candidate Tundu Lissu for seven days over accusations of inciting violence in the run-up to the vote.
The National Electoral Commission said the decision was taken by its ethics committee after it received two complaints from the ruling party and another party about the language Lissu had used on the campaign trail.
Lissu said the ban was "unacceptable", calling the decision "another proof of a discredited electoral commission and a compromised electoral system".
Lissu returned to Tanzania in July from Belgium where he had gone for treatment three years ago after being shot 16 times in an assassination attempt in September 2017.
In June, nine opposition politicians were arrested for allegedly holding an illegal assembly.
The same month, the operating license of opposition-leaning newspaper Tanzania Daima was revoked after it was accused of violating laws against spreading false information.
"President Magufuli must urgently reverse the decline in political and civil freedoms in Tanzania and ensure human rights defenders, activists and civil society organizations can carry out their work freely and independently without any fear of reprisals," Amnesty's Muchena said.
Seychelles votes to elect president, parliament
Voters go to polls amid economic downturn as restrictions on global travel bottom out the tourism industry.
Voters in Seychelles are casting their ballot on the main day of the presidential and parliamentary elections spanning three days.
On Saturday, polling stations opened at 7am local time (03:00 GMT) on Mahe, Praslin and La Digue, the three main islands of Seychelles, which are home to the majority of its 74,600 voters, with the rest living on the further-flung territory of the Indian Ocean nation.
Voting took place on Thursday and Friday on a few dozen of these outer islands, mainly for employees of hotels or the island management authority, who attended pop-up polling stations with election material carried by plane or boat.
Some on the main islands' deemed essential workers, such as hospital and nursing staff, also voted on Thursday.
The opposition, narrowly defeated in the 2015 presidential election and buoyed by a landmark victory in a parliamentary poll a year later, is hoping for its first presidential win in the 40 years since the independence of Seychelles.
It is up against the incumbent Danny Faure, 58, who is running under the recently renamed United Seychelles governing party which has been in power since 1977.
The main opposition parties did not manage to unite and Faure – who was not elected but took over after his predecessor James Michel resigned – faces two challengers.
His main rival is the Anglican priest Wavel Ramkalawan, who is taking his sixth shot at the presidency and lost by only 193 votes to Michel in an unprecedented second round of voting in 2015.
He is the candidate of the Linyon Democratik Seselwa (Seychelles Democratic Alliance) opposition party, the majority party in parliament after winning 19 of 34 seats in the last election.
The other candidate is Alain St Ange, who was in the opposition before joining the government as tourism minister from 2012 to 2016, but switched back and is now running under the flag of a new party, One Seychelles.
Economic downturn
The campaign took place mainly over social media, with rallies banned due to the coronavirus which has battered the Seychellois economy.
Seychelles has recorded only 149 cases, mostly imported, but the pandemic has been a burning campaign issue as restrictions on global travel bottom out the tourism industry – a major earner for Seychelles and employer for many of its 98,000 people.
Visitor numbers have collapsed since March in the archipelago nation of 115 islands, normally a popular destination for honeymooners and paradise-seekers wanting fine sandy beaches and turquoise waters.
The economy has slowed significantly since the start of the pandemic and unemployment has risen from 4.8 to 6.3 percent, according to government figures.
While its average income is among the highest in Africa, the national statistics agency says about 40 percent of citizens live in poverty because of the high cost of living.
Palm oil peril: Is your peanut butter putting primates at risk?
It is tricky to know what we as individuals can do to best help in beleaguered environmental times. We might switch off the lights more often or consider our fashion sources, but it can feel like a meagre and perhaps pointless contribution, wrong though that may be.
Food brings it home. If you sit at the dining table and think of the direct link between that bit of toast slathered in peanut butter, and an endangered species pushed to the brink by deforestation, all becomes a little clearer. This is no anti-spread diatribe but a call to arms to carefully consider what we eat.
The connection is palm oil and it ain't a pretty picture. Palm oil is in a whole load of products from Oreos to shampoo, lipstick to ice cream, cookies to – yes – peanut butter.
We cook in it, bathe in it, and even brush our teeth in it. Experts say it is found in 50 percent of products on our grocery shelves.
The lone ape
But palm oil production has destroyed huge swaths of virgin rainforest, especially in Indonesia. Meanwhile, species, like the orangutan, are pushed to the brink of extinction.
There was a sobering sequence in the latest film by the British naturalist David Attenborough where a lone orangutan is seen clinging to a single branchless trunk amid an endless battlefield of fallen trees. The trees were felled for palm oil production.
Acrobats of the jungle
Of course, it is not just flagship species like the orangutan under threat. Here is a shout out for the singing, swinging ape, the brilliant acrobat of the trees, the animal we think of when we picture primates swinging gracefully through the canopy – the good old gibbon.
When gibbons walk, either on branches or on the ground, they often do so on two feet. Being the most bipedal of all non-human primates, they are regularly studied for clues about the process of evolution that led to us walking.
And yes, they sing with extraordinary vocal tones apparently ranging, as one anthropologist put it, from haunting Japanese flute to blaring police siren.
But gibbons are in deep trouble. They are among the most threatened primates on Earth. And like the orangutan and myriad other rainforest species in Southeast Asia, this is primarily because of palm oil.
According to the Gibbon Conservation Alliance, the endangered Silvery gibbon, which is only found on the island of Java in Indonesia, has lost 98 percent of its habitat.
In Borneo, habitat loss has been dramatic too: Huge swaths of trees burned to the ground to make way for palm oil plantations.
"The fires which ravaged Borneo in 2015 resulted in significant loss of forest," said Dr Susan Cheyne of the Borneo Nature Foundation (BNF). "We estimate around 15 percent was lost and bear in mind only 50 percent of the whole island of Borneo remains forested."
BNF works to reforest degraded areas damaged by fire to help restore habitats for gibbons and other animals. It is also an advocate of deforestation-free palm oil – sustainable palm oil which is grown without causing more deforestation.
Dr Cheyne said the market for palm oil is vast. "Consumers need to be more aware about what they are buying but food companies need to work to provide clear information to consumers about what is in their products."
'There's a Rang-Tan in my bedroom'
This video below, that went viral in 2018, puts it better than any words can. It is an emotive advertisement from a Greenpeace campaign featuring a homeless orangutan.
Watch and consider the peanut butter options.
[embedded content]
Your environment round-up
1. Delayed Arctic freezing: Scientists are concerned that for the first time in recorded history, the Laptev Sea has yet to start freezing by this stage in late October. The delay – partly caused by unusually warm temperatures this year – could have knock-on effects for the region.
2. Cooling paint: A new kind of white paint that reflects 95.5 percent of sunlight could help cool buildings, decreasing the reliance on air conditioning which adds to global CO2 emissions.
3. Watch: Climate concerned?: From extreme winds to floods, drought and fire, the US has witnessed extreme weather events this year. Now, public opinion towards the climate crisis may finally be changing.
4. Listen: Acoustic ecology: Scientists have found signs of climate change in nature's symphonies, and they are racing to record the soundscapes before they disappear.
The final word
A nation that destroys its soil, destroys itself. Forests are the lungs of our land, purifying the air and giving fresh strength to our people.
PrettyLittleThing features its first model to wear a hijab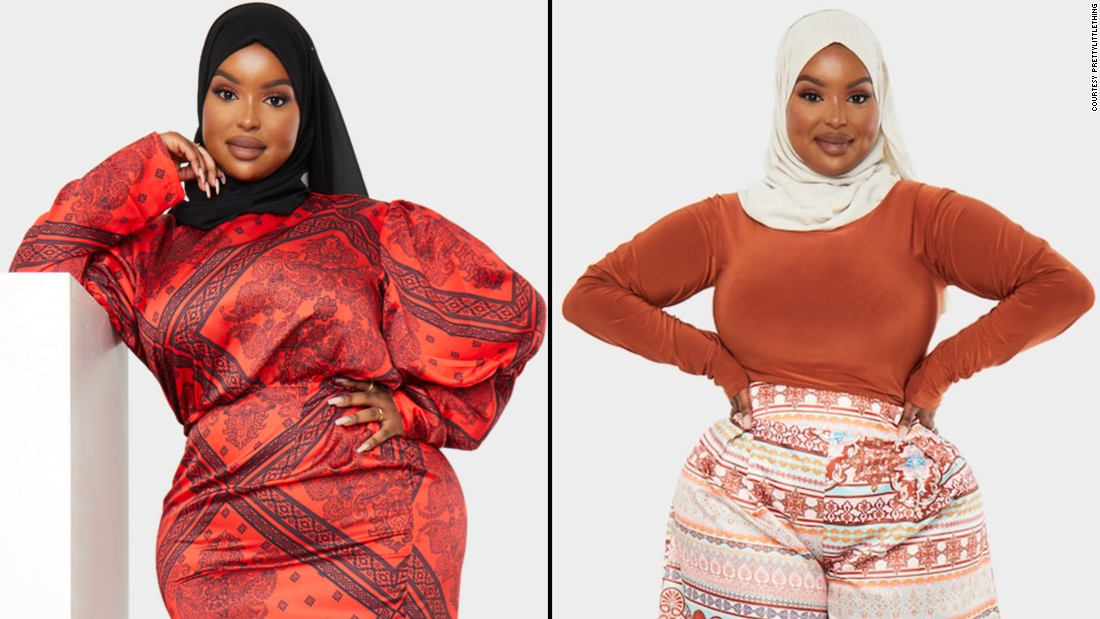 Want more inspiring, positive news? Sign up for
The Good Stuff,
a newsletter for the good in life. It will brighten your inbox every Saturday morning
A Black, Muslim plus-size model is breaking barriers in the fashion industry after being chosen by PrettyLittleThing to model its new line of modest clothing.
Billy Marsal, 21, is a London-based influencer who regularly posts photos of herself wearing trendy and modest outfits on
Instagram
. The online retail giant scouted her on social media shortly after entering the
Middle East market
.
Marsal's work with PrettyLittleThing marks the first time the brand has featured a model wearing a hijab or headscarf, the UK-based company confirmed.
"I didn't realize how big of a deal it was until I started getting replies and messages from people who were so excited about it, then I realized, wow, this is amazing," Marsal told CNN.
"It's an insane feeling, Yes, I am Black, I am Muslim, I am plus size, but I never thought it would be me to make people feel like this."
Marsal is new to the world of professional modeling, but is excited to represent young Muslim women and help them find fashionable clothes that uphold their religious values.
"As girls who wear the hijab, we grew up buying clothes and having to alter things to make them modest so for them now to tell Muslim girls, 'Guys, we're catering to you, too' is a very big deal," she said.
Marsal announced her work with PrettyLittleThing in a
tweet
on Monday that has since garnered more than 500,000 likes and 60,000 retweets. "Soooo… that's me. THE FIRST HIJABI ON PLT!!! Still so wild to me," she said.
PrettyLittleThing, which has collaborated with celebrities like Kylie Jenner and Hailey Baldwin, sells fashion "inspired from the catwalk and the coolest muses of the moment" at affordable prices.
The retailer aims to "inspire confidence" in customers with a message of equality and body positivity, according to its
website
.
"Following our successful launch into the Middle East we are delighted to be launching our 'Modest clothing' collection on site," PrettyLittleThing said in a news release. "Our ethos of 'EveryBODYinPLT is extremely important to us, so it's been amazing seeing such positive customer feedback and working with models who represent all of our customer base."
Marsal said she's happy to see the industry change to include more Muslim women, and looks forward to the day when it's no longer surprising to see a model wearing a hijab.
"I think what's going to happen is this will one day be so normal it's not surprising anymore, because competitors are noticing what brands like PrettyLittleThing are doing and it's going to become the norm," she said.