Look, I think a lot of us can agree that America isn't looking great these days. The land of the free and the home of the brave is exhausted, sick, anxious, distracted, and at war with itself. As we're just a few weeks out from a momentous election, it's not controversial to say that this is not the country's shining-est moment.
So while I don't know whether it's by design or by accident, it's serendipitous that four movies premiering on digital services this weekend try to thread a tricky needle: seeing America for what it is, and finding hope in it anyhow. Two are film versions of acclaimed Broadway plays; another is from one of the country's most acclaimed screenwriters; and one is one of the best documentaries of the year.
The pictures these movies paint are by no means rosy. They don't traffic in myths about restoring former greatness or being our best selves. But the people who made them are looking for the kernel of humanity in the midst of injustice, and in their own ways, each of them find it.
Put all four together, and you start to see a portrait of America that is thoughtful, layered, and hopeful, drawing on the past to understand the present and finding something in the present to point us toward the future. I can't think of a better theme to seek out in these trying, challenging days.
Watch Time for a heartbreaking story of real courage and hope
Heartbreaking and passionate, Time is the chronicle of a love deferred and the life that hope can provide. Garrett Bradley's documentary follows Fox Rich (a.k.a. Sibil Richardson), who has spent 21 years doggedly petitioning for her husband, Rob, to be released from prison. Rob is serving a 60-year sentence for a youthful crime in which they were both involved; meanwhile, Fox has been raising their six children and becoming a powerful advocate for change in her community.
Time details her struggle, demonstrating how mass incarceration persistently separates Black families in America, as well as how bureaucracy and centuries of narratives conceal the truth and pain of those separations. And all along, Fox has been making videos at home, which feel like a diary of her pain, endurance, and commitment to hope.
How to watch it: Time is streaming on Amazon Prime Video.
Watch What the Constitution Means to Me for an angry and hopeful perspective on law, debate, and rights
When Heidi Schreck was 15, she'd travel around the Pacific Northwest for speech competitions hosted by American Legion chapters, giving extemporaneous addresses on the meaning and importance of various constitutional amendments. Years later she recreated that experience with What the Constitution Means to Me, which garnered Tony and Pulitzer nominations during its 2019 Broadway run. Schreck wrote and starred in the play, in which she pretends to be her 15-year-old self, talking about the Constitution — at least until her youthful optimism is challenged by both her adult realism and the stories of her family's past.
The filmed version of What the Constitution Means to Me (with direction from Won't You Be My Neighbor's Marielle Heller) captures that moving, angry, heartbreaking, and strangely inspiring Broadway show. Schreck deftly shifts between her own personal history, stories from the lives of her women ancestors, and deeply researched knowledge about Supreme Court decisions and arguments, weaving together policy, rights discourse, and lived experience. And she finishes by sparring with a teenaged debate partner about the future of the Constitution — a moment that shows the power and true purpose of real, thoughtful debate.
How to watch it: What the Constitution Means to Me is streaming on Amazon Prime Video.
Watch The Trial of the Chicago 7 for a stirring call to dissent and placing honor where it's due
The Trial of the Chicago 7 is a signature Aaron Sorkin humdinger, a courtroom drama about the past with the present on its mind. Its subject is the six-month trial of a group of men who were charged with conspiracy and crossing state lines with the intent to incite a riot in Chicago during the 1968 Democratic National Convention. The men did travel to Chicago to protest the Vietnam War. Rioting did happen. But the men didn't conspire — and what's more, they've insisted that the Chicago Police Department started the violence.
Sorkin wrote and directed The Trial of the Chicago 7, which fiddles a bit with actual historical events in service of the story. But the movie draws parallels between issues that mattered back then — racism, militarized police, unevenly meted justice, challenges to the right to protest — and those that still resonate today. With a brilliant cast that includes, among others, Mark Rylance, Eddie Redmayne, Sacha Baron Cohen, Jeremy Strong, John Carroll Lynch, Yahya Abdul-Mateen II, Frank Langella, and Joseph Gordon-Levitt, The Trial of the Chicago 7 is a film aimed at connecting the dots of the past to those of the present, and suggesting that sometimes the long arm of justice runs through rocky territory.
How to watch it: The Trial of the Chicago 7 is streaming on Netflix.
Watch David Byrne's American Utopia for a buoyant, beautiful musical celebration of our differences
In 2019, former Talking Heads frontman David Byrne mounted a Broadway show that wasn't a concert or a play or a musical or anything, really, other than a recognizably Byrne-ian production. On a gray-hued stage full of lights and texture, accompanied by a group of brilliant barefoot musicians and singers clad in matching gray suits, Byrne wove a story of America. Songs from his catalog were reimagined for a joyous ride through his mind — and through how he imagines the possibility of an American utopia.
Spike Lee captured the whole thing on film, and the result is David Byrne's American Utopia, a simultaneously realistic and surrealistic journey through what makes a nation a nation: We share the same home. Byrne's songs query the notions of house and home and what they mean in an American context. His answer is that we are all different; we look different, we talk different, we believe different things, and yet there's still the hope that we can decide to rebuild our house together. I dare you not to dance while watching it.
How to watch it: David Byrne's American Utopia airs at 8 pm Eastern on October 17 and begins streaming on HBO Max at the same time.
If you're looking for something else …
Kajillionaire, Miranda July's latest comedy, comes to digital on-demand services this week (find the full list of services here). Starring Evan Rachel Wood, Gina Rodriguez, Debra Winger, and Richard Jenkins, it's an eccentric, affectionate tale of growing up and learning to love. (I loved the movie and wrote about how it showcases July's enduring affection for the weirdo in all of us.)
Coming to select virtual cinemas: Martin Eden, which feels like a tribute to Italian cinema as much as an adaptation of a Jack London novel. It's the story of a young man named Martin (Luca Marinelli, who you may have seen in Netflix's The Old Guard) who aspires to join the ranks of the elite through self-education. It's a critically acclaimed, lushly shot tragedy.
---
Millions turn to Vox each month to understand what's happening in the news, from the coronavirus crisis to a racial reckoning to what is, quite possibly, the most consequential presidential election of our lifetimes. Our mission has never been more vital than it is in this moment: to empower you through understanding. But our distinctive brand of explanatory journalism takes resources. Even when the economy and the news advertising market recovers, your support will be a critical part of sustaining our resource-intensive work. If you have already contributed, thank you. If you haven't, please consider helping everyone make sense of an increasingly chaotic world: Contribute today from as little as $3.
The lightweight new iPad Air is heavy with features
(CNN) —  
Unlike the eighth-gen iPad that only got some retooling under the hood with the A12 Bionic chip, Apple gave the latest iPad Air a full face-lift and rethinking. For starters, the home button is gone and the screen stretches fully to the edges, delivering a 10.9-inch display.
And after five days with it, we're really liking the iPad Air — especially with a starting price of $599.99 for 64GB of storage, it's a great option for anyone looking to go beyond what an entry-level iPad can do. The 10.9-inch screen feels expansive and gives you plenty of room for multitasking. And for movie nights, this display excels at color reproduction. We also found that the A14 Bionic chip lets you breezily accomplish nearly any task.
Sure, the iPad Air might seem like a mishmash of different features, but it also plants itself as midrange. There's no Face ID or a remarkable refresh rate with this display like you'd find on an iPad Pro. But select higher-end features have trickled down, and the iPad Air (in this form) feels like the Pro option for the masses.
Not light as air, but still very light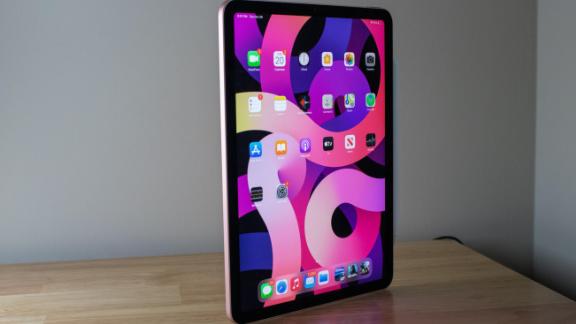 As the name hints, the iPad Air is known for being ultra portable. It's very comfortable to hold in just one hand even with its nearly 11-inch screen. The 2020 iPad Air measures in at just over a pound, so it's lighter than a bottle of water. And its thickness (6.1 millimeters) is akin to four credit cards stacked atop each other.
The Air's aluminum design really lets the respective colors (Sky Blue, green, silver and Space Gray) shine as light hitting the backside at different angles displays a brighter or darker hue. The Smart Connector is on the back for easy pairing with accessories like the Smart Keyboard. Atop the Air is a spot where you can magnetically attach a second-generation Apple Pencil. Like on the iPad Pro, this not only holds the Apple Pencil in place but will wirelessly charge it. It's nice to see this feature trickle down from the iPad Pro.
There's also no Lightning port on the iPad Air; Apple has swapped in a USB-C port to replace it, and we're fully on board with it. To a degree, it's a more Pro port with support for charging, data transfers and even the ability to extend your display.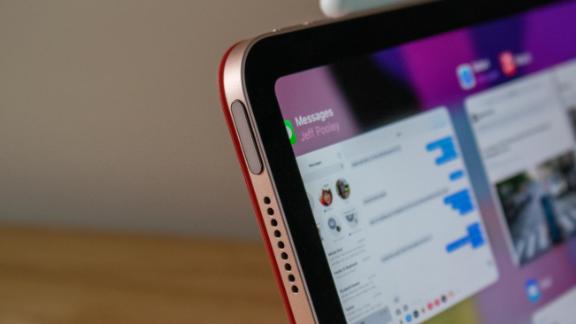 Our favorite part of the design would be that Apple tucked a Touch ID sensor into the power button. It's the first time Apple's featured a fingerprint sensor on an iPad's home button. On the engineering side of the house, the power button's outer shell is a glass finish, which contains the smaller fingerprint sensor that Apple has produced.
In our testing, Touch ID was just as fast in this new form as in a home button. If anything, most of the time it felt about a half second or so faster. Just more prompt for unlocking, authenticating purchases and autofilling passwords.
Face ID is a lot easier, as you don't really need to do anything except look at the True Depth Sensor at the top of the iPad, but it's also clear that Apple is reserving that tech for its flagship iPads. We imagine that Face ID on the iPad Air would have jacked the price up. All in all, though, we're happy with this implementation of Touch ID, and it only took us a day to really get the hang of it.
A closer-to-bezel-less display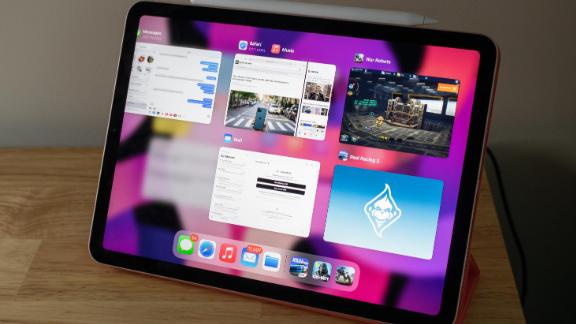 In comparison to the previous generations of iPad Air, Apple is giving you a slightly larger display — a 10.5-inch is swapped for a 10.9-inch. The big difference to get that 0.4-inch increase? Removing the home button and slimming down the bezels.
And while 0.4 inches is a relatively small increase, in combination with this refreshed design and slimmer bezels, the iPad Air feels more expansive. You can more comfortably fit two apps side by side with a picture-in-picture window for consuming content.
The display is Liquid Retina, which is Apple's name for an LCD screen. Essentially, it's not being lit on a pixel-by-pixel basis like an OLED, but rather it has a backlit panel that goes through filters to create an image. Still, it creates a vivid and sharp image at a 2360 x 1640 resolution that delivers 264 pixels per inch. It also supports True Tone and, especially good for creatives, it meets the Wide Color P3 standard.
Apple tries to minimize finger smudges across the screen with a fingerprint-resistant oleophobic coating, which we found certainly succeeds at hiding a majority of fingerprints, although potato chip fans are warned — overly greasy fingers will still leave a mark and sometimes residue. The screen also features an anti-reflective coating, which aids in helping to block views of smudges, especially under fluorescent lights or outside.
In our testing period, text came through crisp, and we didn't notice any pixelation around individual numerals or letters, a problem that often plagues some lower-end screens and even LCDs. Viewing emails and reading text on the iPad Air was comfortable on the eyes, thanks to True Tone.
With streaming content, we tried out Springsteen's "Letter to You" documentary, which arrives on Apple TV+ on October 23. It's part studio sessions, panning outdoor shots and the E Street Band together all in black and white. The iPad Air reproduced the picture with proper color shading across grays and blacks for a compelling experience. In comparison to watching on an iPad Pro, you'd be hard-pressed to really notice a difference in image quality.
And while this doesn't have ProMotion (an adaptive refresh rate that goes up to 120 Hz), we didn't notice any milling or issues with production. That same comment also extends to gaming in Real Racing 3 and War Robots or with watching superhero movies like "Captain Marvel" or "Guardians of the Galaxy."
We'd also like to call out the stereo speakers that flank the left and right sides when the iPad Air is held horizontally. They pack a punch and deliver a pretty robust sound experience that's only bested by the iPad Pro. We didn't experience any additional noise or tinny audio effects, either.
A14 Bionic is a very capable chip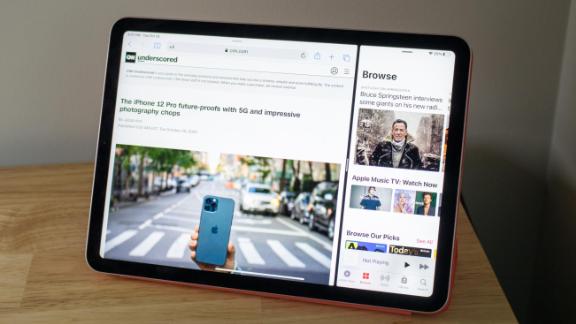 The iPad lineup has a clear entry point with the eighth-gen iPad and a high point with the iPad Pro. With the A14 Bionic inside, the iPad Air really cements itself as the midrange option — a next step above the eighth-gen iPad not quite up to scale with the iPad Pro with the A13Z inside.
For instance, you can run through a series of photo edits in Photoshop or Pixelmator (two leading editing apps) at three or four times the speed as the eighth-gen iPad. And by meeting that mark, the iPad Air falls nearly in line with the iPad Pro — thanks to Apple's latest Silicon processor inside.
The A14 Bionic is also being used in the iPhone 12 Mini, 12, 12 Pro and 12 Pro Max. It's the first 5-nanometer chip made in-house by Apple. Inside it contains a six-core CPU, four-core GPU and a neural engine that's made up by 16 cores. Safe to say it's a powerful chip that's also quite efficient and knows when to speed up or put intense tasks on a higher-powered core.
And thanks to this setup, the iPad Air outpaces the previous-generation device — the eighth-gen iPad — and the iPad Mini with nearly any workflow or task. From gaming to writing to communication, the iPad Air just gets the job done faster.
In many cases, we found it to be nearly on par with the iPad Pro for completing those tasks. When we used it for a day of work with Outlook, Mail, video calls, Slack, web browsing and lots of writing, we didn't experience any slowdowns. For instance, with multitasking, it was easy-going for running two applications side by side and a third, like Messages, floating above.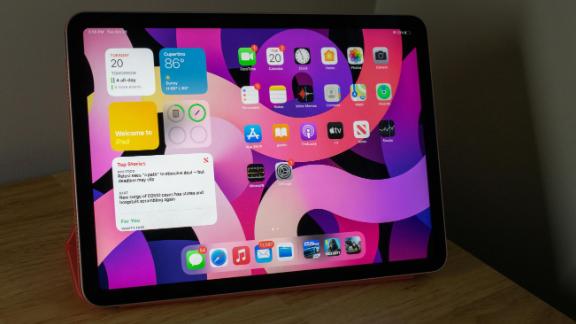 Graphic- and processor-intense games like War Robots, Real Racing 3 and Call of Duty: Mobile performed as expected. There was no noticeable latency occurring either on the device or via the internet. The only qualm we experienced here was at full brightness and volume at max, the power did drop by about 5% during the first match in Call of Duty. It might have been that it was the first time playing, which could have pulled in extra resources. That proved true again when using Shadow, a service that lets you remotely use a high-powered PC for games like Microsoft Flight Simulator and Grand Theft Auto V.
Rendering and exporting a 4K video in iMovie happened pretty quickly, with no noticeable slowdowns. It produced a result much quicker than the eighth-gen iPad by several minutes. We also pushed the iPad Air with Adobe Photoshop and Pixelmator in an effort to engage the neural engine for tasks and processes that involve Machine Learning.
The iPad Air also works with the Magic Keyboard (specifically, the smaller model, which originally launched for the 11-inch iPad Pro). It snaps magnetically onto the iPad Air and adds the same function (with the same weight and thickness). If you want a computer-like experience complete with a trackpad, this is the best experience for now on the iPad Air. The keyboard feels just as great as it did when we reviewed the Magic Keyboard a few months back.
The connection between Magic Keyboard and iPad Air is still powered by the Smart Connector on the back. It's extremely simple and doesn't require you to fumble around in settings and manage multiple power cords. The A14 Bionic inside is plenty to handle inputs from your fingers and the Pencil, let alone a keyboard and trackpad as well.
You get a wall plug in the box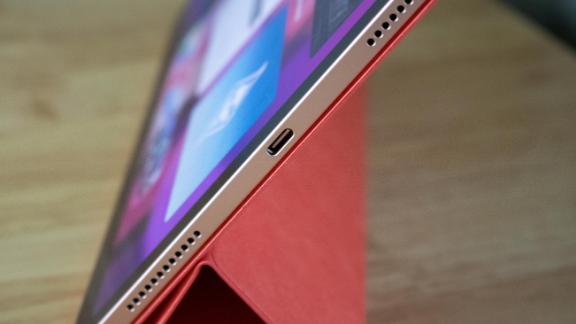 Unlike the iPhone 12 family, the box doesn't just include a USB-C to USB-C cable along with the iPad Air. But there's a 20-watt USB-C wall plug here as well, and it's great news. This is the same $19 brick that Apple recommends purchasing for fast charging on the iPhone 12. We're thrilled it comes in the box on the iPad and it gives you the complete package right out of the gate.
And that brings us to the battery on the iPad Air — and truthfully it has been great over the past five days. We've encountered long standby times and the joy of it providing enough power to get through a full day. Even when those days drag on with some videos, FaceTime calls and gaming.
Apple promises around 10 hours of surfing the web on Wi-Fi or when watching a video. And we ran the iPad Air through the CNN Underscored battery test. With this we run a 4K video on a loop with the brightness set to 50%, the volume at 30% and airplane mode engaged on the device. We monitor the test with two cameras for redundancy. The iPad Air lasted for six hours and 45 minutes. That's behind the eighth-gen iPad, which lasted for nine hours and 45 minutes.
Bottom line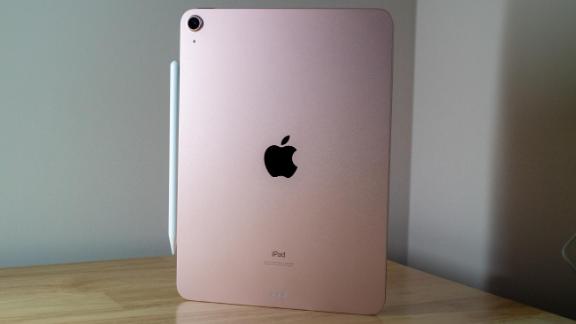 There's a chance you might have been sold on this iPad Air from the start, or maybe when we wrote about the color choices. It's a bold design that feels like it can hang with the flagships, and the hardware inside means it can generally hang and stay for a while with them.
The iPad Air performed up to Pro levels. With the A14 Bionic inside, we were easily able to perform work and play tasks. For those productivity-centric tasks, pairing it with the Magic Keyboard gave us the affordance of classic interfaces to work with — namely a keyboard and trackpad. It runs iPadOS 14 well and can speed up for more intensive tasks.
At $599.99 for 64GB of internal storage, you're getting a pretty complete package with plenty of storage for apps and documents as well. Whether you're a student, a remote worker or someone looking to upgrade from an entry-level tablet, the iPad Air deserves a look.
24 of the best gifts for every woman in your life
(CNN) —  
Gift-giving season is fast approaching — Amazon, in fact, already launched its holiday gift guides earlier this month — and so if you're looking to cross holiday shopping off your list sooner rather than later this year, you've come to the right place.
If you don't want to go through the hassle of shopping in person, you can snatch these editor-approved items below from the comfort of your own home. Whether you're looking for the perfect gift for your significant other or something sentimental for Mom, we've rounded up some stellar picks so you won't find yourself scrambling come December 24 (we've all been there).
For the fashionista

(Re)sourced Cashmere Mockneck Midi Sweater Dress ($178; madewell.com)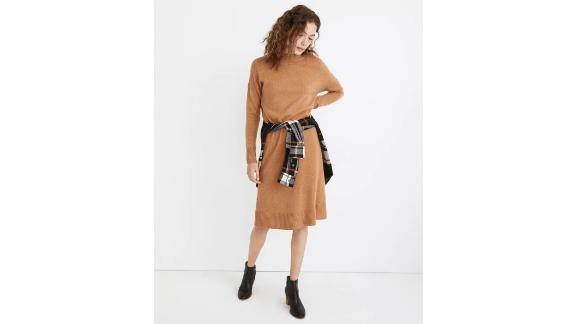 Cashmere is one of those incredibly soft fabrics that many of us consider buying, only to look at the price tag and think, "No, not this time" (aka: a perfect gifting option). This gorgeous cashmere sweater dress is such a timeless piece that will quickly become a wardrobe staple.
Naadam The Essential $75 Cashmere Sweater ($75; naadam.co)
Cashmere is a classic wardrobe essential but typically comes with a high price tag. For only $75, give the gift of comfort with this plush and top-rated (over 1,200 5-star reviews!) cashmere sweater.
Bombas Socks (starting at $12; bombas.com)
Switch up the usual cheap fuzzy socks in her stocking this year and pick up a pair of everyday cotton socks to gift instead. With a smooth and seamless design and blister protection (hallelujah!), these will remain like new in the sock drawer for a long time to come.
For the beauty lover
Stila Stay All Day Waterproof Liquid Eyeliner ($22; stilacosmetics.com)
If your giftee is a beauty junkie, trust us — she'll appreciate this liquid liner whose name doesn't lie. (In fact, we crowned it the best liquid eyeliner of 2020 in our tests.) It's a truly stay-all-day, pigmented, easy-to-apply liquid liner that's certain to become a makeup bag staple.
Billie Smooth Operator Kit ($35; mybillie.com)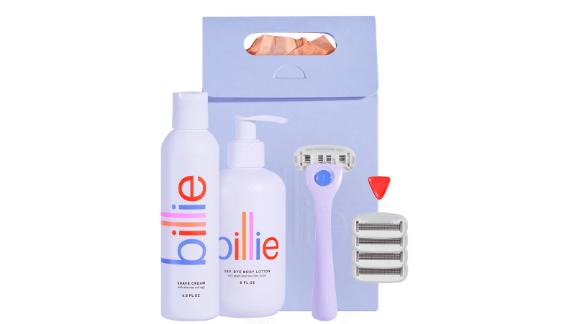 Billie, whose razor was our winner for best women's razor of 2020, is celebrating the holidays with several gift sets. We were impressed by the Billie razor's user-friendly design, close shave and remarkably low price, and now you can gift one, along with a refill pack, Billie's Shave Cream and Billie's Dry-Bye Lotion, in one cute and practical kit.
Dyson Supersonic Hair Dryer ($399.99; dyson.com)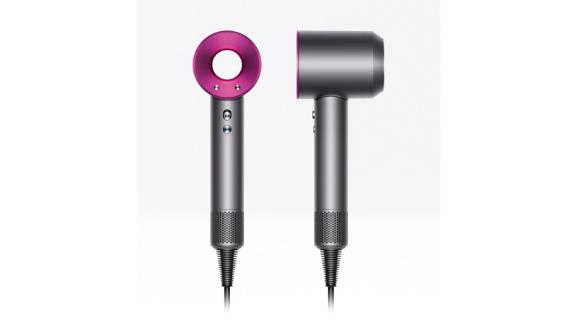 If you're looking to splurge on a special woman in your life, this Dyson hair dryer, engineered for all different hair types, is a worthy investment. It's been known to drastically reduce hair-drying time without using extreme heat, and its cool space-agey design is a nice bonus to boot.
For the home decorator

Bearaby Cotton Napper (starting at $249; bearaby.com)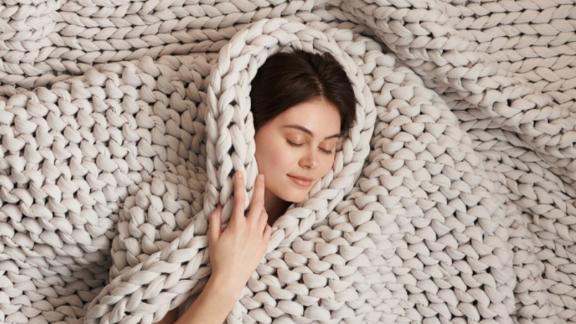 Here's the thing: Anyone might be hesitant to drop big bucks for an impossibly cozy luxury blanket for themselves, but anyone would also be thrilled to receive this as a gift. Available in a variety of colors, this weighted, chunky-braided blanket provides the coziest cocoonlike feel, void of artificial colors and synthetic beads. They'll be thanking you all winter long.
The Sill Succulent Trio (starting at $45; thesill.com)
Twee succulent accents aren't likely to go out of style anytime soon, so give the gift of the cutest succulent trio this holiday season, perfectly petite for her desk, windowsill or kitchen counter.
Small Corgi Planter ($22.99; etsy.com)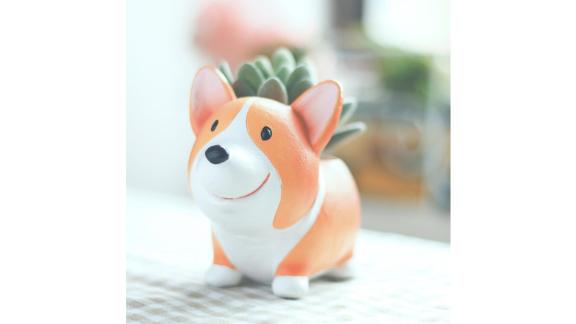 If she loves dogs and plants, this small corgi planter is calling her name. The handcrafted piece is perfect for housing succulents and other small plants or flowers.
Bedsure Satin Pillowcase for Hair and Skin, 2-Pack ($8.49, originally $9.99; amazon.com)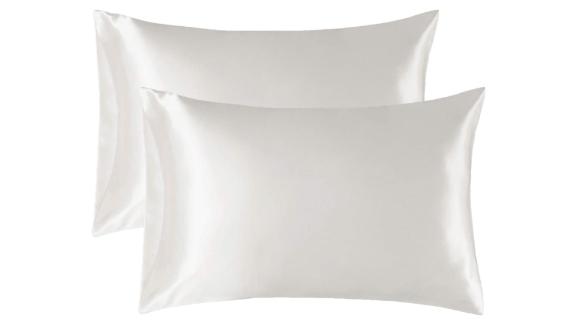 Everyone appreciates the gift of self-care, and these affordable satin pillowcases will be a welcome addition to her sleep routine. Ideal for keeping hair tangle-free and skin devoid of pillowcase-induced creases overnight, these are available in 25 colors to match any bedding situation.
GlobeIn 3-Month Gift Subscription ($114; globein.com)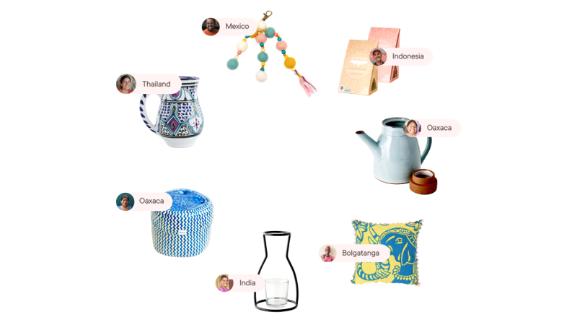 For the woman in your life who is constantly shopping at HomeGoods or Pier 1 Imports, this three-month subscription of home decor items is a no-brainer. Featuring carefully curated products from around the world, this box can be tailored to her tastes so she receives the pieces that match her aesthetic. We tried it ourselves and instantly fell in love with the beautiful, handcrafted items.
Parachute Linen Sheet Set (starting at $149; parachutehome.com)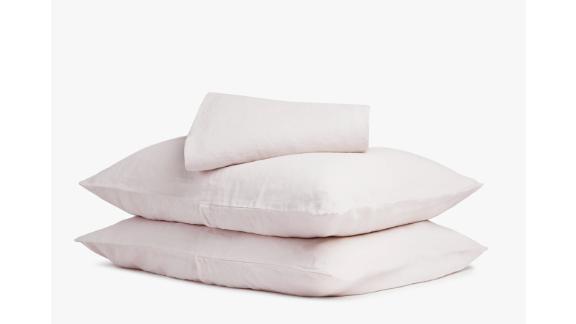 We don't know about you, but when it comes to buying new sheets, the saying "If it ain't broke, don't fix it" comes to mind. Since it may not be a priority for your loved one, treat her to these lovely linen sheets — the sheets, in fact, that we named best linen sheets on the market in our tests.
Baggu Standard Reusable Shopping Bag ($36; amazon.com)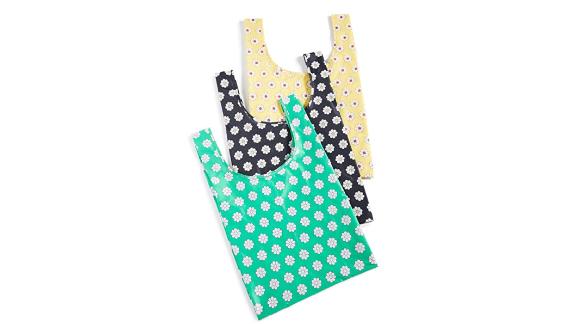 It's 2020, and if your loved one hasn't gotten on the reusable shopping bag train, now's the time to get them started. For some people, spending money on a nylon bag may be low on their priority list, which makes this a great eco-friendly gift idea.
T-fal Nonstick Dishwasher-Safe Pan With Lid ($39.99; amazon.com)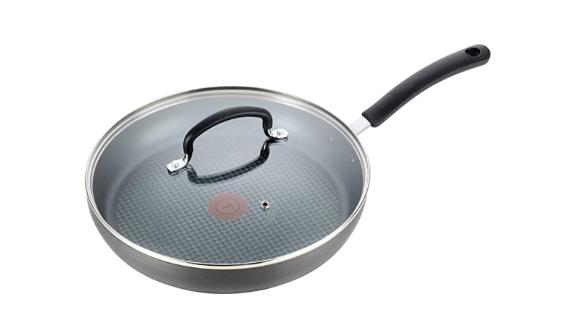 Cooking has been a stay-at-home pastime for many people in this strange year, so what better way to harbor a newfound hobby than to give the gift of what we found to be the best nonstick pan of 2020? This T-fal pan is titanium-reinforced and dishwasher-safe, and its durable nonstick design makes it the perfect gift to pair with one of Amazon's favorite cookbooks and personalized apron (*chef's kiss*).
For the sentimental
Knock Knock What I Love About Mom Fill-in-the-Blank Journal ($10; amazon.com)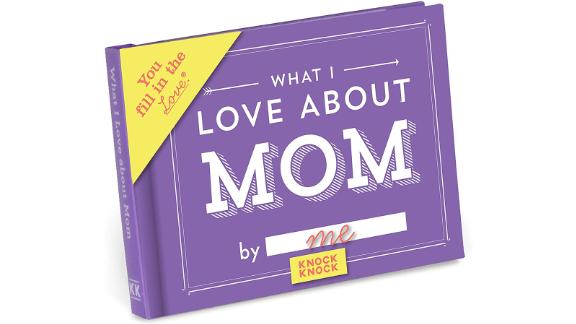 Who says cute fill-in-the-blank prompts to give Mom are reserved for a Mother's Day breakfast in first grade? Nestle into the nostalgia of what you used to give to your mom years ago with this sweet journal for a heartfelt holiday keepsake. It's the perfect size for a stocking stuffer.
Botanicals Notebook Collection ($12.17, originally $12.95; amazon.com)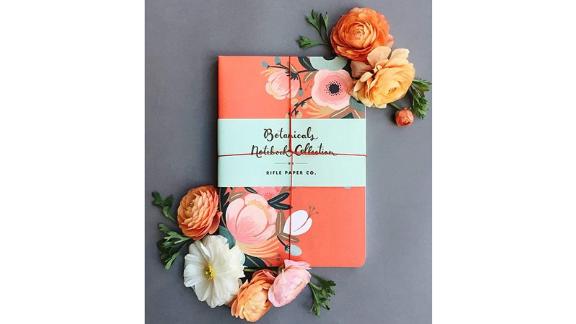 If your giftee is type A and notorious for her morning to-do lists, this notebook bundle is the perfect stocking stuffer. Featuring a beautiful floral design by Rifle Paper Co., the set of three paperback notebooks is under $15 and ready for your shopping cart.
Simple Elephant Undated Planner 2021-2022 ($17.99; amazon.com)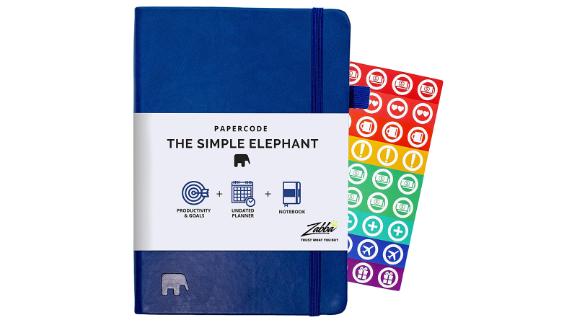 There's nothing like starting the new year with a new planner, and this simple yet spacious daily, weekly and monthly productivity planner will have your giftee ringing in 2021 the right way (after 2020, we could all use it), with dedicated sections for recording goals and reflections as well as an undated calendar.
For the tech-savvy

Galaxy Buds+ (starting at $129.99, originally $149.99; amazon.com)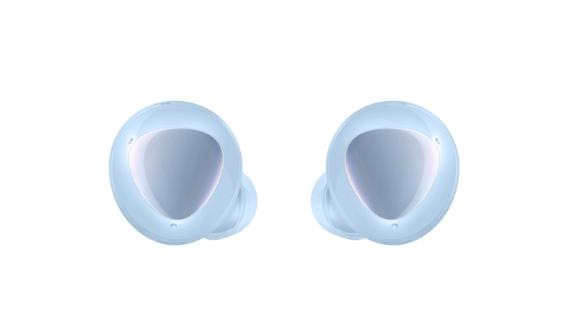 Maybe you missed the Amazon Prime Day deal on AirPods, but you're in luck since these compact Bluetooth and top-rated Galaxy Buds+ are still on sale. Versatile and discreet, the buds are great for calling into a work meeting, listening to a podcast while applying makeup or going on a neighborhood jog.
Away Carry-On ($225; away.com)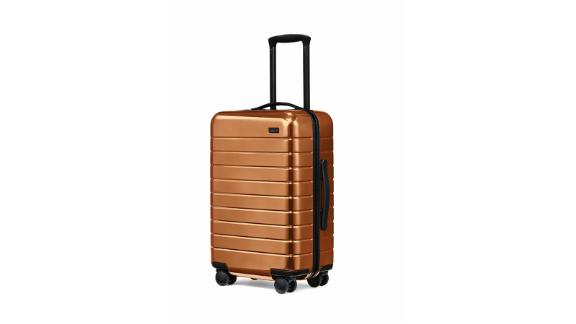 Though travel is theoretically on standby this year, this carry-on is perfect for weekend getaways and for the future Caribbean vacation you're dreaming about. Compact yet still designed with sufficient storage, this durable and TSA-approved suitcase is perfect to pair with a personalized travel pillow for a thoughtful touch. Oh, and did we mention we named it the best carry-on suitcase of 2020?
Theragun Mini (RED) ($199; therabody.com)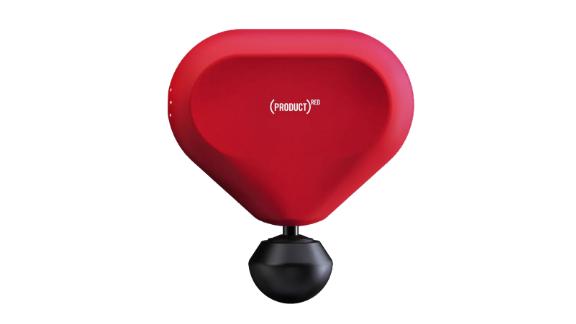 While a personal massage therapist would be a wonderful gift, this portable massager is a more practical solution to alleviate muscle tension. We tried the line of Theragun products, and the Mini stood out to us as an accessible and effective way to massage out any soreness. Plus, if she's working in front of a desk all day, she'll surely appreciate this pocket-size problem solver.
Breville Super Q Blender ($499.95; breville.com)
If you're thinking of something for the smoothie-obsessed person in your life, this blender is the way to go. We found it to be the best of the best when we tested blenders: It's perfect for smoothies, batters, soups and all other blending needs.
Elago W3 Apple Watch Stand ($9.99; amazon.com)
Some Apple watches have a price point of around $430, yet at the end of the day, they're often flung on the dresser, void of a decent home until worn again. For under $10, this adorable Apple watch stand is the gift that will have her thanking you for keeping her tech gadget protected and organized in her bedroom.
For the caffeine-addicted

Atlas Coffee 6-Month Subscription ($109, originally $120; atlascoffeeclub.com)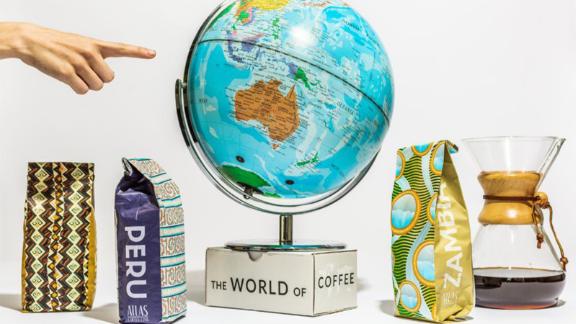 This gift subscription is a must-have for anyone obsessed with new and exciting coffees. For a little over $100, she'll be set for six months with delicious, gourmet coffees from all around the world. When we tried it out for ourselves, we especially enjoyed the little notecards sent with each shipment detailing the coffee's history.
Nespresso VertuoPlus Deluxe by Breville ($167.50, originally $179.95; amazon.com)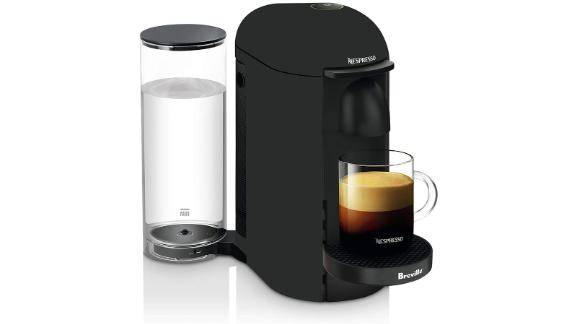 On the topic of coffee: This premium coffee maker is our pick for the best single-serve coffee maker on the market and includes a milk frother feature (perfect for coffee-shop-esque lattes). Plus, it's incredibly simple to use.
Ahead of US election, Europe eyes an ally in climate change fight
For countries hoping to avoid the worst of climate change, next month's United States presidential election will be pivotal in determining the course of global climate action, experts say.
A win for the Democratic candidate, former Vice President Joe Biden, would inject new life into global cooperation in reducing greenhouse gas emissions, according to past climate negotiators.
A second term for President Donald Trump, on the other hand, could prove more disruptive than his first by emboldening climate-sceptic countries.
"The US needs to get back in the game," said Kelley Kizzier, a former European Union climate negotiator who now works at the non-profit Environmental Defense Fund.
Under the 2015 Paris Agreement, almost 200 countries pledged to work towards limiting global warming to 1.5 Celsius (2.7 Fahrenheit) above pre-industrial levels. That goal has since slipped further away, as climate-warming emissions continued to increase.
Trump rejected the agreement altogether and the US is set to exit it on November 4 – the day after Americans go to the polls.
A Biden win, experts say, could help put those efforts back on track.
Biden wants to spend $2 trillion over a four-year term towards reaching net-zero emissions by 2050 in the US, currently the number two emitter of greenhouse gases. Committing further to slashing emissions this decade could nudge China and other high-polluting countries to follow suit.
"If the United States, China and the European Union move in that direction, then I believe we can take the rest of the world along with us," Frans Timmermans, the EU's top climate official, said during a Reuters news agency event last week.
Stepping up
Countries have been asked to update their Paris pledges this year. So far only 14 have done so, including Norway, Chile and the tiny Marshall Islands. The 27-country EU plans to upgrade its pledge in December.
China, the world's largest emitter, says it will become carbon neutral by 2060, but has not yet revised its climate plan for the next decade.
United Nations scientists said in a major report last November that without steep emissions cuts by 2030, the world will be unable to prevent catastrophic climate change.
Biden, who would take office in January if he wins the November 3 election, has pledged to immediately rejoin the Paris Treaty. That would oblige Washington to make a fresh emissions-cutting pledge well ahead of the next UN climate summit in November 2021.
"Biden will have to move forward in the early days of the administration," said John Podesta, a counsellor on climate and energy to former US President Barack Obama who is now an informal adviser to Biden.
"Other countries will begin to judge the administration's level of ambition based on that," Podesta told Reuters.
While many US states, cities and businesses are already cutting emissions, the country is still falling short on the Obama-era pledge to cut emissions by 26-28 percent by 2025, against 2005 levels.
Trump, who has rejected mainstream science on climate change, has unravelled Obama-era regulations, seeking to free the energy and auto industries from the costs of regulations meant to protect health and the environment.
Pressuring China
China's surprise pledge last month to aim for carbon neutrality by 2060 could curb global warming by 0.2-0.3 Celsius this century, researchers say.
But that "needs to just be the starting bid", said Thom Woodroofe, a former diplomat in UN climate talks, now a senior adviser at the Asia Society Policy Institute.
A "united approach" from the EU and the US could push Beijing to go further, particularly on near-term emissions cuts, he said.
Podesta suggested that the EU and the US imposing carbon taxes on imports could work towards that end. Brussels will propose a policy next year to impose such costs and Biden has pledged to introduce one.
Maintaining pressure on China will be especially important as Beijing decides on funding for coal plants under its next five-year economic plan.
"The discussions with China are not over," said Laurence Tubiana, a former French diplomat instrumental in brokering the Paris accord, who now heads the non-profit European Climate Foundation.
But restoring diplomacy on climate could face obstacles, not least because of the frictions between the US and China under Trump on other issues.
This week, Beijing published a stinging document on the US environmental record, calling Washington a "consensus-breaker" and a "troublemaker" and saying the Trump administration's measures had undermined global climate cooperation.
'Exponentially worse'
Global climate negotiations have floundered in recent years. Most countries at last year's UN summit in Madrid snubbed calls for bolder emissions-cutting pledges.
"Nobody did, except Europe," said Nils Torvalds, a Finnish lawmaker who was part of the European Parliament's delegation at the event.
The summit coincided with the EU striking a deal to slash emissions to net zero by 2050. Meanwhile, the UN event failed to reach agreement on rules for international carbon trading.
A second term of Trump will be exponentially worse for climate than the first.
"We were unable to get as many decisions as we would have liked, because we were alone," Torvalds said.
A Trump win could slow this further, some experts worry. Dutch lawmaker Bas Eickhout, who led the European Parliament's delegation to Madrid, said it could embolden Russia, Brazil or other countries to disrupt climate collaboration.
"Trump's unpredictability has become a bit more predictable," Eickhout told Reuters. So "countries who didn't like climate anyhow might seize the opportunity to put more brakes on the process of Paris.
"A second term of Trump will be exponentially worse for climate than the first."