There is overwhelming evidence that inhalation of severe acute respiratory syndrome coronavirus 2 (SARS-CoV-2) represents a major transmission route for coronavirus disease 2019 (COVID-19). There is an urgent need to harmonize discussions about modes of virus transmission across disciplines to ensure the most effective control strategies and provide clear and consistent guidance to the public. To do so, we must clarify the terminology to distinguish between aerosols and droplets using a size threshold of 100 µm, not the historical 5 µm (1). This size more effectively separates their aerodynamic behavior, ability to be inhaled, and efficacy of interventions.
Viruses in droplets (larger than 100 µm) typically fall to the ground in seconds within 2 m of the source and can be sprayed like tiny cannonballs onto nearby individuals. Because of their limited travel range, physical distancing reduces exposure to these droplets. Viruses in aerosols (smaller than 100 µm) can remain suspended in the air for many seconds to hours, like smoke, and be inhaled. They are highly concentrated near an infected person, so they can infect people most easily in close proximity. But aerosols containing infectious virus (2) can also travel more than 2 m and accumulate in poorly ventilated indoor air, leading to superspreading events (3).
Individuals with COVID-19, many of whom have no symptoms, release thousands of virus-laden aerosols and far fewer droplets when breathing and talking (4–6). Thus, one is far more likely to inhale aerosols than be sprayed by a droplet (7), and so the balance of attention must be shifted to protecting against airborne transmission. In addition to existing mandates of mask-wearing, social distancing, and hygiene efforts, we urge public health officials to add clear guidance about the importance of moving activities outdoors, improving indoor air using ventilation and filtration, and improving protection for high-risk workers (8).
Competing Interests
K.A.P. is Director of the National Science Foundation Center for Aerosol Impacts on Chemistry of the Environment. L.C.M. is a member of the Science Advisory Board and holds stock options for Phylagen and is a paid reviewer for the Alfred P. Sloan Foundation. R.T.S. is a member of the Gilead Sciences Scientific Advisory Board and chairs Data Safety and Monitoring Boards for VIR, Gilead, and Merck. Honoraria for these activities are paid to the Regents of the University of California. R.T.S. has served as a scientific consultant to Pfizer and to AbbVie. M.A.M. is the unpaid Chair of the National Academy of Medicine Committee on Personal Protective Equipment for Workplace Safety and Health.
Max Q: NASA makes key discovery for future of deep space exploration
Max Q is a weekly newsletter from TechCrunch all about space. Sign up here to receive it weekly on Sundays in your inbox.
This past week, we unveiled the agenda for TC Sessions: Space for the first time. It's our inaugural event focused on space startups and related technologies, and it's happening December 16 and 17. It's entirely virtual, of course, and the good news is that means you can attend easily from anywhere in the world.
We've got an amazing lineup, including newsmakers we regularly cover here. NASA Administrator Jim Bridenstine will be there, as well as U.S. Space Force commanding office Jay Raymond, and Rocket Lab CEO Peter Beck, to name just a few. Tickets are available now, so sign up ASAP to get the best price possible.
SpaceX launched not one, but two separate Falcon 9 rockets loaded with Starlink satellites for its broadband internet service last week. The first took off on October 19, then just five days later, another full complement reached orbit. SpaceX has now launched nearly 1,000 of these, and it must be getting awfully close to kicking off its public beta of the consumer-facing internet service.
NASA has managed to collect a sample from the surface of an asteroid in a first for the agency. The sample collection came courtesy of NASA's OSIRIS-REx robotic exploration probe, which was built by partner Lockheed Martin. OSIRIS-REx still has some work to do at Bennu, the asteroid from which it collected the sample, but next year it'll begin heading back with its precious cargo intended for study by scientists here on Earth.
NASA is full of special discoveries this week – scientists working on its SOFIA imaging project confirmed the presence of water on the surface of the Moon that's exposed to sunlight. They'd suspected it was there previously, but this is the first confirmed proof, and while it isn't a whole lot of water, it could still change the future of human deep space exploration.
Microsoft looks primed to invest in space-based business in a big way with Azure Space, a new business unit it formed to handle all space-related businesses attached to its cloud data efforts. That includes a new type of deployable mobile datacenter that will be connected in part via SpaceX's Starlink global broadband network, putting computing power near where it's needed in a scalable way.
Intel has loaded up a small satellite with a power-efficient edge AI processor, its Myriad 2 Vision Processing Unit. That'll help the satellite do its own on-board classification of images of Earth that it takes, saving key bandwidth for what it transfers back to researchers on the ground. Local AI could help satellite networks in general operate much more efficiently, but it's still in its infancy as a field.
Relativity Space has tons of promise in terms of its 3D-printed rockets, but it still hasn't actually reached the launch stage. It did however secure a key government contract, with Lockheed Martin selecting its rocket for a forthcoming mission to test fluid management systems for NASA.
Inside the Bizarre Publishing Ring That Linked 5G to Coronavirus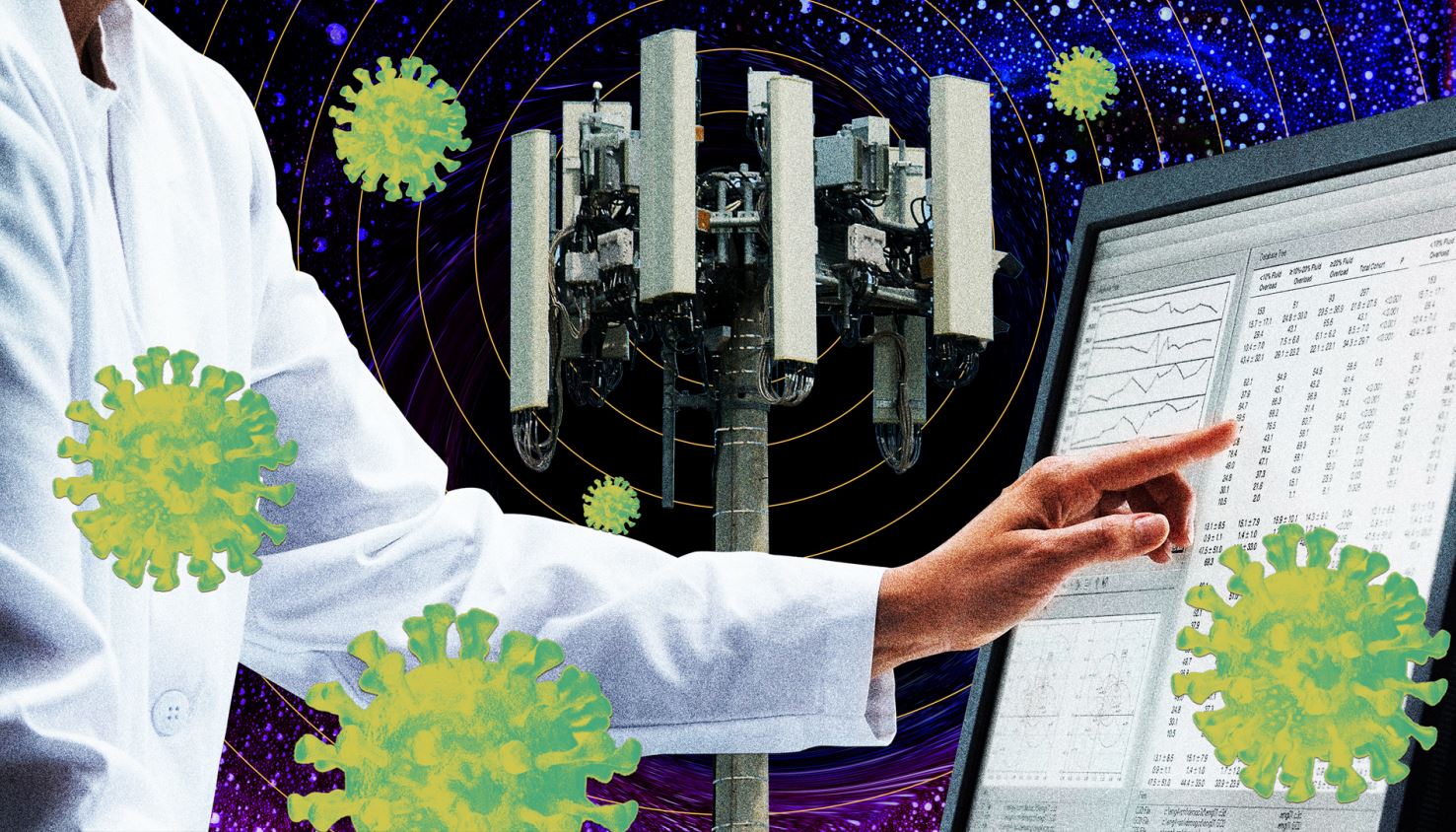 An international group of scientists, some seemingly well-credentialed, have been publishing prolifically in obscure scientific journals, accruing hundreds of co-authorships over the past several years.
The only problem: most of the studies they publish don't make any sense.
One paper, titled "5G Technology and induction of coronavirus in skin cells," was retracted in late July after it received widespread criticism from scientists on social media for being shoddy pseudoscience. The diagrams featured clipart, and one showed two vertical arrows labeled "Tower" casting what the authors label as "Milimeter waves [sic]" and "Radio waves" onto a cell. An arrow exits from the cell and points at a drawing of a virus, which has been labeled "COVID-19." 
After that paper was retracted, the journal posted a notice on its original landing page saying that the article "showed evidence of substantial manipulation of the peer review."
Of the hundreds of publications put out by these authors, at least a dozen contain the same kinds of fantastical claims. Many have been published in lesser-known journals: the 5G paper, for instance, was published in the Journal of Biological Regulators & Homeostatic Agents, which claims on its website that all studies are peer-reviewed. Another set of papers with titles such as, "DNA Waves and Their Applications in Biology," and "A Black Hole at the Center of Earth Plays the Role of the Biggest System of Telecommunication for Connecting DNAs, Dark DNAs and Molecules of Water on 4+N- Dimensional Manifold" were published in the Open Access Macedonian Journal of Medical Sciences, an open access journal that offers peer review for some of its content, though it is unclear whether these papers went through peer review.
After Motherboard reached out to the editor of the Open Access Macedonian Journal of Medical Sciences, five articles were retracted the next day. The editor did not respond to our request for comment. 
The authors' public profiles range from essentially non-existent to seemingly normal; some have institutional affiliations and co-edit a journal from a major academic publisher. Interviews with the co-authors, representatives from journals, and experts in scientific fraud did little to clarify a confusing web of motives for why these bizarre papers exist. To the extent that they are meant to criticize the academic process, the authors seem to take issue with the very existence of peer review. They also indicate genuine belief in what they're publishing. The papers go beyond the stated expertise of their authors in many instances, and they've involved decapitating birds and growing bacteria in milk. 
Regardless of intent, these papers speak to failures across the board—on behalf of both the authors and the journals. 
"I'm just baffled by this," said Elisabeth Bik, a science consultant who focuses on research integrity. "I cannot really place this into a particular category other than a bunch of people who love to publish, no matter what it is."
Two of the leading figures of this monumental effort in publishing pseudoscience are Massimo Fioranelli and Torello Lotti. Fioranelli is a cardiologist by training according to his website, and his affiliation is with Guglielmo Marconi University's department of nuclear, sub-nuclear and radiation physics. Lotti is a dermatologist. Both are co-authors of the 5G paper and have published prolifically; Fioranelli has been an author on over 100 papers according to PubMed, a resource that catalogues research, and Lotti has published over 100 articles indexed on PubMed this year alone. 
There are a handful of other collaborators involved in this group, including Uwe Wollina—chief doctor of dermatology at Städtische Klinikum Dresden, an academic teaching hospital in Germany—and Alireza Sepehri, who was formerly affiliated with an Iranian astronomy and astrophysics institute. 
Lotti is the editor in chief of Dermatologic Therapy, a journal published by Wiley, a major publisher of academic journals and textbooks. Fioranelli is a section editor for the journal, and Wollina is an associate editor. Other co-authors associated with the pseudoscientific papers—and Lotti—have co-authored dozens of Letters to the Editor in the journal. Many of these letters at least tangentially relate to the field of dermatology, but others, including "Predatory journals: The silent intruder" and "COVID‐19: A relationship to climate and environmental conditions?" do not. A Wiley spokesperson said that scientific content for a journal like Dermatologic Therapy is accepted based on the journal's scope and aim, as decided by its editor in chief.
Most of this group's papers are indexed in PubMed, meaning that they are published in a journal recognized by either MEDLINE or PMC, two databases each with their own vetting processes. Inclusion in either of these archives yields credibility to papers and authors that do not always deserve it, said Ivan Oransky, the co-founder of the blog and database Retraction Watch.
"We don't know anything about these people, and they don't talk to anyone," Oransky said.
Fioranelli did not respond to requests for comment; however, Roxanna Sadoughifar, an associate editor of Dermatologic Therapy, replied to a request sent to Lotti. She wrote that "[i]n the most advanced niches of the international scientific community there is a hilarious reaction" to interview requests sent to Lotti and other collaborators.
"We're not surprised by your interest in such a creative, challenging, and hyperbolic mind always thinking out of the box… Only scandals can open the eyes of the Communities and stigmatize hypocrisy, in his opinion," she wrote, adding that Lotti has given presentations on publishing fake and fabricated papers to draw attention to flaws in the peer review system. 
Sadoughifar did not respond to a follow-up request for comment. Later, however, Lotti himself replied and sent along slides for a presentation he claimed to have given in Warsaw in 2019 titled "Evidence Based Medicine—Who are you?" Twenty-six of the presentation's 29 slides are lifted almost word-for-word from the Wikipedia page for evidence-based medicine, in the same order. 
"At some point when you test the system, you come out and you write a blog post, or something else about it"
Lotti said in an interview that he takes issue with evidence-based medicine and peer review as he believes it limits free discourse. He added that the scientific community requires "a big scandal" to course correct, which is why he co-authored many of these studies.
"Those papers which created the scandal, in my opinion were just designed—at least in my mind—for the scandal. This is not the opinion of Professor Fioranelli," Lotti said. 
On Lotti's Instagram account, however, the dermatologist has spread coronavirus conspiracy theories and posted a screenshot of the 5G coronavirus paper with the caption "data & hypotheses." Lotti did not respond to specific questions about these posts.
Testing publishing, or gaming it? 
Researchers occasionally test the peer review system by publishing bunk research to demonstrate the ways in which it is flawed, and a few high-profile stunts have garnered attention. Unlike those instances, however, Bik said she was skeptical that such a test was underway here.
"I think they're really convinced that they're writing science," Bik said. "I might be wrong: maybe they are testing the system, and I fell for it. But at some point when you test the system, you come out and you write a blog post, or something else about it."
Moreover, publishing a fake paper about a coronavirus conspiracy theory to test peer review would be irresponsible since people may take it as evidence in support of that theory, even if it is meant as a laughably bad caricature of a scientific paper, she added.
Asked whether he sees any issues with publishing papers that feed into documented conspiracy theories, regardless of motive, Lotti said that the content of the 5G paper on which he is a co-author is "a topic for Professor Fioranelli" and "not my issue."
Aliezra Sepehri, another collaborator who has co-authored dozens of pseudoscientific papers, seemed to tell a different story about the group's motives in an email sent as a reply to an interview request for Fioranelli, indicating that he believes the group's work to be genuine scholarship.
Sepehri wrote that he, along with Fioranelli and the other co-authors, have proposed "new insights" in "connecting biology with [the evolution] of the universe." He described the work as being "under attack."
In a response to follow-up questions, Sepehri doubled down on the disproven claim that 5G technology is harmful to humans, adding that such (nonexistent) damage could cause the spontaneous creation of a virus.
Bik said she started looking into Sepehri a year ago, after she saw some strange manuscripts posted on the preprint server viXra—a backwards spelling of arXiv, another preprint server. viXra is explicitly designed to circumvent arXiv's moderation guidelines, which include filtering out papers that contain "inflammatory or fictitious content" or ones that are submitted at an "excessive" rate.
The paper that caught Bik's eye was titled "The Role of Radiated Non-Linear Electromagnetic Waves from Initial Dnas in Formation of the Little Brain, Neural Circuits and Other Decision Centers: Determining Time of Death by Considering Evolutions of Waves of Death." In it, Sepehri measured something (it is unclear what, as his charts are unlabeled) after decapitating quails, including graphic photos of the process. 
In that manuscript, Sepehri listed an affiliation with the Research Institute for Astronomy and Astrophysics of Maragha, in Iran; however, after Bik published a thread on Twitter and a related blog post on Sepehri, the institute confirmed that Sepehri had previously worked there but was not employed at the time that paper and others were posted.
Asked whether he wanted to respond to the content of Bik's blog post, Sepehri wrote, "I try to ignore these attacks. These attacks were always [levied] against scientists in history. For example, Galileo was under this type of attack." He did not respond to a follow-up question asking about his current institutional affiliation.
If the purpose of the collaboration is to test the peer review system, despite Sepehri's seeming earnestness and self-comparison to Galileo, it doesn't seem like journals (except Lotti's own) are in on it. 
Several of the group's nonsensical papers were published in the Open Access Macedonian Journal of Medical Sciences as part of a special issue on global dermatology, even though none of the papers had anything to do with dermatology. When reached for comment, the editor of the journal requested that questions be sent over email, but did not respond to a follow-up email with questions. The next day, however, five of the studies were retracted and amended with a note.
"An internal investigation has raised sufficient evidence that they are not directly connected with the special issue Global Dermatology and contain inconsistent results," reads a portion of the retraction notice. "As such, we retract these articles from the literature and by guidelines and best editorial practices from the Committee on Publication Ethics. We apologize to our audience about this unfortunate situation."
"They're telling us to trust them, and they're not doing what's necessary to be trusted"
A Wiley spokesperson said that the publisher was aware that some editorial board members of Dermatologic Therapy published papers that were subsequently retracted, but declined to comment on the retractions. 
Lotti's tenure as editor of the journal is set to end at the end of the calendar year, Wiley confirmed, and that a search is underway for a new editor in chief.
"As we have said previously, we're also grateful for everyone who contributes to maintaining accuracy in published science. That includes editors, peer reviewers, researchers like Dr. Elisabeth Bik who scrutinize the science, and news outlets that monitor and report issues. Safeguarding the public's trust in science takes all of us working together," the spokesperson added.
In general, Oransky said that publishers like Wiley want their journals to be seen as credible, but often there is not sufficient oversight of the thousands of journals a publisher might oversee to guarantee credibility.
"They're telling us to trust them, and they're not doing what's necessary to be trusted," he said.
Bik said that this group's ability to publish prolifically speaks to two failures: one rests on the authors for submitting pseudoscientific papers, whatever the reason, while the other belongs to the journals that accepted the papers. She has a special distinction for authors like these, where scientific fraud is perhaps present but highly convoluted: "Fantastic authors and where to find them."
Similarly, Oransky said this group is far from mainstream, and one whose impact may be dwarfed by other instances of scientific malpractice.
"In the big scheme of things, I'm much more worried about the questionable research that's in the big journals about COVID than I am about what really does look like fringe. There's always going to be someone who does this, and there's always going to be a group of people who latch on to it, because it's the conspiracy theory that works for them," he said. 
"I'm not saying that's a good thing by any stretch—I think it's terrible—but we're all so tired."
Deep abiotic weathering of pyrite
Getting rid of fool's gold
Pyrite, also called fool's gold, is an iron sulfide mineral that is very commonly found in rock but is almost nonexistent in sediments today. Pyrite oxidizes quickly and is a major source of sulfur to the ocean, but it is also a proxy for the oxygen content historically in Earth's atmosphere. Gu et al. conducted a set of detailed observations of the pyrite oxidation process in a shale unit. The authors found that erosion tied to fracturing is just as important as the oxygen content for the dissolution process. They developed a model that helps determine the conditions in Earth's past for which pyrite might have been stable and the role of microorganisms in the oxidation process.
Science, this issue p. eabb8092
Structured Abstract
INTRODUCTION
Oxidative weathering of pyrite, the most abundant sulfide mineral in Earth's crust, is coupled to the biogeochemical cycles of sulfur, oxygen, carbon, and iron. Pyrite oxidation is key to these cycles because of its high reactivity with oxygen. Before the Great Oxidation Event (GOE), atmospheric oxygen concentrations were low on early Earth and pyrite was exposed at Earth's surface, allowing erosion into sediments that were preserved in river deposits. Today, it oxidizes at depth in most rocks and is often not exposed at the land surface. To understand pyrite weathering through geologic time, researchers extrapolate the reaction kinetics based on studies from the laboratory or in acid mine drainage. Such work has emphasized the important role of microorganisms in catalyzing pyrite oxidation. But to interpret the oxidation rates of pyrite on early Earth requires knowledge of the rate-limiting step of the oxidation as it occurs naturally in rocks.
RATIONALE
We investigated the oxidation of pyrite in micrometer-sized grains, in centimeter-sized rock fragments, and in meter-scale boreholes at a small, well-studied catchment in a critical-zone observatory. Our goal was to determine the reaction mechanism of pyrite weathering in rocks as it occurs today. The slow-eroding catchment is underlain by shale, the most common rock type exposed on Earth. We determined weathering profiles of pyrite through chemical and microscopic analysis.
RESULTS
At the ridgelines of the shale watershed, most pyrite oxidation occurs within a 1-m-thick reaction zone ∼16 m below land surface, just above the depth of water table fluctuation. This is the reaction front at the borehole scale. Only limited oxidation occurs in halos around a few fractures at deeper depths. Above the depth where pyrite is 100% oxidized in all boreholes, rock fracture density and porosity are generally higher than below. However, the narrow parts of pore openings called pore throats remain small enough in oxidizing shale to limit access of microorganisms to the pyrite surface. During oxidation, iron oxides pseudomorphically replace the pyrite grains. High-resolution transmission electron microscopy (TEM) reveals that the oxidation front at grain scale is defined by a sharp interface between pyrite and an iron (oxyhydr)oxide (Fh) that is either ferrihydrite or feroxyhyte. This Fh then transforms into a banded structure of iron oxides that ultimately alter to goethite in outer layers. This complex oxidative transformation progresses inward from fractures when observed at clast scale.
CONCLUSION
Under today's atmosphere, pyrite oxidation, rate-limited by diffusion of oxygen at the grain scale, is regulated by fracturing at clast scale. As pyrite is oxidized at borehole scale before reaching the land surface in most landscapes today, the oxidation rate is controlled by the movement of pyrite upward, which is in turn limited by the rate of erosion. Comparisons of shale landscapes with different erosion rates reveal that fracture spacing varies with erosion rate, so this suggests that fracture spacing may couple the landscape-scale to grain-scale rates. Microbial acceleration of oxidation globally today is unlikely in low-porosity rocks because pyrite oxidation usually occurs at depth, where pore throats limit access, as observed here for shales. Before the GOE, the rate of pyrite oxidation was instead controlled by the slower reaction kinetics in the presence of lower atmospheric oxygen concentrations. At that time, therefore, pyrite was exposed at the land surface, where microbial interaction could have accelerated the oxidation and acidified the landscape, as suggested by others. Our work highlights the importance of fracturing and erosion in addition to atmospheric oxygen as a control on the reactivity of this ubiquitous iron sulfide.
Pyrite oxidation was studied from the molecular (TEM) scale of the pyrite―Fe oxide interface through clast and borehole scales to extrapolate to landscapes. The rate of oxidation of pyrite, limited at grain scale by oxygen diffusion through the shale matrix, is regulated at larger scales by fracturing and erosion.
Abstract
Pyrite is a ubiquitous iron sulfide mineral that is oxidized by trace oxygen. The mineral has been largely absent from global sediments since the rise in oxygen concentration in Earth's early atmosphere. We analyzed weathering in shale, the most common rock exposed at Earth's surface, with chemical and microscopic analysis. By looking across scales from 10−9 to 102 meters, we determined the factors that control pyrite oxidation. Under the atmosphere today, pyrite oxidation is rate-limited by diffusion of oxygen to the grain surface and regulated by large-scale erosion and clast-scale fracturing. We determined that neither iron- nor sulfur-oxidizing microorganisms control global pyrite weathering fluxes despite their ability to catalyze the reaction. This multiscale picture emphasizes that fracturing and erosion are as important as atmospheric oxygen in limiting pyrite reactivity over Earth's history.