The software development life cycle, also known as SDLC, is a phased process or methodology to develop software. To achieve the required objective, many SDLC methodologies have been developed. Each methodology or model has their own set of rules to achieve a goal. Both models have their conveniences and drawbacks. So, it's essential to use the right methodology to develop a software product.
There are many software development models, but the following two are the most popular approaches:
Both methods are suitable for small to medium-sized teams. Each methodology has different approaches to achieve the target. The waterfall is a linear and sequential method, whereas Agile is a more progressive and iterative approach.
So, what is 'scrum'?
Scrum is a framework that helps to develop a product as a team. It's a continuous process of learning, improving, and adjusting because of its heuristic approach. A scrum team learns and improves as the project progresses — it's an agile-based framework. The dissimilarity between scrum and agile is that scrum is a faster and flexible approach. Compared to Agile, scrum accepts and reacts to changes swiftly.
The agile manifesto
Nearly 20 years ago, 17 software developers came together in Snowbird, Utah to propose a new way of developing software "by doing it and helping others do it." Through this work, the signers of the Manifesto understood how much of an impact these principles would help them in the field of software development—but they had no idea how quickly their ideas would spread beyond their industry. Values the Manifesto creators cited as paramount were:

Individuals and interactions over processes and tools
Working software over comprehensive documentation
Customer collaboration over contract negotiation
Responding to change over following a plan

Since that time, the original document has been used by groups as disparate as coders to Boy Scout Troops, from marketing departments to restaurants. Its universality is derived from a group of principles that can be broadly applied, easily learned, and rarely mastered completely. Before spreading to all corners of the globe, here are the key principles for incremental development that have made Agile what it is today:

Our highest priority is to satisfy the customer through early and continuous delivery of valuable software.
Welcome changing requirements, even late in development. Agile processes harness change for the customer's competitive advantage.
Deliver working software frequently, from a couple of weeks to a couple of months, with a preference to the shorter timescale.
Business people and developers must work together daily throughout the project.
Build projects around motivated individuals. Give them the environment and support they need, and trust them to get the job done.
The most efficient and effective method of conveying information to and within a development team is face-to-face conversation.
Working software is the primary measure of progress.
Agile processes promote sustainable development. The sponsors, developers, and users should be able to maintain a constant pace indefinitely.
Continuous attention to technical excellence and good design enhances agility.
Simplicity–the art of maximizing the amount of work not done–is essential.
The best architectures, requirements, and designs emerge from self-organizing teams.
At regular intervals, the team reflects on how to become more effective, then tunes and adjusts its behavior accordingly.
The above is an extract from The Agile Manifesto.
Roles in scrum
There are three main roles in the scrum framework which are located in the same place for optimal results and better communication with development teams. These are the following:
Product owner
Scrum team
Scrum master
Product owner
All clients and stakeholders are handled by the product owner. The product owner drives the backlogs and prioritizes the work to maximize the efficiency of the project. It's the responsibility of the product owner to emphasize the business side of the product and stay in contact with clients and the scrum team.
This role is more about communication, the product owner acts as a proxy between the development team and stakeholders and communicate with each other and conveys messages in technical terms. The following are some tasks a product owner performs:
Communicate and manage stakeholders
Inform stakeholders about RIDA's
Manage the backlogs
Take input and prioritize/schedule the work
Keep track of the progress
Announce deliveries
The product owner also has to see the interests of the stakeholders, cooperate with the team, and effectively fulfill the requirements.
Scrum team
A development team does not always have to be a team of software developers, but instead, it may consist of researchers, designers, data scientists, and developers. The development team has to be self-organized and handle their own decisions. The team members can also directly interact with stakeholders or clients for a better understanding of the requirement.
Scrum master
Scrum master assists the development team; this role is also termed as servant-leader. A scrum master removes any hindrance in the development process and makes sure that framework rules are being followed. They also lead the scrum and help the product owner in defining objectives. The scrum master has the following main roles:
Assisting development teams
Serving the product owner to define goals
Removing any hindrance that hampers the progress of development
Encouraging self-organizing within the team
A scrum master also assists the organization and team to take on empiricism and quitting predictability.
Scrum artifacts
Artifact means a work of art. So, an artifact is an object that we create, for example a product or device to solve an issue. There three primary artifacts that scrum defines:
Product Backlog
Sprint backlog
Increment
Product backlog
Product backlogs are the requirements of the stakeholders. The product owner supervises and manages product backlogs. It includes a list of tasks for the development team to perform in sprints. Progress on product backlogs is always available for stakeholders to review it. Each backlog has a description, time, and amount. Backlogs keep on changing according to the feedback of the stakeholders.
Sprint backlog
Sprint backlogs come from product backlogs as goals to be completed in the sprint. The scrum team manages the sprint backlogs. Scrum team also plans and schedules the sprint backlogs.
Increment
Multiple increments make a product. Each sprint gives one product output. The product owner decides to demonstrate it or not after each sprint.
Sprint
Sprint is a working period of a scrum team, usually comprise of one to four weeks. A sprint starts with defining objectives and scheduling work. These objectives or tasks are also termed as 'sprint backlogs.' Scrum emphasizes to deliver useful output at the end of the sprint. Each sprint is consisting of the following workflow:
Sprint planning
Daily scrum
Sprint review
Sprint retrospective
After each sprint, the product owner decides when to deliver the product. The final product may take more than one sprint.
Sprint planning
Each sprint starts with planning. In the sprint planning, the scrum team defines and lists the backlogs. Backlogs are the objectives that a scrum has to be fulfilled. Scheduling those tasks are also done in sprint planning. Backlogs have to be updated daily by each team member. The team tries its best to complete its sprint backlogs but it's not rigidly required to fulfill all the planned tasks backlogs can be added in the next sprint.
Daily scrum
Scrum teams daily gather for a 15 minutes meeting where they update their backlogs and plan work for the next day. The development team members also share impediments of the backlog. So, the following are the few things which scrum team do in a daily scrum:
Inspect the progress and contribution of each member
Identify Impediments
Plan the next 24 hours
The scrum master makes sure the development team meets daily but still, it's entirely up to the development team to hold a meeting.
Each sprint ends with "Sprint Review and "Sprint Retrospective." Here's what these are:
Sprint review
In the sprint review, the team reviews the work and identifies the unfinished tasks. The product owner and scrum team also hold a meeting with stakeholders, demonstrate their work, and plan what to work on next. Stakeholders give their feedback and then the product owner presents new objectives to the scrum team for the next sprint. It is important to note that incomplete work must not be presented.
Sprint retrospective
Before the next sprint planning the team inspect its performance and contemplate that what improvements can be made to boost productivity. The Scrum Master ensures the all the members attend the event acknowledge its importance and purpose.
Conclusion
Scrum is a framework designed for teams to produce a product. It's an iterative and heuristic framework. The project progresses on the bases of facts instead of predictability. Three main roles control the whole process from start to end. The product owner manages the backlog and communicates with the stakeholder. The scrum team has to present the progress after every sprint. After getting feedback from the stakeholders the team and product owner review the sprint and retrospect it. Planning of the next sprint begins after this and the process keeps on going until the stakeholder finalizes the product.
---
This article was originally published on Live Code Stream by Juan Cruz Martinez (twitter: @bajcmartinez), founder and publisher of Live Code Stream, entrepreneur, developer, author, speaker, and doer of things.
Live Code Stream is also available as a free weekly newsletter. Sign up for updates on everything related to programming, AI, and computer science in general.
Published October 13, 2020 — 06:30 UTC
Yale may have just turned institutional investing on its head with a new diversity edict
It could be the long-awaited turning point in the world of venture capital and beyond. Yale, whose $32 billion endowment has long been led since 1985 by the legendary investor David Swensen, just let its 70 money managers across a variety of asset classes know that for the school, diversity has now moved front and center.
According to the WSJ, Swensen has told the firms that from here on out, they be measured annually on their progress in increasing the diversity of their investment staff, meaning their hiring, training, mentoring and retention of women and minorities.
Those that show little improvement may see the university pull its money, Swensen tells the outlet.
It's hard to overstate the move's apparent significance. Though the endowment saw atypically poor performance last year, Swensen, at 66, is the most highly regarded endowment manager in the world, growing Yale's endowment from $1 billion when he joined as a 31-year-old former grad student of the school, to the second-largest school endowment in the country today after Harvard, which currently manages $40 billion.
Credited for developing the so-called Yale Model, which is short on public equities and long on commitments to venture shops, private equity funds, hedge funds, and international investments, Swensen has inspired legions of other endowment managers, many of whom worked with him previously, including the current endowment heads at Princeton, Stanford, and the University of Pennsylvania.
It isn't a stretch to imagine that they will again follow Swensen's lead, which could go a long way in changing the stubbornly intractable world of money management, which remains mostly white and mostly male across asset classes.
While the dearth of woman and minorities within the ranks of venture firms may not be news to readers, a 2019 study commissioned by the Knight Foundation and cited by the WSJ found that women- and minority-owned firms held less than 1% of assets managed by mutual funds, hedge funds, private-equity funds and real-estate funds in 2017, even though their performance was on a par with such firms.
Swensen tells that WSJ that he has long talked about diversity with the fund managers to which the endowment commits capital, but that he had he held of anything systematic owing to a belief, in part, that there were not enough diverse candidate entering into asset management for a mandate to make sense.
After the Black Lives Movement gained momentum this spring, he decided it was time to take the leap.
What about that perceived pipeline concern? Fund managers will have to figure it out if they. For his part, says the WSJ, Swensen suggested to the U.S. managers that they forget the standard resume and consider recruiting directly from college campuses.
How Riot used tech from The Mandalorian to build Worlds' astonishing mixed reality stage
After a hard-fought win over Korean team Gen.G, all five members of Europe's G2 Esports stood at the edge of a pool of clear, glistening water to take a bow and celebrate their victory. Two members then picked up their star teammate, Rasmus "Caps" Borregaard Winther, and held him over the water, as if to throw him overboard. It's a good thing they didn't — despite how real the water may have looked to viewers, it was nothing but pixels.
The annual League of Legends World Championship is currently underway in Shanghai, and like most major events, it has had to be re-envisioned in order to be possible in our new pandemic-dominated reality. Typically, the early stages of the tournament are something of a traveling road show, with different rounds taking place in different cities. In 2020, things had to change.
With travel restrictions in place, and fans no longer able to attend matches, the team at League developer Riot tried something different. They built out a set made up of massive LED screens in a technology setup similar to what Disney used to create The Mandalorian's sci-fi landscapes. It has been used to startling effect. Matches have looked like they've taken place in a cloudy, cyberpunk Shanghai skyline or amid a flooded landscape. What could have been a drab competition in the absence of fans has turned into perhaps the most impressive Worlds in recent memory.
"There are any number of days where we come to the set and say 'Wait, I don't think this has ever been done before.' You just kind of get used to it after a while," says Michael Figge, creative director at Possible Productions, which partnered with Riot on the event.
The feat is all the more impressive when you consider the compressed schedule. Typically, producers from Riot and Possible spend well over a year planning for Worlds, but that simply wasn't possible this year. It wasn't until May that the decision was made to utilize this tech in a studio without fans.
The setup is a powerhouse, and Riot says that the LED screens — there are more than 900 LED tiles in total — display visuals at 32K resolution and at 60 frames per second. Those visuals were made using a modified version of the Unreal Engine, and in total, the team is made up of 40 artists and technicians. Nick Troop, executive producer for Worlds 2020 at Riot, describes it as "a creative tool that gives us effectively infinite power to manifest whatever our collective imaginations bring to the fore." And he says one of the most important elements of the whole setup is the way things are shot, powered by four specialized cross-reality cameras.
"Rather than having a single projected camera perspective, we actually have two running simultaneously, effectively all of the time," he explains. This allows the broadcast team to work in a more traditional way; they can swap between the two simulated perspectives at will, using four cameras to shoot the action on set. "It means that the broadcast team can do what feels to them what feels like a 'normal television show,' but in this curated, and beautiful series of environments," says Troop.
For viewers watching on Twitch or YouTube, the LED soundstage is transformed into a sprawling fantasy world, with AR technology used to make the images expand beyond just the screens. You still see players sitting at desks and playing, but their surroundings are quite elaborate. In a nod to the current state of League of Legends, where four elemental dragons are of pivotal importance in a game, each of the four preliminary rounds of Worlds was styled with a different element.
Initially, there were lots of crumbling rocks and mountains to represent the earth dragon; this was followed by the cloudy Shanghai skyline for the air dragons; later, the set appeared to be flooded with water that stretched on forever. This weekend, during the two semi-finals games, things will shift to fire.
While this technology has been used before, most notably on The Mandalorian, this is the first time it's been done live. "Pretty much every [cross-reality] expression that has been broadcast to this point has not been live," explains Possible's Figge, whose company has worked on everything from Super Bowl halftime shows to Justin Bieber concerts. "It's been pre-shot, similar to a lot of AR stuff for awards shows in North America. It's risky to do live. We're doing up to 10 hours a day of live television on this stage. There's no second chance at it."
One of the challenges was balancing the desire to make things look cool without interfering with the players. Everyone onstage — teams, coaches, and support staff — has a somewhat different visual experience than viewers at home, since the AR elements only appear for viewers at home. This turned into something of an advantage for the broadcast team.
"When we do these games, it's really important for the competitive integrity of the sport for the players not to be able to see the game on the Jumbotron or anything like that. It's a really difficult design problem," says Figge. "With this stage, everything that's above a certain level of height on the stage is completely virtual. It's augmented reality. So we have the game playing in the background and the players can't see it."
That said, while players don't get the full experience viewers do, it was still important that being onstage felt special. This is the World Championship, after all, something teams from across the globe have been striving for all year long. Without the roar of a crowd to hype up players, the spectacle of a vibrant fantasy backdrop is a solid second option. Those onstage can't see the AR elements, but they can see the graphics on the screens around them. "It helps ground the player," says Troop. "They can still have a sense of the [game] world reacting, in a way that I think helps with their Worlds experience. There is a certain mindset that comes from being on stage, and we wanted to preserve that."
In most years, the technical showcase of Worlds is reserved for the opening ceremonies at the finals. In the past, that's included an AR K-pop concert and a holographic hip-hop performance. It's still not clear what this year's big show will look like (though it will likely involve K-pop again), but you could argue that the early rounds have already stolen the show thanks to this new technology. Each round even opened with its own mini ceremony, featuring choreographed dances set in the fantasy realm; performers jumped across crumbling stone bridges and twirled around with magical spells. Despite the circumstances, Riot turned what could have been a low-key edition of Worlds into a surprisingly memorable one.
"It's been more educational than frustrating," says Troop of the experience so far.
The Apple Watch Series 6 Is Already $20 Off
Best Tech Deals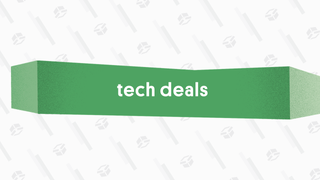 Best Tech Deals
The best tech deals from around the web, updated daily.
Apple Watch Series 6 (44mm) | $415 | Amazon
Apple Watch Series 6 (40mm) | $385 | Amazon
It's only been out a week since launch and we're already seeing discounts on the Apple Watch Series 6. Amazon has some 40mm models down to $375, while the 44mm falls to $415, both about $20 off and shipping anywhere between 1-4 weeks out.
The Apple Watch Series 6 runs laps around the competition as far as technology is confirmed. It features everything you love about the Series 5 watch like an ECG heart rate sensor, and also adds new tricks like a blood oxygen sensor and an always-on altimeter, making it more ideal than ever for fitness buffs.
G/O Media may get a commission
---
Source