Vice President Mike Pence has not tested positive for SARS-CoV-2, the virus that causes Covid-19. But he's been in close contact, in recent days, with people with confirmed Covid-19 infections. And he wants to debate Sen. Kamala Harris tonight. Is this a good idea?
In a word: No. Per the Centers for Disease Control and Prevention's own guidelines, Pence should be quarantining, not debating, even if he's testing negative. (That said, CDC director Robert Redfield has said Pence is okay to debate tonight.)
Since the Trump administration's actions over the last 10 days have muddied the message from public health experts, let's be clear: A negative test is not an all-clear for doing risky activities during the pandemic.
Scientists don't yet understand exactly when a person who is infected with the coronavirus will start testing positive for the virus. There are situations when a person could test negative, actually be infected, and also be contagious. It's also possible — since this virus multiplies itself exponentially in the body very, very quickly — that someone could test negative in the morning (and not be contagious), but by the afternoon test positive (and be very contagious).
Confusing? Yes, it is. But the bottom line is that Covid-19 diagnostic tests (both the slower, more common, viral genetic test — called RT-PCR— and the more rapid viral protein test, called an antigen test) are most useful, and most accurate, when used on people experiencing symptoms.
"One of the huge gaps now in the data is: What is the probability of testing positive before you get symptoms?" Benny Borremans, a disease ecologist at UCLA, says. Right now, scientists just don't know for sure.
Why testing is less accurate before symptoms begin
There are several reasons scientists are unsure about when in an infection people will start testing positive for SARS-CoV-2. To understand why, and to make this less confusing, it's helpful to think through all the things that have to happen for a Covid-19 test to come back positive.
First, the virus needs to take its time to establish itself in a person's body. This is called the incubation period, and it can take upward of two weeks. On average, this happens in about five or six days. During the incubation period, a person might not test positive for the virus because there's not enough virus in their body to detect in a test.
"The virus particles, day by day, will multiply," Muge Cevik, a virologist and physician at the University of St. Andrews, says. "The virus needs to reach a threshold for the PCR [i.e. viral genetic] tests to pick it up." PCR is the more common Covid-19 diagnostic test because it requires a lower threshold of the virus to test positive; rapid antigen tests would require a higher level of virus to register a positive test.
Testing positive should coincide with being contagious. But not always.
Generally, a person can start being infectious for the virus around two days before they start to show symptoms, in what's known as the presymptomatic phase.
And, generally — but not always — scientists would expect that if a person is contagious, they'd test positive. After all, if they're spewing enough virus out to get another person sick, they're probably spewing enough virus out for a diagnostic test to pick up on.
But there are a few wrinkles here: When exactly a person makes the jump from testing negative and being non-infectious to testing positive and being infectious is hard to predict.
When we look at the viral load dynamics & contact tracing studies, those who are infected are very infectious for a short window, likely 1-2 days before and 5 days following symptom onset. No transmission documented so far after the first week of symptom onset. (7/n) pic.twitter.com/DmTVh4ur4O

— Muge Cevik (@mugecevik) September 21, 2020
"If everything works as it should, the test should be positive if you are infectious at the very moment of the test, as there must be virus present then," Justin Lessler, an epidemiologist at Johns Hopkins University, says. "However, you could easily test negative then become infectious a day, or even hours, after the test." Unless you're testing every hour, it's impossible to get a fine-grained view on when the infectious period truly begins. (Also possible, but probably rarer: A person tests positive before they start to be contagious.)
Even if a person is contagious, they may not test positive. It could come down to where the sample for testing was taken from.
In general, "we consider the gold standard to be the nasopharyngeal swab," Bobbi Pritt, the director of clinical microbiology at the Mayo Clinic, says. "That's the deep nasal swab that goes all the way back into the back of your nose. Whereas other specimens — like a throat swab or just the very outer edge of your nose, like right inside your nostril — that's not going to contain as much virus."
Early on in the infection, a person who is incubating the virus is expected to test negative. Over the summer, Johns Hopkins researchers — including Lessler — published a paper estimating the likelihood of a false negative test in the first few days after being exposed to the virus. On the first day, they found the chance of a false negative is near 100 percent. No test is going to find the virus so early. Through the first four days, that rate drops to 67 percent on day four, on average, but with a very large range of error. On the day people first reported symptoms, there's still a significant false negative rate, at 38 percent.
What does this all add up to? "What we're saying is don't test anyone in less than four days after exposure," Cevik says. It's not going to tell you much about the person's status. Or if a person is tested in that time, they ought to be retested a few days later.
"In general, five to eight days after exposure is the best time to test," Cevik says. "Or day three after symptom onset." That's when the genetic RT-PCR tests are most likely to reveal a true positive.
Because nothing about Covid-19 can be simple, here's another thing to consider: The antigen tests that produce quick results have a shorter window in which you'd expect a person would test positive.
They are also slightly less accurate. But if used correctly, they can be very useful: They'll test positive in the window when a person is most likely to be contagious. With repeated use, scientists hope these quick tests could help stop outbreaks from growing out of control.
Also to note: The FDA has only approved these quicker antigen tests to be used on symptomatic people. The White House, on the other hand, has been using an Abbott version of the test to screen asymptomatic people. And we just don't know how good these tests — or any tests, for that matter — are at screening asymptomatic, or presymptomatic, people.
For that matter, says Pritt, "People are … going out and using them for asymptomatic people. The FDA would be the first ones to tell you that they don't know how the test is going to perform in that population."
A negative test without symptoms might not mean much. Keep your mask on.
Here's the bottom line: "We don't know when one will test positive pre-symptom onset for PCR or antigen tests," epidemiologist A. Marm Fitzpatrick writes in an email. If you have symptoms, you're likely to test positive the day you start feeling ill, but not guaranteed. And finally, a few days after starting to feel sick, you're almost guaranteed to test positive.
We could learn more in the months ahead about testing asymptomatic and presymptomatic people with studies following people after they have been exposed to the virus, and testing them repeatedly over a few weeks to determine the likelihood of testing positive before symptoms begin. "We have a lot of data from symptom onset onwards, but we don't have data in terms of pre-symptoms," Cevik says.
This is why testing is no replacement for other Covid-19 mitigation measures, like quarantining people exposed to the virus, mask-wearing, and social distancing.
"Testing negative is not like a passport for people to go out and do whatever they want to do," Cevik says. If you might have been exposed to the coronavirus, like Vice President Pence was, you should quarantine for two weeks, regardless of what your test says.
---
Millions turn to Vox each month to understand what's happening in the news, from the coronavirus crisis to a racial reckoning to what is, quite possibly, the most consequential presidential election of our lifetimes. Our mission has never been more vital than it is in this moment: to empower you through understanding. But our distinctive brand of explanatory journalism takes resources. Even when the economy and the news advertising market recovers, your support will be a critical part of sustaining our resource-intensive work. If you have already contributed, thank you. If you haven't, please consider helping everyone make sense of an increasingly chaotic world: Contribute today from as little as $3.
The War Over Mexico's Beaches Is Over, For Now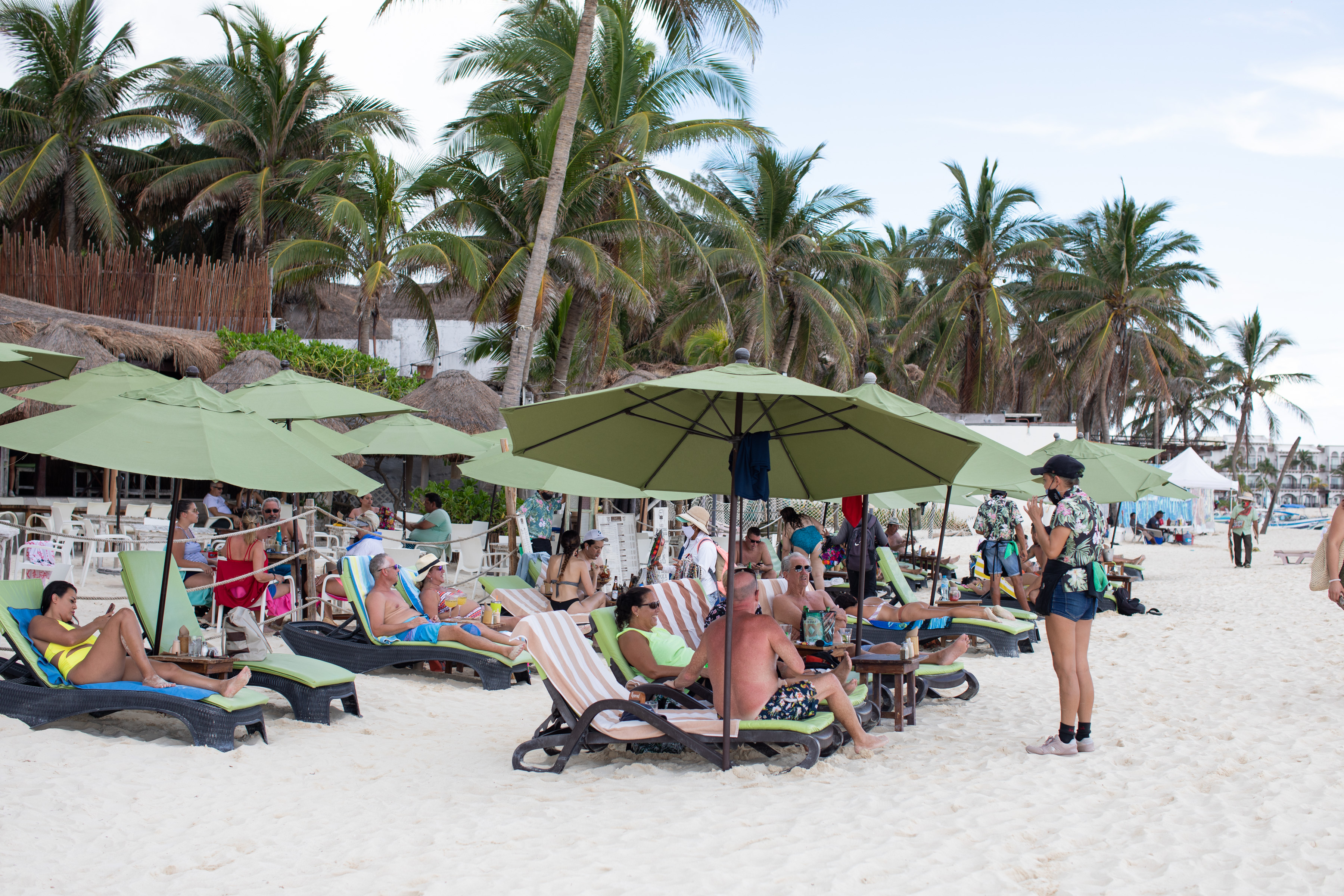 PLAYA DEL CARMEN, Mexico – Maria Chuc celebrated her twelfth birthday with her family by eating Burger King on the beach in the famed Mexican getaway of Playa del Carmen. Until recently, the local family usually only went to beaches that were farther away and not laced with hotels and restaurants, even though they lived in the seaside city.
But that changed last week when the Mexican federal government passed a law that guaranteed public access to beaches that landowners have long dubiously claimed are private.
"I think (the law) is good. Before you couldn't walk around here and you couldn't even get in," said Maria's father, Henry. "You definitely couldn't come and spend time."
Under the new law, the family was able to enjoy their burgers and fries while hiring a man with a guitar to sing a birthday ballad for Maria's special day, without worrying that beachside businesses would run them off the sand.
Prior to the recent change, it was common for hotels and restaurants across the country to hire guards and set up barriers to keep people off the beaches, which they wanted to reserve for their paying guests, much to the dismay of local residents.
The long-simmering issue of beach access rights boiled over in Playa del Carmen in February when two Mexican tourists were arrested and detained for allegedly sitting in a part of the beach that a restaurant claimed was private property.
But after a video of police forcibly removing the young couple went viral across Mexico, the incident reignited the long-standing national debate about general access to the country's many beaches. Days later, the local government publicly apologized to the two lovers, and the federal secretary of tourism, Miguel Torruco Marqués, took to Twitter to clearly state that "in Mexico, the beaches are public."
In the months that followed, the issue took on extra importance during the coronavirus pandemic because public beaches were closed in much of the country and the only people able to enjoy them without risk of penalty were tourists – usually foreign – who were staying at resorts with direct access.
In an effort to finally solve the issue, lawmakers began drafting the new law that officially passed on October 21. The legislation establishes large fines for hotels, restaurants, and other property owners who don't comply with allowing public access to all stretches of the beach.
While Playa del Carmen and the rest of the Yucatan Peninsula became the public face of the issue in 2020, the new law is now in effect across the nation.
Victor Sanchez, who sells ceviche along the Playa del Carmen beach, said he's happy about the change. In his opinion, it's better that the beaches aren't perceived as private because it made them only accessible for tourists staying at the hotels, and not local residents.
"I see people enjoying (the beach) more," said Sanchez since the law has passed. In his opinion, the beaches belong to "el mexicano, it's for the people."
The best (or worst) $20,000 I ever spent: The money to start a small business
When people tell me they're thinking about opening a small business, particularly in a goods-based industry like fashion, my first question is, "Do you have money?" I don't mean having savings or good credit or the knowledge of how to take out a loan, although those things certainly help. I'm talking family money, access to friends who will think nothing of loaning you six figures interest-free: that kind of money.
People at parties — or, these days, in my inbox — don't expect this question. They tend to not appreciate this question. It is, in fact, one of the more abrasive questions I am comfortable asking total strangers.
But people tend to only approach me, seeking advice, after learning that I once owned a lingerie boutique for a number of years. They want to know the trick, the secret sauce, how I opened a well-known business with no money and no experience when I was in my late 20s and how I did it for four years. They want affirmation that their idea is a good one, the one that will land them on 30 Under 30 lists, that will definitely make them money. They aren't too interested in why my own business closed — they just see that I am relatively young, queer, and that I did it, and so, obviously, they can, too.
Still, if there's one thing owning a small business taught me, it's that just because you can doesn't necessarily mean you should.
I started a business for the reason so many people do: I had an idea that I thought could make a difference. I wanted my work to have meaning — and, on the cusp of having to write my dissertation prospectus, I was no longer finding that meaning in my English PhD program. Committing an unknown number of years to the pursuit of a degree almost guaranteed to not result in a tenure-track position seemed untenable. I started to look elsewhere.
Bluestockings, my e-commerce lingerie boutique geared to the LGBTQ+ community, was an outlier. The store, solely focused on stocking ethically made goods from indie designers, including kink-friendly and gender-affirming underthings, was one of those late-night, drunk-on-the-porch ideas that, by all accounts, should have been forgotten the next morning, lost to the heady summer nights of Boston. That I ran with an idea I was not qualified for and had no resources for speaks to my desperation to get out of grad school by any means necessary, but it also speaks to the extent to which I, still very entrenched in academia, had bought into the idea that I should do what I loved.
In Can't Even: How Millennials Became the Burnout Generation, Anne Helen Petersen articulates how the longstanding desire for "a well-paying job" has morphed into the cultural prestige of "a cool job," which she calls a distinctly modern and bourgeois phenomenon. The cool job is "a means of elevating a certain type of labor to the point of desirability that workers will tolerate all forms of exploitation for the 'honor' of performing it." The cool job is one that can be defined by that famous, and at this point excoriated, axiom: Do what you love and you'll never work a day in your life.
When you "love" what you "do," there is a slippage between the work and the self. When do you turn off? When do you stop working, if your work is your hobby, what you always want to be doing? Academia is the kind of industry that Petersen, herself an ex-academic, cites as thriving on this slippage. But so, too, is entrepreneurship — MLMs, for one, but also retail businesses, such as Bluestockings, that require an extraordinary amount of time, money, and effort, all with the reward of LinkedIn titles like "small business owner," one of those great American archetypes that politicians of all stripes so love to cite on the campaign trail.
Personally, I had no money, and with my working-class background, I came from a family with no money. I was deeply in debt, already divorced, and financially illiterate, having made no attempts to learn how to manage my finances in my mid-20s. Like my other millennial grad student friends, all from various class backgrounds, I had the attitude of, "I'm already in so deep — what's more debt?" But I was also part of that peripatetic but highly educated "creative class," and I wanted to do work that aligned with my values, whatever that meant. While I would have been better off looking for temp work or even simply taking on more hours as a nanny, which had supplemented my income throughout graduate school, I instead took on more than $20,000 in debt through credit cards and loans to start a retail business, not fully understanding what I was committing to.
I spent a lot of money to start Bluestockings, ostensibly to do something I loved, to make a difference. In this, I'm not alone: How many millennials have driven ourselves deeper into debt in the pursuit of work that was our "passion"? How many folks have gone back to graduate school or taken out loans to move to a big city for job opportunities? Gone into credit card debt trying to keep up with the lifestyle the industry they worked in required of them? In some ways, my story is unique; in others, it is profoundly similar to many of my peers.
These days, my relationship to Bluestockings yo-yos between ambivalence and shock at my naivete and hardheadedness. I ran the store on the leanest budget possible for four years, never once taking a paycheck. I ultimately closed the store in 2018, unwilling to drive myself deeper into debt and also wanting to focus more on my writing.
But then, it would be dishonest to discuss the hardships without also naming the blessings: I met some of the best, most enduring friends of my life through the lingerie industry. Bluestockings is what got me onto Twitter, a platform that would become integral to meeting still more queers, writers, and creatives over the years. I learned more about running a business (mostly through mistakes) than I ever thought possible, lessons that would translate to every kind of work I would do in the future. It was ultimately Bluestockings — not academia — that opened up the doors for me to work at tech startups in New York, leading to marketing work that would pay my bills for years.
And then there is, of course, the people who Bluestockings did reach, the folks I've met in gay bars and at queer camp who told me they bought their first binder from my store, that the photo shoots and blog posts helped them learn to appreciate their bodies and aesthetics in a world saturated by the Victoria's Secret cis-hetero norms. There is that.
As with so many things in life, it's a mixed bag. I don't know that I would recommend going into a significant amount of debt for the sake of doing what you love if you don't also have a plan to get yourself out. It is debt that, thanks to a very recent, very generous book deal, I am going to be able to pay off very soon. The business debt and the accompanying credit card debt that paid for my living expenses during that time will be wiped out, a clean slate, clearing up a significant chunk of my monthly budget that I won't have to spend on credit card interest masked as a "minimum." Luck is what that is, sheer fucking luck, and I am dearly aware of it.
It's hard to put a price tag on one of the most formative experiences of my life. Couching it in binary terms of "good" or "bad," "best" or "worst" feels simplistic and disingenuous, both. The store, and my experience of small business ownership, is like an old relationship that started with the highest of hopes and ended with a mortgage for a house I don't live in anymore but am still paying off. There are good memories, to be sure, but would I do it again?
What an impossible question.
Jeanna Kadlec is the author of the forthcoming memoir Heretic.
---
Millions turn to Vox each month to understand what's happening in the news, from the coronavirus crisis to a racial reckoning to what is, quite possibly, the most consequential presidential election of our lifetimes. Our mission has never been more vital than it is in this moment: to empower you through understanding. But our distinctive brand of explanatory journalism takes resources. Even when the economy and the news advertising market recovers, your support will be a critical part of sustaining our resource-intensive work. If you have already contributed, thank you. If you haven't, please consider helping everyone make sense of an increasingly chaotic world: Contribute today from as little as $3.
Kazakhstan embraces Borat catchphrase to woo tourists
'Very Nice!' used by the tourism board in a light-hearted manner, but the foreign ministry says Borat sequel is racist.
Ridiculed once again in a film featuring fictional Kazakh journalist Borat Sagdiyev, the ex-Soviet state of Kazakhstan has embraced the joke this time around and adopted Borat's catchphrase to try to attract tourists.
Borat Subsequent Moviefilm: Delivery of Prodigious Bribe to American Regime for Make Benefit Once Glorious Nation of Kazakhstan, a follow-up to a 2006 film featuring the same sexist and racist character, was released on Amazon Prime last week.
Like the first film, the movie has Borat on the rampage in the United States where he tries to trick US politicians and others into letting their guard down and compromising themselves.
Borat's first outing caused anger in Kazakhstan where authorities discouraged its screening and threatened legal action over what they saw as an insult to their national character.
This time around, they have taken a different approach and adopted Borat's catchphrase "Very Nice!" to try to promote tourism in the vast Central Asian country.
[embedded content]
In a slick video released by the tourism board featuring spectacular mountains and lakes, exotic food market, and futuristic-looking cityscapes, a series of foreign tourists use the catchphrase to signal their appreciation for what they are seeing.
The idea to use Borat's catchphrase belongs to Dennis Keen, a US citizen living in Kazakhstan, who is married to a Kazakh woman and has a business running walking tours.
"It was something I'd been thinking about for years as everyone who comes here is aware of the Borat thing being attached to the country's brand," Keen told Reuters news agency.
Borat's "Very Nice!" catchphrase could be put to good use instead, he said.
"It's actually the perfect description of the country in the most sincere way. The people and the food are very nice."
COVID-19 means tourism in Kazakhstan has been hard hit by travel restrictions and border closures like many other countries.
But Kairat Sadvakassov, deputy chairman of Kazakh Tourism, said he hoped the campaign would help people see that Borat's jokes about the country were off target when the situation improved.
"We would like everyone to come experience Kazakhstan for themselves by visiting our country in 2021 and beyond, so that they can see that Borat's homeland is nicer than they may have heard," Sadvakassov said in a news release.
Still, Kazakh authorities remain unimpressed with the film.
In a statement issued by the foreign ministry on Saturday, officials said the new movie was racist and xenophobic, but that an official protest was pointless because it would only generate more publicity and profits for the film's makers.